Lighting in the bedroom is not only part of its decor, but it also makes the space functional. But why get out of your bed to turn off the overhead lights when you can place a floor lamp right next to your bed?
While traditional bedroom lighting fixtures usually consist of a bedside table lamp or recessed lights, why not consider something more decorative, like a floor lamp?
Whether you want to light up a dark bedroom corner or read a book in your bed, we've put together some functional bedroom floor lamp ideas to inspire you. So let's get started!
Frame Your Bedside with a Metal Floor Lamp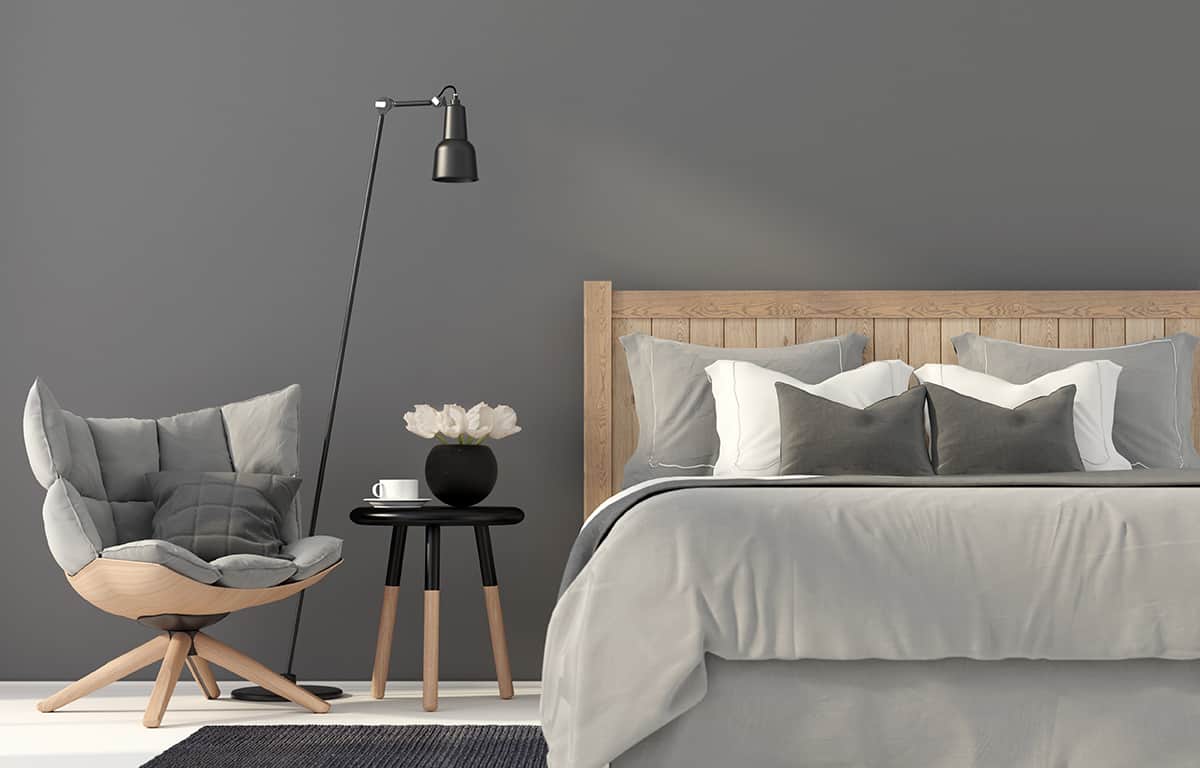 Choosing a floor lamp instead of the traditional table lamp will free up the space on your table as well as add dimension and height to your bedroom decor.
Take this metal floor lamp, for example, as a modern addition to a gray bedroom. The sleek and slender metal light adds a new texture next to the bed while giving the gray furniture a soft look.
Create a Reading Corner with a Contemporary Floor Lamp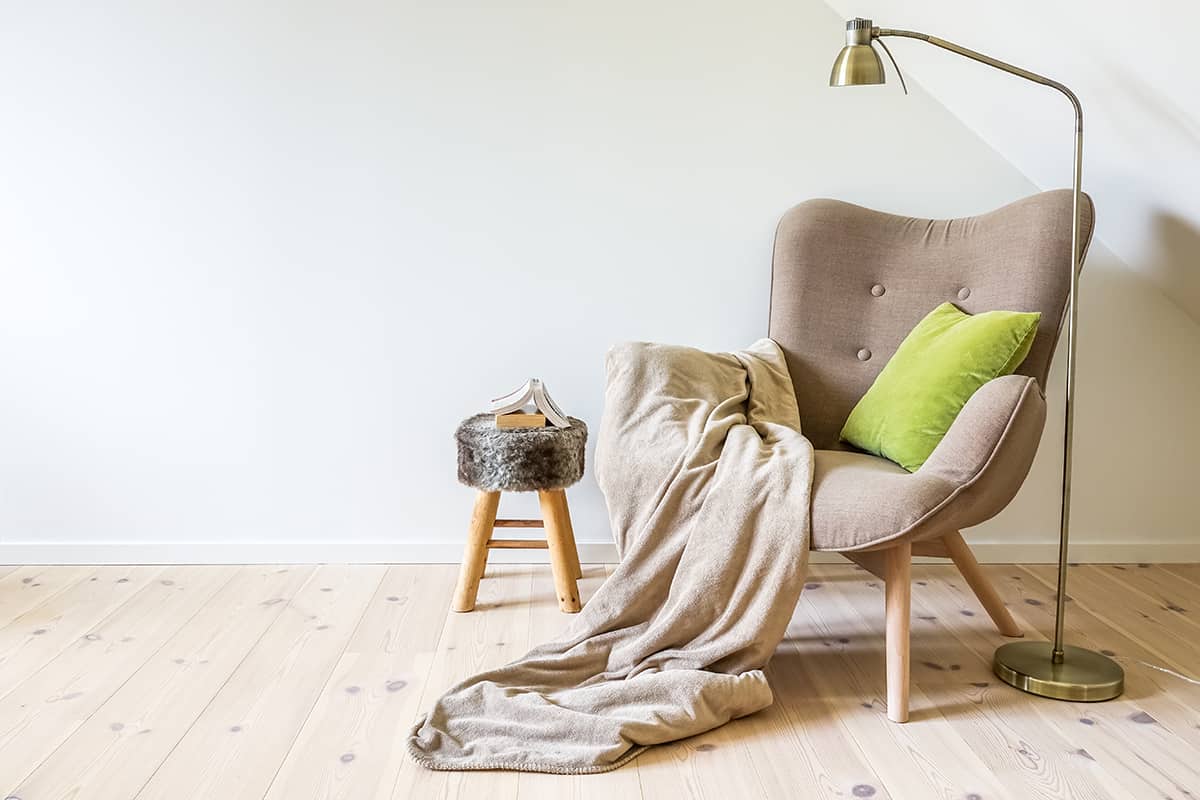 The bedroom is, without a doubt, the perfect place for reading a book, and an appropriate lighting solution is absolutely necessary. When you have a reading corner in your bedroom, you need a floor lamp that won't strain your eyes.
A contemporary design is the best option for both modern and classic interiors. Just like the one shown in this example, you can comfortably sit on an armchair in your bedroom and enjoy a good book, thanks to the subtle illumination of the cozy ambiance provided by the lamp next to the chair.
Go for Multi-Directional Lighting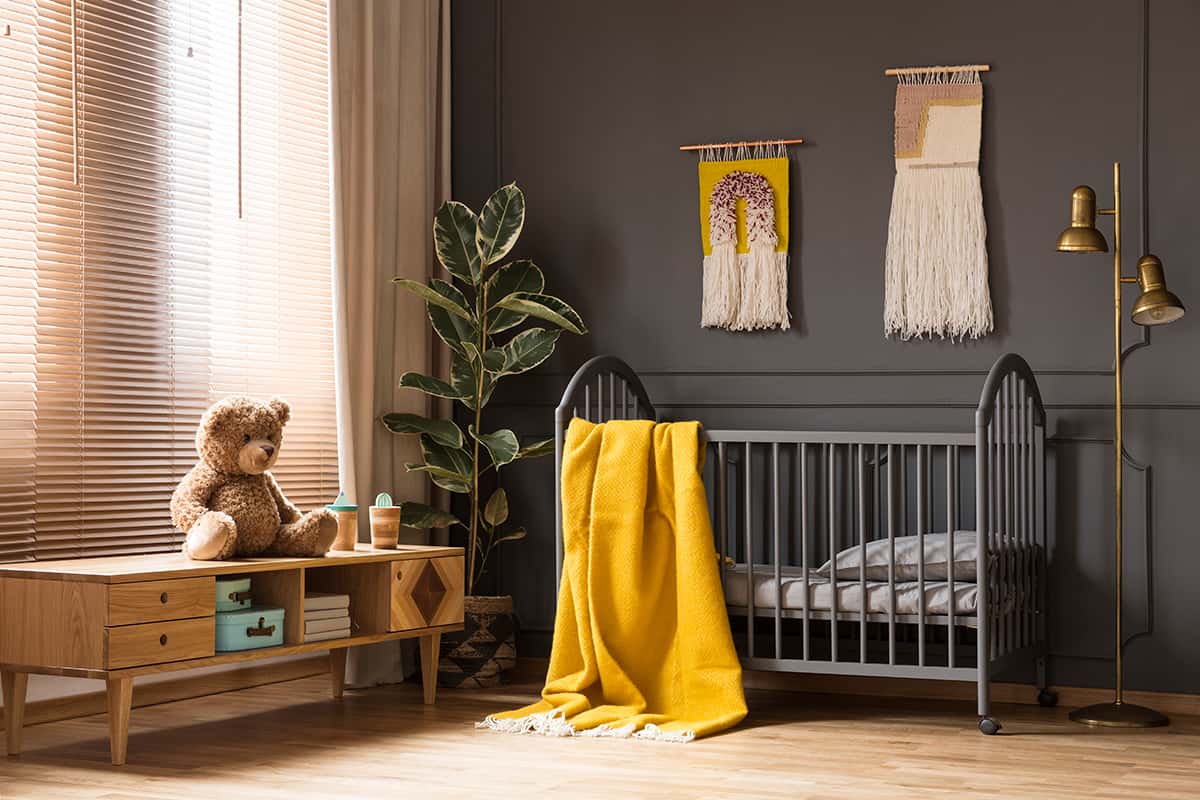 A multi-directional light is an important addition to creating ambiance. This lighting solution gives you the option to light up the areas you want, thanks to the double lampshades.
This functional piece is also ideal for a children's bedroom as it gives you full control of the dimmable bulbs so you can decide which directions you want them to brighten up. Some designs even allow you to turn them 360 degrees at various heights.
Place the Floor Lamp Next to the Armchair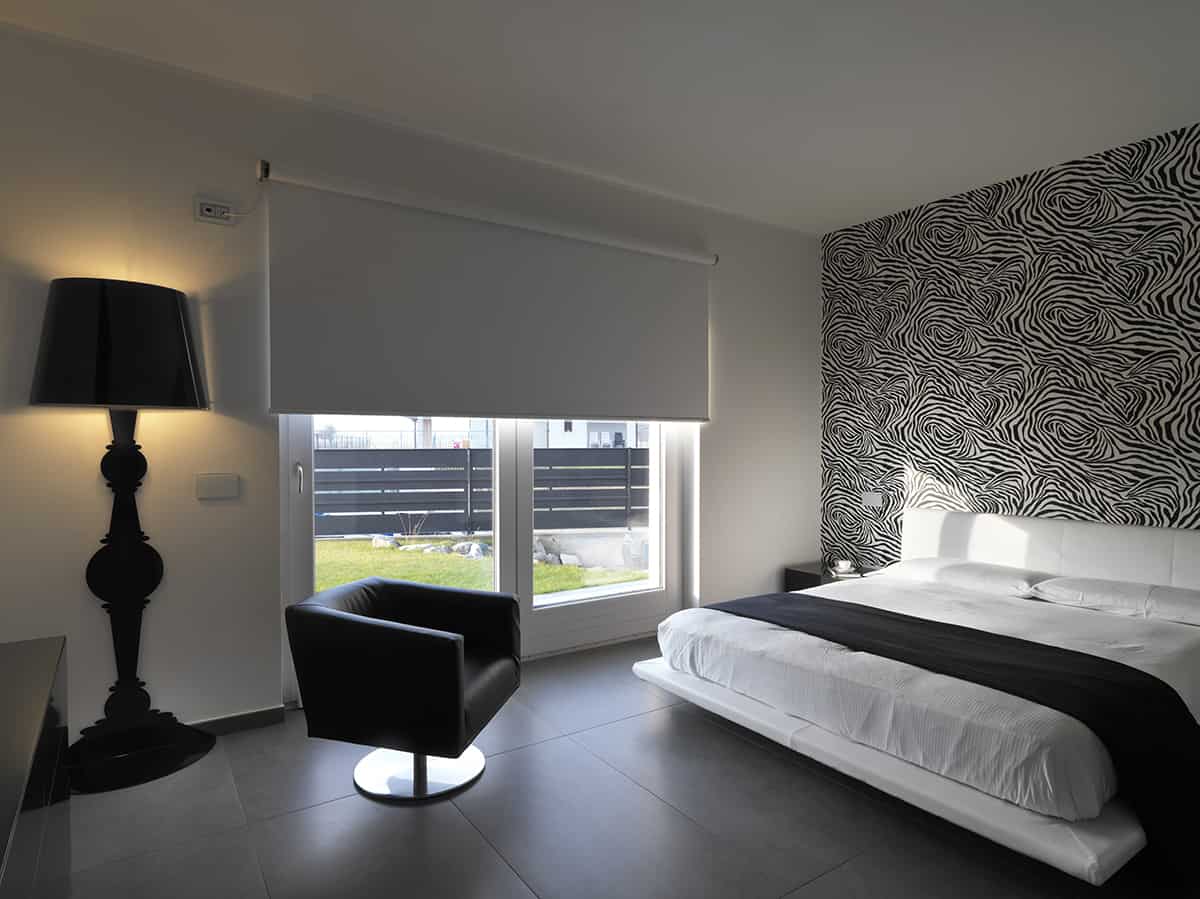 If your bedroom is large enough for a seating area, consider placing the floor lamp next to an armchair. The advantage of doing this is to enjoy a comfortable spot reading a book without having to sit on your bed. When the curtains are closed at night, the floor lamp will come in handy!
Light Up Around the Dresser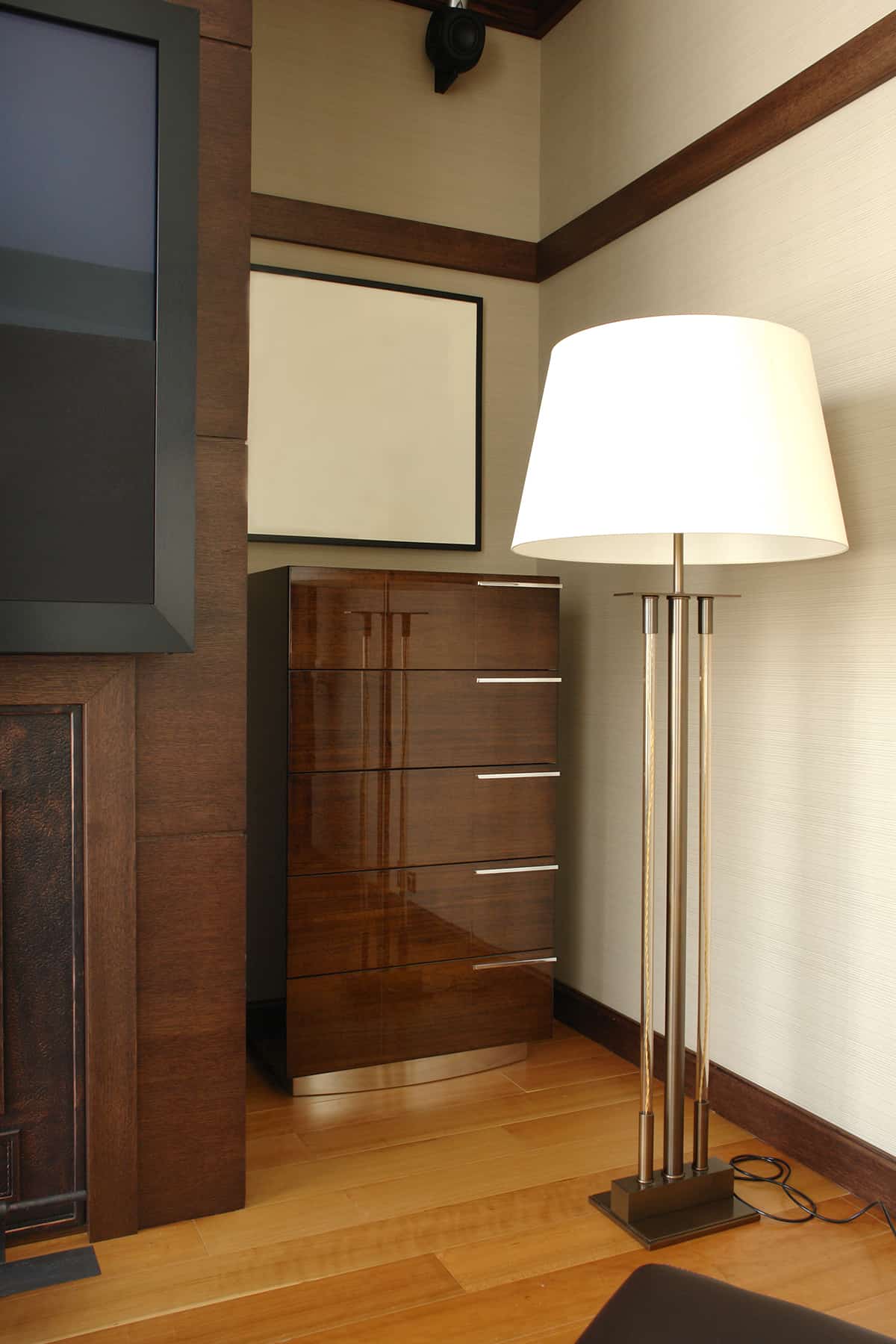 If you want to have more light near your dresser, consider placing a floor lamp instead of a table lamp near this furniture piece.
This way, the space on top of the dresser remains vacant for a mirror and other accessories!
For Extra Stability, Choose a Tripod Floor Lamp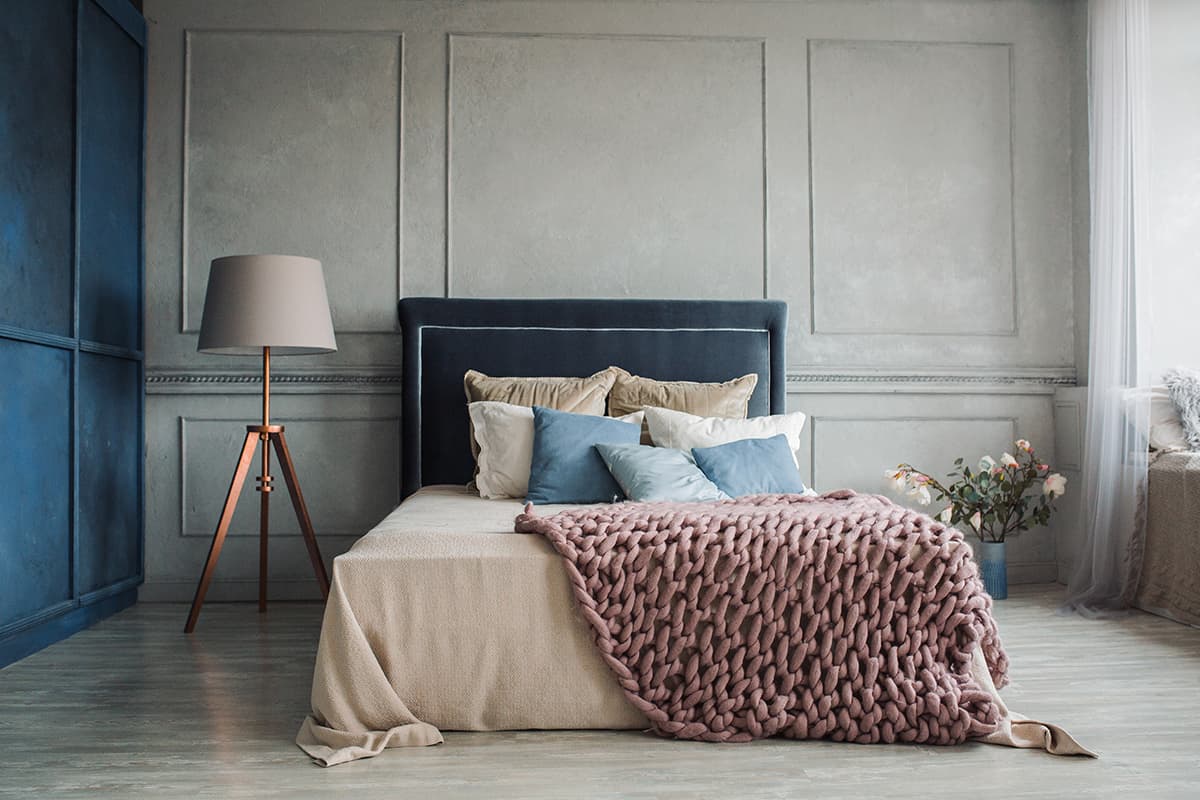 Some floor lamps can be a little wobbly because of their slim base. If you're concerned about the stability of your bedside lamp, consider getting one with three legs. A tripod design has a weighted lower section, which keeps the lamp stable.
This option is especially ideal for a child's bedroom as it's less likely to get knocked over.
There are many distinct advantages that come with tripod floor lamps. Not only do these lighting solutions look great next to the bed, but they are also sturdier than their counterparts. These lamps are more than just decorative lights in Scandinavian-style interiors.
The three-legged models are portable, thus allowing you to move them anywhere you like. Simply plug them in next to the bed or armchair whenever you need dimmed lighting.
Light a Dark Corner with a Large Floor Lamp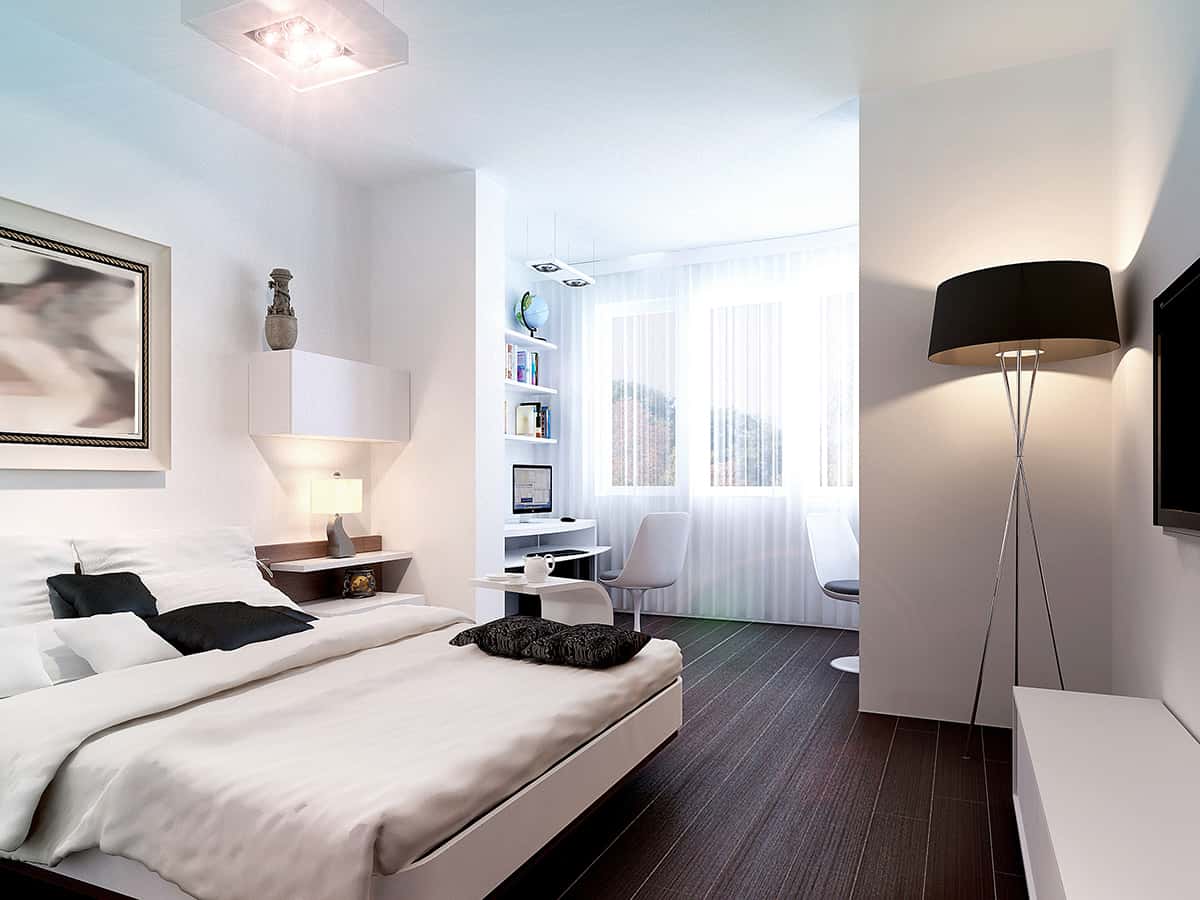 In bedrooms with dark corners that are away from the window, a large floor lamp is an excellent solution. The traditional ceiling lights don't always brighten up the entire bedroom. Plus not all rooms have windows, so it makes sense to add extra lighting.
In this case, opt for an oversized floor lamp to brighten up your bedroom's dark corner.
Tip: when choosing a large freestanding lampshade, make sure you color-coordinate it with the rest of your bedroom. For example, a black and white bedroom can be paired with a black metal floor lamp for a cohesive color scheme.
Choose an Adjustable Floor Lamp
If you're planning on positioning your light fixture next to your bed, then you'll want an adjustable floor lamp.
This option is also ideal for the nursery or master bedroom, where the height adjustable lamp has a flexible neck for wherever you want to place it and how high or low you want to position it next to your bed. There are also swing-arm models as a great option for reading a book before you sleep.
If you're not sure which color works best for your bedroom, go for a neutral white or black metal as a contemporary choice. These timeless colors complement any bedroom style or decor.
Use an Antique Floor Lamp as a Classic Accent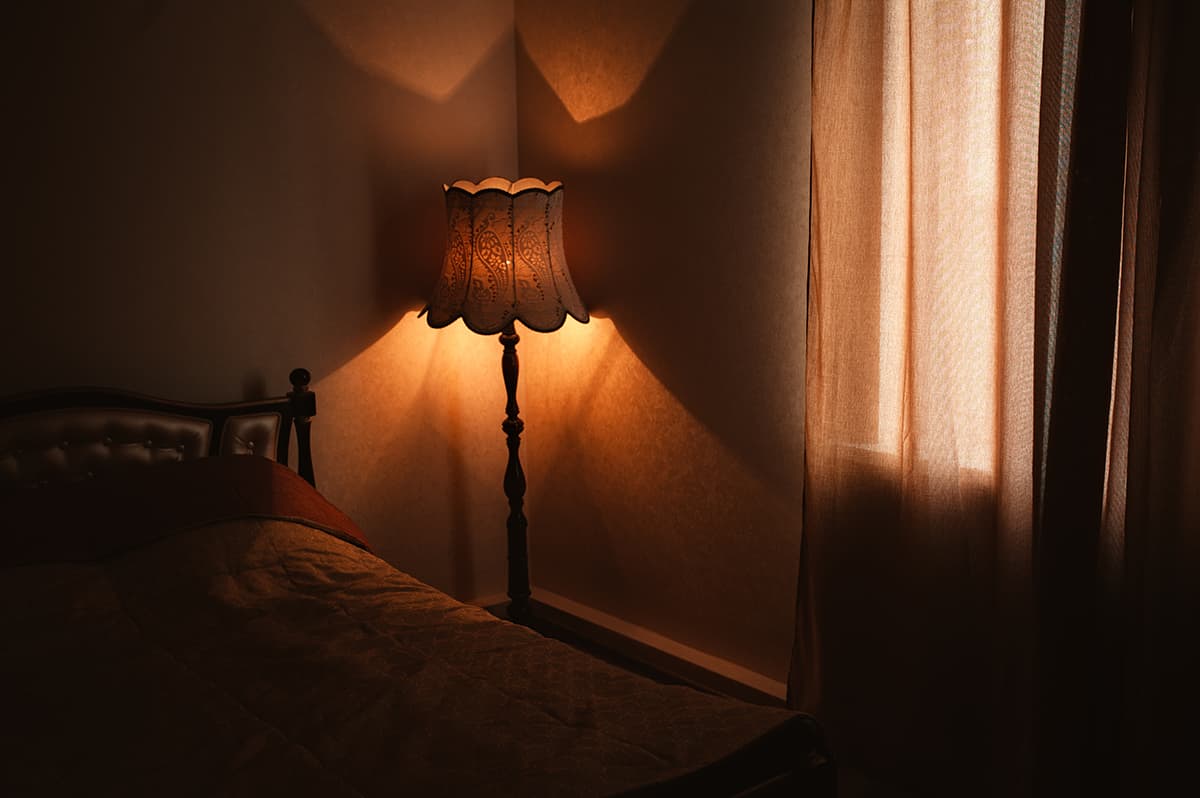 If your bedroom design leans more toward vintage than modern, then add an old-fashioned touch to your space with an antique floor lamp. You can display this unique lighting near the bookshelf, next to the bed or armchair.
There are many antique floor lamp designs you can choose from for your rustic bedroom. Some feature an elegant brass or wrought iron stand with a pyramid-shaped lamp shade while others have dark-stained wooden legs with a large hexagonal shade. These lamps are ideal as accent lighting in a farmhouse or country-style bedrooms.
Why Choose a Floor Lamp for Bedroom?
Floor lamps are an excellent lighting solution for bringing warmth to a bedroom. But these freestanding lights aren't just used for decorative purposes; they are chosen for their many advantages over other lighting fixtures. These include:
No Installation Necessary
Almost all lighting fixtures require wiring installation. But with a floor lamp, all you need is a space with an electrical socket for a power supply. This is a more affordable solution to the wall-mounted lights that require the expertise of an electrical professional for installation.
Furthermore, floor lamps are so portable you can take them to any room you like, including the balcony or porch!
Available in Numerous Designs and Styles
Floor lamps come in a variety of designs and styles, making them the most popular decor piece for homes. From antique lamps to contemporary metal finish and minimalist wood designs, there is something to suit everyone's taste.
These versatile and flexible lighting solutions can easily be spruced up by fitting a colorful new lampshade on the stand to match your decor. You may also opt for multi-directional light units to brighten up a dark corner. The options are endless when it comes to choosing a floor lamp design!
Creates the Illusion of Space
If your room is compact, the biggest advantage of a floor light is to open up the room and creates heightened space. These tall, freestanding lighting solutions also illuminate the small room at eye level by balancing out the brightness from the ceiling lights and wall lights. By adding a floor lamp or two, you can contribute to the illusion of space in your small room.
Aesthetically Pleasing
These lamps have a unique charm of their own. These classic decor pieces complement almost any interior theme or design, whether it's a coastal, rustic, mid-century modern or industrial style. The aesthetically pleasing floor lamps increase the chic ambiance of a room while offering usage and mobility.
Additionally, these lights give you the freedom to design your room according to your needs without having to alter the lighting system of the room. This makes them the ideal solution for those who don't want a permanent lighting fixture.
Perfect for a Reading Corner
While a table lamp is a useful lighting solution for reading a book, it barely provides enough brightness to serve its purpose. A floor lamp, on the other hand, is ideal for when you're reading, watching TV, or doing a crossword puzzle, as it offers just the right amount of light without using much energy.
No Glare or Eye Strain
Most lighting fixtures, such as bedside table lamps and recessed lights, flicker and cause glare or eye strain as they illuminate outwards. With floor lamps, however, you won't have any of these issues as the light in the lampshade illuminates downwards.