The headboard of a bed is usually a focal point in any bedroom due to its size, as well as its typically central location on a wall.
The type of headboard you choose, and the color of the headboard you choose, are going to impact the overall style and atmosphere in the room significantly. For an industrial-themed bedroom, a black metal headboard could be appropriate, or for a romantic, feminine space, a soft pink, velvet upholstered headboard could work well.
Here we explore the 11 best headboard colors and materials and explain which styles and color schemes they will work best with.
Neutral Headboard Colors
Neutral headboards are always a good option in any room because they offer greater longevity. Since headboards can be expensive, they aren't the sort of item you will want to replace every few years when your style or taste changes. By opting for a neutral-colored headboard, you can ensure that it's going to look good with any possible future color scheme you might choose.
For example, if your bedroom is painted pale gray, you could opt for a dark gray headboard to accent it. In the future, when you decide that you want to paint the walls beige, go for a bolder look with dark green walls, or even paint the room bright pink, the dark gray headboard will be neutral enough that it will look good with any of the paint colors you might choose.
The same can be said of most neutrals; they match well with most other shades and don't cause a color clash that makes the room feel overstimulating.
By contrast, you could be putting yourself in a tricky situation if you opt for a bold color of the headboard, such as red, because it could quickly become outdated, and you'll struggle to match it with future color schemes.
Pale gray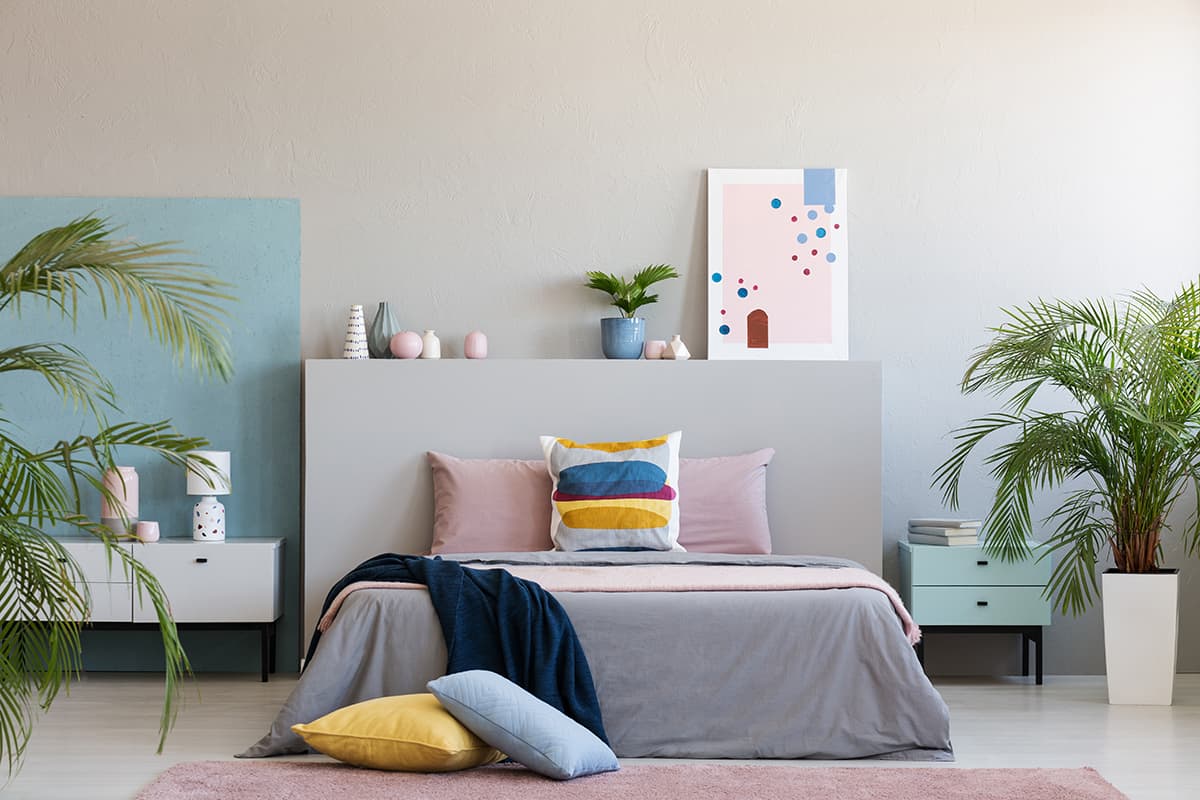 A pale gray headboard will bring a cool and modern touch to a room, working especially well with laidback and casual styles such as coastal or minimalist themes.
Pale gray can work with any other color, making it an easy option if you're someone who likes to change up your interior decor quite frequently. If you want a pale gray headboard to stand out, pair it with a shade contrast, such as black, dark gray, or navy blue.
Dark gray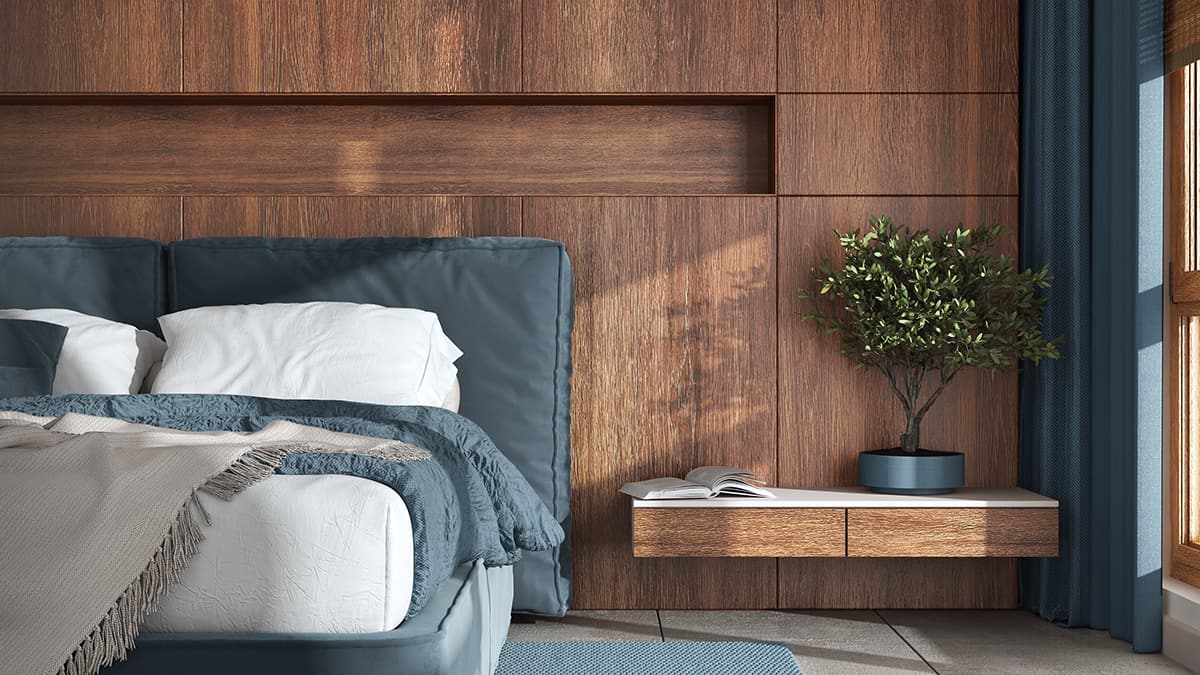 Dark gray is a nice color choice for a headboard if you like the effect of black but are worried about it being too stark or intense. Use dark gray silk upholstery on a headboard for a glamorous yet mysterious vibe, or opt for dark gray suede for a look that reads more masculine.
You could consider painting an old wooden headboard in dark gray paint to give it a new lease of life and match this with other accessories around the room in the same paint color, such as photo frames or upcycled nightstands.
White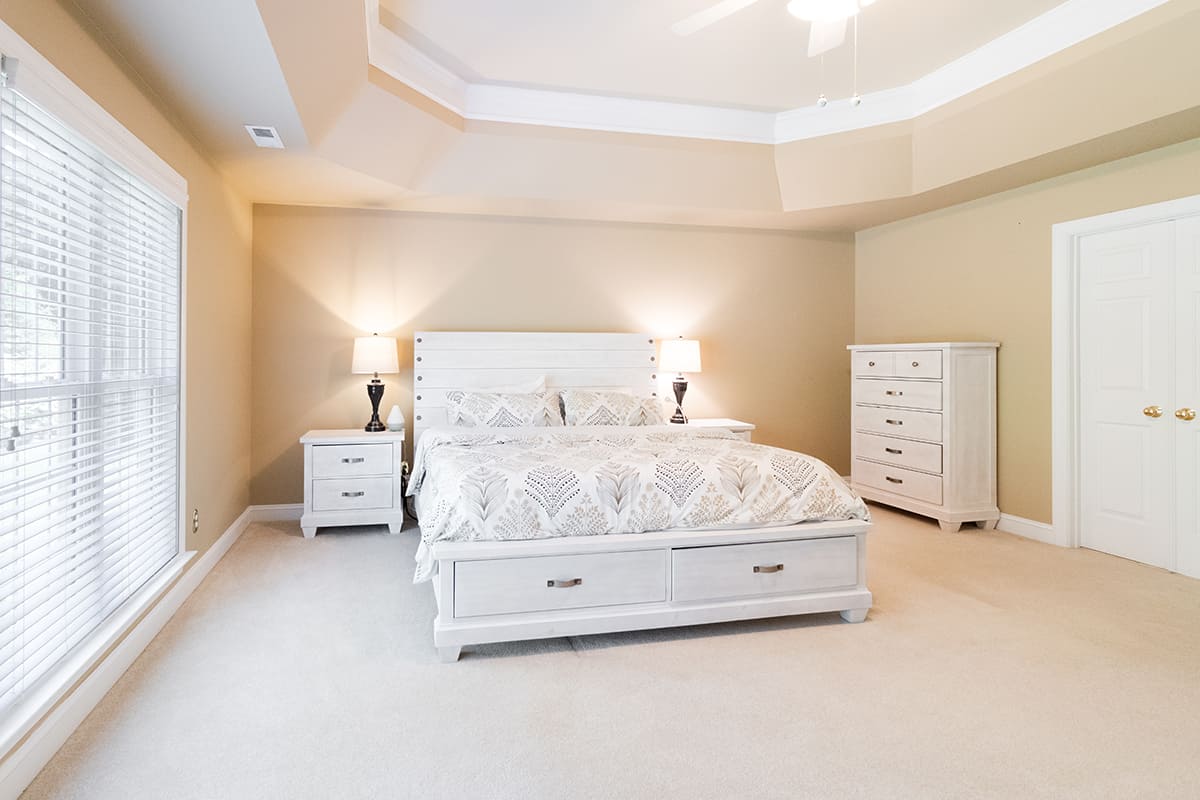 White is a clean and simple color that can help to give your bedroom a classic or chic feel reminiscent of a high-end hotel. White can be difficult to keep clean, so be sure when choosing a white upholstered headboard to opt for a stain-resistant fabric. Alternatively, You might opt for an off-white headboard so that any minor scuffs or discoloration will be slightly less obvious.
White is a really popular choice of headboard color when it comes to wooden, painted headboards. This is because it will match any color scheme or style you choose to use in the room, and it won't go out of fashion. White is a timeless color that will always be on-trend, making it an ideal option for an investment headboard that you want to keep around for many years to come.
Black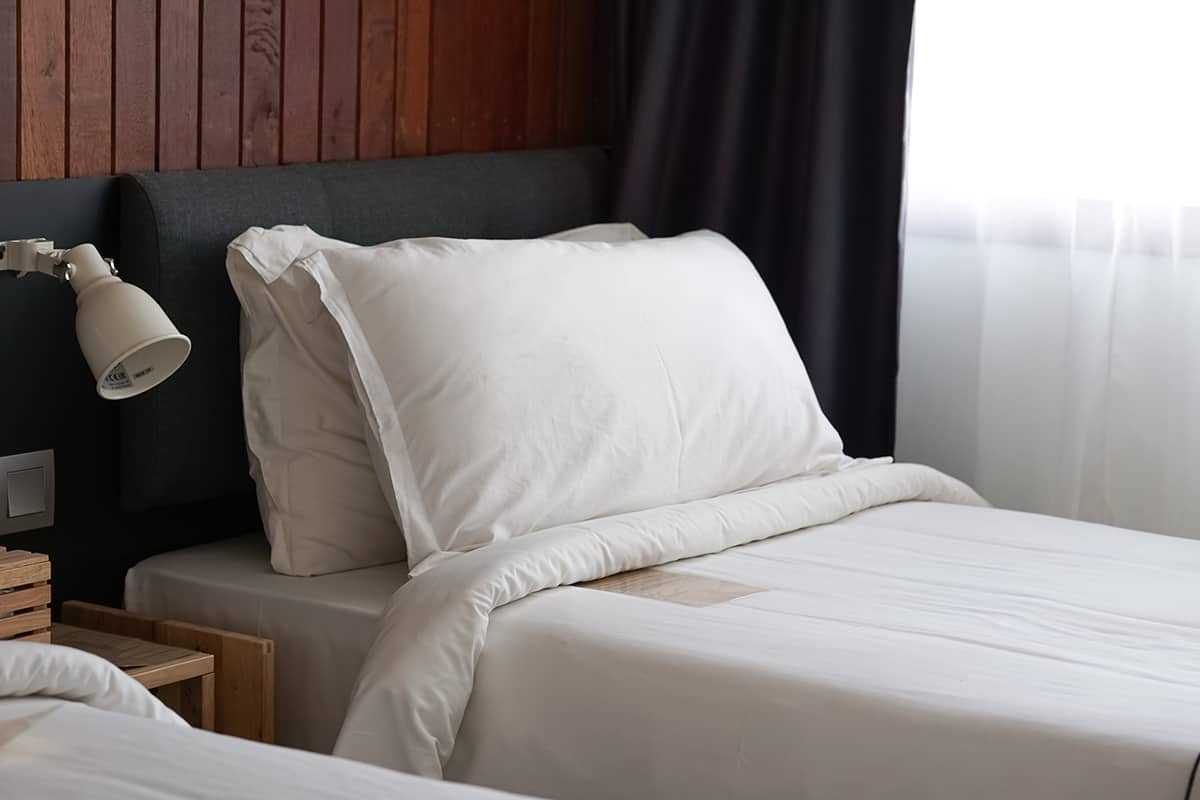 Like white, black is an ultimate neutral color that will work with any color scheme, so you can't go wrong with a black headboard. Some people may find the thought of black too bold and intense, but you can soften it by choosing appealing textures like black velvet on an upholstered headboard.
Matching a black headboard to other elements in a room will ensure coordination; for example, choose black lampshades and a black rug.
Beige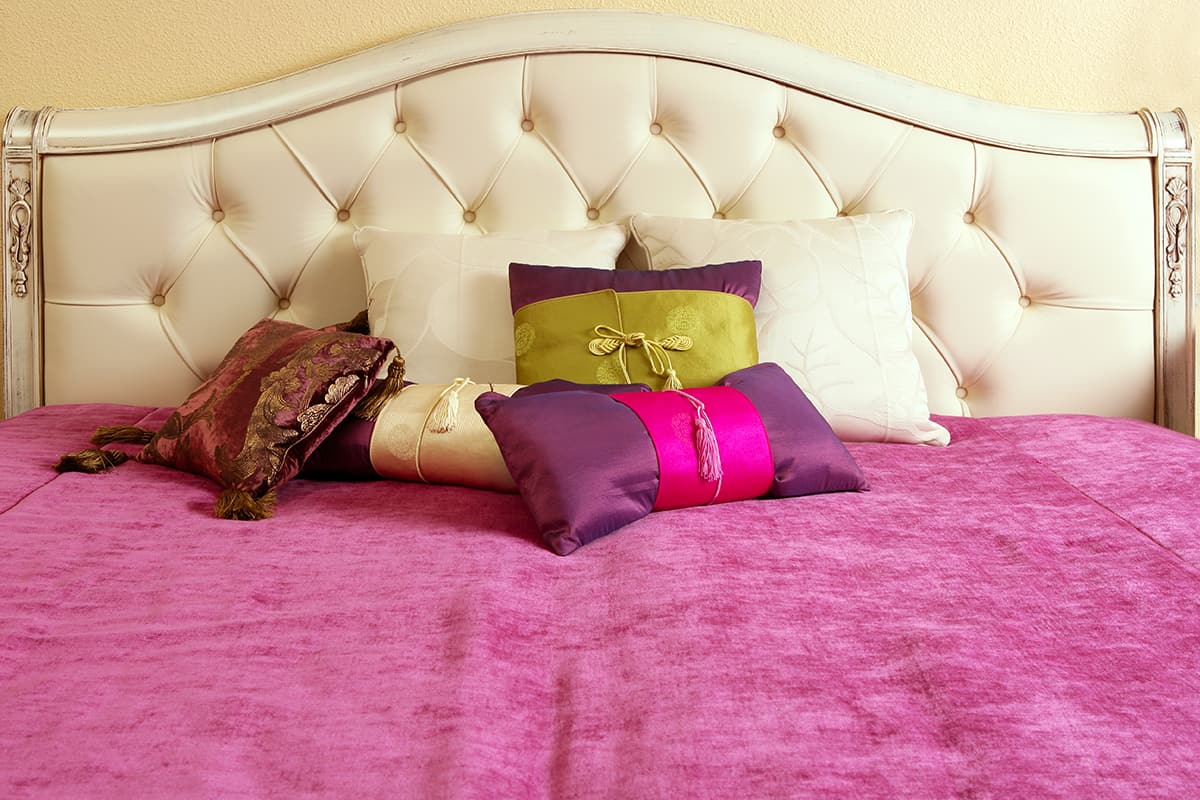 For many years now, beige has been somewhat pushed to the periphery in interior design, regarded as a dated, drab color. However, we're seeing a huge resurgence of beige in the world of home decor, with colors such as tan, camel, buff, nude, and ecru all becoming firm neutral favorites once again.
A beige headboard is a great choice in terms of maintenance, especially if you want an upholstered headboard. This is because it will hide scuffs and dust much better than a white headboard, yet you can achieve the similar sought-after, easy-going, carefree style associated with pale, warm neutral shades.
Greige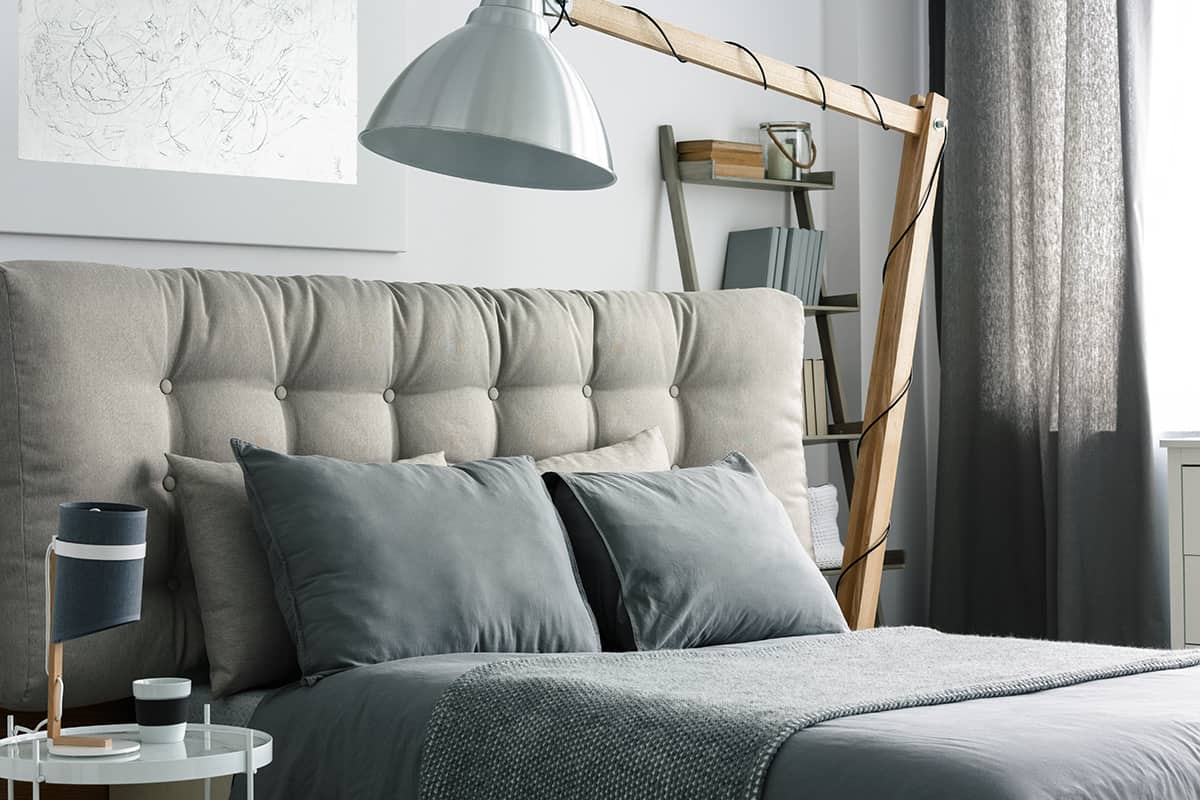 If you're on top of your interior design game, you'll know that greige is the new color on the block that will be everywhere for the next few years. This is a cross between gray and beige, giving us the cool and modern vibes of gray with the warmth and familiarity of beige.
Combining these neutrals results in a fresh neutral color that reads as cozy and welcoming while also maintaining a contemporary edge. The great thing about this shade is that it will work beautifully in a cold or warm color scheme and is classic enough to stand the test of time. Pair a greige linen upholstered headboard with pure white sheets, tan walls, and pale gray throw pillows.
Brown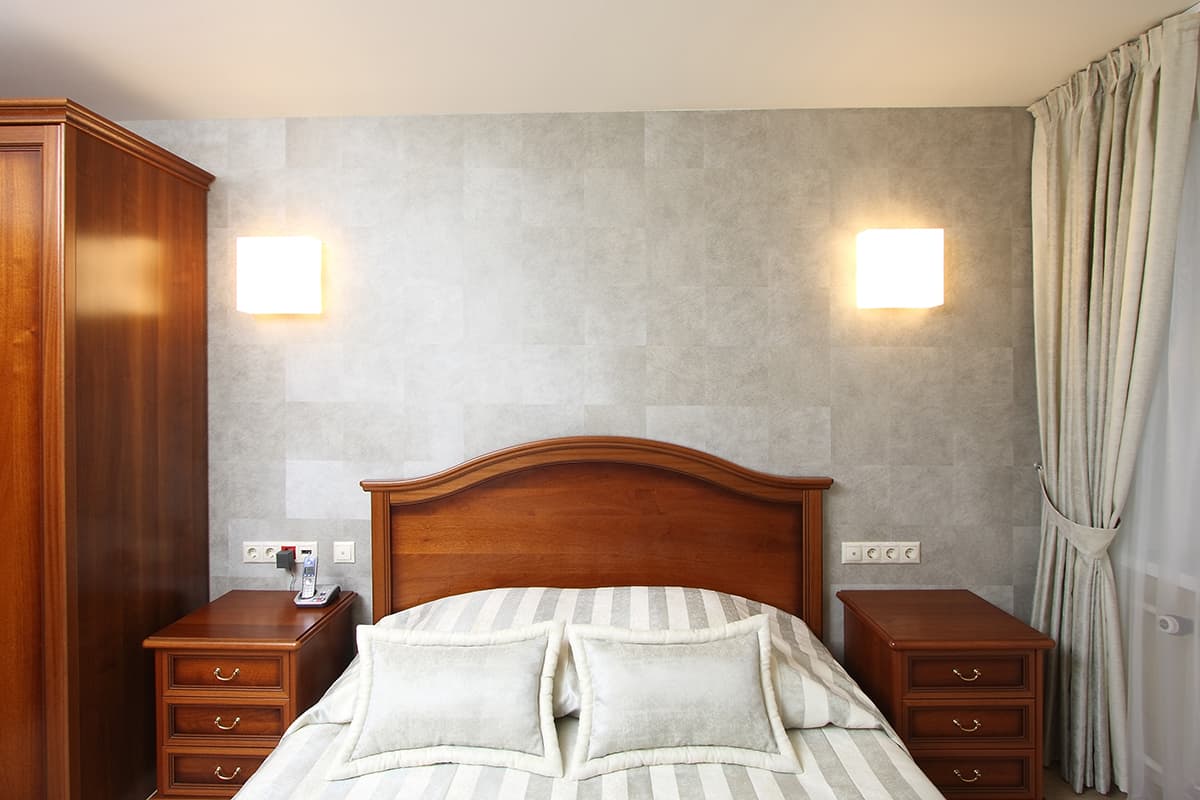 Brown is a color that has been somewhat forgotten in the world of home decor because it can come across as musty or drap. However, when you use the right shade and the right texture, a brown headboard can really transform the whole atmosphere in a room for the better.
If you're opting for a leather headboard, brown is easily the best color. Brown leather fades to a gorgeous patina over time, and it will go with any color scheme you choose. Brown leather headboards make for a warm, inviting feel while adding a sense of history or a rustic vibe.
If you'd prefer a solid wooden headboard, choose a deep brown timber such as walnut or dark-stained oak. This type of brown headboard creates a strong presence in the room, making the bed feel like the central, commanding point.
Statement Headboard Colors
If you want a statement headboard in a more unusual color, then your choices will be slightly more limited compared with neutral hues, but there are still plenty of choices available. Bold-colored headboards become the focal point in a bedroom, and they can help to define the theme or color scheme in the space.
While some people prefer to avoid bold colors in interior decor for fear of getting bored with the color, or the color falling out of fashion, plenty of people want a headboard with a strong personality.
Blue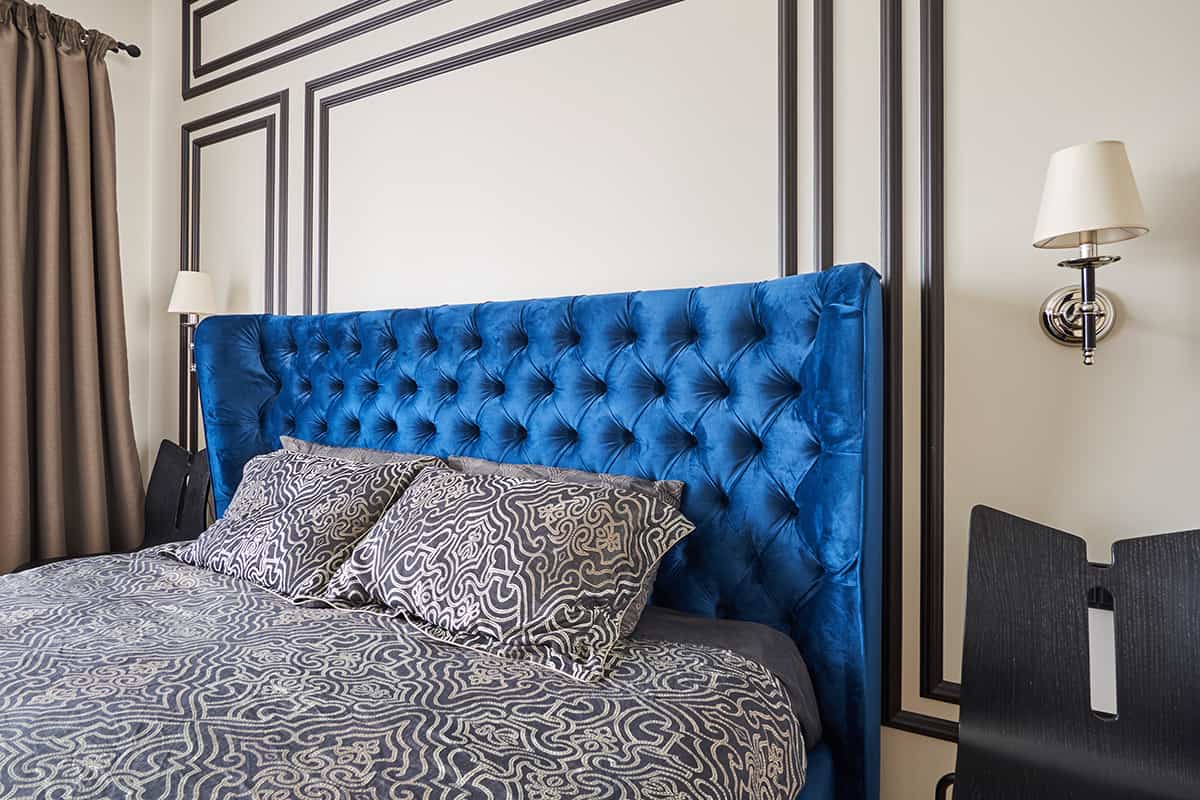 Blue is a soothing color, making it an excellent color choice for a headboard. Blue will serve you well if you want to encourage relaxation in the bedroom. Opt for a light blue to enhance a serene atmosphere, or choose a darker or more vibrant shade, such as teal or peacock blue, for a vivid result.
Pink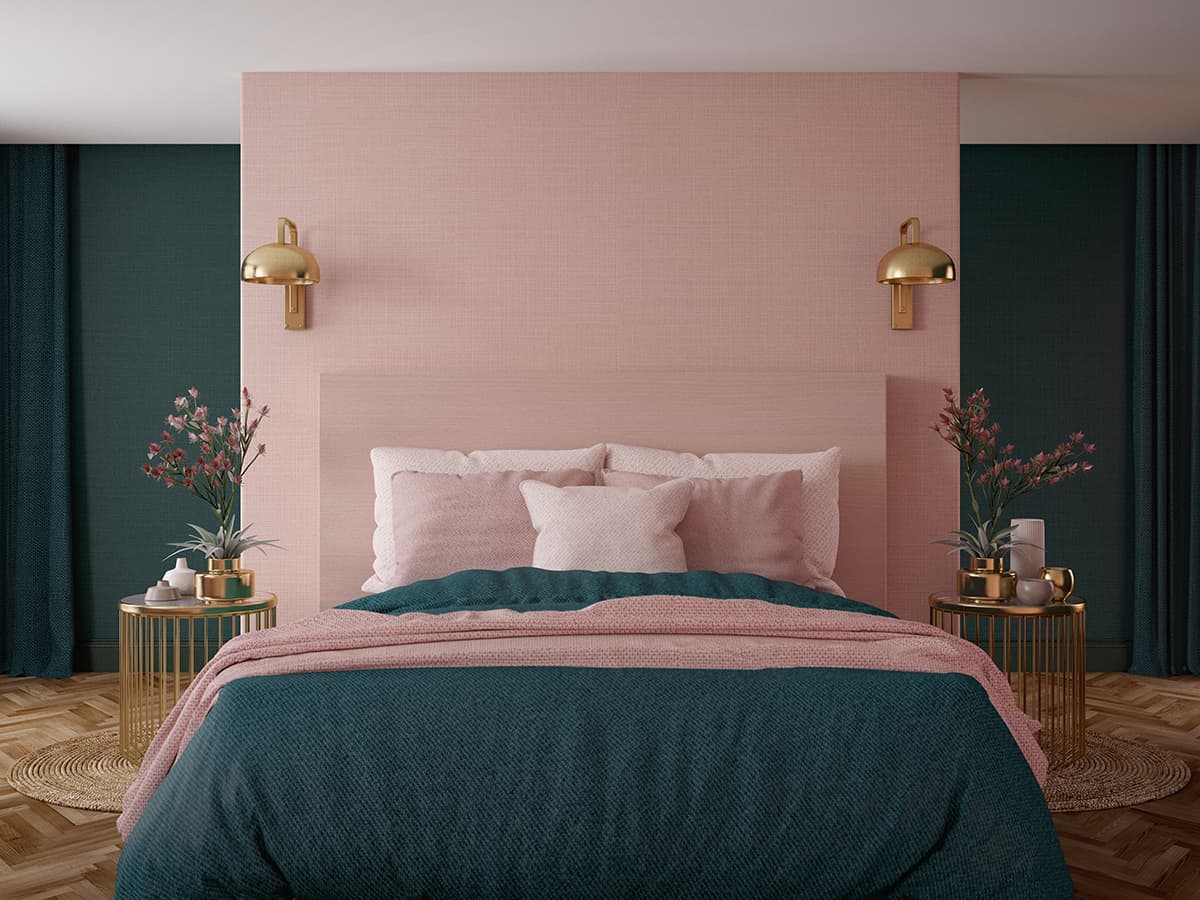 Pink is probably not the first color that springs to mind when you imagine a headboard, but it's actually a really popular shade for bedrooms because it is subtly romantic and it's easy to live with.
Opt for a pale blush pink on your headboard to add a hint of femininity to the space, pair it with wicker or rattan furniture for an easy, casual style, or opt for gold metal furniture for a more glamorous edge.
Green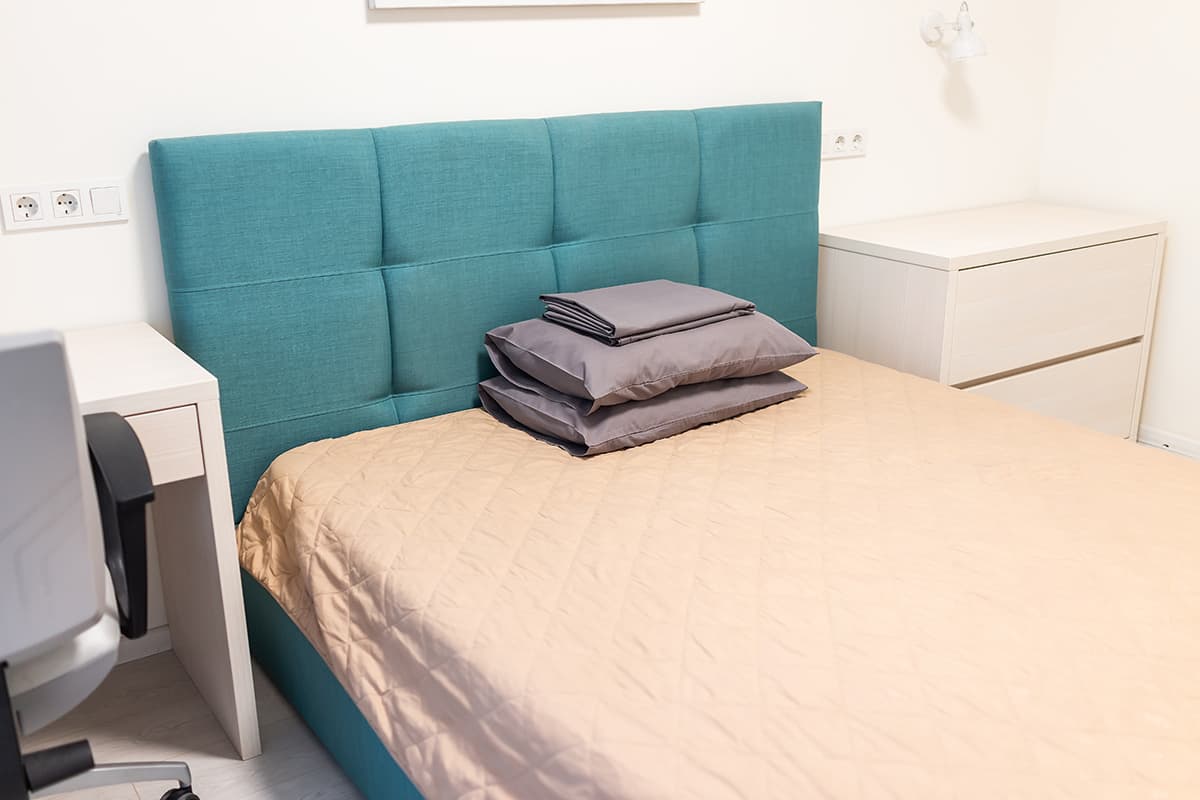 Green themes are trending in bedrooms right now, thanks to this color's ability to bring the outside world in. A green headboard will look great in a botanical-themed room, set against wallpaper that has a foliage motif.
Opt for a bottle green velvet headboard for a mid-century modern vibe, or choose a cotton olive green headboard for a more natural style.
Orange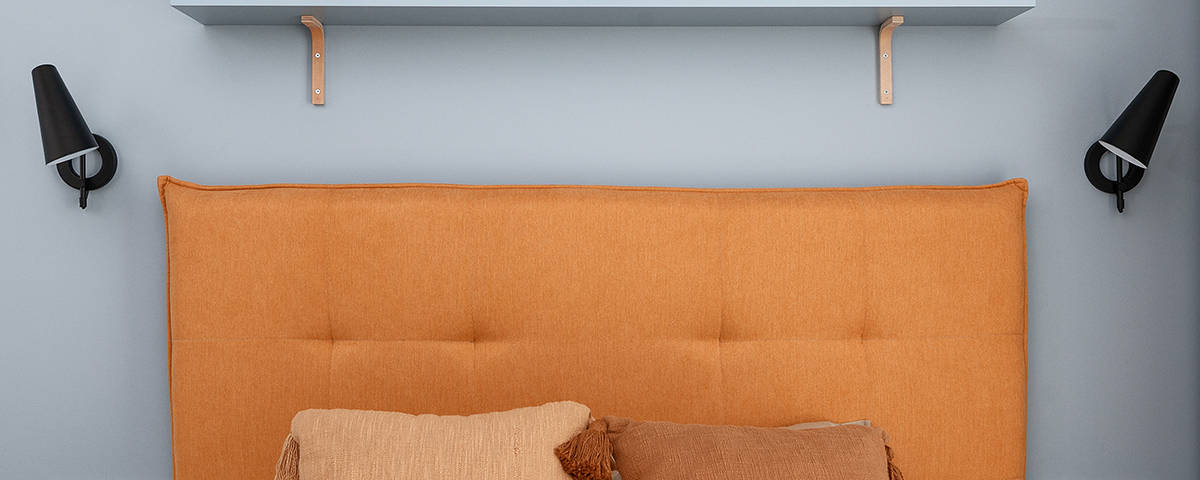 Many shades of orange can look stylish and even opulent if used correctly. A burnt orange upholstered headboard with a brass trim can set the scene for a middle-eastern inspired bedroom; simply add in some terracotta plant pots and throw cushions in contrasting azure blue.
You can alternatively achieve a modern, minimalist look using a bright orange headboard and unfussy pale gray walls. As a deeply warming shade, you can offset orange by pairing it with cooler colors like greens, blues, and grays. Orange can also work well in a nature-inspired room alongside sage green.