Due to the vast rise in popularity of gray as a color in home decor, gray couches have become the new go-to choice for neutral sofas.
As a trendy neutral shade, gray couches offer a future-proof choice of furniture in a living room because they will go with so many different colors, ensuring that if you decide to redecorate your room that you won't need to replace your sofa.
Here we look at curtains that will work well with a gray couch.
Mustard Yellow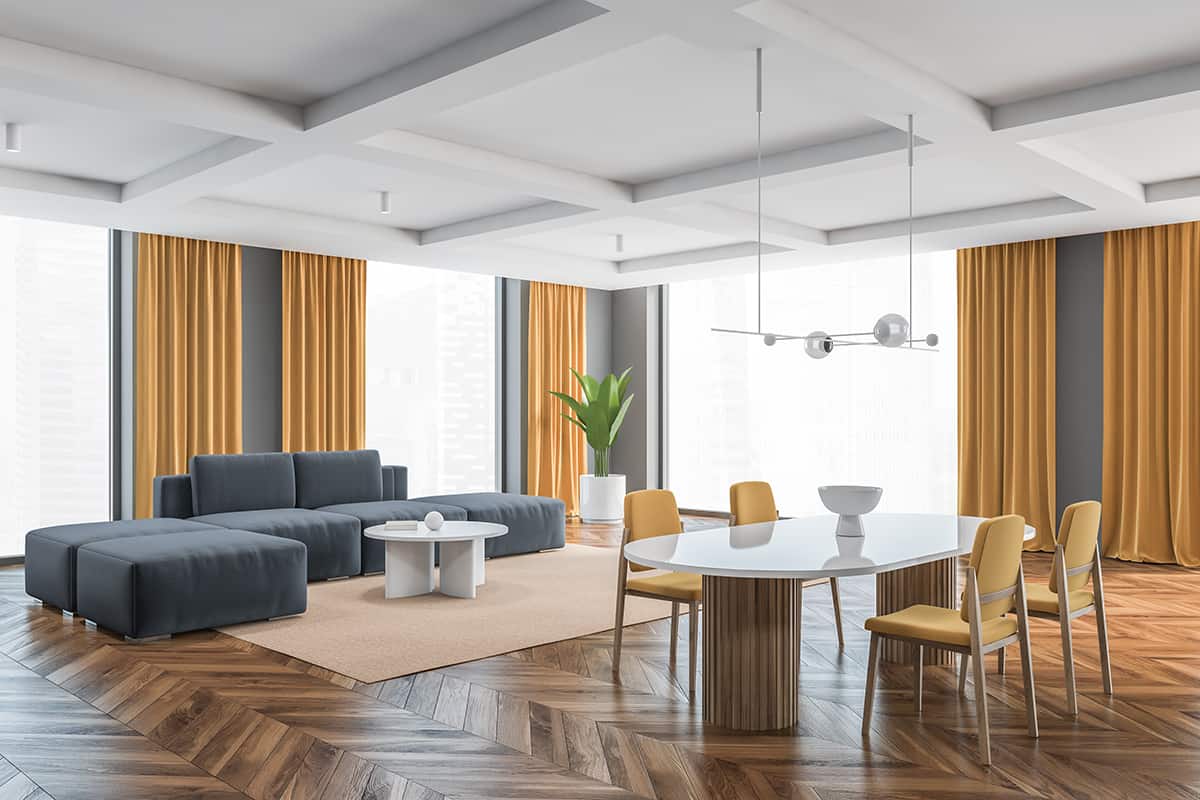 This shade of yellow is a warming, complimentary color for cool gray tones. If you have a dark gray sofa, then you can make your living room feel more fun and vibrant with the addition of mustard yellow curtains.
The texture of the curtains will be important in this instance because, in keeping with the Scandinavian style, curtains should be functional, and therefore a heavy fabric such as suede will be a good option.
Alternatively, pick linen or more natural mustard yellow fabric for curtains but ensure they are lined or weighted to give a heavy look which will help to balance out the heaviness of a dark gray sofa.
Pale gray sofas can also work well with mustard curtains, but be sure to use a dark shade of mustard so that you achieve a contrast, especially if the curtains and sofa are in close proximity to each other.
Emerald Green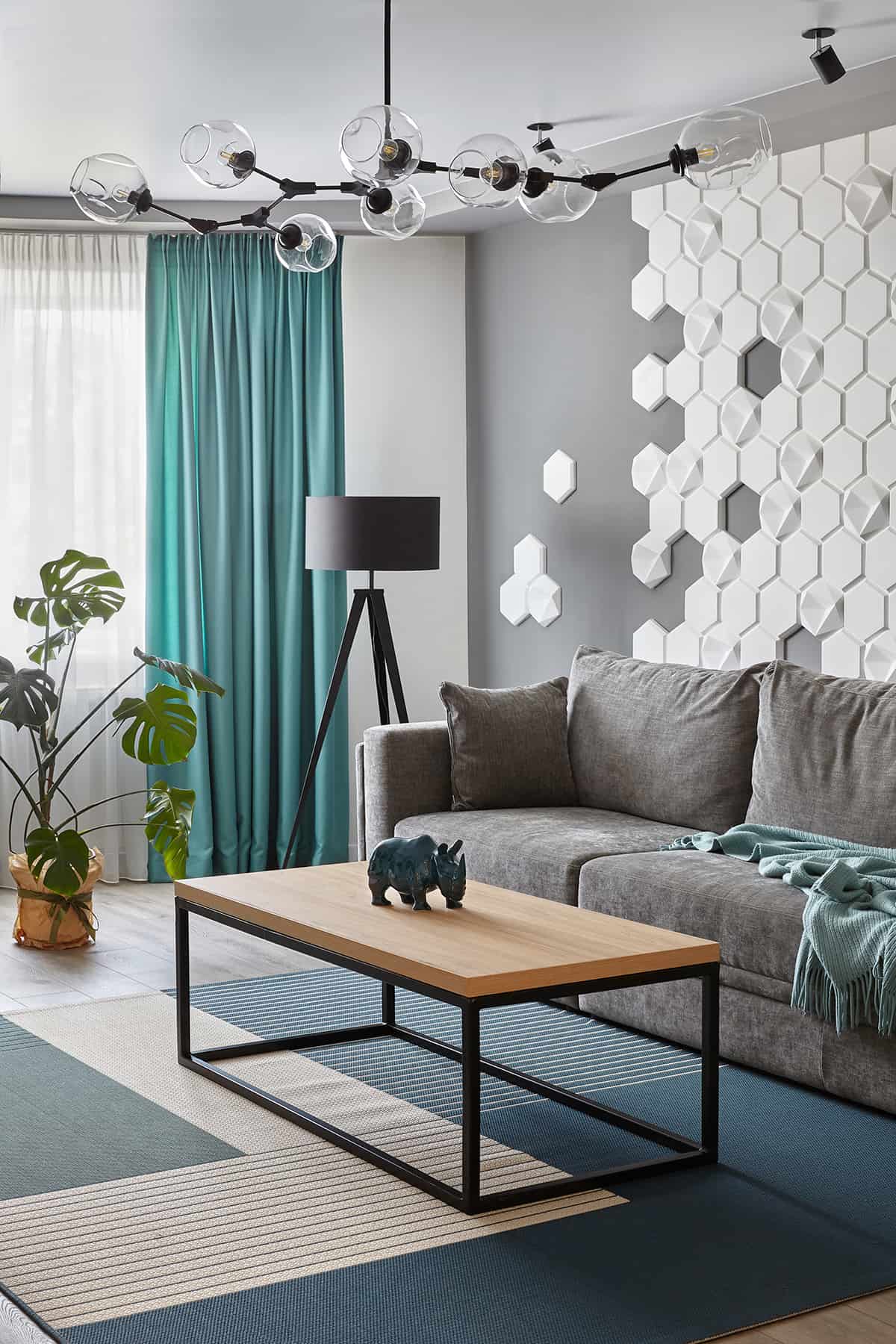 Emerald green is very on-trend right now, especially when used in rich textures such as velvet to achieve an elegant and sophisticated look.
Pair emerald green curtains with a dark gray couch for a dramatic look, and paint the walls in a mid-gray color to keep the theme consistent while maintaining a contrast between the shades of gray.
A pale gray couch can also look great with emerald green curtains, but be sure to match the look of the fabrics so that the style is cohesive.
For example, choose green velvet curtains and a gray velvet sofa. Match the emerald green curtains with other accessories in the room to continue the color theme, such as green cushions on the sofa or an emerald green fluffy rug in the middle of the room.
Mint Green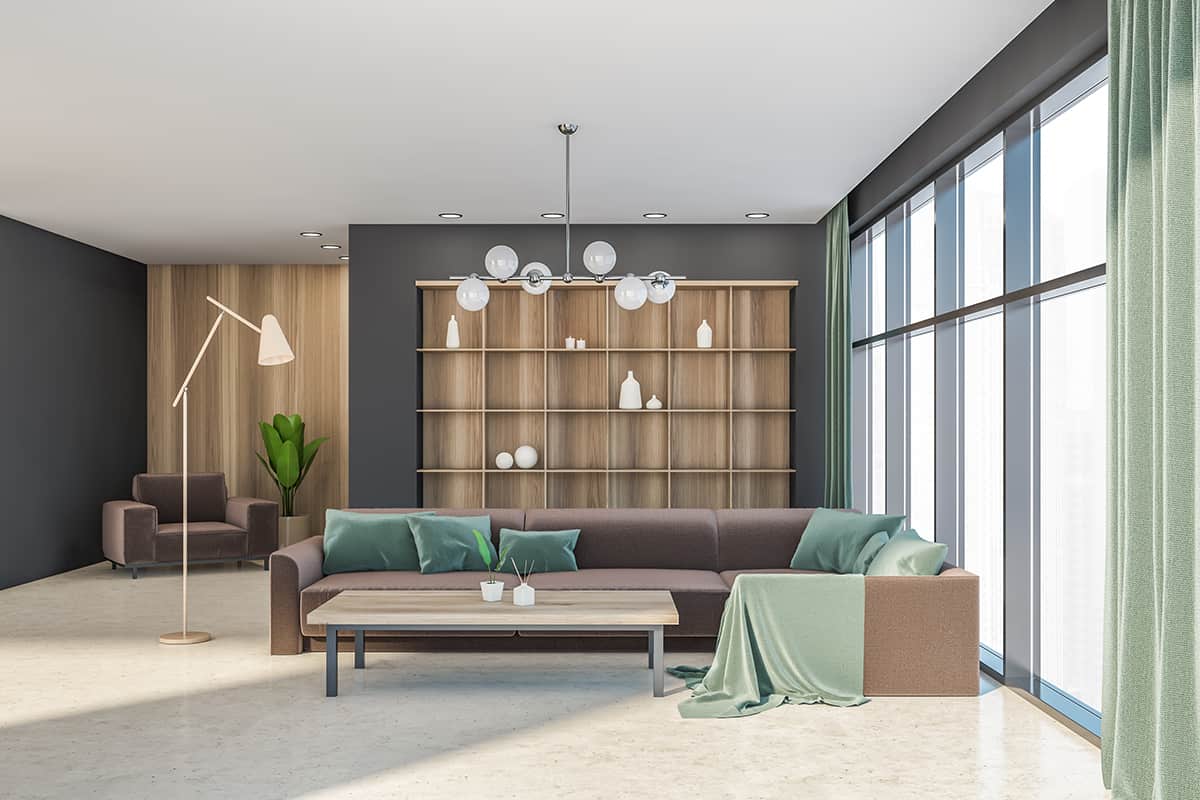 If you are going for a more natural and earthy look, then mint green curtains can work well with a gray sofa.
This is a shade of green which is more consistent with an outdoorsy theme, and gray works well with this because it is a common color in nature, for example, rocky mountains or pebble beaches.
You can help to build on this theme by choosing an earthy color for your wall paint, such as tan or beige. Tie the color scheme altogether by placing mint green and beige cushions on the gray sofa, and link the gray sofa to other components of the room, for example, gray picture frames on the walls.
For a truly natural style, you should look for soft furnishings in natural fabrics and avoid rich or luxurious fabrics. This could include cotton, linen, jute, and Berber.
Teal Blue
Blue is an innately soothing and calming shade that can work well with a gray couch if you want your living room to be a place that inspires relaxation.
Teal blue is a particularly nice shade of blue to use with gray because it offers vibrancy and energy that gray can lack, making your gray couch seem less dull and more lively.
Teal blue curtains would look great in any fabric, and you could even consider patterned teal curtains if you want to add more interest to the space.
Geometric patterns will work well for a modern style, or consider large floral motifs with gray flowers for a more traditional or romantic look which ties in the gray sofa with the color scheme.
In spite of blue and gray being similar colors, teal offers a nice contrast against gray because it is saturated and bright, compared with gray's somewhat dull tones. If you want to liven up your living room with a gray sofa, then teal is a great option.
Introduce it in heavy swathes with bold curtains and then add teal accents around the rest of the room with accessories.
This teal blue curtain from Deconovo is available on Amazon
Navy Blue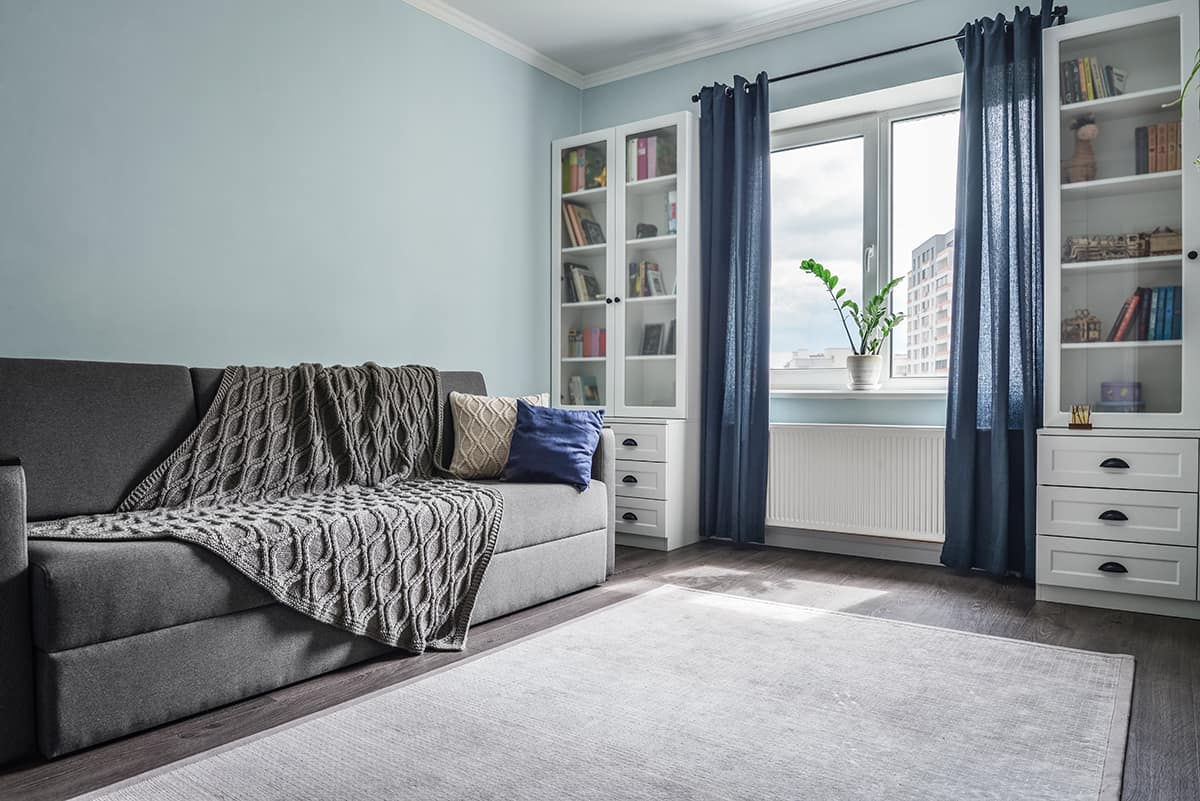 For a cozy living room, choose dark colors and feel surrounded by the safety of deep shades. Navy blue curtains with a dark gray sofa can work nicely to achieve this, with mid to light gray walls.
Alternatively, pair navy curtains with a pale gray sofa and paint the walls in dark gray. Navy blue, of course, is ideal for a nautical-themed room, so choose curtains in this color to define this type of theme in your living room.
Navy blue, like gray, is a popular color in interior design which can work almost like a neutral because it pairs so beautifully with a wide range of other colors.
This makes navy curtains with a gray sofa a safe choice in terms of future options because you could completely change up the look of the room by painting the walls and not need to change the sofa or curtains.
Wall colors that would work well with navy curtains and a gray sofa include blush pink, olive green, white, beige, gray, light blue, yellow, orange, purple, or tan.
White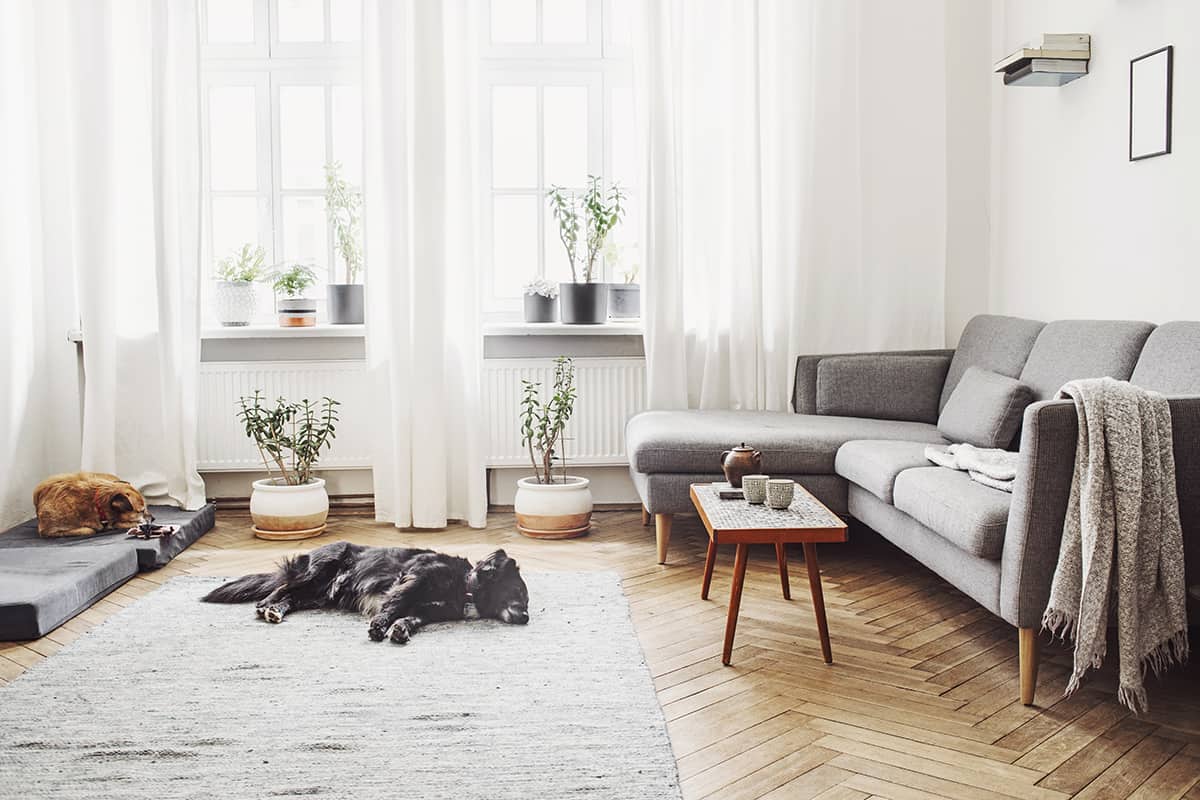 A light and airy look in a living room is a popular style that has been brought to our attention predominantly through influencers on social media. This style is created by using a very simple palette of shades of white, off-white, and pale gray.
For many people, it represents an unachievable reality because having a mainly white room would be a challenge, to say the least, to keep clean.
However, if you are good at keeping your home clean and tidy, or your family works long hours outside of the home and are therefore rarely home to mess it up(!), then it could be a nice look.
To get this style at home, paint walls in a shade of white, get a pale gray sofa, and use these colors throughout the rest of the room. White curtains made from a light fabric, such as voile or lace, will be a good choice because the lightweight element helps to further encourage the airy and breezy look.
Beige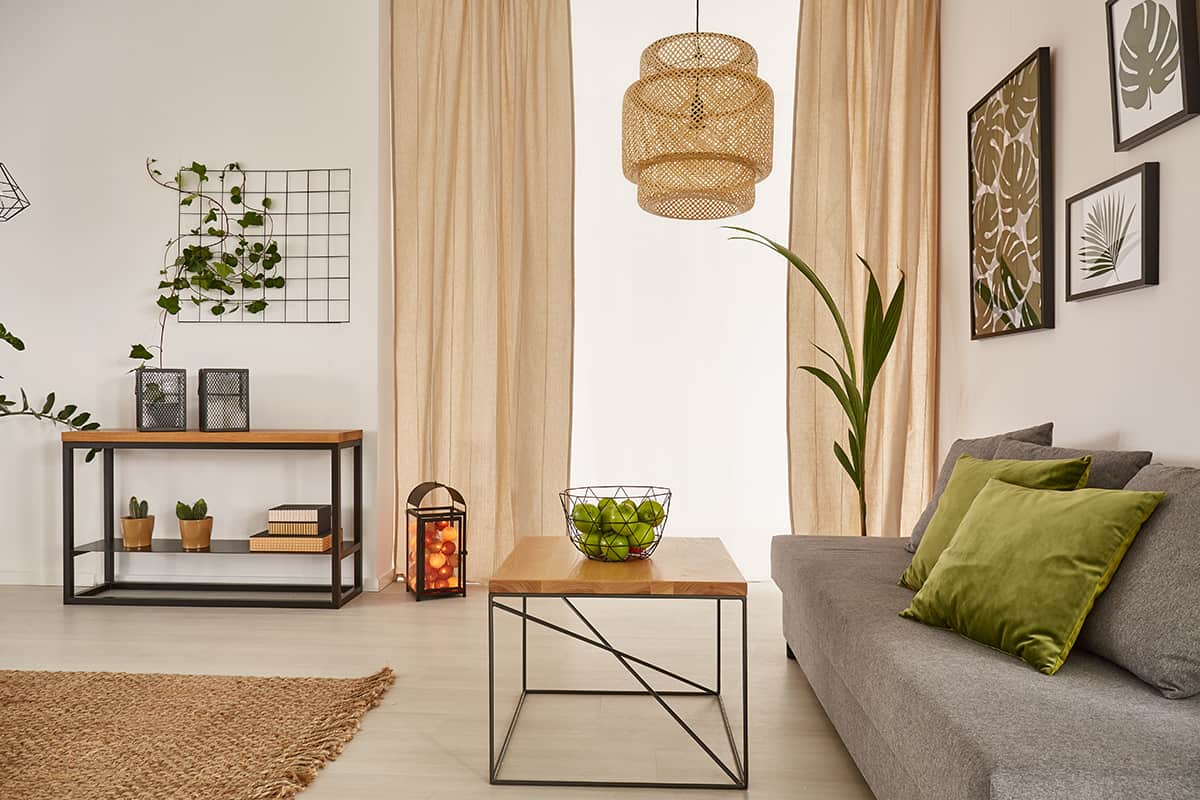 If you want to ensure your living room is a warm and welcoming space in spite of a cool gray sofa, then choose beige as an accent shade in your color scheme.
Beige is a warm neutral shade that helps to make a room feel cozy and inviting. Choose a light shade of beige if you want to maintain an airy look, or a darker shade of beige will result in a warmer atmosphere.
Black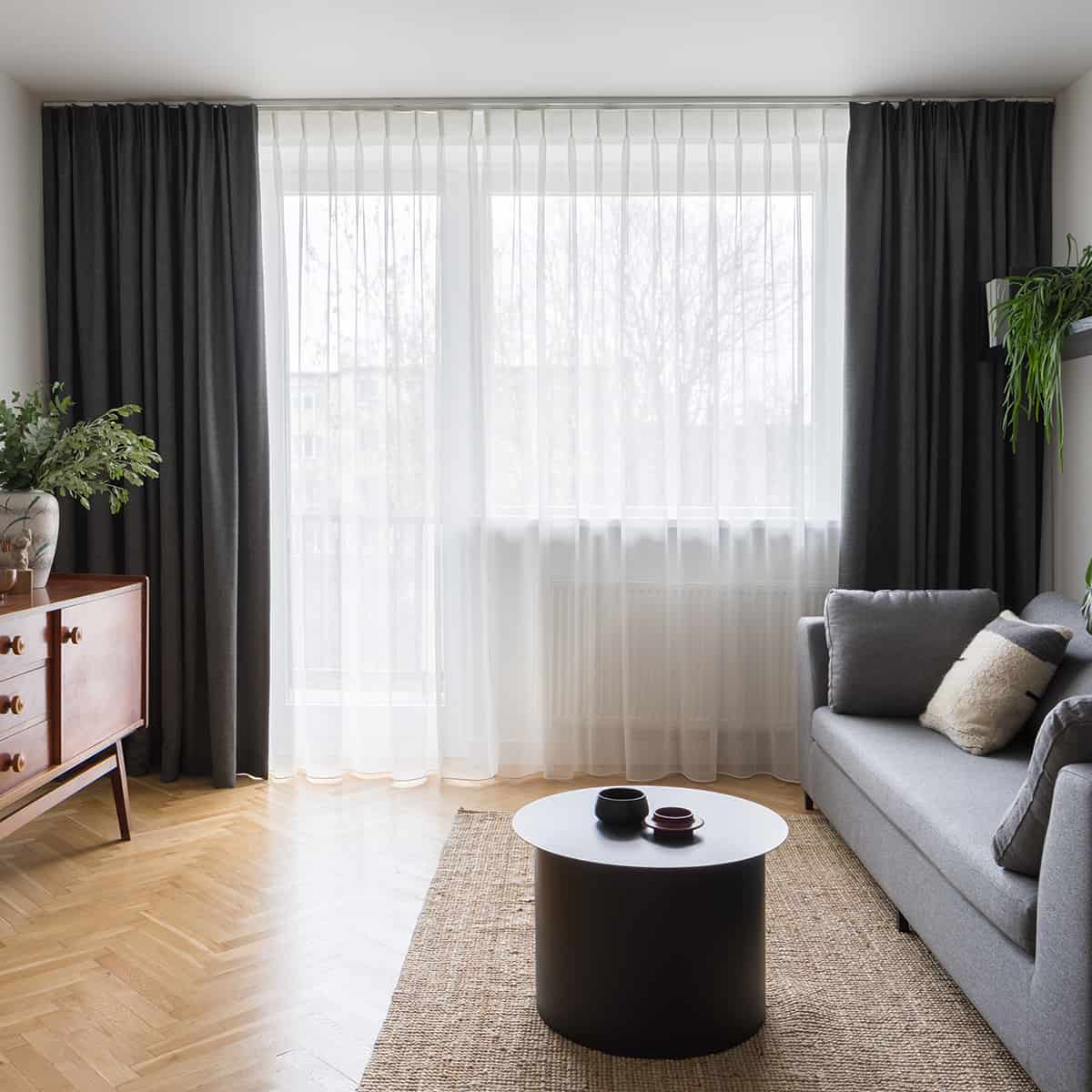 Black curtains can make a bold statement in a room with pale walls and can create a sophisticated monochromatic style. The addition of a gray couch in a room with black curtains further elevates the monochromatic look and avoids the predictability of just using black and white.
Black curtains also make a practical choice if you like to close them and block out light in your living room because, as a dark color, they will absorb light and result in a more moody atmosphere when drawn.
Blush Pink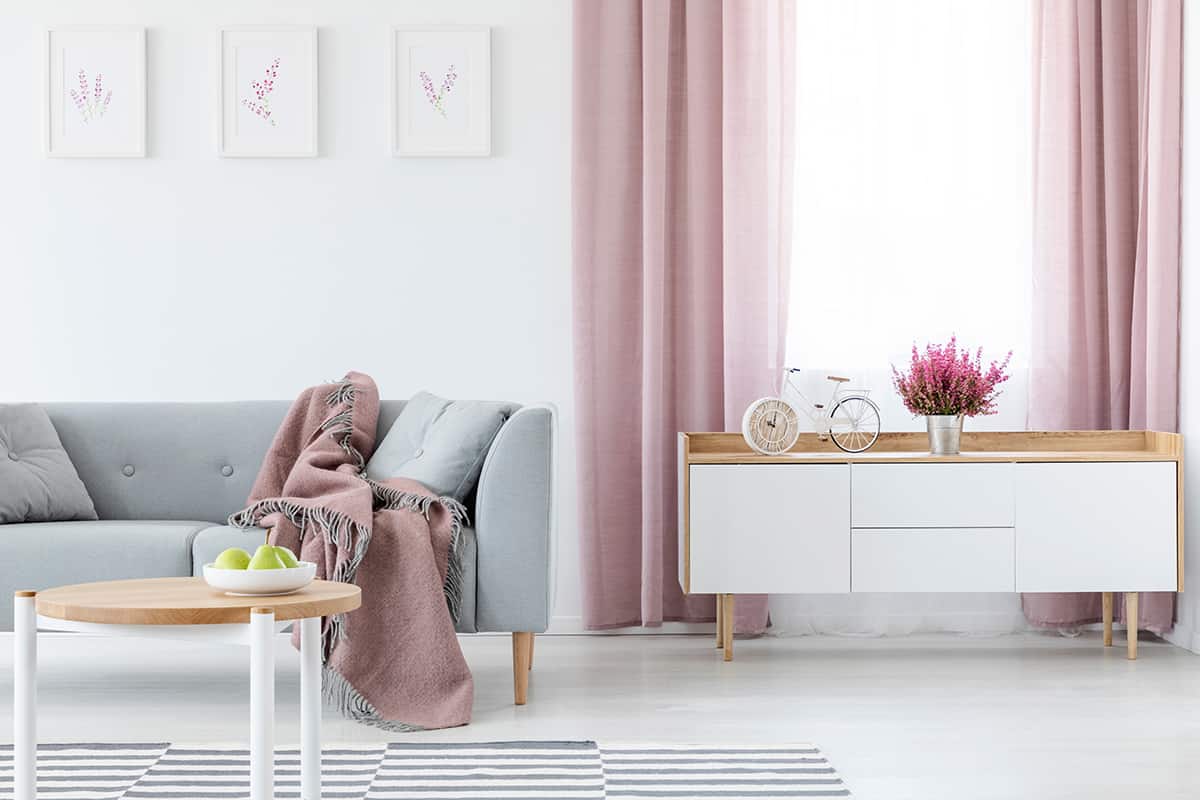 Blush pink and gray are a pair of colors that have been reinvented from their popularity in the 1980s and are once again considered a fashionable color scheme.
Blush pink brings a pretty and feminine touch to gray interiors, so curtains in this color can really help to change the feel of a living room with a gray couch.
Add blush pink cushions with a soft and playful texture to your gray couch to tie the curtains into the look and emphasize the coordination.
Gray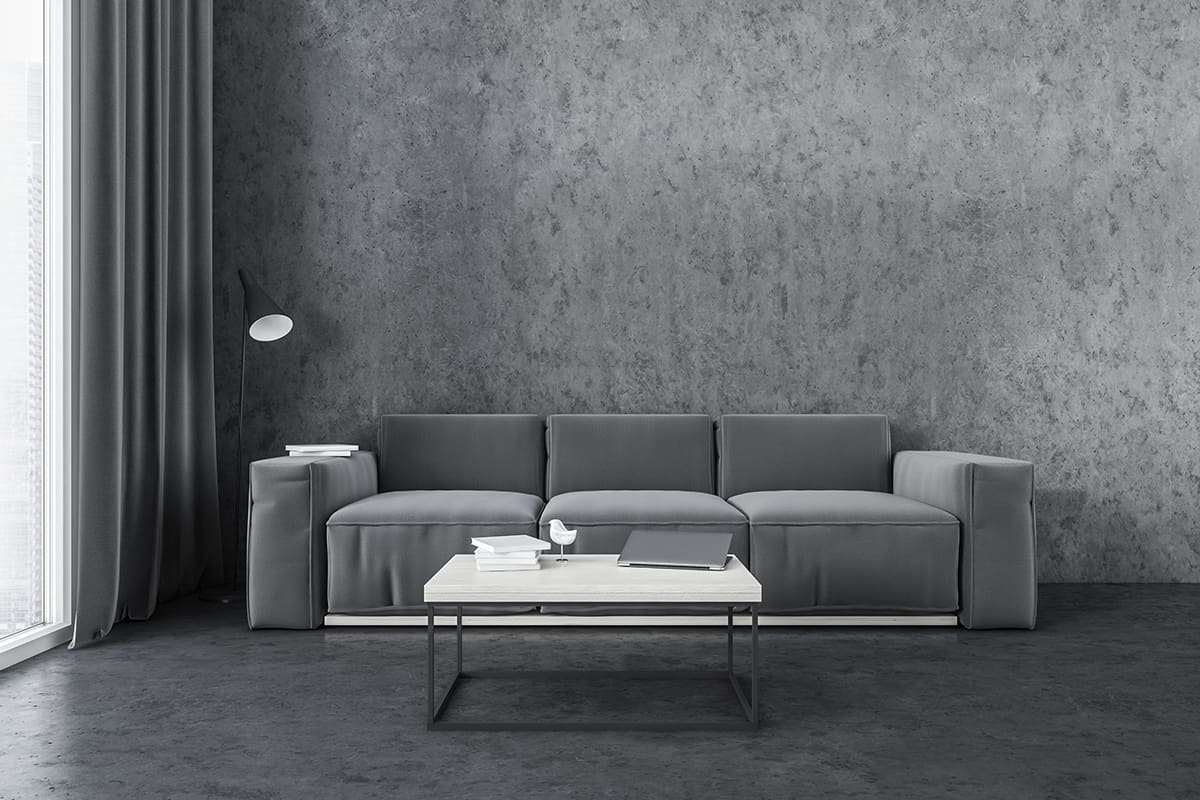 If you have a gray couch, then you could match your curtains in the exact same shade of gray so that these two components of the room look coordinated. This look works best if your curtains and couch aren't right next to each other as it can look too samey.
For example, if your couch sits in front of your windows and the curtains come into contact with the couch, then you should opt for a different shade of gray.
However, if your gray couch is on a different wall to the curtains, then matching the two fabrics can help the room to have an obvious cohesive look.
Alternatively, you could opt for a contrasting shade of gray to create a layered and tonal look in the room. To do this, choose curtains in a shade of gray, which is different from the gray of the couch, for example, cloudy gray curtains with a slate gray sofa.
Build on this tonal theme by painting the walls in a shade of white-gray and adding gray accents in varying shades around the room, for example, charcoal gray lampshades and a mid-gray rug.