If you have gray walls, then you'll be interested to know which colors work best for your window dressing. While curtains should typically stand out against your walls, blinds create a less obvious design choice.
Here we will reveal tips for creating a stylish interior using blinds and gray walls.
Should Blinds Match Walls?
There is no simple 'yes' or 'no' answer to this question because it depends on the type of style you are trying to achieve and the atmosphere you want in your room.
It will also depend on the color scheme in the rest of the room and how many colors you have already incorporated into the space.
Subtle and Seamless
If you want your gray room to feel seamless, then gray blinds in the same shade as the walls will do the trick. In a space such as an office, you may not want to draw attention to your blinds instead of having them purely for functionality.
In this case, matching the blinds to the gray wall color is a good way to create cohesion around the room and prevent the blinds from becoming a focus in the room.
Choosing blinds that are the same shade as the wall color is a good visual effect to make the blinds seem almost invisible, as people will not notice they are there unless you draw attention to them.
This is recommended if you need blinds but have a small budget because you won't want your low-quality blinds to be noticed.
No Curtains
If you do not have curtains or drapes in your gray room, then it is a good idea to contrast your blinds with your walls to add interest to the space and prevent it from appearing flat.
A window that lacks curtains can be made a feature with the addition of some attractive blinds in a bold shade, such as mustard yellow Venetian blinds.
Colorful or Contrasting Curtains
If you have chosen curtains in a bold color that stand out against your gray walls, then adding a further bold color for your shades will look overwhelming.
Instead, in this instance, opt for blinds in a shade of gray, which could be similar or different to the color of gray used on your walls.
Choosing gray blinds which are just one or two shades lighter or darker than your gray walls is a good way to add interest without creating a stark contrast.
For example, if you have charcoal gray walls with teal blue curtains, choose a medium shade of gray for your blinds.
Bold Style
If you enjoy the aesthetic achieved with bold and contrasting colors, such as monochromatic styles, then opting for blinds in a shade that stands out from your gray walls could suit you well. You can make a statement with contrasting shades or contrasting colors.
For a shade that contrasts your gray walls, choose a similar color but in a shade that is as vastly opposite as you can get.
For example, contrast pale gray walls with dark black-gray blinds. For blinds in a contrasting color to your gray walls, yellow or orange works best.
Burnt orange or mustard yellow are rich shades with depth and warmth, which contrast the cool tones in gray.
They are also colors that work well in a contemporary color palette, which you can continue with accents throughout the rest of the room.
Should Blinds Be Darker or Lighter Than Walls?
There are no rules regarding whether your blinds should be darker or lighter than your walls; however, the choice you make with regards to this question can impact the feel of the room.
Darker
If you choose blinds that are a darker color or darker shade than your walls, this will draw attention to the blinds and the window itself.
This could be a good tactic if you have a view which you want to be the focus in a room because the eye will be automatically drawn to these areas of the space.
However, if you aren't a particular fan of your blinds, or for some reason you don't want people to focus on them, then choosing a color darker than your walls is a bad move.
Blinds that are significantly darker than your walls can also create a harsh feel if there are not many other dark features in the room.
Lighter
If you opt for blinds that are a lighter color than your walls, this will help to soften the atmosphere in the space.
If your walls are a medium to dark shade of gray, then choosing blinds in a paler shade of gray or a pale neutral tone will help to lighten up the feel of the room and make it feel airier.
Neutral Blinds for Gray Walls
White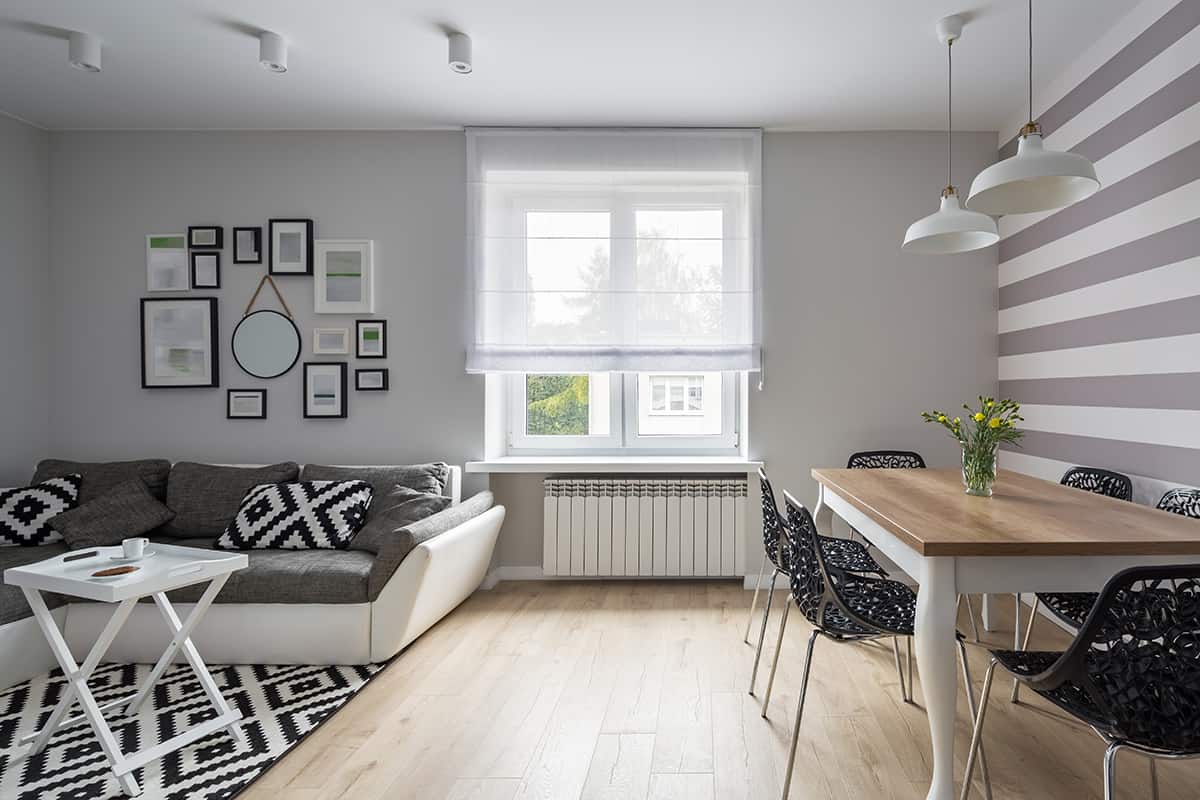 For gray rooms with a breezy casual feel, white blinds will accentuate this style. Choose wooden Venetian blinds, which have been painted white for a more angular style, or fabric roller blinds or roman blinds for a softer look.
To avoid a harsh contrast, white blinds should be used in rooms that have light gray to mid-gray walls. If your walls are dark gray, then white blinds will make for a more monochromatic theme.
Black
Black blinds are a nice choice in a room which has mid to dark gray walls because it offers a subtle shade of contrast.
Black is a neutral color, but it can be seen as too severe if used alongside very pale colors. For this reason, avoid using black blinds with light gray walls unless you are trying to create a shocking effect.
Achim Home Furnishings Cordless GII Morningstar 1″ Light Filtering Mini Blind
This black blind from Achim Home Furnishings is available on Amazon.
Beige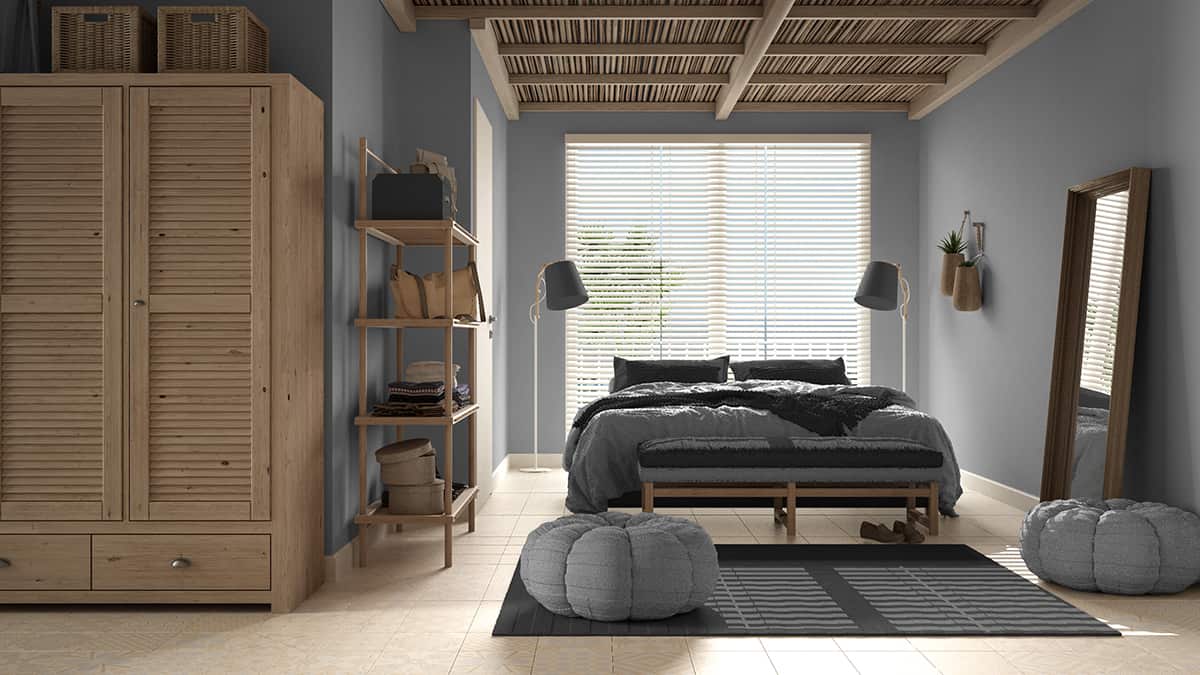 Beige comes in various shades, all of which can look good in blinds with gray walls. Beige shades are generally warm, which can bring a balance of energy to a gray room.
Before choosing your shade of beige, first, you should define the shade of gray on your walls and select a shade of beige which offers a mild contrast.
For example, light gray walls would be nice alongside mid-beige blinds, while mid-gray walls could work well with light or dark beige blinds.
Brown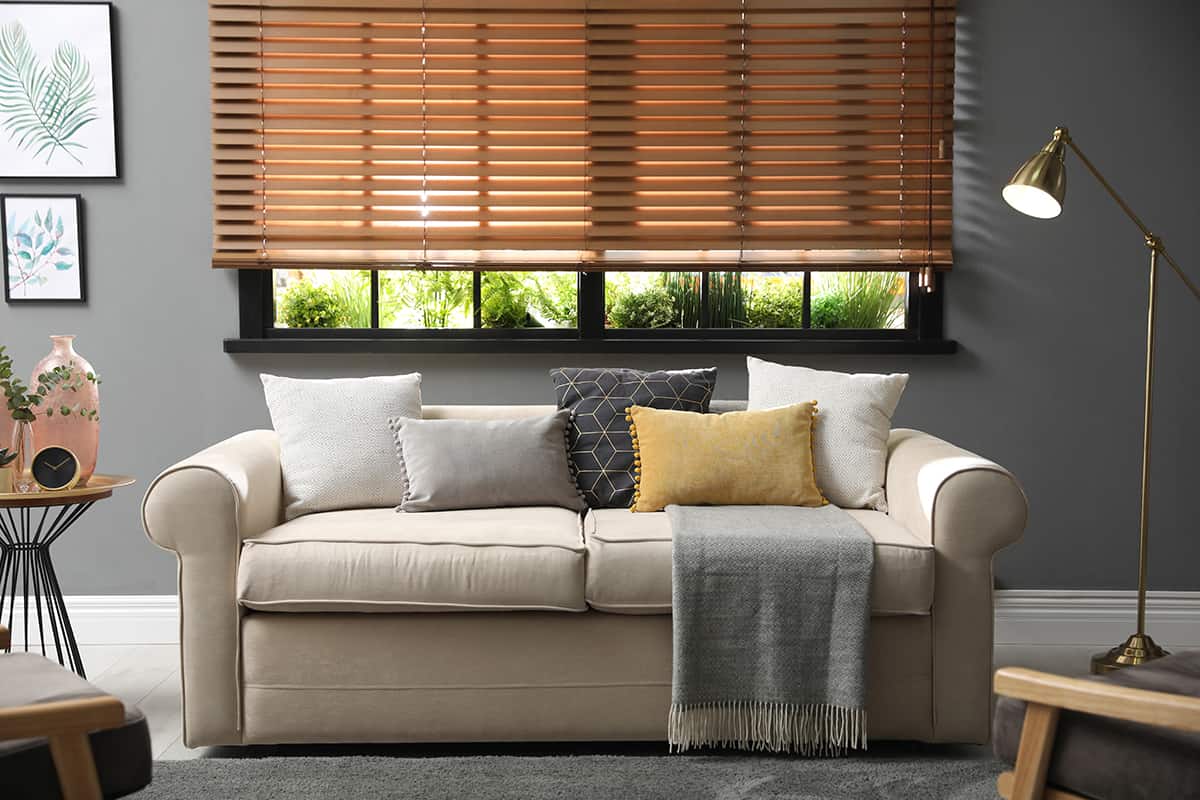 Brown blinds could be chosen in either fabric or wood finishes. For a gray room with a contemporary natural style, Venetian blinds in a brown wooden finish, for example, walnut or oak, would help to highlight the earthy theme of the room.
This would work especially well with gray walls, which have green undertones, and accessories or furniture in olive or sage green. See some furniture colors inspiration in our post on what color furniture goes with gray walls.
Brown fabric blinds would also work well in a gray room, but this would create a more cozy and traditional style.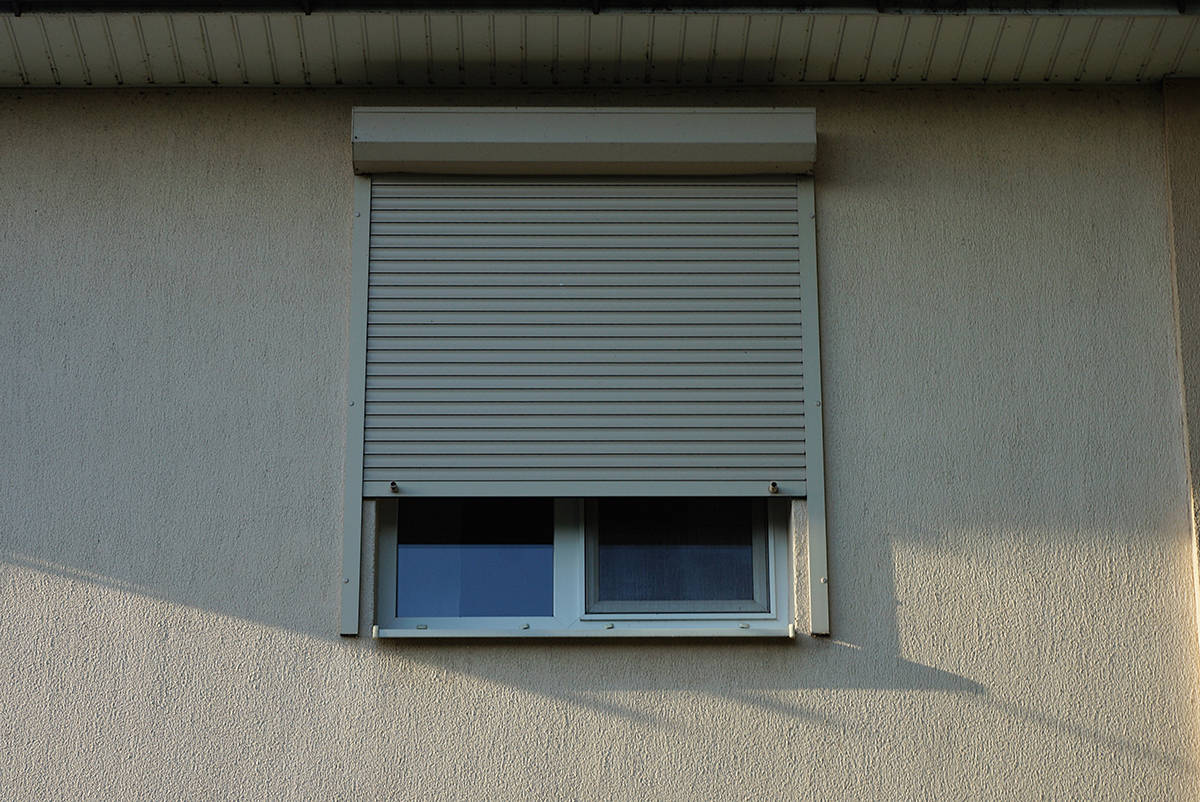 Gray on gray can be a stylish look that is easy to achieve but be sure to match the undertones of gray so that the blinds and walls don't clash.
For example, if your gray walls have blue undertones, then your gray blinds should also have blue undertones, but in a darker or lighter shade.
Bright Blinds for Gray Walls
Pink
If your gray room feels a little dull or lifeless, then consider choosing pale pink blinds to encourage a soft and romantic feel in the space.
Dusky pink and gray are a beautiful and subtle color pairing that can work well in any room in the home.
Anntool Blackout Window Shades Cordless Cellular Blinds for Window
This dusty pink from Anntool is available on Amazon.
Yellow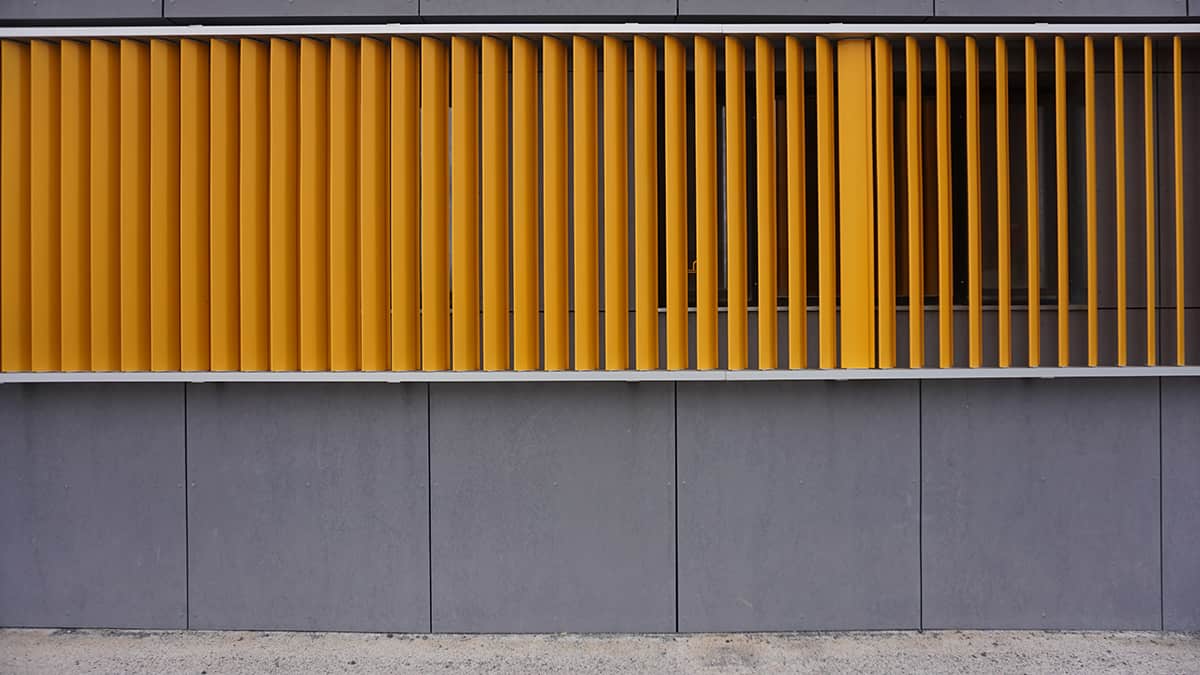 Yellow and gray are well-established color pairing. Use yellow blinds in a gray room if you want to bring a bright and joyful feel to the space.
Lemon yellow will make for a fresh and vibrant look, while mustard yellow will be more comforting.
Orange
Shades of orange contrast nicely against gray for a stimulating and creative vibe. Choose bright orange blinds in an office with dark gray walls or burnt orange blinds in a room with medium to light gray walls.
The contrast will be appealing without being too extreme, and it will add extra interest to the space.
Blue
Blue and gray have similar tones, so they work well together. Blue blinds are a nice choice in a gray room if you want to introduce a bright color but don't want a stark or bold contrast.
Choose teal blue blinds for a vibrant look or soft blue blinds for a casual or coastal airy style. Navy is another shade of blue which works well with gray, creating an elegant and sophisticated style.
Opt for navy blinds in a gray room if you are leaning towards a more formal or luxury atmosphere.
Yoolax Motorized Blind for Window with Remote Control Smart Blind
The blue motorized blind with remote control is available on Amazon.
Green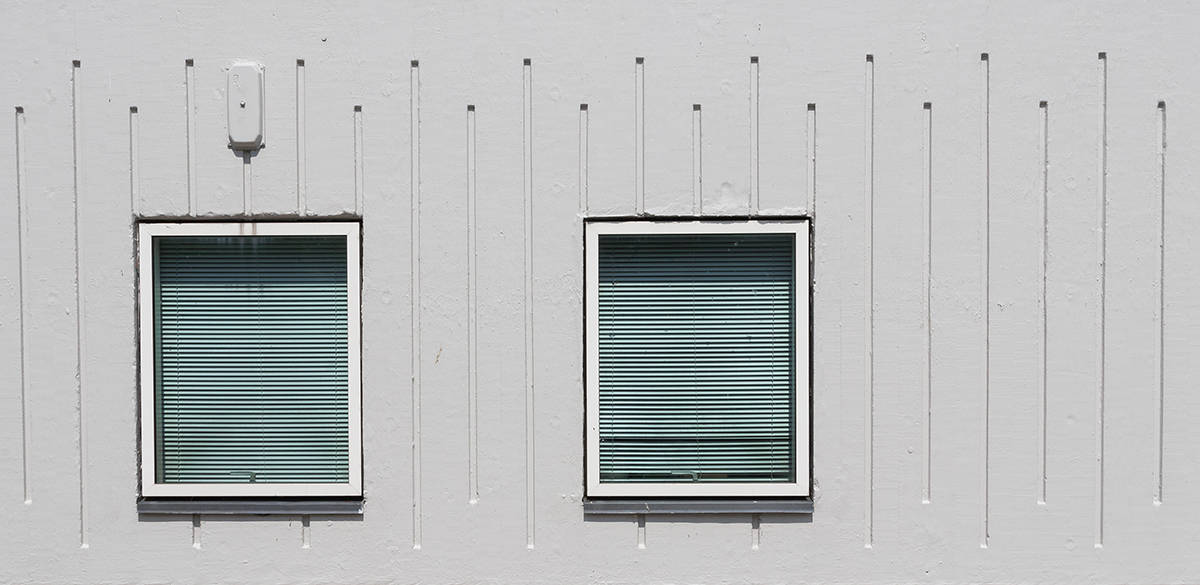 Green and gray look earthy and natural together, inspiring outdoorsy vibes. For a laidback style, choose green blinds with undertones of brown or yellow, such as olive green.
Alternatively, green blinds could be used in a gray room to achieve a more glamorous look, for example, dark gray walls with rich emerald green blinds.
The fabric of the blinds should also be considered when attempting to achieve a specific look, as texture plays a big part in defining interior styles.