The color yellow is one of the most cheerful and fun colors in the world of interior decor. It represents warmth, excitement, vitality, and happiness, thus making it a top choice for bedrooms, living rooms, and nurseries.
If you want to paint your walls yellow but you're not sure what color curtains to choose, don't worry as we're here to share some great ideas with you. Let's take a look at our examples below:
Best Curtain Colors That Go With Yellow Walls
Classic Dark Brown Curtains With Bright Yellow Walls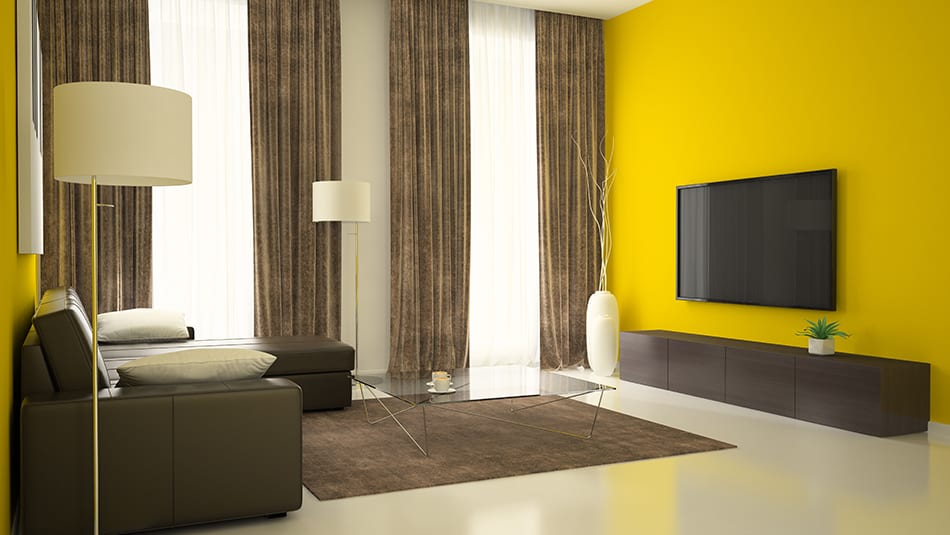 Yellow walls with dark brown curtains work particularly well in modern living rooms. Whether you prefer a deep shade of yellow next to a chocolate or coffee brown shade, you can harmonize the two warm colors beautifully.
The intensity of the wall color will play a role in determining how dark your curtains should be. Dark and deep brown tones look stunning on both light and bold backgrounds, so feel free to experiment with different shades of yellows for the walls.
Sea Blue for a Coastal Vibe
Yellow is an incredibly welcoming color next to blue, so it makes sense to pair these two colors for your living room or bedroom. The only factor you should consider is the intensity of your yellow paint.
Golden and saffron shades will perfectly complement darker blue hues, while mustard yellow and lemon will look heavenly with azure and turquoise.
In order to avoid making the room feel closed in or small, it is best not to choose patterned blue curtains in a room with yellow walls. Plain blue curtains in a light color will create harmony next to dark and light yellow shades.
This thick, blackout curtain is a beautiful azure shade, which will go perfectly with your yellow walls in the bedroom or living room. The blackout curtains are highly effective in blocking sunlight and keeping the room cool in summer.
Navy Blue for a Soft Contrast
Another shade of blue that goes well with yellow walls is navy. The reason these two colors go together extraordinarily well is due to the fact that yellow and blue are complementing colors, which are strong contrasts to one another.
A combination of pale yellow walls with navy blue curtains won't be overpowering in your living room or bedroom.
Take a look at this minimalist style navy curtain, which is perfect for a dining room, living room, or bedroom with yellow walls. The fabric is of high density interwoven yarn with triple layer technology that promises to block light effectively from your windows.
Black and White Striped Curtains
If you have chosen a bright yellow shade for your walls, then consider a smart black and white striped curtain. A gold shade of yellow, for example, works well with such a color combo.
The use of black and white next to bright yellow will effectively balance out the look of any room. What's more, your curtains will be the focal point of the room that draws the eye to the golden tone of your yellow walls.
Here we have chosen this beautiful black and white striped curtain for any room of the house. Made of durable, soft satin fabric, this curtain feels silky to the touch and does a great job of protecting privacy. Since the curtain is unlined, we recommend adding blackout liners to maximize the blocking of sunlight (up to 95%).
Green Curtain With Soft Yellow Walls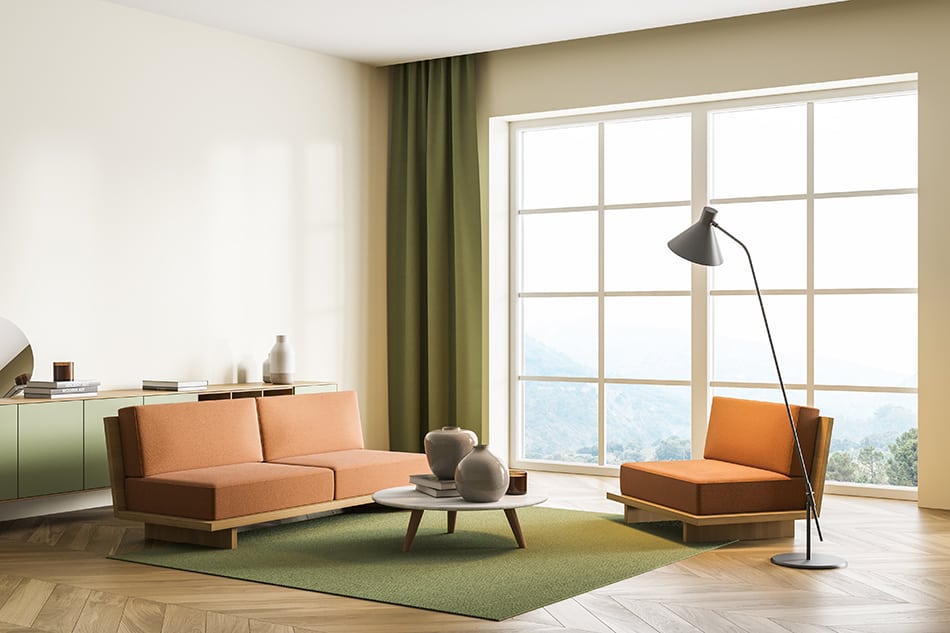 Any shade of green will work with yellow, as the two are on the same color spectrum. You can, therefore, safely combine these colors due to their similar tones. For example, a dark shade of green will look sophisticated next to soft yellow walls.
Feel free to experiment with any shade of pale yellow you like to create a significant composition with the green curtain.
In this living room, the pistachio green curtain and matching rug dominate the room so much that you don't even notice the pale yellow walls. The eye is immediately drawn to the orange furniture and green drapes.
If you wanted to make a bolder statement, you'd have to paint the walls a brighter shade of yellow, which would only make the room appear darker next to the dark green curtains.
Sheer Beige Curtain With Muted Yellow Walls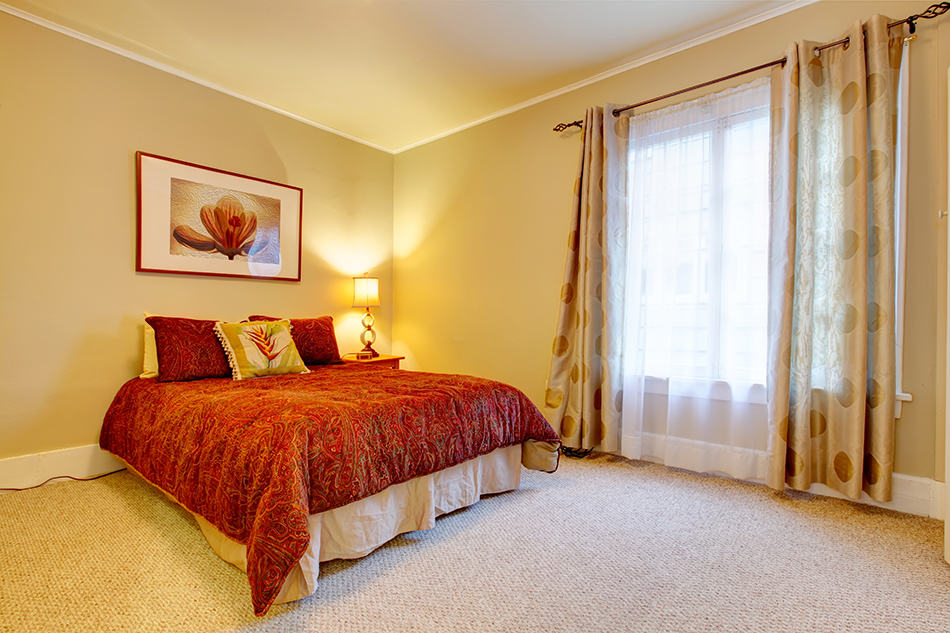 For a neutral look, try a muted shade of yellow for the walls with beige curtains. Like the green and yellow spectrum, beige and yellow are similar and work together well. This color combo will give more depth to the beige bedroom or living room.
In this brightly colored bedroom, the subtle shade of beige goes well with the muted yellow walls as the main focus is on the red bedding.
Hot Pink Curtain with Bright Yellow Wall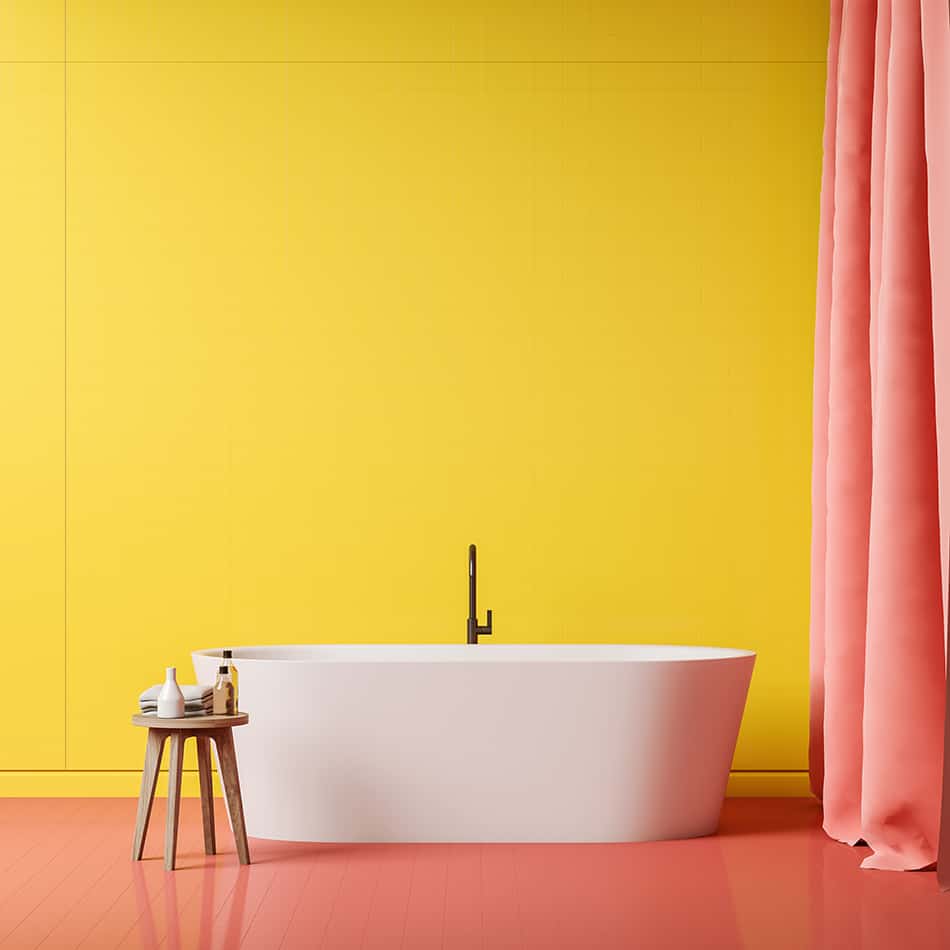 Pink curtains are attractive for girls' bedrooms and even colorful bathrooms. When paired with a bright shade of yellow, the room will feel warm and inviting.
Any shade of pinks, such as salmon, peach, or coral, will work next to a bright shade of yellow. This is a lovely combination that will put a smile on a little girl's face, no matter whether you use it for their bedroom or bathroom.
Tips on Choosing the Best Curtains for Yellow Walls
– Avoid bright white curtains: white goes with any bright color, including yellow. But a snow-white shade can make your yellow walls appear bland and expressionless. Favor muted white curtains for your yellow walls as they are calmer shades.
– Which should you choose: warm or cold curtain colors? While both options are possible, as yellow is compatible with warm and cold hues, you should think about whether you want to create a dramatic contrast or a calming effect.
Experiment with rich, deep tones of the cold color palettes and find some balance between yellow and cold tones. On the other hand, if you want to harmonize your walls with window coverings, go for pastel, warm shades for the curtains.
– Play with textures: for minimalist interiors, soft yellow walls with monochrome curtains can end up looking boring or too simple. Try to contrast your yellow walls with curtains in blue or red to achieve the desired variety. You can also add metallic fittings like silver or gold-framed mirrors or lamps in copper to complement your yellow walls.
– Patterns help achieve rhythm: a combination of patterned or striped curtains with yellow walls is a beautiful interior design that works in both modern and traditional homes. Tip: match the wall color to the throw pillows and the floor covering to the curtain patterns so your room can stand out.
Popular Yellow Shades for Walls
Dusty Yellow
This soft and buttery shade of yellow is a preferred alternative to white walls. When paired with bright curtain colors, it can bring a romantic or boho feel to the space.
Muted Yellow
If you want to avoid bright shades of yellow, a muted shade of yellow will work nicely next to vivid curtain colors. This will help create balance in the room without clashing with other bold hues.
Sunny Yellow
A sunny shade of yellow for the walls adds a retro feel to any modern living room or dining room. This shade makes the room feel light and airy.
Classic Yellow
If your curtains are in a neutral color, opt for a classic yellow shade for the walls so the overall effect doesn't feel too overwhelming.
Lemon
This is a bright and cheery shade of yellow, so when the weather outside is gloomy, you'll still feel cheery inside.
Banana Yellow
Feel free to paint all your walls, beams, and even your fireplace mantel in this beautiful shade of yellow. Pair it with light blue or beige curtains to warm up the room.
Saffron
This attractive shade of yellow is soft and elegant and works in any room. When the curtain color is the main hue, saffron walls will provide a warm accent. This shade is an excellent choice for bedrooms, thanks to its soothing effect.
Gold
As a sophisticated color, gold has never gone out of style. Painting your walls in non-metallic gold is considered less splashy with an earthy undertone.
Pairing gold with neutral tones such as grey or beige curtains is one of the easiest and safest choices. Gold colors work particularly well in formal dining rooms and living rooms.
Conclusion
If you were wondering what color curtains work with yellow walls, our article should have hopefully given you some inspiration. Remember to experiment with different yellow shades for the walls based on the room you're decorating.
For example, if you're painting your bedroom walls yellow, choose darker color curtains for maximum privacy and blackout. For the living room, on the other hand, go for lighter curtain shades to keep the room bright and airy.
If you like these color options for curtains to go with yellow walls, you might also enjoy these.