In an ideal world, we would all live in a highly-connected area that is simultaneously 15 km away from the closest neighbors – who never pay attention to what we are doing. However, such a perfect neighborhood does not exist. Even if you are not really doing anything illegal or wrong at home, it is only natural to want to shield your private life from the eyes of onlookers.
This is why curtains are nowadays a necessity in any urban or suburban home. Even if natural light is something we prize during the winter, you will probably want something between you and your open window.
So, what are the best privacy curtains available out there? Should you get them or opt for regular shades? How can you make them look better or more functional? Stay tuned to this guide to find out.
What Are Privacy Curtains?
In a way, any curtain that's not completely sheer will provide some privacy. However, a privacy curtain is mainly used to cover you from sight, above any decorative or aesthetic considerations.
That being said, if you are looking to maximize your privacy, you are not limited to plain dark curtains. There are several routes that you can go about when it comes to ensuring no peep can sneak out – and many of them are not limited to windows.
What Types of Privacy Curtains to Choose?
Most privacy curtains look like standard draperies but include a few extra perks that keep them tight and dark. These are some of the available options for you:
Blackout Curtains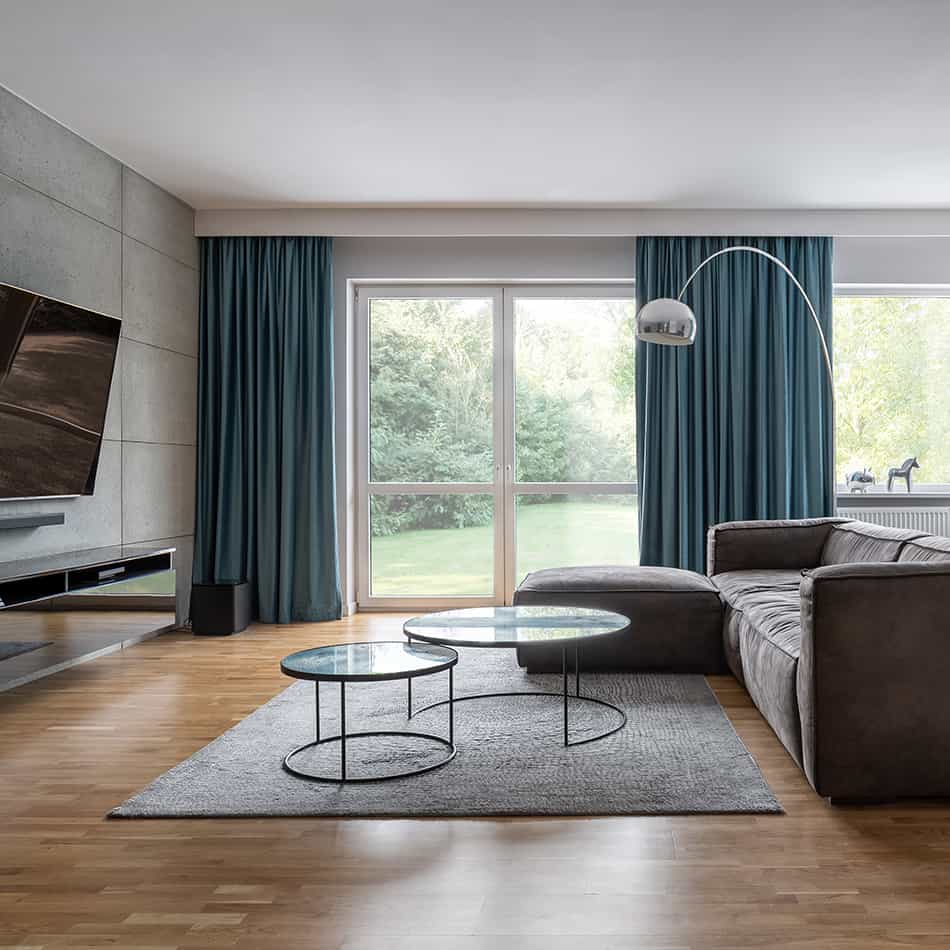 These are perhaps the easiest option to find if you want to completely obscure your bedroom from view. Blackout curtains are often a necessity for many shift workers, such as nurses or firefighters, as they can go a long way in ensuring healthy sleep on weird schedules.
Blackout curtains were first popularised by hotel chains, especially those that were near airports – for transit travellers with jetlag, they offered an incomparable sleep quality. Good blackout curtains appear as plain curtains from the outside but are backed with a layer of plastic foam that is meant to obscure light completely. This side often looks a bit matte and is meant to face the outside, therefore blocking all incoming light.
Pros of blackout curtains:
They block all light, which provides pretty solid shielding from any passing viewers
They are pretty easy to find and can be bought from any specialized décor retailers
Most come pre-cut in special sizes and are very easy to install
They are often available in many different colors and designs
Cons of blackout curtains:
The foam-lined side tends to look dull, which may look unappealing from outside
There is no middle ground: as they block all light, you will have to either turn on the lights or lose the privacy
They tend to be pretty heavy, so they require sturdy, drilled curtain rods
Double Curtains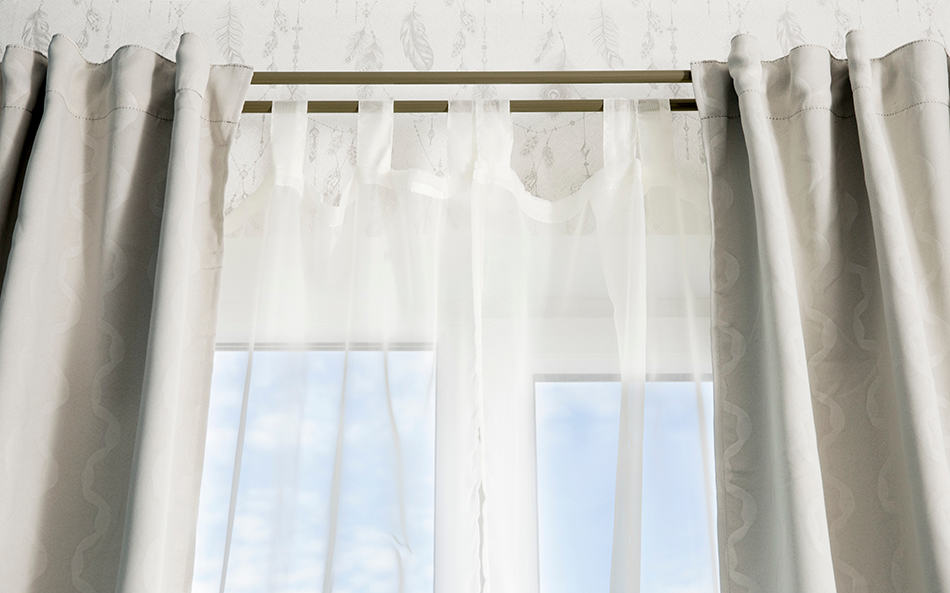 Double curtains combine a sheer, thin inside curtain with a heavier light-blocking set of draperies on the outside. These are a favorite option for living rooms and breakfast parlors, especially if they are located on a ground floor: they tend to look neater and cozier than standard blackout curtains.
The idea behind double curtains is that they leave some wiggle room to adapt to the degree of privacy (or of natural light) that you want, depending on the circumstances. These are usually installed using a special rod that allows you to adjust each layer independently.
Pros of double curtains:
They tend to look finer and more elegant, as they evoke a certain old-world decadence
They allow you to play around with the different color combinations for more beautiful results
You can pull down the heavier curtains during the day to allow ventilation, or natural light to enter.
If you opt to just close the sheer layer, it will still blur out some of the details from inside your home
Cons of double curtains:
They tend to be more expensive to purchase and to install
Rods for double curtains are not very easy to find
You may need to play around or replace one of the layers a few times until you find the right color combination
Solid and Opaque Curtains
Sometimes, you don't need to have complete coverage to enjoy some privacy. If you are not that close to your neighbours, have relatively small windows, or your windows are not facing a direct light, a simple pair of solid and opaque curtains may be enough for you.
If you opt for a piece of dark and thick fabric, you should be able to cover enough but still let some light in. Solid and opaque curtains are often best if made from textured polyester rather than a natural fabric: the colors will last for longer and they will trap fewer smells than those made from cotton or other natural fabrics.
Pros of solid and opaque curtains:
They are usually the most affordable option
They tend to come in a very wide variety of colors, textured patterns, and designs
They are usually reversible and look equally good from outside or inside the room
They let some light go through, so you may not need to open them at all
Cons of solid and opaque curtains:
They force you to stick to light colors, unless you are willing to let your shadow peek through
They offer little to no soundproofing
They tend to be a bit frailer, and if they get damaged you will be left exposed
If you have the lights on at night, they may let the inside of your home visible
Double-Lined Curtains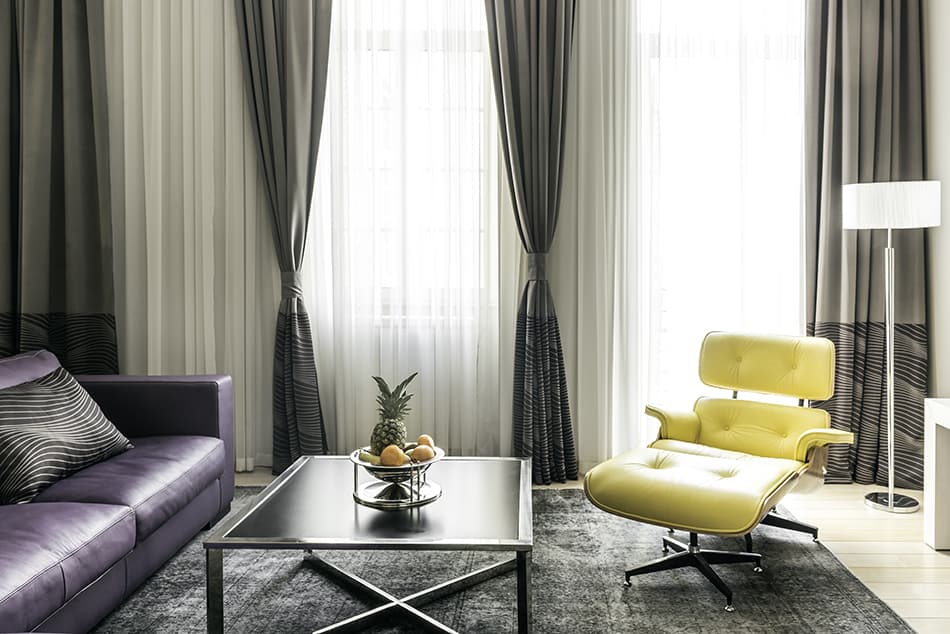 At first glance, double-lined curtains look very similar to double curtains. However, double-lined curtains also include a matte lining, similar to that of a blackout curtain on the inside of the heavier layer. As a result, they offer a similar degree of coverage as blackout curtains, hidden carefully beneath a more gracious layer of satin, silk, or muslin.
The air trapped in between both curtains, plus the extra darkening lining will also provide you with the opportunity to add some soundproofing to your room. Often, the added darkness of the extra lining means that you can play around with sheerer fabrics for the thin layer, or with an unusual pattern or textured fabric.
Pros of double-lined curtains:
They offer the strongest obscurity and privacy
They provide a darker alternative to roman shades while preserving the style's appeal
If you have west-facing windows, they can also help keep the heat out
Cons of double-lined curtains:
They are the most expensive and heaviest alternative
Accordion Blinds
Technically speaking, accordion BLINDS fall more in the shutter category and are not proper curtains. However, they are still an option that should be considered if you are looking for a way to keep light and sound tightly locked inside your room.
Accordion blinds are usually supported by a wooden or metal frame, with hinges at strategic points that allow you to fold specific sections, or to extend the full blind whenever you need complete coverage. Usually, accordion blinds use very thick, very tight fabric layers made from synthetic blends or wool on each panel. Depending on the fabric you choose, these panels can also include very intricate designs or unusual color combinations.
Pros of accordion blinds:
They open the door to very interesting design options
They are fairly unusual and can become the focal point to a room if imbued with some creativity
They can insulate the room's temperature and muffle sounds
They offer a great sectional alternative for very wide windows or lookout points
They can double as a room divider
Cons of accordion blinds:
They can be hard to find
Most of the time, they are custom made
Frequently Asked Questions
If this is the first time you are installing privacy curtains, then it won't hurt to review some of the common issues that appear during the first installation.
Do I need to drill the wall?
There are now some alternatives for installing curtain rods that do not require you to drill any holes in the wall. For example, you can use Command-clip rod hooks to attach the rod. However, these rods often support only up to 5 to 10 pounds, depending on the model. If you have large windows or want to install blackout curtains, they may not be a good option.
What is the best curtain material?
There is no easy answer to this question. In general, if you live in a cold region, you will want to use synthetic fabrics or velvet for your opaque layer. In warmer countries, make sure that your sheer layer is made from linen or some other breathable fabric. Silk often provides a nicer texture, and silk curtains fall very nicely, but it will trap too much heat during the summer.
Can the right curtains help me with my energy bill?
If you live in a very cold region and you constantly see your electricity bill skyrocket during the winter, then the answer is yes. If you want to increase the room's insulation and save some electricity during the winter, consider investing in thick double-lined curtains. Use thick fabrics with a high thread count for better results.