Orange is a unique color that contributes immensely to the home's aesthetics. This bold and dynamic color lies between red and yellow, but admittedly, it's not commonly seen in a home's interiors. The reason for this lies in the difficulty of finding the right complementary colors to pair with orange. Since it is such a special color that's often associated with happiness and joy, it is well worth considering in your home.
To transform your living room or dining room walls, a bright shade of orange paint will create a warm and welcoming space. And once you've selected a suitable shade of orange as the primary color of the walls, you'll need the right curtain colors that go with orange walls.
To help you with this task, we will walk you through the best curtain colors to pair with your orange walls as well as provide you with some useful tips at the end of the article. Let's get straight to it now!
Curtain Colors that Work With Orange Walls
Sheer White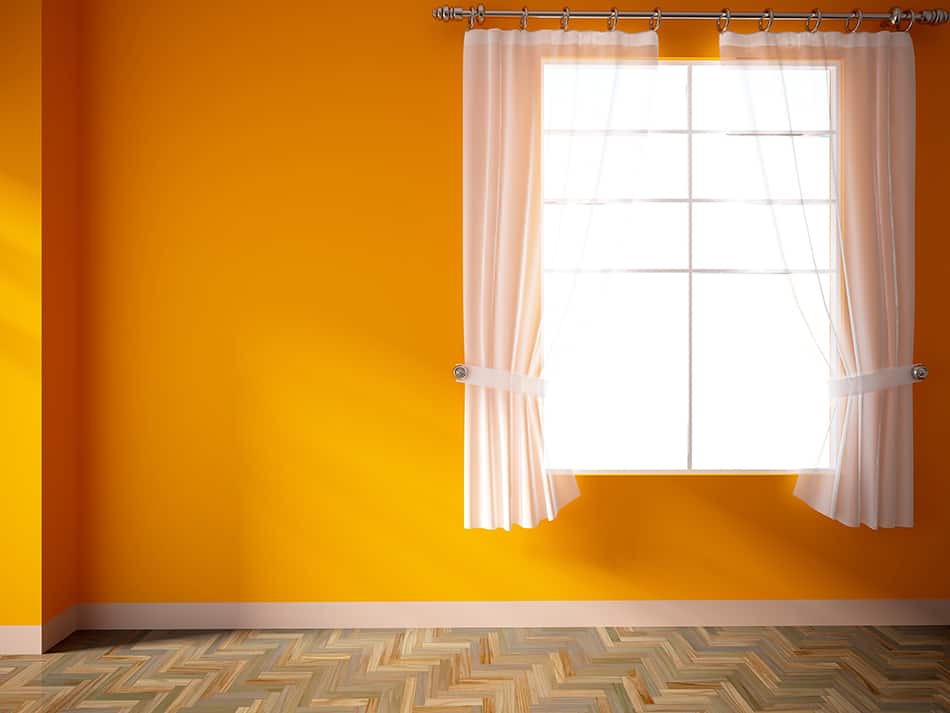 When paired with orange, white creates a contrast that highlights the wall color and makes the bold orange stand out in the room. A sheer white curtain will balance the color arrangement in a minimalist design interior. White curtains complement most orange shades as a distinct contrast that further highlights the walls.
And it is because of this contrast that the orange walls are turned into the focal points of the room. Opting for sheer white curtains in a room with bright orange walls soothes the dynamism of the orange and helps create an orderly ambiance.
A combination of white curtains with orange walls gives a living or dining room a royal and spacious feel, which also facilitates the flow of positivity. So if you want to play it safe, it makes sense to opt for white curtains as they draw the eye to your bright orange walls.
White is also a nice curtain color for yellow walls, grey walls, white walls, or any wall color.
Light Yellow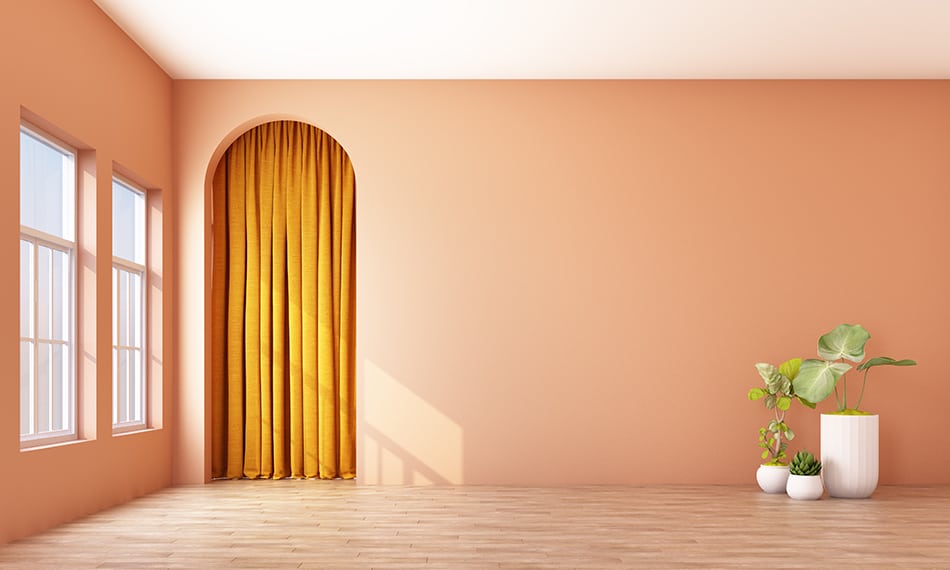 To take your color combination one step further, rather than opting for a safe color like white, go for light yellow to bring excitement to your room. Orange walls and light yellow curtains create a summer-like vibe without appearing too bright.
You can use these color pairings in a slightly toned-down way as they are both associated with sunshine. Yellow is, after all, a vibrant color that combines well with a dynamic hue like orange to bring joy to any room.
Shiny Black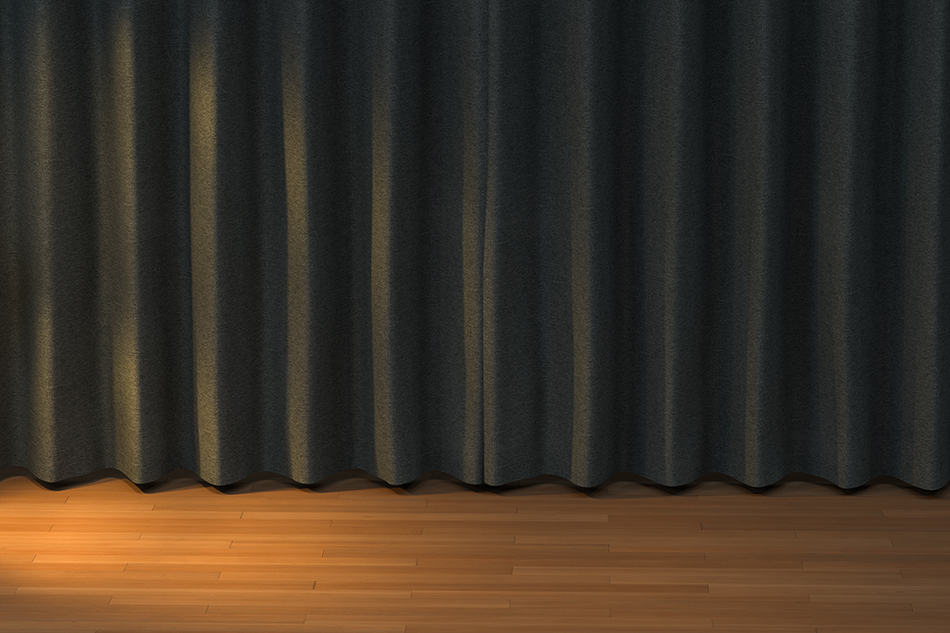 Another beautiful curtain color that works perfectly with orange is black. In fact, black complements every shade just like white as it's a bold and mysterious color, which gives an interesting edge to the room. The combination of orange walls with black curtains helps create a royal ambiance in the bedroom or dining room.
The trick is to match your room's furnishings and decor with the curtains and walls so that the color pairings don't look out of place. Keep in mind that if the combination is overdone, it can come across as rather aggressive. This is why we recommend a satin or silky black curtain instead of matte, as it may diminish the wall's orange hue.
Silky Brown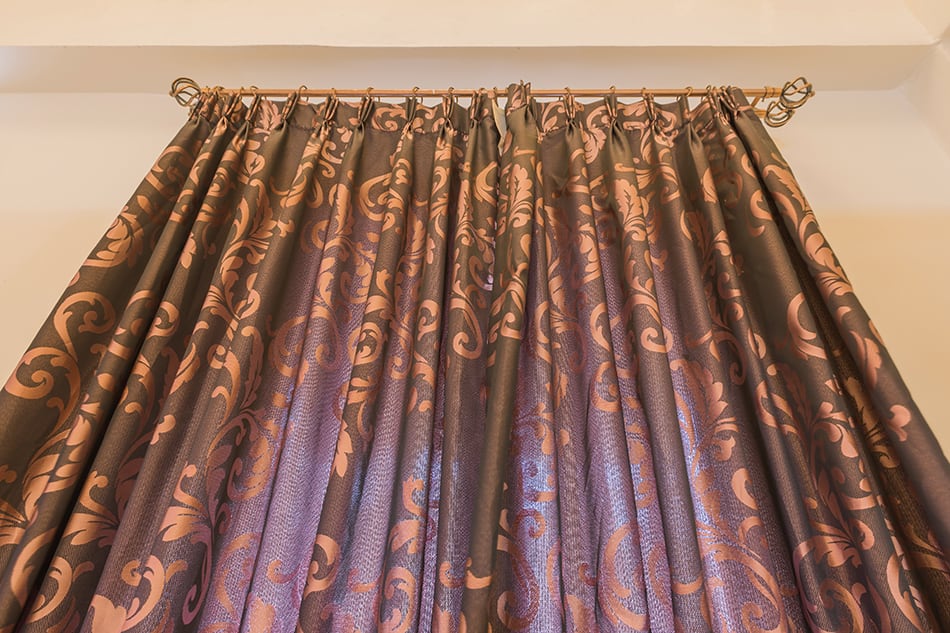 Since brown and orange are both warm hues, they go very well together. These comforting color pairings exude a welcoming vibe in any room, especially in the bedroom, thanks to brown's relaxing feel.
The only thing you have to bear in mind is not to choose a very dark shade of brown for your curtains as it will darken up the room with orange walls. To have the best visual appeal, opt for a lighter shade of brown with a slightly dark shade of orange for the walls. If you choose the color palette correctly, your brown curtains will lift up your room in a more vivacious way.
Light, shiny brown curtains work very well in a bedroom with orange walls as these curtains help filter out the excess light and control privacy.
Light or Dark Blue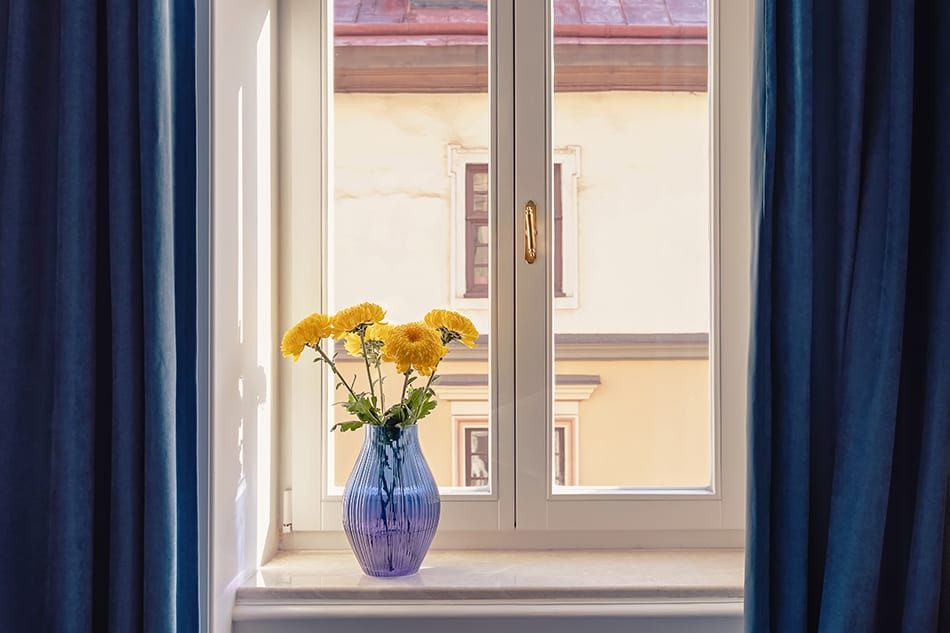 Any shade of blue is a fine example of a beautiful color pairing with orange. We especially love pale orange walls with a blend of light blue for a balanced and clean finish. This color combo ensures you create enough shine in your living room or bedroom without making the walls look out of place. So if you love bright and cheerful spaces, then consider a light or dark shade of blue for the curtains.
Now the only thing you must be careful with is the shade of orange you choose for the walls as some lighter shades don't go well with dark blue hues. To avoid your orange walls looking too sharp, paint them a muted orange shade for dark blue curtain pairing. Conversely, a bright shade of orange will work well with sky blue curtains, so take the color intensity into account before proceeding.
Gold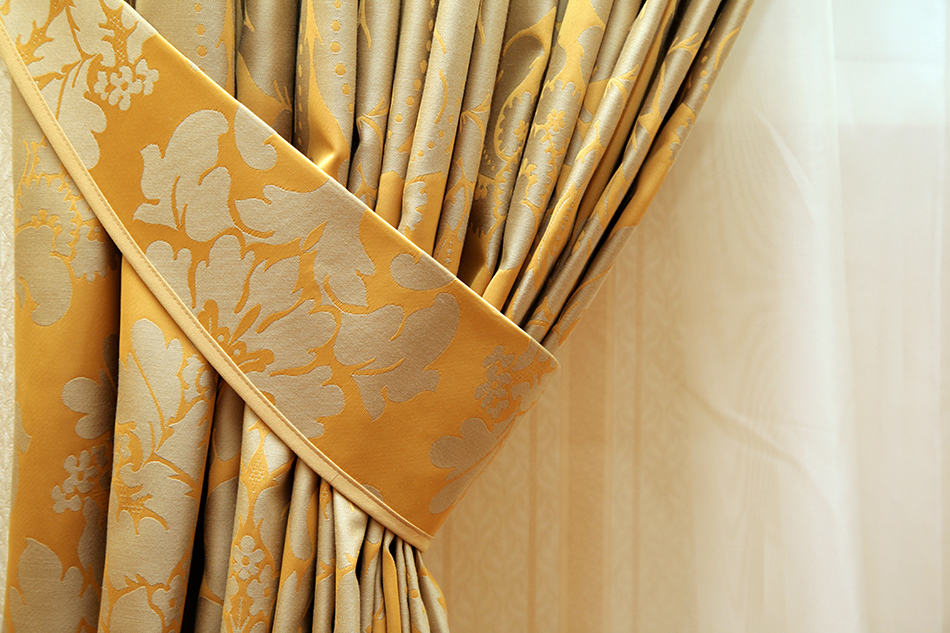 A metallic color like gold is a stunning blend that goes as an integral part of your orange wall color scheme. This glittering shade will increase the living room's aesthetic charm and bring an air of graceful aura to any traditional interior.
Gold curtains with orange walls ooze a conventional elegance that you won't find in many homes today. So if you want your living room to be the center of attention, add extra glitter by pairing your orange walls with plush gold curtains. We're sure your guests will have something to talk about over dinner!
Light Orange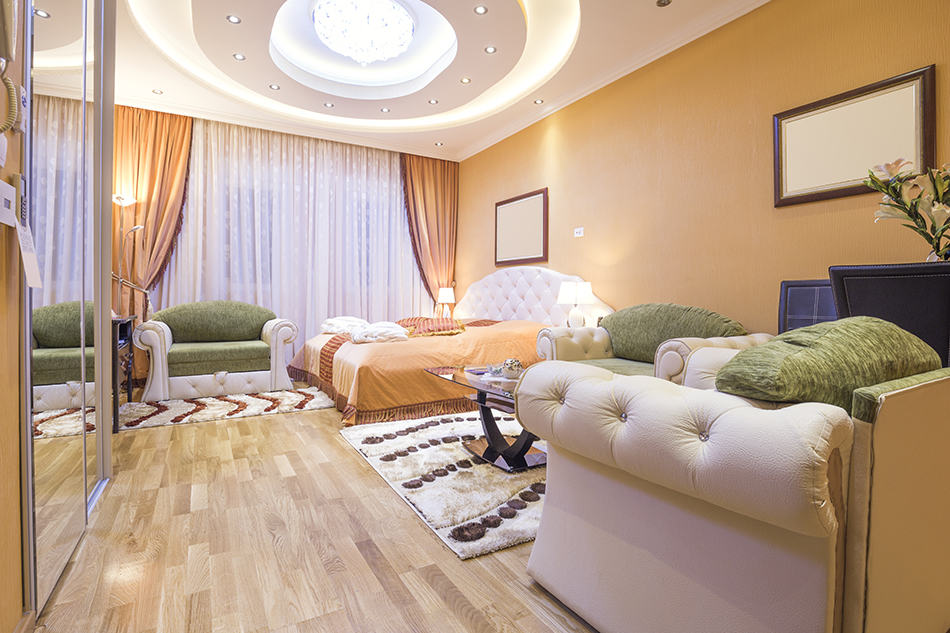 Perhaps one of the easiest options for your orange walls is to find orange curtains to match them. But this doesn't mean you choose the same shade of orange as your walls for your curtains.
To establish contrast and enhance depth, incorporate two different hues of orange. For example, avoid the darkest shade of orange for the curtains as this will look excessive next to orange walls. It is never pleasing to see a dark shade of orange for the curtains next to muted or bold orange walls.
If you have decided to go for orange curtains, settle for a light shade like apricot or honey to create a fading effect. And as for the walls, choose gold, spice, or salmon orange, as these hues will easily blend with the room's overall color scheme.
Beige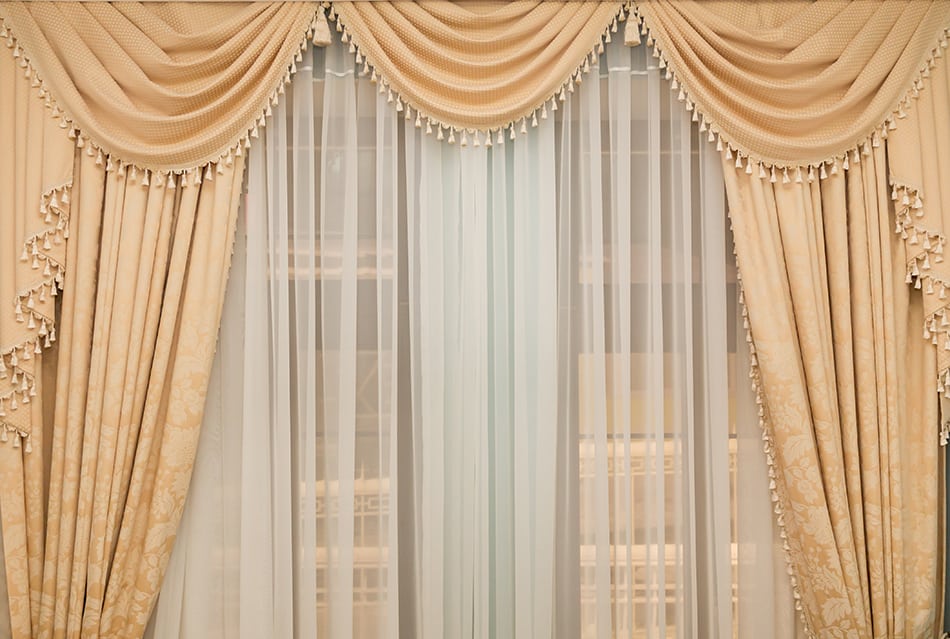 A neutral shade like beige for the curtains helps subdue the boldness of the orange walls. That said, you must still use beige with caution as some shades that are closer to grey (greige) don't go well with orange.
For a splash of energetic atmosphere, choose a light and airy shade of beige curtain, even if your walls are painted in a bright shade of orange.
Tips on Choosing Complementary Curtain Colors for Orange Walls
– Curtains are flexible window treatments that come in a variety of materials, sizes, and colors. But there is more to curtains than just a simple piece of fabric; these window treatments provide privacy and light control to the owner.
What's more, curtains play a significant role in creating a warm ambiance in the room, just like any other interior decor. If you choose the color of your curtains poorly, the overall atmosphere of the room will be negatively affected.
– Orange is a combination of yellow and red, which are the two basic colors of the spectrum. A contrasting color that sits on the opposite of the chromatic color scheme is blue. But while these two colors are the opposite of each other, you'll find curtains in shades of aqua, periwinkle, navy, and azure blue that go beautifully with light orange walls.
– Complementing colors that are from the same color family as orange include brown and beige as well as yellow and red. These curtain colors can easily be combined with dark and light orange walls. However, the intensity of orange can affect the ambiance of your room so make sure you go one shade lighter or darker when pairing the walls with your curtains. For example, a rich red color curtain is best paired with light orange walls. A beige curtain, on the other hand, can be paired with a bold shade of orange since it is a neutral hue. To balance it well, use neutral shades like pale grey or white next to bright orange walls.
– If you want to find the perfect match when choosing curtain colors for orange walls, use a color wheel. This tool helps you identify colors that go well with your chosen shade of orange.
And aside from the curtain color, you must also take into account the fabric's texture. For example, curtains with a glossy finish complement bold orange walls. Matte curtain textures will work better with soft orange hues.
Silk or satin doesn't work as well as cotton and sheer fabrics since these are softer on the eye than velvet or satin. Floral or geometric motifs are also suitable matches with orange walls. This is an especially great option for a kid's bedroom that has orange walls.