To bring some color to your room, think about what color curtains go with a brown sofa to make your space feel more elegant. Brown sofas are a versatile addition to any living space. Whether they are made of leather or upholstery, you can easily create a casual or formal interior, depending on your personal taste.
The color brown doesn't have to look monotonous. This rich color can, in fact, make your living room more sophisticated when paired with the right curtain color.
If you're trying to coordinate your brown sofa with curtains, then you'll definitely need some ideas. Here we have a list of the best curtain colors that work perfectly with a brown sofa, so take a look now and get inspired…
Best Curtain Colors that Go with Brown Sofa
Cotton White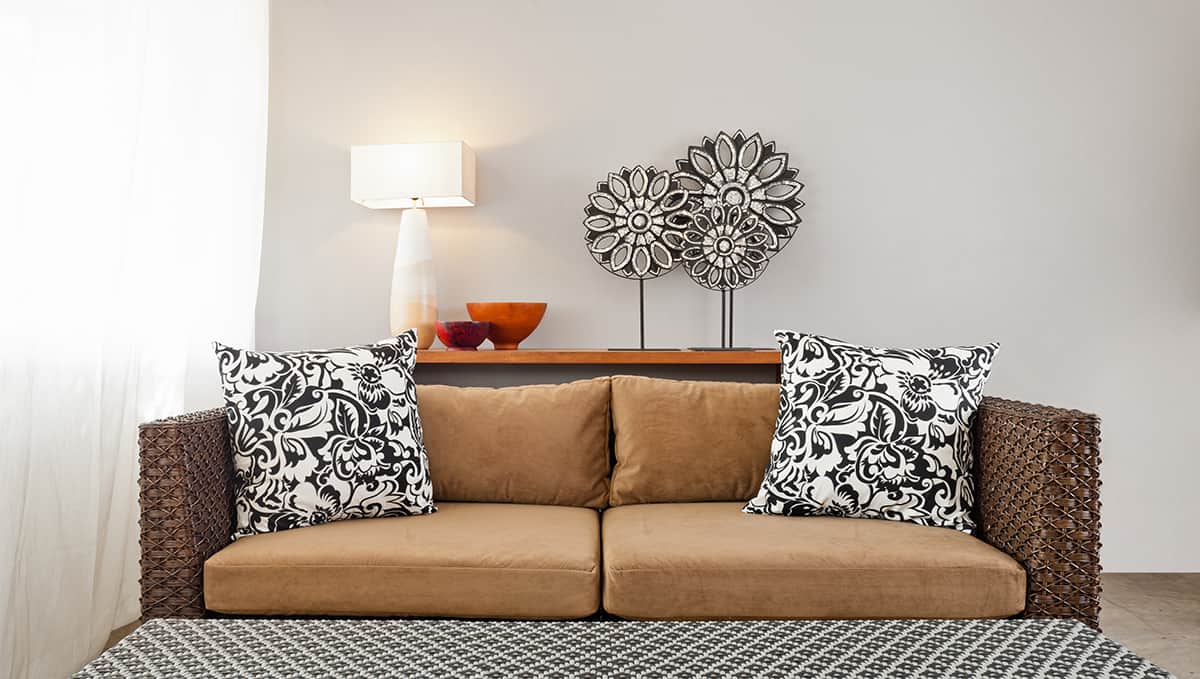 White is the most popular curtain color choice to pair with a brown sofa. This neutral color works well with the earthy, warm tone of brown. Cotton white curtains are especially ideal in living rooms that lack natural light as it helps lighten up the space. You may pair this curtain color with any shade of brown.
Patterned Grey
Another neutral curtain color is grey. While this may not be the first color that comes to mind for a living room with a brown sofa, it can surprisingly create an aesthetically pleasing interior.
Brown and grey are a powerful match that make a dramatic statement. However, you must take care when picking the right shade of grey. For example, if your sofa is dark brown, opt for light grey curtains. Likewise, pair dark grey with light brown sofa.
To increase visual interest in a living room with a brown sofa, why not go for patterned grey curtains rather than plain designs. This idea works especially well in an open-plan space with white or cream walls.
Textured Neutrals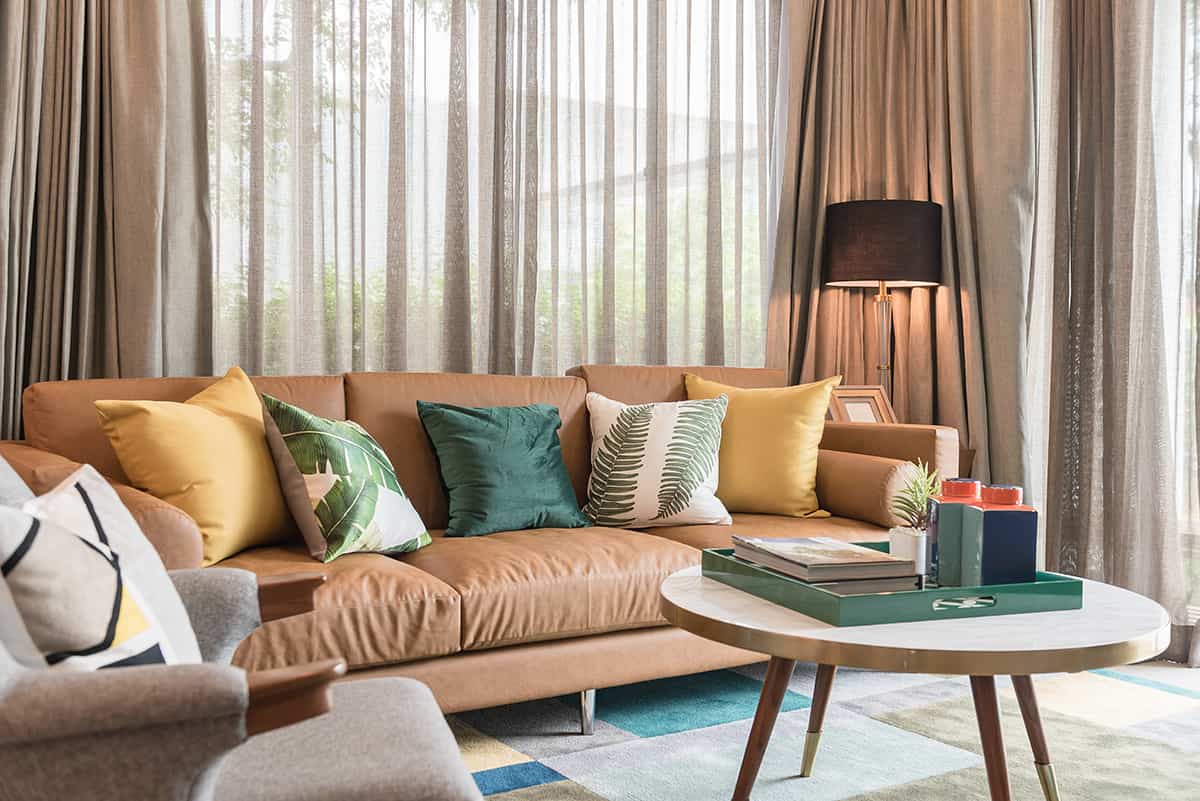 Just like white and grey, cream or beige are another neutral curtain color that can make a beautiful design in living rooms with brown sofas. This idea is excellent for those who aren't keen on bright colors but don't want plain white curtains. Textured neutral color curtains are an excellent boho design that provide a subtle match with brown sofas.
Textured curtains in cream or beige next to brown upholstered sofas keep the colors subtle and provide a modern and comfortable aesthetic.
Light Blue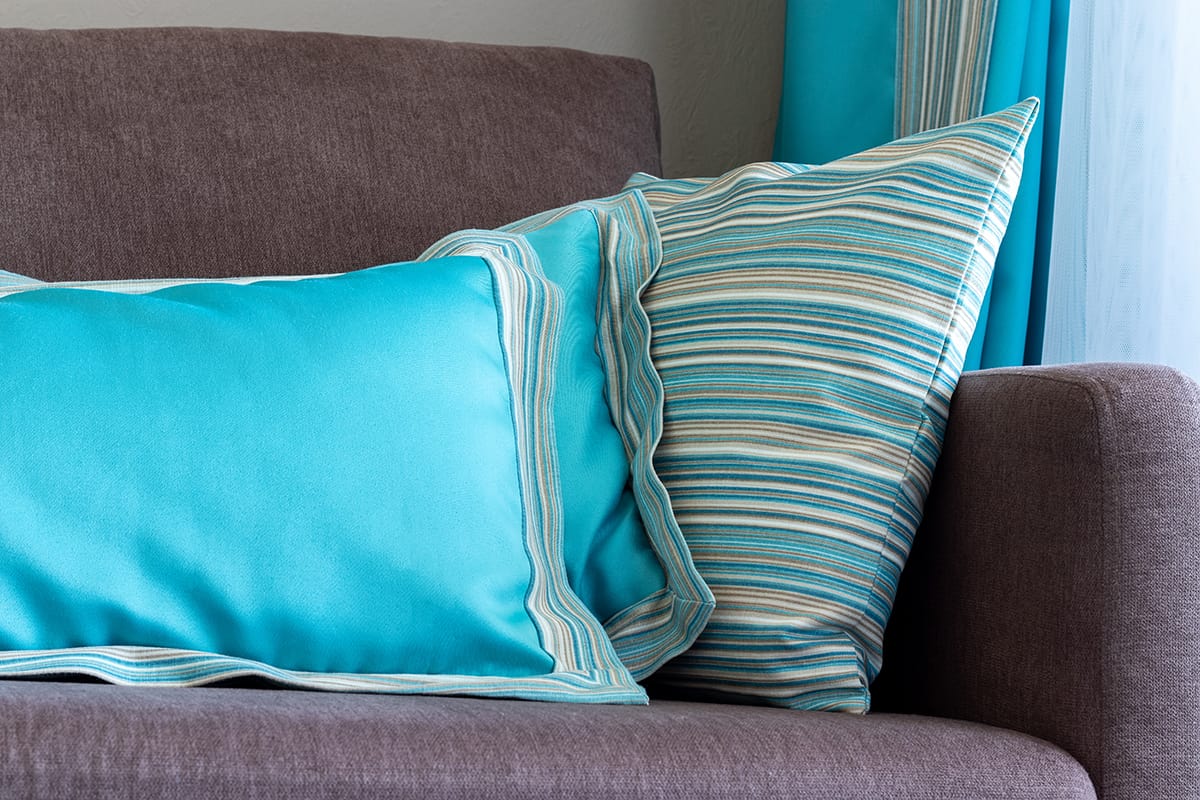 For a little brightness and added visual appeal, consider light blue curtains. Sky blue or aqua, for example, look stylish with brown sofas. This color adds a cool ambiance, which balances out the warm tone of brown. And as for the curtain material, pick a soft silk for a more luxurious feel than scratchy polyester.
Light blue curtains help brighten up a living room, in which natural light is lacking. This light shade reflects the sun and makes the living space much more comfortable.
Navy Blue
Much like light blue, navy looks great next to any shade of brown. This darker blue shade for the curtains goes especially well in bright and open spaces that need a touch of color. Throw in some blue and brown pillows and a blanket to complete the look!
Dark Green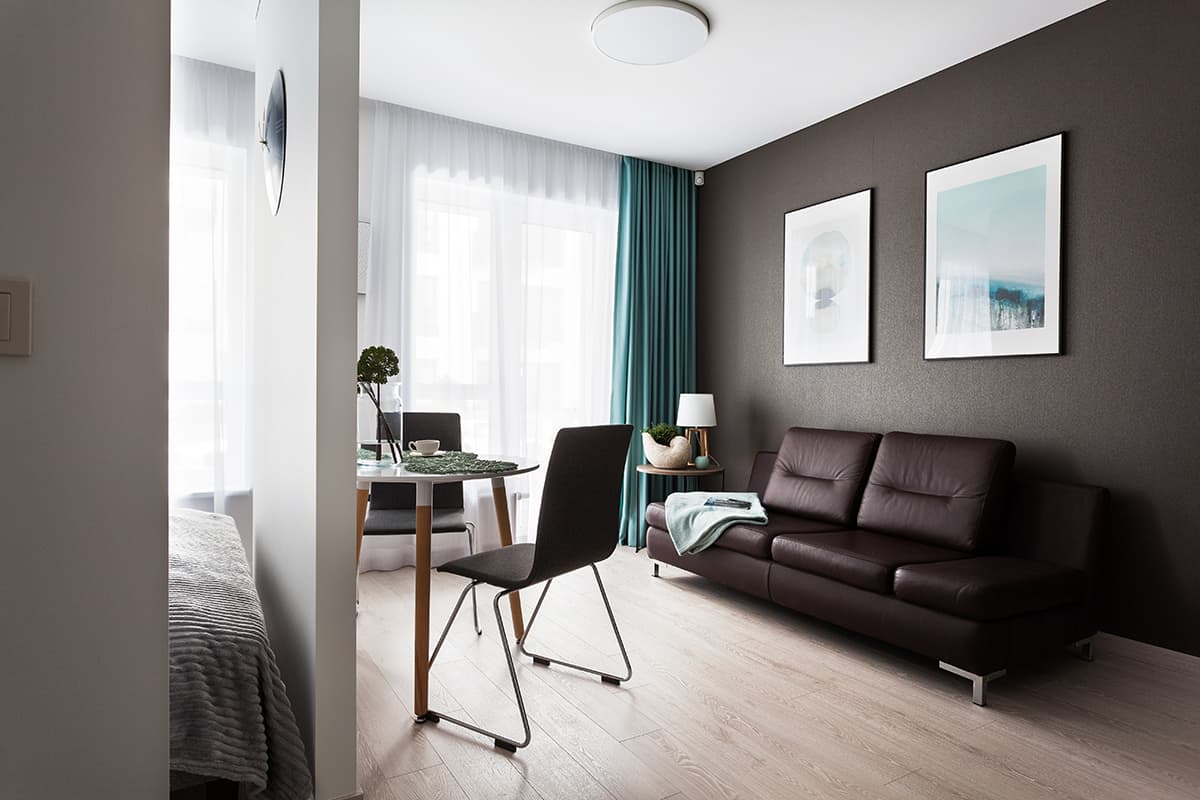 If you love nature's colors, then you shouldn't miss out on a beautiful color pairing of warm, earthy brown with dark green. In a brightly lit living room, a brown sofa next to dark green curtains is an inviting way to bring the outdoors inside. Shades of mint, sage or jungle green are excellent colors for curtains.
Alternatively, you may pick a lighter shade of green to inspire a nature-themed living room. Apple, pistachio or lime green curtains are perfect with dark green throw pillows and brown sofa.
Velvet Burgundy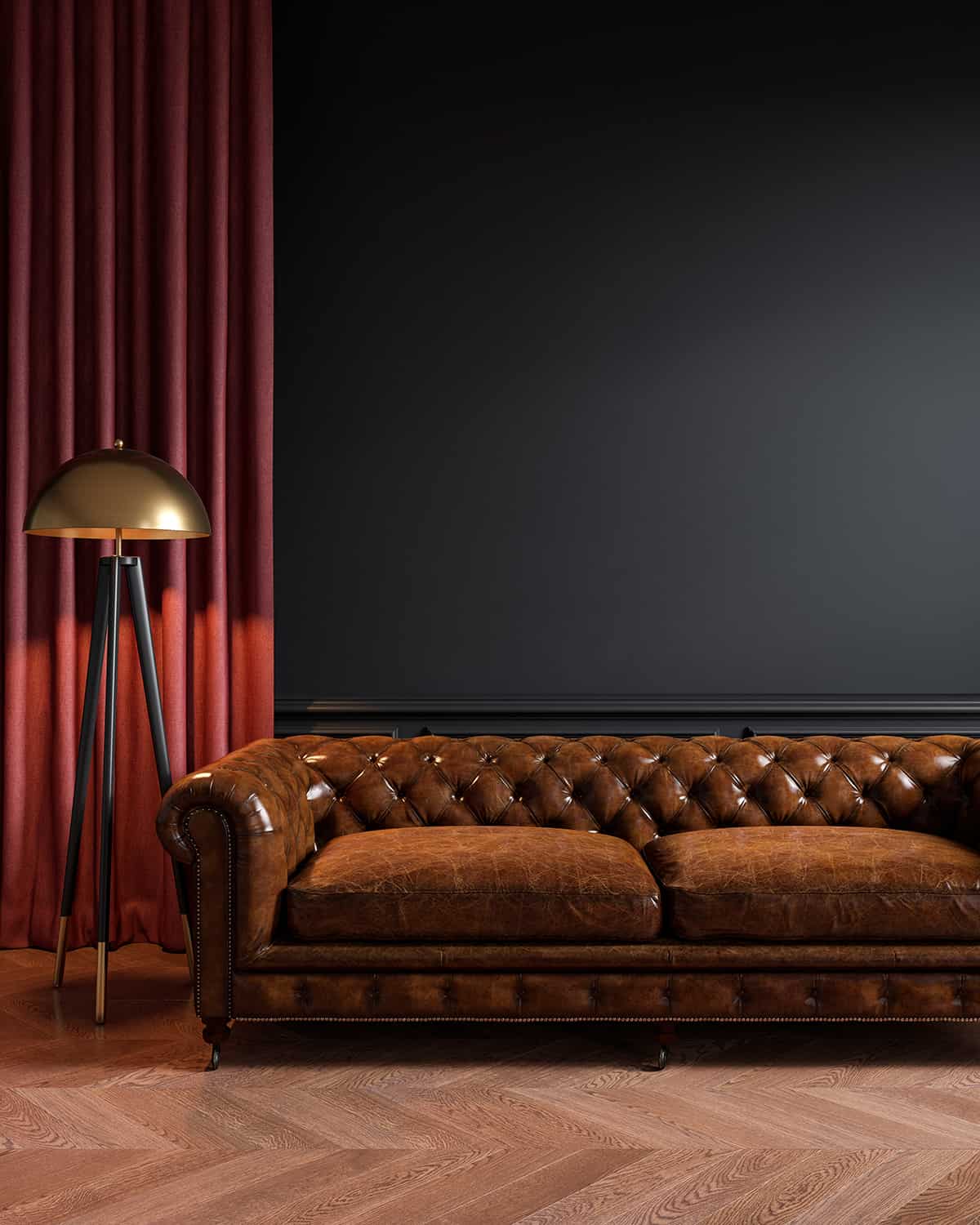 Burgundy curtains in velvet look elegant next to brown leather sofas. This rich tone of fall leaves is the perfect blend in a modern living room. Decorate your brown sofa with burgundy and burnt orange throw pillows to keep it cohesive with the burgundy window treatments.
In a living room with a dark brown leather sofa, burgundy curtains paired with fluffy thick brown rugs and burgundy wall decor create a cozy space for watching a movie with your friends or family.
Teal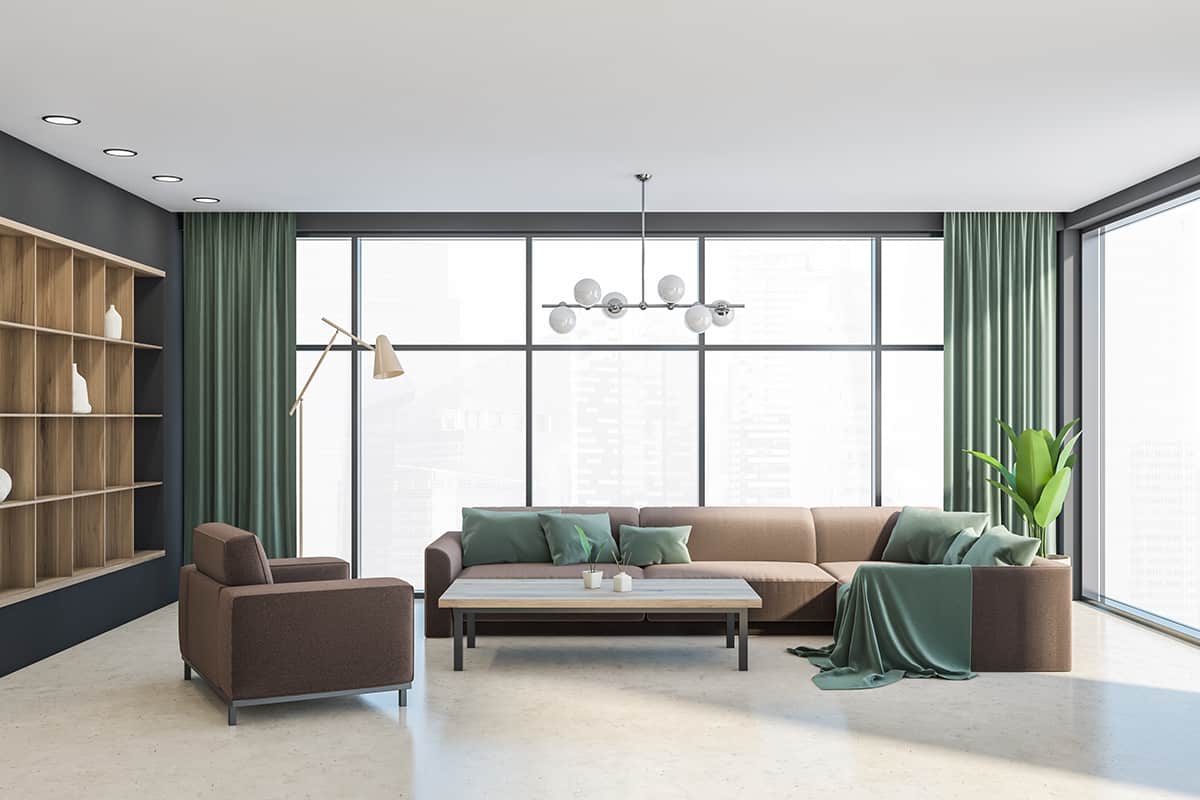 For something more dramatic than burgundy, consider teal curtains and a brown sofa as a combination that makes a big statement.
But just because teal is a dark color, it doesn't mean you have to limit yourself to using it in a large living room. As long as your space gets plenty of natural light, you can add teal curtains. Throw in some light-colored accent pieces on your brown sofa to help brighten up the room.
Monochromatic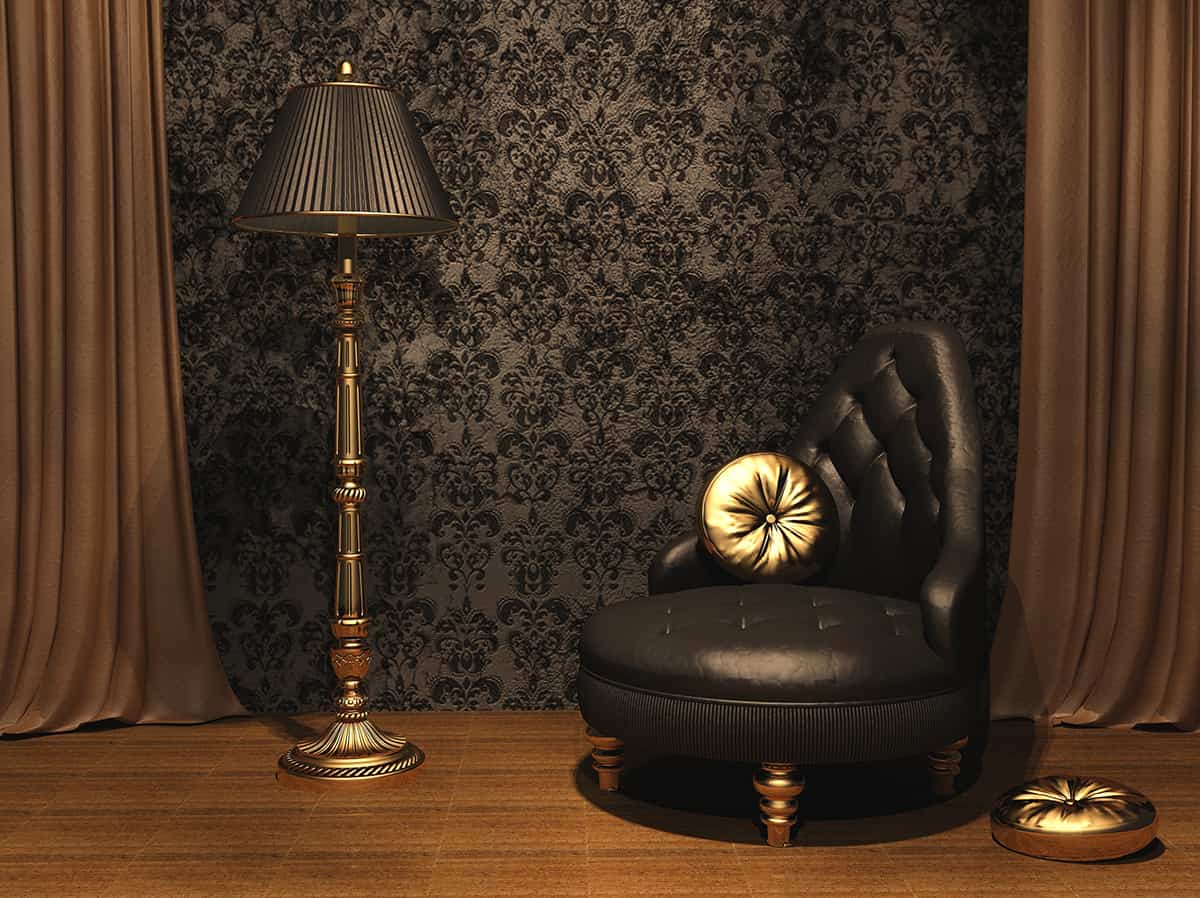 Using multiple shades of brown for the curtains and sofa will make your living room look monochromatic. If your brown sofa is in a lighter shade, choose dark brown curtains and vice versa. Add a white area rug and light wood side tables to brighten up your room.
Alternatively, you don't have to use multiple shades of brown for the curtains. Sheer brown will work just as nicely as it helps filter light and stands out in a room with a brown sofa. However, if you're going to use sheer brown curtains, you might want to add blinds to increase privacy.
Two-Tone Brown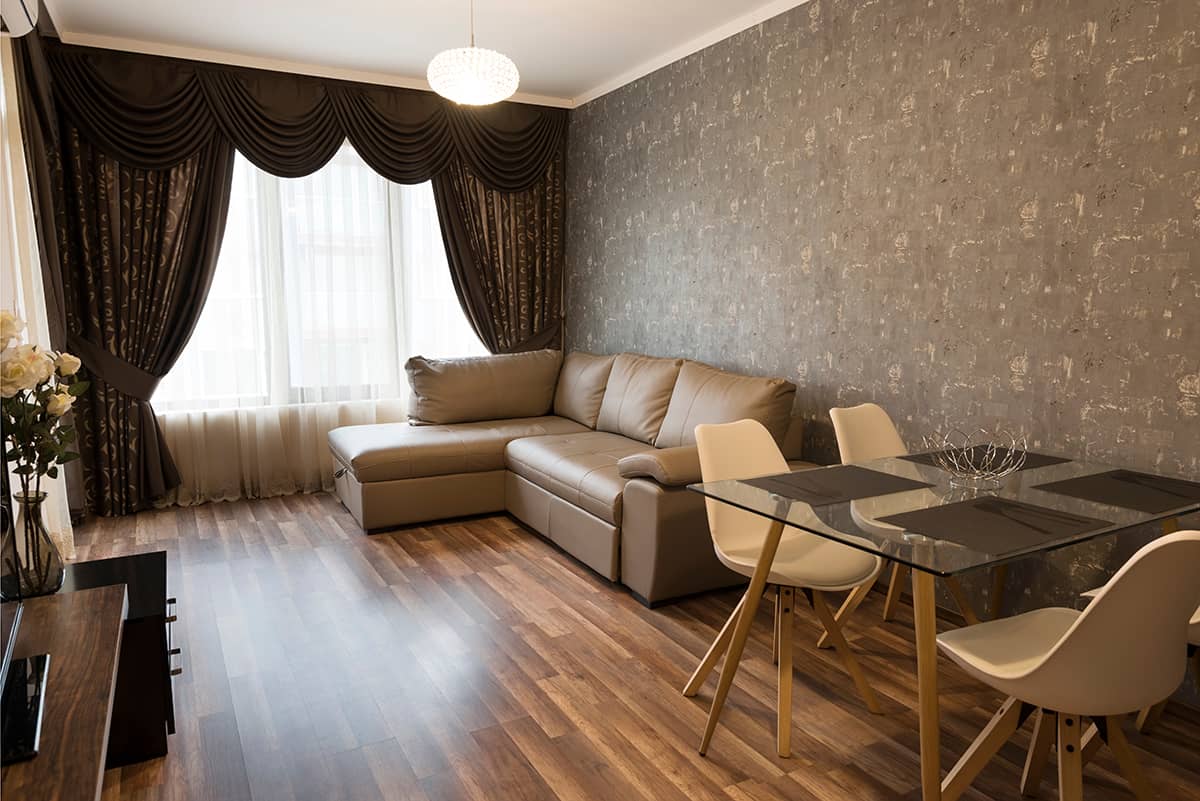 Another great way to use shades of brown in your living room is to find window treatments in two-toned brown to match your sofa. By using a two-tone brown for both the curtains and the sofa, you can make a big statement.
Although this color combo won't highlight your sofa, you may throw in some colorful pillows to make the furniture stand out.
Soft Pink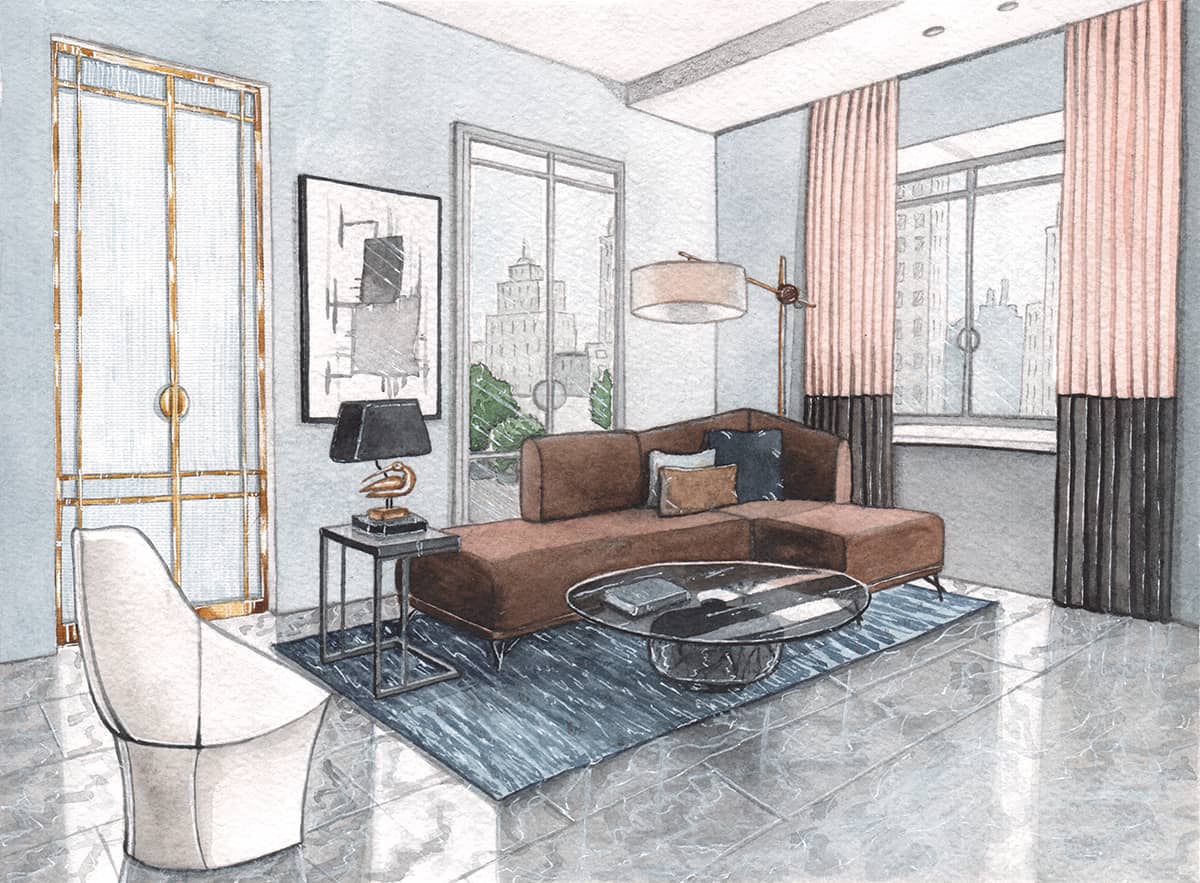 For a brighter alternative, go with a pale pink curtain as this color will go nicely with brown. Pink and brown add a unique look that boasts character and charm. Some people may associate pink with femininity, but in casual living rooms, this curtain color will work beautifully with a brown sofa.
Orange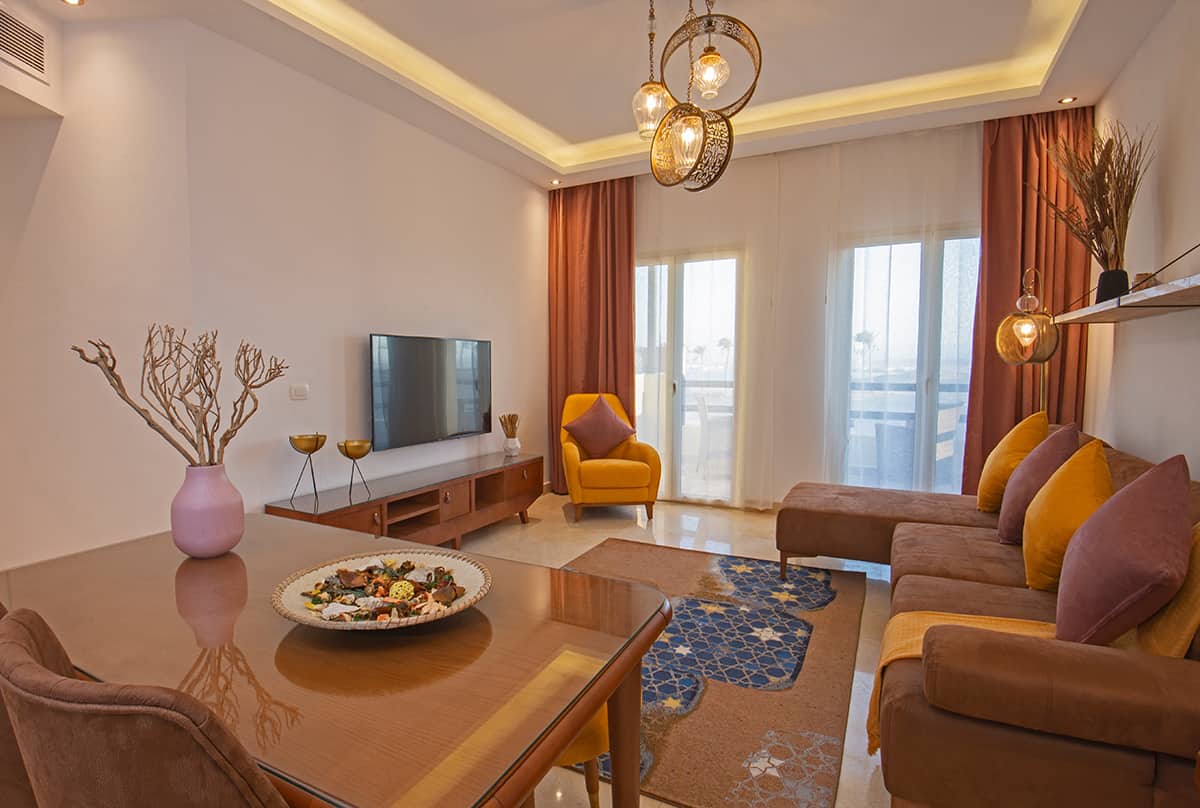 A bright and bold orange curtain is sure to wow your guests, especially when you have a luxurious brown leather sofa to pair with it. Orange is a warm color that emits a happy vibe. But if you want to tone it down a little, go with a subtler shade like burnt orange curtains.
These window treatments will serve as a beautiful backdrop to a dark brown sofa.
Sunny Yellow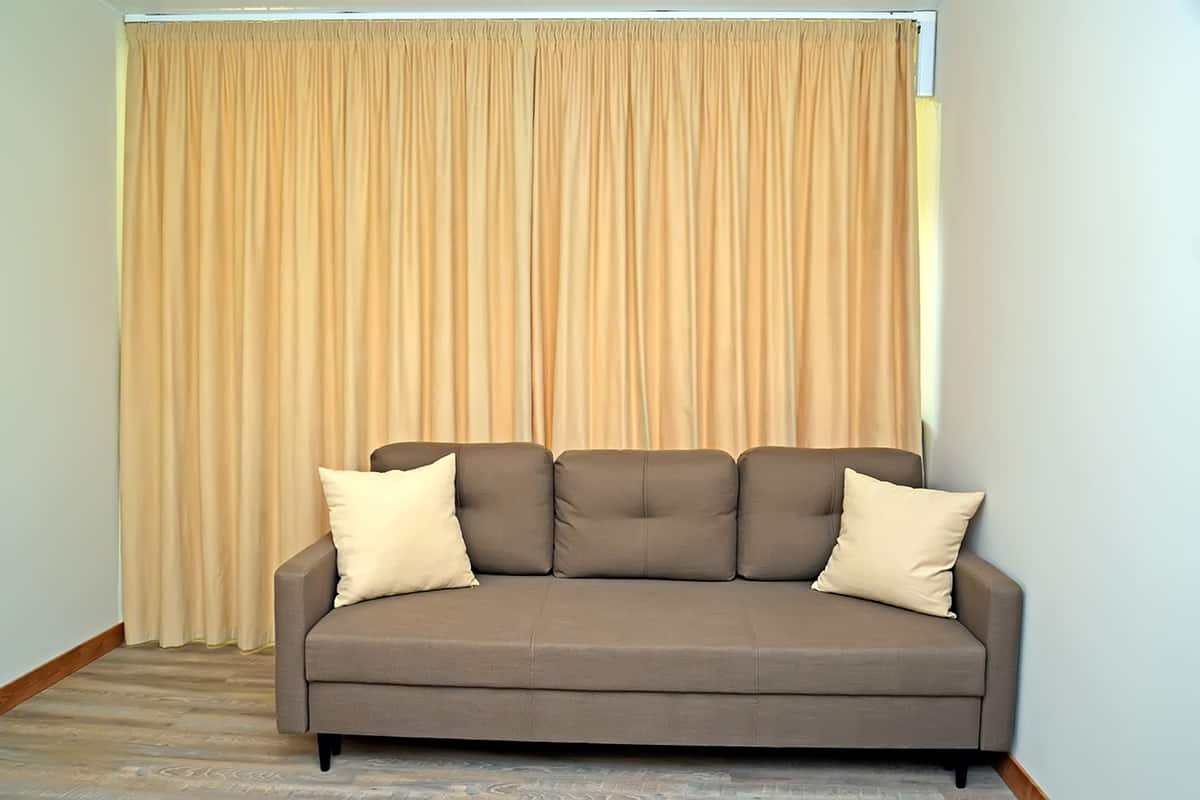 Another bright and vibrant color for curtains is sunny yellow. This color combination with brown brings character to a casual interior and provides your room with a splash of color.
For a subtler approach, use mustard yellow instead of a brighter shade as a sophisticated and toned-down curtain color to warm up your dark brown sofa.
Tan
For rich brown leather sofas, opt for tan curtains as a simple color palette. Tan is a neutral greyish-beige hue that serves as a backdrop to a bold brown sofa. But if you want your curtains to stand out a bit, choose a solid print or go with striped patterns. To complement the curtain, include some pillows and rugs in tan as well as a dark wooden coffee table to give the room a relaxing vibe.
A Blend of Vibrant Colors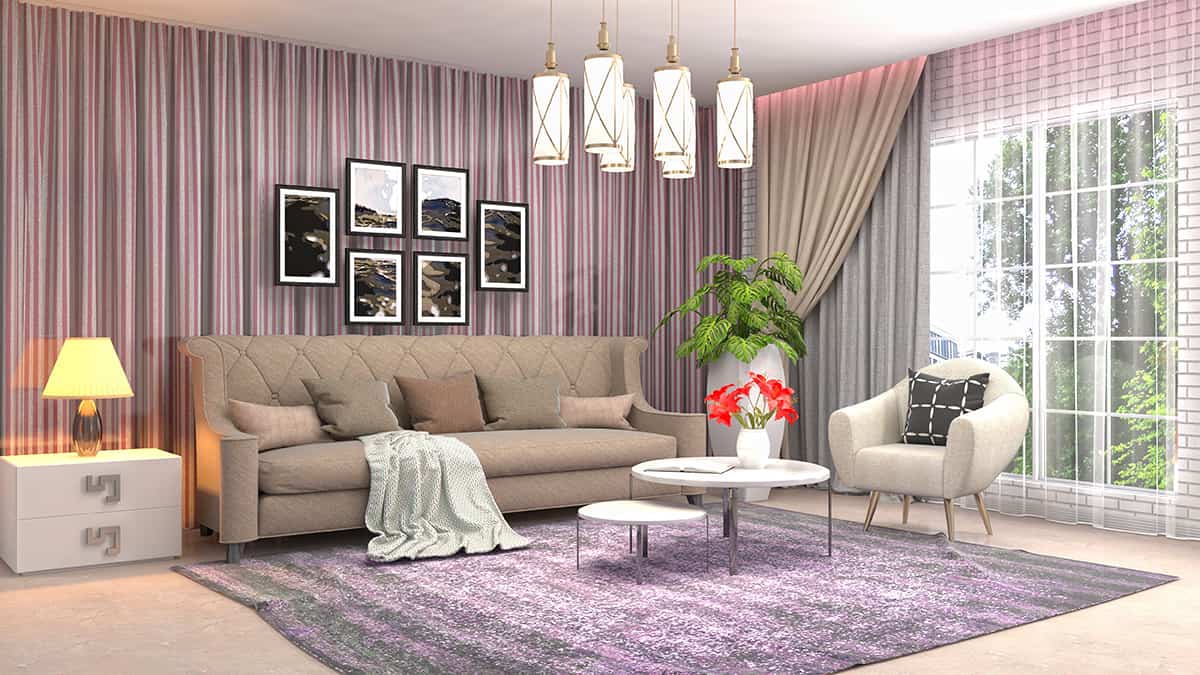 Now how about creating a truly sophisticated interior by matching your brown sofa with a blend of vibrant colors for the curtains? What we mean by vibrant colors is a mix of yellow, purple, orange, red and even pink in order to highlight your entire living room.
These colors are the perfect contrast to brown sofas, so you can keep the wall colors neutral and the accessories in darker colors. Using vibrant curtain colors with a brown sofa is a sure-fire way of breaking the monotony in a casual or formal living room.
Black
Since black is a striking bold color just like brown, why not consider velvet or silky black curtains to pair with your brown sofa? This color combo will keep your living room sleek and ultra chic by making a dramatic statement. Even a charcoal shade is enough to catch the attention of your visitors. The brown sofa can then act as an accent tone against the black curtains.
In Closing
Styling the living room brown sofa entails more than just using wall colors or accent pieces. That's why we combine above list of best curtain colors that go with a brown sofa. Each of these ideas works in both modern and traditional style living rooms. When coordinating your brown sofa with a curtain color, remember to think of the vibe you're trying to create for your room.
For example, a casual living room with a brown sofa can benefit from bright colored curtains like yellow or orange. For formal interiors, go with burgundy or black. You'll then be able to match your brown sofa with a desirable curtain color that suits your particular interior style.