A couch is a must-have furniture item in every living room. Available in almost any color imaginable, some people may find themselves utterly confused when it comes to choosing the right sofa color. If you're not keen on bold or stark colors, then how about beige? Since white is a little bland, a cream shade of beige for a sofa is a great option.
Beige is a versatile color that can easily blend with any other color around it. For example, you can pair your beige sofa with a grey wall and some colorful accessories without your living room appearing monotonous.
However, to truly coordinate your beige sofa with other living room accessories so that the seating furniture doesn't look out of place, we've put together some excellent beige couch living room ideas to inspire you. So let's delve into them now.
Beige Couch Living Room Ideas
Embrace Natural Materials with Beige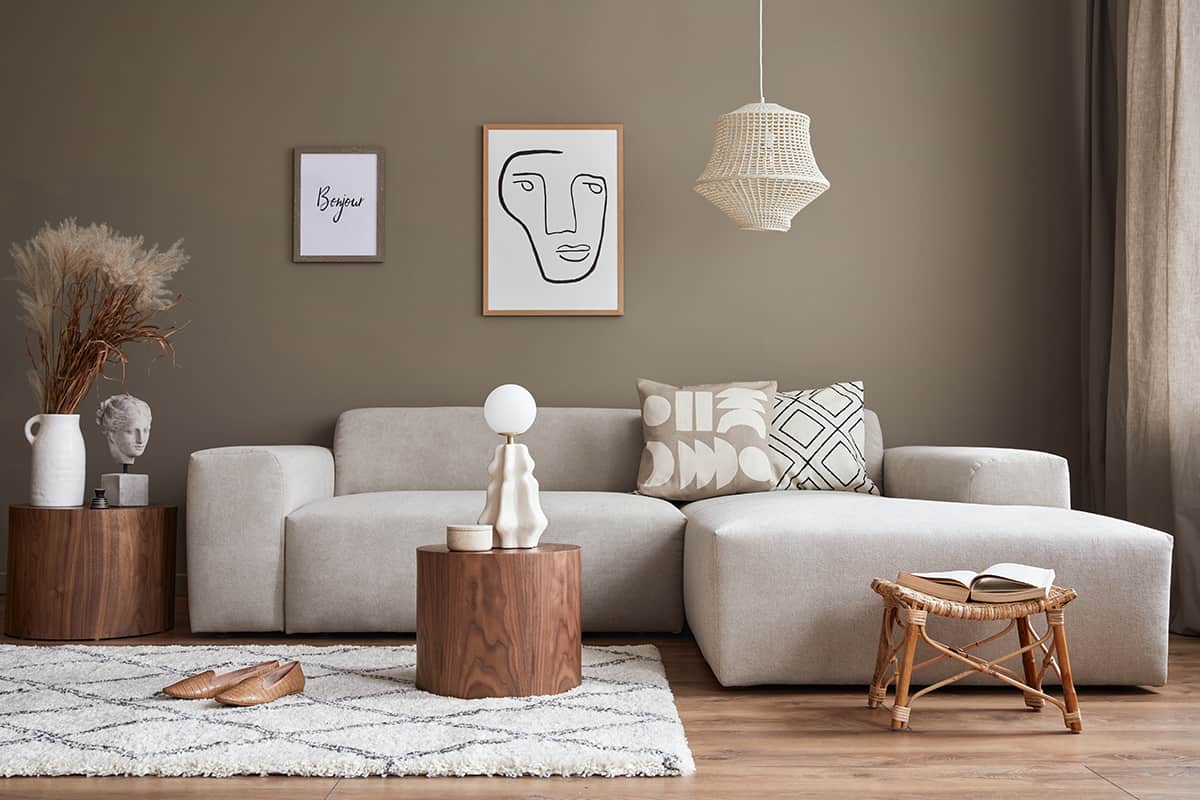 The natural tone of a beige couch is associated with nature, so what better way to pair your beige seating furniture with natural materials like wood, bamboo, stone, or leather. A beige couch will seamlessly blend with any natural material to create a visually aesthetic appeal.
To style a living room with a beige couch, work around the furniture by placing tables made of tree trunks or bamboo as shown in this example. By layering the living room with natural materials, your beige couch will look balanced and serene.
Add Plenty of Textures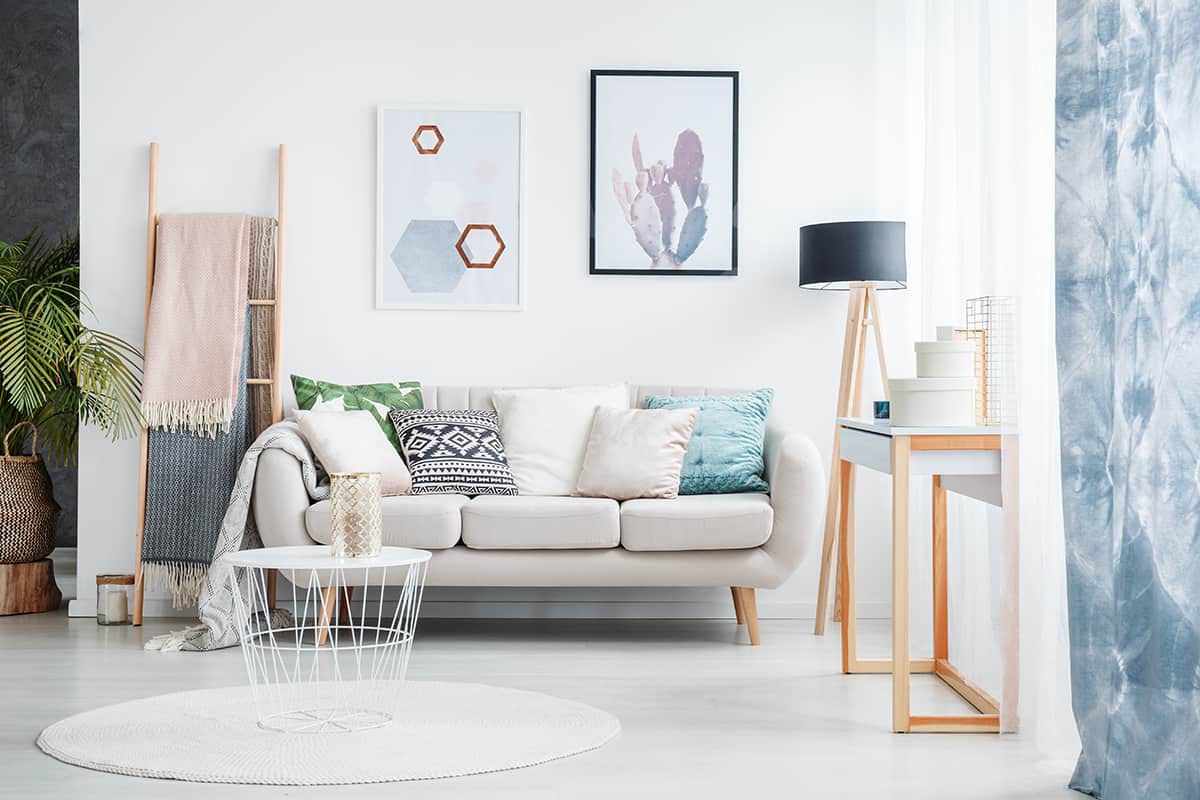 A solid shade of beige couch will highlight the textures in your living space. This soothing tone tends to relax the eye and draw attention to other elements in the living room. As we previously mentioned, beige works incredibly well with natural materials so why not include plenty of nature-inspired textures around the sofa as shown here.
The cool blue textures in the form of the curtain, wall art, and pillow work really well here as blue is also a color that's closely related to nature. A textured living room with a beige couch adds dimension to the space and allows you to play with other textiles and natural materials.
When choosing textured accessories, go with a blend of different colors and patterns to add visual interest to your modern living room.
Different finishes work very well with a beige sofa so you may incorporate a rug, a blanket, and throw pillows to the textured mix as per this image.
Check out our post ' 13 Cushions and Pillows that Go with Beige Sofa ' for more ideas.
Mix Grey with Beige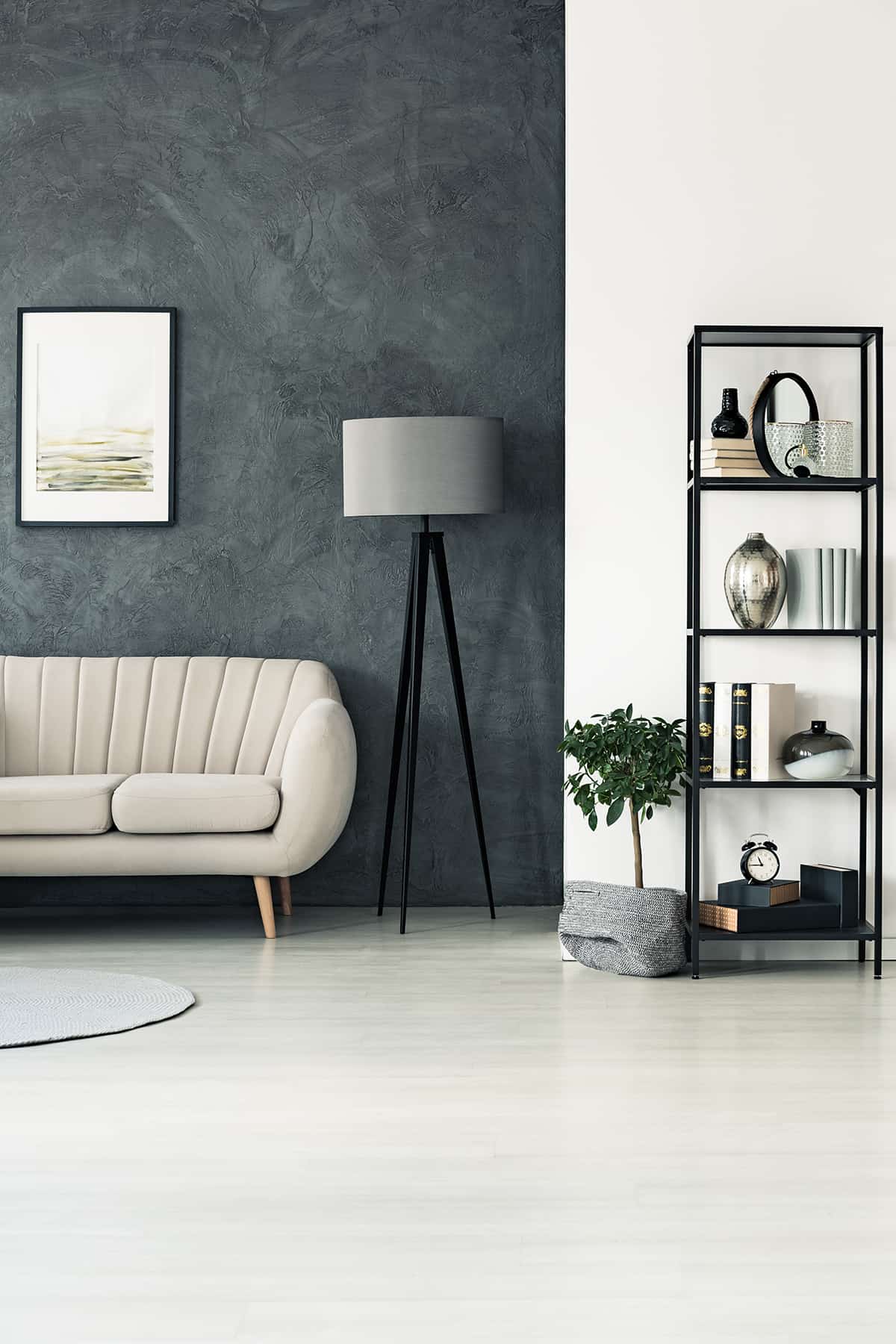 Grey and beige are both neutral hues that go well together as they stem from the same color spectrum. The only difference between the two is that beige is warm but grey is cold.
A living room with dark grey walls and decor may appear monotonous without beige furniture. This light color will create a natural balance next to grey, regardless of whether you use dark or light grey shades as a contrast to beige.
Almost any shade of grey goes well with a beige couch in a small or large living room. The combination of light grey and beige can make the room look brighter and simpler, while dark grey next to beige will bring out the elegance of the room.
Pair a Warm Shade of Blue with Beige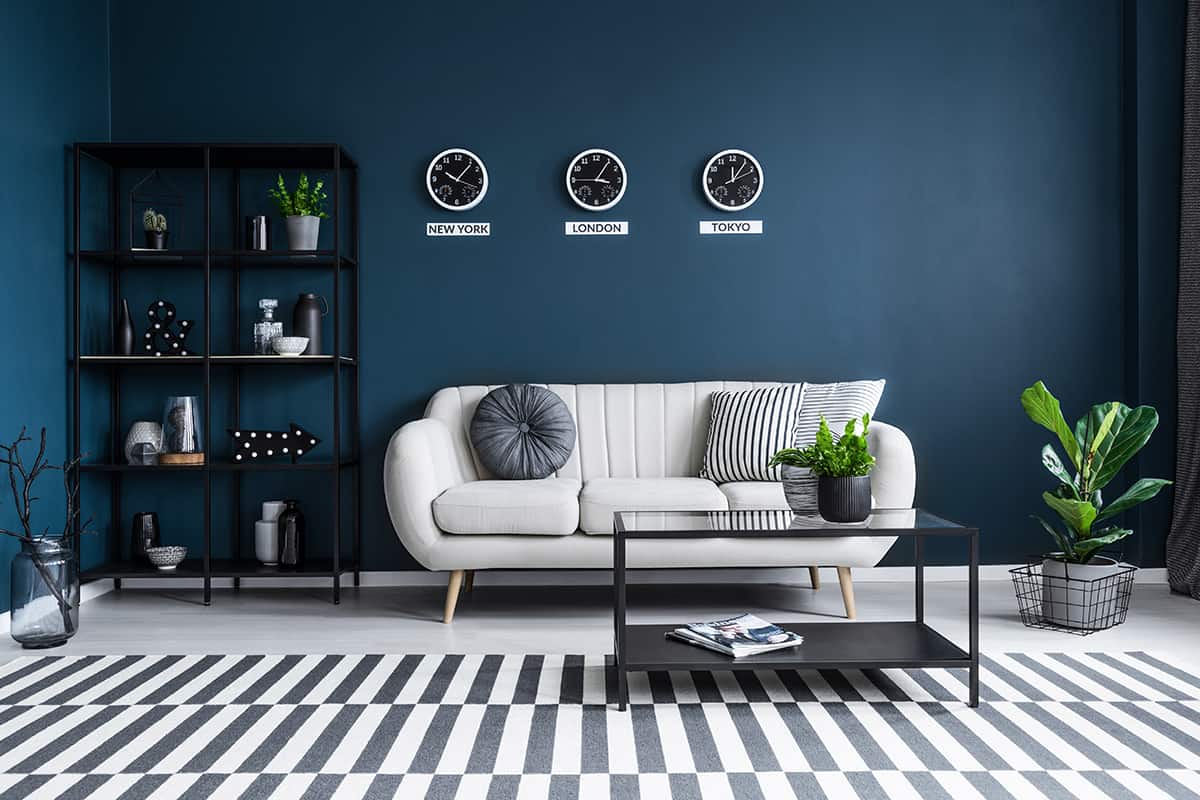 An unexpected color to pair with your beige couch is navy blue. This color combo will add a rather free-spirited element of freshness to a living space. Navy and beige are harmonious colors as the warm tones of beige contrast the cool blue, thus creating a well-balanced color scheme.
To make this color combo work, paint your wall in navy. This would serve as a bold backdrop to the beige sofa as shown in this example.
For more color walls to pair with a beige couch, see our article' What Color Wall Goes with a Beige Couch? and A Ultimate Guide '
Introduce Dark Accents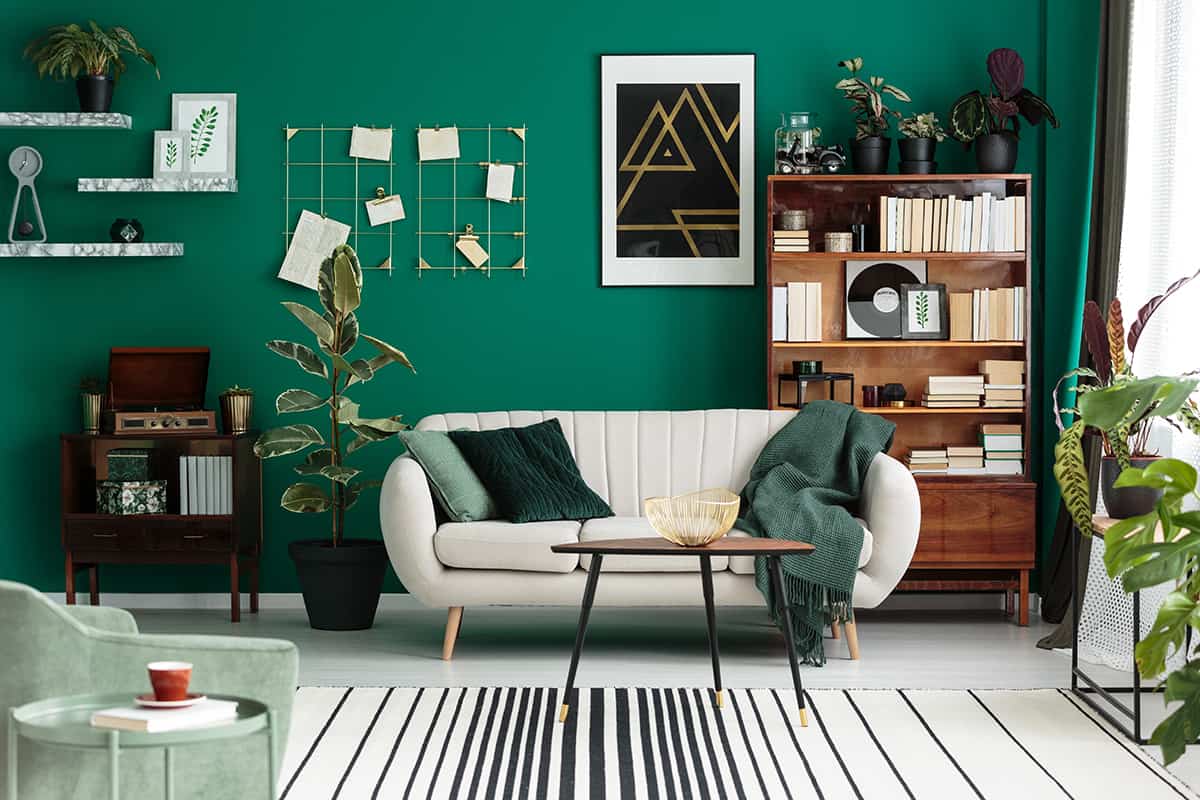 If you want to create an edgy color scheme that goes with your beige couch, consider dark green and black accents as a dynamic twist. This color combination will make your living space feel lighter by contrasting the beige couch.
After all, beige is the kind of color that blends seamlessly with any other hue so by introducing darker accent colors, your seating furniture will look ultra-chic and modern.
Create Harmony with a Beige Rug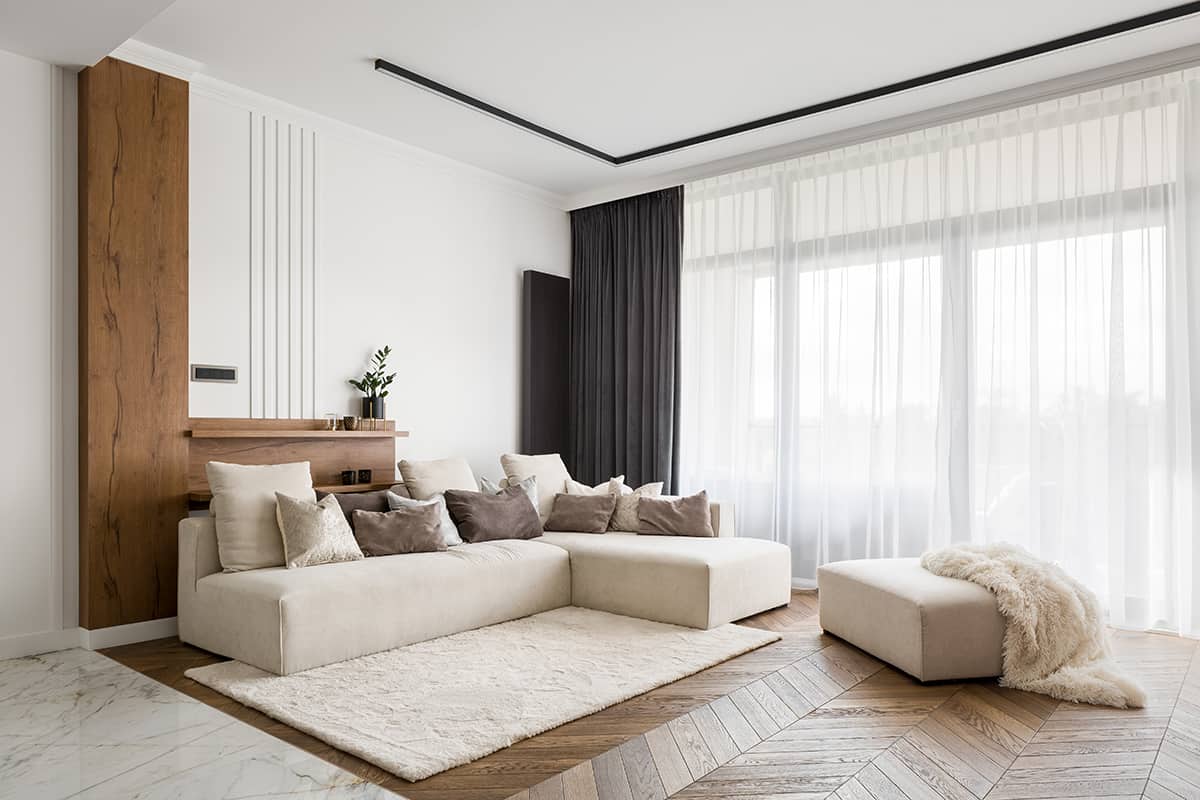 While many homeowners tend to avoid pairing their beige couch with a matching rug, we must say this idea is anything but boring. To bring a unique look to your living room, don't overlook the beige rug as it is the perfect addition to a minimalist or contemporary style living room.
For best results, go for a monochromatic design and keep the beige shade of your couch the same as your rug. This ensures your living room will remain cohesive with one single color for the floor covering and seating furniture.
Decorate the Beige Sofa with Luxurious Throw Pillows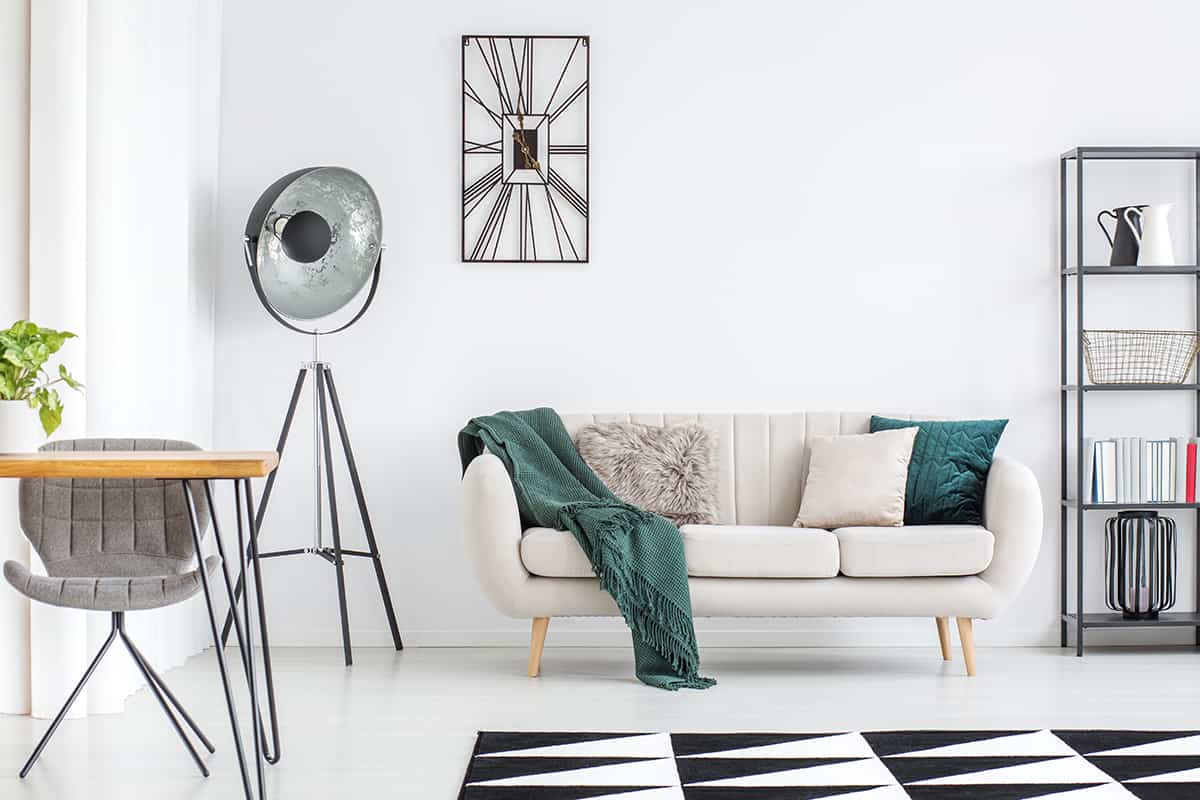 You don't have to spend a lot of money on accessorizing your beige sofa by buying expensive leather.
A couple of velvet or silk throw pillows are all that's needed to style your beige couch. Luxurious throw pillows will please your guests and draw the eye to them rather than to the rest of the living room.
You may even overindulge by choosing multiple patterned pillows in various colors like the ones shown here.
Bring a Pop of Color to the Sofa's Surrounding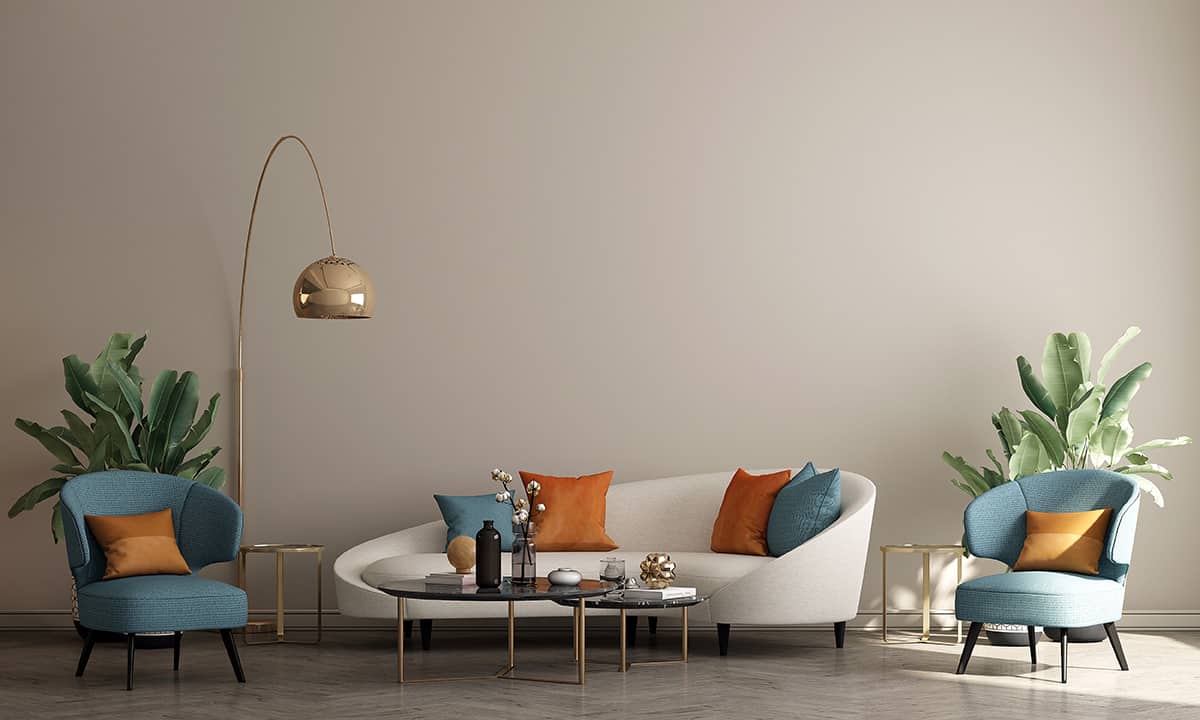 A neutral couch surrounded by bright and colorful furnishings can add visual interest.
In a boho-inspired modern living room like the one here, blue armchairs with bright colored throw pillows will work nicely with a beige couch in the center of the room. Include some plants and gold lighting to enhance the visual appeal and tie the room together.
For a Minimalist Look, Go All Neutral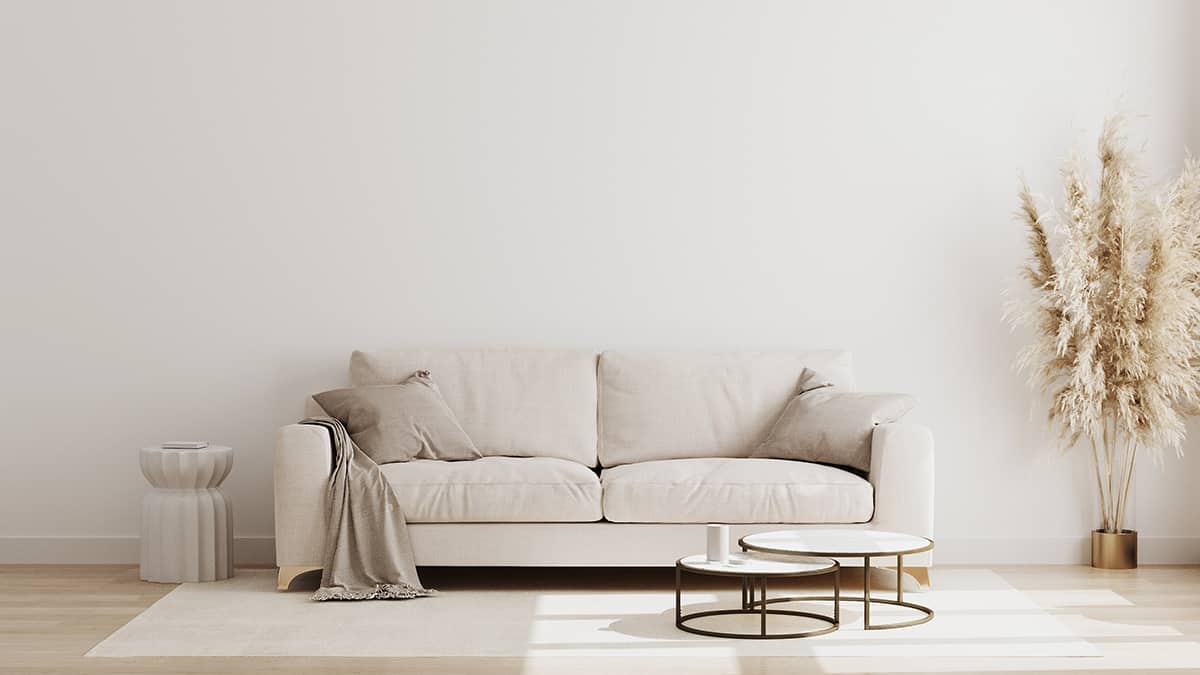 An all-neutral living room will make your space feel lighter and bigger. A beige couch with a few simple furnishings is all that's needed for a minimalist living room to feel light, airy, and lively.
See how cozy and inviting this Scandinavian-style minimalist living room feels with its all-neutral decor and beige couch. Who said beige is monotonous or bland?
Decorate with Brown to Harmonize the Beige Sofa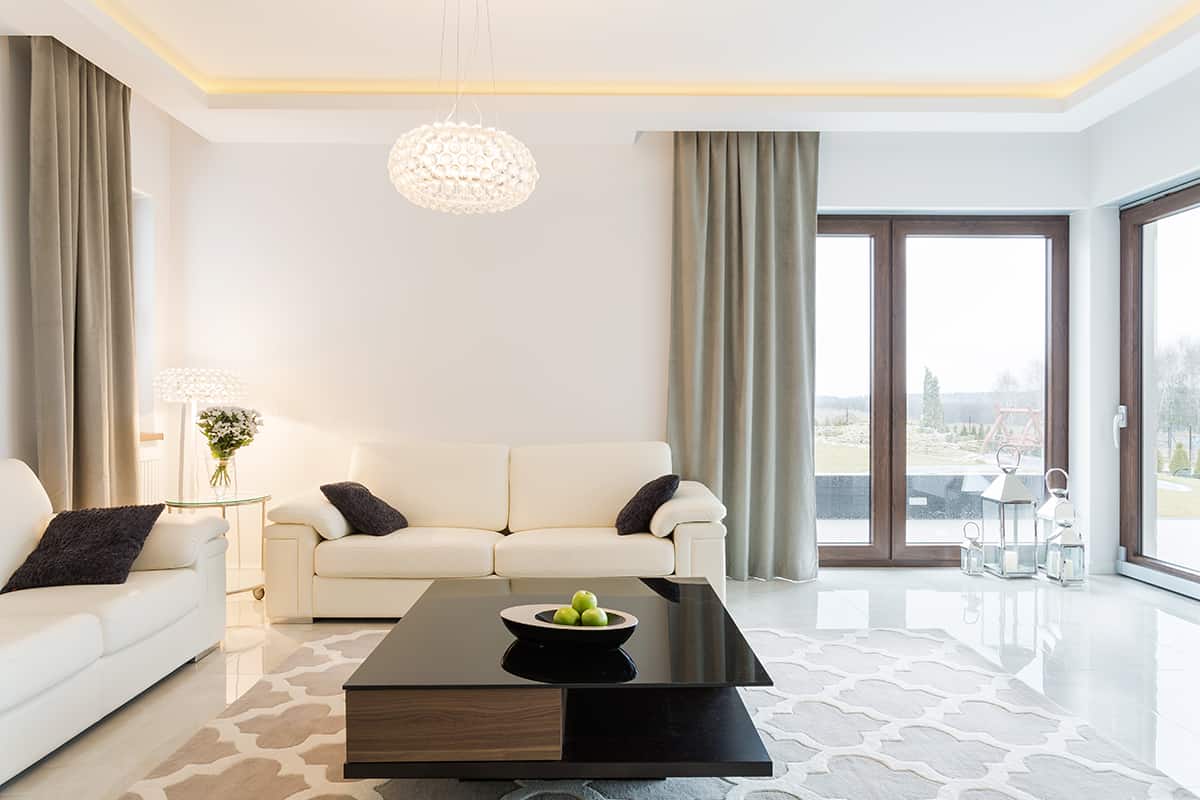 A living room with a beige couch needs brown as its complementing partner. This color combo provides endless opportunities to choose any style of interior. Brown is an earthy hue, which is considered a neutral, so the perfect match is a rich shade of beige. The brown palette is incredibly soothing and the ideal choice for living rooms with beige sofas.
Provided you don't overdo it with brown, your living room with a beige couch can benefit from this beautiful color for extra charm and character. Choose dark brown tables and matching pillows to accent your beige sofas as shown in this example. Dark brown acts as the perfect feature, with lighter shades for the curtains as the backdrop to the beige and brown.
What Colors Work Best with a Beige Sofa?
Just like a white couch, a beige sofa is like a blank canvas that can be paired with practically any furniture color. As long as you keep the color style consistent with your sofa, you may blend any neutral color scheme with your beige sofa.
Keep in mind that in order to keep the sofa aesthetically pleasing, you should dress it with textured fabrics or patterns in bright colors, such as throw pillows or blankets. The walls and other furniture items may remain in subtle colors like cream or grey.
If you want to create bold contrasts against your beige sofa, go for dark blue, burgundy, jungle green, or brown for the accessories. Go for black metal tables and dark upholstered seating furniture to pair with your beige sofa. These accent pieces will contrast with your light-colored sofa and anchor the conversation area.
Aside from bold and dark colors like burgundy, brown, green, navy, and black, you can also include brighter colors to pair with your beige sofa. This is an especially good idea if your sofa is on the cream side.
Bright hues like orange, yellow, or sky blue will complement your seating, particularly when they are in a mixture of solid patterns. Throw in the sole colorful paintings of your choice and hang them behind the sofa on the wall. The side tables can include vases of flowers in bold, bright colors to showcase your contemporary decorating style.
So as you can see, any bright or bold color will complement a beige sofa. When you style your neutral sofa with these accent colors, you are in fact making an eclectic statement by creating a modern interior.