Black stainless steel appliances are taking the modern kitchen design by storm thanks to their sleek, solid appearance. Those who opt for black stainless steel truly appreciate the smooth, floating glass-like appearance of these appliances.
This is one of the main reasons why the trend is growing in popularity. But there are plenty more reasons to love such appliances: they are easier to clean, incredibly versatile, and fingerprint resistant.
If you are wondering what color cabinets go with black stainless appliances, be sure to choose between low and high contrasts. This means darker wood and bright whites are the best cabinet color matches to complement your dark-colored appliances.
In this post, we will walk you through the best cabinet colors that work with black stainless steel appliances, including the best cabinet hardware color combos as well as colors to avoid. So let's get started now!
5 Kitchen Cabinet Colors that Go with Black Stainless Steel Appliances
Dark Oak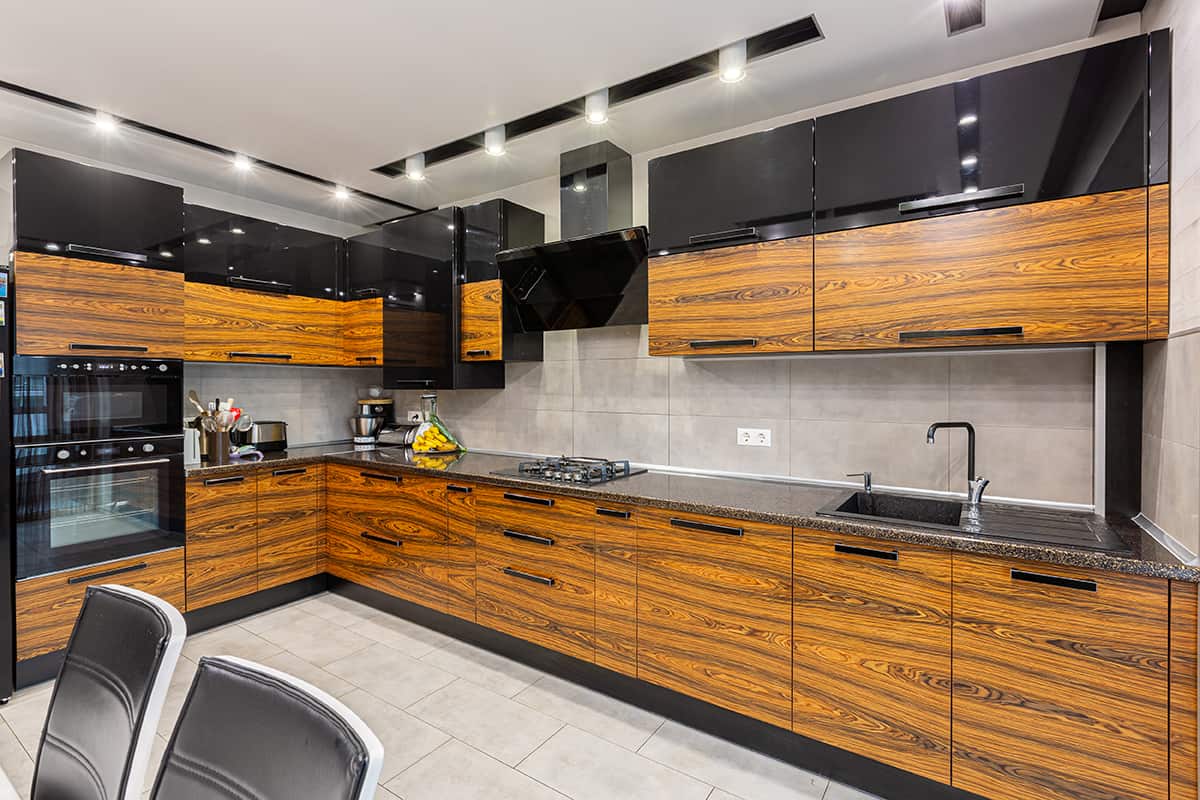 Natural wood cabinets, like oak, are ideal with black stainless steel appliances. Brown is a deep tone that works beautifully next to black as it can bring out the shiny qualities of the appliance. Dark oak cabinets can be custom-made to match your black appliances.
Brown is the perfect color to give your dark kitchen a cozier feel. This color combo works best in large kitchens where you won't feel closed in.
However, bear in mind oak is an expensive wood as it's the most sought-after for cabinetry. There is no doubt that the beauty of oak lies in its longevity, thus making this cabinet color choice the best investment for the long term.
Cherry Wood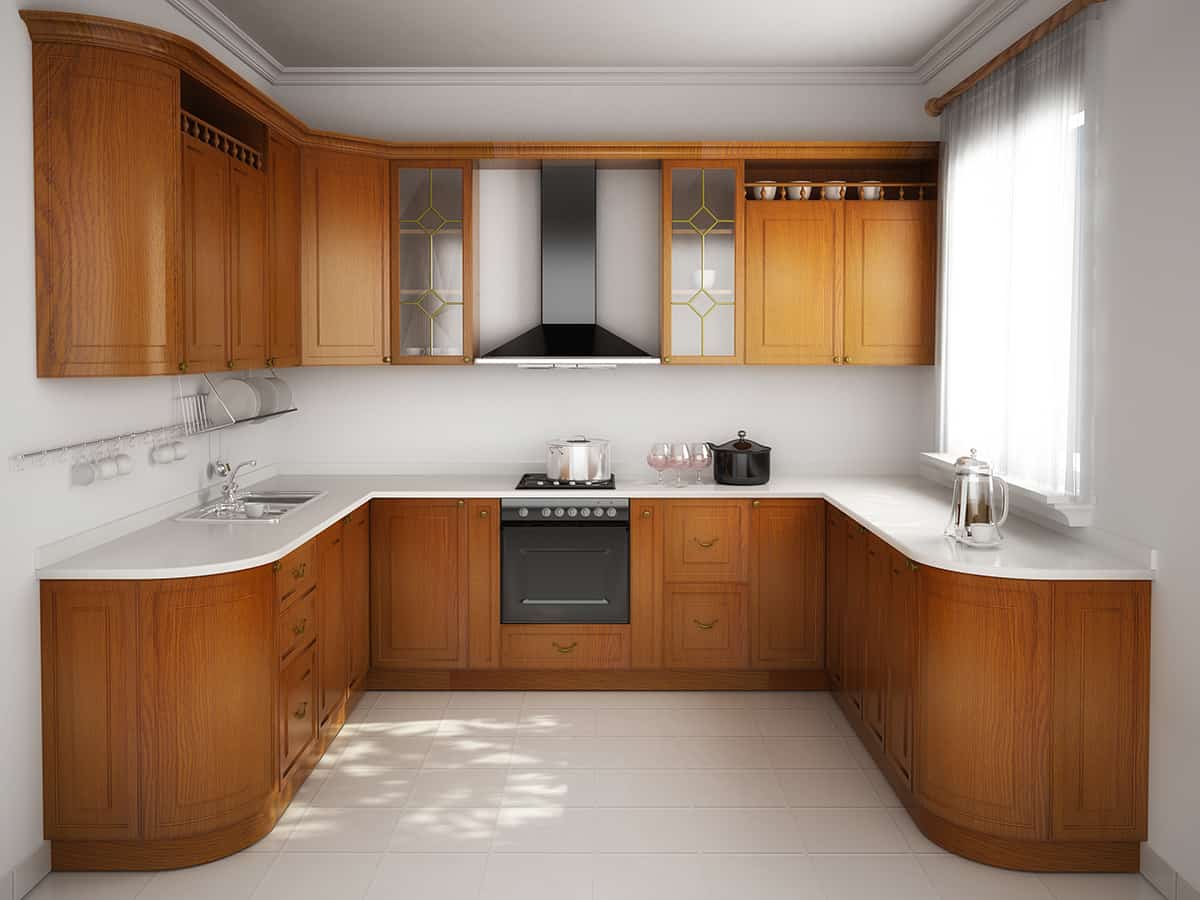 Another visually appealing wood finish for cabinets is cherry lumber, which doesn't require any repainting. This natural wood cabinet color goes very well with black appliances. Since there are many shades of cherry wood, you don't have to opt for red.
Opt for a more subtle color scheme that leans towards beige or sand. Just like oak, cherry wood is also an expensive material for cabinetry. But it is very durable and of high quality that will ensure your cabinets will last for many years. So if your budget allows it, go for cherry wood as a stylish choice against your black stainless steel appliances.
White or Off-White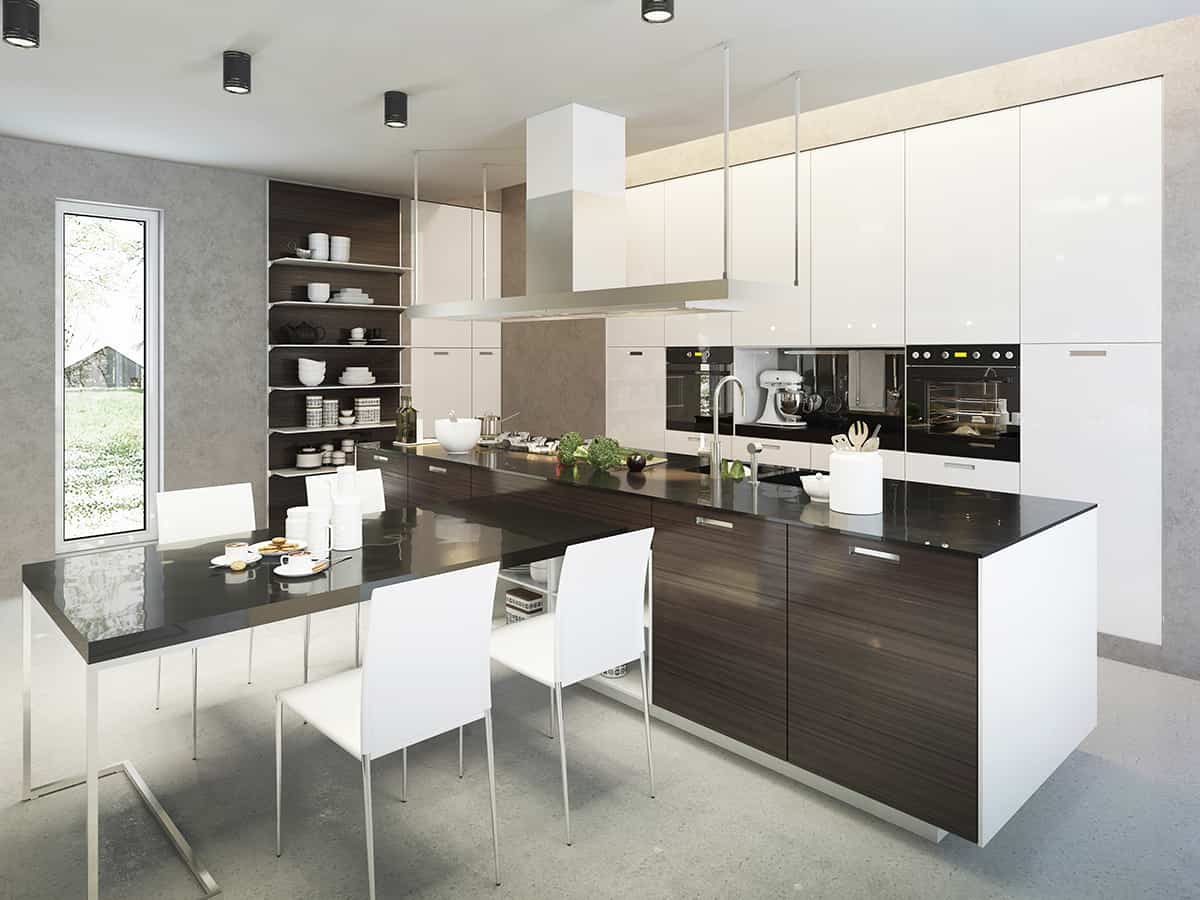 Now let's move away from wood and focus more on the actual color of the cabinets. White or off-white is a neutral color that works in contrast to black. The great thing about neutral cabinet colors like white and off-white is that they open up the space.
So if your kitchen is on the small side, but you still want black stainless steel appliances, you may want to consider white cabinets to open up the space.
These cabinet colors can give the room some depth and make it feel larger than it really is. After all, white is a clean color and adds a beautiful touch to the black appliances. What's more, this color works in both traditional and modern kitchen styles.
Grey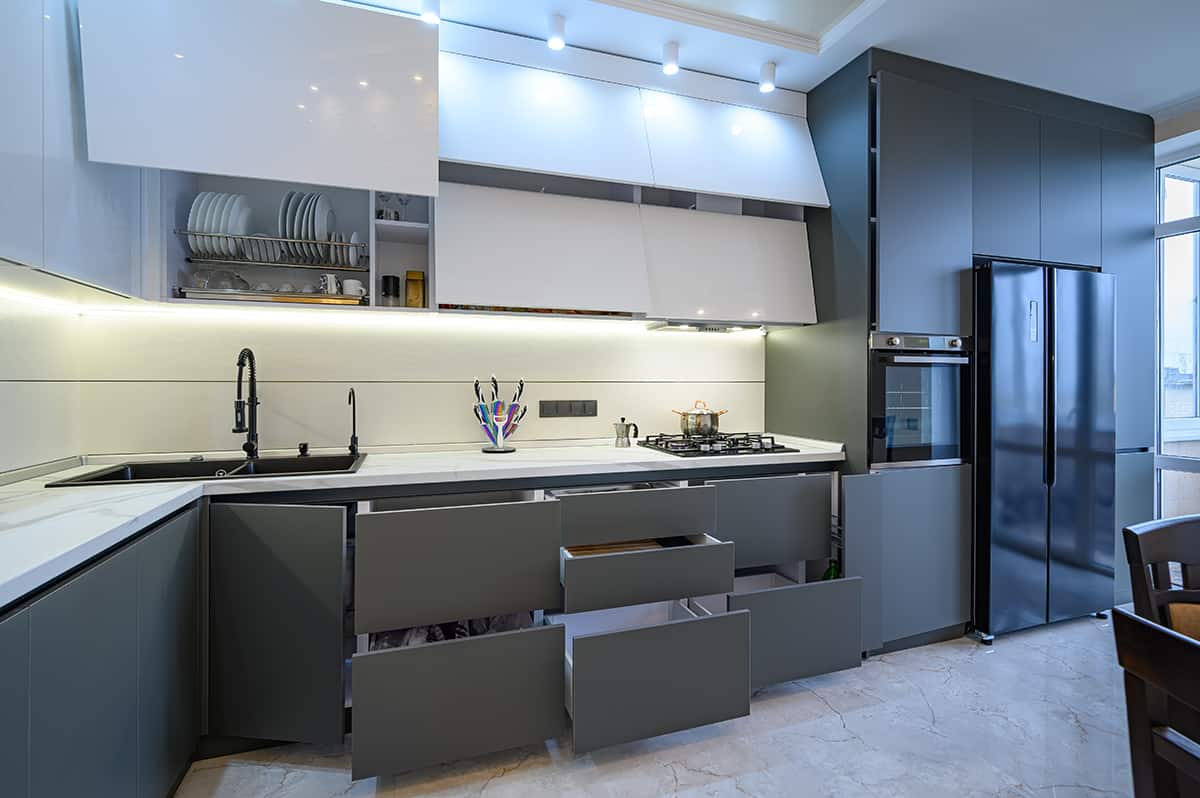 For a toned-down color that's not as bright as white, how about a dark shade of grey for anyone who doesn't want to commit to white cabinets.
Since it is understandable that some people don't want white cabinets because they show dirt or stains easier, grey is a muted color that makes the best alternative to bright white. The great thing about grey is that it comes in numerous shades depending on your taste. You may even incorporate some white just to brighten up the space as shown in this example.
Grey provides a nice contrast next to black stainless steel appliances without taking the focus away from the sleek, black color. The black appliances pop as long as you don't use mid-range greys. Either go with light grey or dark grey for a consistent look throughout the kitchen.
Dark Blue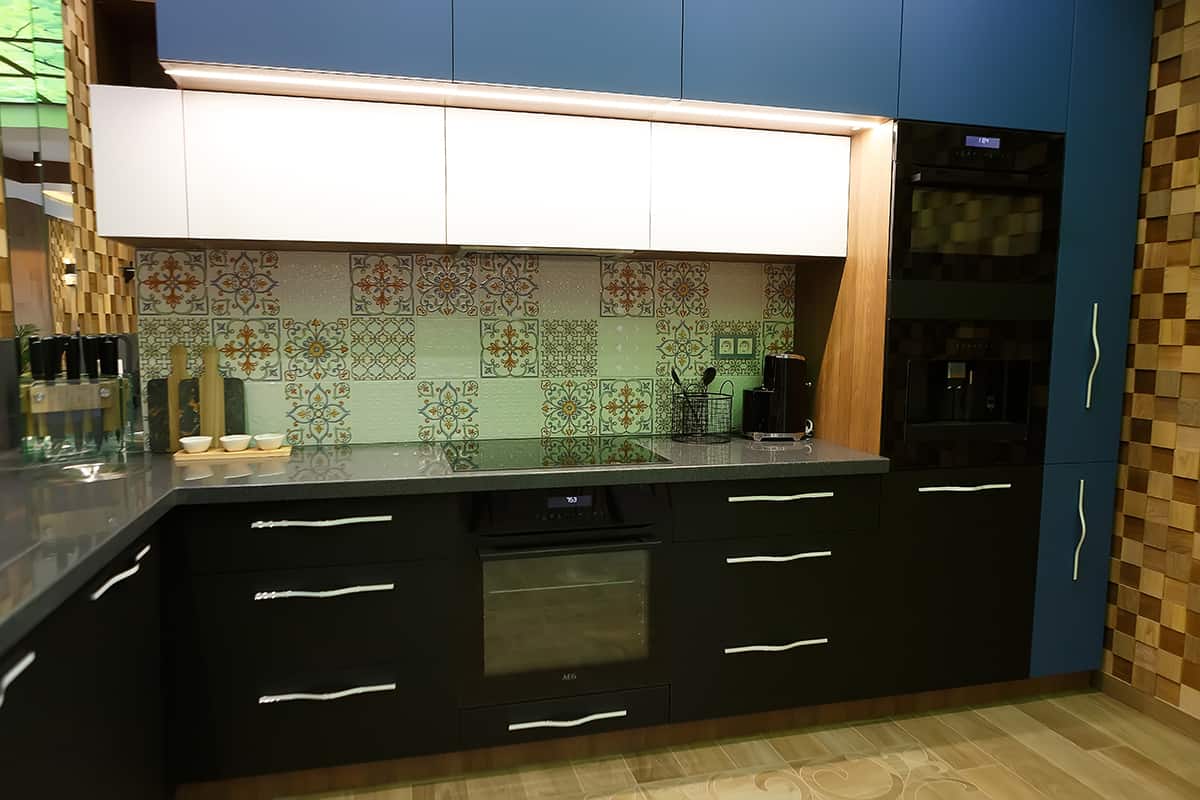 Blue is a color associated with serenity and calmness. A light or dark blue color for your cabinets will work great against black appliances. Either choice is a beautiful pairing as the lighter blue makes the kitchen brighter while the darker blue will make your appliances stand out.
But if you can't decide between light or dark blue, why not use both? Opt for periwinkle and navy as stylish pairings next to black cabinets. For an added pop, incorporate some glass cabinets into the design to reflect light and give the illusion of space.
Bright Red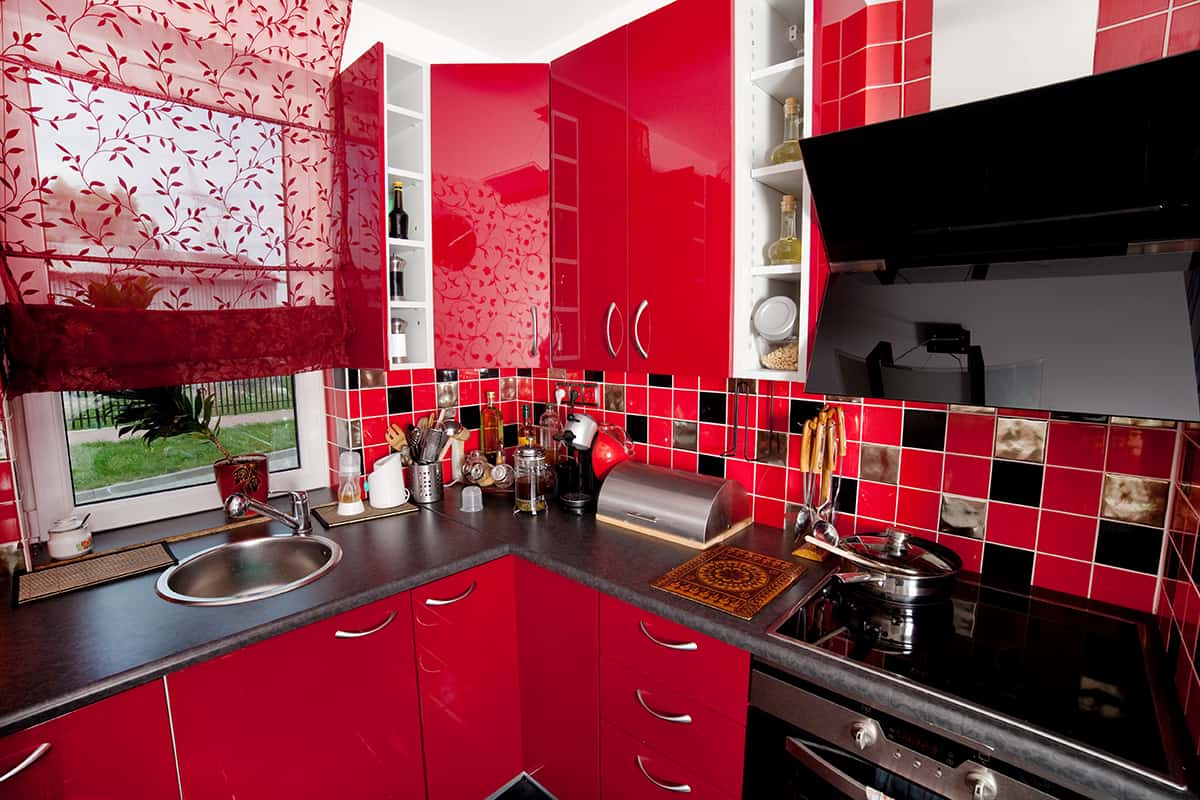 Bright red cabinets stand out in any kitchen, so why not pair these color tones with black stainless steel appliances for a stylish look. For a modern kitchen design, you may want to go with black countertops and all-red cabinets with black knobs. If rustic is more your style, keep the look sleek by choosing a subtle shade of red. It will look amazing next to your black appliances!
Black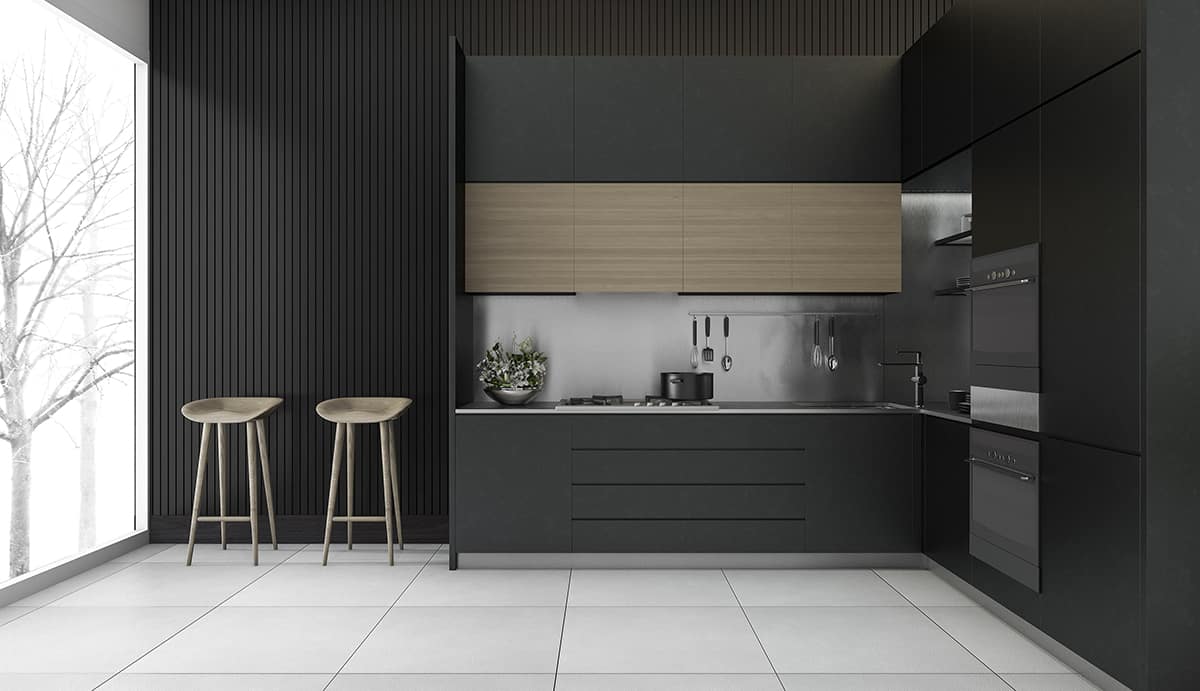 The idea of an all-black kitchen may seem a little too much, but it can look regal and elegant in any modern kitchen design. The idea is to add some character by incorporating wood accents with your black cabinets with black granite countertops and appliances, as shown here.
Cabinet Colors to Avoid
When you're coordinating cabinet colors with black appliances, avoid the mid-range color spectrum. This means either contrasting the color of appliances or matching them on the darkest end of the black color spectrum.
It is also best to avoid earthy or muted tones as they don't work with black stainless steel. Muted shades of yellow, for example, tend to clash with black appliances and make the cabinets look out of place.
Before you choose your favorite cabinet color, it is wise to obtain some color samples and hold them up against your black appliances to see what the cabinets look like as part of your kitchen design process.
Cabinet hardware that Goes with Black Stainless Steel Appliances
It's not just the color of your cabinets that you need to coordinate with your black stainless steel appliances. The hardware that comes with your cabinets also plays a role in giving your whole kitchen a completely balanced and cohesive look.
There are many different styles of hardware for cabinets to choose from, but as far as the colors go, it is important to match it with your black stainless appliances. Take note of the following tips to help you pick your cabinet hardware with care:
Cabinet Knobs
The cabinet knobs must complement the rest of your kitchen design. These are accents that you must pick carefully to coordinate with your black appliances. For the best color combination, either go with black or a contrasting color to black.
Many homeowners like their cabinet door knobs to stand out against the color of their cabinets. For example, if your cabinets are white, pick black for the knobs. For dark brown cabinets, go with bronze or grey. This will make it much easier to see the cabinet knobs against the doors, plus they will be a perfect match with your black stainless steel appliances.
Cabinet Hinges
The color of your cabinet hinges should ideally be the same color as your knobs. Don't forget the color must blend with the black appliances as well as the rest of your kitchen in order to create a seamless look.
The hinges of cabinets act as an accent so make sure you choose them carefully so that everything works in harmony together. For example, if you've chosen black knobs, the hinges must also be black to color coordinate.
Are Black Stainless Steel Appliances in Style?
Yes. Black stainless appliances are very trendy in modern kitchen styles. With their 21st-century cutting-edge vibe, they are a great way to show off your contemporary taste in kitchen appliances. If you plan on selling your property in the near future, you'll be pleased to know that investing in black stainless steel appliances will attract potential buyers who are looking for contemporary kitchens.
In addition to being trendy, they are easier to clean, more durable, and make a better alternative to regular stainless steel since it looks more industrial than black steel.
Black stainless steel appliances can, therefore, serve as a statement in a modern kitchen. From soft and matte choices to shiny and sleek black finishes, these appliances are sure to grab instant attention.
Can I Mix Regular Stainless Steel and Black Stainless Appliances?
Yes. Since black stainless and stainless steel are both within the same color palette and provide a similar effect, you can mix them in your kitchen. However, in contemporary settings, it is often best to match the fridge freezer color with the washing machine and cooker to create balance.