Gone are the days when your only option for wooden cabinets was dark wood or pale wood. The possibilities of colors for wooden cabinets are now only limited by your own imagination and can be bought in a huge array of shades and hues, and even custom made to your own exact color requirements. Here you can discover some of the most popular and interesting options for wooden cabinet colors and maybe find some inspiration.
Beige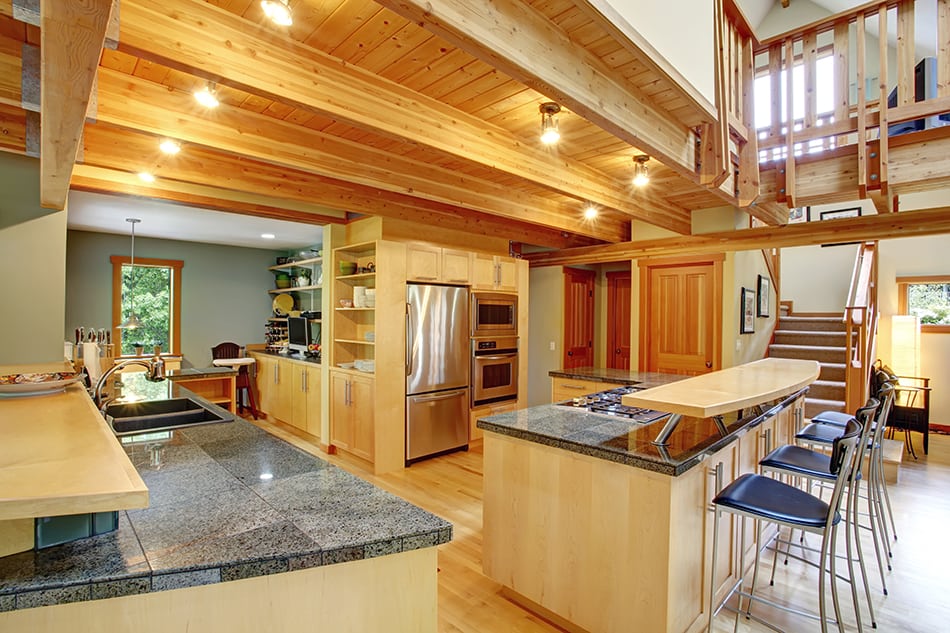 Pine wooden cabinets are a classic choice, and there's a good reason why they have remained so popular for so long. This pale wood has a yellow tone which adds warmth to a room and helps it to feel brighter and airier. Pine is also very neutral, so it works well with almost any color combination. To make pine kitchen cabinets look more modern, pair them with a dark and sleek countertop, such as a deep gray marble or granite.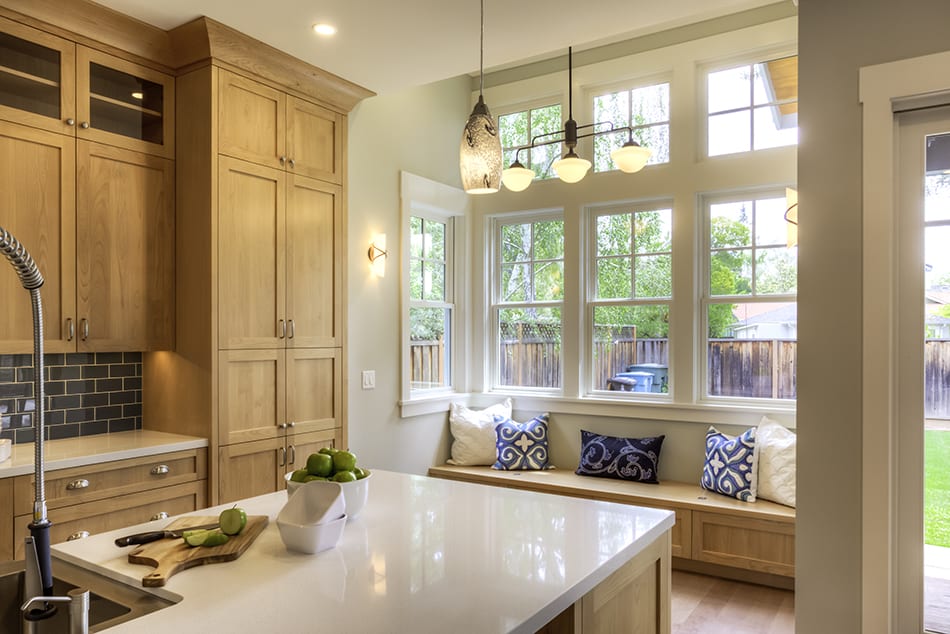 Oak kitchen cabinets have a rustic and earthy tone to them. This color of cabinets works well in farmhouse-style interiors, among many others. Oak is known for being sturdy and high quality, so using this wood for your cabinets can help to give them a high-end feel. Oak works well in a wide range of color schemes and can be used as a neutral background color or made to be the star of the show by surrounding it with lots of white surfaces.
Black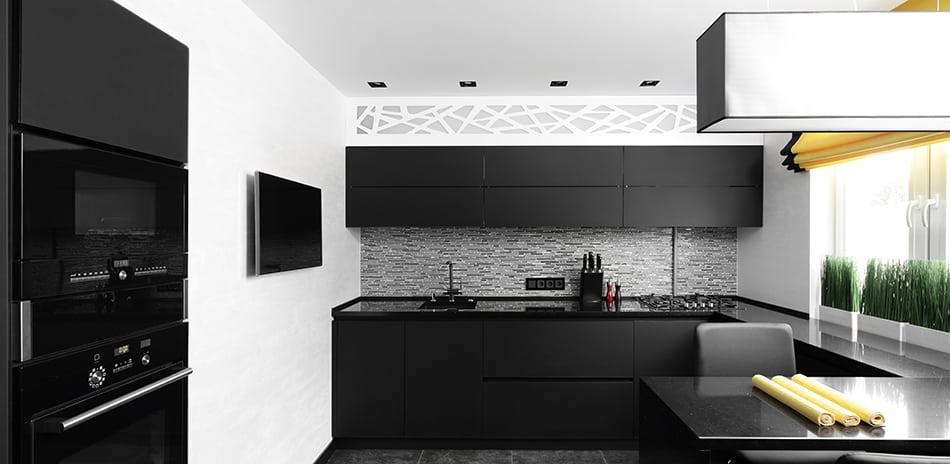 If you're looking for a sleek modern look, then black is a great choice for wooden cabinets. These matte black kitchen cabinets create a minimalist look when paired with stark white walls. Using handleless cabinets also adds to the minimalist effect by reducing the amount of fussiness in the room and causing the viewer to focus on the monochromatic design.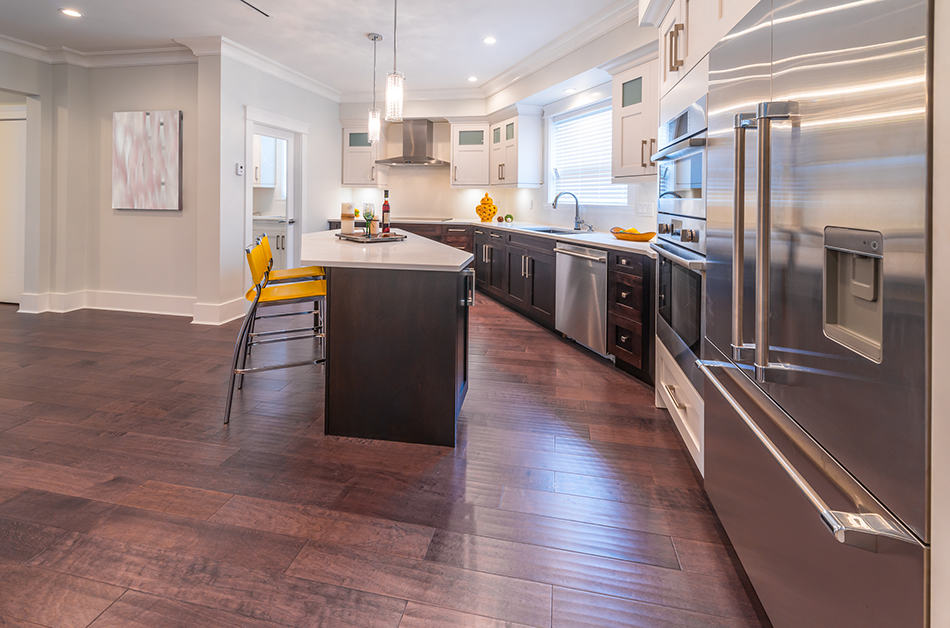 Black cabinets don't always have to be ultra-modern, and here we can see that black cabinets also work well in traditional style kitchens. Although black might seem like a harsh color choice, it actually works really well as a neutral background to help other colors pop. In this instance, yellow bar stools and yellow accessories have been used to contrast the black cabinets.
Blue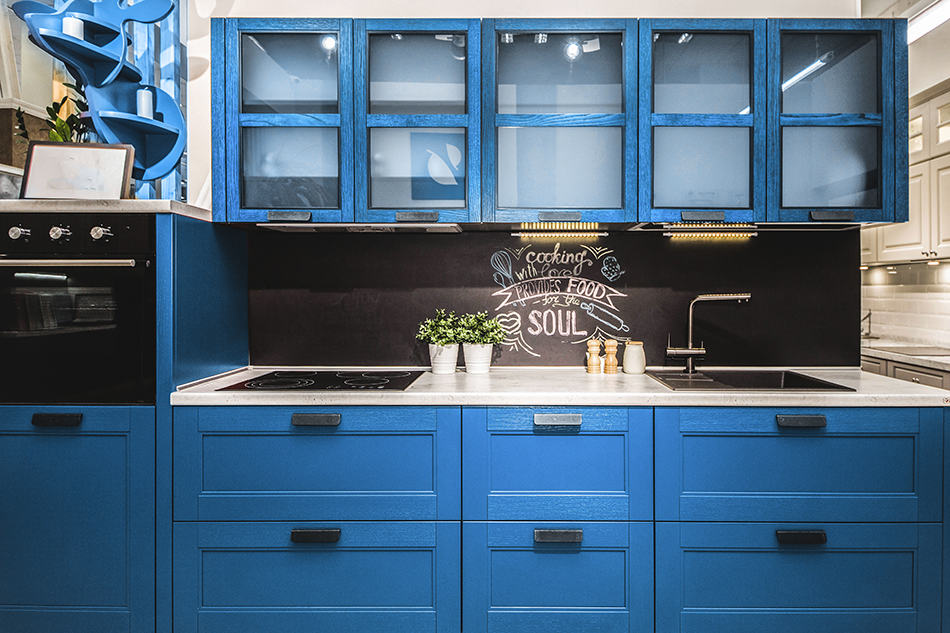 These bold blue cabinets make a serious design statement, hinting at a cross between a modern and retro theme. If you want to choose a bright color like this cornflower blue for your wooden cabinets, then use neutral colors for the rest of the space to allow the cabinets to take center stage. In doing this, the room will look classy instead of chaotic. Bright blue cabinets add an injection of personality into a space, making it feel cheerful and uplifting. You can achieve this look by purchasing new blue cabinets, but you can also buy cabinet paint and update your old wooden cabinets with a splash of color.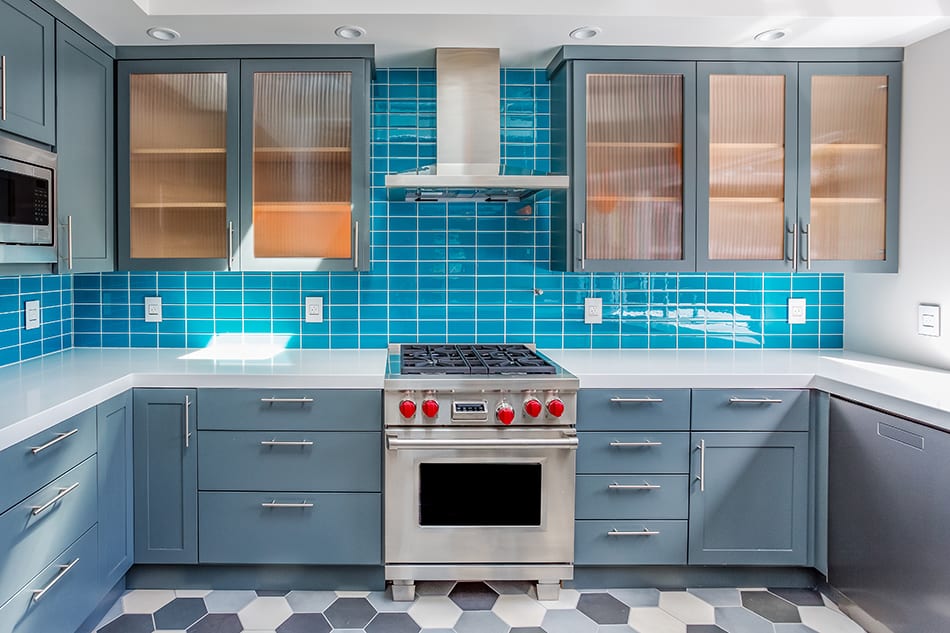 Soft duck egg blue has become a popular choice of color in home interiors over the last decade, and it looks set to stick around. This calming color has a hint of gray to it, which allows it to feel both relaxing and modern. This shade of blue for wooden cabinets works well with pale and natural shades, such as beiges and off-whites. To keep a classic yet current feel, choose a matte finish for duck egg blue cabinets.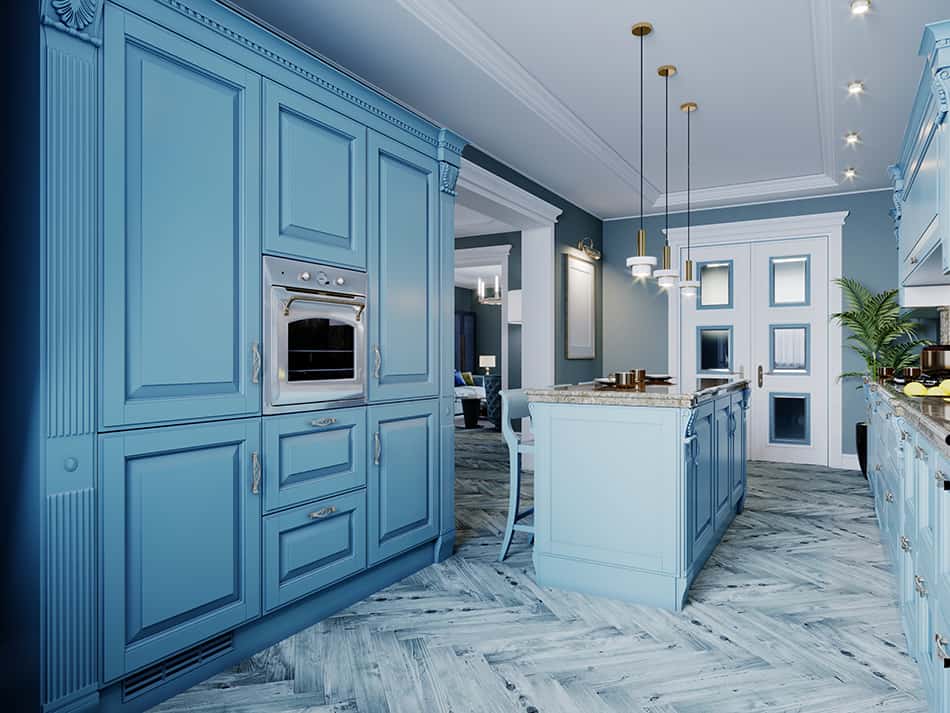 While blue might seem like an unusual color choice for traditional-style kitchen cabinets, here we can see that it does a great job of combining classic with contemporary design. In this instance, the wooden cabinets have detailed carvings and moldings which align with traditional design, while the blue painted surface brings the cabinets up to date and makes them feel current. The detail of the cabinets combined with the blue coloring allows them to emanate both elegance and fun.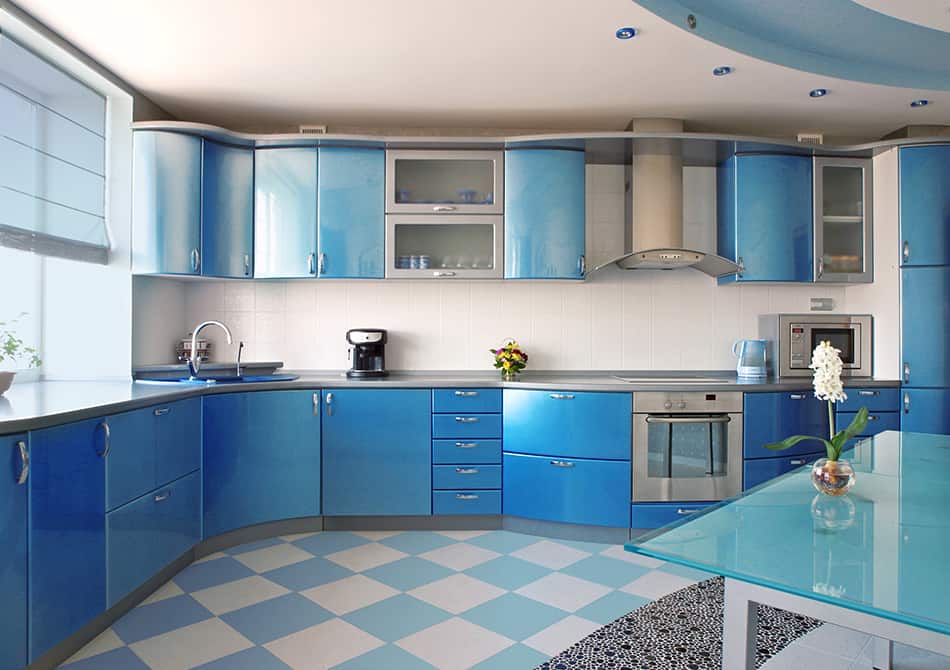 These wooden cabinets are lacquered with a high gloss metallic sheen in a mid shade of blue. The finish on the cabinets gives them a luster, making them sparkle and allowing them to reflect light to make the space seem bigger and brighter. This shade of blue has a quirky retro feel to it and would work well with vintage-style accessories.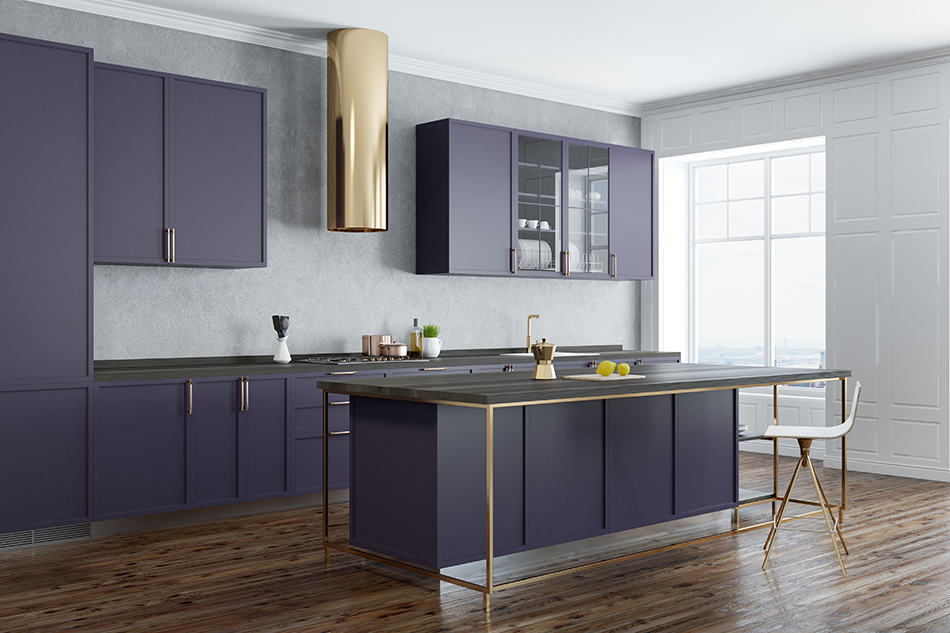 This deep shade of navy blue is so dark that it looks almost charcoal in some light. This color screams opulence and elegance when paired with gold or rose gold metals, so pay close attention to handles and other hardware when choosing your cabinet color to ensure you achieve the right feel. Choosing a simple design for your cabinets will also help to create a classy and sophisticated look.
Brown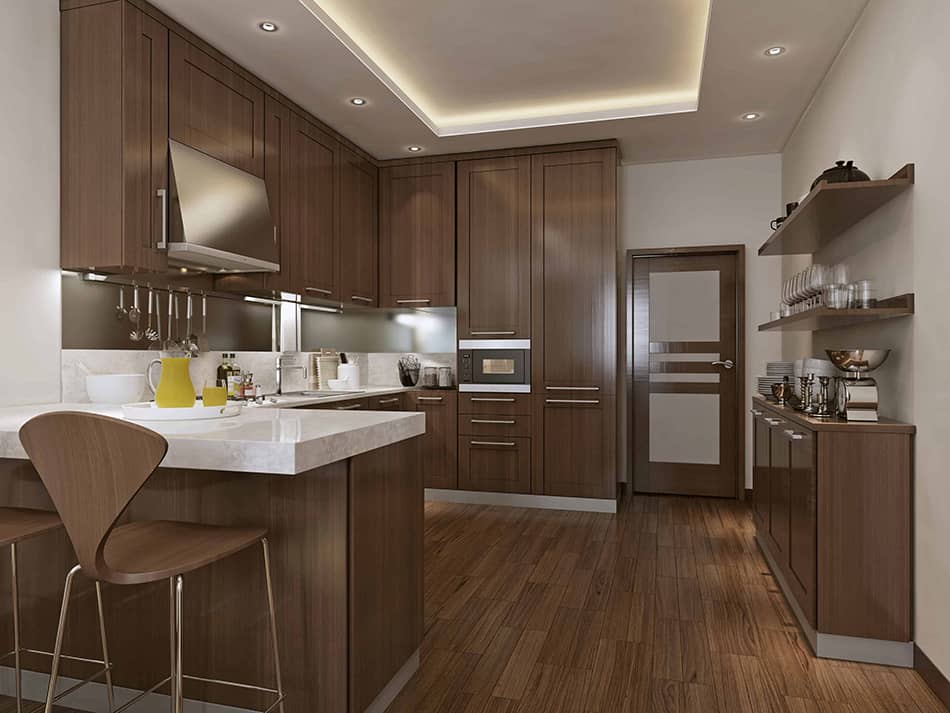 Walnut wooden cabinets might previously have been associated with dark and drab kitchens from the 1980s, but this wood finish has been given a modern makeover in this contemporary kitchen. These sleek walnut brown cabinets look smart and sophisticated. To achieve this look, pair your walnut cabinets with pale walls and a pale countertop surface. Keep clutter to a minimum and focus on clean lines. In this instance, the floor color has been matched to the cabinet color, which created a feeling of fluidity.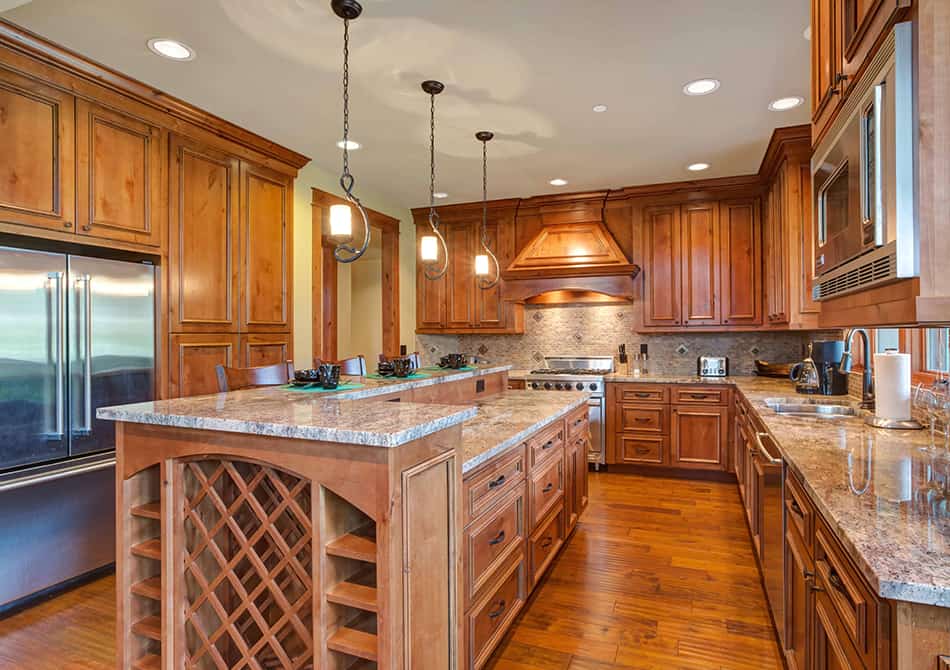 These honey oak wooden cabinets rose to popularity in the 1990s and are still loved by many people who prefer a traditional style. This color of cabinets is achieved by staining red oak wood with a honey-colored stain, which helps to draw out the natural grain of the wood, and gives it a warmer tone. These types of wooden cabinets work well in farmhouse-style kitchens. They have a solid and sturdy look to them and should last for many years.
These brown wooden cabinets are an example of black walnut in a more traditional style. The intricate details in the carving and beading on the cabinets give the space a regal and imposing look. If you're a fan of dark walnut, it can be used in many ways. To avoid making the space too dark, opt for walnut cabinets in a room with plenty of natural light.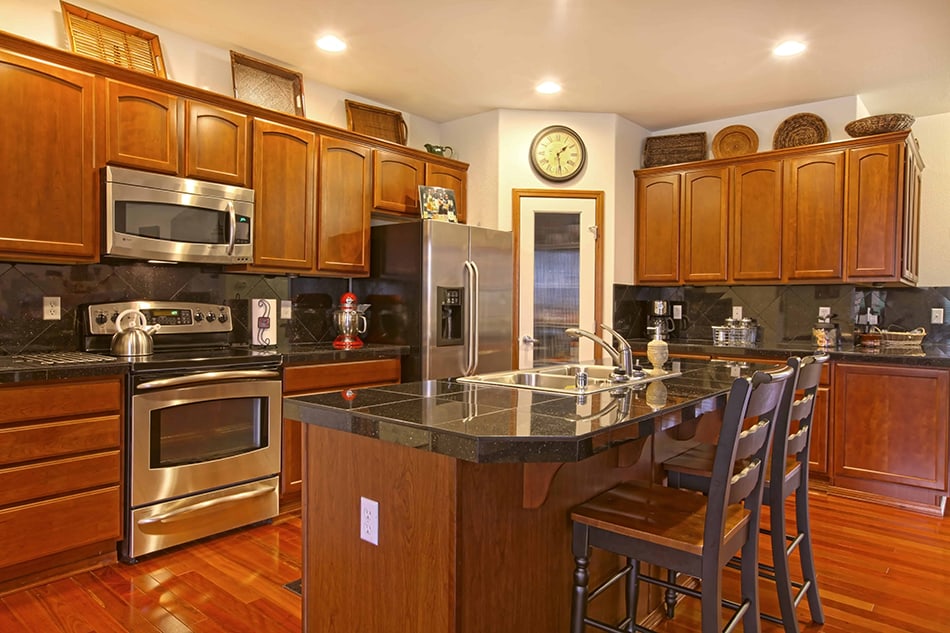 Maple wooden cabinets have a golden tone to them which makes a room feel warm and welcoming. When choosing a cabinet color such as this, you should try to match the floor color in order to make the room feel spacious and have a feeling of continuity. This also prevents too many colors from being used, which can clash.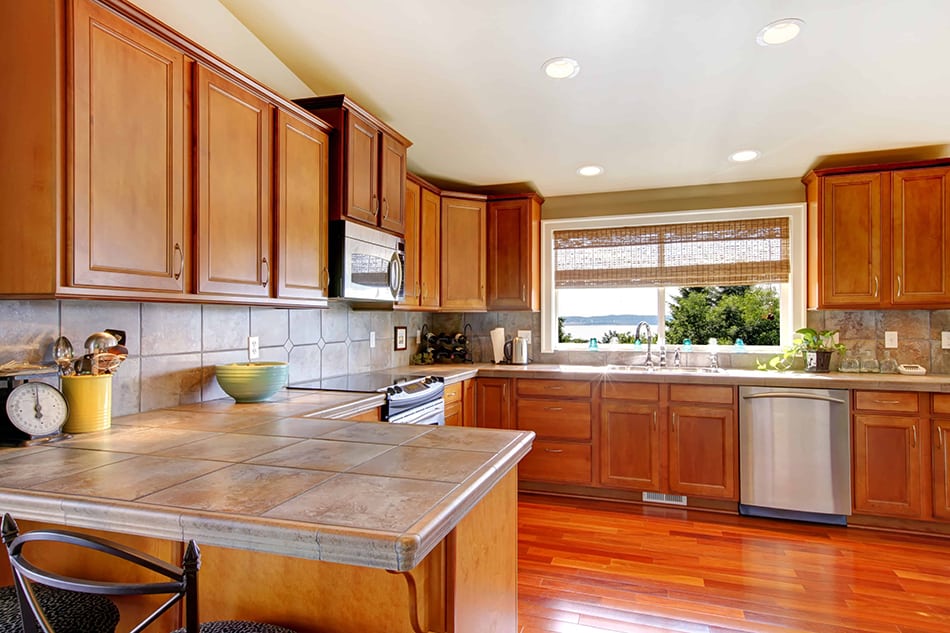 These pale brown wooden cabinets have an orange tone, which can be achieved by finishing the wood with a teak or cherry stain. This cabinet color works best in traditional or retro-style kitchens, and it can also look great with an art deco theme. The color is warm and inviting and works well when teamed with pale or neutral colors.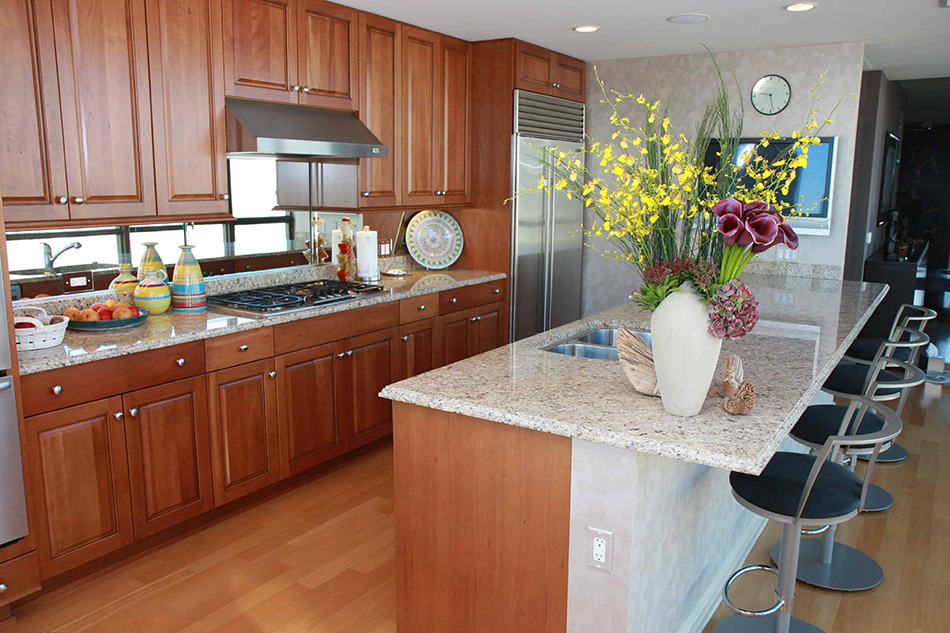 For a medium shade of brown, a pale walnut is a good choice. This lighter shade of walnut is sometimes known as garden walnut, and it has a wonderful golden glow without too much orange in it, which can be off-putting to some people. This is a very classic color that can be made to look traditional or modern depending on the styling. This makes it a great long-lasting option, which can be updated over the years simply by changing accessories, hardware, or wall paint colors.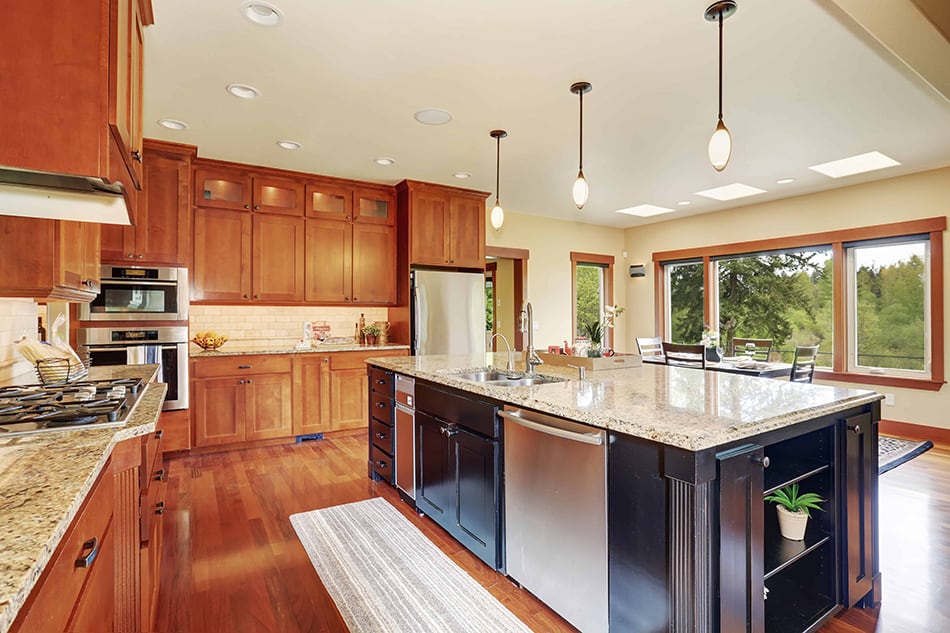 Cherry-colored cabinets have a red hue to them, which makes them very warm and welcoming. In this instance, the cherry color has been continued in the hardwood flooring and the trim around the windows and doors. This helps the space feel finished and intentional, as well as preventing a chaotic feeling from the introduction of several wood types. This color is quite bold, so it works best alongside pale walls.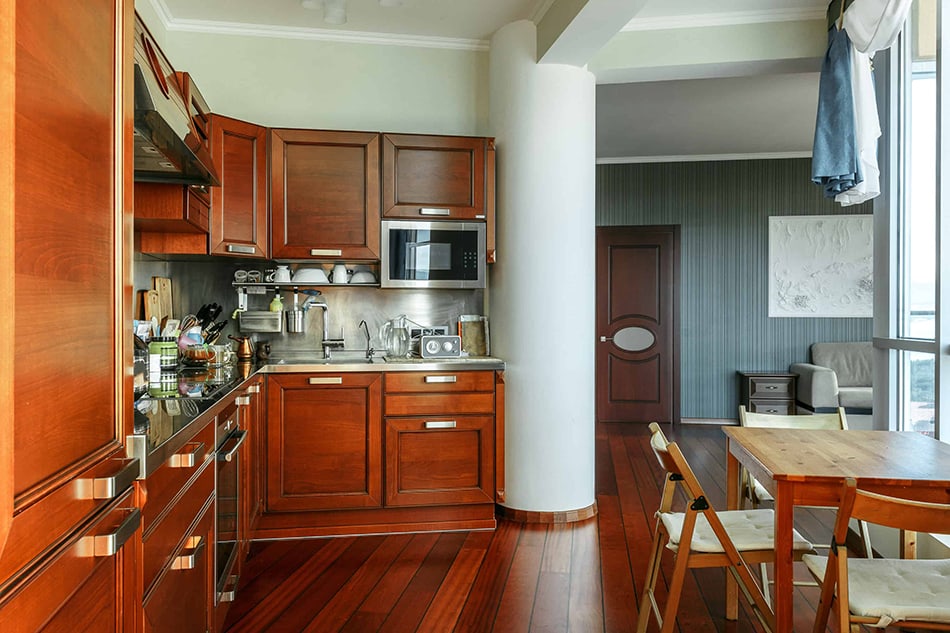 For a cabinet color that hovers somewhere between medium brown and dark brown, a dark maple or pale mahogany can work well. These wood colors are rich and deep, giving the space a refined and high-quality look. Wooden cabinets such as these are timeless and understated, so they work well in a range of styles.
Gray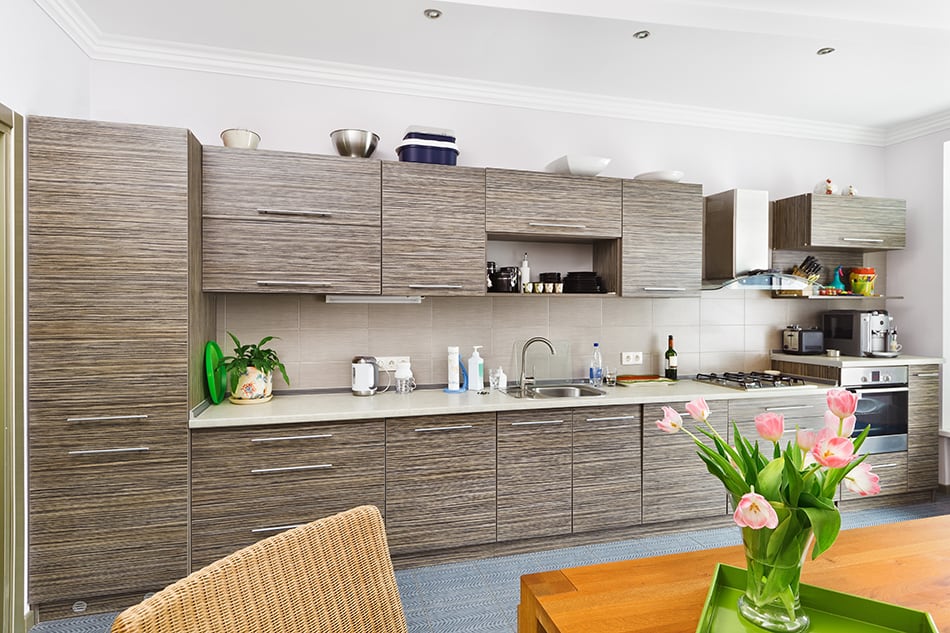 Gray has become a popular shade in interior design over the last few years, and there's no reason why this shouldn't extend to wooden cabinets. These gray kitchen cabinets have a streaked, striping effect which adds interest and texture. Gray can be cold in some spaces, so team gray cabinets with other warm wooden furniture and bright accessories.
Green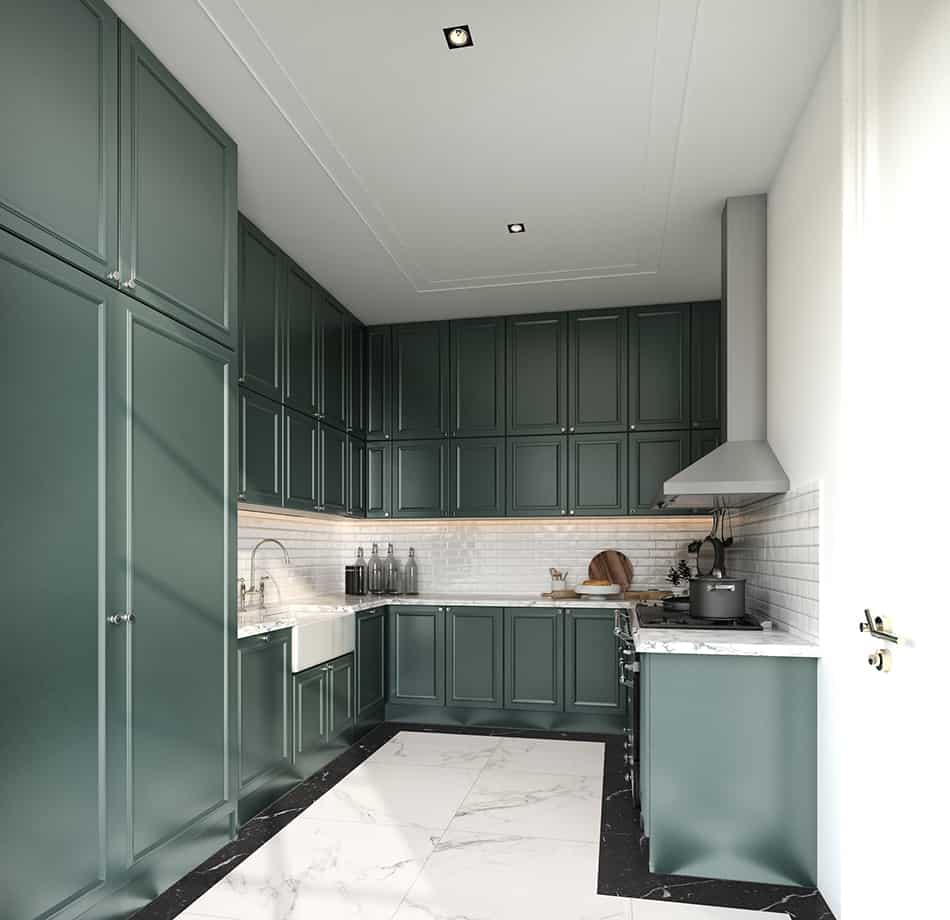 For a regal kitchen with a difference, opt for dark seaweed green wooden cabinets. These cabinets look high-end and elegant. The flawless finish has been achieved with spray paint to avoid any brush strokes when painting the wood. This shade of green works well with contrasting pale colors such as white or light gray to create a modern and minimalist feel.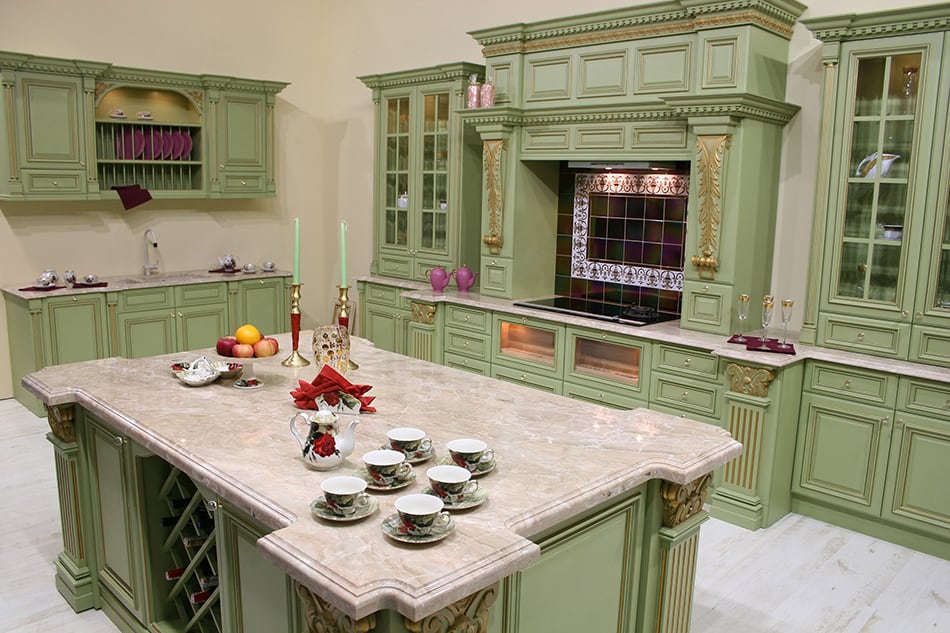 Sage green wooden cabinets have been highlighted with metallic gold paint in this kitchen to create an opulent look. This pale shade of green makes a statement without being too bold, and it looks great with pops of contrasting colors such as lavender. Sage green also works well with farmhouse style or shabby chic distressed cabinets.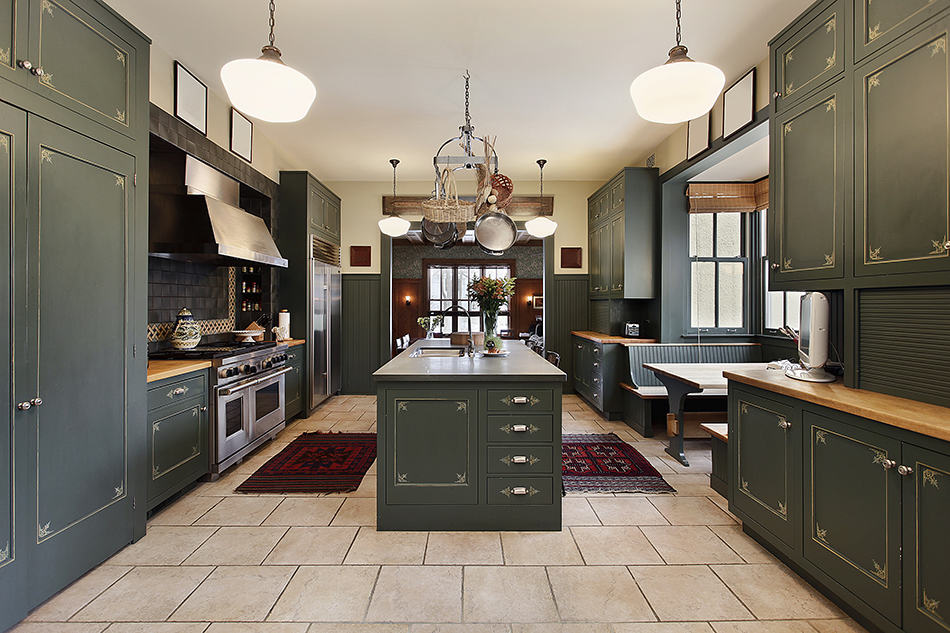 These cabinets have been finished in a shade of woodland green and have been made all the more enchanting with delicate details of silver around the corners. Dark green like this works well in large rooms, which might otherwise seem cold and vacant if the cabinets were a pale color. The deep green pulls the kitchen together and makes it feel inviting.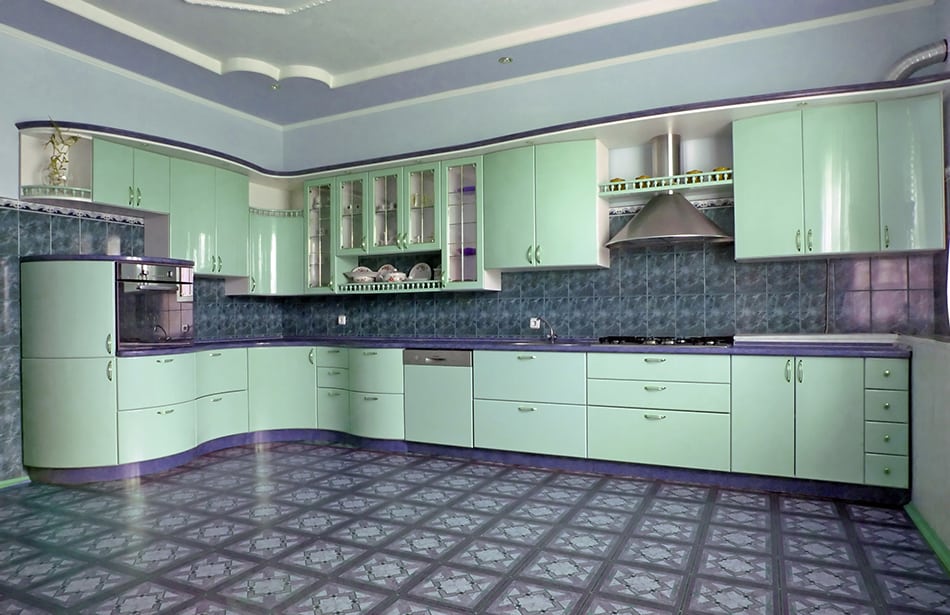 Spearmint green is a cheerful and quirky shade of green that works well in retro-inspired spaces. These high gloss wooden cabinets look like they came straight out of a 50's diner and are made all the more interesting by the soft curves in the cabinetry. This is a bold look, but it can be achieved easily by sticking to sorbet shades and choosing vintage-style accessories.
Multi-Color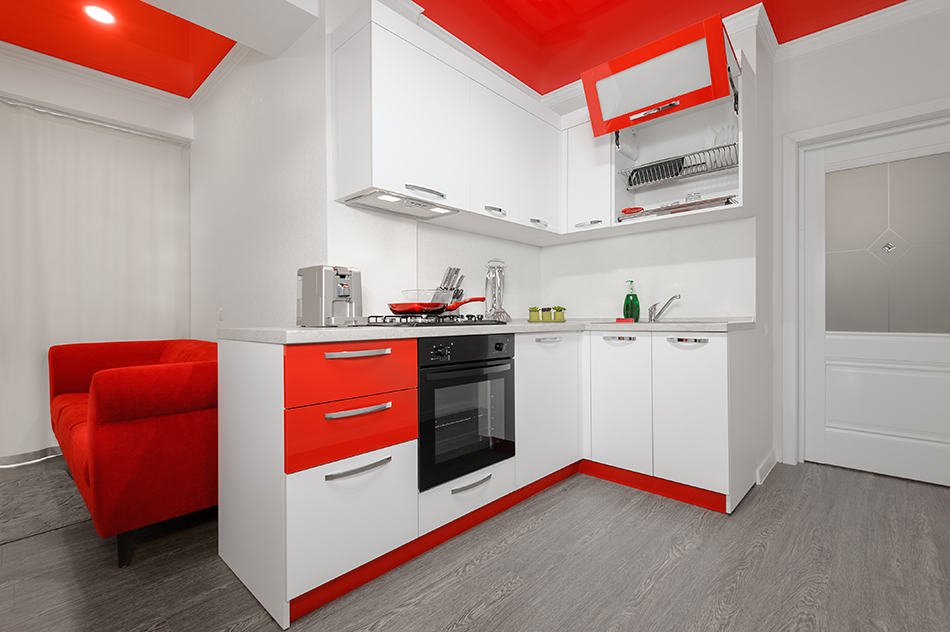 If you want to inject some personality into your kitchen, then choosing contrasting colored cabinets is a reliable way of doing this. In this instance, the cabinets are orange and white, and the color scheme has been continued with white and orange paintwork on the walls and ceiling, a well as white and orange furniture and accessories. The striking pairing is sure to make an impression on any visitors, but a similar result can also be achieved with other vivid colors of your choice.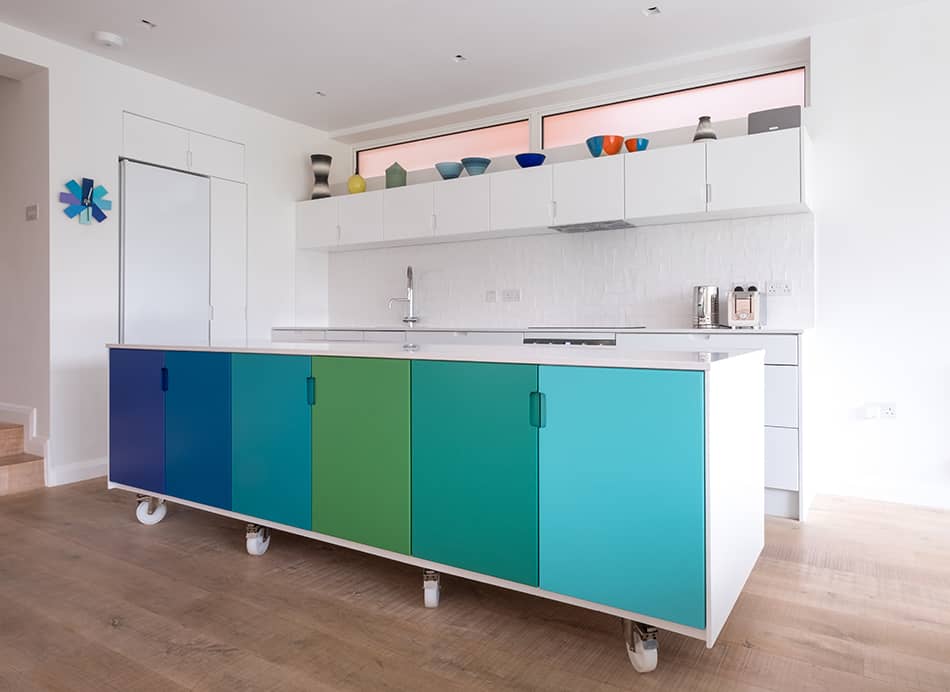 Choosing different shades of the same color for each cabinet in your kitchen is a fun way to add some character to your home without being too bold and shocking. These cabinets look like a color wheel of blue and green and have been made the focus of the room by having everything else white and keeping decoration to a minimum.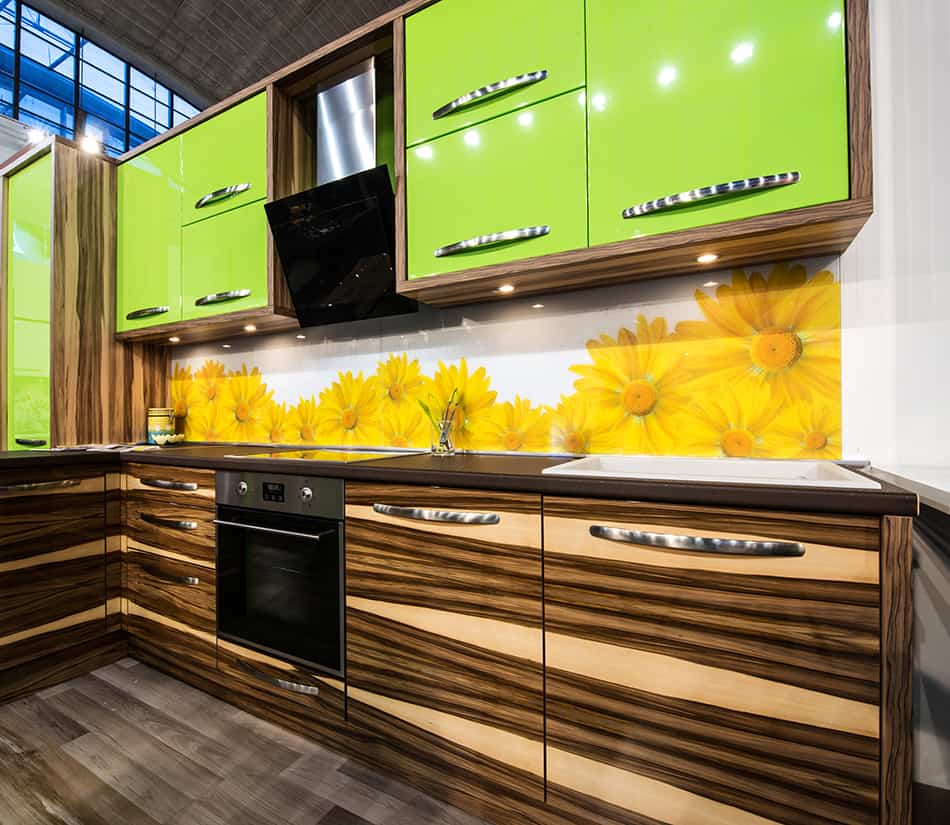 This bold kitchen design incorporates Zebrano base cabinets and lime green wall cabinets. In spite of the contrasting colors, a sense of continuity is created by the cabinets, all having a high gloss finish. If this color pairing isn't to your taste, you can achieve a stylish look by incorporating the same idea of mismatched base and wall units.
Pink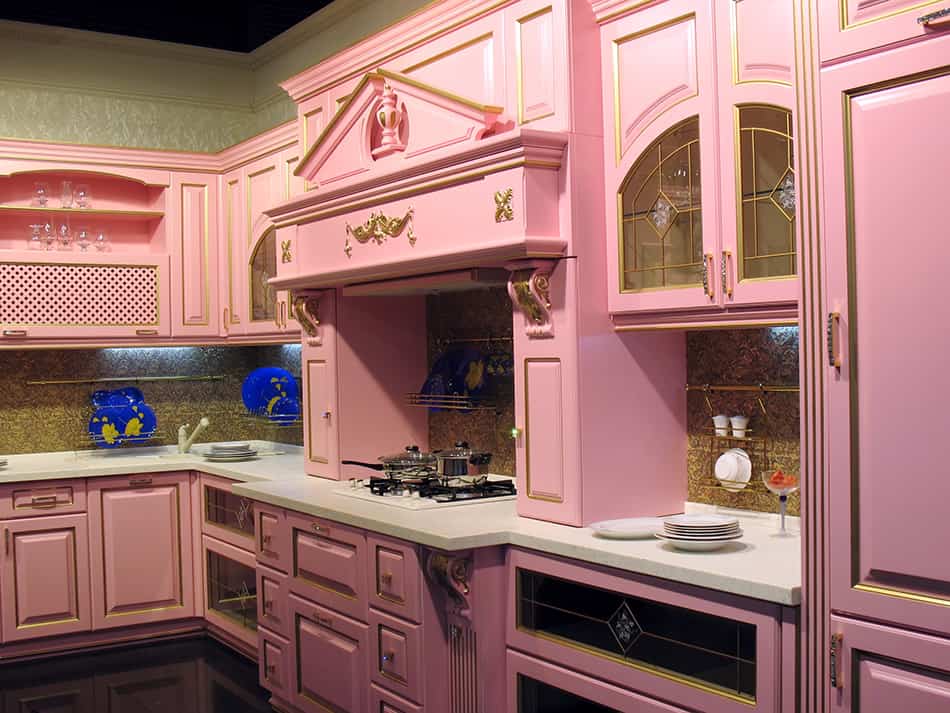 This traditional kitchen has been given a princess makeover with candy pink paint and golden highlights. If pink is your favorite color, there's no reason you can't have it in your kitchen. You can use various shades of pink to achieve different looks. Bright fuchsia pink cabinets in a gloss finish can look very modern, while pale pastel pink kitchen cabinets can make a space feel soft and airy.
Red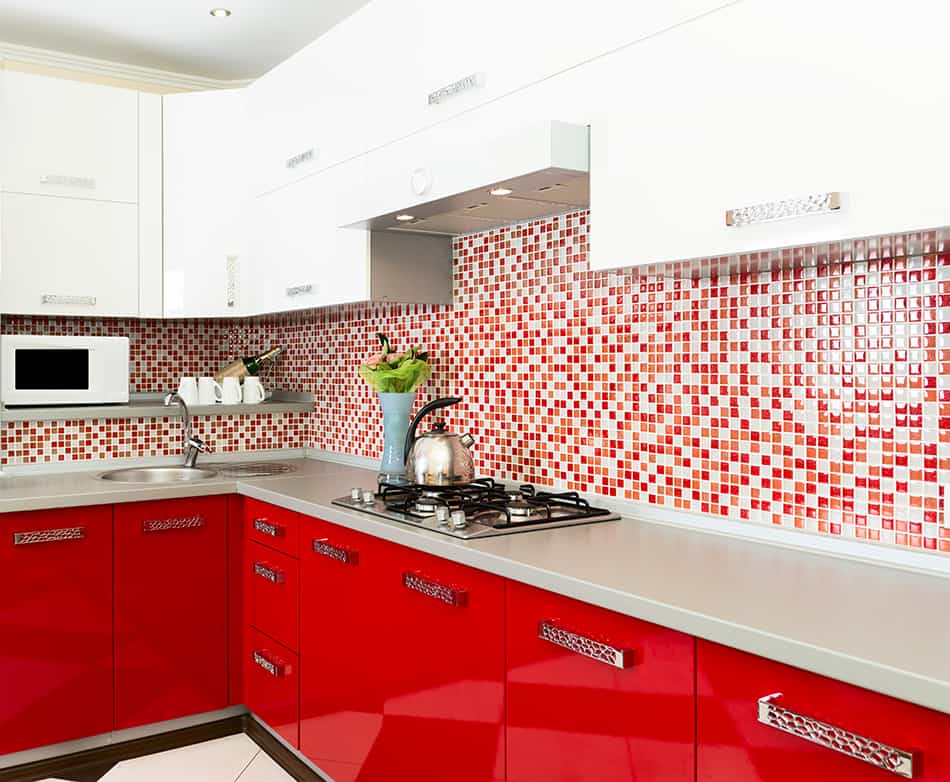 If you want your cabinets in a bright color but are worried that it will look too much, take inspiration from this kitchen which combines bright red cabinets with minimalist white cabinets. The two contrasting colors have been brought together by backsplash mosaic tiles which contain both red and white. Red is a bold color choice that can look simultaneously modern and retro when used with a high gloss finish.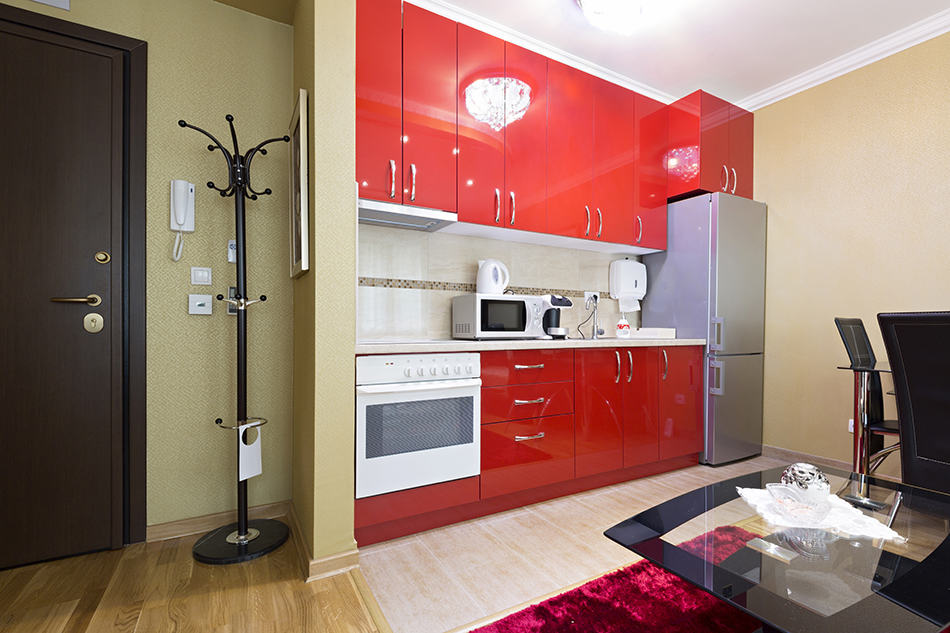 If you have a small number of kitchen cabinets, for example, in a studio apartment, then you can afford to be daring and choose a bright color for all of the cabinets. These red cabinets look cheerful and vibrant, and the gloss finish helps them to reflect light which can make the space feel bigger.
White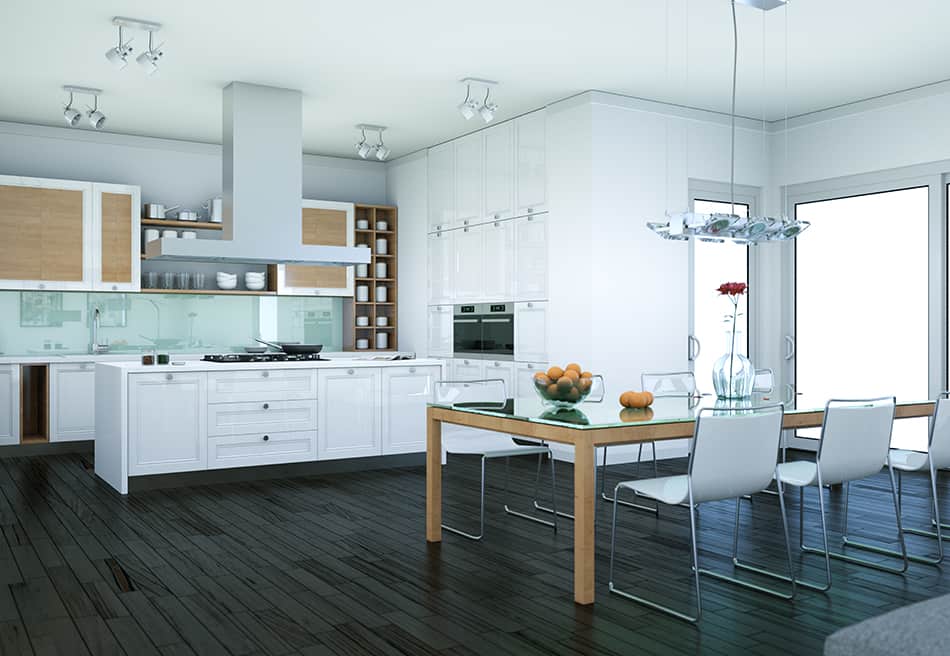 White wooden cabinets are a hugely popular choice because they look clean, modern and work in almost any color scheme and style. These white cabinets look striking next to the contrasting dark wood floor. For a minimalist look, select accessories and furnishings in white and keep clutter hidden away in storage.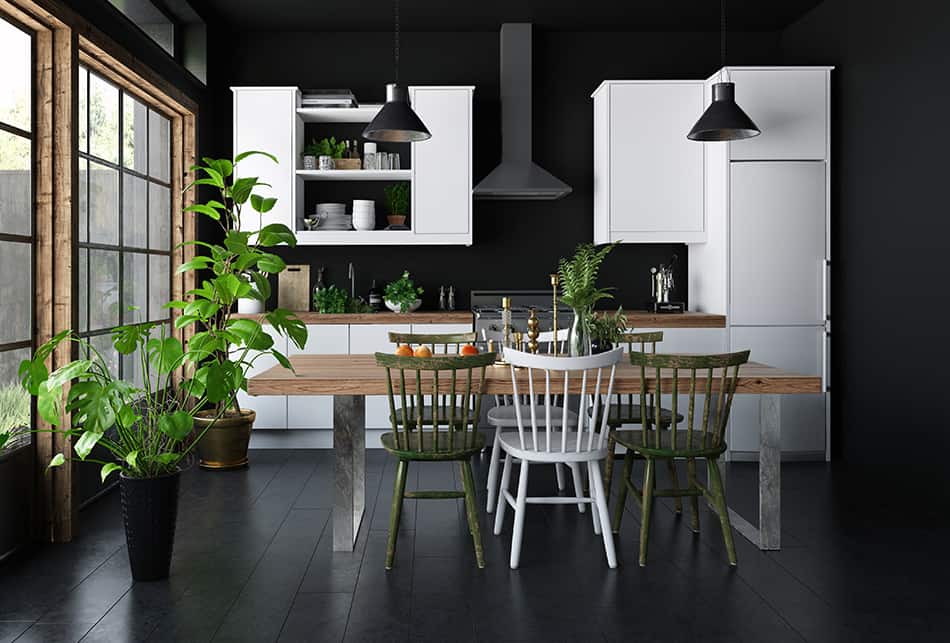 If you have a lot of natural light, then pairing dark walls with your white cabinets can look ultra-modern and stylish. The introduction of another accent color, in this case, green, prevents the monochromatic colors from being too harsh and helps to soften the look and make it feel more relaxed.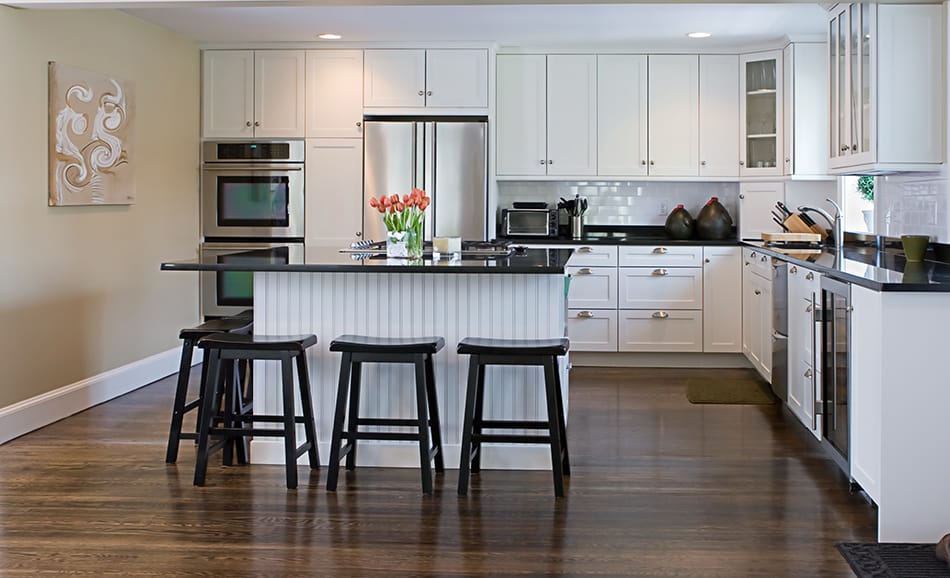 White cabinets look very classy when a contrasting countertop is used, such as this black marble. If you're worried about white cabinets looking too cold and clinical, then introduce furnishings and accessories in warm neutral colors. In this instance, the owners have combined stark white cabinets with coffee-colored walls and a rich brown hardwood floor to achieve a very sophisticated look while still feeling welcoming. Natural woods are an easy way to bring warmth to a space that feels hard or uninviting.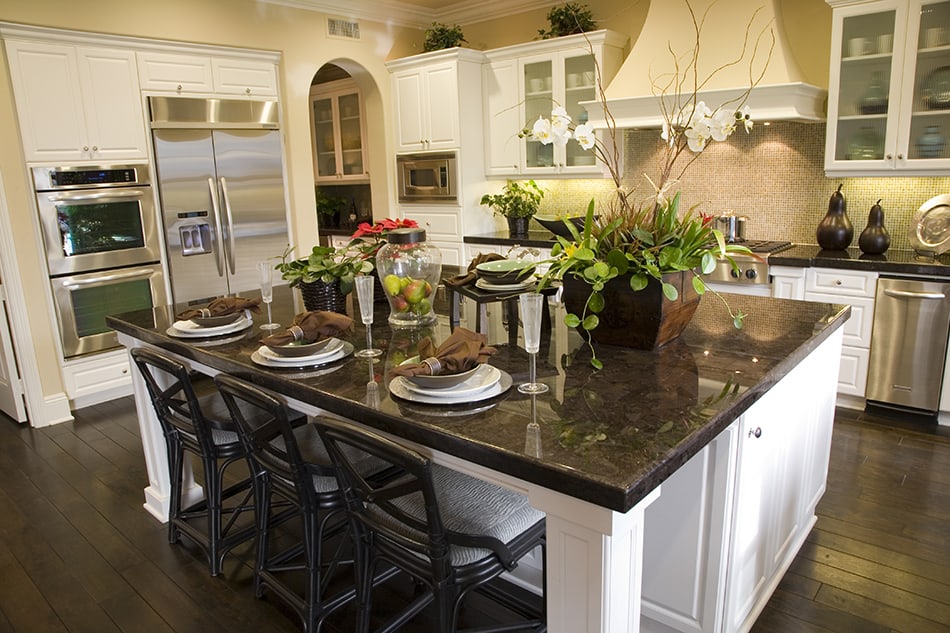 Traditional kitchen cabinets can be completely transformed by simply being painted white. White wooden cabinets in traditional styles create a classic look that can be accompanied by almost any color. White cabinets also bring a feeling of light to space and can make it feel bright and warm even if you don't have much natural light.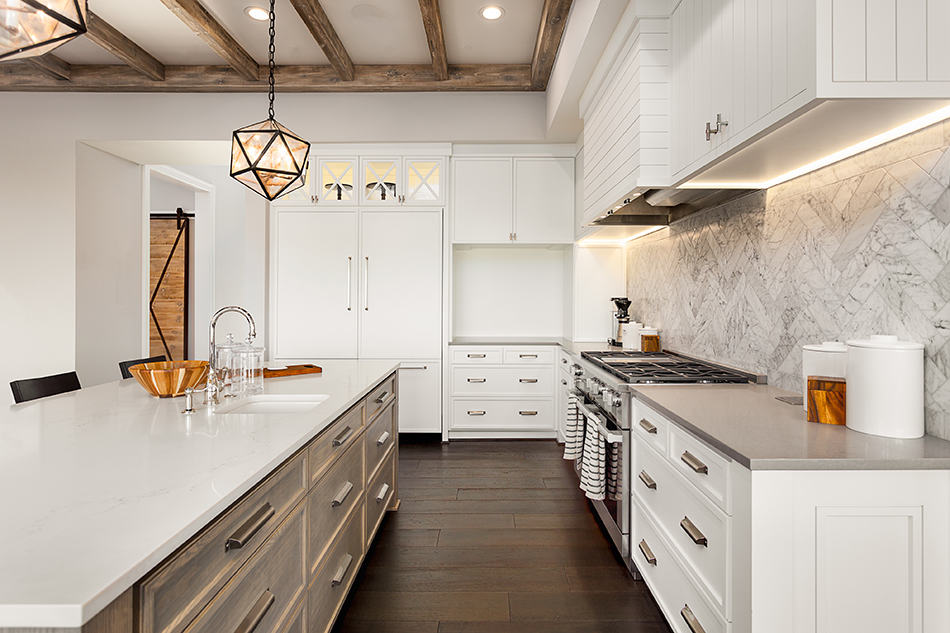 For a bright, clean, and airy kitchen, pair white cabinets with white walls and pale accessories. This flawless look works best with minimal accessories and decorations. In this instance, a herringbone Carrera marble tile splashback has been used, which further adds to the high-end feel of the kitchen. Interestingly, a dark wood floor has been used to ground the space and prevent it from feeling like a white bubble.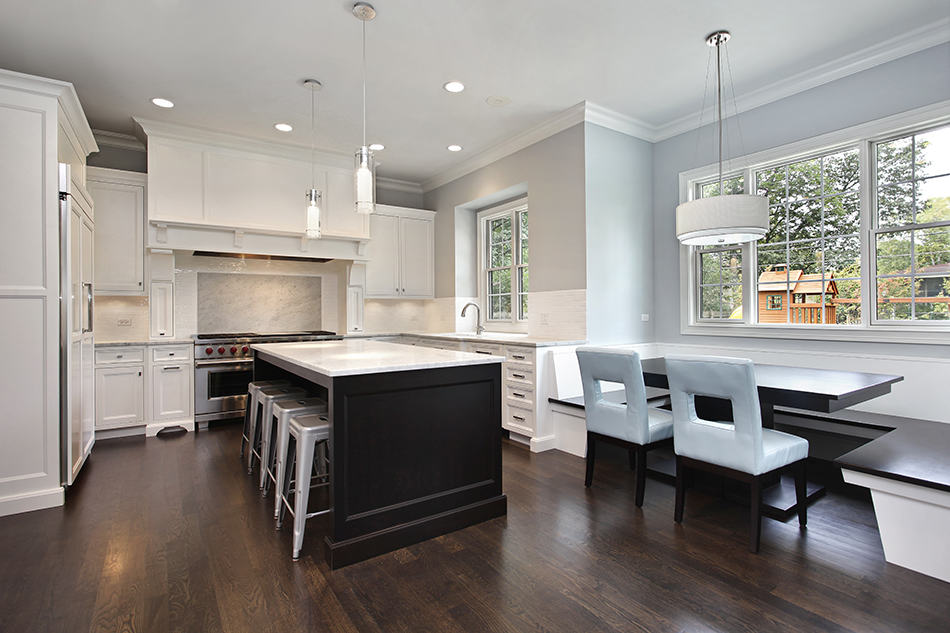 Monochrome is a classic color combination that never fails to look stylish. In this kitchen, the white wooden cabinets have been set off by splashes of black, such as the black island breakfast bar and the black dining table and bench seating. The use of a dark wood floor helps to prevent the black and white from being too harsh while still blending in seamlessly.
Yellow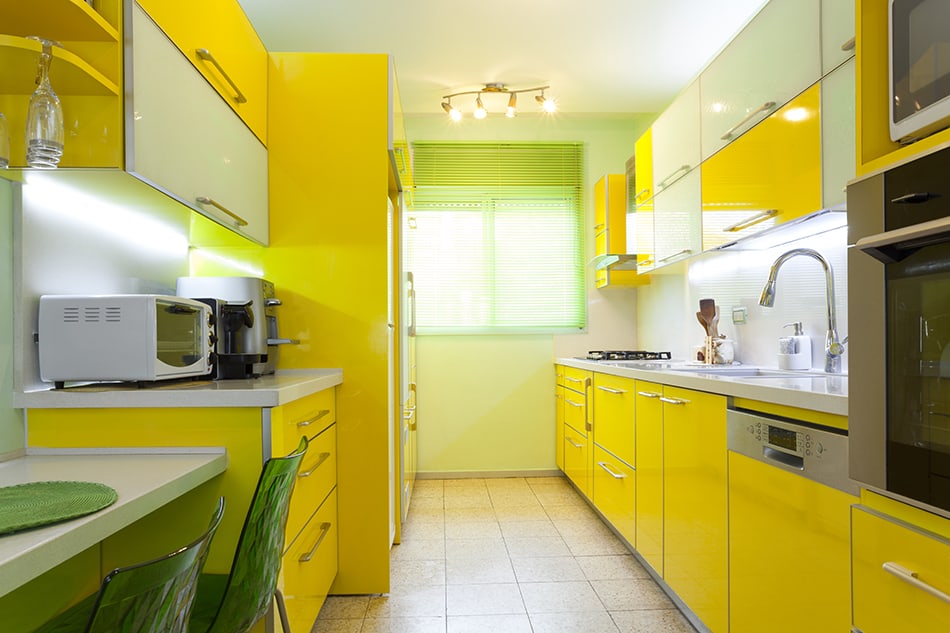 To brighten up a small kitchen while still adding a splash of personality, consider yellow wooden cabinets. This striking canary yellow looks sunny and cheerful and also helps to make the space seem bigger than it really is. The green accents in this kitchen further add to the fun design, while the white countertops, white walls, and pale flooring all create a neutral backdrop so that the cabinets are the focus of the room.