Choosing a kitchen color that coordinates well with stainless steel appliances can be a challenging home improvement project as there are numerous colors to select from. Since stainless steel is a silvery color, it is highly versatile and won't clash with many other elements and furniture.
You can easily create a beautiful cooking space that harmonizes with your stainless steel appliances using the right colors for the cabinetry, walls, backsplashes, tiles, and worktops.
In this article, we will take a look at the most suitable kitchen colors that work well with stainless steel appliances. We've also included images so you can get a better idea of how to design your kitchen around stainless steel.
Best Colors that Complement Stainless Steel
Light and Dark Shades of Grey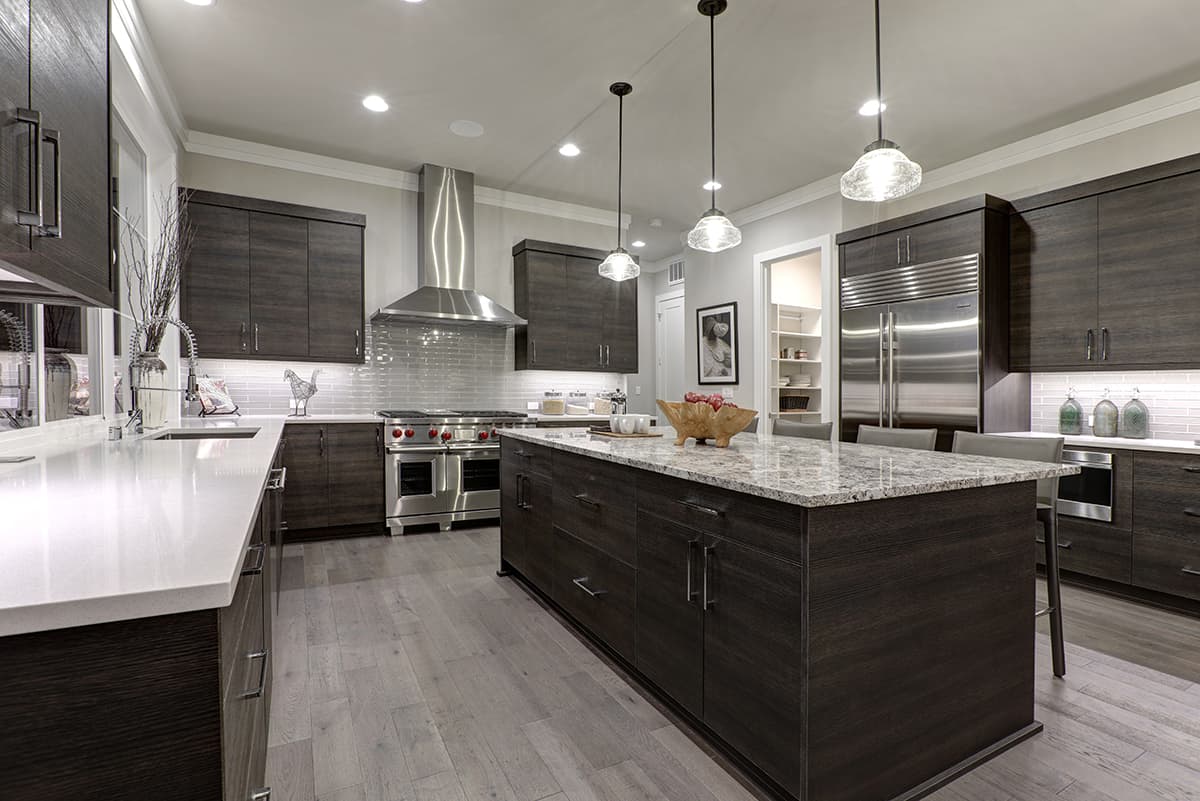 Since stainless steel appliances have grey undertones, it makes sense to coordinate them with a simple and uniform grey kitchen design. You can combine your stainless steel appliances with grey countertops, tiles, or walls to create a modern kitchen with a cosmopolitan appeal.
The metallic shine of these appliances stands out against the matte grey tones of the kitchen. Grey is, without doubt, a classic and timeless color that doesn't require any other hues to make it pop. But if you want to add a little color, you can always introduce some green plants or colorful flowers to bring the kitchen to life.
The example we've picked for you features a very elegant dark grey kitchen with light-colored quartz countertops and stainless steel appliances. The use of grey can be seen throughout this modern kitchen, without the need to add any bright colors.
Classic White with a Hint of Black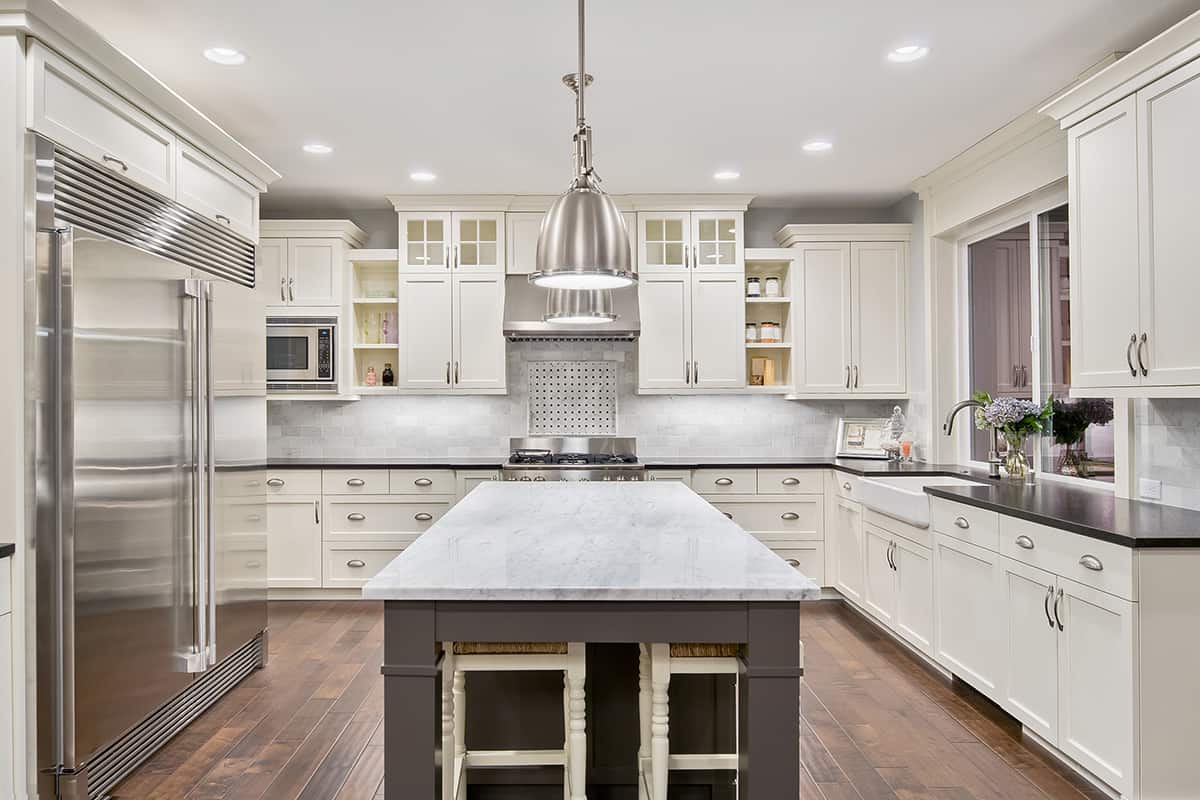 Classic white color is a safe way to pair with stainless steel appliances. White is a simple yet sophisticated color to use in kitchens. Plus it provides a sharp contrast against the silvery hue of stainless steel.
Thanks to this clean and vibrant accent color, it brings out the characteristics of a modern kitchen and makes the space bright and airy.
The neutral appeal of the color white works well with silver appliances as it makes the kitchen feel bigger. When paired with black countertops and white cabinets, your shiny stainless steel appliances will look even more appealing and chic.
This striking kitchen is predominantly white with subtle hints of black for the countertops and a white island, which stands out next to the stainless steel appliances. The overall design of this modern kitchen is solidified thanks to the bright white cabinets.
Earthy Tones for Backsplash and Cabinets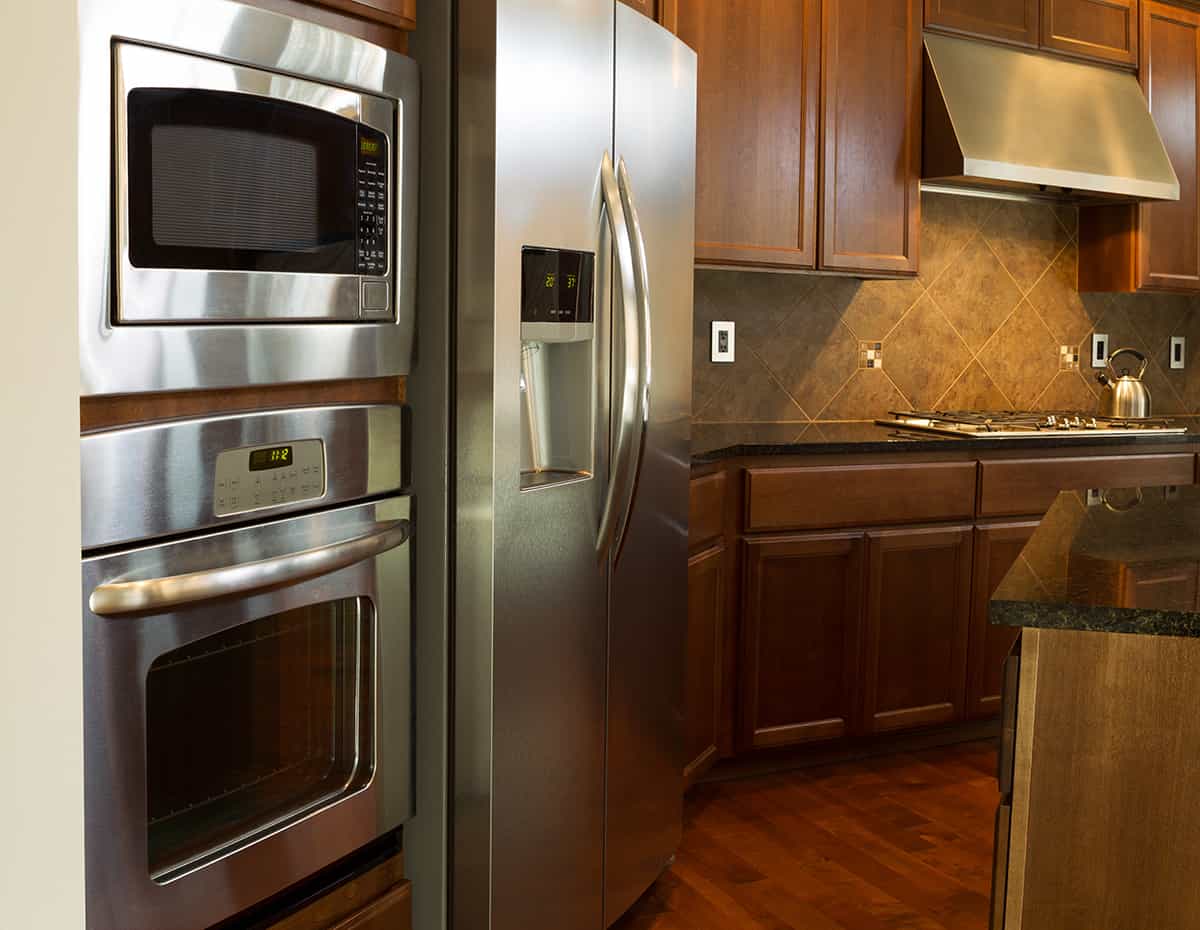 Brown is an earthy tone with a natural, warm appeal. As grey or silver is a cool shade, you can mix some brown into your kitchen design for a traditional feel.
Choosing a dark brown hue for the backsplashes and the cabinets will create a warm, cozy vibe next to silver appliances. That said, you can always opt for lighter shades of brown like mocha for a brighter kitchen design.
Add hardwood flooring to the mix in order to coordinate with brown wooden cabinets. To complete the look, go for wrought iron black hardware and wooden countertops.
Here is a great example of a kitchen with stainless steel appliances and brown cherry wood cabinets. The brown tiled backsplash works beautifully with the hardwood flooring and the rest of the kitchen design.
Yellow Cabinets with Grey Walls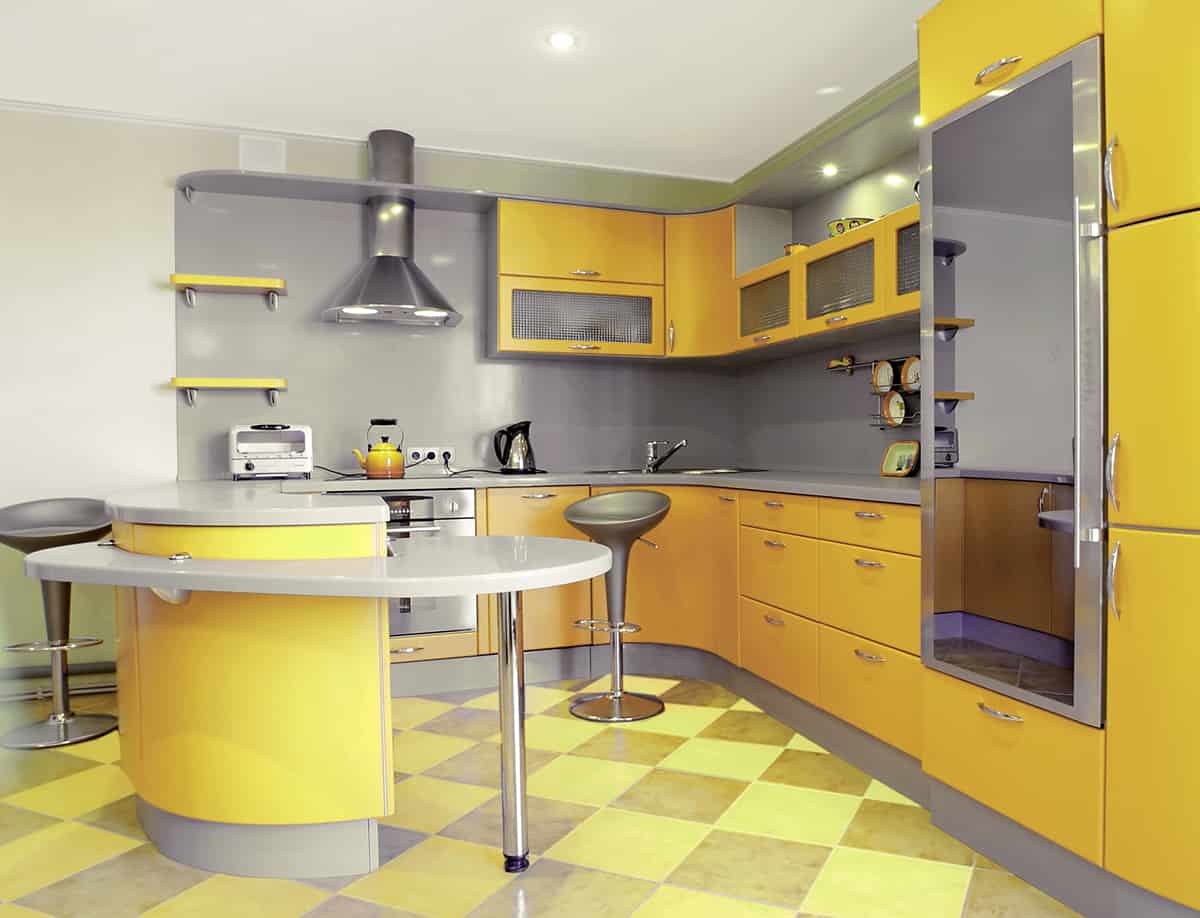 Bright yellow shades are a great way to make your stainless steel appliances shine with warmth. This cheerful color works well with light to medium tones of grey.
For a bold and bright kitchen design, go for yellow cabinets, checkered yellow tiles for the flooring and a grey backdrop as shown here.
But before committing to such a bright color like yellow, be sure to take a look at the samples on the cabinets as this shade works on kitchens that are darker than usual without ample natural lighting.
Yellow is a bright and cheerful color that brings warmth to the heart of the home. This beautiful color is perfect to pair with silver appliances in a modern kitchen design.
Granite Black Countertops and White Cabinets
Black is a smart, mainstream color that is a must-have next to silver appliances. Not only does this striking color add drama, but it can also solidify the kitchen thanks to its versatile look.
If you want to provide a modern, sophisticated edge to your kitchen with stainless steel appliances, consider adding black granite countertops to enhance the design.
To avoid making the kitchen appear too dark, however, opt for white cabinets. A blend of black and white with silver appliances works a treat in a luxury kitchen.
When you incorporate black countertops and white cabinets into your kitchen scheme as shown here, they will give the space a solid definition and add dimension to the room.
Black is a classic color that works in any interior scheme so when combined with white and silver, your kitchen will become the talking point of your visitors!
Green for the Walls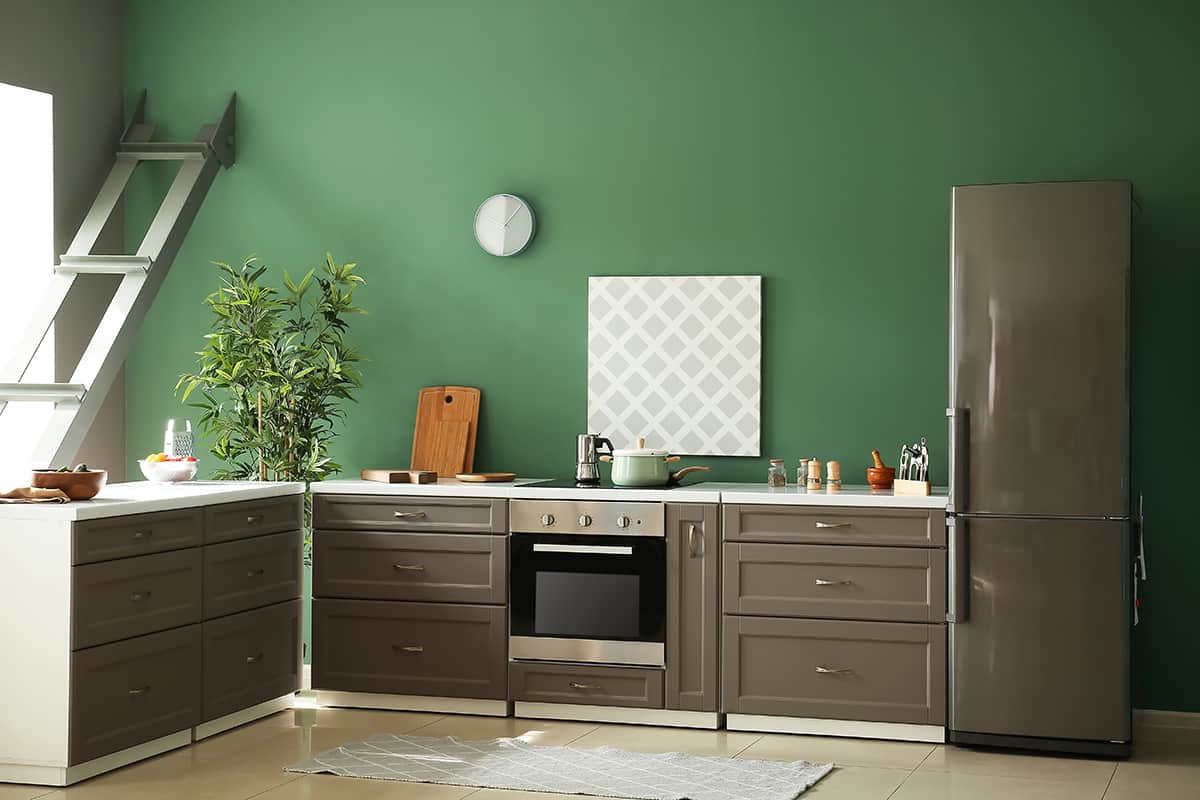 Green is another earthy color that never goes out of style. A beautiful shade of green for the kitchen walls is becoming increasingly desirable as this particular color can adapt to both warm and cool schemes, including silver or grey.
No matter how large or small your kitchen is, you can paint your walls an attractive shade of green like the one shown here. This color creates a harmonious effect in both a modern and traditional kitchen design.
For smaller kitchens, opt for paler shades of green like apple or lime green. These shades bounce against natural light and prevent the space from feeling dark and dingy.
Harmonize with Sea Blue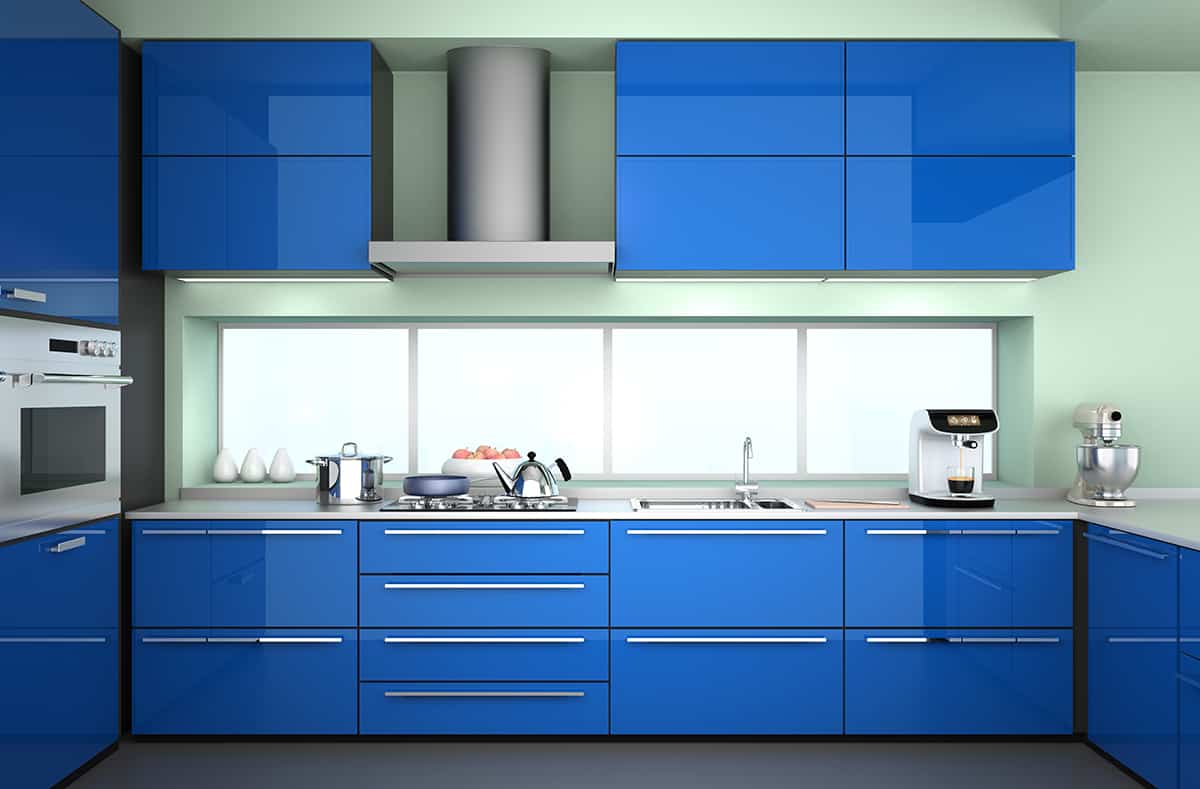 Another beautiful and popular shade for a kitchen with stainless steel is blue. A kitchen with bold blue cabinets and white countertops is a highly attractive proposition for any homeowner looking to remodel this space. A striking shade of blues like turquoise or sea blue is a timelessly trendy scheme as it's a warm and lustrous shade.
Just see how polished this modern blue kitchen design looks with its stainless steel appliances and bright blue cabinetry. The gleaming beauty of blue and silver adds a glam note to the overall interior.
Red Cabinets with Brown Backsplash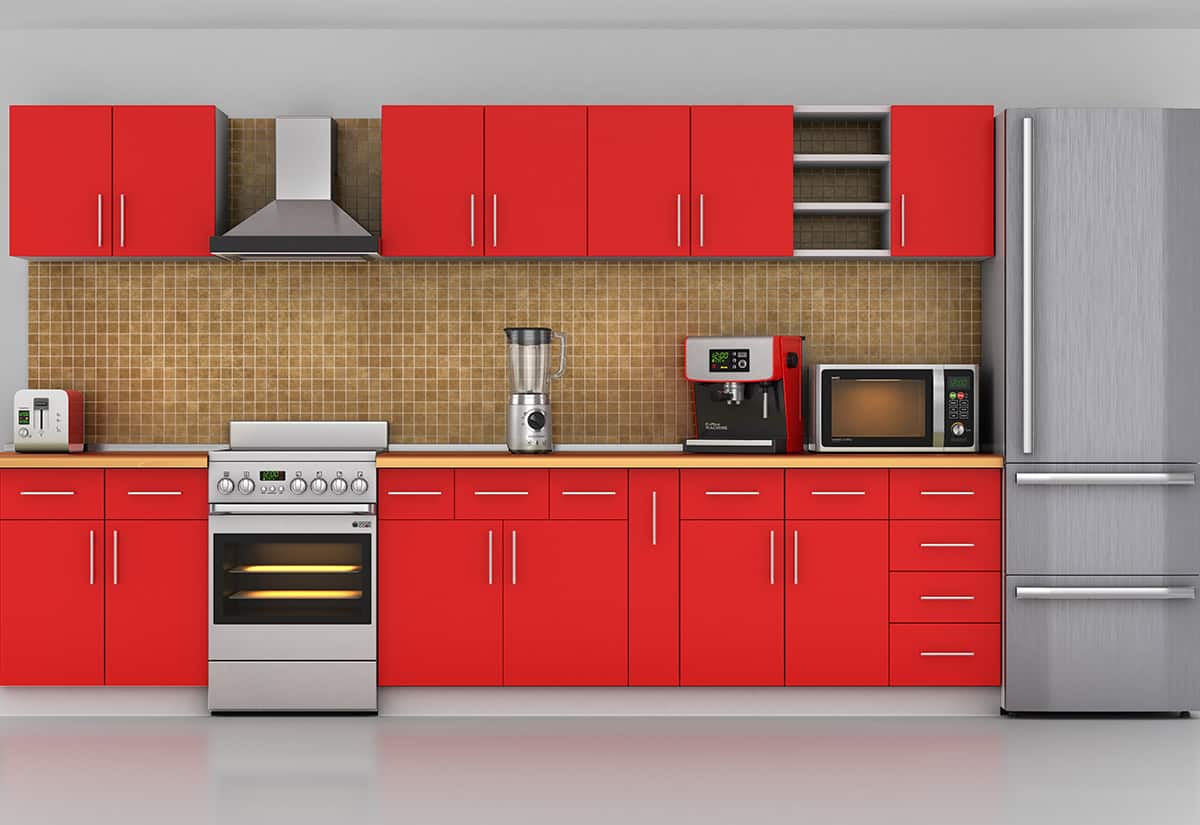 Did you know red is back in fashion, but this time, it is preferred as a more toned down version. Muted reds like cherry, berry, or terra cotta are the colors of the moment, which are still daring yet subtle. When used creatively in a kitchen with stainless steel, this burst of color will provide a welcoming vibe.
See how bright and beautiful this red kitchen appears with its stainless steel appliances next to the vivid red cabinets and light brown backsplashes. This is a classic example of how you can incorporate such a bold, daring color into your kitchen with stainless steel.
Remember, you don't have to necessarily pick a bright shade of red to add drama. Warmer tones like cherry or maroon will work just as well depending on your personal taste.
A Blend of Colorful Tiles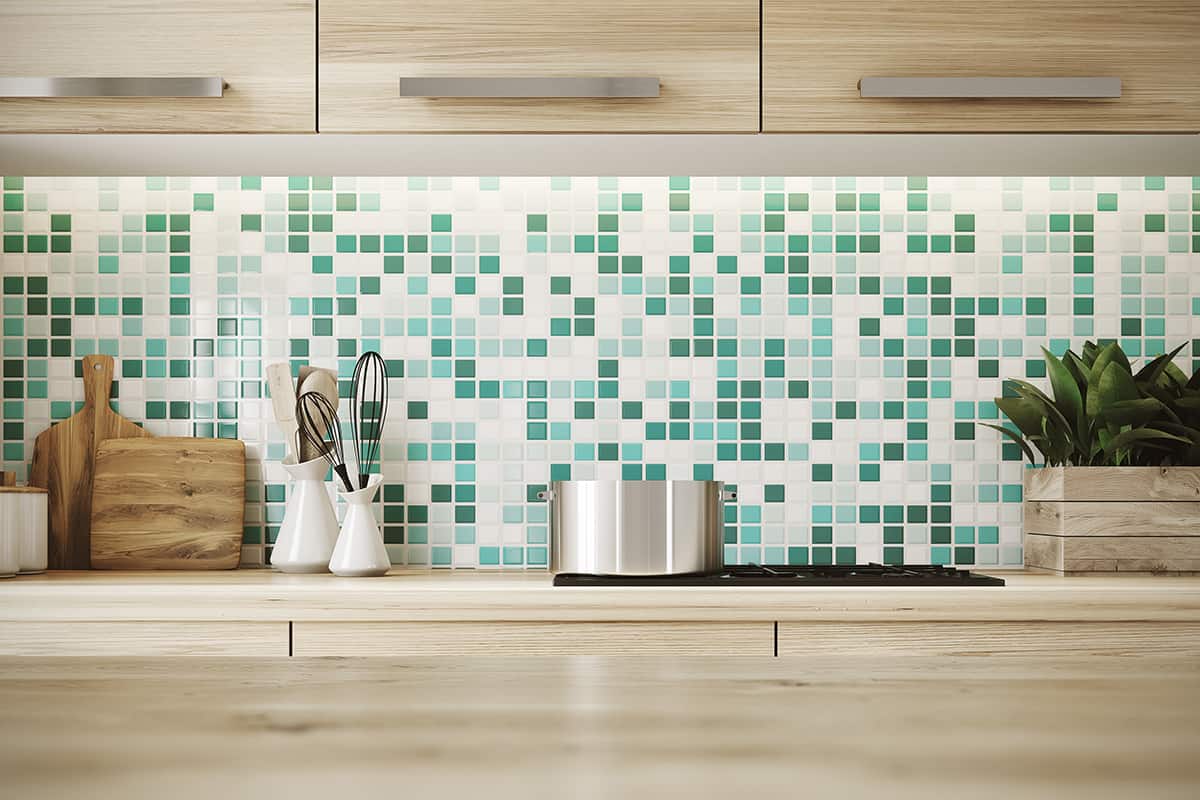 While it's true that most people prefer to keep their kitchen cabinets and accessories in white and grey, no-one said you can't have colorful backsplashes as contrast. Tiled backsplashes in a mix of colors is often an inexpensive way of sprucing up a kitchen with stainless steel appliances.
Whether your appliances are in black or silver steel, you can add a personal touch by incorporating colorful backsplashes as the highlight of your kitchen design.
Backsplashes are the perfect base for bold color combos to add style and personality to your kitchen area. Feel free to experiment with bright colors like orange, pink or electric blue or a combination of all these colors together as a whole wall of color.
Add eye-catching accessories alongside your bold and vibrant tiled backsplash and you're good to go!
In Closing
Still undecided on which colors go with stainless steel? For large kitchen spaces, opt for black and white combinations as these neutral colors work perfectly with silver or grey. In smaller kitchens, you may want to go all white in order to make the space feel brighter and more open.
If your kitchen has ample natural lighting, a bold, bright color like yellow or blue will work a treat. We hope you've been inspired by our above color ideas as each example has its own special beauty to add to a modern or traditional kitchen.