Cabinets come in many colors and designs to make or break a kitchen with white appliances. Whether you go for a modern or traditional kitchen design, the color of your cabinets must work with the color of your appliances.
White appliances can give a kitchen a clean and stylish look, thus making it a favorable choice among homeowners and home buyers.
In this post, we will show you some of the best color cabinets that go with white appliances so you can make your choice carefully.
Cabinet Colors that Work with White Kitchen Appliances
White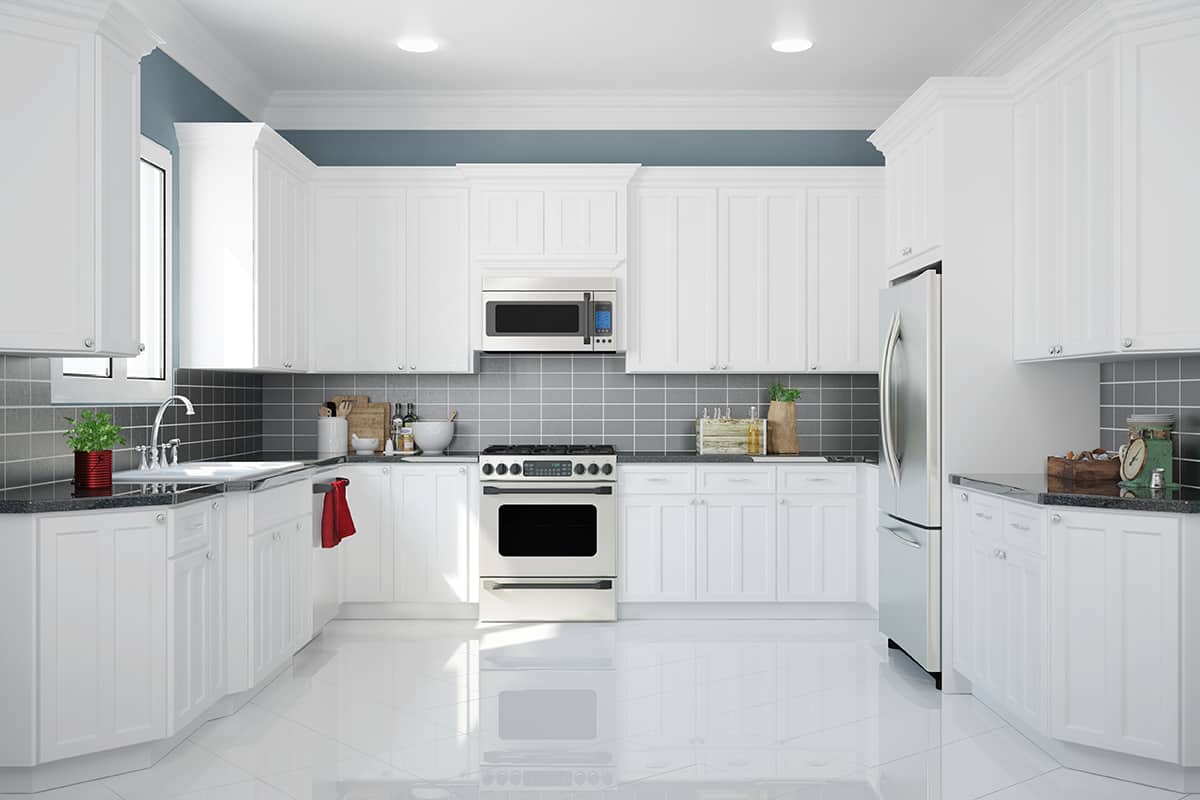 An all-white kitchen is a timeless design that's very much in trend these days. White is, after all, a classic and timeless color that makes a kitchen highly attractive.
This modern and clean color is a preferred choice by home buyers as they can use white with a variety of decor styles. White appliances with white cabinets make a kitchen feel established, thus making this color a time-honored choice.
You can see how cohesive and balanced this all-white kitchen looks with its clean white appliances and shiny white cabinets.
Light Natural Wood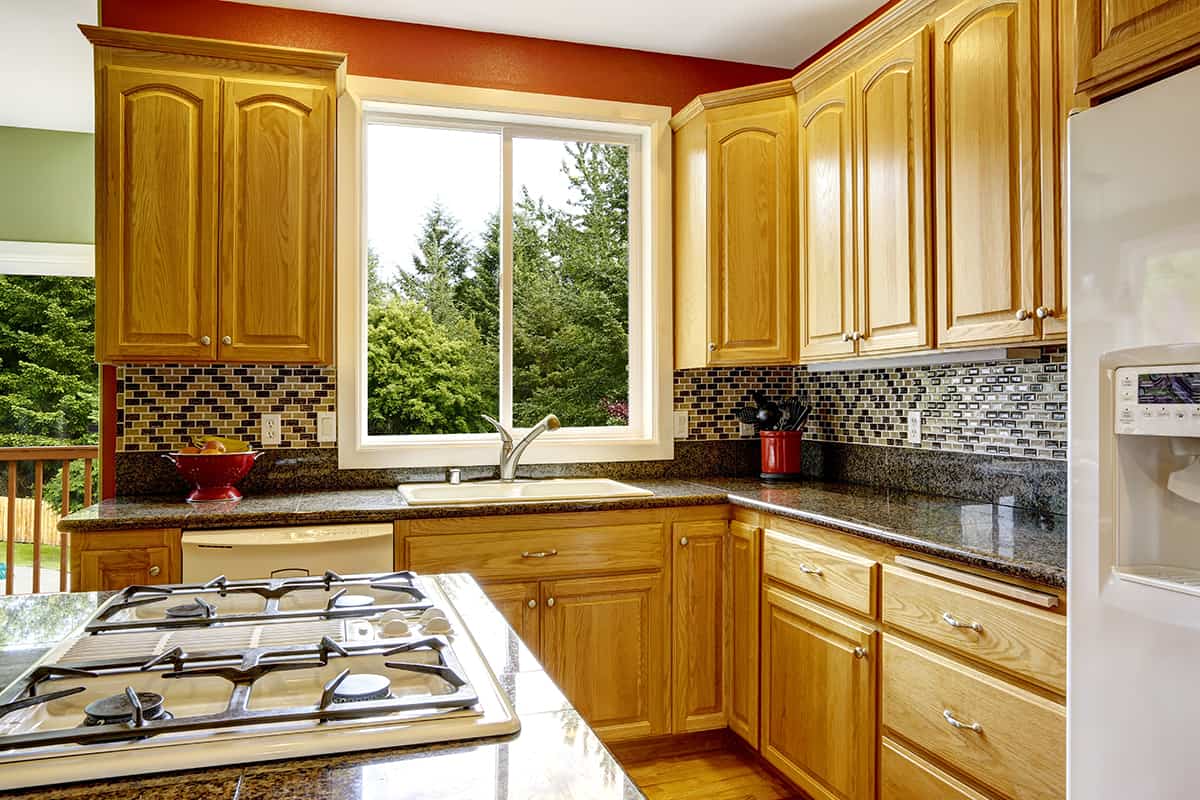 Natural wood cabinets bring warmth to a kitchen with white appliances. Since white can be a cold color, it makes sense to pair it with light wood cabinets.
This will give your space an airy feel. Natural wood is a stunning contrast to white appliances, and it's the preferred choice for traditional kitchen styles. Add a dark-colored countertop to give depth to this color combo as shown in this example.
Dark Natural Wood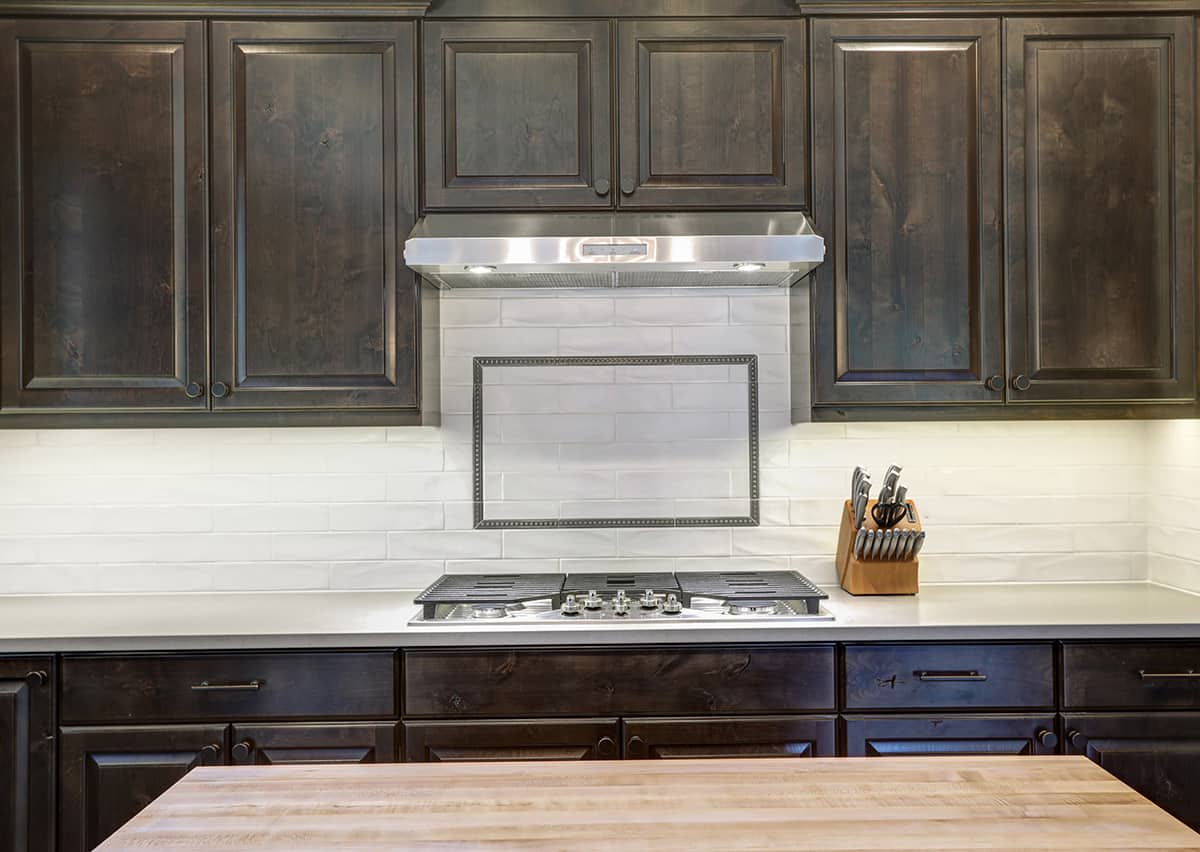 Dark, natural wood cabinets work the same way as their light counterparts to give a kitchen with white appliances a warm and cozy feel.
This elegant cabinet color adds luxury to a traditional kitchen. Chocolate brown is our favorite cabinet color choice, which sharply contrasts white. But you can go with any brown-toned cabinet color to create a coordinated look with your white appliances.
Grey and White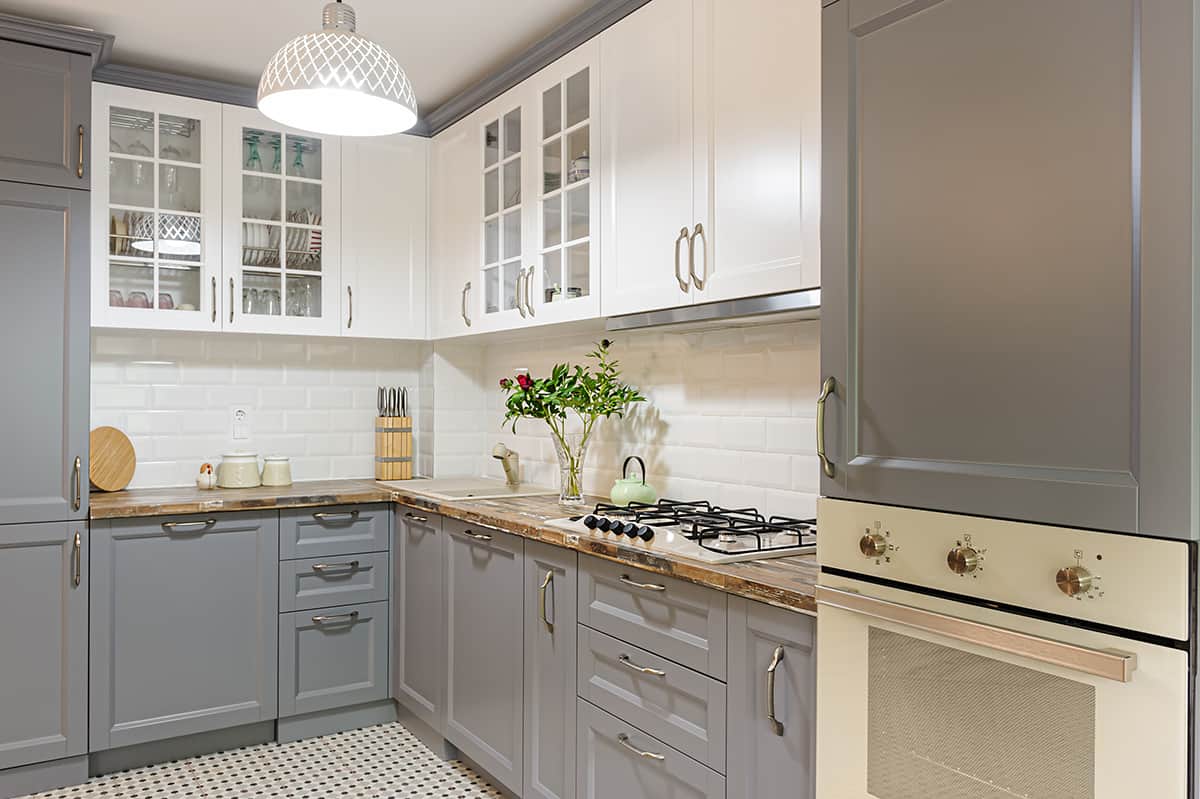 A luxurious combination of white and grey cabinets will go nicely with your white appliances. This is the ultimate trendy look in a modern kitchen design as it can give your space a more expensive feel. P
airing your white appliances with two-toned cabinets can balance the look in a unique way. A cool shade of grey with stark white cabinets and appliances works in harmony with the whole kitchen design, as you can see in this example. Add grey and white lighting and gold hardware to tie the look as per this image.
Black and White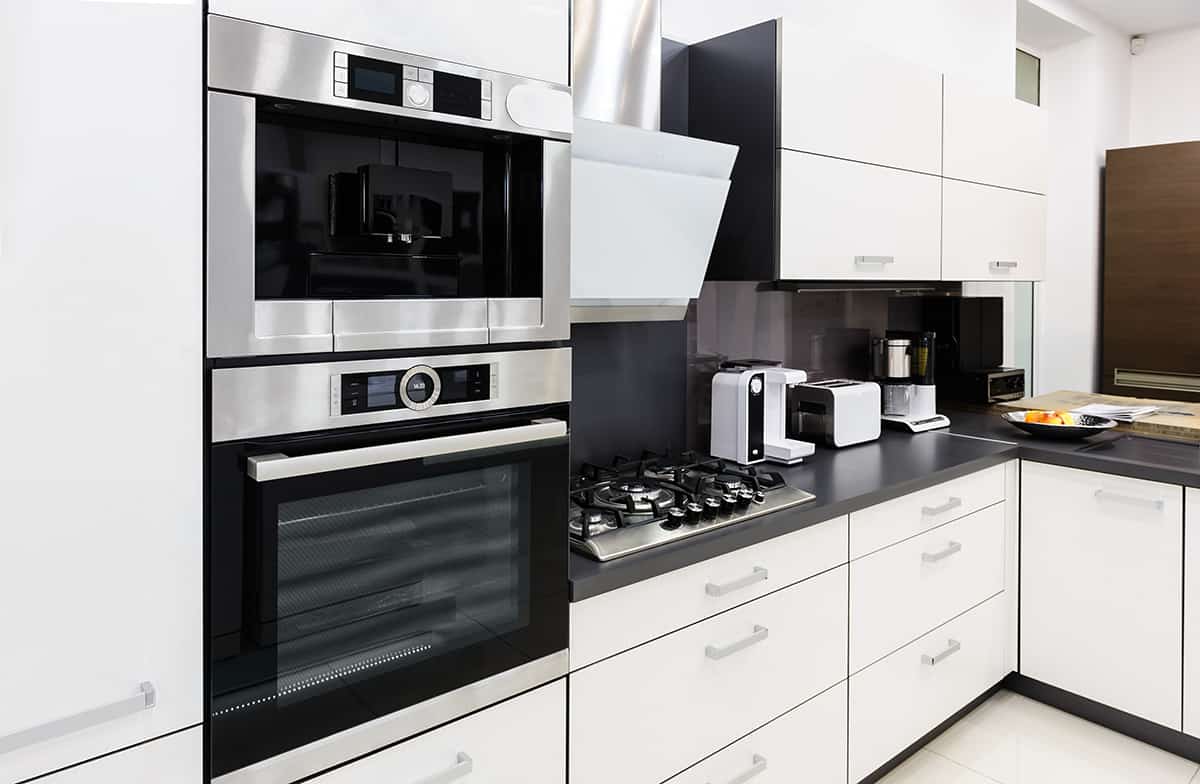 Another popular combination for your cabinet colors is black and white. If you want to take this approach, make sure you use mostly white, with black mainly for the countertops and hardware. This will avoid making your kitchen appear dark.
As a dramatic color combo, black and white cabinets go hand in hand with white appliances as conventional neutrals. A deep tone of black with stark white gives the kitchen a warm and modern vibe, so if you want to create a powerful and elegant kitchen design, opt for black and white cabinet colors.
Beige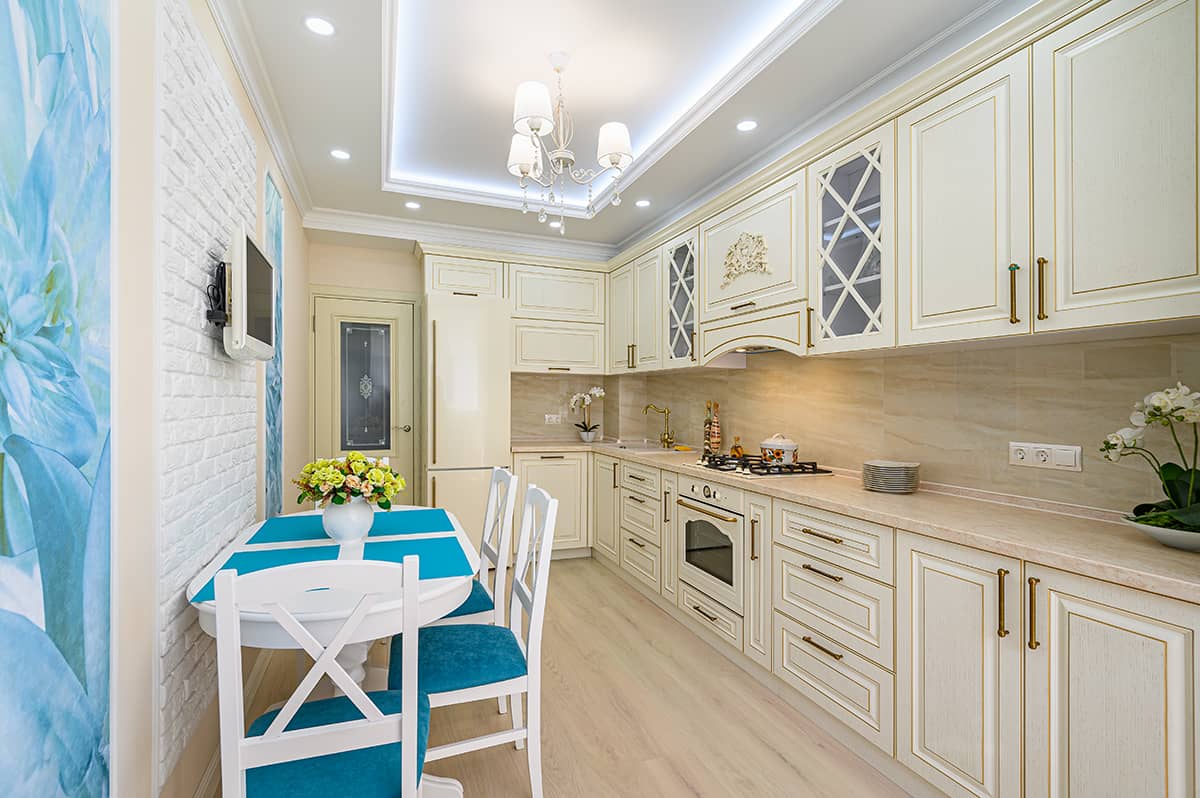 After white, beige kitchen cabinets are the easiest to keep clean. When combined with white appliances, a neutral kitchen design keeps the white stove and fridge appearing fresh.
In addition, beige cabinets add a natural element to the overall kitchen design, which you don't always see in modern settings. Since beige is a warmer tone than white, it can provide a subtle yet elegant contrast to pure white appliances.
In this example, the beautiful beige and white combination can be seen on the walls, countertops, appliances and cabinets, with hints of blue to increase visual interest. This contemporary yet classic kitchen boasts a desirable color pairing that is sure to meet even the most demanding tastes.
Light Green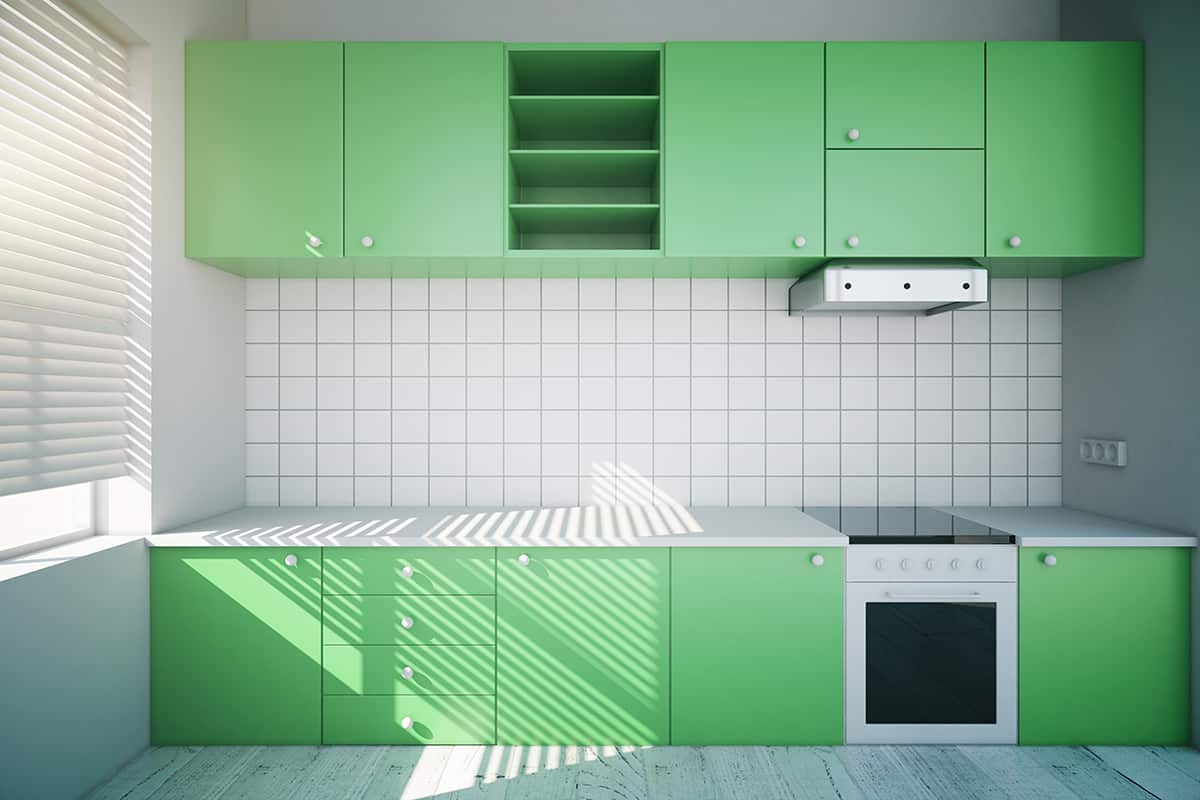 A green shade like pistachio for your cabinets is very much in trend right now. Green is a hue that is more adaptable to white than many other colors. Whether your kitchen is in modern or traditional style, a light shade of green will work well with white appliances.
Green is a powerful yet soothing color, and when used for your cabinets, this hue can bring a touch of the outdoors inside while giving your place a fresh and airy vibe. Another attractive shade of green is grass, which provides a soft contrast to white appliances. Add white countertops to further brighten up your kitchen as shown here.
Muted Yellow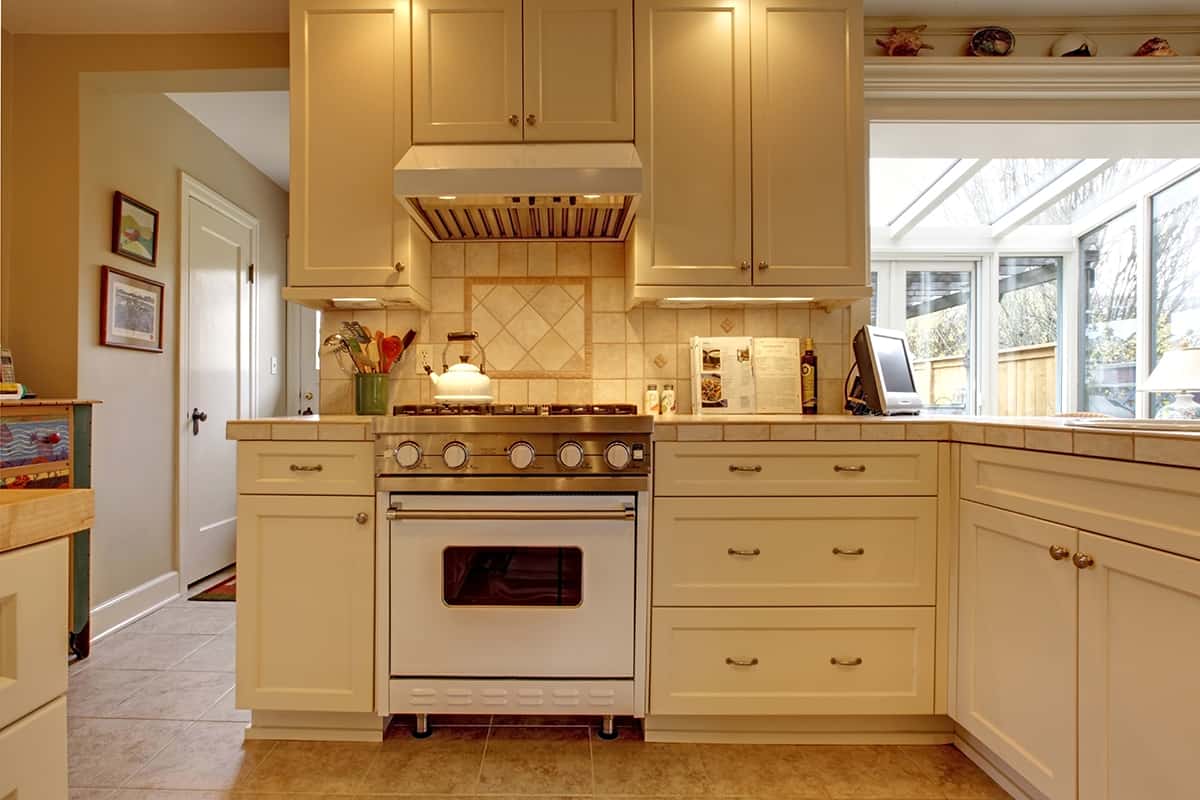 If you prefer a more subtle color, go with a muted yellow to pair with your white appliances. Not everyone likes a sharp contrast of green and white so a soft shade of yellow will work nicely.
See how inviting and warm this kitchen looks with its muted yellow cabinets and white cooker. While you can add pops of color, this kitchen example is ideal for those who prefer a neutral tone. Although yellow isn't a neutral color, the muted version still has a warm personality that's welcomed in a kitchen with white appliances.
Teal and White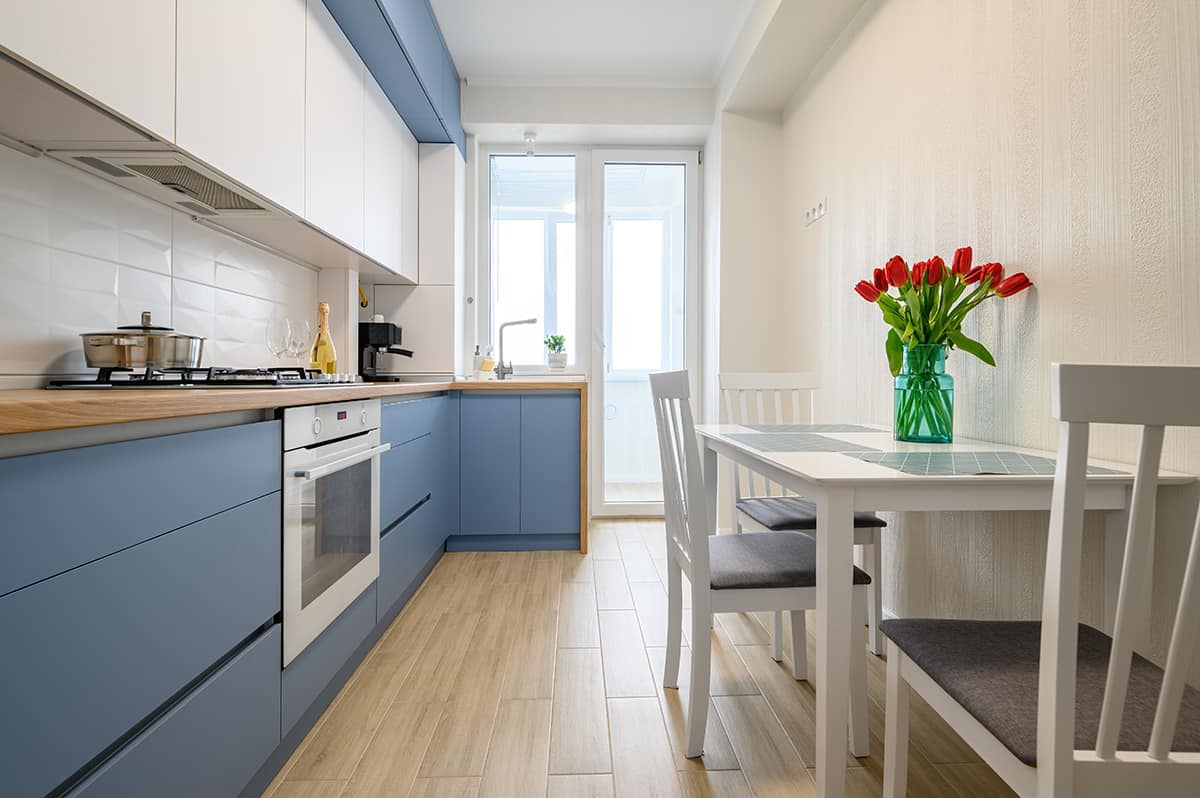 Teal is an exciting color that can be mixed with white to add charisma to your kitchen. Pairing this characterful color with crisp white appliances and cabinets can create a beautiful look.
The best example of a teal and white kitchen can be seen here, with a well-designed layout. The white backdrop and countertops enhance the teal and white color combo in this serene kitchen design. The light wooden flooring helps balance the bright teal and white cabinets.
Light Blue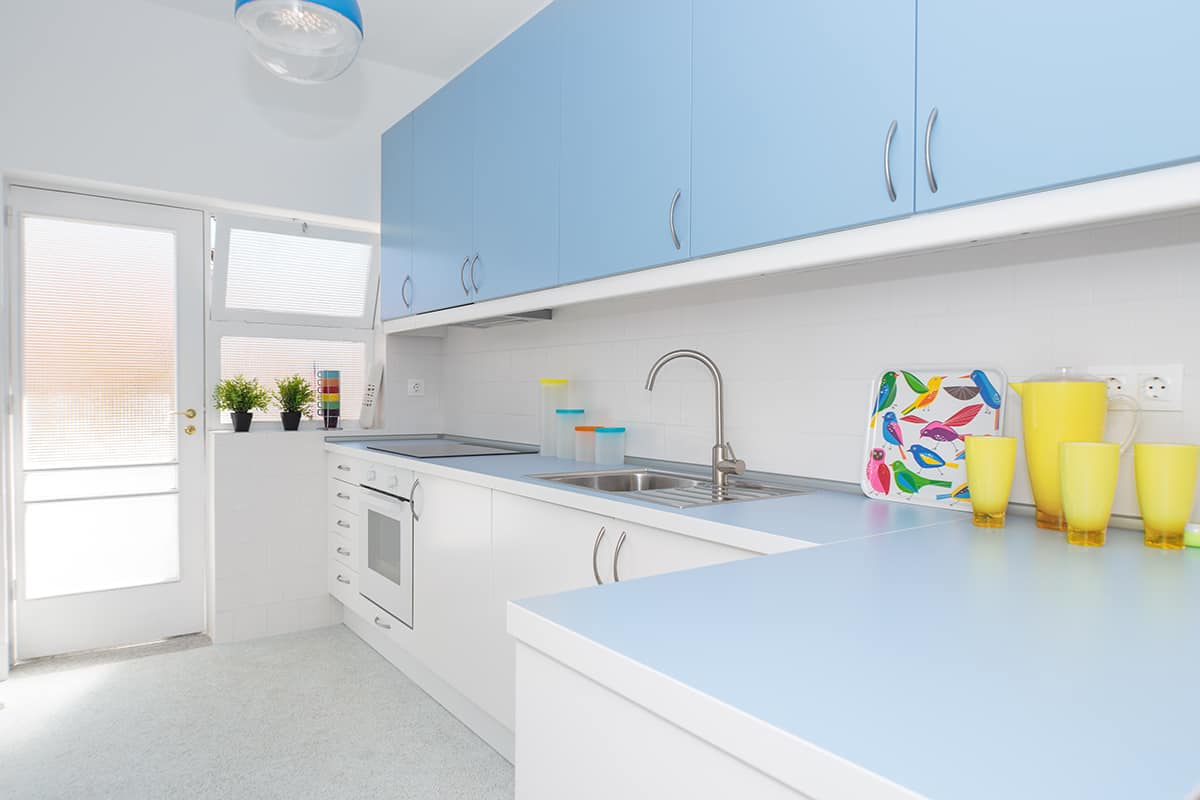 Another vivid color that adds personality to your kitchen with white appliances is light blue. This bright color makes a great choice, especially when paired with partial white and partial blue cabinets. See how vibrant this cool shade of blue looks next to bright white. This kitchen has an elegant yet cozy ambiance thanks to the light blue and white color combination.
What Paint Color Goes with White Appliances?
When you're undecided on what paint color to choose for your kitchen walls, use your white appliances and the color of your cabinets as your guide. The most popular paint colors that go with white appliances include neutrals, greys, and of course whites.
Any cabinet color you pick from our list will complement your wall color. Neutrals work with any color palette, but you may opt for darker tones for a refined look. If your kitchen is spacious, a dark wall color will work. On the other hand, for smaller kitchens, it is important to retain the bright and airy feel of the space by painting the walls a light, neutral color.
Should Cabinet Hardware Match My White Appliances?
Visually speaking, your cabinet hardware doesn't have to match your white appliances. For example, matching hardware with your white cabinets will only look lost in a beige or grey kitchen.
It is best to choose unique hardware colors like bronze, gold, or copper as these will go with any cabinet color. White appliances don't have to limit your choice of cabinet hardware color. As long as you choose complementing colors that work with the rest of your kitchen design, you can create a cohesive look.
Are White Kitchen Appliances Outdated?
For those who want to blend a classic look with a modern feel, white kitchen appliances are the ideal finish to their interior design. White appliances are much easier to clean when compared to stainless ones. You won't even see your fingerprints or smudges on these appliances, unlike stainless.
White appliances are timeless and will always remain on trend as they can blend into any kitchen style. Just like white, black stainless steel is a lasting choice to pair with any cabinet color. But they are typically more expensive than white appliances. Modern, white appliances have the same innovative technology as their steel countertops, so if you are looking for a more affordable option, why not go with white appliances. Just because they are white, it doesn't mean they are basic!
Conclusion
When it comes to figuring out what color cabinets go with white appliances, your options are endless. While most colors work with white, to create a charismatic design, opt for vibrant cabinet colors like green or blue.
On the other hand, if you want to keep your kitchen style airy and bright, choose beige or muted yellow for the cabinets. Even white is a great option as a monochromatic design. But it's not just the cabinet colors that need to complement your white appliances.
Be sure to incorporate your countertop colors, the hardware, and the flooring with your white appliances. All these can affect the overall appearance of your kitchen design.