Low cost, sturdy, low maintenance, lasts long, consumes little energy, suitable for all weather and seasons, and in some cases, your only companion during those long nights when you are finding it hard to sleep. All these are some advantages of a ceiling fan.
Although ceiling fans do not reduce the temperature of the room, they simply direct the air around your body and room, thereby making you feel cool.
However, this takes nothing away from its importance. Ceiling fans are suitable for all types of decor and are also the safest type of fan for a house with kids. Although some people misuse this appliance by leaving it on even when they are not at home, this modest appliance is one of the essential appliances that every home must have.
In this article, you will learn about the various factors to consider before getting your ceiling fan and the various types of ceiling fans.
Types of Ceiling Fan
1) Energy Star Ceiling Fan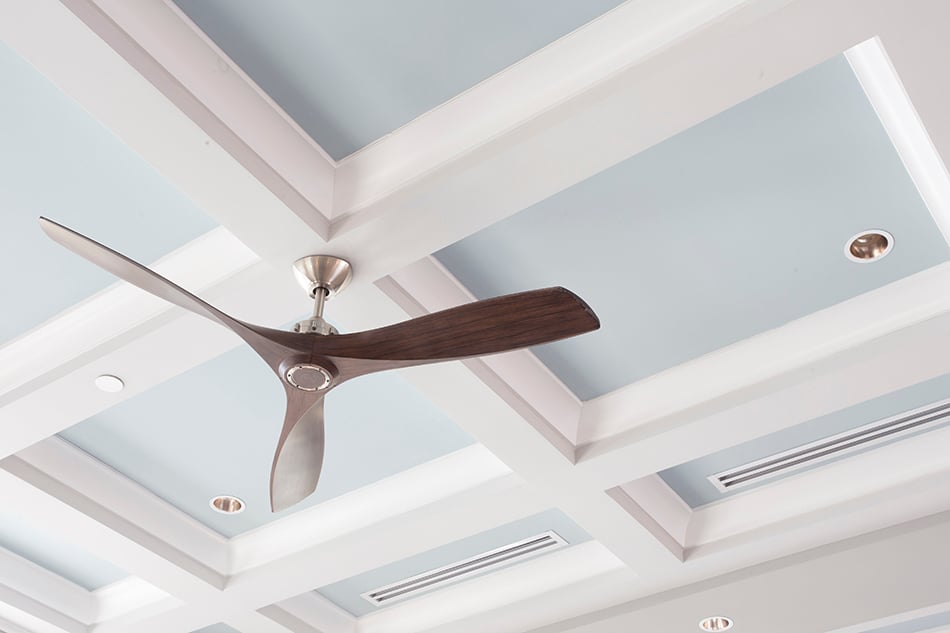 Do you want a fan that can help you save up to $120 on utility bills during its 14-year lifetime? Well, that's what an energy star ceiling fan offers you. An energy star ceiling fan is one that has been certified by the US Environmental Protection Agency. Going by the EPA's reputation, this means that this type of fan has gone through rigorous energy efficiency and performance criteria tests. A fan that has earned energy star status must have gone through various tests at EPA-certified labs.
Energy star ceiling fans use the best motor and also come with the latest blade designs. Energy star ceiling fans are expensive, but you are also sure to get your money's worth. With the use of the latest efficient technology, energy star ceiling fans give you 60% more efficiency than other traditional ceiling fans.
What's more, if you buy an energy star ceiling fan, you will not only be saving money on utility bills, you would also be contributing to the protection of the environment. Energy star ceiling fans reduce greenhouse gas emissions.
2) Standard Ceiling Fans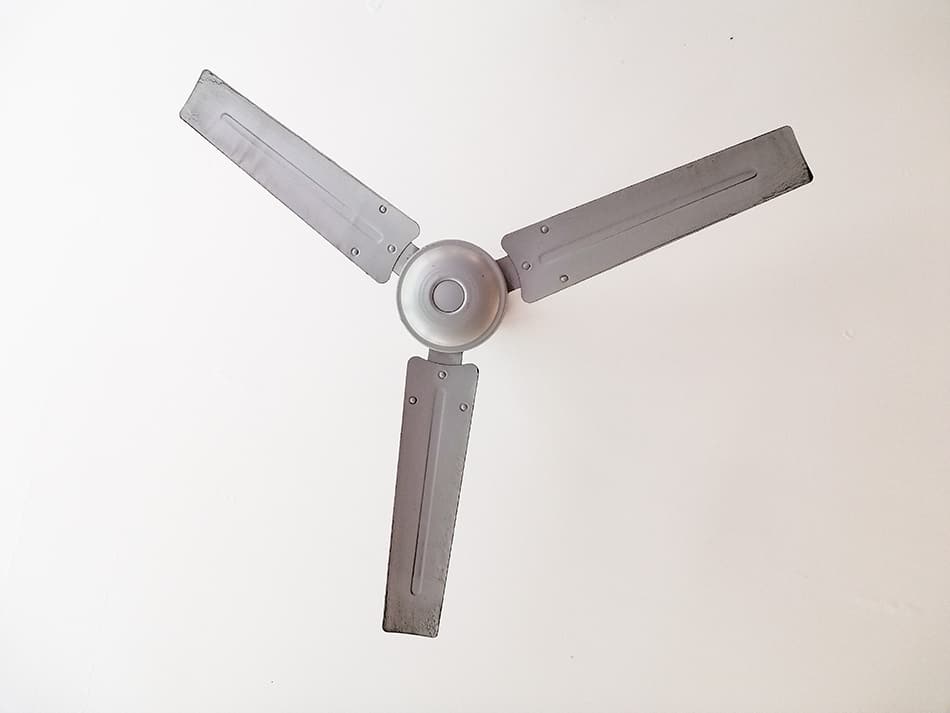 The biggest advantage of a standard ceiling fan is its versatility and functionality. This is the most popular and oldest type of ceiling fan. Its versatility stems from the fact that it can fit in with all types of interior decor. They come in all styles and colors, thereby making it easy to select one that complements the aesthetics of your room. Some standard fans also come with all types of accessories such as remote control, light kits, and customizable blades.
Standard fans come with three, four, or five blades. These blades are either fixed above, on the sides, and under the motor of the ceiling fan. These blades are made out of various materials such as metal, plastic, or wood. Standard fans also come with a downrod that connects the ceiling and the fan. The use of a downrod also makes your fan more stable. For safety reasons, ensure that your downrod is at least 7ft long.
3) Low Profile Ceiling Fan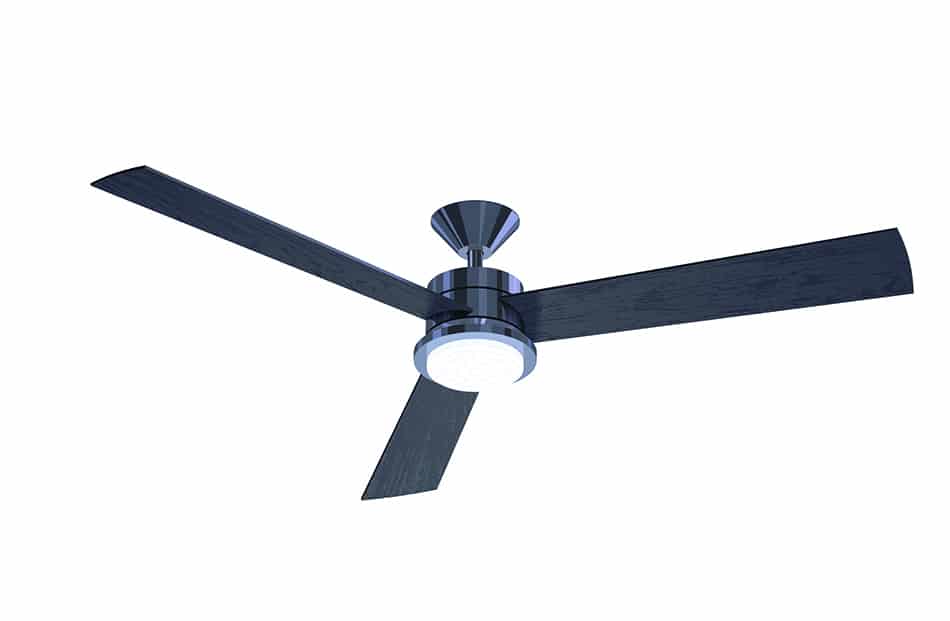 Low-profile ceiling fans are only second to standard ceiling fans in terms of popularity. Contrary to the standard ceiling fan, low profile ceiling fans do not need downrod for their installation. This is why they are suitable for rooms that are less than 8ft tall. Instead of a downrod, you simply attach the fan directly to the mounting bracket.
Just like the standard ceiling fan, low-profile ceiling fans are also versatile. They are suitable for various types of decor and can be customized to suit your desires. However, as a result of the fact that it's very close to the ceiling, the cooling ability of this type of fan is reduced. Low-profile ceiling fans are disadvantageous during summer and for people who live in countries with a warmer climate. Another name for a low-profile ceiling fan is a Flush or Hugger ceiling fan.
4) Dual Motor Ceiling Fan
Two motors, two adjustable fan heads, and two horizontal rods. These are some features of the dual motor ceiling fans. For functionality, large rooms, high-ceilinged room, and large public settings; dual motor ceiling fans is the best option for you.
Dual motor ceiling fans are very stylish and are best for decorative purposes because they can easily grab the attention of visitors. Compared to conventional fans, dual motor ceiling fans are very practical. You can also move the various adjustable blades to different angles. This gives your fan a customized look and allows airflow to be directed to all parts of the room. Dual motor ceiling fans are also called double head or twin ceiling light fans.
5) Wet and Damp Ceiling Fans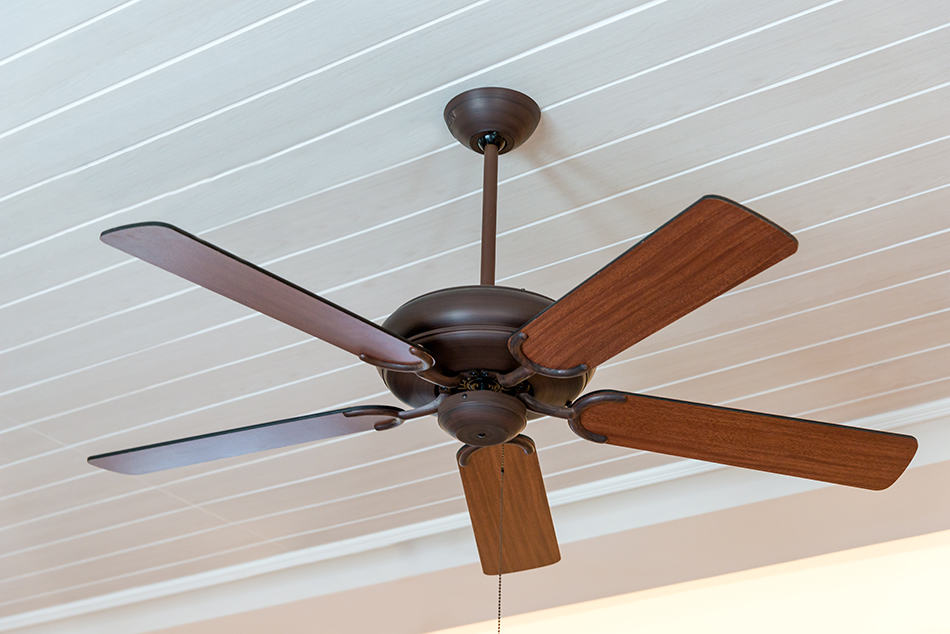 These are outdoor ceiling fans. Though they are very similar, there is a difference between wet and damp ceiling fans. Damp ceiling fans can withstand humidity and moisture, but they can not survive heavy rainfall. On the other hand, wet ceiling fans are thoroughly waterproof. They can endure being exposed to rainfall and other types of weather.
They are made from sturdy blades that can withstand all types of weather and water-resistant materials. Damp ceiling fans are best suited for a porch, covered decks, and other outdoor areas that have roofs. In comparison, wet ceiling fans are suitable for areas that are exposed to rainfall.
These types of fans are made of materials such as bamboo, palm leaves, and other man-made materials that can withstand water. Furthermore, wet and damp ceiling fans also allow you to be flexible as you can pick any type of color, size, and style to fit your outdoor space.
6) Remote Controlled Ceiling Fan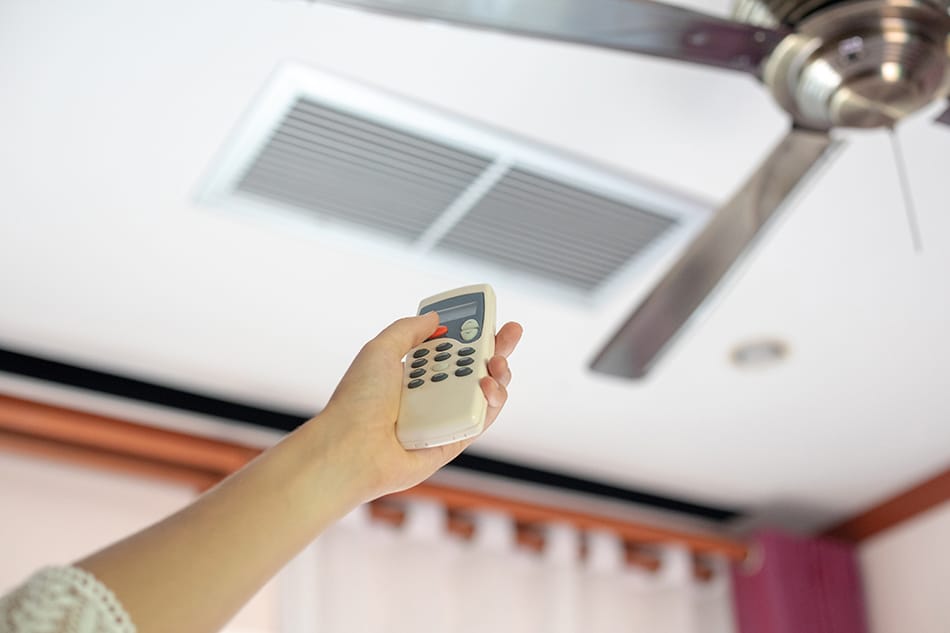 This type of ceiling fan is suitable for rooms with high ceilings, large rooms, auditoriums, and conference rooms. This is because they can be controlled, and the height of the room won't be a problem either.
All types of fans have remote-controlled models. These types of fans are also suitable for houses that have old people who find it hard to move around or for a room with a disabled person.
Nowadays, you can also control your fan from anywhere with your phone. Remote-controlled fans also give you the freedom to match your fan's color with your room's color and style.
7) Commercial Ceiling Fans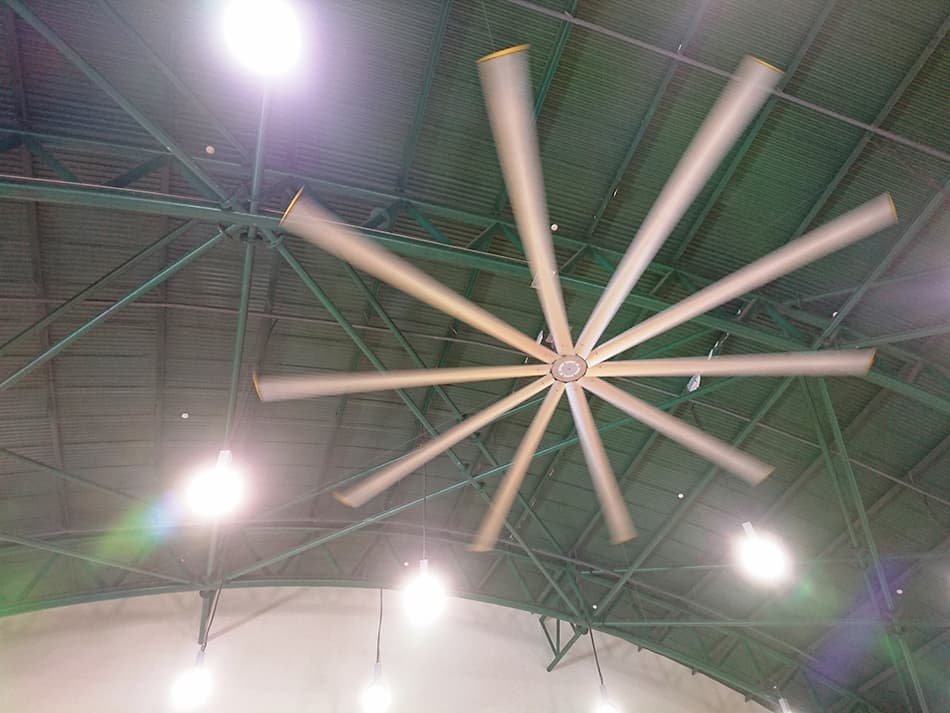 Just as the name implies, commercial ceiling fans are best suited for commercial places. They are suitable for places like shopping malls, offices, restaurants, and other large commercial spaces. These types of fans are also the right fit for rooms are to 10 to 25ft ceiling height.
Commercial ceiling fans can be used in all types of weather, and they do not consume much energy. They can be used to keep commercial space cool during summer, especially for spaces that do not use air conditioning. During winter, you can reverse your commercial ceiling fan. As a result, rather than draw the air in your room from the bottom upward, it directs the air from the top of the room downwards, thereby generating heat to keep you warm.
8) Industrial Ceiling Fans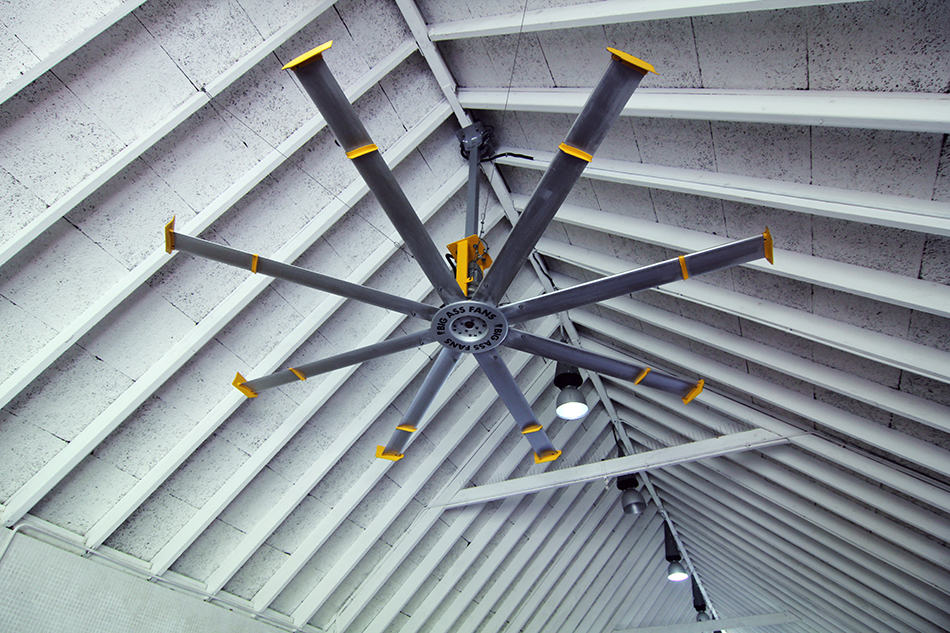 Industrial ceiling fans are large hefty fans that are designed to provide adequate airflow at factories, warehouses, and other huge spaces at a budget-friendly price.
These types of ceiling fans are suitable for large spaces, and with their heavy-duty motor, they find it easy to generate maximum airflow, thereby making it easier for the workers to do their jobs. Industrial fans come in various styles, finish, and color that can match the color of your outdoor space.
All these ceiling fans serve various purposes in all types of spaces. There is a ceiling fan for all functions. These ceiling fans provide the required airflow for your room, and with their various aesthetic qualities, they do it with style.
Factors to Consider When Buying a Ceiling Fan
Originally, ceiling fans were powered by water and were controlled by pulling a cord or a chain. Nowadays, ceiling fans are controlled by switches, and buttons and some ceiling fans can even be controlled by sensors on smartphones.
There are certain factors that you must consider when selecting a ceiling fan for your home. These factors are relevant when you are getting ceiling fans for a new home, remodeling, or simply changing the fans in your home. With these factors, you are guaranteed to get a ceiling fan that gives you value for your money.
Room Size
One of the first factors to consider before buying a ceiling fan is the size of your room. Before going to the store, use a measure stick or tape to measure the length and width of your room. Select the fan with the appropriate blade size to ensure that your fan can circulate enough air to cool your room. The bigger the fan, the better it blows. Also, ensure that you allow at least 7 feet between the fan and the floor and 8 to 10 between the fan blades and the ceiling.
Make sure you place the fan in the center of the room for efficiency. Furthermore, if the room is very large, it is best to get two ceiling fans to contain the room.
Blade Material and Style
When selecting a ceiling fan, another crucial factor that will determine the ceiling fan you buy is the blade's material and the style it depicts. Ceiling fan blades are usually made of wood, steel, or plastic.
For aesthetic purposes, it is best to select a fan whose blade material and style match your room's decor. If your room's decor is modern, it is best to select a contemporary ceiling fan to match your style.
The blade material for this type of ceiling fan is a metal finish. A vintage-style ceiling fan is most suitable to complement a room with traditional and vintage decor. A vintage-style ceiling fan features a decorative ornament on the blade. For country-style decor, select a fan the blade material is rustic and made of wood.
The Motor
The motor is one of the most important parts and factors to consider when you want to buy a ceiling fan. The capacitor ignites the motor, after which the ceiling fan starts to run. The motor is responsible for converting electrical energy to mechanical energy. The ceiling fan motor consumes minimum power and is very easy to repair. Without the motor, the ceiling fan cannot function.
The best ceiling fan motor is the DC motor. DC motors are energy-saving and also offer the best airflow. DC motor fans are faster, and most of them offer six speeds rather than the normal standard three speeds. Ceiling fans with DC motors are basically silent and produce less heat.
Make sure that the ceiling fan you are buying has motors that are permanently lubricated, with sealed bearings and durable windings.
Lighting Style
Nowadays, most ceiling fans come with lights. These fans come with lights from all types of sources. Modern fans have lights either made of halogen, incandescent, LED, fluorescent, etc.
However, if the room you are buying the ceiling fan for is well-lit, you can buy a fan that has no light. This will help reduce the cost of the fan that you buy. You should buy a fan with light if the room you are buying it for is dim and in need of extra lights.
Additionally, when choosing a fan with light, why not choose one with a lighting kit that matches the decor of the room? For a room with classic decor, choose a fan with vintage lights, and for a room with modern decor, choose a fan with elegant and contemporary lighting style.
Controls
Here are the determinants for the type of ceiling fan control you should buy: the persons who stay in the room, the traffic in the room, and the height of the room you are buying the ceiling fan for. The types of ceiling fan controls are wall control, remote, and pull chain.
For a large room or a room with kids, disabled and old individuals, a remote control fan is your best option. This will ensure that they don't have to move around and can switch the on and off the fan whenever they want.
A remote-controlled fan is also best suited for a high-ceiling room. In comparison, wall control fans are suitable for families with kids and low-ceiling rooms. Pull chain fans are best suited for rooms with minimum traffic. They are easy to reach and can also be used in bedrooms and rooms owned by old individuals.
Also, always check the warranty of the fan you want to buy. Obviously, it is best to get fans that come with a longer warranty and also look out for fans with large motors as they are guaranteed to last longer. Some fans even come with a lifetime warranty.