No-one likes to sit on an empty, lonely sofa. One or more throw pillows is always a welcome addition to snuggle to and boost your living room's aesthetic appeal. Throw pillows can either be used as accent accessories for the sofa and couch to stand out or just make you and your guests feel more comfortable. Whether you choose plain, textured, or patterned pillows for your brown leather or fabric couch, there are endless ways you can decorate this piece of furniture using these cushions.
In this in-depth article, I explain in detail how to choose throw pillows for brown sofas and I've listed 16 examples (with pictures) with different throw pillow colors and textures that will match your brown sofa beautifully.
Guide to Choosing Throw Pillows for Brown Sofas & Couches
– To contrast the dark brown sofa, especially leather ones, use throw pillows that are in light neutrals or brightly colored varieties. You can even use a blend of bright and neutral colors together with patterned designs as long as you arrange them symmetrically on the sofa.
– Down-filled pillows with softer fabrics work best for decorating purposes. They can include interesting textures and be made of velvet, silk, or suede for an ultra feeling of luxury. Note: leather pillows for leather sofas only.
– For three-seater sofas, use no more than four pillows otherwise it will look cluttered. You can have two pillows at the two ends of the sofa, or a single large pillow in the middle with one on each corner. The deeper your sofa is, the larger the throw pillows should be. An armchair should only have one pillow, and a two-seater couch should have no more than two or three small pillows so it doesn't look chaotic.
– The way you arrange the pillows on the sofa is just as important as choosing the right colors. To keep the arrangement in order, the pillows should be placed equidistant from each other, or you can just place one at each end of the sofa.
–  A symmetrical pillow arrangement always works best whether you're layering several pillows on top of each other or next to one another (see example 8). Symmetrical pillow arrangement keeps things orderly and organized on both modern and vintage sofas.
– With regards to the size of the pillows, remember to keep them in proportion with the sofa. For example, a small throw pillow in the middle of a big sofa will look lost, while an oversize pillow on a small armchair will be comfortable and act as an accent piece. The idea is to allow the pillows to complement the sofa by choosing the right fit.
– The shape of most throw pillows is usually square but you can find round, rectangular lumbar, and bolster throw pillows too. However, square pillows are the most popular accessories that come in various dimensions and tend to be a good fit so you can easily match them to your brown sofa. Rectangular throw pillows are most often used as accent pieces only.
– When you're trying to find the right pillows for your brown sofa, keep it as simple as possible. As a rule of thumb, go for one simple pattern, one solid print, and one bold print. Alternatively, choose one small print, one big print, and one bold print as the largest pillow. This should be placed at the center of the sofa to act as a focal point. Small checkered pillows work just as well on the corner of the brown leather sofa.
– To enhance the look of your pillows, decorate them using embellishments, such as button tufting, sequins, or embroidery. Note: don't use any decorative embellishments that may scratch you or make you feel uncomfortable like beads or brooches.
With these basic principles in mind, the fun part now begins! Check out my selection of the best throw pillow ideas that match brown sofas with pictures.
16 Throw Pillow Examples for Brown Sofas
1. Brown Pillows for a Sense of Masculinity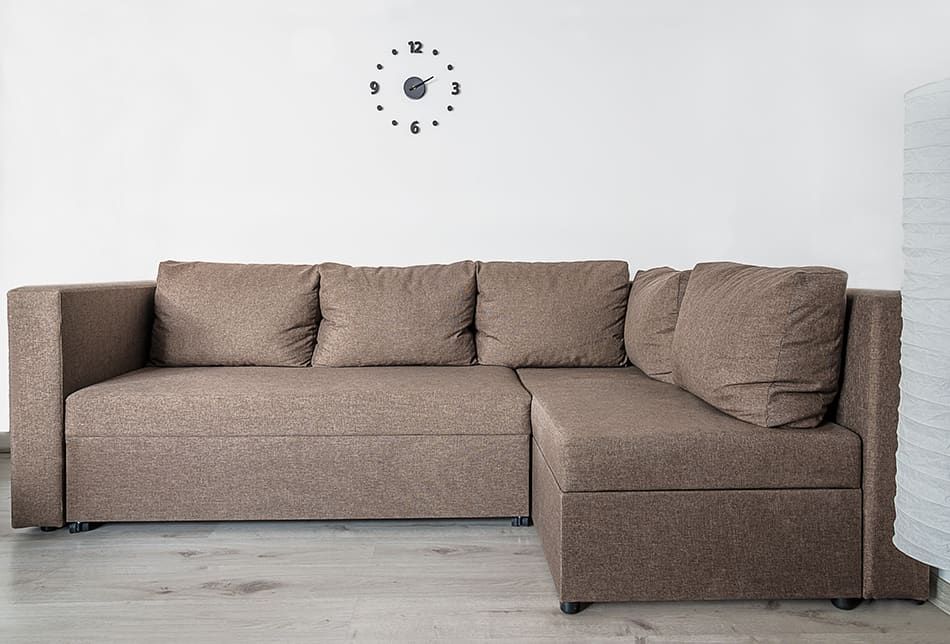 Brown couches strengthen the sense of masculinity. But you don't want the throw pillows to steal the show! Here is a fine example of how brown pillows have kept the sofa look warm and yet subdued without standing out in the room.
2. A Simple, Lived-in Look with a Random Arrangement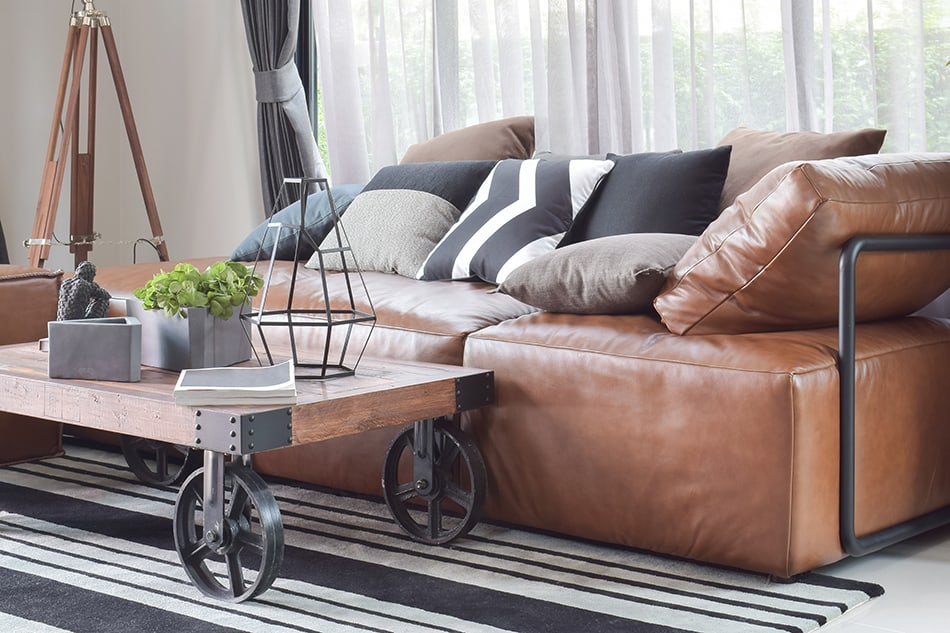 To soften the appearance of your living room corner, a leather sofa with randomly arranged pillows does a wonderful job of creating a lived-in and relaxed look. Notice how the neutral colors of the pillows here (white and grey) blend naturally with the flooring and curtain. And the brown sofa is the same color as the table. A perfect combination!
3. Add Bold Patterns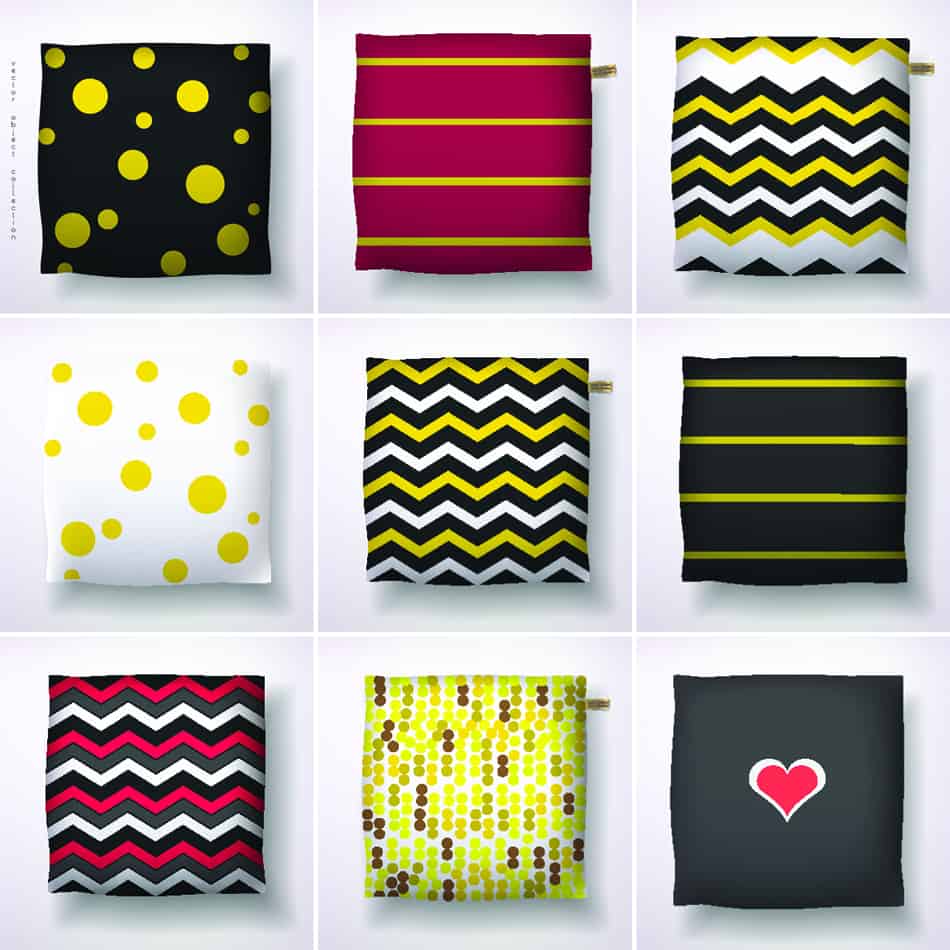 If your living room already has bold and bright patterns on the curtains, rugs, or the wall, then you can take your large brown sofa to the next level by adding up to four brightly patterned throw pillows to it. Note: if you have a matching armchair in brown leather, you can also use solid and vibrant pillow patterns to compliment the bigger sofa. This will make the overall look much more dramatic so don't be afraid to go a little wild with bold patterns.
4. Four Colors in a Row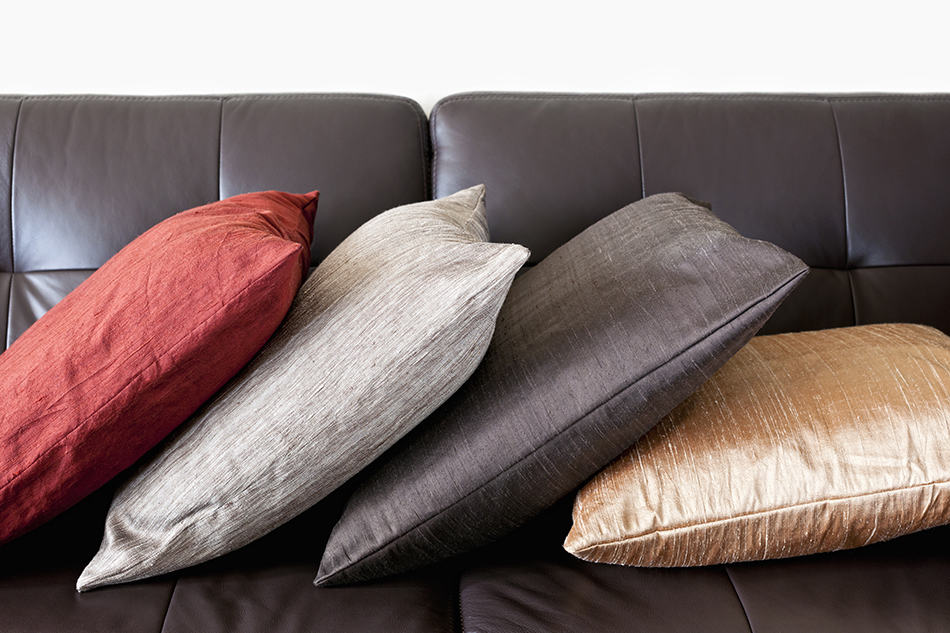 If you want to arrange your pillows in one row, choose four different colors with the same fabric. Just as you can see in this image, four pillows are placed next to each other on the brown leather couch, with each one being the same fabric and a different color. To create balance, place the neutral and masculine colors in the middle of the bold feminine colors to help balance the brown sofa and convey the message that the seating is for both women and men.
5. Charcoal Grey to Echo the Room's Decor
Charcoal grey is a neutral color that works perfectly with a dark brown sofa. To complement the tall grey wall behind the sofa, see how the patterned grey pillows are neatly arranged in pairs on each side of the 3-seater fabric sofa for a sense of harmony and balance.
6. Embrace the Luxurious Feel of Velvet Pillows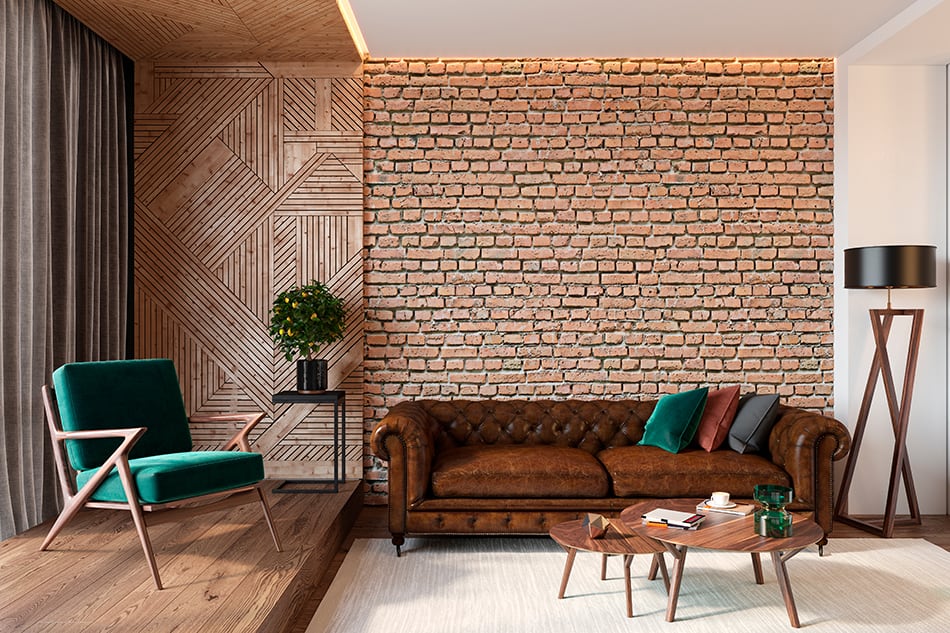 To offset the brown couch in a modern living room, indulge in velvet throw pillows in bold colors to make them stand out in the room. This luxurious fabric not only feels great to the touch but it also adds elegance to your interiors. See how the three brightly colored velvet pillows attract attention in this fine example of a modern living room with a red brick wall and dark brown sofa in the corner of the room.
7. Coordinate Sizes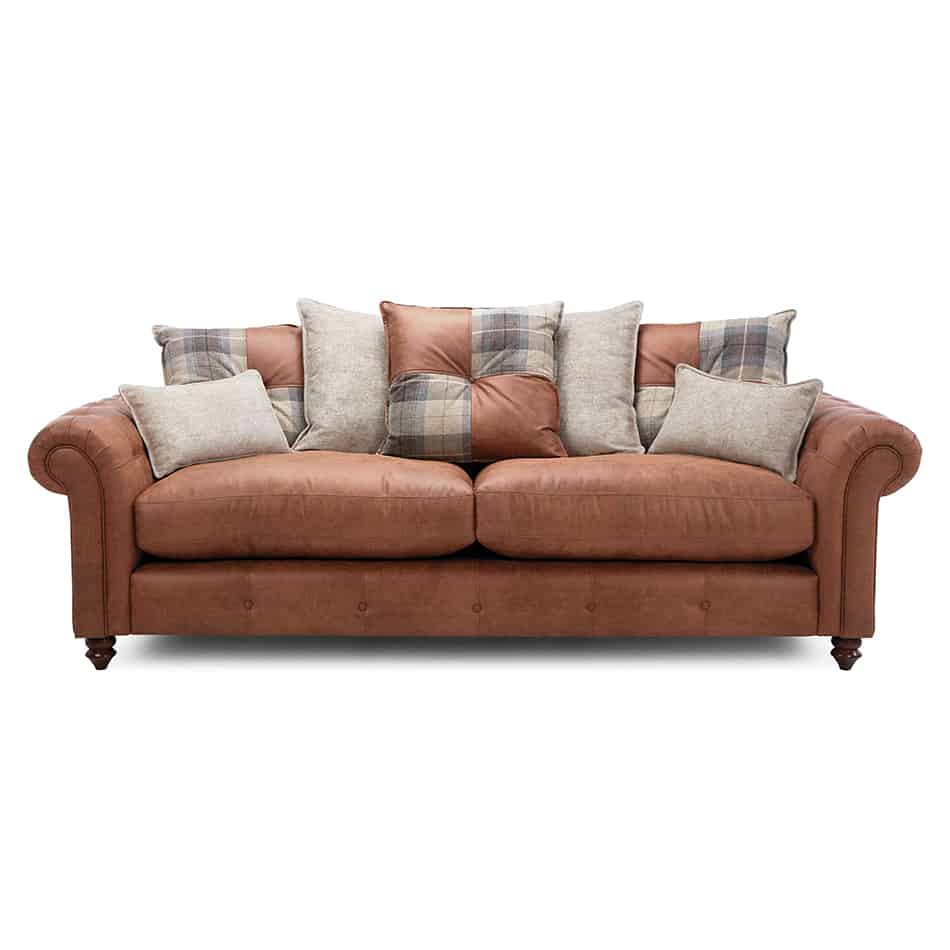 Even if you're not keen on using bright color accessories in your living room, you can always keep the color palette neutral in a unique arrangement of pillows.
Sizing and layering your throw pillows properly is the first step in creating a stunning arrangement on the sofa. Just as shown in this image, base your smaller pillows on the back with the larger ones at the front and two rectangular pillows on each side of the sofa for a snuggly fit. The side pillows are the special accent throw pillows that are smallest in size and bring some uniqueness to the space.
See how the 7 pillows are arranged on this large brown sofa, without the seating space looking cluttered. The pillows are of 3 different sizes with matching neutral colors and patterns that sync in harmony. Doesn't it make you want to sit back on this sofa and relax all day?
8. A Blend of Contrasting Colors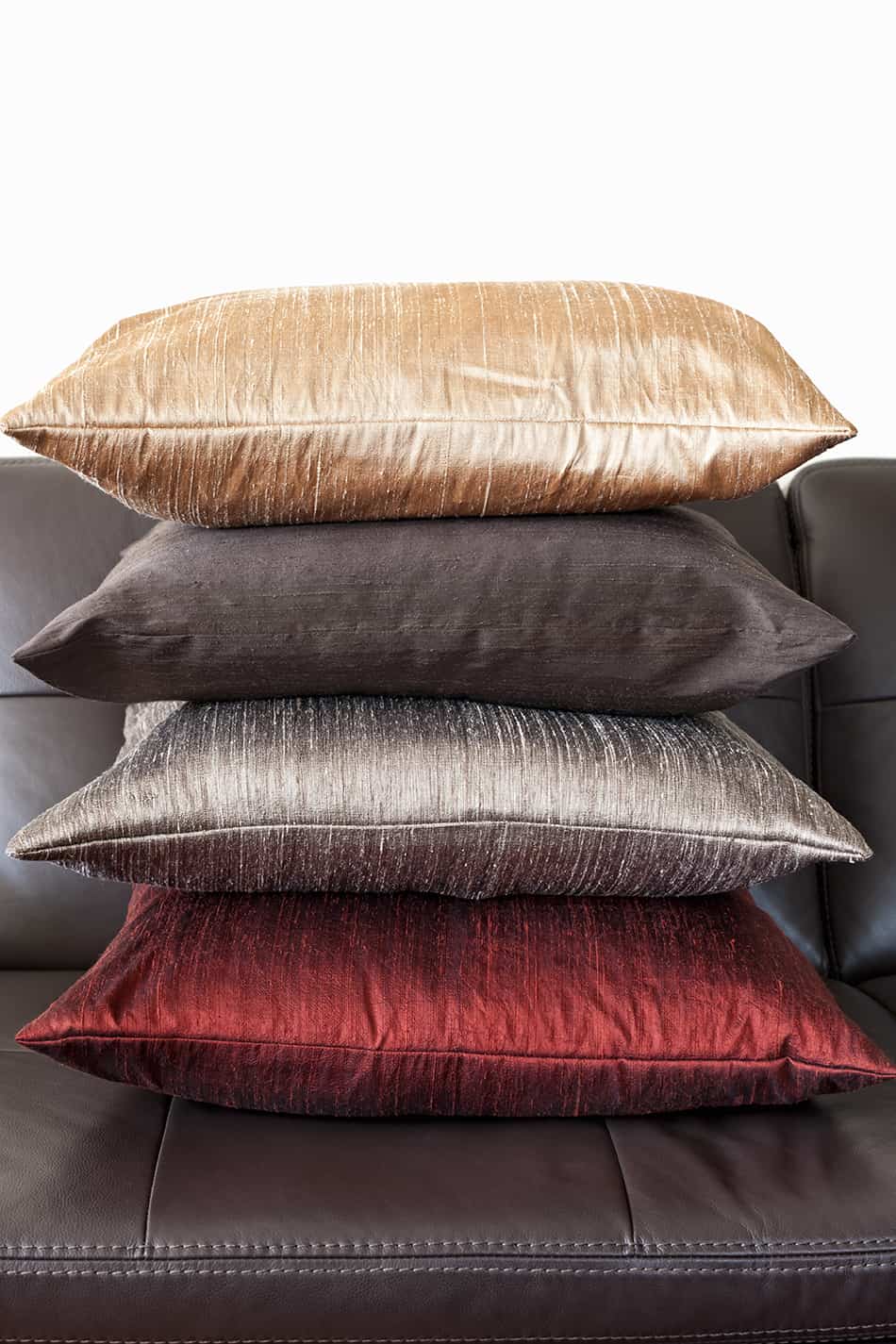 There is something about contrasting colors on satin pillows that feel casual yet luxurious. When stacked on a dark brown sofa, they will give your room a show-room like feel. Don't be afraid to blend the neutrals with bright colors to avoid making the space look flat as shown here.
9. Earthy, Autumnal Colors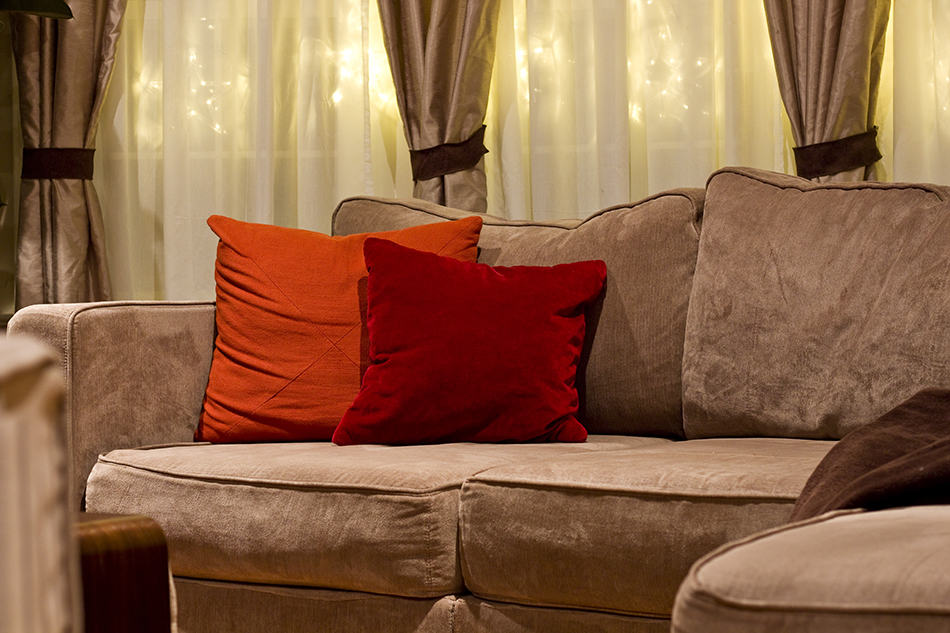 Another great choice for a light brown sofa involves earthy colors, such as deep red and bright orange velvet pillows. These autumnal colors give the feeling of warmth and satisfaction while reminding us of the rich tones of paprika and saffron. As you can see in this image, the brown sofa is the same color as the curtains making the orange and red pillows truly stand out in the room.
10. Embroidered Cushions for Accent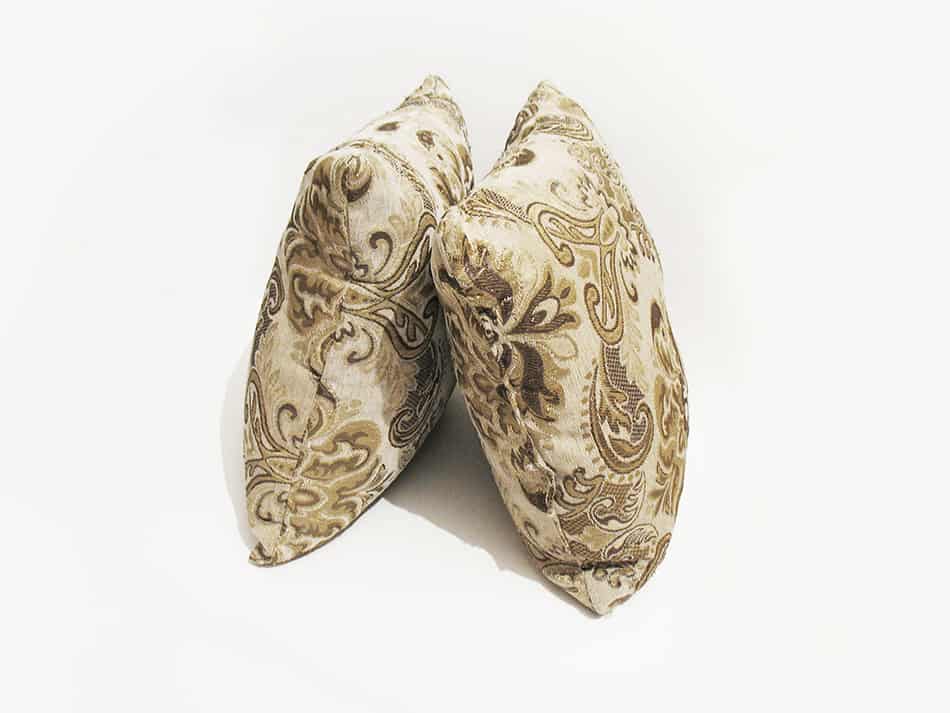 Embroidered pillows are a little tricky to work with as they can turn your living room's decor into a distasteful 70s reinterpretation. But not if they are used on brown sofas. These Asian-design embroidered pillows can make the seating space look very elegant and soothing. Some great boho throw
The pillows work best in naturally bright rooms on a lighter brown sofa rather than a dark brown sofa, although the latter will work too as long as you use a fabric sofa.
You can find some embroidered boho throw pillow options here.
11. Black and White Pillows to Create a Strong Base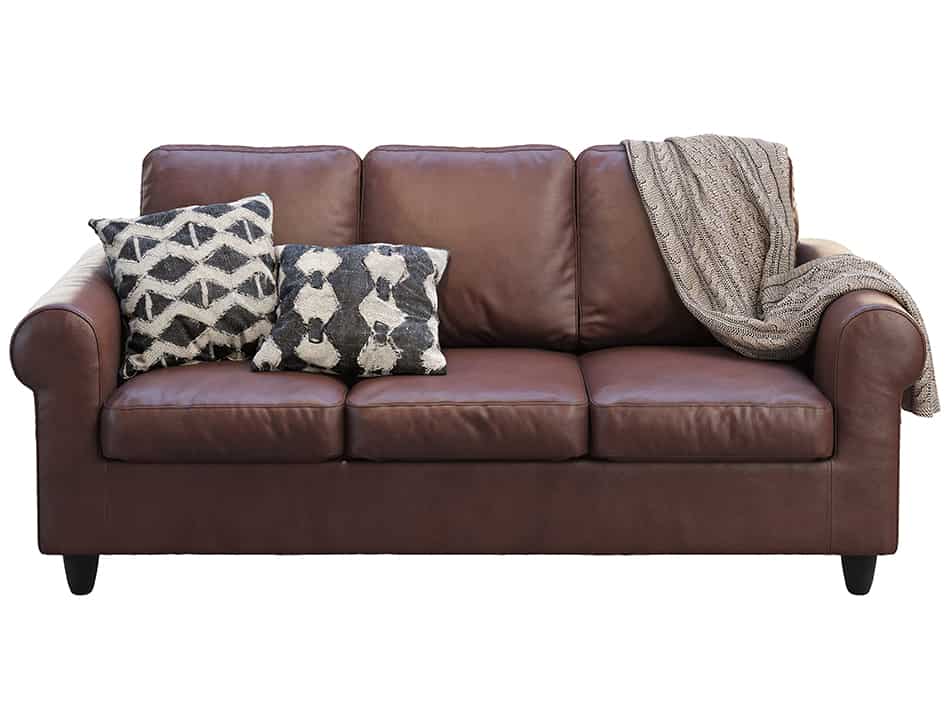 Two striking black and white throw pillows with a knitted plaid as an extra accessory for comfort are the easiest way to create a strong base on your brown couch. Place the two pillows next to each other on the one corner of the sofa and the knitted plaid on the other corner. Make sure the plaid matches the color of the cushions as shown here to set the tone for the whole arrangement. The mix-and-match throw pillows have also created symmetry as one solid print. This idea works best in white living rooms as the sofa can truly stand out in such neutral spaces.
12. Simple But Fresh Colors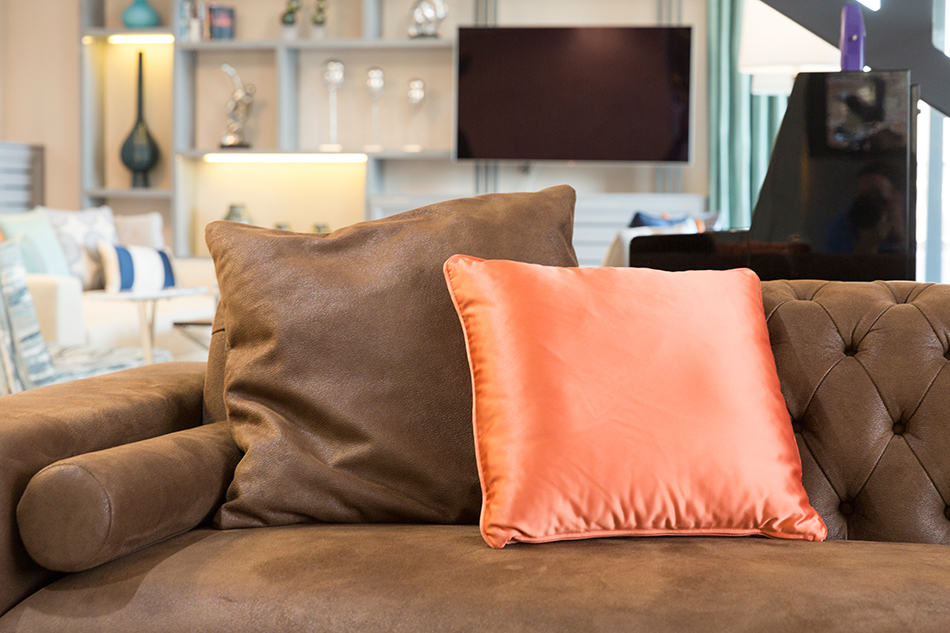 If you don't like loud colors, you can keep it simple by choosing a more polished palette like brown and orange against a brown couch. These two colors have a lot in common and make a great pairing. See how these two color combinations have reinforced this brown fabric sofa without looking out of place.
13. Two Pillows, Same Pattern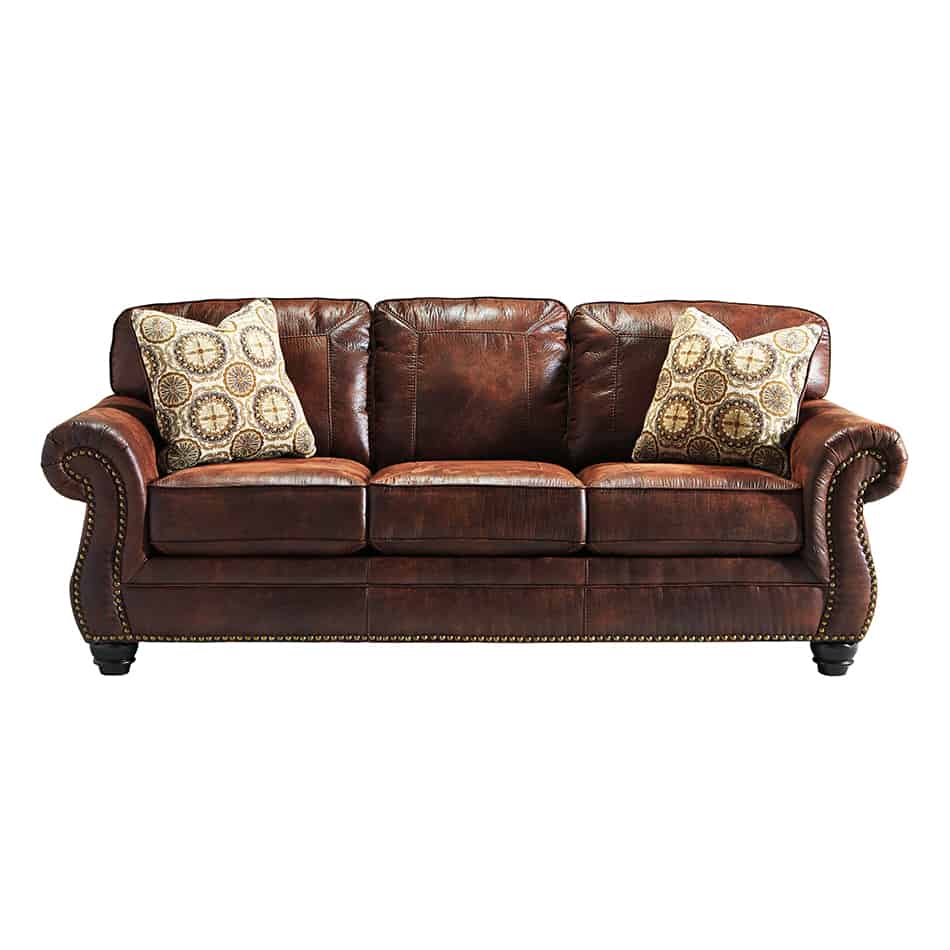 Your throw pillows are the perfect accessories to spice up your living room's seating so don't hesitate in using patterns to enhance your style and inject some personality into your interior decor. One idea is to keep the two pillows the same pattern for a truly eclectic touch. Place each pillow at either end of the leather sofa just as shown here.
14. Leather Pillow for a Retro Look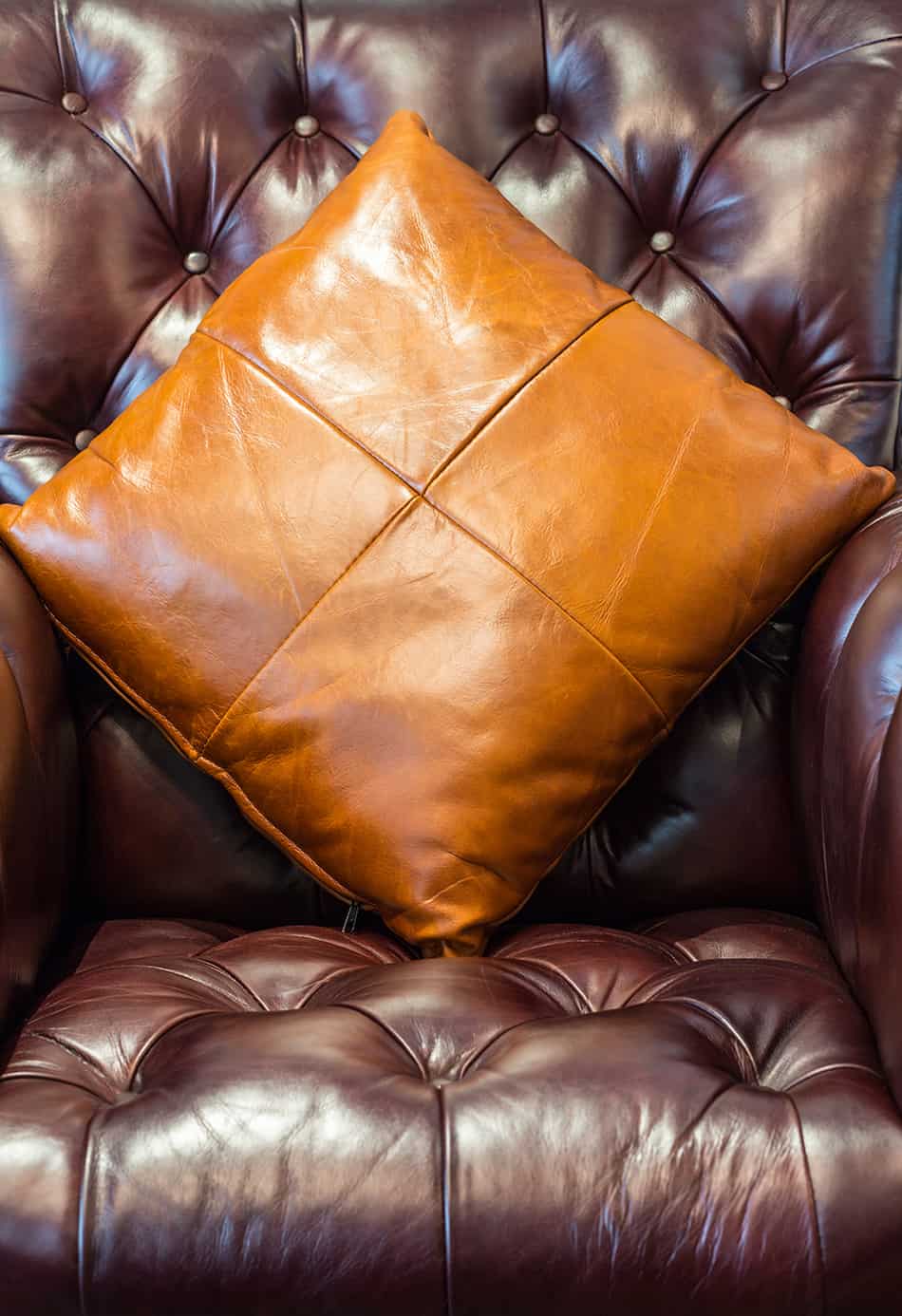 The dark tone of a brown leather sofa is considered neutral and goes perfectly with a light-color leather pillow. The focus of this Chesterfield armchair is its matching throw pillow that looks very inviting and comfortable to snuggle to and relax.
15. Mix and Match Pillows for a Vintage Sofa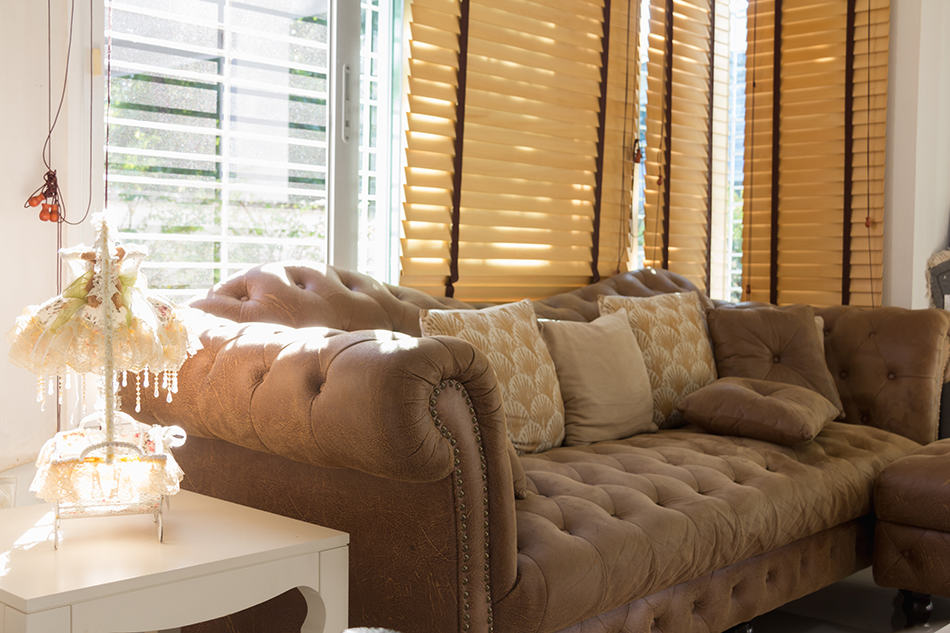 For a ultra-casual look, mix and match your throw pillows by arranging them in a non-formal way on the sofa and choosing three designs that complement one another. A good example is shown here. These luxury pillows have blended in beautifully with the room as they sit subtly on the vintage brown sofa. The three colors of the pillows perfectly match the window coverings and the rest of the room's interior decor.
16. Highlight the Yellow Throw Pillow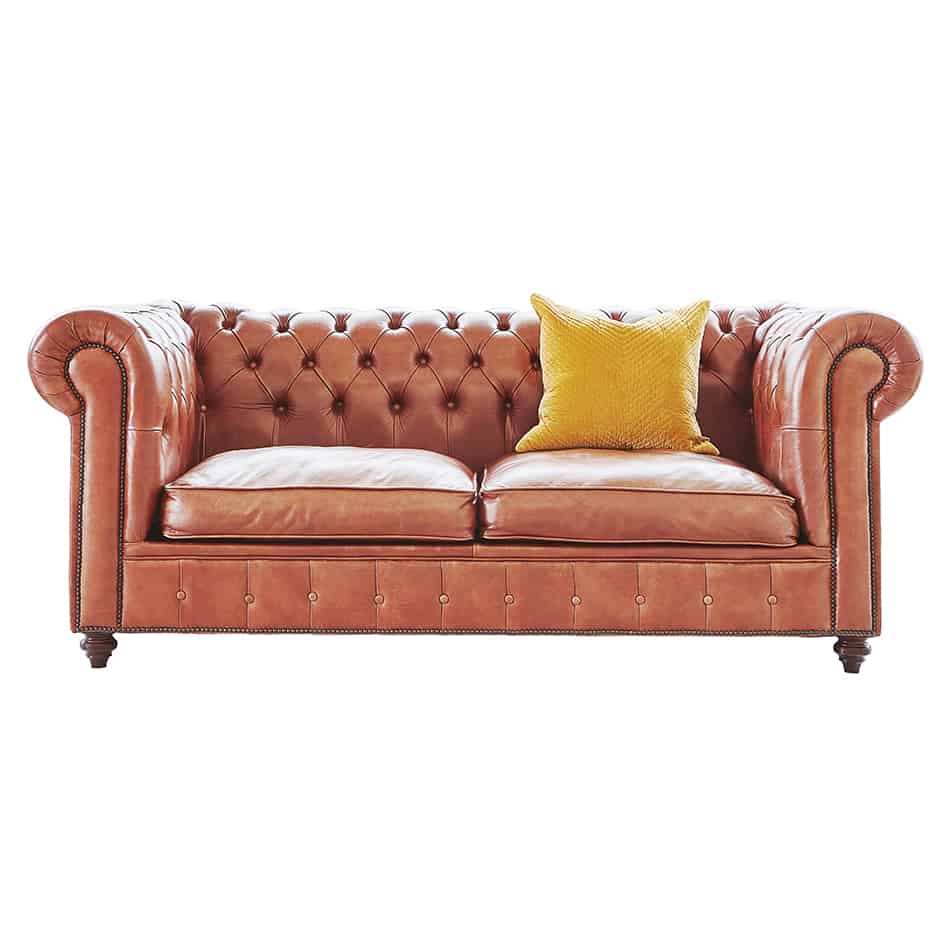 A modern living room with a vintage brown leather sofa needs an extra something to make it even more special. What better accessory to use than a single yellow throw pillow to bring the entire look together. This yellow pillow is perfectly complemented by the luxurious brown leather couch and it does a great job of standing out as a unique piece of furniture accessory.