Granite is a really popular choice of countertop surface, especially in luxury kitchens and bathrooms. Of course, it doesn't come out of the ground already in slabs, and it needs to be cut to size after it is mined to be sold on to granite retailers.
If you are interested in having granite countertops in your home, then it can be useful to know the slab size to work out how much you will need and what it is likely to cost you.
Granite Slab Sizes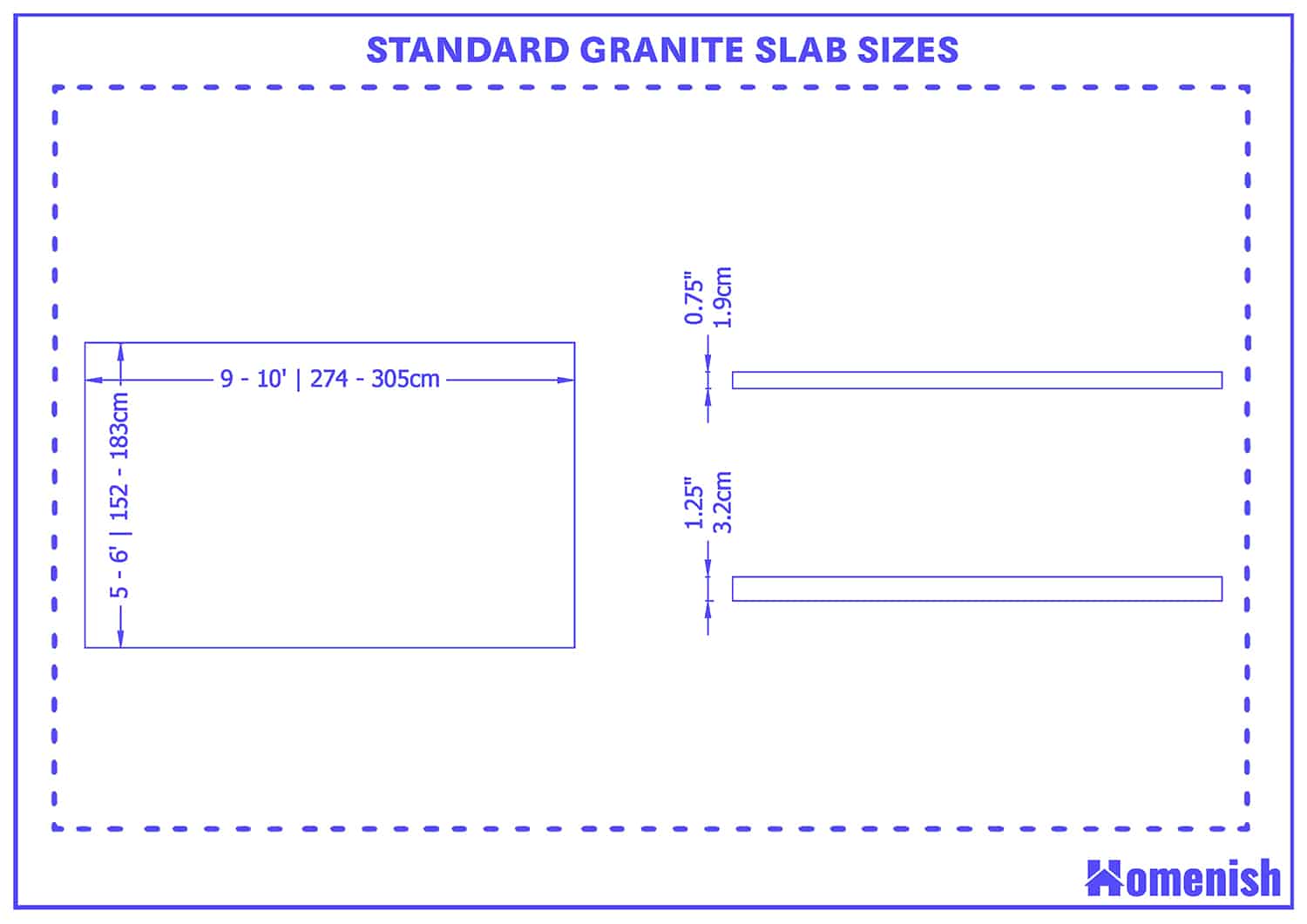 Length and Width
Granite slabs are cut to standard sizes because they are predominantly used for kitchen and bathroom countertops, and although these will need to be of various lengths, they are all typically a similar width measurement to fit standard-size kitchen cabinets.
The standard size of a granite slab is between 9 and 10 feet in length and between 5 and 6 feet in width. The exact size of a granite slab will vary slightly depending on the type of granite it is. For example, White Carrara is generally 112 inches long and 65 inches wide, while Acapulco is 117 inches long and 70 inches wide.
The width of granite slabs means that they can be used as a whole piece of countertop for a kitchen island, or they can be sliced in two lengthways to make two runs of countertop. If you have a granite slab that is 5 feet in width, then when it is cut down lengthways, you will have two sheets of granite that are 2.5 feet in width (or 30 inches).
As the average width of a countertop is 2 feet or 24 inches, this means that there will easily be enough granite to work with to make two lengths of countertop out of each slab.
The long length of granite slabs means that they can be cut down to size as needed, and for instances where a long sheet of granite is needed, there won't be any seams or joining to be done, resulting in an easier job for the fitter and a more flawless finish for the customer.
Depth
Granite slabs come in two different standard depth sizes. These are ¾ inch thick and 1 ¼ inch thick. The thicker type is most commonly used for kitchen countertops, while the thinner type may be used for bathroom vanity countertops or flooring. Some people are now also choosing the thicker type of granite for bathroom countertops because it has a more luxurious look, though it will, of course, be more expensive.
The ¾ inch thick, more shallow granite is favored by some who want a sleek and minimalist look, and therefore it can be used as a kitchen countertop. The other benefit of this is that the thinner granite will be cheaper to buy. Some people believe that the thinner granite is not as strong and recommend that it needs to have a plywood base fitted to it for support, but this is not the case.
The difference between the two thicknesses of granite is simply a matter of style, preference, and cost, but the depth measurement is not an indication of strength. If you plan to install the granite yourself, bear in mind that thicker granite is going to be considerably heavier than the thinner granite and might be more troublesome to transport or maneuver within the home.
Ensure you have enough manpower available to safely lift the granite in order to avoid injury or damage the granite.
Popular Types of Granite and Their Slab Sizes
Acapulco
This type of granite is quarried in Brazil. It is a dark gray color with swirls of burgundy and purple running through it. The slab size of this granite is 117 inches by 70 inches.
Alaska White
This is a frosty white and silver-colored marble that has bold flecks of dark gray in it. The slab size is 113 inches by 66 inches.
White Carrara
This is one of the most popular types of white granite for countertops because it has a sleek and contemporary look. It is quarried from the city of Carrara in Italy and has a white background with gray marbling. The slab size for this type of granite is 112 inches by 65 inches.
Delicatus White
This is a type of granite from Brazil which has a pale gray background and is flecked with shocks of dark gray and brown. The slab size is 114 inches by 69 inches.
Crema Marfil
This marble granite is quarried in Alicante, Spain. It has a silky cream-colored base, with subtle brown veining. The slab size is 117 inches by 62 inches.
Juparana Ming
This granite is quarried in the Shandong province in China. It has a beige tone with golden yellow streaks running through it. The slab size is 114 inches by 65 inches.
Granite Slab Cost
Standard granite slabs typically cost between $40 and $80 per square foot, but this does not include the cutting or installation cost. Cutting the granite to size for the average kitchen will cost around $400, and labor for installation tends to run between $30 and $60 per hour, depending on your location and the company you choose to use.
A kitchen countertop will usually be installed in one or two days, so installation costs could run anywhere from $300 to $1200. If you choose a rarer type of granite, then costs will rise dramatically. Blue granite typically costs between $80 and $100 per square foot, but for very high-quality pieces, you could be looking at as much as $300 per square foot.
Van Gogh granite is one of the most expensive types of granite. This is quarried out of Brazil and is reminiscent of the Van Gogh painting 'The Starry Night,' with swirling blues in various shades, as well as streaks of gold and pale gray. This showy granite goes for between $300 and $400 per square foot.