If you like the appearance of marble but can't afford this material for your kitchen countertop, bathtub or backsplashes, then you might want to know about a cheaper alternative. Cultured marble is a much more affordable option and looks similar to real marble. By learning how to cut cultured marble using the right tools, you can install this great material in your home without worrying about costs. Here we will compare the similarities and differences between cultured marble and real marble as well as reveal the best tools to cut cultured marble.
What is Cultured Marble?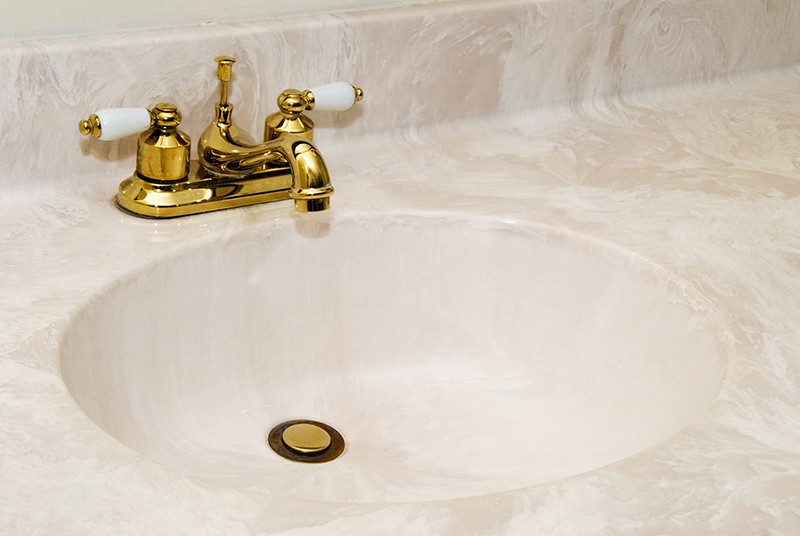 Cultured marble consists of real stone particles and resins with a combination of dyes to create different colors and patterns. Unlike quarried stone, cultured marble is made in shaped molds to create panels for sinks, kitchen countertops, backsplashes, bathtubs, shower walls and pans among others.
These shaped molds are lined with special gel coatings that bond to the resin and stone particle mixture, thus creating transparent and very hard surfaces. Once these pieces are cured, they are taken out of the molds and polished to give a matte or shiny finish, depending on preference.
Because cultured marble products are cast in molds, they can be created in numerous shapes, edge treatments and sizes. The final product is a non-porous material that won't require grout lines or much maintenance unlike stone tiles. This means you can enjoy a grout-free and low-maintenance option for your shower, bathtub or kitchen by choosing cultured marble.
What is the Difference Between Cultured Marble and Real Marble?
Real marble is a luxury natural stone quarried from mines whereas cultured marble is a manmade piece even though it's closely related to real marble. This is because cultured marble is made from a blend of natural marble and synthetic dyes and resins. Its manufacturing process is comparable to onyx and quartz countertops. However, cultured marble has many more uses than the previous counterparts.
Other differences between real marble and cultured marble include:
Real marble is more expensive
Real marble countertops don't have backsplashes or integrated sinks
Real marble requires sealing whereas cultured marble is seamless
Similarities between real marble and cultured marble include:
Both materials are prone to stains, scratches and cracks
Both require routine cleaning
In case of damage, both can be restored or repaired
Cultured marble countertops always have integrated sinks and backsplashes in the same pattern and color. There are no caulking or seams; just a thin edge and flat underside.
Genuine marble countertops, on the other hand, have under mounted sinks and require caulking or grouting to seal around the backsplash or sink sections. There are no consistent veins or coloring as this is a natural stone material with the same pattern and color on the underside.
When you choose cultured marble over natural marble for your remodeling or home improvement project, you will save money without sacrificing the aesthetic and design of your project. Cultured marble is one of the most affordable and stylish options available on the market. In fact, such countertops cost just one third of the price of real marble countertops but with tougher durability. This makes cultured marble a top pick for homeowners.
Choosing the Right Tools to Cut Cultured Marble
There are many tools that can cut cultured marble, from jigsaws to circular saws for kitchen countertops. Regardless which tool you choose to cut cultured marble, you'll need to place a diamond or carbide blade on the machine in order to properly cut through the product. All the tools and supplies we'll be mentioning here can be purchased from your local hardware store. Keep in mind that the area you'll be installing the cultured marble will determine the type of tool you need to use. For example, if you're installing a countertop in your kitchen, it's best to use a circular saw. For a sink, use a jigsaw, and a router can be used to smooth the edges.
For shower pan areas or bathtubs, a jigsaw and router are the most commonly used tools because of their ease of use in tight areas. But by far the safest way to cut through a cultured marble countertop is to use a circular saw or grinder. You may even use an angle grinder or fit a grinder blade on your circular saw. An angle grinder is a particularly useful tool for cutting the sink hole along with a circular saw to cut the straight line and shorten the countertop.
Cutting Cultured Marble in 5 Steps
What you'll need:
Goggles
Gloves
Dust mask
A work table or bench
Measuring tape
Marker pen
Sandpaper
Towel or sponge
Clamps
A grinder or circular saw
Follow this step-by-step guide to get the best results:
Step 1: measure the piece you intend on cutting. Use a marker pen to plan out your cuts on the bottom side of the piece.
Step 2: turn the piece of cultured marble upside down where the pencil marks show and prepare for cutting by securing the piece to the work bench using clamps to hold it in place.
Step 3: now use your circular saw or grinder to cut along the pencil lines. To avoid damaging or splinting the piece, make sure you use a diamond or carbide masonry blade.
Step 4: to smooth the cut edges, use a 60-grit sandpaper so it doesn't leave any scratches.
Step 5: after you've successfully cut the cultured marble piece and smoothed down the edges with sandpaper, you can wipe the cut piece with a wet towel or sponge.
For a live demo, watch this video on how to cut cultured marble:

Conclusion
Knowing how to cut cultured marble with the right equipment will save you time and money. A circular saw or grinder fitted with a masonry blade will safely cut through the culture marble piece with utmost precision. After installing your cultured marble countertop or backsplash, you'll be happy to know that it won't require any resealing or grouting unlike real marble pieces.