When it's time to remodel your kitchen, most people start with the cabinets first since they take up around 85% of the space. If you have already set your hearts on brown countertops for your kitchen and you want to coordinate them with the best cabinet colors, you've come to the right place.
In this guide, we'll show you a series of excellent examples of cabinet colors that work with brown countertops to make the selection process easier for you.
But first, let's quickly delve into the different undertones of brown countertops in order to match them with cabinet colors.
How to Match Brown Countertops with Cabinets
Matching your brown countertops with cabinets depends on the undertone and pattern of the countertop. For example, brown granite works best with darker cabinet colors, such as matte black.
Brown marble countertops, on the other hand, often have a yellow undertone, thus making them a perfect match with light brown cabinets. Solid brown countertops with no undertones are a good match with gray cabinets. In this case, brown serves as the primary color.
Brown countertops can have many undertones, such as gray, black, yellow, gold, or red. When coordinating your countertop color with the cabinets, you should first determine the brown's undertone as well as the design elements you're after for your kitchen.
With that in mind, let's now take a look at some excellent cabinet colors that complement brown countertops:
7 Cabinet Color Ideas that Work with Brown Countertops
White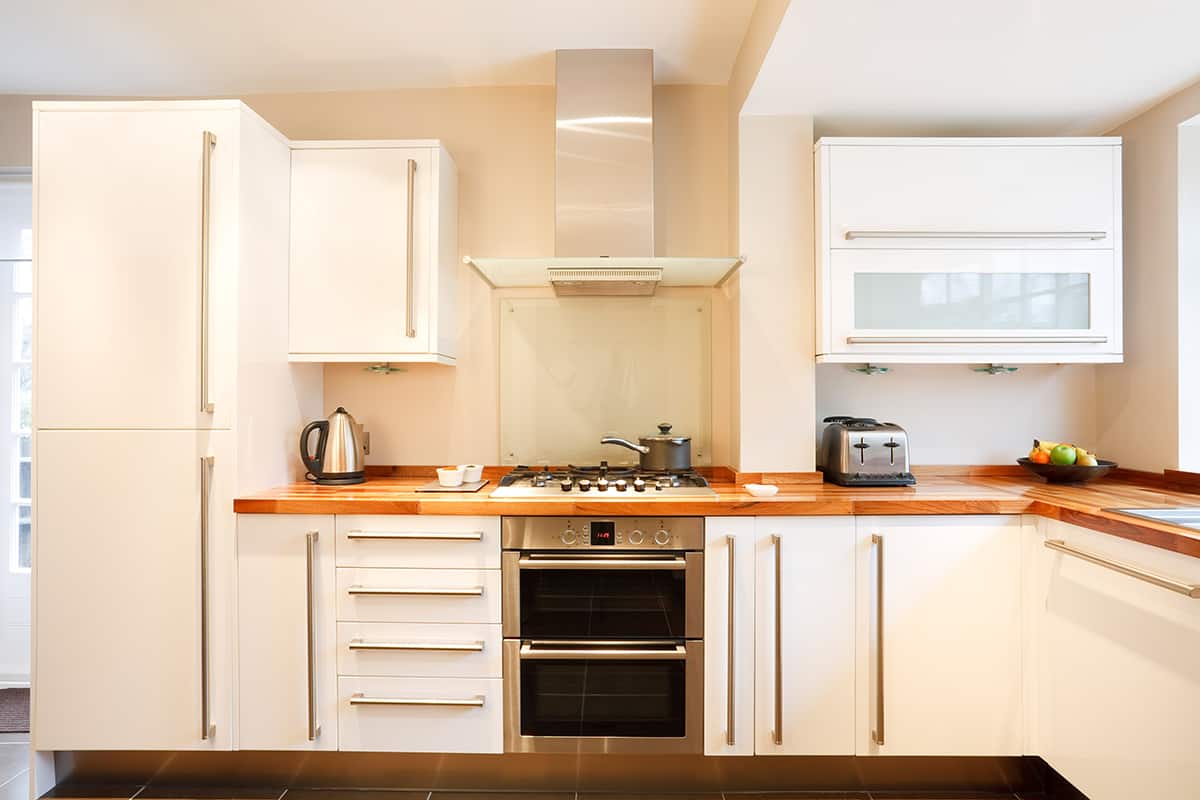 For a modern kitchen design, the perfect cabinet color that goes with brown countertops has to be a bright white shade. This is a versatile combination with minimal effort to achieve a clean, bright look.
White cabinets aren't just highly sought for modern kitchens; they are also ideal for traditional wood kitchens with brown countertops. This color combo allows you to bring balance to the space by pairing the cool white with the warm brown.
Here is a great example of light brown wood countertops with white cabinets and matching appliances to create a modern kitchen.
Cream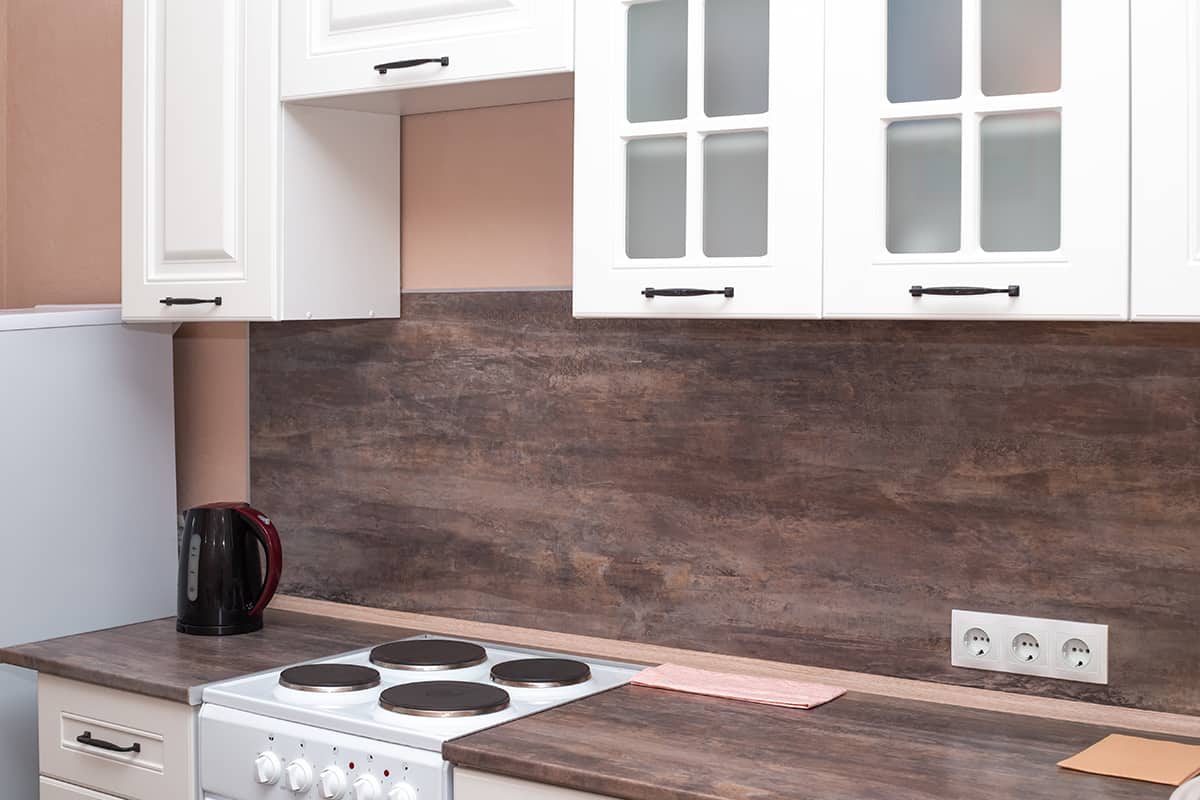 For a softer cabinet color alternative, pair your brown countertops with cream cabinets. This time, you can opt for darker brown instead for a rich and divine look.
Cream is a bright and cheery color, which gives any kitchen an interesting dynamic. This color combination is especially ideal for small kitchens like the one shown here.
Whether your kitchen is rustic or modern, creating some contrast between the countertops and cabinets helps brighten up your kitchen.
Moreover, cream-colored kitchen cabinets do a great job of reflecting light, thus they are a perfect choice for darker brown countertops. The balance between the dark and light tones works nicely as per this photo.
Gray
Another popular neutral color for cabinets is light gray. This is a timeless cabinet color thanks to its simplicity and numerous shade options that can be used with brown countertops.
The combination of light gray with brown is ideal for modern kitchens. We recommend brown granite as shown here for extra shine. Since gray is such a popular cabinet color, it works with many other color palettes. You may choose light to medium gray hues as they go very well with light brown granite countertops, like the photo here.
Black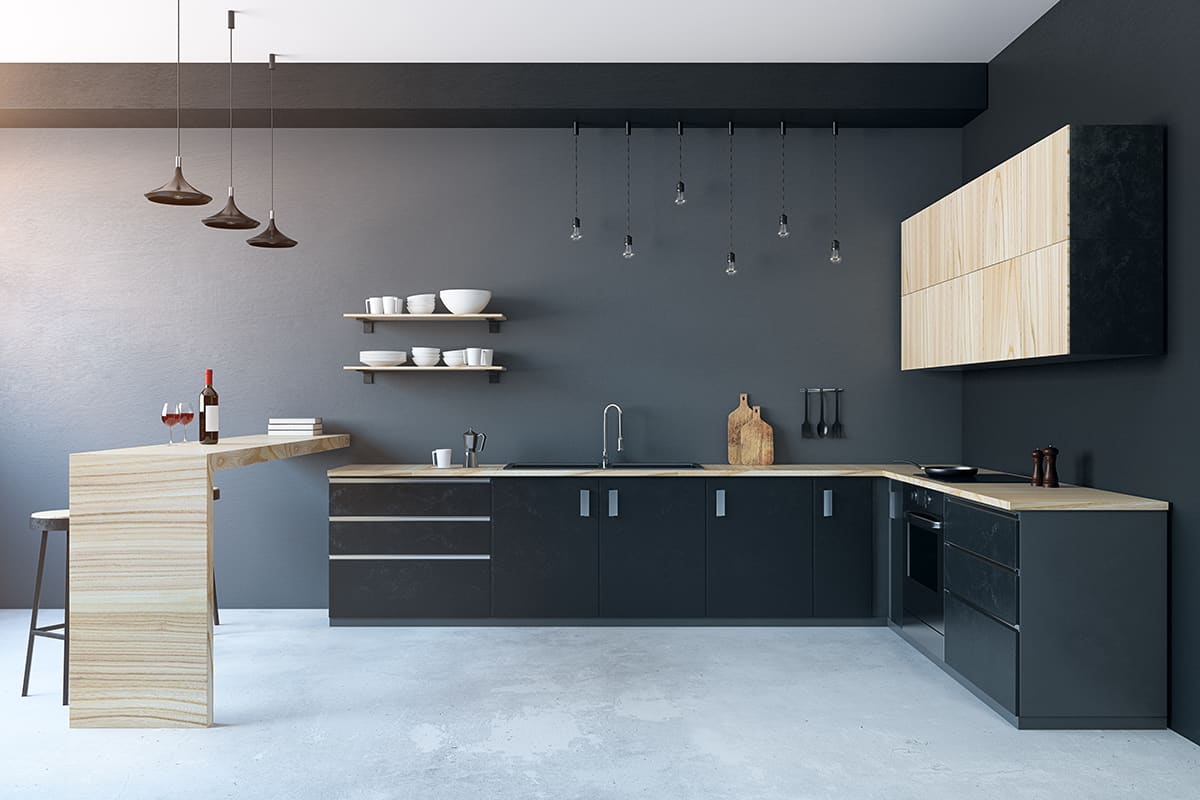 The idea of black cabinets with brown countertops may not have crossed your mind, but in a modern style kitchen with plenty of natural lighting, this combination can actually look elegant.
For a slight variation, you may even go for charcoal gray or black cabinets instead of jet black. The lovely dark vibe in such kitchens will without doubt create a dramatic statement as you can see in this example.
To make your brown countertops stand out against the black cabinets, opt for light-colored flooring. You can still paint the walls a bold color if you wish like the photo here. On the other hand, if you want your black cabinets to stand out, paint the walls a light, neutral color like white.
Natural Wood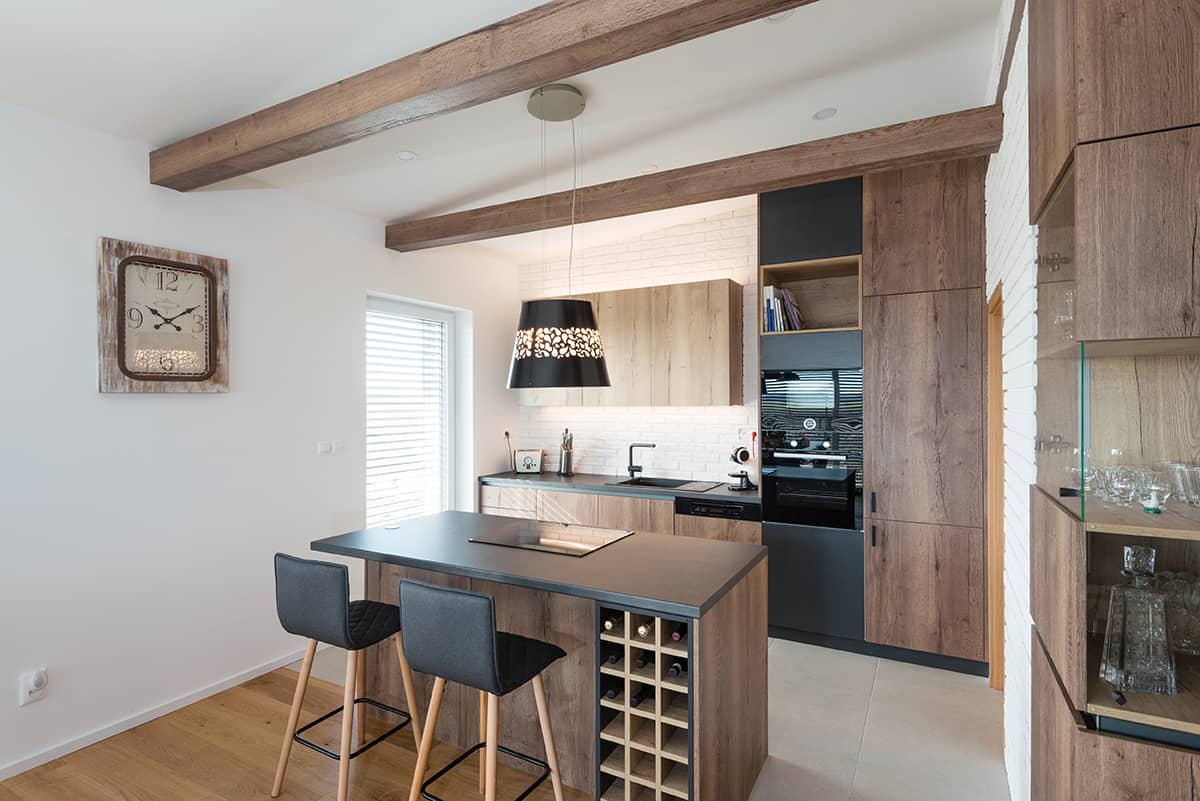 Stained natural wood cabinets always go well with brown countertops in both modern and traditional kitchens. After all, wood and brown go hand in hand as a timeless interior design trend.
If your cabinets are stained in mid-toned brown, they will look beautiful with a darker brown countertop as shown here.
But just because you've opted for a monochromatic color palette, it doesn't mean the rest of your kitchen has to be in brown. Paint the walls beige or white to highlight your brown wooden cabinets and countertops.
Dark Brown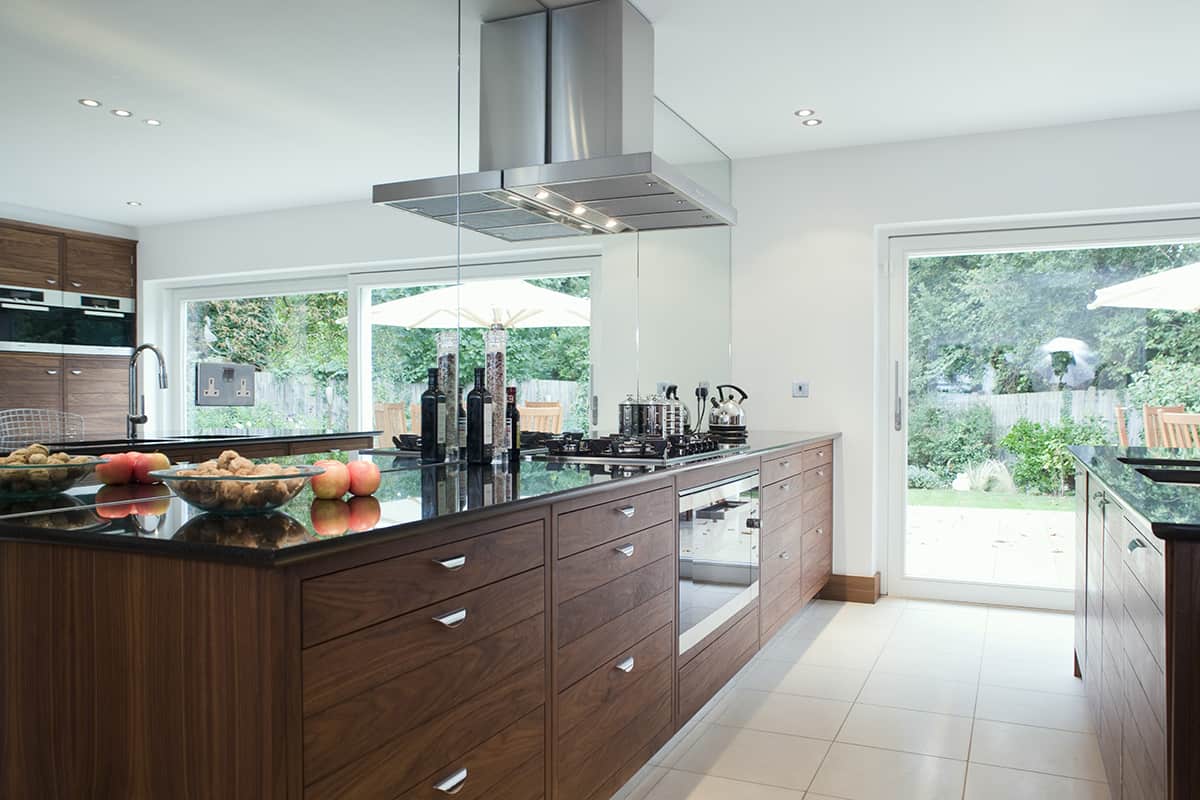 While neutral cabinet colors look stunning with brown countertops, there are dark brown with golden undertones that are just as beautiful.
For example, espresso shades truly shine next to edgy brown countertops as you can see here. This modern kitchen features espresso wooden cabinets with dark brown countertops. This color palette allows you to add stainless steel appliances as the most suitable combination. Note, dark cabinetry usually works best with neutral-colored countertops.
However, in kitchens with plenty of natural light, you can safely use this color scheme without making your space appear dark or heavy.
If the idea of dark brown cabinets with brown countertops seems overwhelming, you can always pair your brown countertops with a golden shade of brown or beige instead.
Add colorful backsplash tiles to the mix for a dramatic effect. In kitchens with high ceilings, dark cabinetry colors can stand out rather than look bland, so if you're fortunate to have an open-plan kitchen with high ceilings, try this color palette.
Green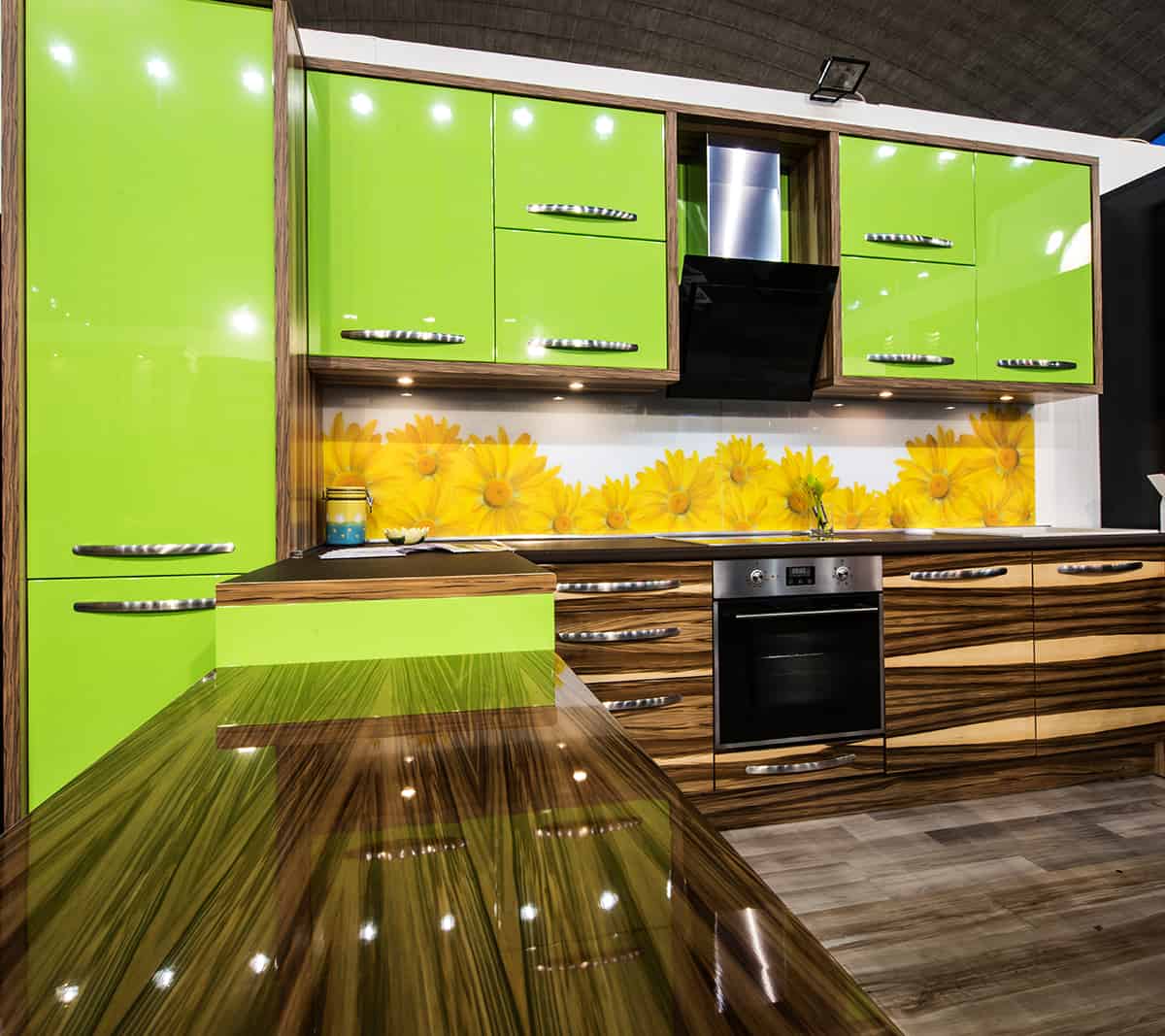 The final cabinet color idea we recommend with brown countertops is a bright shade of green like apple or pistachio. Green and brown are both earthy hues with warm undertones so it makes sense to use them in a modern kitchen.
This color pairing is visually interesting and definitely unique. You can instantly grab attention whilst enhancing the overall aesthetic of your kitchen interior.
In this example, the shiny green cabinets look stunning with the shiny brown countertops without appearing too stark. The two colors help create a cohesive design and draw everything together nicely. This combination is perfect for those seeking a trendy and eye-catching kitchen design.
Why Choose Brown Countertops
While it's true that lighter countertops are the preferred choice for homeowners, brown is increasingly becoming popular, especially in darker tones. There are pros and cons with brown countertops, some of which are:
Brown is a warm, inviting color: a kitchen with brown wood or granite countertops feels more welcoming as this is an earthy, warm tone.
Brown countertops are versatile: many kitchen cabinets, backsplashes and flooring colors can be paired with brown countertops without either one overpowering the other. Thanks to its versatility, brown is considered as one of the safest choices for countertops.
They add charm and character to your kitchen: with brown countertops, it's super easy to create a focal point in your kitchen and boost its character. This is especially true in the case of brown granite countertops as they are highly sought and impactful looking.
Easy to clean and maintain: to keep your brown countertops well-cared for and shiny, all it takes is some lukewarm water, soap and a soft cloth. For best performance, seal the countertops once a year.
So far, we've discussed the advantages of brown countertops, but just like everything else, there are also some downsides. These are:
Fingerprints or marks are more visible on darker tones: if you have dark brown granite or marble countertops, you're more likely to see grease marks or fingerprints on the surface. But just like you would clean any other countertop, you'll need to clean your brown countertops more often.
Too much brown can look boring: to allow your brown countertops to highlight their true character, avoid pairing them with too much brown.
Whilst there is nothing wrong with a monochromatic design, you may cause your kitchen to appear bland. Incorporate other pops of color into your chosen palette to prevent a monotonous look.
Conclusion
When paired with attractive cabinet colors, brown wood or granite countertops can enhance the character of your kitchen. This versatile, earthy color can be mixed and matched with just about any other color for a homely feel, including green, cream and brown hues.
We hope our tips on how to match your cabinets with brown countertops as well as the list of color ideas have inspired you to pick the right cabinet colors to complement your brown countertops.