Granite is a popular kitchen countertop material because of its durability. The natural stone is resistant to cracking, scratching, and burning, which makes it ideal as a kitchen countertop.
Brown granite, in particular, has the added appeal of hiding imperfections well, thus making it an especially good choice for rental homes. This versatile countertop material comes in many patterns and shades, which leaves you with numerous options for pairing it with bold or neutral kitchen color schemes.
When it comes to deciding what color walls work with brown granite countertops, you should first consider the undertone of your brown stone. Some brown granite countertops contain patterned shades with cool gray undertones. This enables you to pair them with neutral colors like white, cream, or beige.
Read on for more ideas on wall colors that go with brown granite countertops:
Beige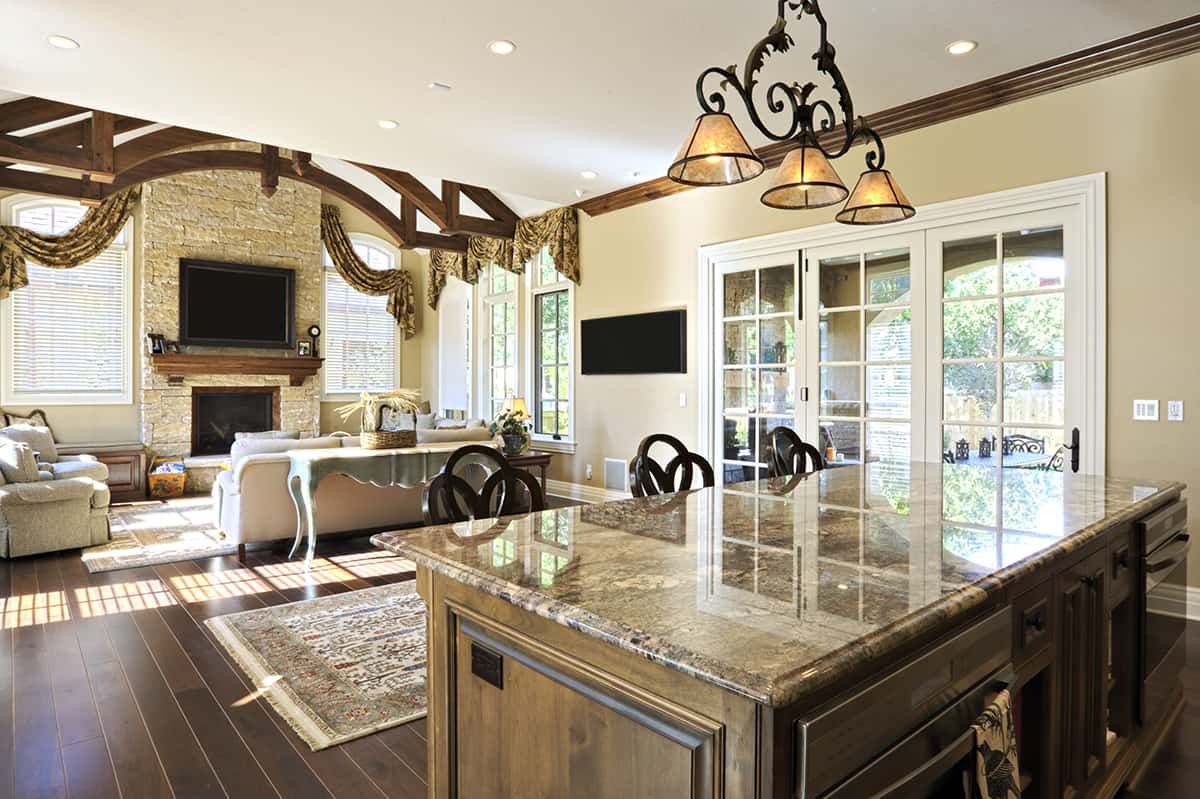 Beige is a subtle paint color that works very well with brown granite. Since brown and beige are from the same color family, it's not unusual to find this color pairing in kitchens. Beige is a harmonious color, while brown brings added warmth to the space. This combination is ideal for traditional kitchens with a large, open-plan layout.
Pale Yellow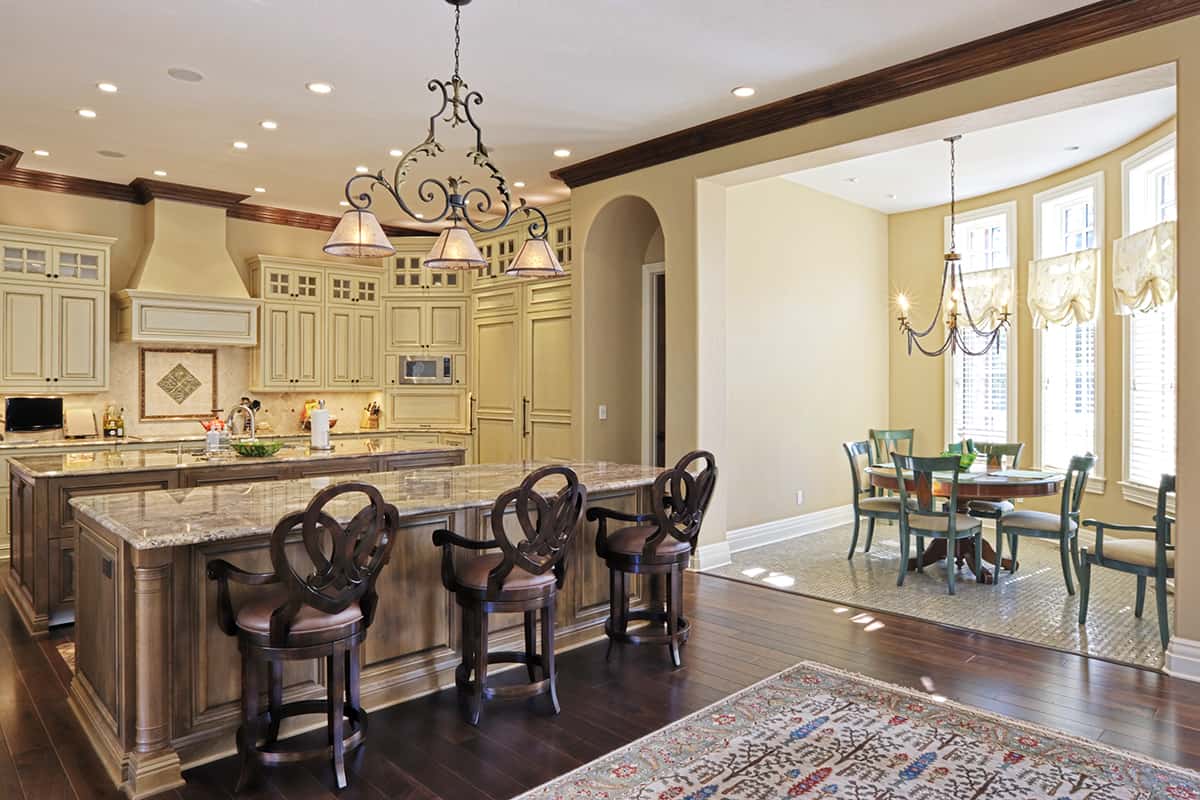 For a pop of color in your kitchen, how about painting the walls a pale shade of yellow to go with brown granite countertops? You can complement this warm-toned color combination with matching curtains or accessories. Using yellow and brown will make your kitchen feel more inviting. But it all depends on the shade of yellow you choose.
A striking muted or pale shade like mustard goes best with brown granite as these two colors create a cozy space when paired together.
Light Brown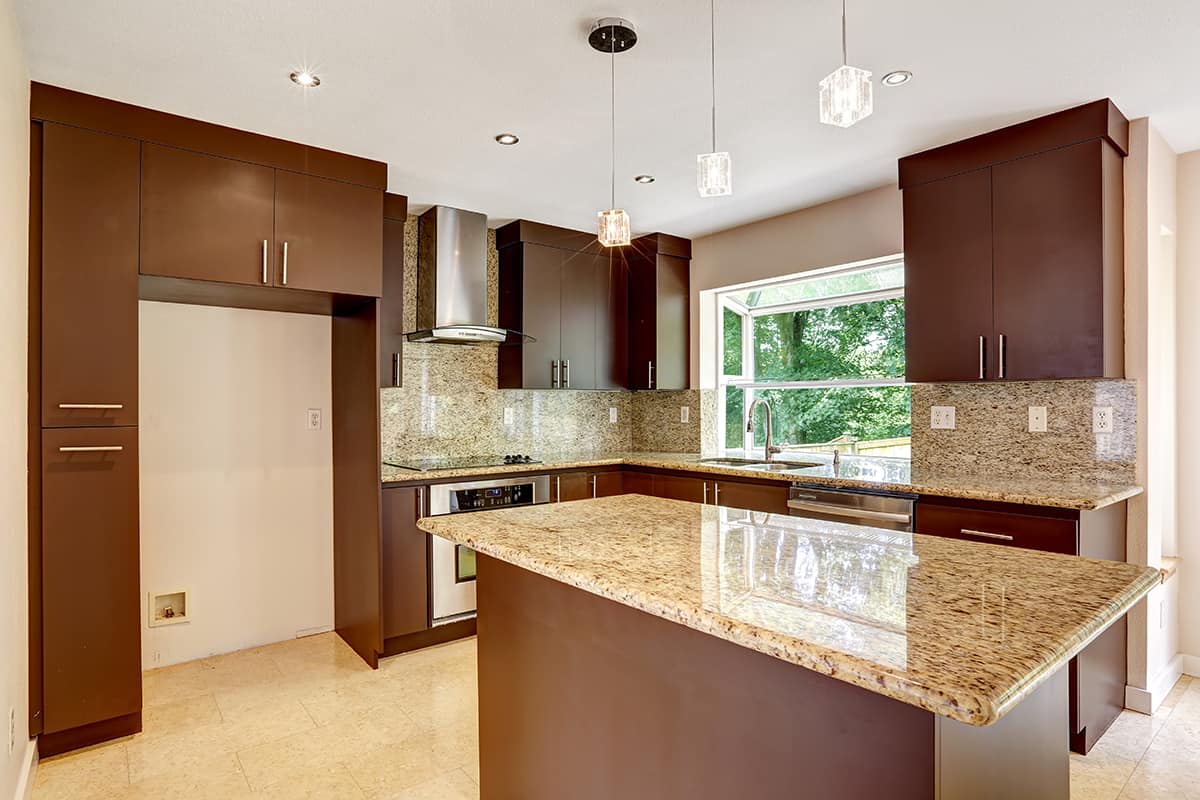 Granite countertops are never a single color. Brown granite, in particular, can consist of various shades, so you can use this to your advantage and paint your walls a light shade of brown.
This approach will make your brown granite countertops dominate the kitchen, with the light brown walls serving as a beautiful backdrop. To integrate the rest of your kitchen design with your countertops, consider adding cabinets in a deep shade of brown as shown in this modern kitchen example.
Cream or White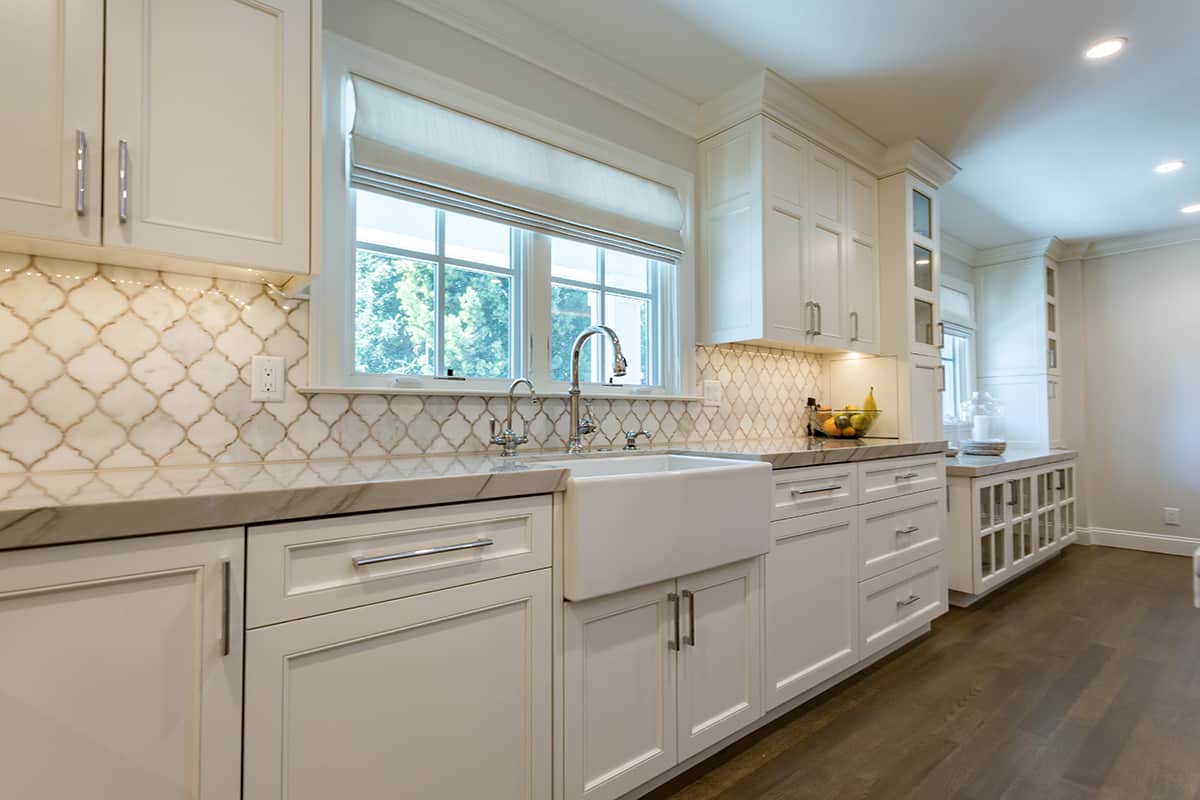 White is a symbol of cleanliness and peace. It is often used for brightening up dark or small rooms. In a kitchen with brown granite, the most popular wall paint color is white or cream. So if you're after a bright and airy space, white or cream walls are the perfect option next to the warm, earthy tone of brown granite.
Whites and creams both share brightening qualities as they reflect natural light. By combining them with brown, you can bring added warmth to your kitchen. In addition, whites and creams visually expand the room's depth, making your kitchen appear larger than it actually is.
When paired with brown, the contrasting white or cream walls bring out the natural depth of your countertops. This means your guests will instantly notice your brown granite countertops as the cream or white walls draw the eye toward them.
More Colors that Go with Brown Granite
Light Blue
Just like white, a cool-toned blue shade will draw light through the room and highlight the brown granite countertops. Shades like turquoise, aqua, and sky blue are particularly attractive to pair with brown as they can make your kitchen feel calmer and more stylish. By combining a cool-toned blue with warm brown, you can be sure of creating a harmonious kitchen design that doesn't look mismatched or busy.
Perhaps the biggest reason light blue goes so well with brown is the fact that both of these colors are earth-toned. Brown is associated with nature, while blue is with the sea and sky. By pairing these two colors together in your kitchen, you can create a calming and natural look.
Navy
Where a light blue wall draws the eye directly to the brown granite, navy will do the opposite; it steals the limelight from the countertops. Navy is a dominating color that can serve as a focal point of the room. So if you want your walls rather than the countertops to stand out in your kitchen, consider painting them navy.
This dark blue shade adds a sense of dimension to the kitchen, but only use it if your room has considerable natural light. Otherwise, the navy walls will visually shrink the space.
If your kitchen is large and receives plenty of natural light, you should still not go overboard with navy. Since this blue shade is close to black, it can overwhelm the space and make your room smaller. Use it in moderation by painting just one of your kitchen walls (the closest wall to the brown granite) in this shade.
Gray
Gray is a contrasting color to brown, but that doesn't mean you can't pair this cool-toned color with your brown granite. If your brown kitchen countertops have a gray undertone, the gray walls will harmoniously pull the entire space together without either one looking out of place. While gray isn't the most exciting color, it doesn't have to be bland.
Go for the warm-toned Repose gray as this shade has a subtle brownish-taupe undertone. Alternatively, you can paint your kitchen walls greige, which is a blend of beige and gray with a warm undertone. When paired with grayish-brown granite, you can create an ultra-modern and stylish kitchen using this neutral paint color.
Orange
For many, this might be a surprising paint color for a kitchen with brown granite. But we can't ignore the fact that orange is a warm-toned color just like brown. These two colors perfectly work together, with orange taking the vibrant side and brown granite as the earthy color. When used together, the two colors will create a stunning contrast in a traditional or modern kitchen.
That said, we don't recommend painting all your walls orange. Use it as an accent color and pair it with an orange backsplash. This fun and vibrant color is often seen in Mediterranean-style kitchens with brown granite countertops.
Why Choose Brown Granite?
Granite is the most popular natural stone in both residential and commercial buildings, including catering establishments. While there are many colors to choose from, brown granite is by far the most preferred color thanks to its warm, rich undertone. So if you want to add an earthy, trendy look to your kitchen, you can include brown granite in your room's design.
Some advantages of brown granite include:
Durable material: granite is a natural stone material that withstands moisture and daily wear and tear. This stain-resistant material is ideal for kitchens and bathrooms thanks to its high durability.
A versatile color: as a highly adaptable material, brown granite can easily blend with both traditional and contemporary designs. Since brown is a mid-toned neutral color with a uniform appearance, it can be combined with almost any other paint color.
A timeless look: granite has a natural elegance that allows you to blend it with many different decor styles. The high-end look of brown granite never goes out of fashion, so you won't have to change your kitchen design every so often to keep up with the latest trends.
Tips on Coordinating Paint Colors with Brown Granite Countertops
When you're coordinating paint colors with your granite countertops, it is important to pay attention to the undertone of the stone. Fortunately, with brown granite, your task of coordinating paint colors is easier than with black or white. Here are some tips that should help you choose the right paint colors:
– The ceiling, cabinetry, and wall colors should all be considered when pairing them with brown granite. Opt for neutral colors as they won't steal the spotlight from your granite countertops.
– Since brown granite is a versatile color, it will complement both bold and neutral hues. But if you're unsure of what paint colors to choose, stick to neutrals for a cohesive look in your kitchen.
– You may also mix and match paint colors to complement brown granite. When doing so, use matching shades in light or dark tones for an elegant look.
– For more modern kitchen designs, stick with cream, ivory, or white. These bright neutrals are popular and appealing, plus they prevent your brown granite from looking old-fashioned.
– For those who want to go bold with their kitchen design, try painting one of the walls a deep shade of red or a bright orange hue, with the rest in pale gray for a dramatic contrast.