When choosing a backsplash, you should consider the color of the countertop, as well as the color of your cabinets, to make sure it all coordinates. A backsplash does not need to be darker than the countertop, and in fact, in most cases, a lighter backsplash is the most popular choice.
You can get creative when choosing a backsplash color and inject some of your personality into the design or opt for a neutral backsplash for an elegant look. Here we look at backsplash choices in relation to the countertop color.
A kitchen backsplash doesn't need to be darker than the countertop, but it can be if you wish. This can create a nice contrast in the room, and dark backsplashes also have a practical benefit because they tend not to show dirt or splashes from food preparation as obviously as lighter-colored backsplashes.
The color of the backsplash you choose can be lighter, darker, or even the exact same color as your countertop. The choice you make can affect the style, the atmosphere, and the mood of a room, so consider your options wisely when thinking about a new backsplash color.
Contrasting Backsplash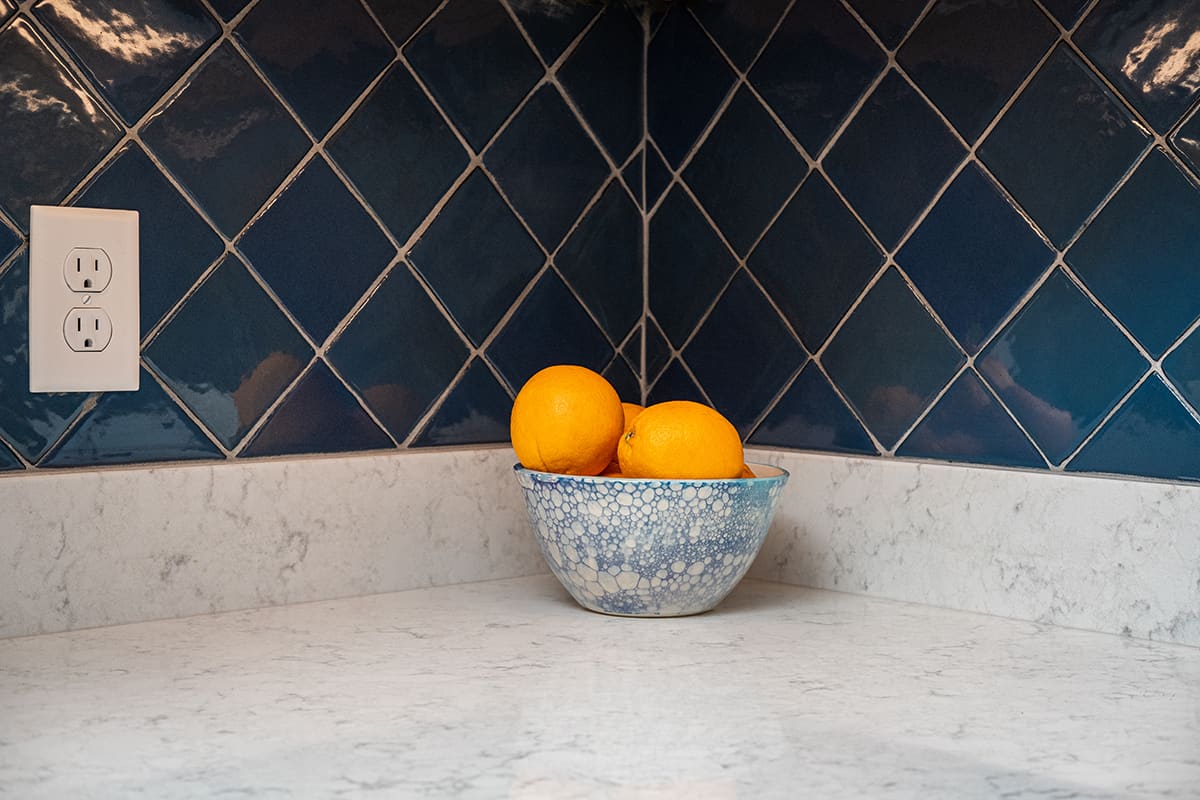 Choosing a backsplash color that contrasts your countertops will make a statement in your kitchen. It will draw the eye to this area of the room and add interest to the space. When creating contrast, you can choose how deep you want the contrast to be.
A stark contrast would be two opposing colors, for example, a black countertop with a white backsplash. This will make the most impact which will work for some styles, though some people may find it too intense.
For a milder contrast, you can choose one color in two different shades, for example, a dark beige countertop and a lighter beige backsplash. This makes for a more subtle, tonal contrast that the eye adjusts to more easily, and therefore it creates a more soothing look compared with stronger contrasts.
Matching Backsplash
A popular look in contemporary kitchens is to exactly match the color and shade of the backsplash to the countertop. You could use two different materials to create a textural appeal, for example, a white quartz countertop and a white stone backsplash. This will create a stylish look that is sleek and modern.
There is also the option of using the same material for both the countertop and backsplash. This could, for example, look like a brown marble countertop and sheets of brown marble fixed to the walls for the backsplash. This creates a seamless look that works well in minimalist kitchens where you want to keep different colors and patterns to a minimum.
Another way you can match your backsplash to your countertop is to use the same material but in a different configuration. For example, choose a gray marble countertop and gray marble tiles applied in a herringbone pattern. In this way, you can achieve a look of continuity while still adding subtle interest to the design of the room.
Light Backsplash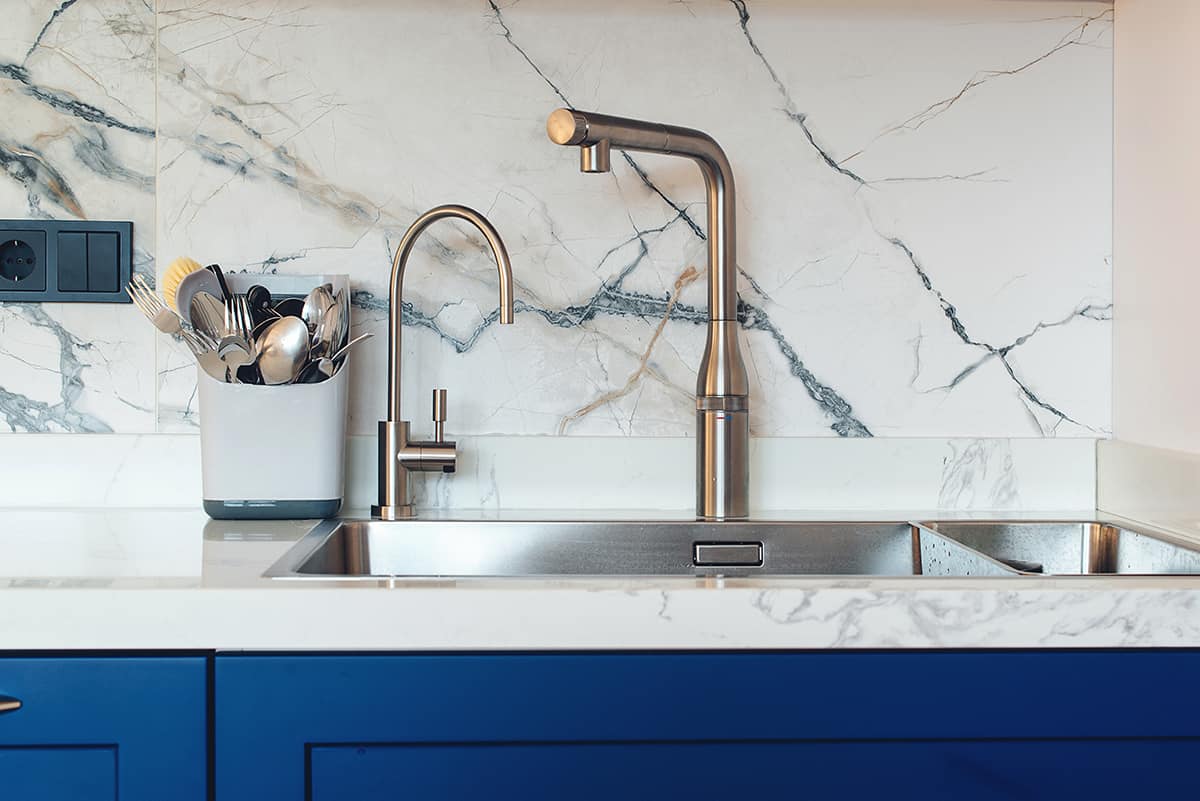 Light-colored backsplashes are a popular choice, in the same way that light wall paint colors are typically more popular than dark wall colors. A light backsplash will reflect light and help to make the room feel more spacious and achieve an open and airy feel.
The choice available in backsplash tiles and surfaces is extensive, so you can personalize your color choice to perfectly suit your tastes, or choose a neutral shade if you are likely to sell your home in the future so that it will appeal to a wider audience.
Dark Backsplash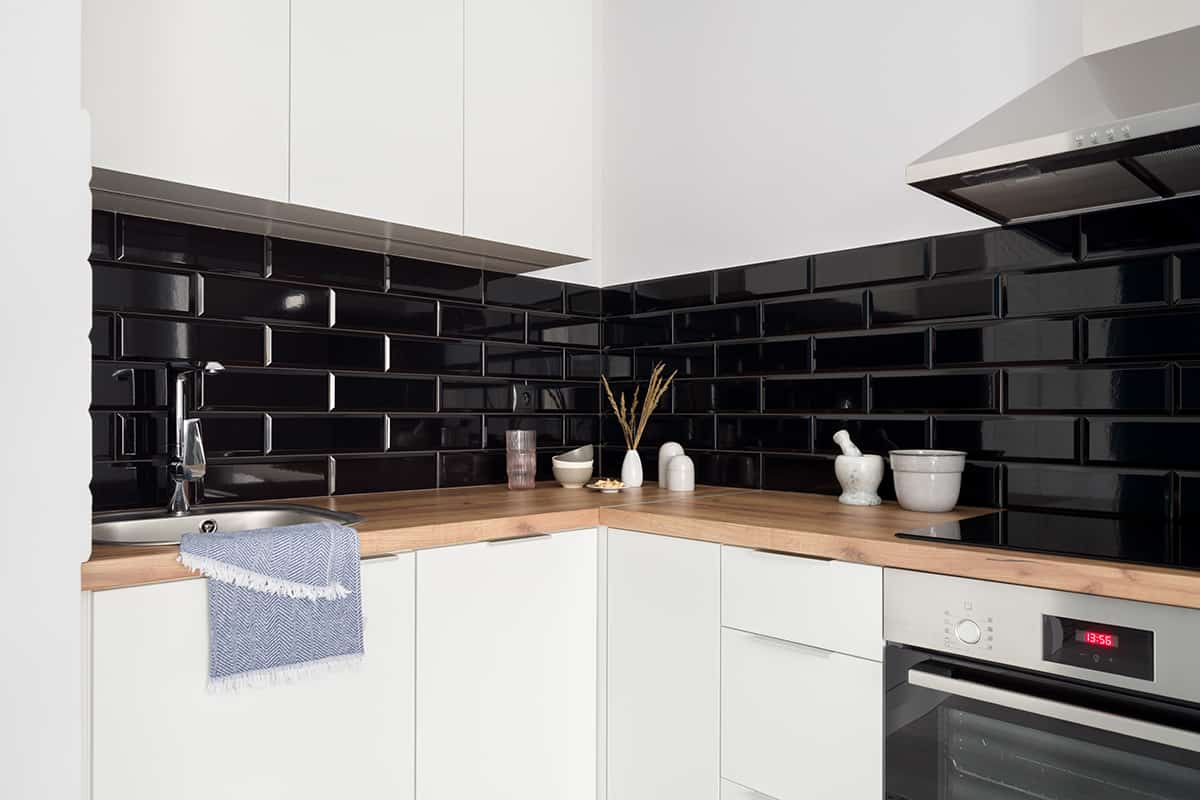 A dark backsplash can be very effective at achieving a dramatic or intimate feel in a kitchen. If you want a dark-colored backsplash but are concerned that it will make the room feel too dark or small, the trick is to choose a glossy finish because this will help the backsplash to reflect light even though it is dark in color.
A dark backsplash will make a nice contrast against light-colored countertops and cabinets, and it can also make a nice tonal effect if your countertops and cabinets are a medium shade. A dark backsplash will also hide stains better than lighter backsplashes.
Neutral Backsplash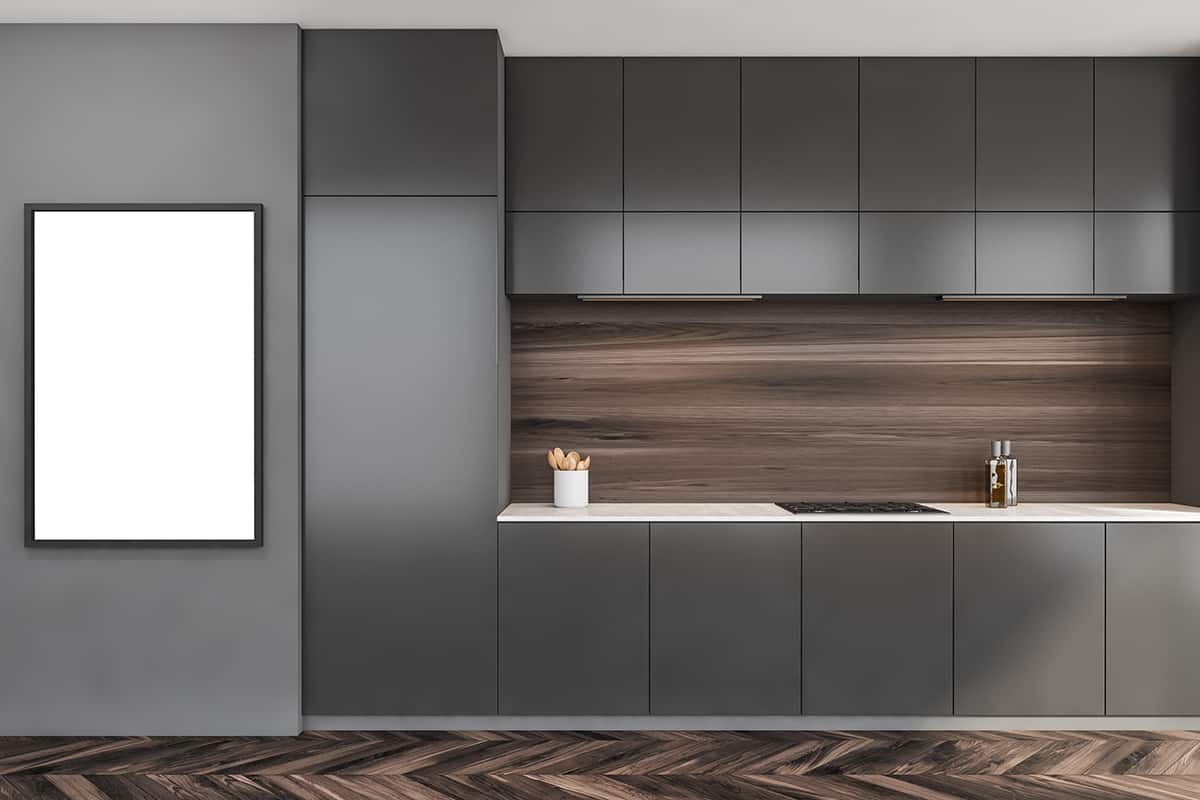 A neutral backsplash is a popular choice because it makes for a nice, balanced background. With a neutral backsplash, you don't have to commit to a color scheme and instead can add accessories in bright colors.
This enables you to change the style or color scheme in your kitchen as and when you choose, simply by swapping out some accessories rather than having to completely renovate the kitchen.
A neutral backsplash is likely to appeal to a broader spectrum of people, so it is a good choice if you intend to sell your home. Neutral colors are also quite stable in the sense that they don't go in and out of style in the way that some colors do, and therefore they offer greater longevity against changing trends.
Colorful Backsplash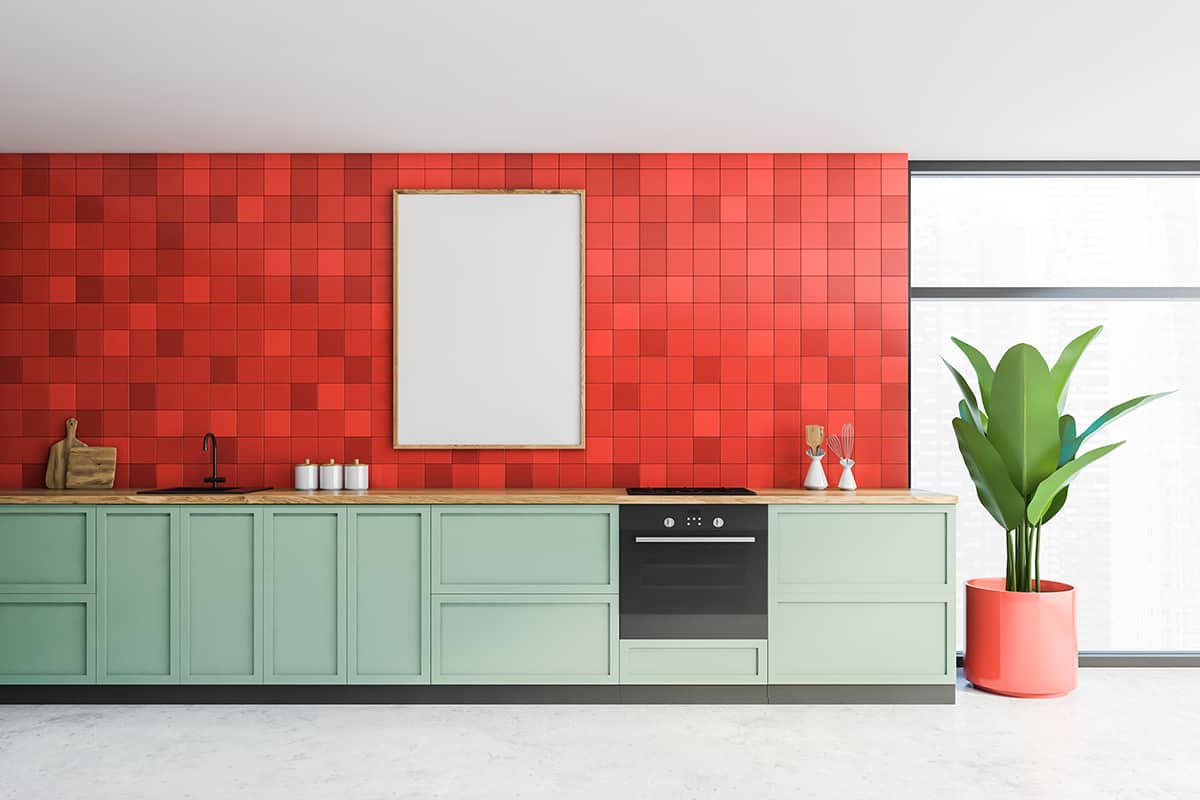 If you want to bring some personality to your kitchen, you can choose a bright color. A backsplash is a good way to introduce some color into your kitchen because it typically covers quite a small area of the room, and therefore it won't be too overwhelming.
For example, if you want a pink kitchen, but pink cabinets seem too extreme, try neutral cabinets with a pink backsplash instead for a similar yet more subtle look.
Mosaic Backsplash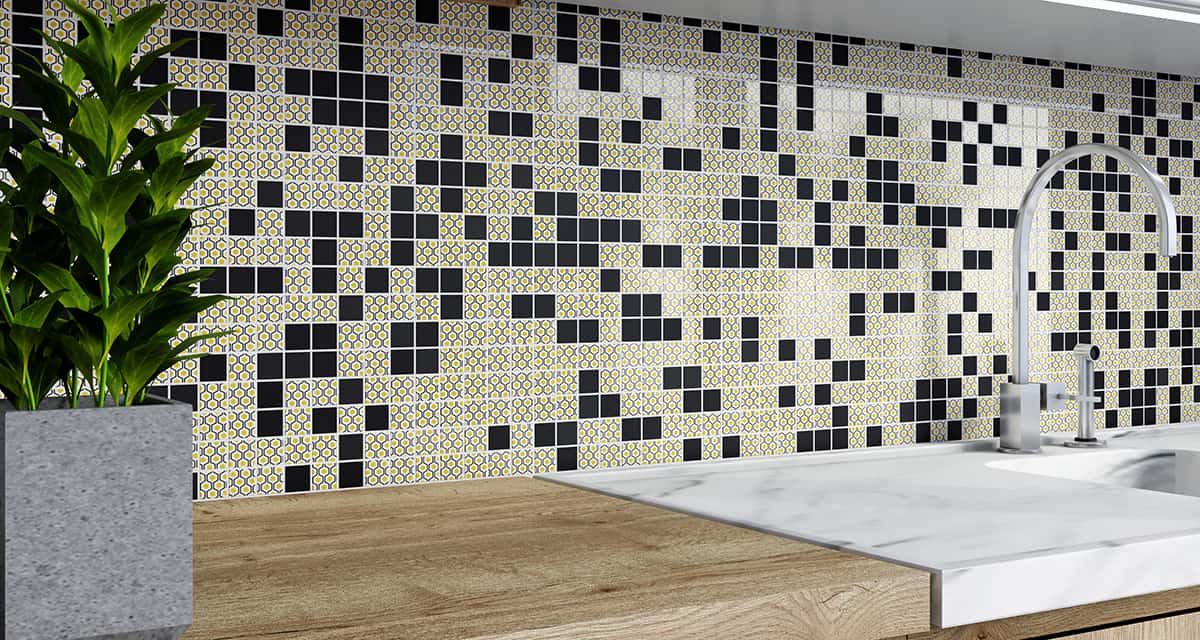 A mosaic backsplash is a really good way to add texture and interest to your kitchen walls, and it also represents a balance if you can't choose between dark and light colors because, with a mosaic, you can have both. There are so many ready-made mosaic tile sheets available in various colors and tones.
If you want some small splashes of bright color, choose a mosaic tile that features some small colorful pieces or a mosaic tile with some contrasting shades for a vibrant look.