Choosing the perfect kitchen sink color and material to go with black granite countertops can be a difficult decision. With so many options out there, including handcrafted designs, you can be forgiven to feel confused with this task!
So what color sink works best with black granite countertops? The most popular are traditional white and statement-making matte black. A neutral color like gray also goes well with black granite and light wood kitchen cabinets.
So with that in mind, let's now take a look at some examples of sink colors and materials that blend well with black granite countertops:
Best kitchen Sink Colors that Work with Black Granite
White Composite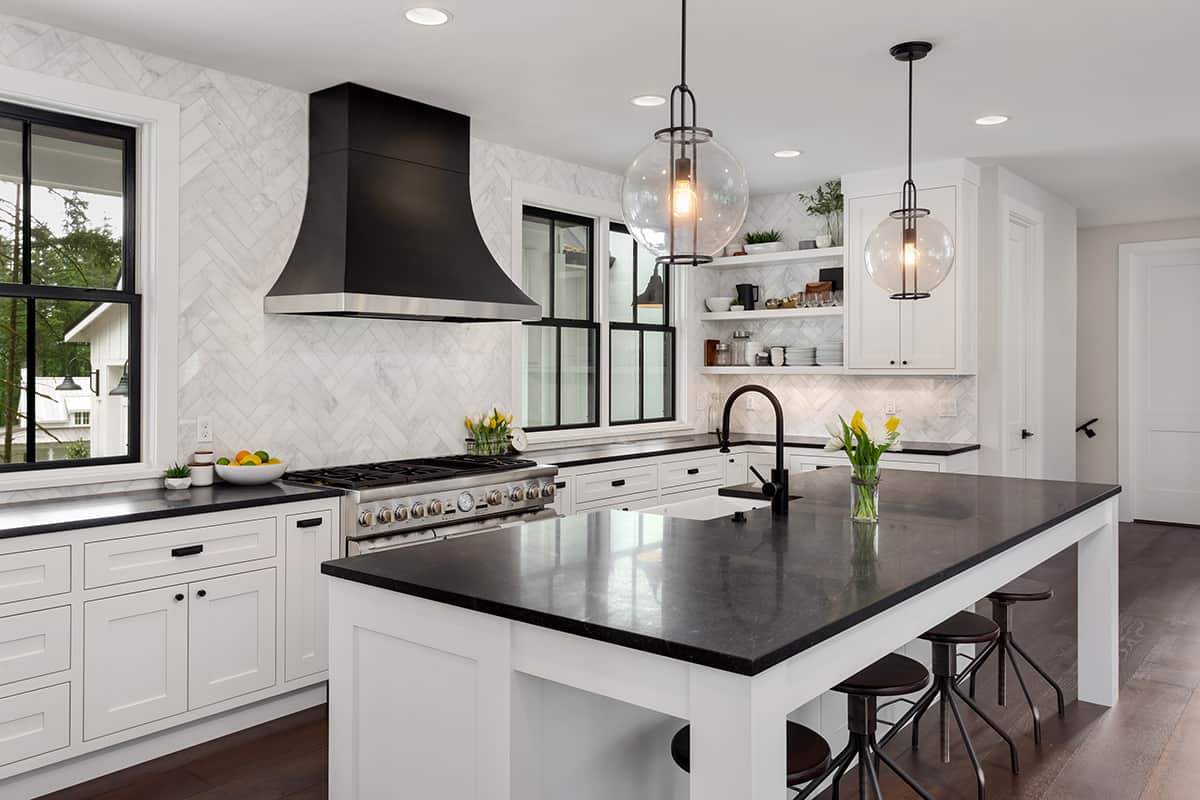 A white sink next to black granite countertops can be a classic way to add a luxurious look to your kitchen. The sleek, clean white lines are exactly what a modern kitchen with black granite worktops needs, as you can see in this image.
Whether your white sink is a round vessel or a traditional rectangular design, it can be the perfect color to coordinate with black granite and white cabinets. A white composite sink is a great choice for making a crisp statement, as it works perfectly in light-colored kitchens with dark countertops. This color also goes well with other contemporary colors like charcoal and graphite.
With a white sink against a shiny black granite surface and white cabinetry, you can add brightness to your kitchen, just like in the example shown here.
Black Quartz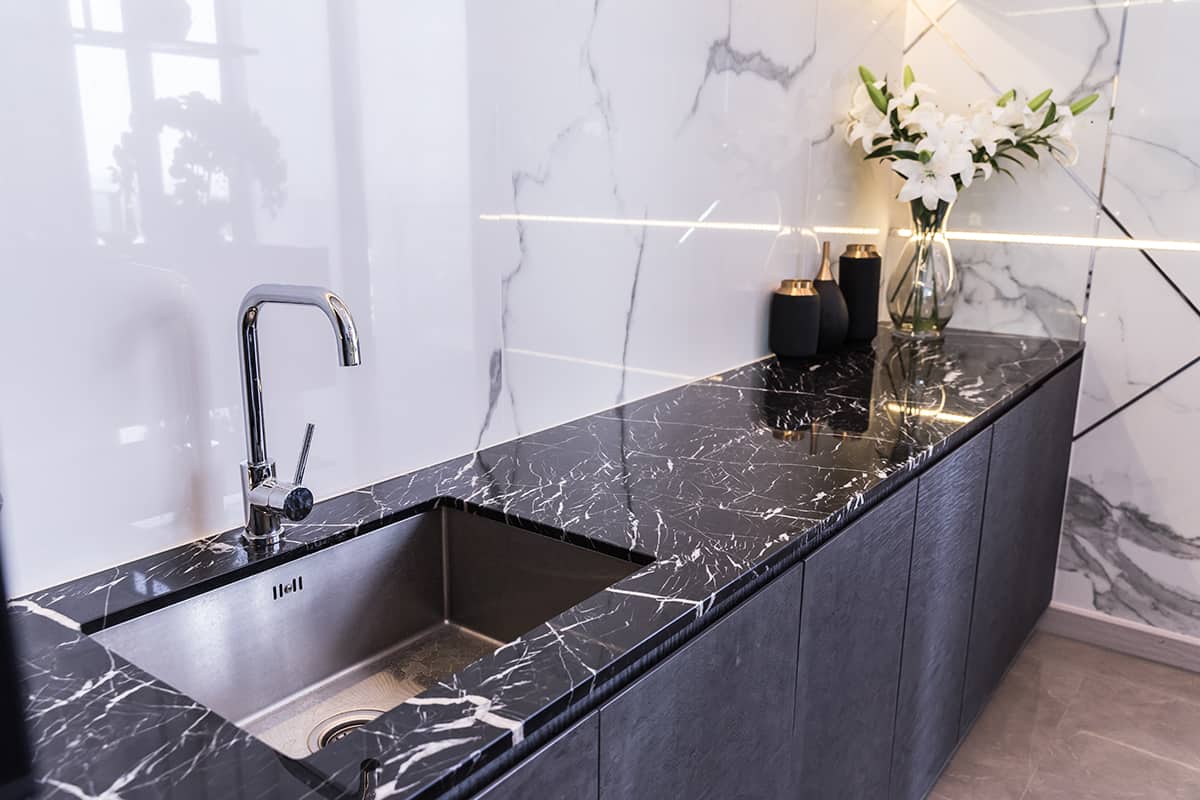 A monochromatic color scheme can be a great way of adding a sophisticated touch to your kitchen. A black sink next to black granite is not only contemporary, but it also harmonizes well with all other floor and wall colors.
A matte black Quartz sink, for example, goes very well with black granite countertops as well as stylish gold or silver hardware. The black-on-black color scheme can serve as a centerpiece in a white or gray kitchen setting.
When it comes to choosing the right black sink shape, the same approach works just like with a white sink. From rectangular and round vessels to square shapes, there are many contemporary styles available.
In this modern kitchen, the black granite countertop with the black sink and matching cabinets look anything but dark thanks to the bright white walls. The black-and-white mix is an ideal minimalist design for a sleek kitchen.
Light Gray Stainless Steel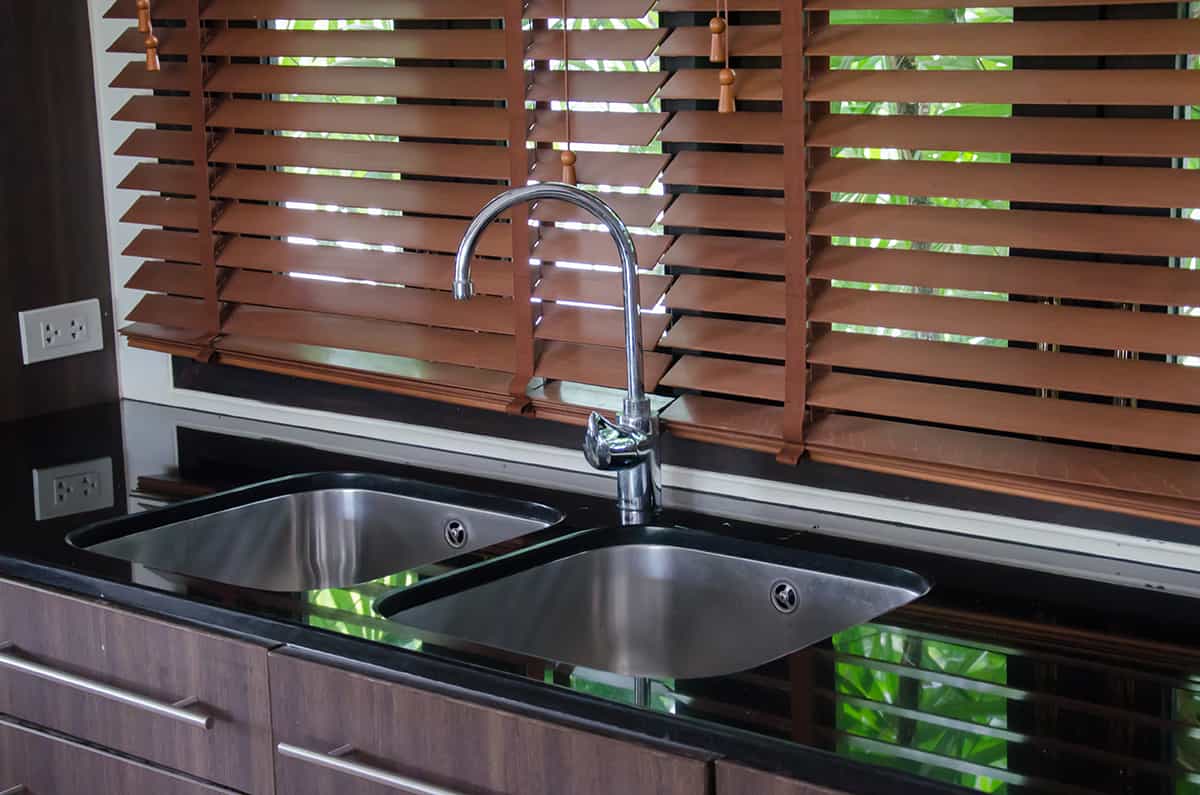 The ever-so-popular stainless steel sink is a modern and durable choice to pair with your black granite kitchen countertops.
This type of sink is easy to maintain and inexpensive, hence its popularity. It won't chip or crack and is highly resistant to stains and high heat. Such sinks are a perfect pairing with black granite as their gray color works in harmony in a neutral setting.
In a contemporary kitchen, a stainless steel gray sink can be a sleek upgrade in line with black granite countertops. Sinks that are made of light gray stainless steel work perfectly in both classic and modern kitchen interiors together with dark cabinetry like the example here.
Dark Gray Concrete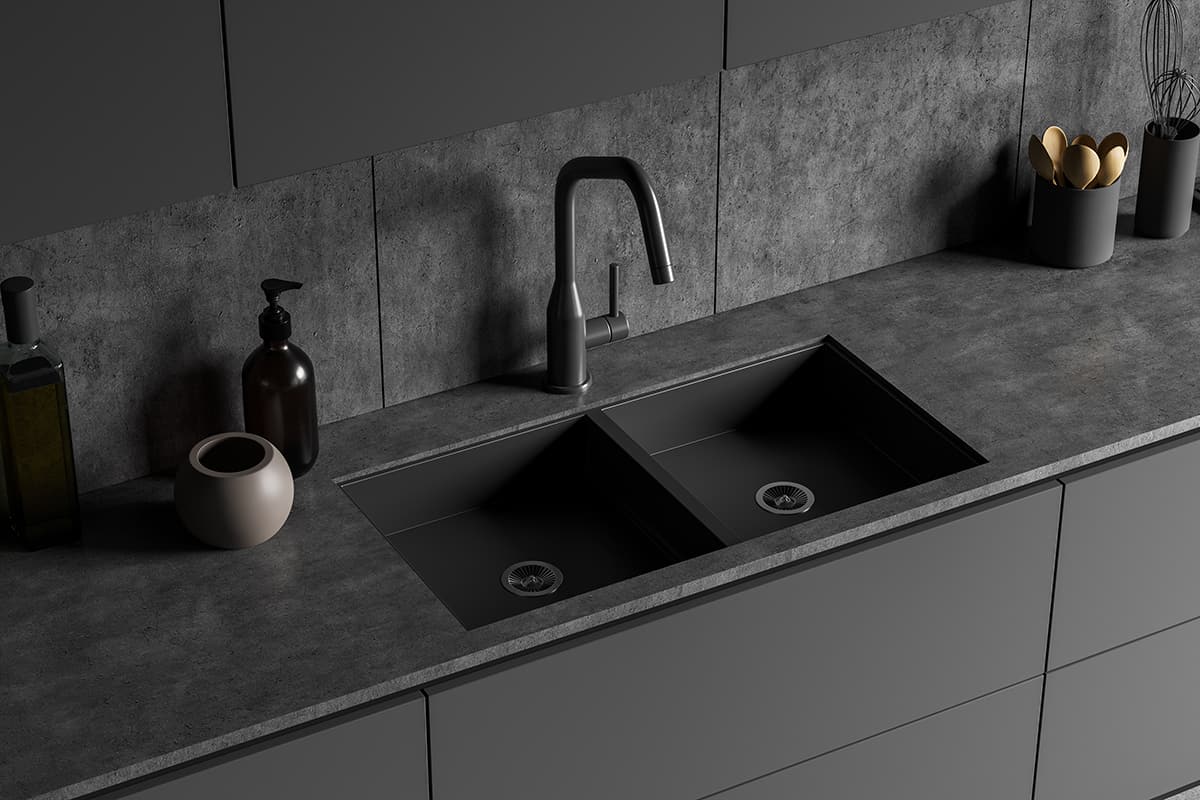 For those who prefer a darker gray sink color, why not consider concrete as a popular material to pair with black granite? This idea is especially popular in industrial-style kitchens.
A gray concrete sink is cast rather than molded into place. Since concrete is naturally a porous material, it will require sealing to ensure longevity. But once you've installed this type of sink in your kitchen, it will last for many years or decades. Concrete sinks are incredibly resistant to stains and heat, not to mention budget-friendly.
In a rustic or industrial kitchen design, a beautiful pairing of black granite with a double dark gray sink like the one shown here works well with dark cabinetry. This combination can be the highlight of your neutral kitchen, regardless of whether you go for a matte or glossy concrete sink.
Brown Copper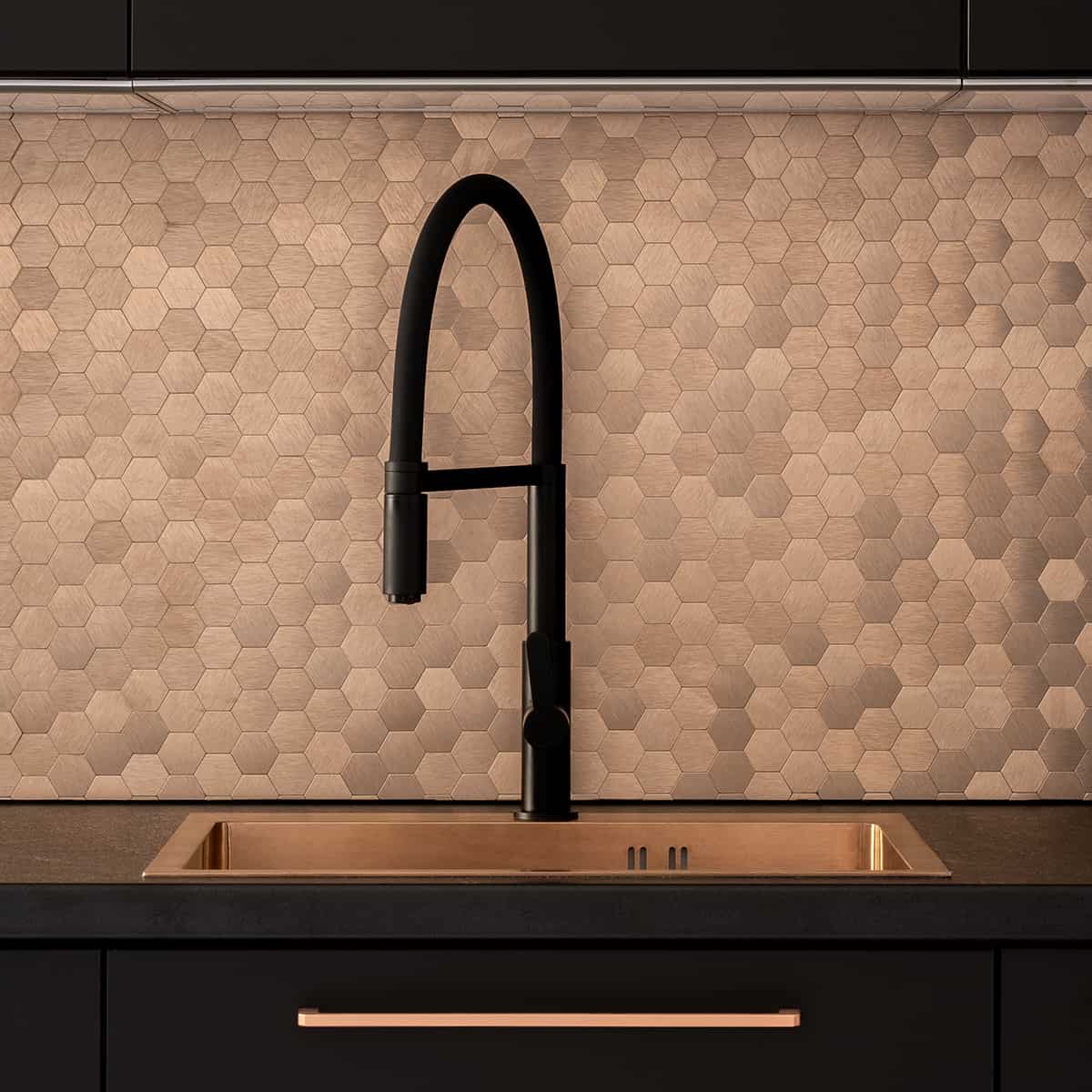 Adding an earthy, muted sink color to your modern black granite kitchen can work like a treat, thanks to the elegance of brown. A brown sink made from luxurious copper has the sheen to give your space a warm feel. This neutral color scheme is a versatile choice for both modern and traditional kitchens.
Copper sinks are typically seen in rustic or farmhouse kitchens as a timeless and must-have piece. By adding a brown copper sink to your traditional kitchen, you can create a focal point in an unlikely place. This premium-quality material is naturally antimicrobial, which makes it super easy to keep clean.
In addition, the warm tones of brown copper help brighten up a dark kitchen, especially if you add a beige or off-white backsplash to this color scheme.
Should My Kitchen Sink Color Match the Countertop?
Matching your kitchen sink color with the countertops is always a good idea, as they both share the same area of the kitchen. However, you don't necessarily have to go for the same material. While your sink and countertop can be of the same color, they can be a different style or material in order to coordinate with the rest of the kitchen.
One of the main ways you can match your sink with the countertops is to use a contrasting and complementary color. While this may sound a little dull, it is all about coordinating a cohesive design. When you choose the same color, the sink will blend into the counter and the rest of the kitchen. For vibrance, all you have to do is to add a colorful backsplash to avoid a mundane look.
If you go for a contrasting sink color, it will help highlight the countertop, so this is an ideal solution for those who want their countertop to stand out. Most interior designers recommend a little contrast between the sink and the countertop color. This way, your sink will easily be distinguished as you prepare your meals on the worktop.
So when it comes to deciding whether your sink color should match the countertops, we think it's best to use a lighter shade for the sink and a darker one for the countertops in order to highlight the sink and keep everything balanced.
Can I Mix and Match Countertop Colors?
Yes, it is possible to mix and match your countertop colors, but do this with caution, as your kitchen may appear too busy. This is especially true if you have a small or compact kitchen. Ideally, there should be no more than two different countertop colors to keep your kitchen evenly divided.
If you go with two different countertop colors, you may use each worktop for a different purpose. Keep one color the same as your sink, while the other can match the cabinets or appliances. Some kitchens are large enough for an island, which can have a different countertop color from the rest.
For example, if one of your countertops is black granite, you can have gray granite for the island, or alternatively, you may use a different stone, like white marble, for one of the countertops.
Are Black Granite Countertops Still in Style?
Black granite has been around for many years as it gives a modern feel to kitchens. This versatile and durable material is easy to clean and often associated with luxury. Black granite is the ideal choice for both contemporary and traditional style kitchens, and it can be found in multiple finishes. That said, black granite can be expensive to replace and challenging to maintain.
Some people believe the popularity of black granite is purely because of its high resistance to scratches and stains. But there are many other reasons that make this natural stone a highly-sought material.
Black granite is associated with elegance and sophistication, so no wonder many people prefer this natural stone countertop for their kitchens. When you opt for black granite, you can easily pair it with any other color scheme.
The material is incredibly durable, even more so than marble. For the finish, choose between polished or honed black granite as the ultimate stylish option.
To summarize, black granite countertops are not only luxurious looking, but they are a super durable option for any modern or traditional kitchen design. These countertops work well with most sink colors and materials as you've seen in our examples above.
Now that you have got a better idea of the best color sink to pair with your black granite countertops, your only other task is to decide on the best sink shape for your kitchen!