When it comes to kitchen renovations, the choice of countertops is among the most important decisions because it will have a huge impact on style and functionality. Here we look at the many types of kitchen countertops available.
Marble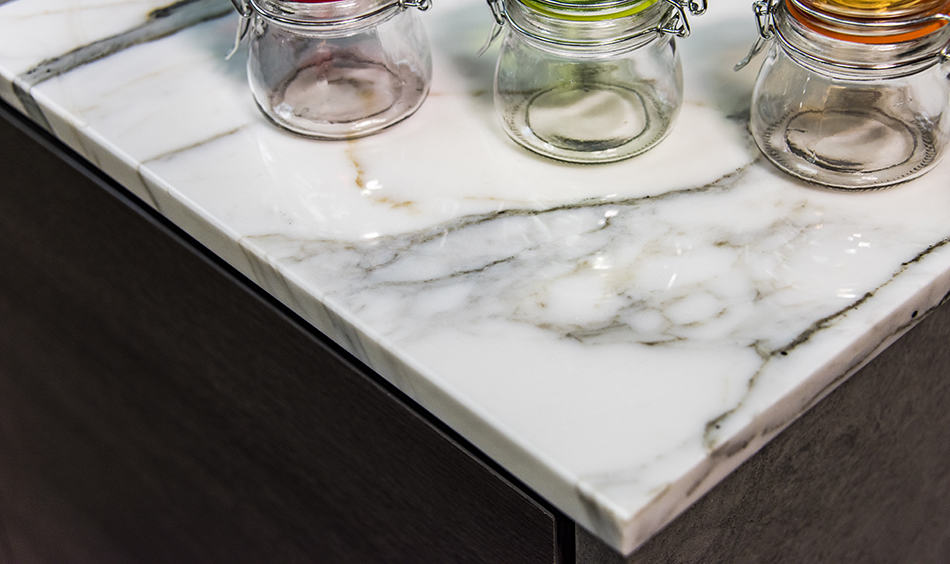 Marble is a beautiful natural stone that is commonly used as a kitchen countertop. This is a very expensive material which is therefore usually only seen in very high-end properties. Because of this, marble countertops have become synonymous with luxury and elegance. The high price of marble countertops means that it is outside of many peoples budgets; however, some people choose to have just a small amount of marble countertop in their kitchen, for example, on an island or an area which is used for baking and then have the remainder of the kitchen fitted with a more cost-effective type of countertop.
Marble is known for being an excellent surface to prepare baked goods on, as it absorbs heat much better than other types of countertop surface. This makes it ideal for rolling out pastry or dough on, as they should be kept as cool as possible before cooking to achieve the best results. It is also good for helping chocolate to cool more quickly.
Marble is also a good choice for anyone who enjoys the thought of their kitchen being unique. This is because every piece of marble will have different patterns running through it, ensuring no two pieces are identical.
The main issue with marble is its high cost, which makes it an unrealistic option for many families when renovating their kitchen. Another problem which many people do not realize is that marble countertops actually involve a lot of maintenance to keep them looking good and ensuring they last a long time.
Marble is surprisingly quite a delicate material that is prone to stains and scratches. You will need to wipe it down after every use because spills from regular foods such as fruit juice, vinegar, or wine can leave permanent marks on the countertop. It is best practice to always use a chopping board and trivet to prepare food on a marble countertop to avoid scratching, staining and dulling.
You should not use regular cleaning products on marble worktops, especially any containing vinegar, lemon, or bleach, because these will permanently dull the shine of the marble. To help protect the countertop, it will need to be sealed regularly with a professional sealer. This is recommended to be carried out at least once a year.
If you are enthusiastic and capable when it comes to DIY, marble is not a type of countertop that you will be able to install yourself. This is because special tools are required to make joins on the worktop, so if you are looking to save money and install a kitchen countertop yourself, then you would need to choose a different material to use.
Pros:
Luxury look
Unique pattern
Heatproof
Heat absorbent for baking
Waterproof
Adds value to the property
Cons:
Expensive
Porous, therefore, stains easily
Can be scratched
Regular maintenance required
Repairs are difficult
Requires professional installation
Granite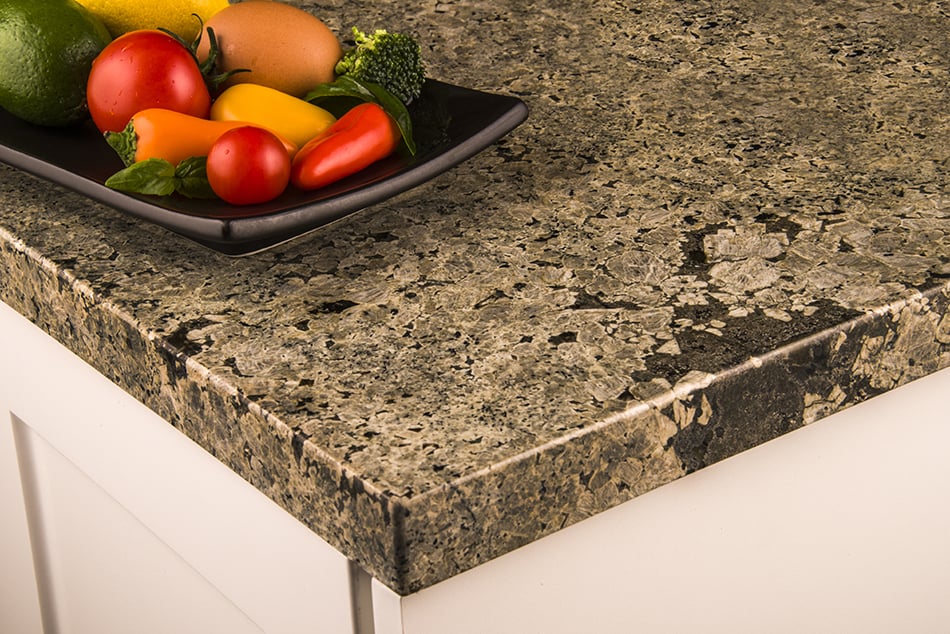 Granite is a natural stone that is ideal for use as a kitchen countertop because it is extremely heat resistant and incredibly strong. Unlike marble countertops, you can prepare food on a granite countertop without a chopping board because the surface will not suffer any scratches from knives or stains from food. You also won't need to use trivets and can instead put hot pans or baking trays directly onto the granite countertop because it cannot be damaged by heat.
This is great if you're someone who doesn't like to have clutter on top of your countertop, and it also means you can appreciate the full beauty of the granite without having chopping boards that hide it. Bear in mind, though, that sharp knives will quickly become dull when used for chopping on a granite surface. Granite is very durable, which is the primary quality that most people want in a countertop.
Compared with marble, granite is much lower maintenance. Granite is a porous material, but if sealed with a professional sealer before use, you may never need to seal it again. However, you can reapply sealant every few years if you prefer to err on the side of caution. Another benefit of granite is that it is available in so many color options, so you can guarantee you will always find one which is suitable for your color scheme and style. Some suppliers boast several hundred different colorways in granite countertops.
Undoubtedly the biggest drawback of granite countertops is that they are so expensive. However, they do hold their value and are a very sought-after component in kitchens when people are looking at buying a new property. Despite being among the most costly types of countertop, granite countertops have come down significantly in price over the last few years as demand has gone up, and therefore more suppliers have joined the marketplace trying to offer the best price.
Granite is a luxury type of kitchen countertop which is both functional and beautiful, and thanks to how durable it is, it will stand the test of time. Compared to less durable countertops, some people believe granite is a good value for money because it will not need to be replaced for many years and therefore is a good long-term investment.
Pros:
Durable
Wide color variety
Low maintenance
Heat resistant
Waterproof
Luxury factor
Adds value to the property
Long-lasting
Cons:
Requires professional installation
Expensive
Requires sealing
Dulls knives
Quartz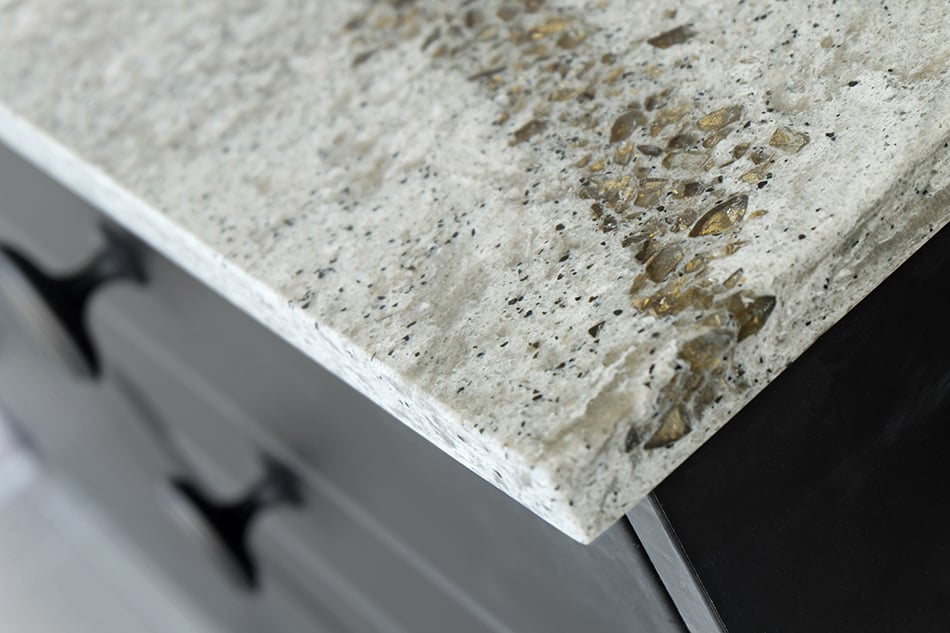 Quartz countertops are not slabs that have been quarried like marble or granite, but instead, they are a type of engineered stone. They comprise around 90% quartz particles, with the remaining 10% being made up of other minerals and resin. Quartz is an excellent alternative option to granite and marble for several reasons.
It is incredibly durable and non-porous, which means it will not stain or scratch and does not need to be sealed. This makes it significantly lower maintenance than some similar natural stones. Quartz is also a more environmentally friendly option than natural stone because it makes use of waste materials.
Compared to granite and marble, quartz has a more uniform, flawless look. It is available in a huge array of colors and can even be made to imitate marble and granite. If you want to add a touch of sparkle to your kitchen countertops, you can also find quartz surfaces that have flecks of gold or silver in them, as well as almost any other color you could think of.
Quartz countertops are especially popular in more modern style kitchens because they have a sleek and contemporary look to them, compared to the more natural effect you can achieve with granite and marble. However, they are more functional than natural stone in many ways because they don't need to be sealed and yet are completely waterproof. They are also resistant to heat, and therefore food can be prepared directly on the countertop without the need for chopping boards and trivets.
They can be formed into slabs of any shape and size, which is great for DIY enthusiasts because it means no joins are required, and therefore you could fit the countertop yourself without needing professional installation.
Like marble and granite countertops, quartz countertops are expensive. However, due to their durability and functionality, they represent a good long-term investment because they won't need replacing for a very long time. Quartz is a sought-after type of kitchen countertop that can add value to a home and make it more appealing to potential buyers.
Pros:
Low maintenance
Scratch and stain-resistant
Heatproof and waterproof
Wide selection of colors and styles
DIY installation possible
Modern luxury look
Use some waste products
Cons:
Wood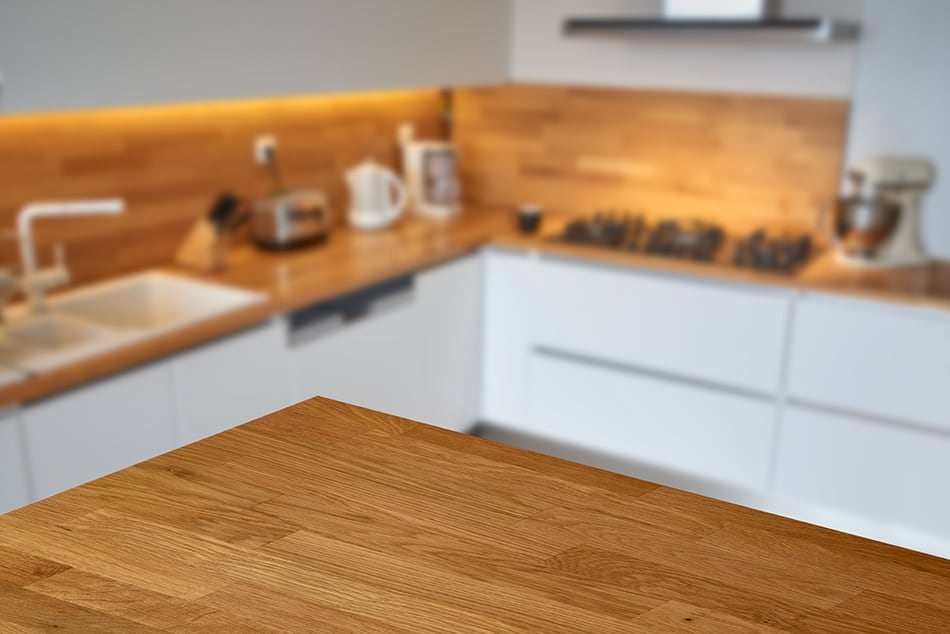 Wooden countertops are a popular choice in kitchens because they provide a warm and homely look and offer good value for money. While wood countertops are not the most inexpensive type of countertop available, they are considerably more affordable than natural stone and engineered stone countertops. One of the great things about wooden worktops is that they can be sanded down and re-stained or oiled if they suffer from an accident, such as a child drawing on them.
Unfortunately, wooden countertops are quite prone to staining and watermarks because they are highly porous, which means you need to make sure any spillages are cleaned up immediately. Wooden countertops can be particularly problematic when used near running water because splashes from the faucet can cause staining around the sink.
With wooden countertops, you'll need to be careful if you want to keep them in good condition. You cannot put hot pans down directly onto the wood, and you cannot chop food directly on them. Instead, make sure you always have trivets and chopping boards to hand. Wooden countertops need regular maintenance in the form of oiling. Linseed oils are a popular choice, which helps to make the wood water resistant and prevent cracking.
If you are a fan of a more natural-looking worktop, then wood is an excellent choice. If treated properly, wood looks even better over time and gains more character as it ages. It is naturally antibacterial; however, germs and bacteria can become a problem if the wood is not properly cleaned and looked after.
Fortunately, wooden worktops are easy to keep clean with a damp cloth and some antibacterial surface cleaner or a mix of dish soap and water. Wooden countertops come in a variety of wood types, usually hardwoods, so you can choose a color of wood with the right tones to suit your kitchen. Popular types of wooden countertops include oak and maple, or if you prefer a more sustainable option, then bamboo worktops are also available.
Pros:
Affordable
It can be sanded back if damaged
Warm and natural feel
Naturally resistant to bacteria
Cons:
It can be scratched and stained
Needs regular oiling
Glass
Glass is one of the lesser-used materials for kitchen countertops; however, it is gradually gaining in popularity. Glass countertops are durable, as well as waterproof, and resistant to staining. They are low maintenance and do not need to be sealed or undergo any regular treatments, making them an ideal choice for busy families.
One of the reasons many people choose a glass countertop is because it can be personalized or customized with your chosen colors or even images. You can have objects such as beads, shells, or glitter fitted beneath the glass to make for a more interesting surface. Glass countertops are very hygienic and can be cleaned easily.
You should not leave a harsh chemical cleaner sitting on the glass for an extended timeframe, but otherwise, they are suitable for any type of regular kitchen surface cleaners. Many people are surprised to find that glass worktops are very strong; however, if you were to drop a heavy item on a glass countertop, then it would be at risk of cracking, so you'll need to take care. Glass countertops are among some of the most expensive types of countertops you can get, which may be why they are less popular than granite or marble.
Pros:
Modern look
Low maintenance
Customizable
Durable
Stain-resistant and water-resistant
Cons:
Expensive
Heavy
May crack
Concrete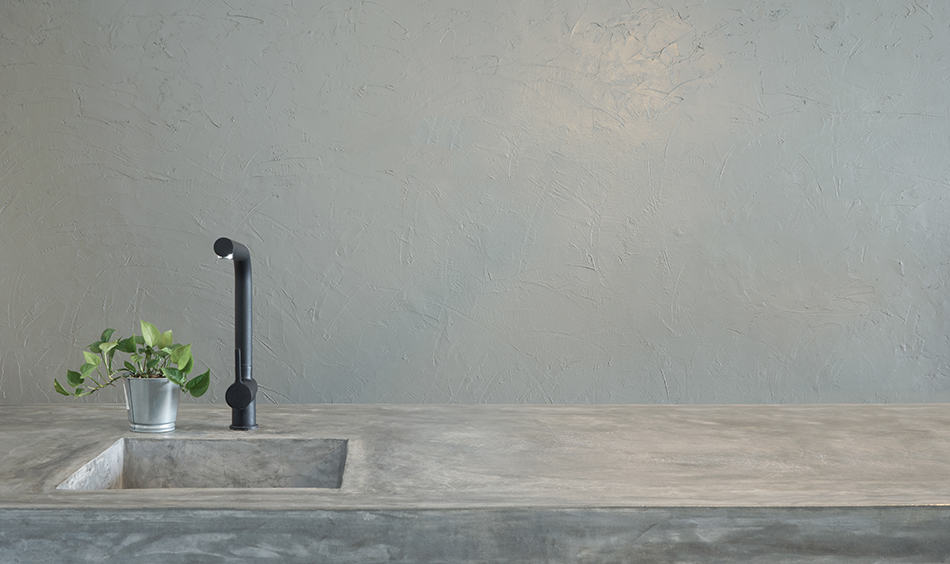 Concrete countertops have emerged as an alternative to other solid surface countertops in recent years. They are a good choice in kitchens that are an irregular shape because they can be formed in any shape and size. Due to the weight of concrete countertops, they are usually formed in situ and therefore require professional installation.
Some people may be put off by the thought of having an industrial material like concrete in their kitchen, but once polished and sealed, the concrete will have a luxury appeal, much like other solid surface countertops. Concrete is naturally porous, but there are additives that can be added to the mixture to battle this. You can also add color or texture to concrete countertops for a truly unique finish. Once complete, concrete countertops are extremely durable and easy to clean. They should be sealed regularly to prevent staining.
Depending on who you choose to produce your concrete countertops, the cost can vary drastically. If you want to create your own concrete countertops to save money, there are many tutorials available on YouTube and DIY kits you can buy online, though, for a professional result, it would be best to hire a company with experience.
Pros:
Durable
Easy to clean
Industrial style
Customizable
DIY options
Cons:
Can be expensive
Needs regular sealing
Stainless Steel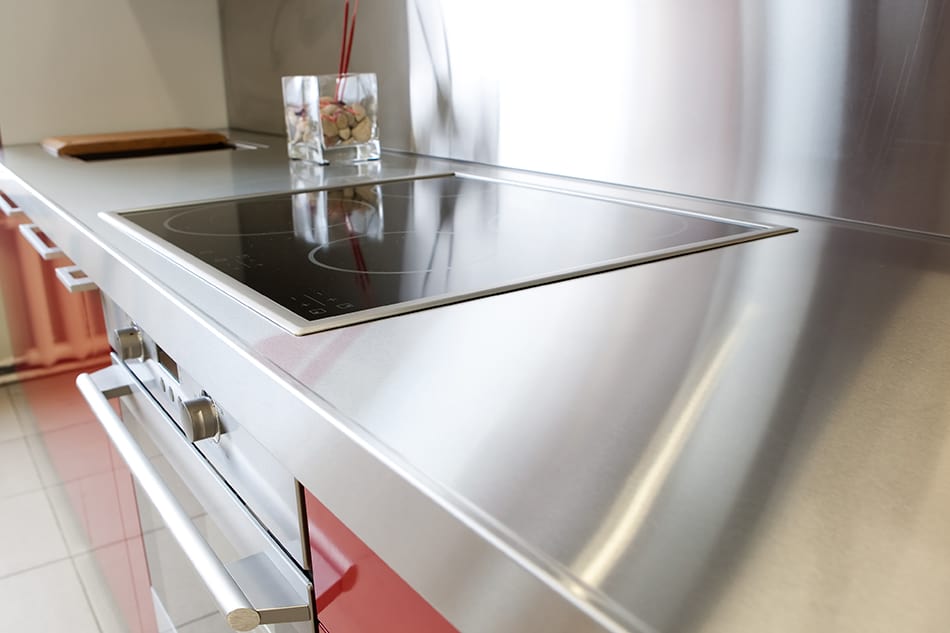 For a working kitchen feel, stainless steel countertops work well. These are resistant to heat and are waterproof; however, they will scratch easily, so avoid using them as a chopping surface. Stainless steel countertops can be custom-made to fit your kitchen, so you will have no visible joins. They provide a striking industrial style and are low maintenance. Being non-porous, they will not stain and will also not harbor bacteria.
One disadvantage of stainless steel countertops is the high price. They can also be noisy, with lots of clattering noises which may become annoying to you or other members of the household. Stainless steel countertops will also suffer from scratches over time, no matter how careful you are. They can also become dented if you drop anything on them or accidentally bash them.
Pros:
Low maintenance
Easy to clean
Industrial style
Waterproof and will not stain
Cons:
Expensive
Noisy
Can suffer dents and scratches
Laminate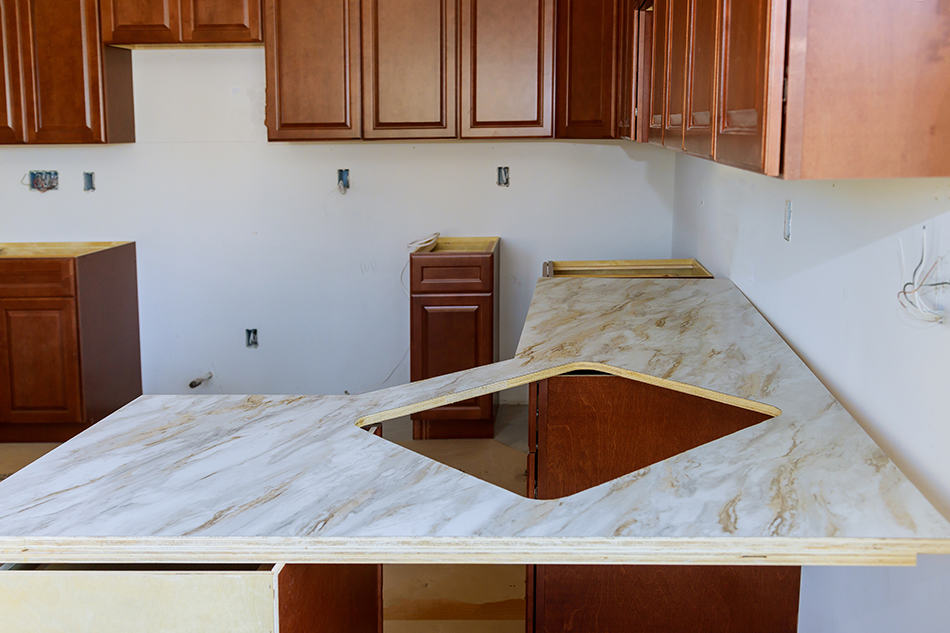 Laminate countertops are made by bonding laminate sheets on top of particleboard. They are popular because they are the most low-cost option when it comes to kitchen countertops. High-end laminate worktops can be very durable; however, they have a bad reputation because often laminate work surfaces peel at the corners or sustain dents where the particleboard can be seen through the outer layer.
They may also suffer scratching from knives or sharp objects. Damage is difficult, if not impossible, to fix. Many laminate countertops are heat resistant, though it is recommended to use a trivet. These surfaces do not require any maintenance and are easy to clean. They are available in a huge selection of colors, patterns, and styles. They may put off future home buyers because they are regarded as a 'budget option.'
Pros:
Budget-friendly
Wide variety
Heat resistant
Cons:
Not sought after
Damage is usually irreversible
Joints visible
Solid Surface
Solid surface countertops are mid-range when it comes to price and perception. They come under brand names such as Corian, Swanstone, and Avonite and are engineered from acrylic and plastic particles and resin. They are incredibly durable, waterproof, and resistant to staining; however, they are not heat resistant. They will show scratches and scuffs; however, these can be sanded out.
Solid surface countertops are more affordable than natural stone options, but they will not add as much value to a home because they are less sought after. They have a sleek look which works well in modern kitchens.
Pros:
Affordable
Low maintenance
Non-porous
Modern style
Cons:
Not heat resistant
Can scuff
Must be professionally installed