Choosing a strong, versatile, and beautiful granite for your countertop can lift the face of your kitchen by giving it a refined and elegant look. While black granites give high contrast, white granites are calm to the eyes, low-maintenance and suitable for most kitchen setups.
When selecting a stone for your kitchen countertop, there are many options to choose from depending on your tastes and preferences. In this article, we have reviewed the top 25 so you can easily find the best one that will suit your needs.
Why choose white granite countertops for the kitchen?
1. Beauty.
White granites feature snow white and ivory color that can brighten up the kitchen and make it much more inviting and charming. While it is not possible to get pure white slabs, the variations and flecks on each slab offers that beauty and character that can liven any kitchen decor. If you are looking for striking contrast or a color that can blend with your kitchen, the white granite countertop is a good option.
2. Compatibility.
They can serve a complementary role or be used for great contrast. For example, the white granite countertop can go with most kitchen decors and if you want complete contrast, it can contrast black, brown, and a host of other kitchen colors. In addition, they are available in different shades so can be a good choice for any kitchen design.
3. Durability.
One of the advantages of this stone is that they are resistant to wear and equally heat resistant. As a result, they can last for several years especially when they are properly sealed. This is why they are commonplace in most kitchen setups.
4. Affordable.
They are cheaper than marble. One of the advantages of using this stone for your countertop is that the average cost of buying one is cheap compared to other stones like marble.
While there are many other factors that may prompt you to want to use granite, if price is at the top of your priority list, then it is a great option. Note that other factors may affect the amount you finally pay including the origin of the slab, the quality of the stone and the retailer selling it to you.
5. Unique Appearance.
Aside from looking stunning when they are newly installed, you can maintain their unique appearance with regular maintenance. They are durable and can last for several years in your kitchen (even though the quality can become poor if not properly taken care of).
Fortunately, cleaning them isn't difficult. And you don't need any fancy solution to clean them either – all that's required is soap, warm water, and small washcloth.
Another thing is that you can seal them when you install them. If you do this properly, it will prevent moisture from getting into it since it is porous in nature. Once sealed, you can keep out stains and discoloration and keep the shining appearance.
6. Environmental Friendly.
Compared to quartz, white granite countertops are friendlier to the environment. They are dug from the ground and cut into slabs while quartz is made from resin and quartz, and not 100% unique. Moreover, they are not as heat resistant as granites.
Although granites are not of the same quality as marble, most has the look of marble so it will look like that expensive stone on your countertop. Even though the classic look of marble is far from being imitated perfectly.
25 White Granite Countertop Colors for Kitchen
1. River White Granite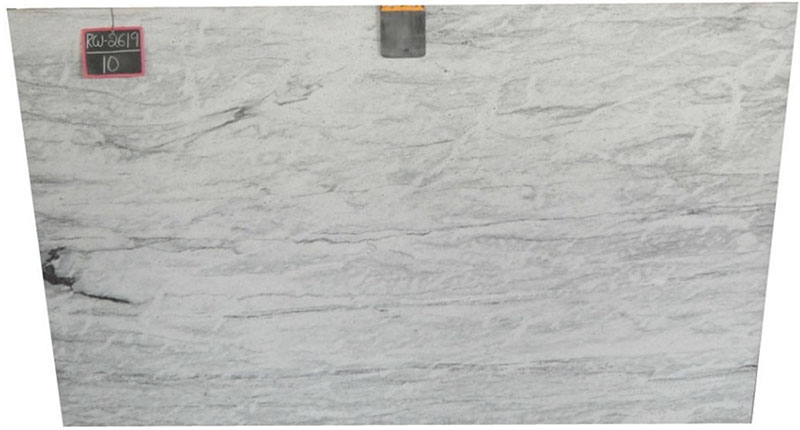 Also known as River Valley, this granite is imported from Indian mines. It has small deep burgundy flecks across the surface and a translucent white background with blue, taupe and gray veins. The granite features a linear pattern, which is where the name "River" seems to come from. It is available in slabs and tiles with over 8 inches x 8 inches sizes. This makes it ideal for installation on large islands and kitchens needing a complementary countertop.
Before buying this, ensure that the slab is well polished and that it does not contain any kind of cracks. This is to ensure that the surface is smooth and only beautify your kitchen instead of disfiguring it. You can use it for both indoor and outdoor applications as well as business applications. Aside from being used for countertops, river white granite will look great on stairs, fountains, and monuments too.
2. White Ice Granite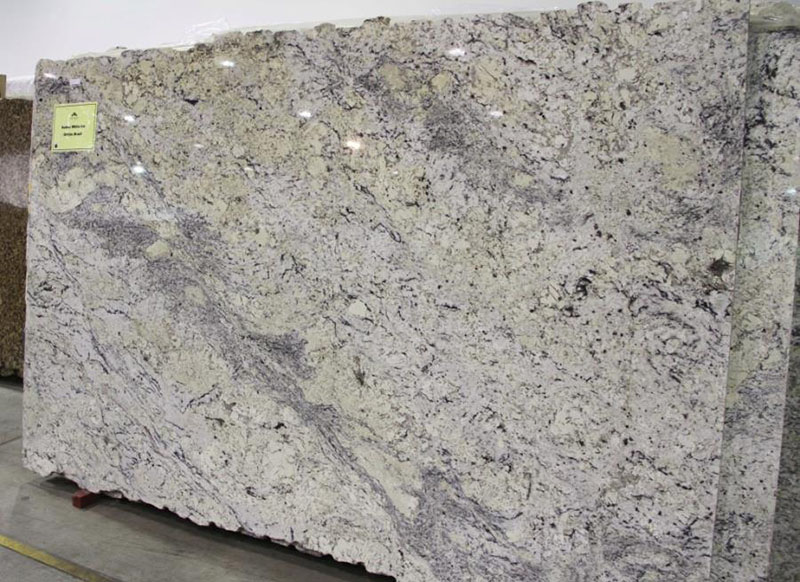 The white ice granite commands a higher price than other types because it's often scarce, which is a result of its high value and quality. It is quarried in Brazil and contains bright white flecks and pale steel gray; serving as a modern choice for walls, flooring, and countertops.
Although it is predominantly used indoors, its durability makes it ideal for commercial applications as well. The granite comes with a snowy background that's contrasted by dark veins and flecks and can be used in kitchens with a gray tone to it. And when used as the countertop, can match the gray color on walls or the floor for a sleek look.
3. Colonial Granite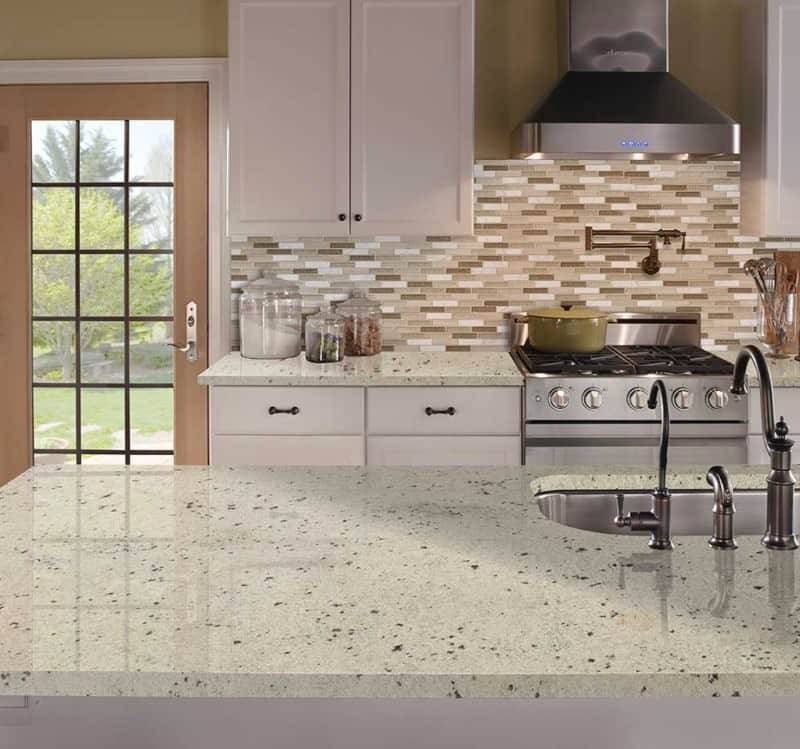 This granite is blended with moody silver and accented by jet black patches and is available in both tiles and slabs. The white background on the Colonial white granite is lined by shiny brown flakes and can be used for most design projects like installation on walls, floors, and most importantly countertops.
You can process it into honed, brushed (antique), and sawn cut and sandblasted, depending on your style and preferences. This hardstone takes good polishing and can change the look of your kitchen when installed as a countertop.
4. Super White Granite
The advantage of the super white granite over other types is that it comes naturally with a stylish appearance and is very easy to maintain. It has a sophisticated marble look and very sturdy, making it an ideal choice for your kitchen countertop. The mixture of impurities and its grayish appearance gives it those amazing swirls and patterns as evident in the picture above.
It's actually a Quartzite – a pure quartz sandstone – and turned into granite using a conversion method. Sometimes, it's listed as marble as it looks very similar to marble, which makes it very expensive. However, it is granite so if you see a supplier that can sell it at the price of a granite, you should purchase it from there.
5. Kashmir Granite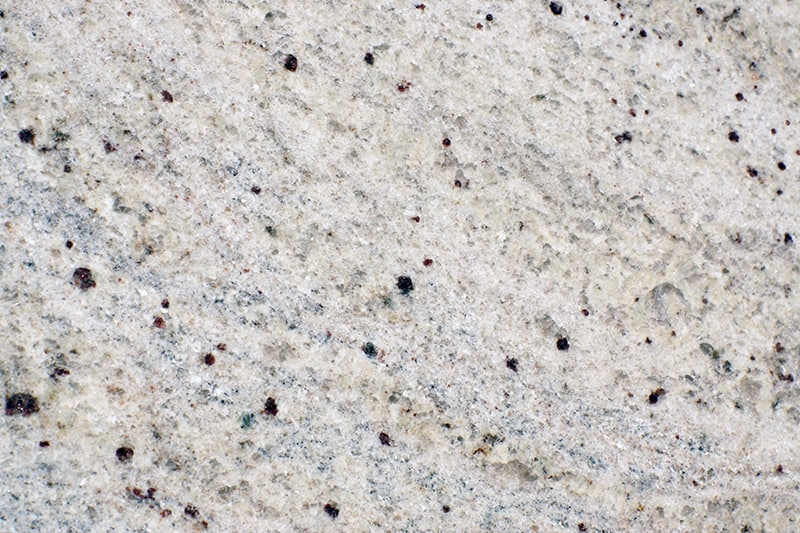 Going by the name alone, it is easy to see that Kashmir is quarried In India. It's available from the Tamil Nadu state in India. The Kashmir granite has a white background that's dotted with brown and black flecks. When looked up close, it reveals stunning details and depth. However, when you look from afar, you'll only be able to see a clear gray mounted on a white background.
It's friendly and light appearance endears it to most designers. It is one of the most porous granites though, so you should expect it to stain much more easily, so regular cleaning is needed. While it's technically not a full natural stone, its use in commercial applications is what makes it useful as a granite. In fact, it is one of the most popular granites used for kitchen cabinets which may have been as the result of the name.
6. Alaska Granite
This granite features a blend of pale silver and frosty white so that under the sun, it glitters with a warm glow and under the kitchen lighting, it's easily illumined. It's imported from Brazil and available in a variety of slab sizes.
You can combine it with other items in a kitchen with a blue or gray tone. For a stunning look, you can blend it with beige colored walls and white shaker cabinets. Also, if you want, you can use it for a black colored kitchen and it will work well.
7. White Spring Granite
This is a classic white granite that's used in the kitchen for countertops. It has a varying amount of deep red and gray patterns. It's rough and irregular expression has a semblance to clay or mud. At a distance, it appears in dark, smooth color while a closer look reveals a great texture. The dark mineral veins in this granite are of different sizes and thickness, but consistent across the stone. Because of this, you can use it to provide a good contrast to a white kitchen or blend with gray/black colors of other kitchen appliances.
8. Moon White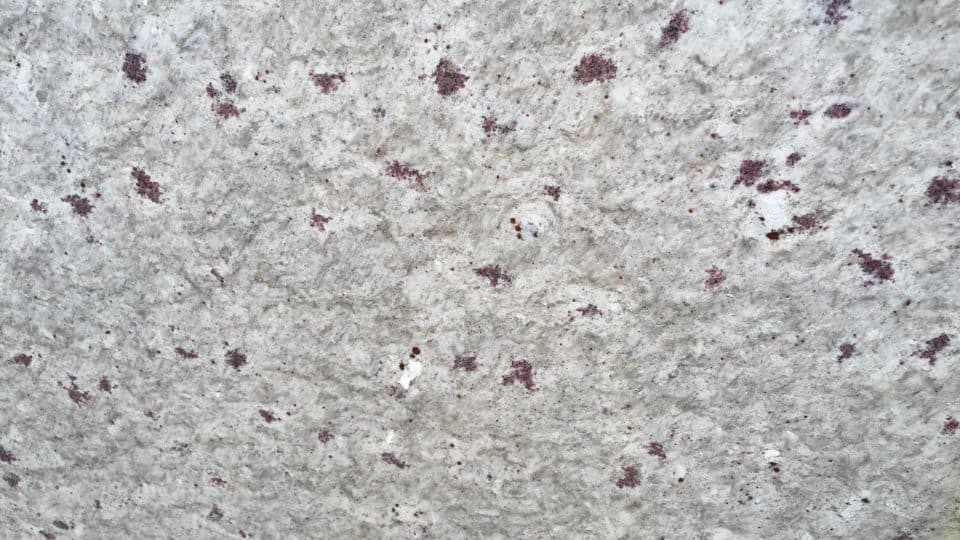 This granite has clear colored quartz flecks, with dark red/purple patches that blend well with deep brown hues or red tones in the kitchen. It's a polished granite that can be employed for your kitchen countertops for a distinctive expression. It has lots of heavy dots of brown that are hidden when looked at from a distance. The combination of shades and hues on the off-white backdrop keeps it consistent, leaving the surface fresh and smooth.
9. White Galaxy Granite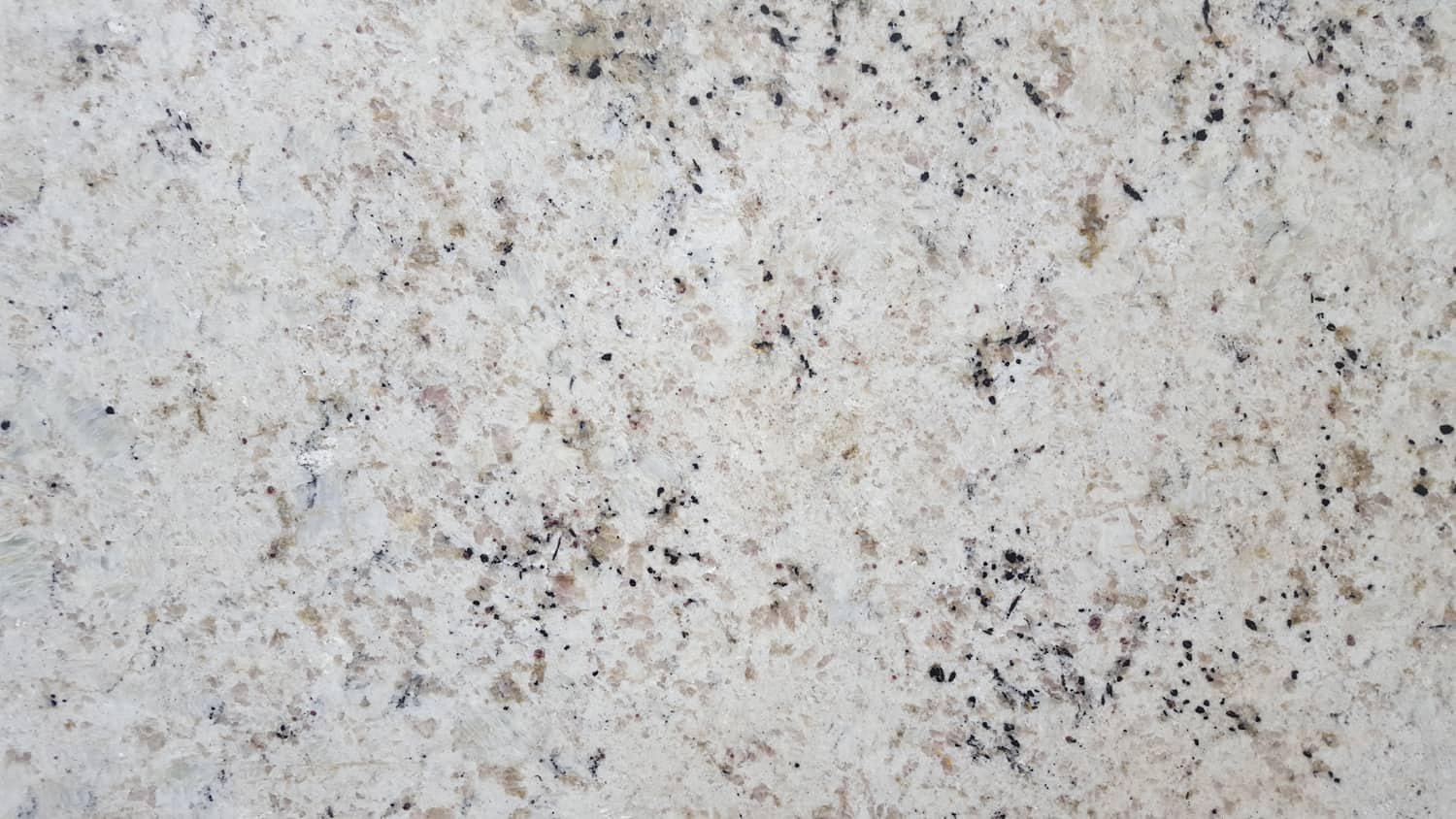 The white galaxy granite is known for its deep white backdrop and a concentration of blue flecks on the surface of the granite gives it a unique appearance. It comes with a milky white color and a smooth, rich texture that'll brighten up any kitchen decor.
It is one of the oldest granites used for the countertop. Unlike other types of white granite, it is smooth and not rough, which makes cleaning easier and quicker. It's also popular because it's easy to maintain and is suitable for airy, open-ended kitchen designs.
10. Aspen White Granite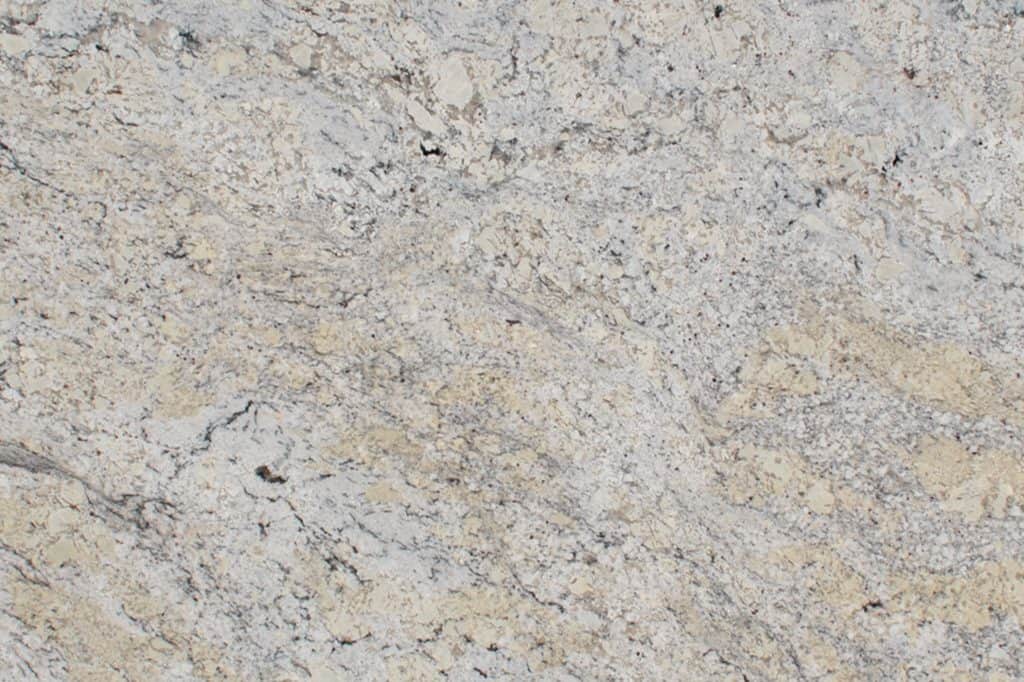 Credit to pacificastone
The Aspen white granite is one of the most suitable for countertops in a luxury home. If you are looking for a good granite that can blend with a cream dominated kitchen design, this will do the trick. You can match the hue of the countertop with the wooden part of the island and white cabinetry like you see in the picture to give a reinforced statement. The stone has a clean surface but is stained with light yellow lines and marks here and there giving it a peculiar look.
11. White Fantasy Granite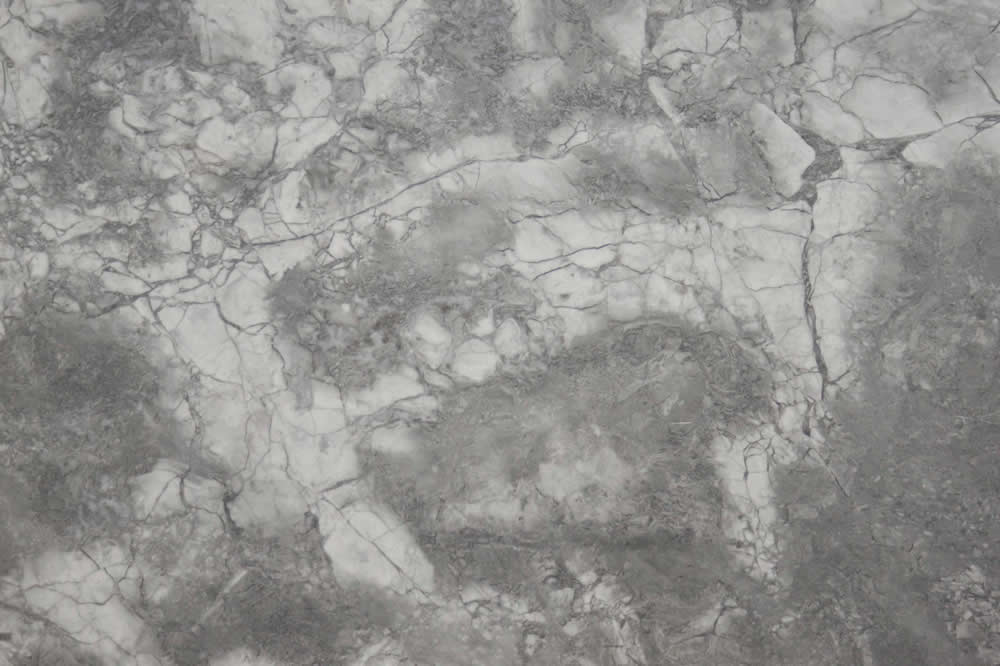 This is popular among interior designers and is a good option for a kitchen countertop. It's one of the few granites that mimics marble and is very durable and resilient. It has soft variations and dark gray whirls that can match white hues and can serve as a great backsplash in any decor. It can easily adapt to different color combinations, most especially white and cream.
12. Delicatus Granite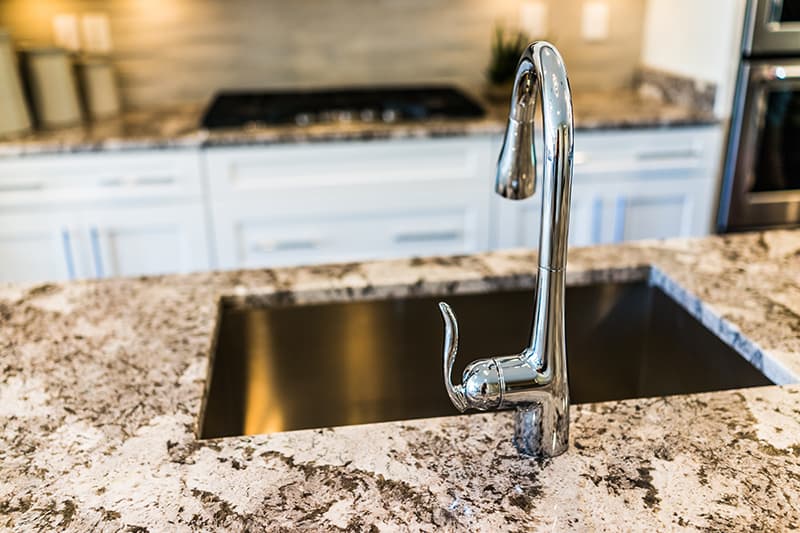 This granite has a white background as well as a lot of details with looked up close. Unlike many other white granites, it has highly contrasting dark veins and the white backdrop is essentially overwhelmed as the veins come together tightly. It's available in gold and ice variations. The gold version is ideal for use in a kitchen with a warm tone while the ice is mostly used for countertops that contrast with white kitchen cabinetry or blend with black colored cabinetry.
13. Glacier Granite
The surface of the Glacier granite resembles a collection of small stones perched together. Its translucent white background isn't too hidden from view, but the formation of different swirls and veins gets all the attention. The gray striations of various shades and shapes are stringed throughout the granite, which gives that appealing look you see in the picture. Finally, it's suitable for white or cream color kitchen because of its transparent white background and dominating gray patches.
14. Thunder White Granite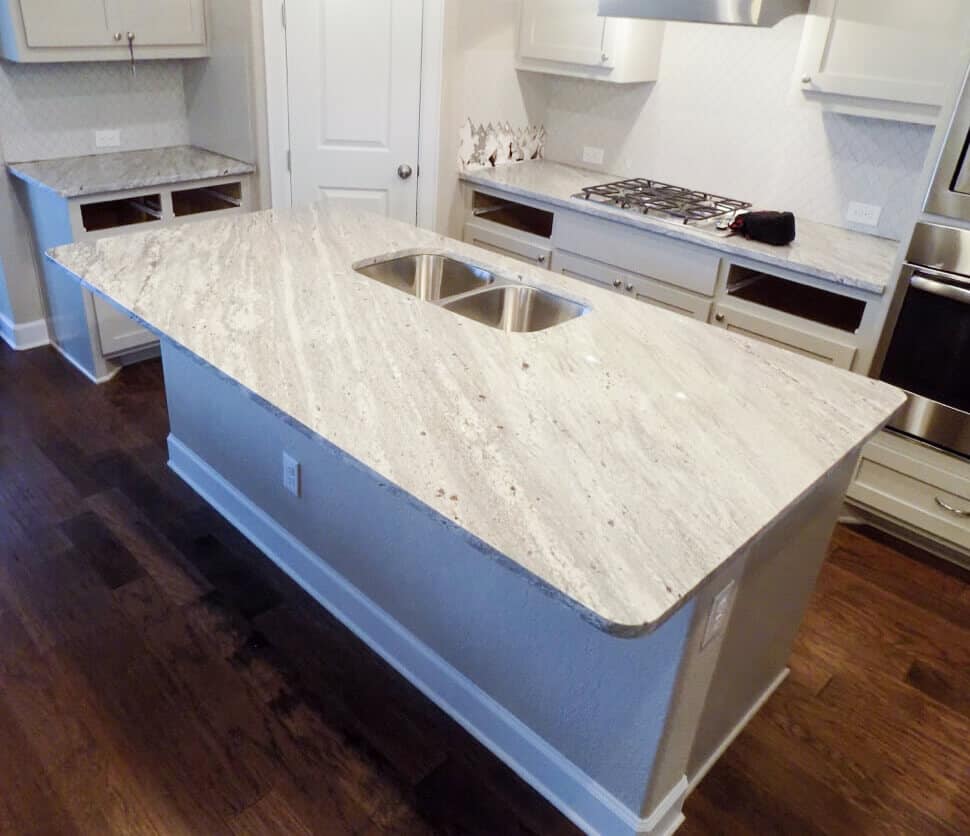 This is one of the cleanest and lucid granites that has an almost clear surface when looked from afar. The stone is named "Thunder" because of the combination of dark and red tones on it which gives it the look of thunder rumbling in the horizon.
It's quarried in Brazil and often looks polished and great on an island. Moreover, it can be finished in a lot more different ways than others so you can use it for a wider selection of color combinations. However, looking at this image shows that it will most likely do well in a gray kitchen with white or soft white cabinets.
15. Alpine White Granite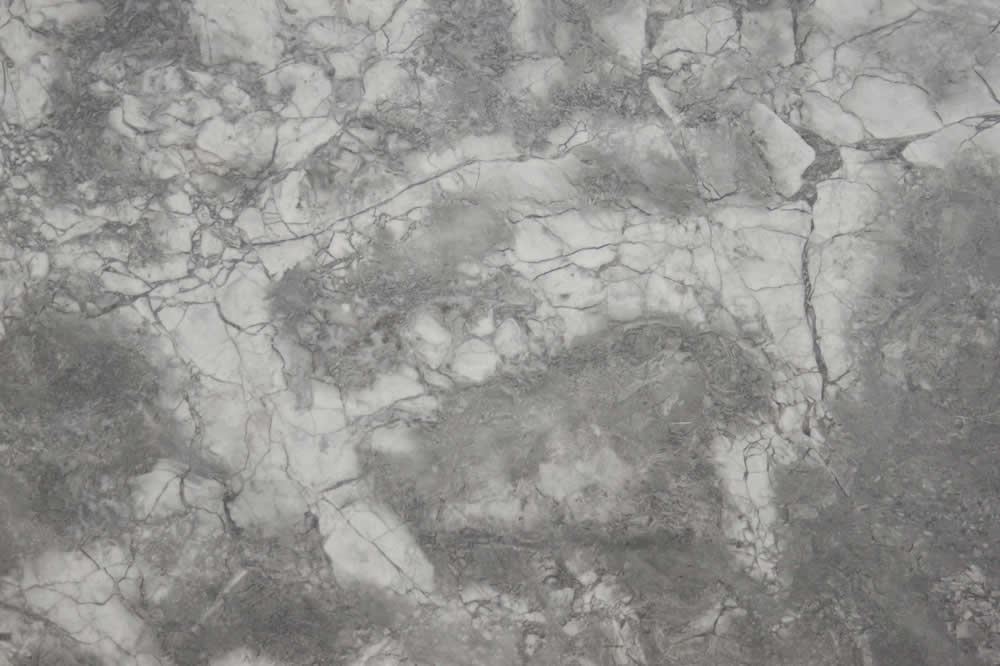 The Alpine white granite has a dense cream color that can serve as a great option for anyone who wants a countertop that blends perfectly to cream-colored kitchen design. It's accented with ebony and the densely concentrated veins give special look that transfers to the surface of the countertop. This granite type is great for both indoor and outdoor use as well.
16. Arctic White Granite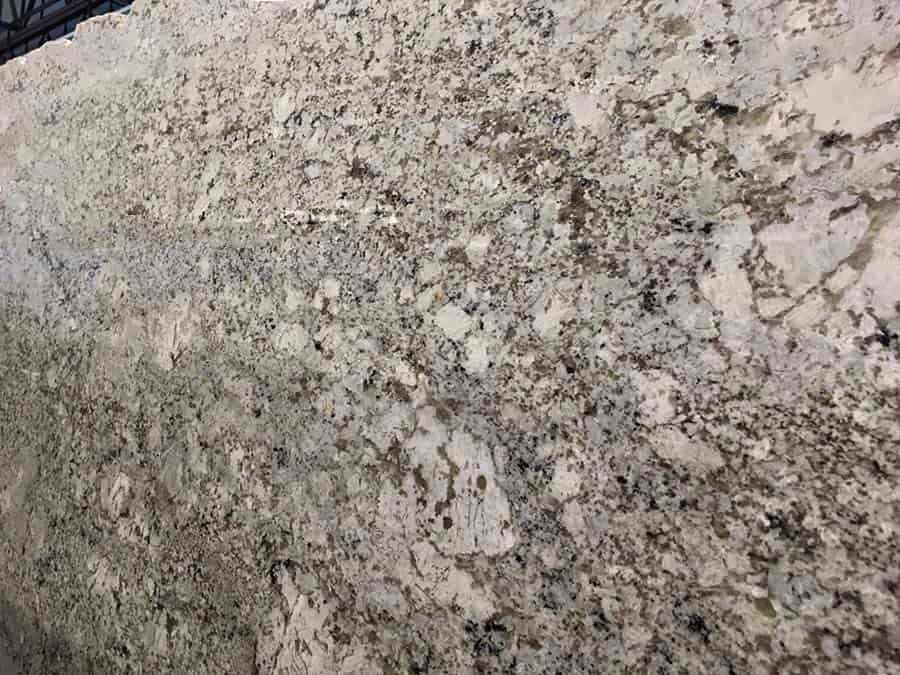 Until now, most of the granites are either quarried in India or imported from Brazil. This granite, on the other hand, is quarried in Finland and is similar to the Glazier in look but available in more variations. It is a highly reflective granite that has a few colored pigmentations. It is sometimes close to cream color with brown swirls and sometimes more of a black and white combination with the black being dotted shades throughout the stone.
17. White Pearl Granite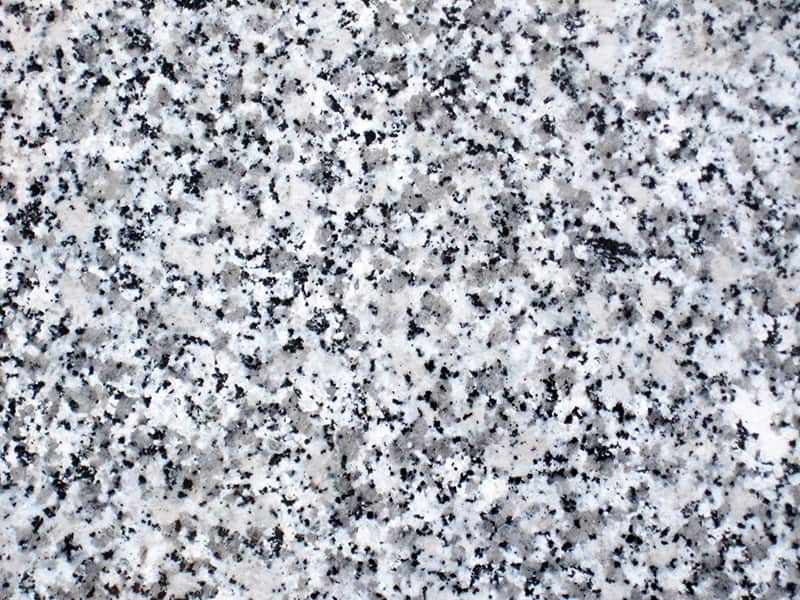 This is another unique granite found in the United States and Saudi Arabia. The Saudi version is gray while the version from the United States slants towards taupe-pink. Unlike the Arctic white granite, the white pearl granite doesn't have as much of a pigmentation. Instead, it is cleaner and closer to the thunder white granite. The gray flecks on the granite are light and whitish with lower variations in the vein, which further enhances the look of the stone. It's durable and has the classic look of the marble.
18. Princess White Granite
This is similar to Carrera marble and has a luxurious look to it as well. It's quarried from South Africa, the only granite from Africa so far. It is marked by Robin egg blue undertones with scattered gray veins. It is most suitable for a white or cream color kitchen and using it as the countertop will blend with the rest of the decor of the kitchen. You can add a dark wooden floor that contrasts the white and brown window panes that break the color at different areas for an airy look.
19. White Ornamental Granite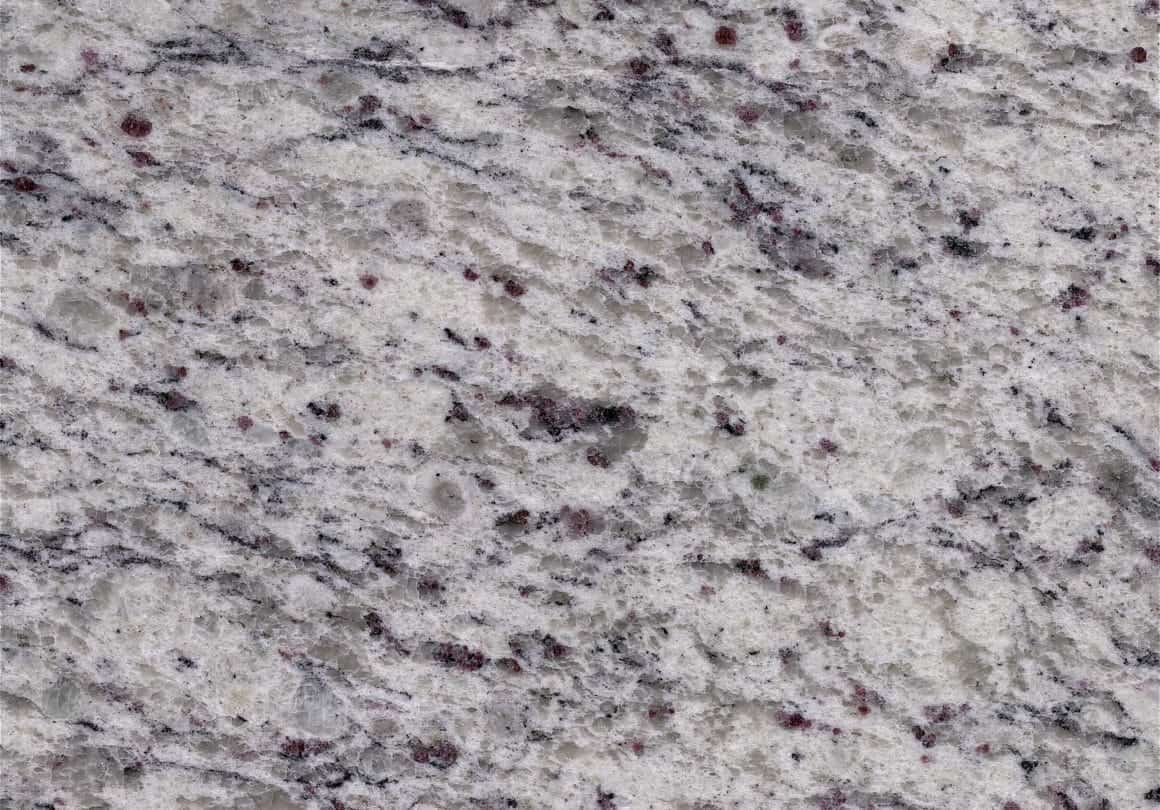 This is another granite from Brazil, sometimes called Ornament. It's suitable for monotone or sophisticated kitchen designs, and as you can see in this picture, it's easy on the eyes and can blend well with kitchens with a warm hue. So, if you want to create a warm tone in your kitchen, you can use light brown color and use this granite on the countertop.
This will create consistency in the color combination and make a striking statement. Another advantage of the granite is that it can blend well with surrounding colors so if you haven't settled on a color for your kitchen, choosing a color that will suit your countertop isn't going to be that difficult.
20. Andromeda White Granite
This granite has a white-creamy background sourced from Sri Lanka in South Asia. And as you can see it fits perfectly well with a cream-colored kitchen. It is one of the most beautiful and supremely consistent granites. If you are searching for a white granite countertop to brighten up your kitchen, making it much more inviting and pleasing on spectators, you can install this granite on your countertop. It is highly reflective and its rainy, black swirls and gray flecks intermix in white background for a lush feel. The Andromeda white granite also has a delicate sprinkle of red dots over it, which makes it even more appealing.
21. Supreme White Granite
This stone is extracted from a quarry in Brazil and it is durable and easy to clean, making it suitable for busy kitchens. It is scratch-resistant and has a dense structure for a solid appearance.
You don't need to wish for a great countertop when you can get a supreme look when you install a white granite countertop. To make your countertop look supreme and superb, the supreme white granite comes with gray and white swirls that are densely concentrated, giving it that spectacular view.
22. White Wave Granite
The white wave granite has a slight variation and comes in polished tiles that's clear. There are deep flecks and swirls flow throughout the granite. The background is off-white and although is covered with patches and swirls, doesn't lose its beauty. This is why it is used for lightly toned kitchens and sometimes matched with the creamy colored kitchen cabinetry and similar design elements. It is one of the popular granites employed for kitchen countertops but is equally applicable for fitting in other unique areas of the home.
23. White Tiger Granite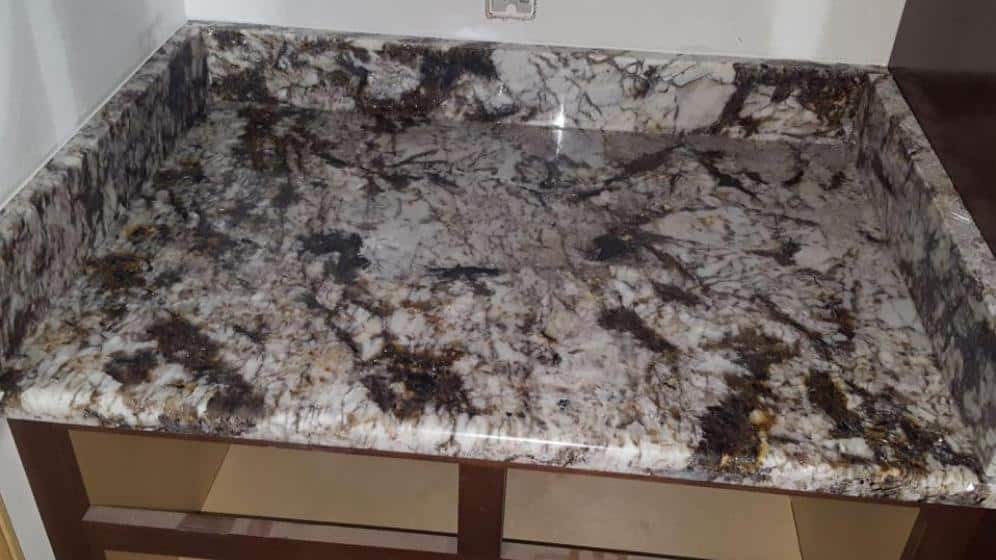 The white tiger granite has thick brown and black veins running through it and its whitish backdrop is covered with consistent unification of gray flecks on each slab to give any kitchen that distinctive look. It goes well with brown, white, and black cabinetry too. In addition, the pattern on the stone is consistent so it won't look out of place when used as a kitchen countertop. One great thing about the white tiger granite is that it has a uniformed look when installed with common kitchen color palettes.
24. Valley White Granite
The valley white granite is durable and elegant and looks stunning when polished. This beautiful natural stone can go with most kitchen designs. Its dramatic gray veins rest on a white background that matches or contrasts any kitchen color scheme. The gray veins run throughout the slab and are more concentrated in some areas than others, giving the granite a variegated look. Although it can be used for wall accents and other architectural elements in interior design, it is best suited to kitchen countertops.
25. Bethel White Granite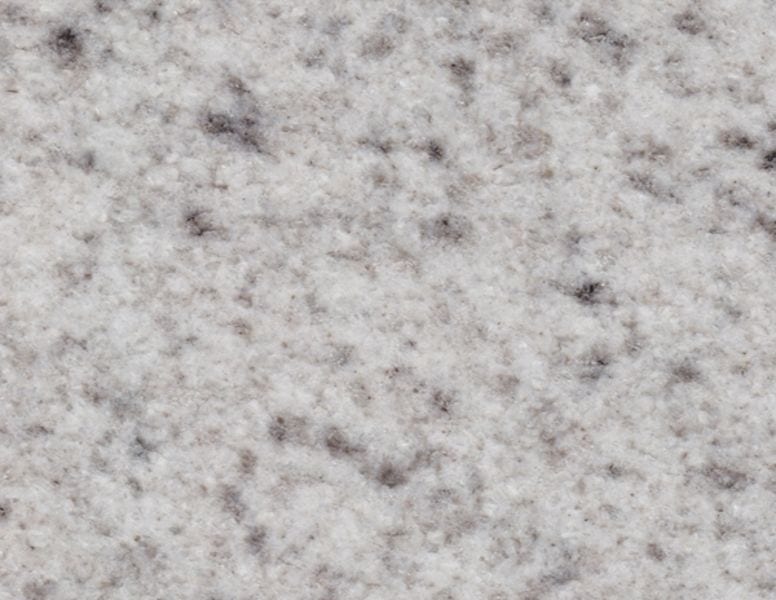 The Bethel white granite has flawless features and purity of color, making it a valuable granite to add to your kitchen design as a countertop. It has beige speckles with gray accents on a creamy off-white background. Although it comes with consistent shade and color, there may be little differences in each tile or slabs. It is a very popular granite for contemporary and conventional kitchen designs and is one of the lighter versions available for white granite countertops. Most importantly, it can go with any kitchen cabinetry.