Aquamarine is a green-blue color that is named after the mineral gemstone of the same name, which is predominantly found in granite rock. It is a bright and vivid color that is at once cool and calming while also being energizing and refreshing.
It has similarities to turquoise and cyan but looks more like a combination of the two.
Decorating with Aquamarine
Feature wall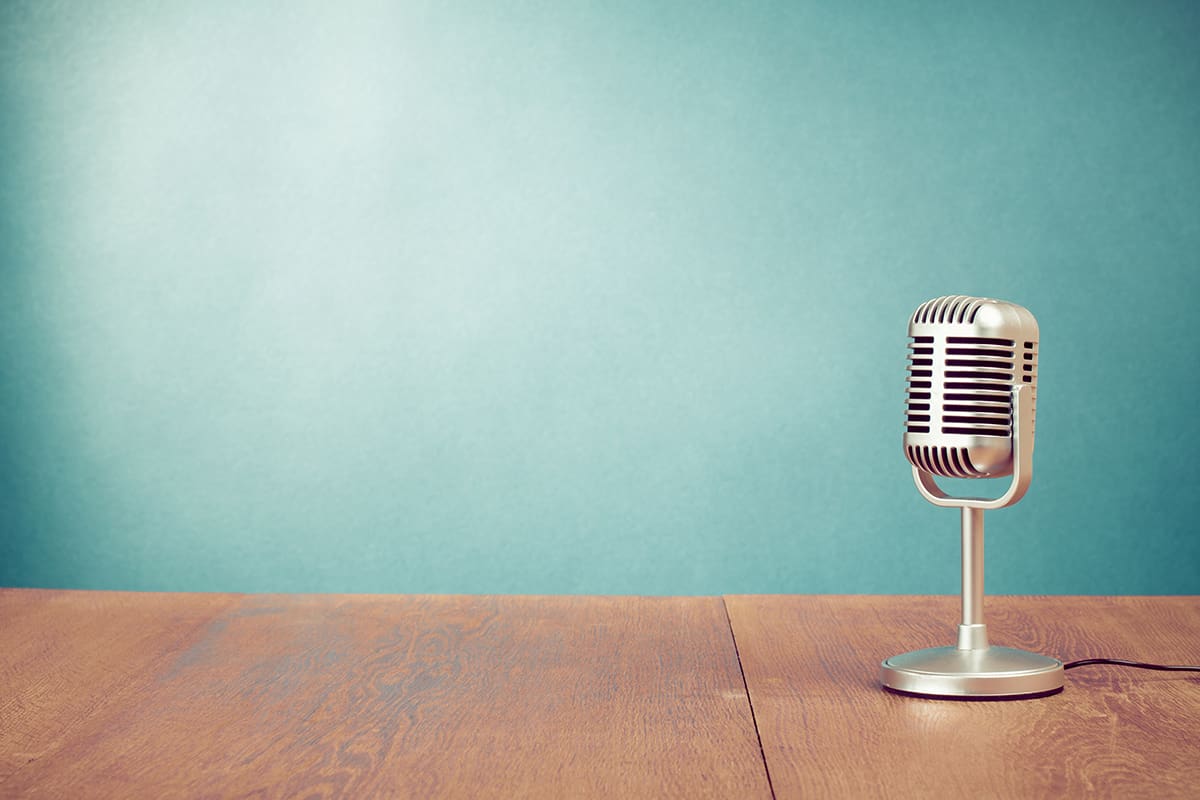 Aquamarine is a very bold and bright color that can look too intense or even a little startling when used as a paint color across all walls in a room. However, it provides the perfect impact when used as a paint color for a feature wall, especially if the rest of the room has quite a neutral color palette.
In a room with predominantly pale gray walls, paint a feature wall in aquamarine and then pick out a few items in the room with the same color, such as an aquamarine rug and an aquamarine lampshade.
You could leave this color scheme as is or add in a third color to contrast the aquamarine, such as coral or hot pink. A few cushions or plant pots in these colors will help to make the aquamarine pop and make for a more interesting visual while still ensuring the space doesn't become overstimulating.
Cabinetry
Aquamarine lends itself well to use in a kitchen because it is a color that feels fresh and clean. For a contemporary take on the farmhouse style, paint kitchen cabinets in aquamarine with gold or copper handles and pair this with white marble countertops and white or off-white walls.
Using aquamarine as a cabinet color will really lift the feel of a kitchen so that it is bright and cheerful, without forcing this color as the dominant shade.
Bathroom tiles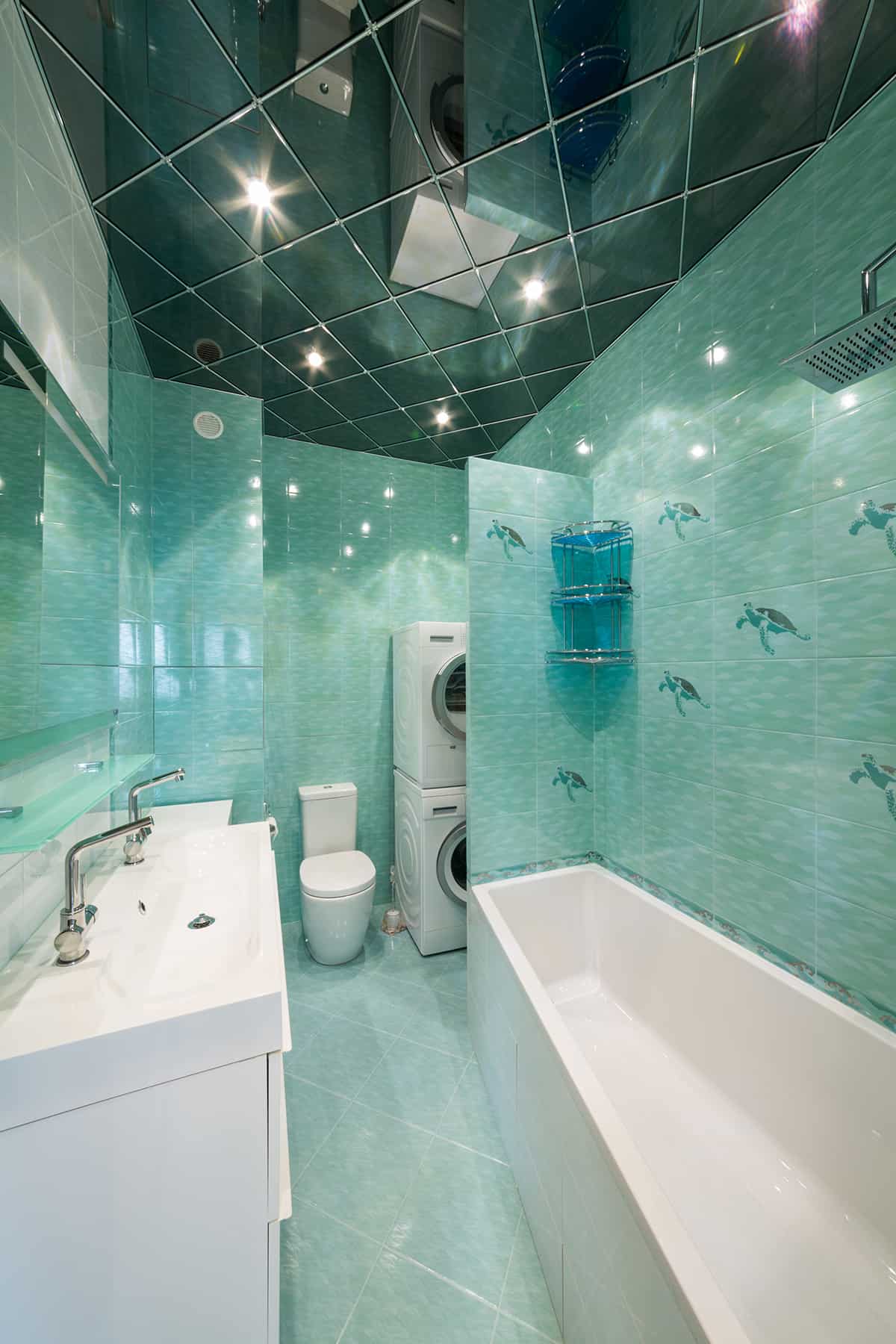 As aquamarine has associations with water and the beach, it can feel like a natural transition to use this color in bathrooms. It will work well as a wall color with gray or white tiles, but for a less predictable style, choose glossy aquamarine tiles for the floor or walls in a bathroom.
Choose small tiles for a mosaic style that hints at a Mediterranean influence or large tiles for a more contemporary take on this color scheme.
Soft furnishings
Aquamarine is a very distinctive color that will make a big impression in any room. If you want to transform the style of a room without altering the paint color or making any big tag purchases, add in aquamarine cushions, throws, or other soft furnishings. This can really make a bold impact without having to put in much effort or make a financial commitment.
Soft furnishings are also really easy to replace, so if you get bored of aquamarine and want to change up your style again, you can just swap out your cushions and blankets for your new favorite color.
Colors that Go Well with Aquamarine
Pistachio green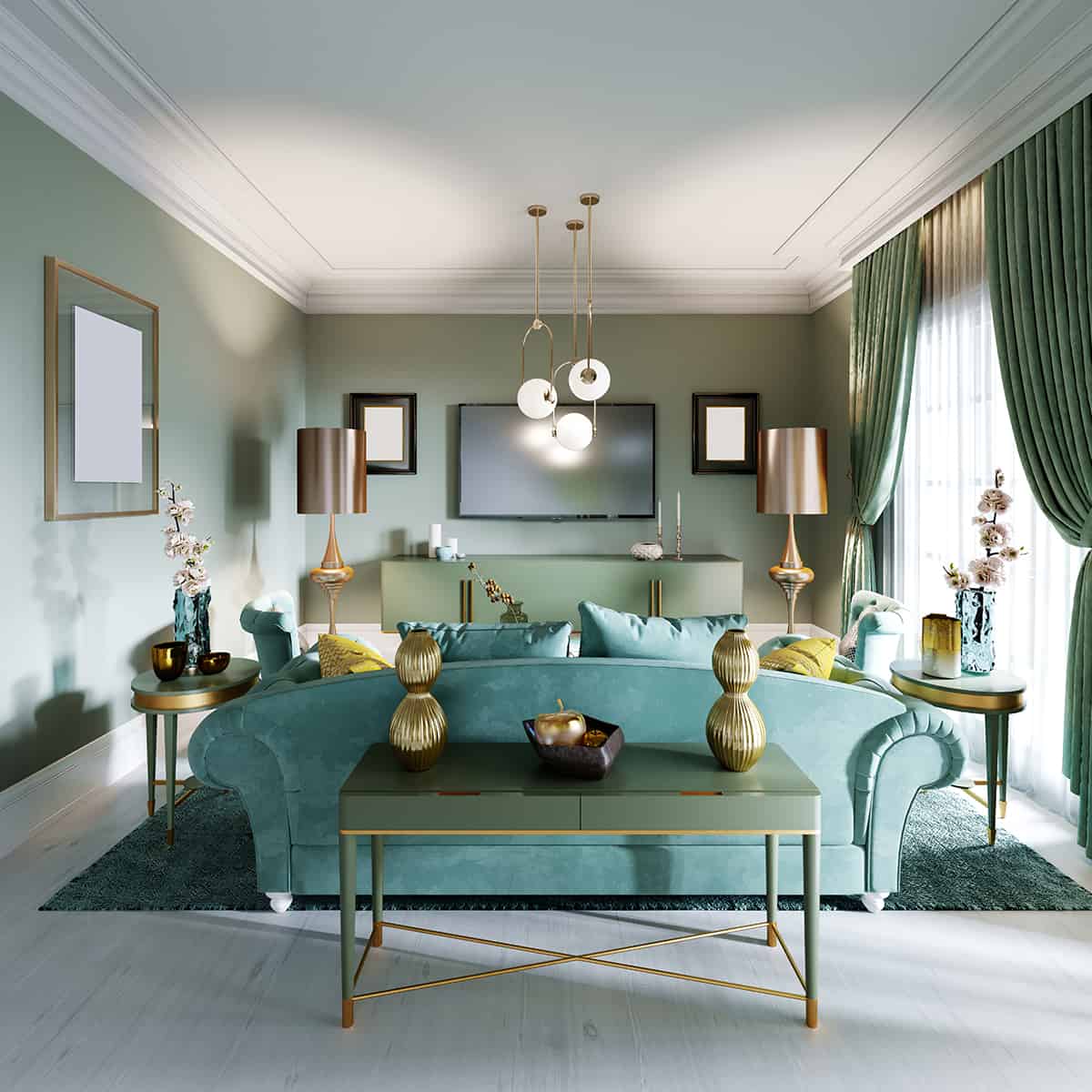 Pistachio green is a muted shade of green that sits somewhere between sage and mint. It will create a fresh and cooling atmosphere when used with aquamarine, which works especially well in bathrooms, kitchens, and casual living spaces.
This is a color scheme that would be ideal for a retro-style interior decor theme, or it could also look great in an art deco space. Use pistachio green and aquamarine with white or pale gray for a modern look, or add red to the color scheme for a vintage diner look. In an art deco interior, these colors could be used with brown, blush pink, or gold.
Blush pink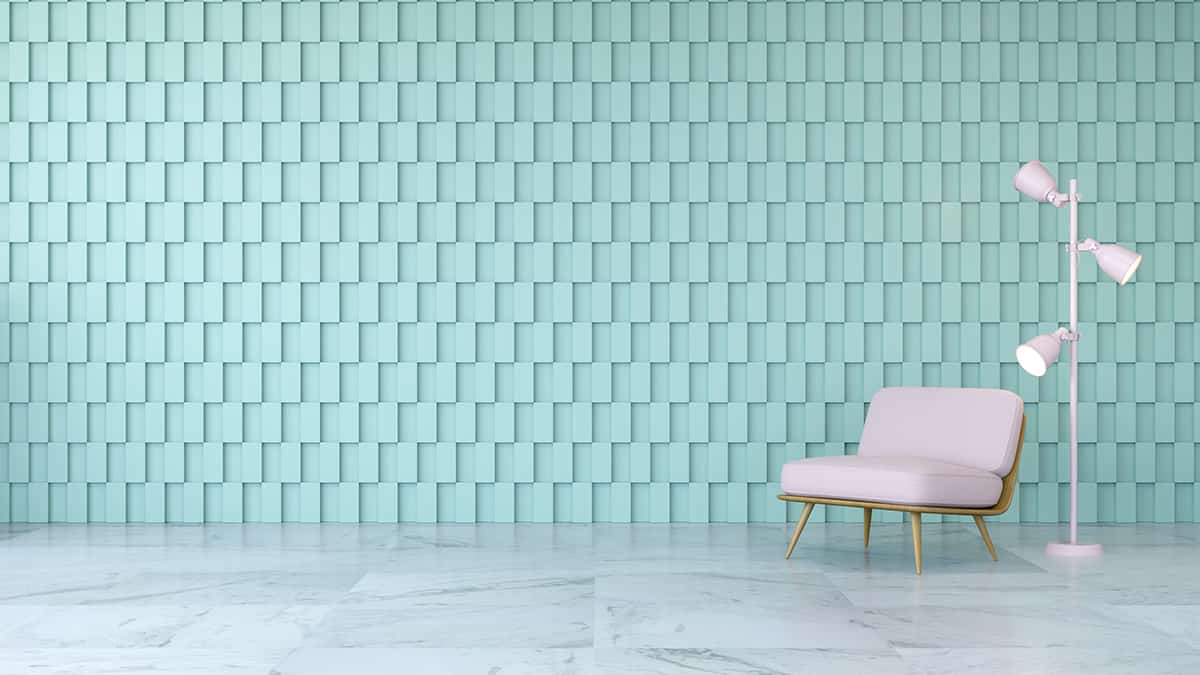 Blush pink is a dusky shade of pink that will provide a subtle contrast with aquamarine, but it also helps to tone it down a little due to the gray undertones in the color.
For a casual bedroom, paint walls in a soft shade of aquamarine, use white bedsheets and blush pink cushions with a blush pink rug. This would also be a soothing color scheme to use in a bathroom. Try blush pink walls with aquamarine towels and accessories.
Violet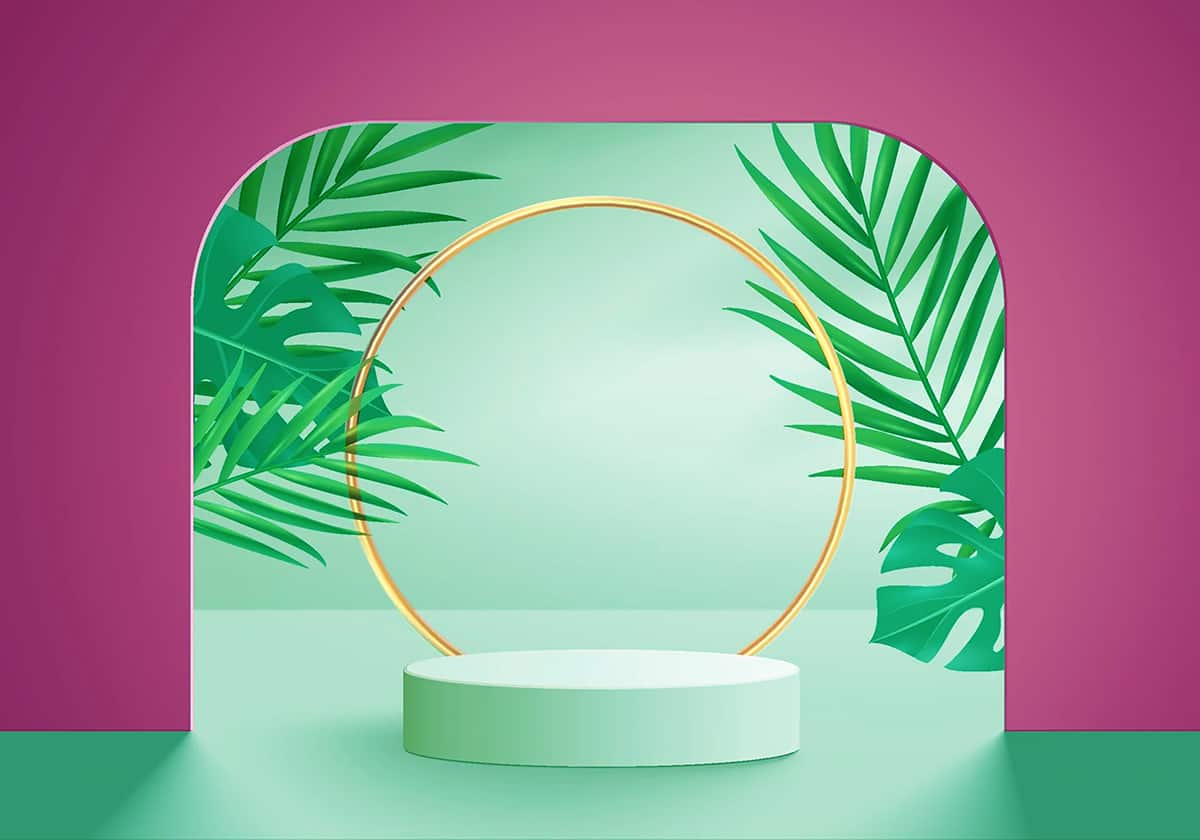 Violet is a slightly subdued shade of purple with cool tones. It can be used with aquamarine to create a range of styles, from a quirky coastal look to vibrant vintage florals. This is a color scheme that is great for a young girl's bedroom because it can be feminine without being overtly feminine or frilly.
Try painting walls in violet and using aquamarine for the curtains and a rug with white bed linen to break up the colors a little. A floral print wallpaper using both aquamarine and violet would be striking in a casual dining space used on a feature wall, with aquamarine placemats and violet curtains.
As both of these colors can be quite intense, it is a good idea to use a neutral shade to provide some balance and prevent the space from feeling too stimulating. A good third color with violet and aquamarine would be charcoal, soft gray, white, or off-white.
Cinnamon

Cinnamon is a rich and warm color named after the spice of the same name. It is sometimes considered a pale shade of brown, but it also contains orange hues.
As orange is the contrasting shade of blue, cinnamon works really well with it. It is contrasting and complimentary, but as cinnamon has a neutral tone to it, the contrast will not be too intense.
Choose either aquamarine or cinnamon as your dominant color,, and then use the other one sparingly for the best effect. For example, paint walls in cinnamon, with a neutral-colored sofa, and aquamarine cushions and lampshades.
Cinnamon has a warm and welcoming feel that can help to achieve a cozy space. Use it in a snug or a bedroom to create a space where you want to feel safe and relaxed, then use aquamarine accents to add a playful touch and balance out the warmth.
Rose gold

Rose gold is a pink-gold color that can be used for metallic surfaces, as well as fabrics and other textures.
Aquamarine is a color that goes greatly with rose gold because it provides a subtle contrast and has a warm tone that balances out the cool tones in the blue-green shade.
Aquamarine is not a color widely used to achieve an elegant or glamorous feel, but when used with rose gold, it can create this vibe. Consider aquamarine velvet upholstered dining chairs with rose gold metal legs or aquamarine cushions with rose gold metallic thread embroidery details.
This is a color scheme that would be playful and flirty in a bedroom or could make for a fun and quirky look in a living room.
Coffee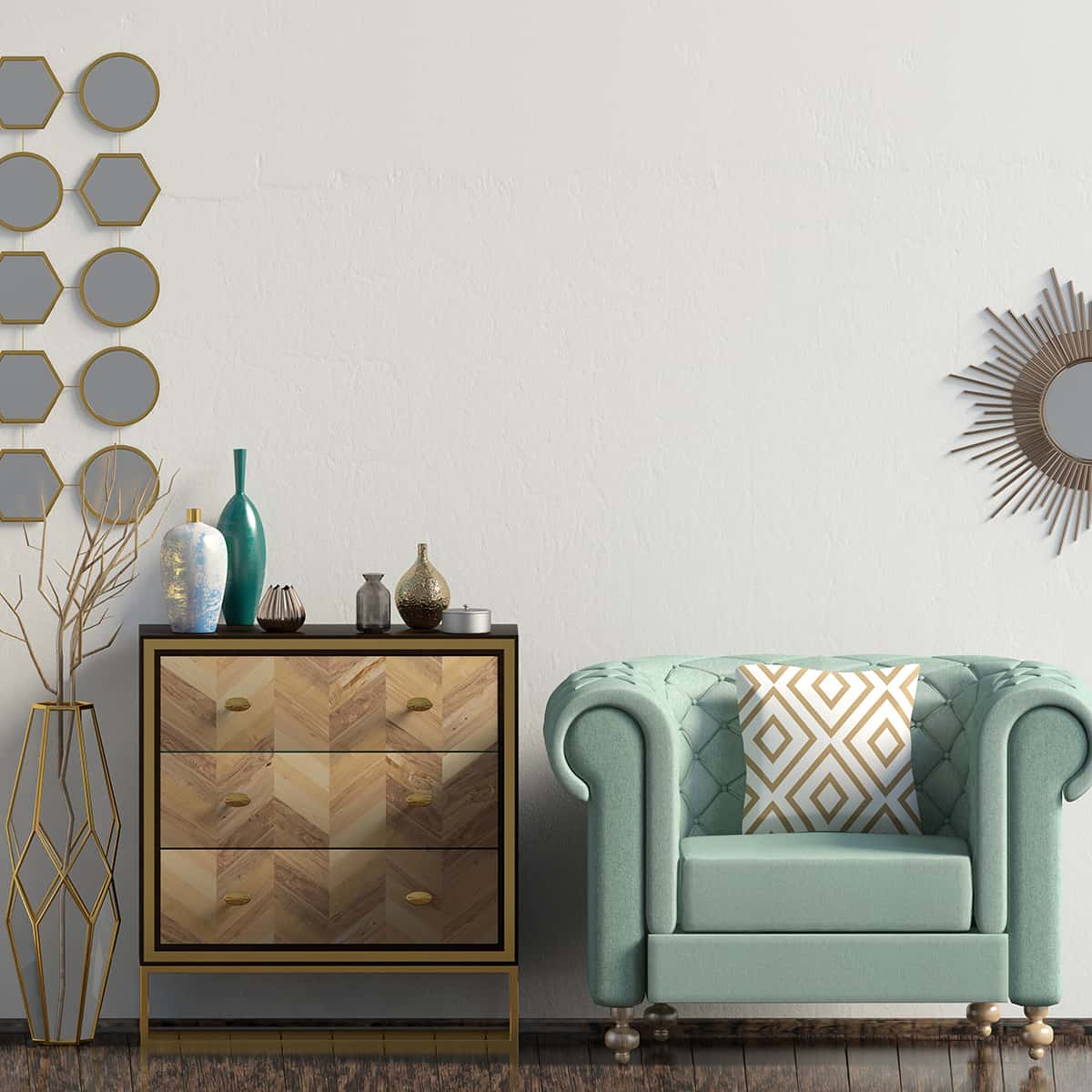 Coffee brown is a warm shade of brown that is quite muted; it doesn't have the richness of intensity of chocolate brown. This shade was popular in interior design throughout the early 2000s but has fallen out of favor in more recent years as it can look dated. However, if you pair coffee brown with aquamarine, it will take on a new look that can appear classic and sophisticated.
Try coffee brown furniture in a mid-century modern style with an aquamarine rug or coffee brown walls and aquamarine curtains. The cool tones in aquamarine balance out the warmth in coffee brown to achieve an even atmosphere.
You could also use this color scheme to create a cozy and comforting room with soft textures. Try a corduroy coffee brown sofa with aquamarine cushions or aquamarine bedsheets with a chunky coffee brown crocheted throw.
Mustard yellow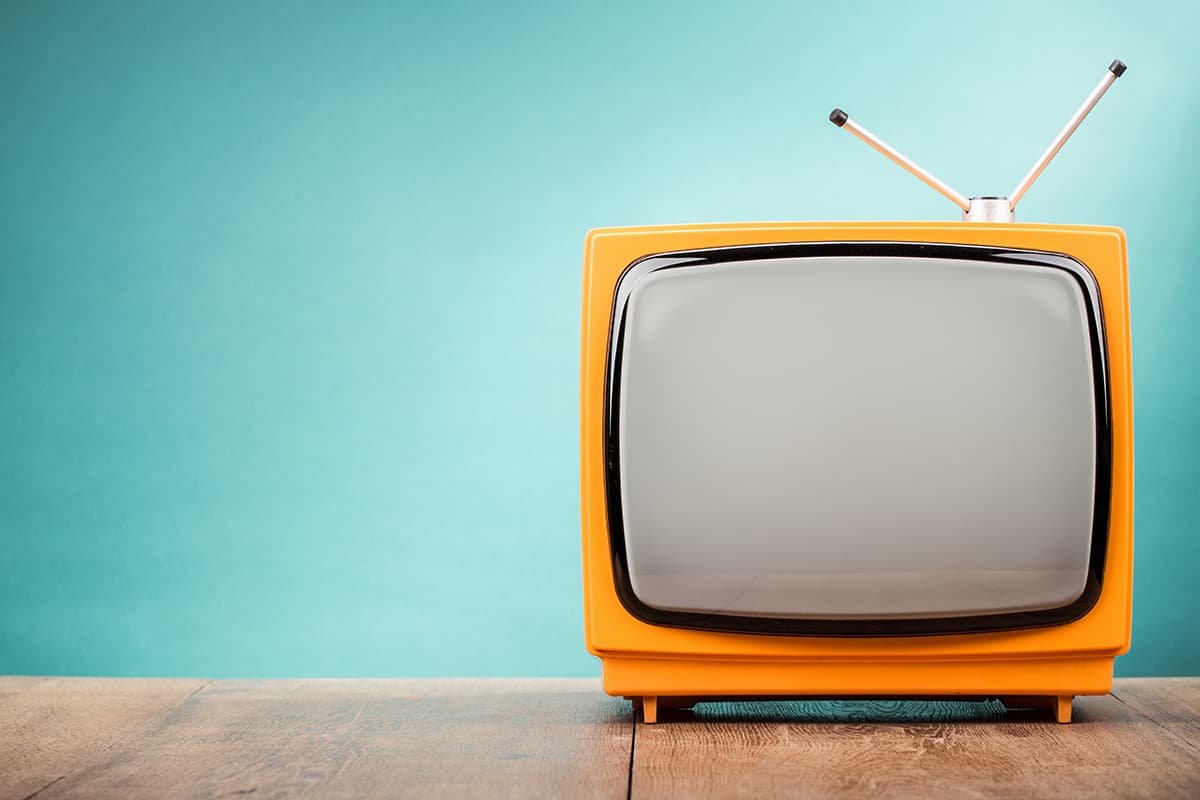 Yellow is one of the contrasting shades to blue, so mustard yellow works nicely with aquamarine. Blue and yellow create a fresh and cheerful look, but as mustard is a subdued shade of yellow, it can make for a more relaxing look.
The aquamarine and mustard yellow color scheme are great for Scandinavian styles, such as an aquamarine-painted room with a mustard yellow-painted dining table and chairs with aquamarine seat pads. This color scheme can also be put to good use in a modern take on a coastal or beach theme, with aquamarine and white striped sofas and mustard yellow linen cushions.
In an English country manor-style decor, opt for heavy jacquard curtains in an aquamarine and mustard yellow fabric, set against cream walls with cream sofas and aquamarine throw blankets.
You could even use this color scheme in a bathroom for a contemporary style, with aquamarine tiles and mustard yellow painted walls, offset by white towels and accessories.
Poppy red
Poppy red is the perfect shade of red to use with aquamarine because it has the same light and fun vibe, as opposed to darker shades of reds which would be too dramatic. It will provide a stark contrast with aquamarine, so use it as an accent shade sparingly in a room to avoid a look that will be hard for the eyes to process.
In a kitchen with aquamarine cabinets, opt for a red vintage-style blender and toaster to create a retro style.