A house's living room is usually the heart of the home. It's where most entertain guests, where family movie nights are enjoyed, and for some, it can also be their most relaxing room in the entire house. What happens when this room has no overhead lights? Probably your newly purchased home/apartment didn't come with ceiling wiring, so you're left frazzled, or perhaps overhead lights are too dated for you, and you'd much rather have lights that bring a lot more personality to your living room.
If you are in either one of these predicaments, then this article will guide you on other lighting options that will not only light up the room but also add charm to it, as many of the lights on this list double as decorative items. We'll look at the three kinds of lighting often used in households, that is ambient, tasking, and accent lighting. You need to grasp what mood or purpose lighting you are channeling so that you make informed decisions that meet your needs.
Plug-In Pendants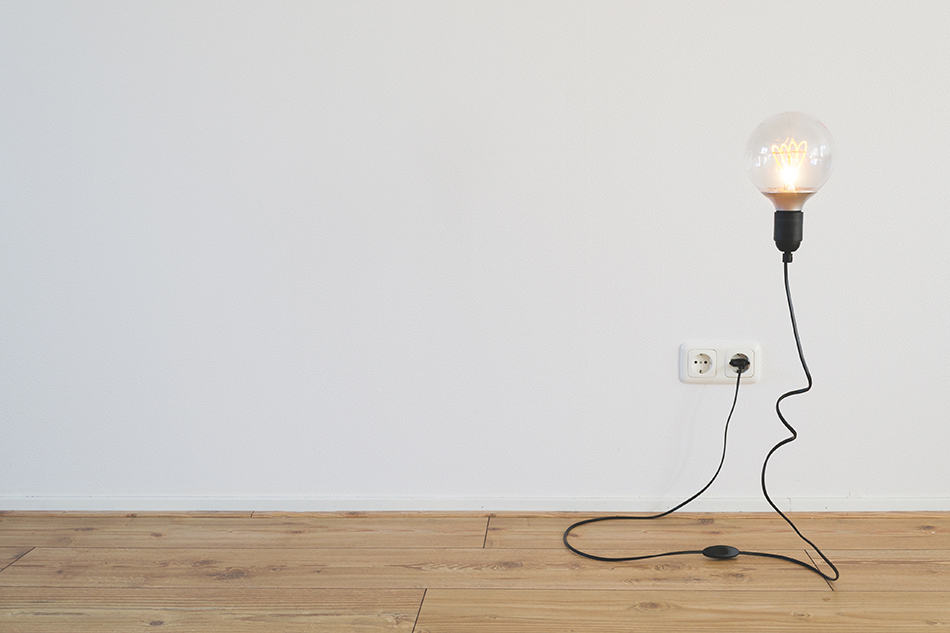 Want the guise of overhead lighting without the cost and mechanics of setting them up? Then, opt for plug-in pendant lights. These lights are hung from the ceiling with the help of a drilled hook. The large ones with bulbous shades are great for open space houses that give off an industrial look and feel.
Swag Chandelier Lights
These are another version of pendant lights that are more elegant and appealing for contemporary homes. Just as the bulbous pendant, these can be hanged on a hook that's drilled into the ceiling.
These lights have hanging cords that are linked to a power supply socket, which can make the room look unflattering. This shouldn't be a worry as you can get cord covers from your retail store or even Amazon. Some of these lights come already draped in cloth or rope material that will allow the wires running against the wall to blend seamlessly into the background.
Wall Sconces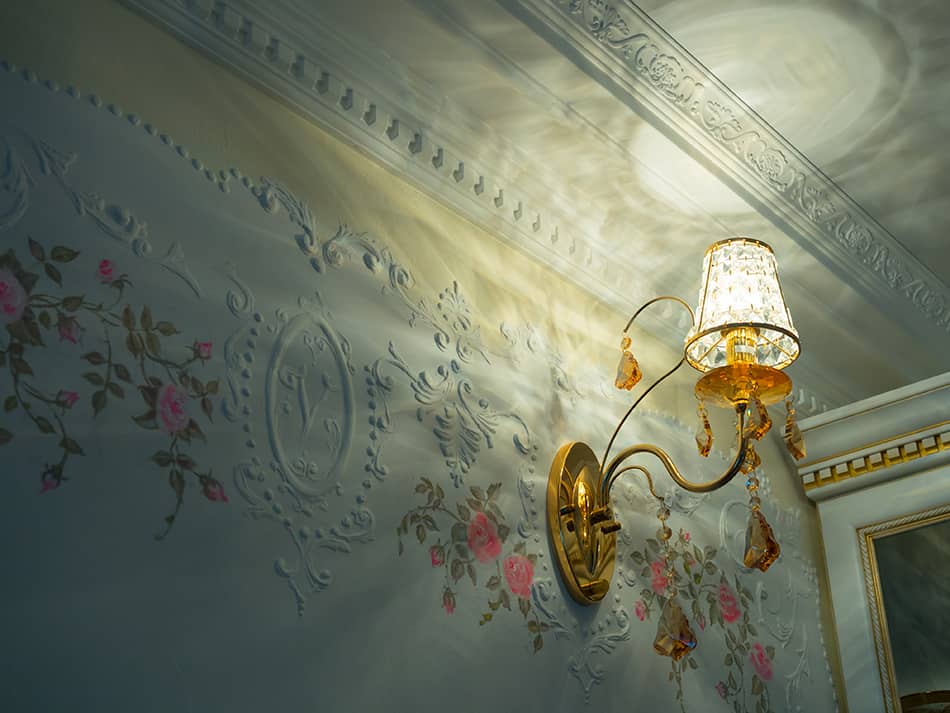 While these lights are historically known for holding candles and kerosene lamps, they have adequately been modified over the years. Just like the plug-in pendant lights, wall sconces too are attached to a hook on the wall and don't need wiring. The character of your living room will turn up a notch with a pair of these that come in different designs like contemporary, industrial, chandelier, and many more. These lights are often seen in hotel rooms but also can serve a great purpose in a living room.
Table Lights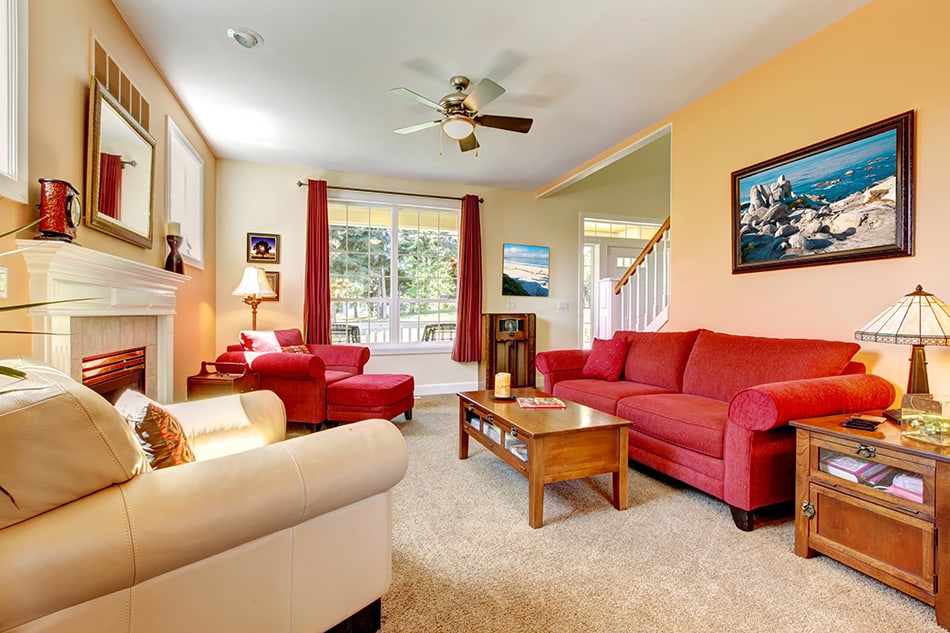 While these lights are often used as tasking lights for reading or working on your computer, they too can be your main source of light. You could have a living room with large windows that flood in a lot of light during the day and perhaps never use the room for anything other than watching movies or getting some work done. Therefore, you don't need loads of light at night. These are usually placed on console and end tables to serve their purpose.
Floor Lamps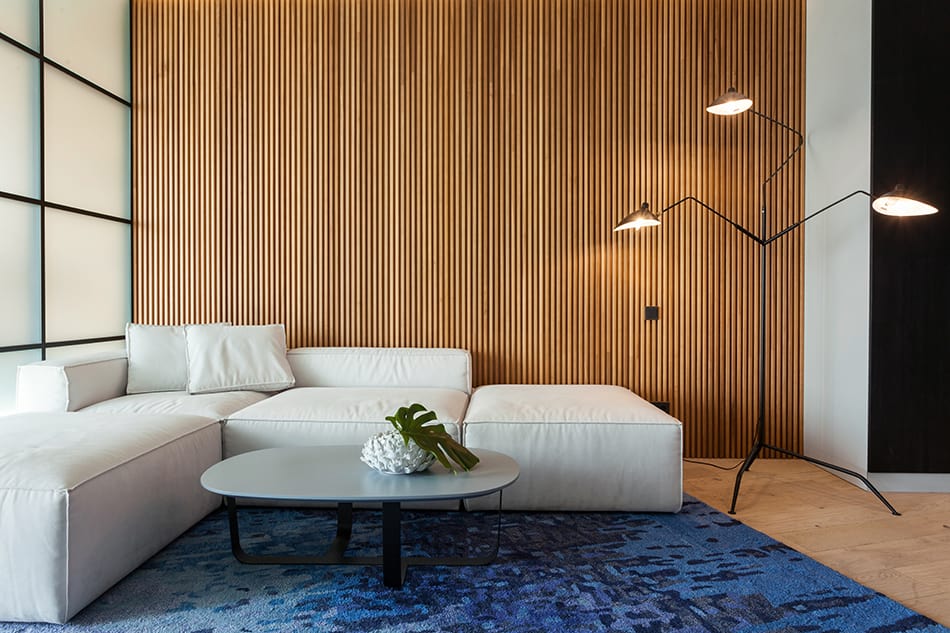 These lights are quite common and come in different designs. You may opt for the silhouette structure of an arc floor light that has a pleasing design and also radiates plenty of light within the room as required. These lights are massive, and therefore, floor space is of the essence.
You may also opt for the tripod-floor lights that are normally seen in multiple homes. These need to be paired and placed on opposite sides of each other, possibly by a couch. Or they can be placed in the corner of the room. These sophisticated lambs are a match made in heaven for modern homes and are very versatile; thus, they can be moved around easily to suit your lighting preferences or for finding the nearest power outlet.
Tree Lamp
Go an extra mile with your floor lights by accentuating your deco with these outstanding lights that have 4-plus bulbs on one stand. These will provide more light and also compliment the interior design of the room.
String Lights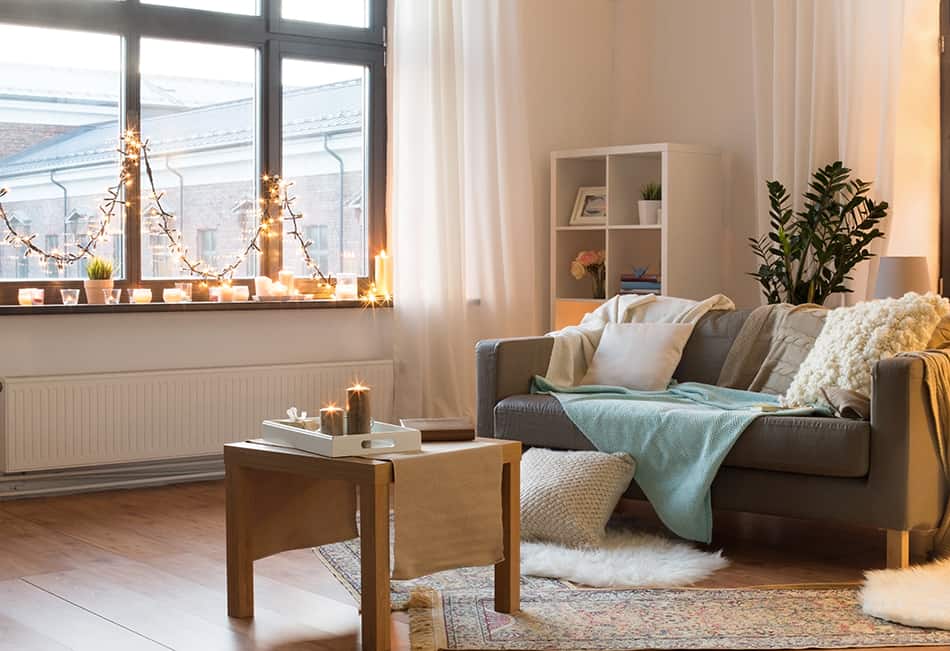 If you have a contemporary home with modern and chic designs, then these might not be your best alternative for overhead lights. They are perfectly suited for a living room with a Boho aesthetic, with homeowners that perhaps defy the norm.
These lights will not only light up the room very vibrantly, but they are also decorative, giving you a two-in-one package deal. All you need to do is hang them on a bunch of hooks on the ceiling and walls, which will hold them.
LED Strip Lights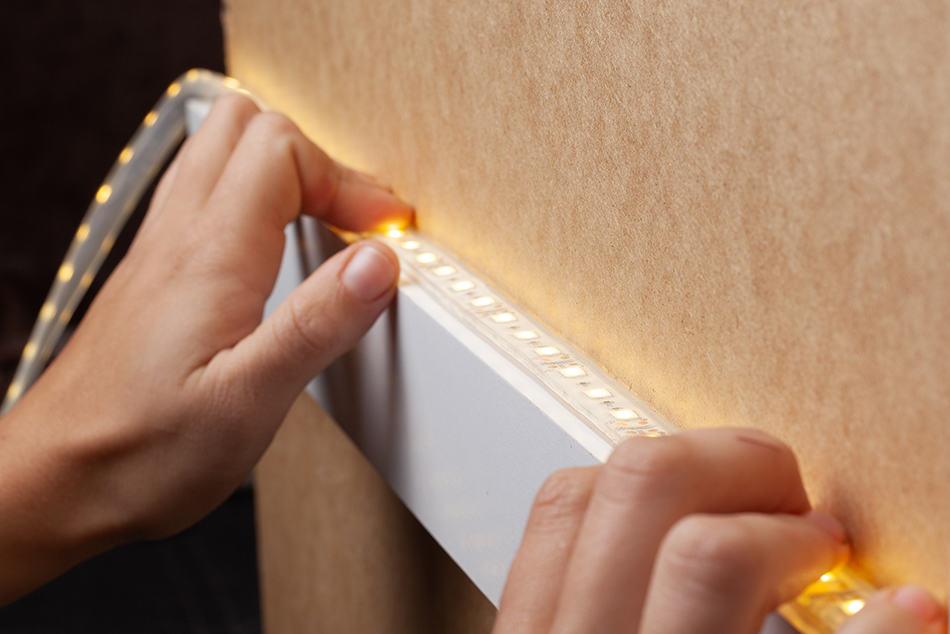 These are the essence of accent lighting. They transform the room into a welcoming space. These lights illuminate certain areas in the living room that you want to be emphasized. This could be an open shelf, a TV stand, or an artifact. They are meant to elevate the architectural or design elements of the room, but they still serve as lighting options, only in a more channeled and mild way.
Candle Lights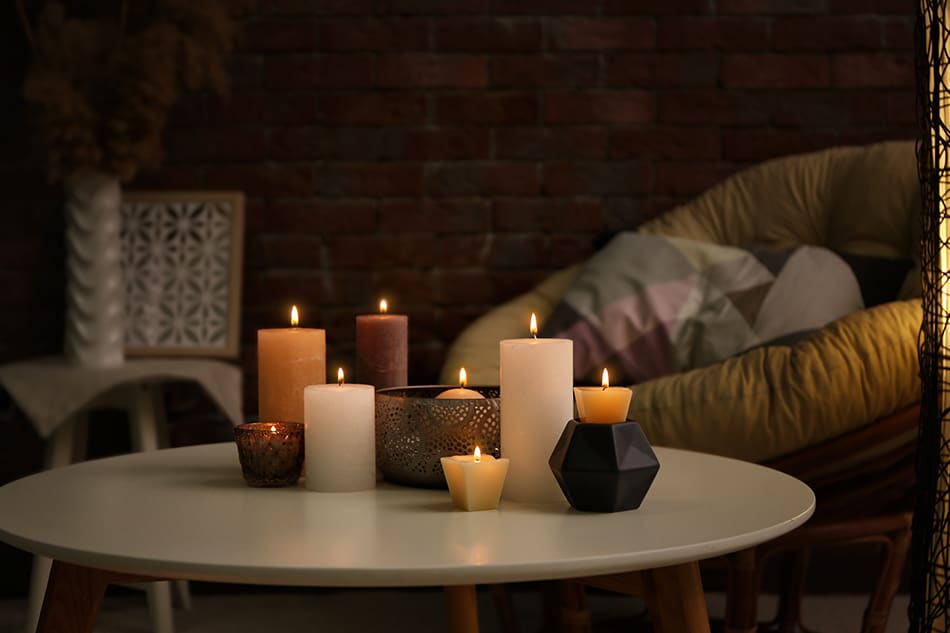 As mentioned in all other items on the list, your home's aesthetic will guide you with the appropriate lighting option. If you're going for cozy lighting, candles will set a calming mood for the house. However, candles are a fire hazard, so you could opt for the LED candle lights that offer the same effect without the worry of burning down the house.
Moroccan Lights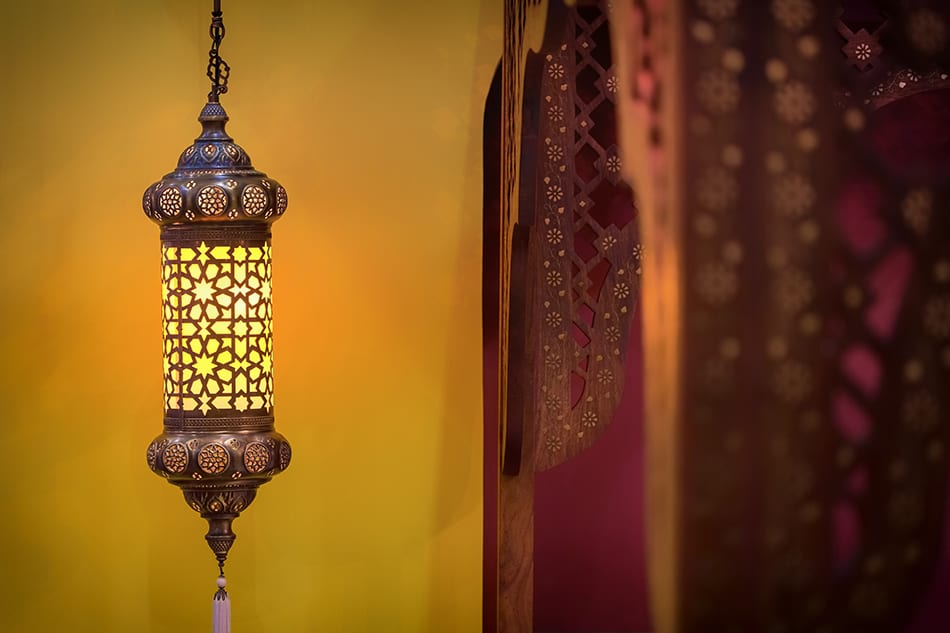 These often cause a spur for homeowners looking to adorn their homes. These Moroccan-style lamps come in different kinds, including floor, table, and pendant lights. Some made from solid brass draw incredible patterns in the room and give off a relaxing mood. Since they are movable, you can switch them up now and again. Again it comes down to the layout you've set for your home because these lights are frequently used by households that are inspired by Arabic designs.
Neon Light Signs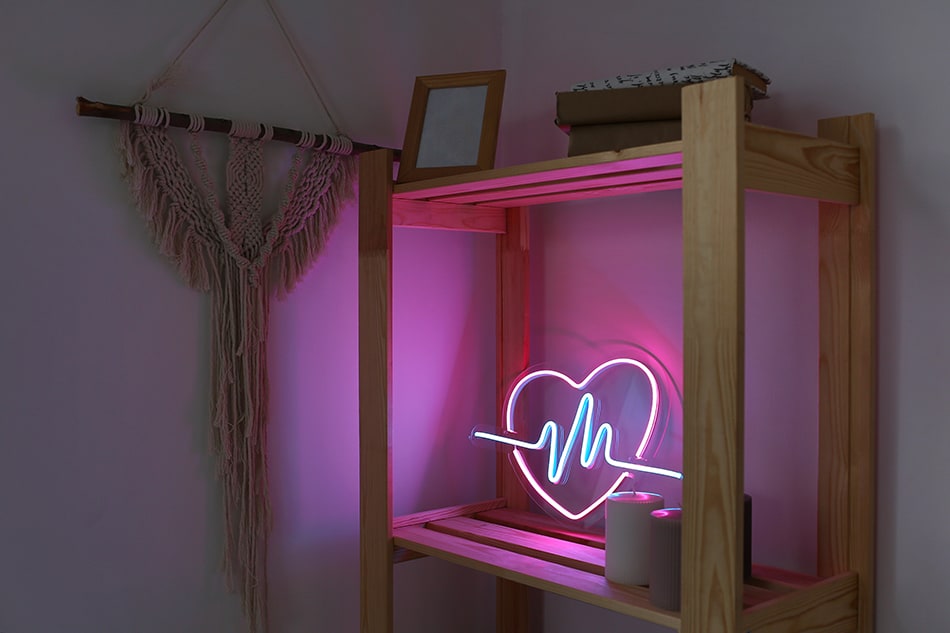 This might be a little edgy for your home, but if you're looking to add a little more zhuzh in your entertaining room, then these lights will hit the spot. You can go minimalistic and choose a small sign with affirmative words. You've added light, personality, and motivation into the room with one fixture.
Mixing Up the Light Fixtures
Conceivably, one kind of lighting may not be enough, or you have seen multiple Pinterest boards that have rooms with a fine balance of different lights. This, too, can be an option. One room can have a floor light, table lights, and wall sconces. The trick is how to pick and place them correctly so that they coherently flatter the room.
You can have two matching table lamps placed together or even mix the styles. A modern homeowner can choose to throw in a Moroccan wall sconce just to add more character. This process can, however, be disastrous if you aren't conversant with designs or you've overly flooded the room with light. In this case, hire a professional interior designer that will easily sort out your dilemma.
Complimentary Accessories
Light can be controlled to your desires, and therefore several flattering items will add more or less light into your room. You can have a floor lamp that you believe is too dim and too dull, yet in actuality, you haven't thought of switching the shades. If you are looking for maximum light with just one light source, then perhaps a decorative shade that doesn't cover the light source may be more impactful. Lampshades are also a very vital aspect of your shopping experience, especially if you are concerned with the design. You may go for the classic shades that have drapes or choose modern designs.
Mirrors can also illuminate your living room further. Since light bounces off mirrors, having them in the room will automatically mean you have twice the light of one lamp. These can be leveled up to your pendant lights to get the reflection.
Additionally, you could opt to have battery lights over electric lights. These are more purposeful for table lights of floor lights that are accessible thus easy to replace, but wall sconces will make it cumbersome. Also, these tend to be dimmer than electric lights, and turn off/off the light switches could get tiring, thus making you reconsider your investment. Your choice of light bulbs, from Tungsten, LED, Halogen, Fluorescent, and the like, will also play a part in the lighting possibilities of your room.
Finally, house lighting is not always at the forefront of many homeowners' thoughts when purchasing or remodeling their house. Furniture and decorative accessories like rugs, vases, and the like, take center stage. However, good lighting in a living room not only brightens up the room but also your mood. We are subconsciously relaxed in environments that are lit to suit our moods. If you have the option of large windows that will usher in ample light, then jump at it because many don't have the luxury and must rely on artificial lighting to set the tone.