The TV is the focus of the living room or recreation room in many homes, so you'll want to give it pride of place on a suitable piece of furniture. TV stands come in a wide range of styles, which can offer additional storage or make your TV more accessible.
Here we look at the many available options for types of TV stands.
Design
Closed Shelf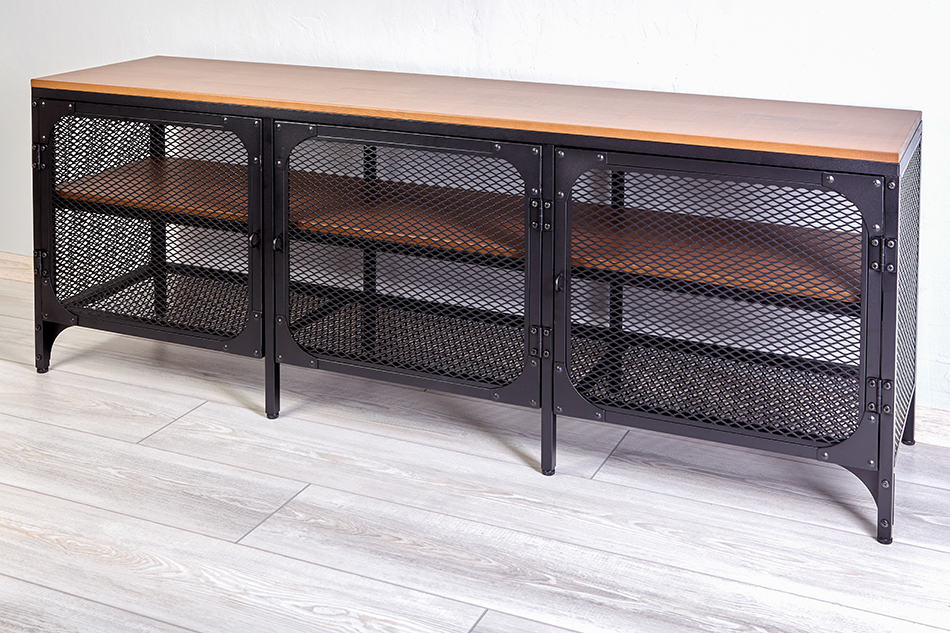 TV stands with closed shelving underneath often take the shape of a console table where, like a console table, you place the TV on top, The hidden shelves beneath can supply plenty of storage space.
The advantage of having closed shelves, which are usually covered by a sliding door or a cabinet-style hinged door, is obviously that any clutter is kept from view so that your living room has a tidier and sleeker look. The doors also prevent dust and debris from getting onto your stored items, helping them to stay clean.
However, if you have a cable box or a games console that requires your TV remote to be able to communicate with the box, then having it covered up will prevent it from working, and you'll end up having to keep the doors open to convert the TV stand into an open shelf design.
A good compromise if you want to hide your clutter away is to opt for a TV stand that has one or two open shelves, and the remaining storage is covered with doors.
Open Shelf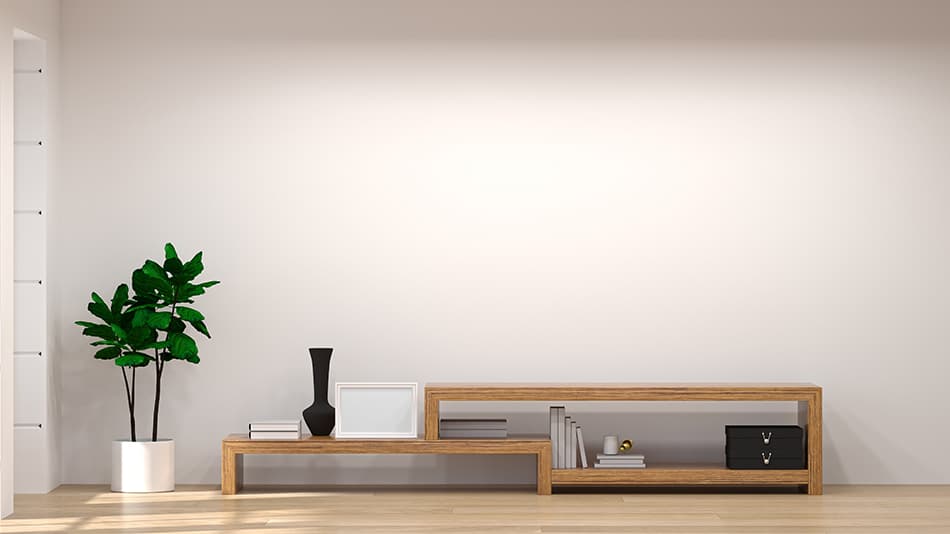 An open shelf-style TV stand is one of the most commonly seen designs. These are quite a simple piece of furniture that takes the shape of a low bookshelf.
It will have two or three shelves underneath the top surface where the TV will be fitted. It may or may not include a bracket for the TV to be attached to. These types of TV stands can look great if they are kept neat, without too many items squeezed onto the shelves.
They work well in small rooms because they are open piece of furniture that extends the eye line to the back of the shelves and creates the illusion of more space. These TV stands are ideal for people who have electrical equipment which needs to be accessed regularly and stored on the shelves.
Shelves that are low down, such as those found on an open shelf TV stand, do seem to attract more dust, so they will need to be cleaned frequently, along with any items stored on them.
Cabinet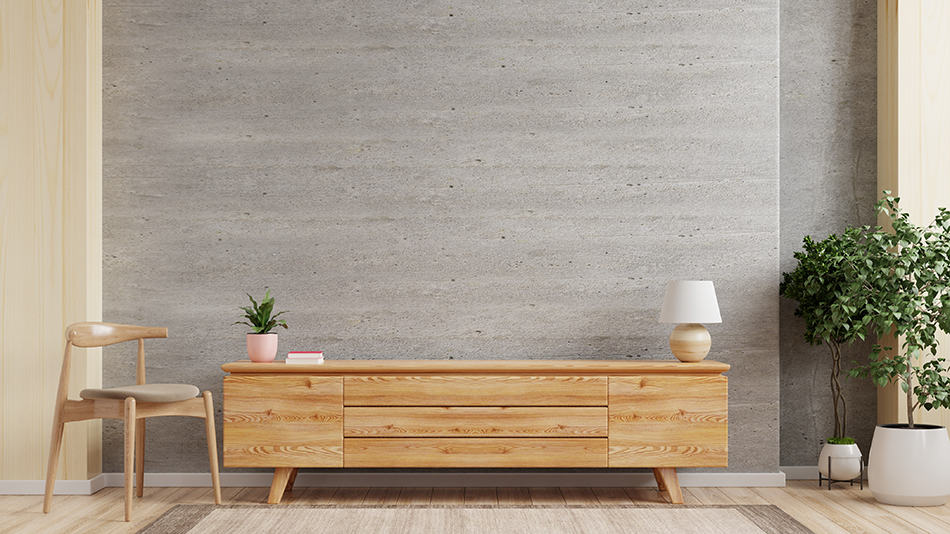 Cabinet-style TV stands come in two variations with regard to where the cabinet doors are fitted. One type will have storage on the lower half, which is enclosed by cabinet doors, and an open unit on the upper half where the TV goes.
The other type will have cabinets or drawers on the lower half and a large cabinet on the upper half, which, when closed, will hide away the TV.
Both of these options are great for storage, as they offer plenty of space for keeping bits and pieces which you don't want on show. The type of TV stands that enclose the TV behind hinged doors are good for formal rooms where you don't want the TV to be the focus of the room.
You can close the cabinet doors, and nobody will be tempted to switch the TV on, and guests may not even realize what is inside the furniture. This type of cabinet is especially useful in rooms where you might only want to use the TV very occasionally, such as in a dining room or bedroom, and the majority of the time, it can be hidden away.
As well as helping to create a more formal atmosphere, the cabinet TV stands that hide the TV also serve to keep it from attracting dust so that it won't need to be cleaned as often.
The drawback of cabinet-style TV stands is that they tend to be very large and therefore are typically only suitable for big rooms. This TV stand size can be quite cumbersome, so they don't work well with minimalist or sleek interior styles. They also tend to take quite a traditional style, often in dark wood with ornate carvings, which limits the types of buyers they appeal to.
Hutch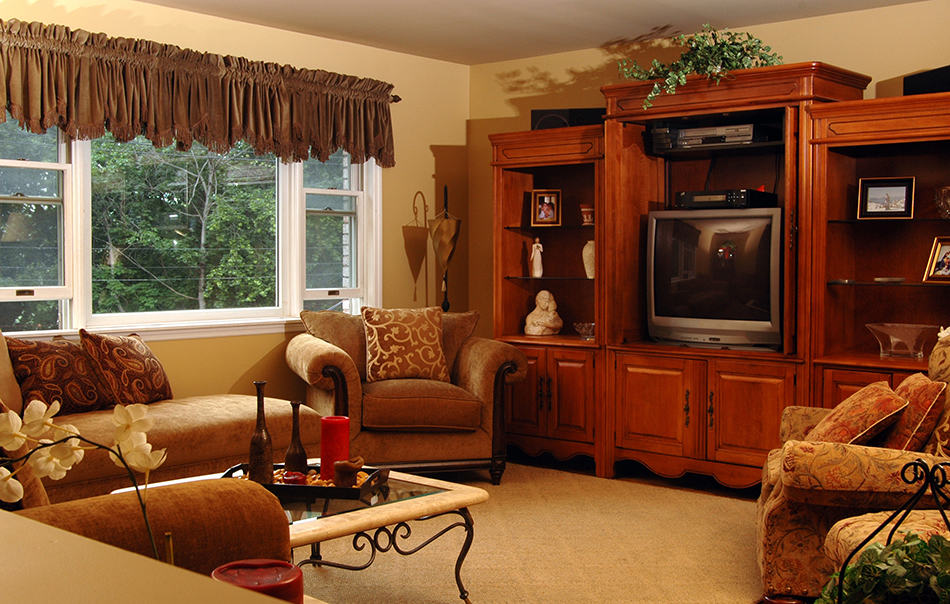 A hutch is a significant piece of furniture, usually with shelves, cabinets, or drawers on the lower half, and a central space for a TV which is surrounded by additional shelves at the side and overhead. This type of TV stand can offer a huge amount of storage and even double up as bookshelves or space to keep family board games.
A hutch will usually be made from wood but can be styled to look modern or traditional. You will need a large wall for a hutch TV stand, where it can be the focal point of the room. This can work well if your living room lacks a focal point like a fireplace.
Floating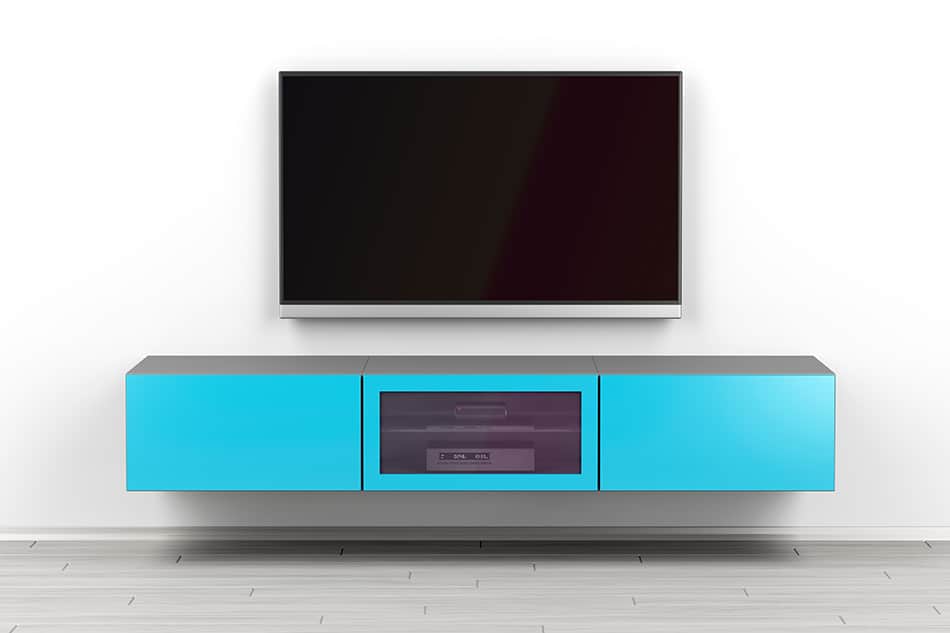 A floating TV stand is one that does not have legs and is instead screwed to the wall with vacant space underneath to give the impression that the furniture is floating. These types of TV stands look modern and sleek, lending them perfectly to minimalist style interiors. They are well suited to small rooms because they free up floor space and create the illusion of more space.
To have a floating TV stand, you'll need to make sure you have studs in the wall where the stand will be fixed, as this will give it stability when screwed in to make sure it doesn't collapse under the weight of the TV.
Floating TV stands are generally fairly small because if they were large, they would put too much pressure on the wall. This means they have a small amount of storage for essential items that need to be situated near the TV, such as a cable box.
Swivel
A swivel TV stand will have a rotating base so that the main portion of the stand can be swiveled from side to side. This means that you can adjust the position of the TV to get the best view depending on your location in the room you're sitting in. It can also be useful to angle the TV away from the glare of the sun if it is impeding your viewing.
Entertainment Center
An entertainment center is the largest type of TV stand that can occupy a whole wall from floor to ceiling. It will usually have a space in the middle where the TV will go, and the rest of the furniture can be made up of shelving, cabinetry, and drawers.
There might also be places for speakers to be positioned and other media items such as game consoles or music players. Entertainment centers are, unsurprisingly, among the most expensive types of TV stands, but they can be very useful and also make a big visual impact on a room.
If you have a family who loves media entertainment, then you might feel an entertainment center is a worthwhile piece of furniture.
These will usually come flat-packed and need to be assembled in situ as they are typically too big to get through a doorway. They are available in a range of styles and designs.
Corner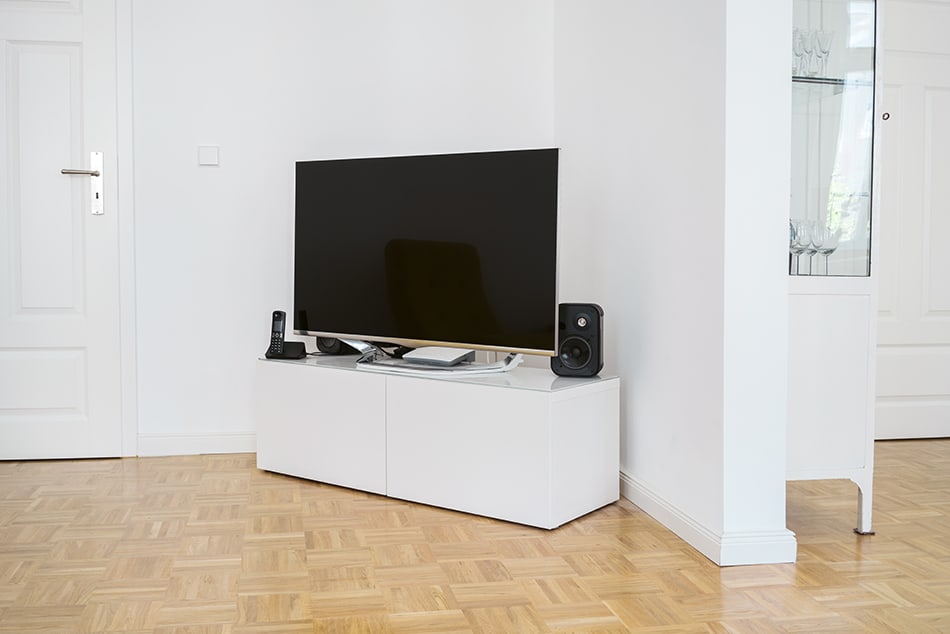 A corner TV stand is one that has a back shaped at a right angle. This means it can sit comfortably in the corner of a room instead of flat against a single wall. It's a great way to optimize space if you want your TV to be positioned in a corner, as opposed to putting a regular TV stand on a diagonal angle which wastes space.
With a corner TV stand, you can utilize all of the available space by pushing the furniture right into the corner and then having a corner storage area below the TV. Corner TV stands can come in a variety of styles and types, including corner cabinet TV stands and corner shelved TV stands.
They work well when you have a specific place in mind for your TV, but if you move to a different house or rearrange the furniture in your living room, you might find that a corner TV stand isn't very versatile. It will always have to be situated in the corner of a room, which won't always work in every setup.
Material
Wood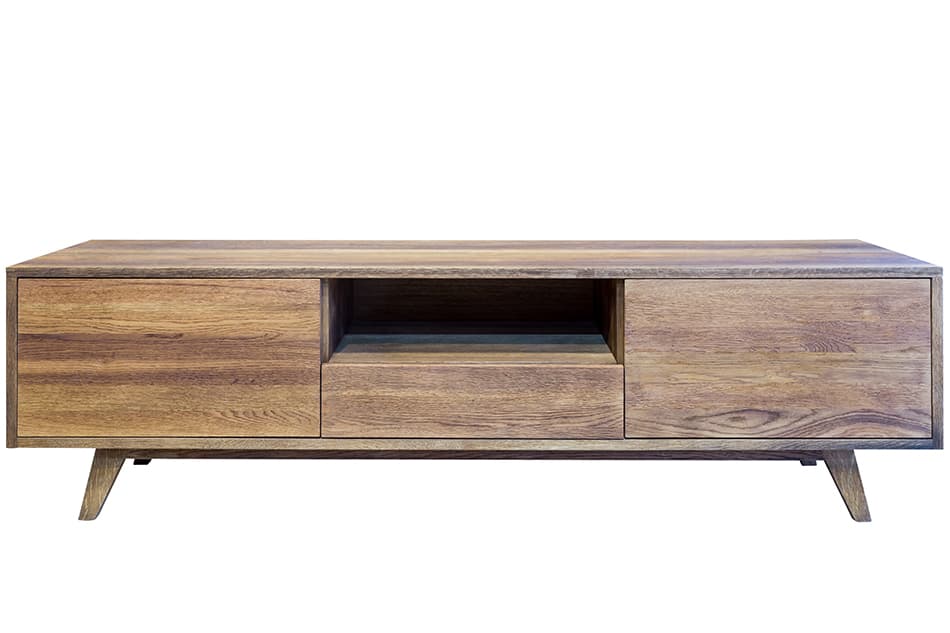 Wood is such a versatile material because you can get it in so many colors, finishes, and styles. You might want a white-washed wooden TV stand or a traditional dark wood TV stand. Either way, you can be sure with a wooden construction that your furniture will be sturdy and should not break very easily.
Glass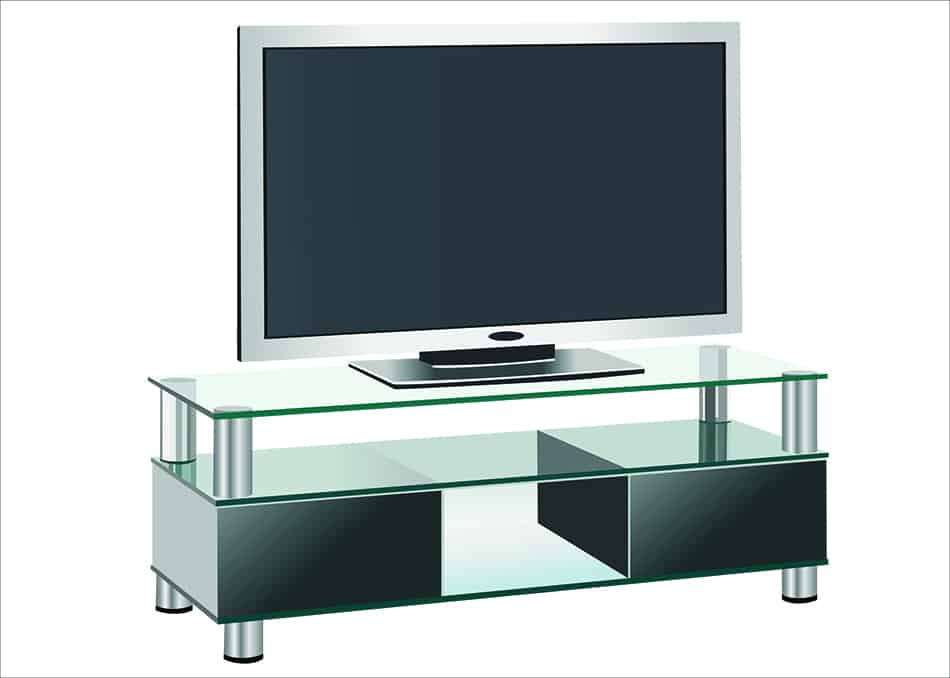 Glass TV stands have become quite popular over recent years. They are not entirely made from glass but will instead have glass shelves on metal or wooden frames. Glass works well in a contemporary style or in a small space because it is transparent and therefore can help the room to feel bigger by not blocking up sightlines with bulky, solid furniture.
The drawback of glass is that it can be smashed, so it is best avoided in homes where small children reside.
Metal

Metal TV stands are known to be strong and long-lasting. They have a more severe look compared to wood which gives off a more natural vibe. Metal TV stands work particularly well in industrial-style interiors, and they can be painted to match the decor.
Leather
Some TV stands have tufted leather upholstery, which can add a touch of glamor to a room. These can be faux or genuine leather, depending on your preference.
Mirror
Mirrored TV stands are popular in art deco-style interiors, as well as in chic designs. They are great for small rooms because the mirror reflects light and creates the illusion of more space. As mirrors are made from glass, they can crack or be smashed, and so you'll need to be careful around them.
Style
Minimalist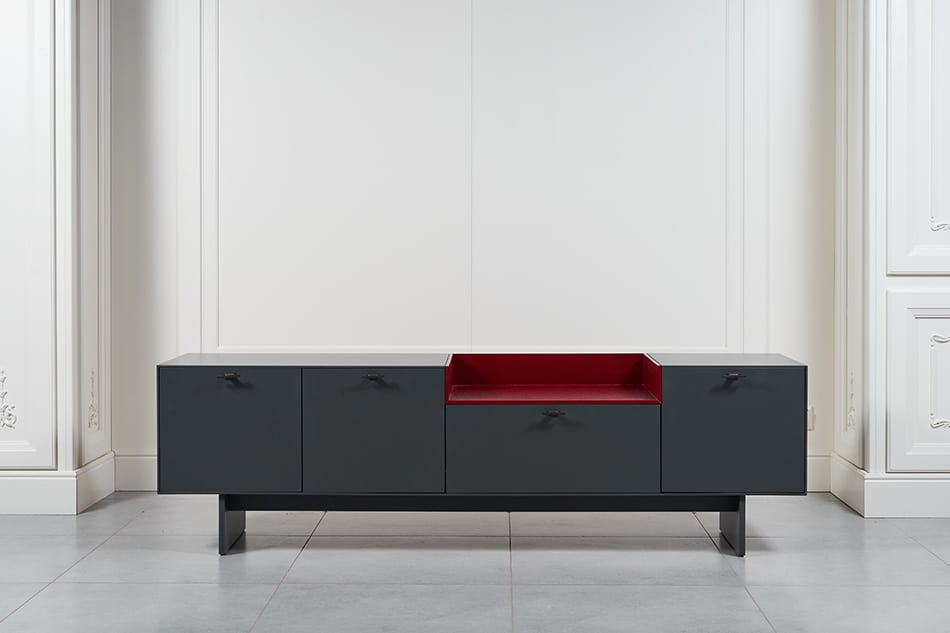 Minimalist TV stands typically have less storage available compared with more traditional styles of TV stands, which help them to blend in better with minimalist interior decor but might make them less appealing on a functional level.
Minimalist TV stands can be made from any material but are usually aesthetically very simple and unfussy.
Rustic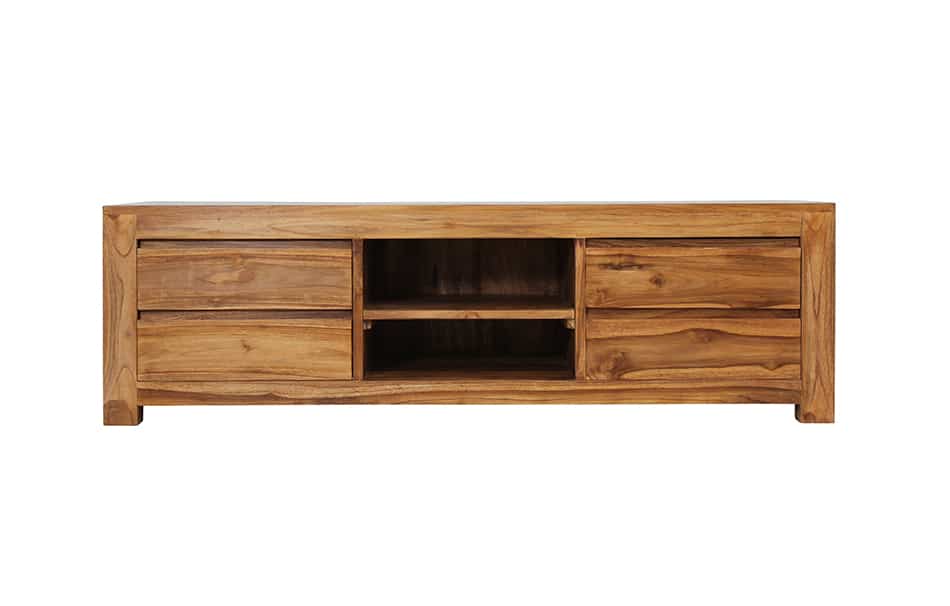 Rustic TV stands will be made from wood and might have an unfinished, raw appeal. Often rustic wooden furniture will have joins or hardware, which can be seen from the outside because rustic styles are defined by their practicality over their visual appeal.
Traditional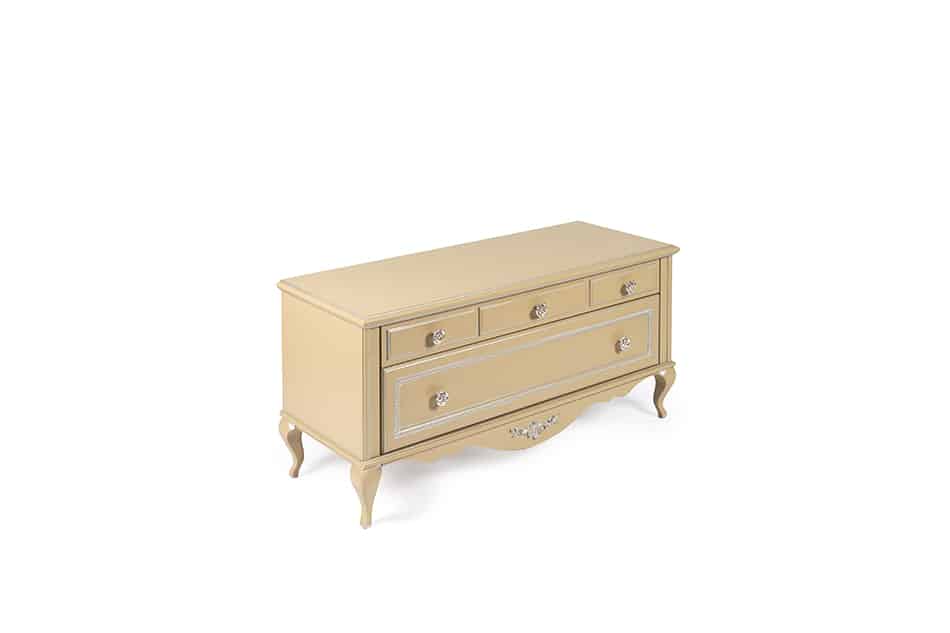 Traditional-style TV stands will also usually be made from wood and might feature ornate carvings or be finished in a high gloss lacquer. Oak is a popular type of wood for traditional TV stands, as well as darker woods like mahogany.
Traditional TV stands fit in with a range of interior styles and offer longevity because they will always have a classic appeal that never goes out of style.
Modern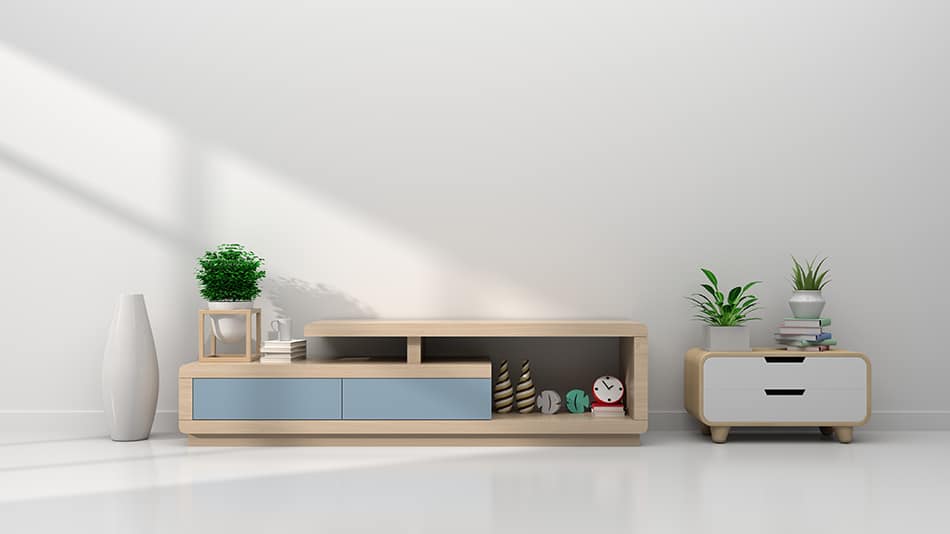 Modern style TV stands will have clean lines as a key part of their design and can be made from metal, wood, or glass. Often these types of TV stands will be found at big box stores such as IKEA, where they can be picked up on a low budget.
Many modern styles of TV stands will be constructed from particleboard and laminated to give them a sleek, uniform look.
Industrial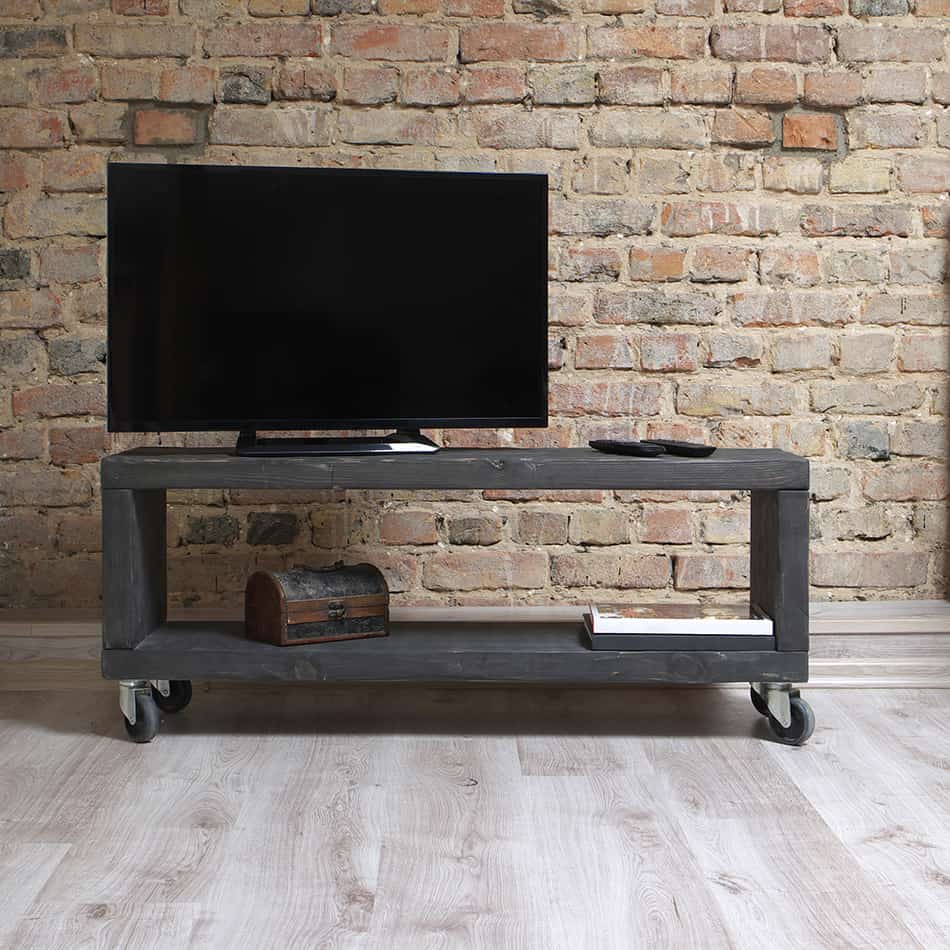 Industrial styling in interior design has become hugely popular over the last few years. It focuses on raw materials which have an unfinished look to them, which gives a space a feeling of being an old converted factory or a loft apartment.
Industrial TV stands can have metal frames with unfinished shelving made out of scaffolding boards or be made entirely from raw wood. You can also find industrial-style TV stands which have the look of reclaimed wood but are, in fact, mass-produced new furniture items.