In exterior home design, grey is fast becoming a trend-setting color. This subtle hue is a calming and elegant color that can easily be paired with other neutral hues in order to create a sophisticated look.
If you want to keep up with the trend of using grey for your home's exterior, then you should know that white trim is one of the most popular design ideas that goes very well with grey. This is because the contrast between the crisp and clean white color with the traditional cool grey color creates a timeless combination.
When it comes to using grey with white trim, adding other accent colors will transform your home's look. To make your exterior design even more appealing, here we have compiled some excellent grey house with white trim combinations that you're sure to find inspiring.
Grey House with White Trim Ideas
Add Black Shutters to Boost Visual Appeal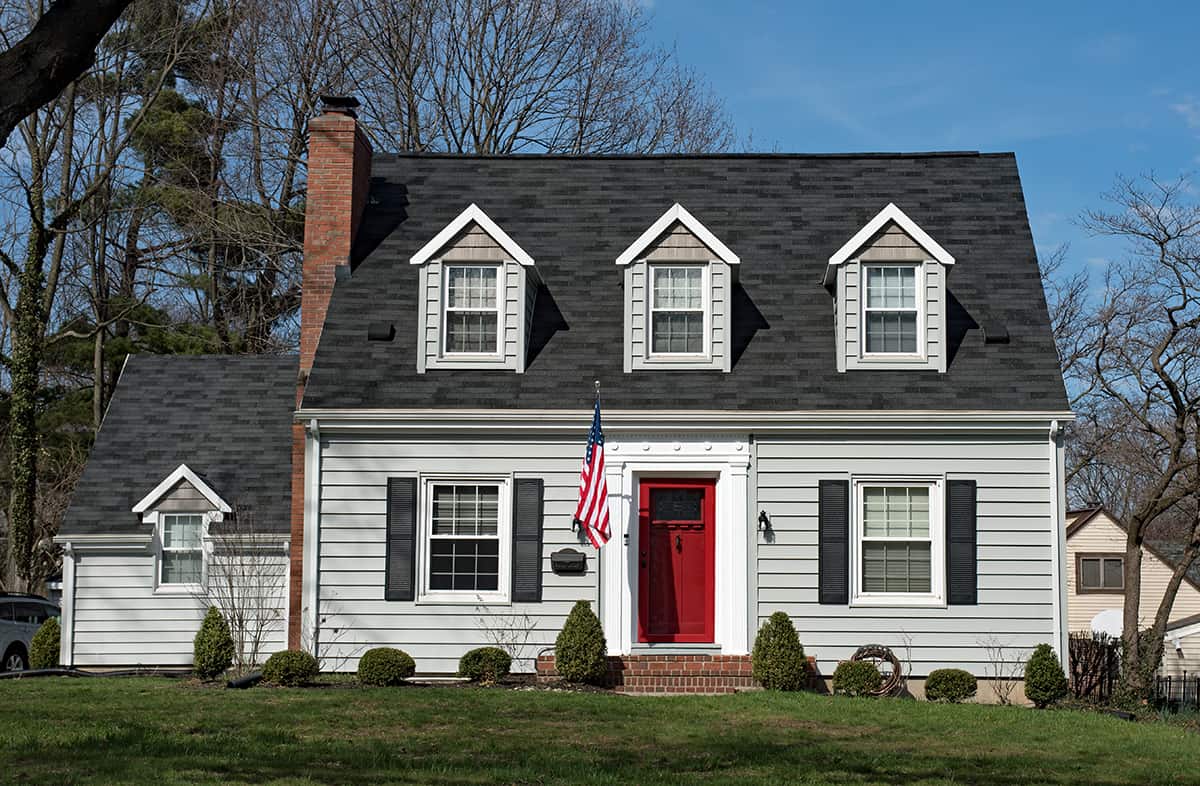 Grey and white are both neutral hues that emit a soft and soothing feel. When you add black to this neutral color mix, it can help keep the tones grounded while enhancing the curb appeal of your exterior.
Black shutters, for example, are a great addition to a grey house with white trim. This bold accent color boosts visual appeal and creates depth on a traditional style house, such as a Cape Cod home shown here.
Create a Two-Tone Grey Siding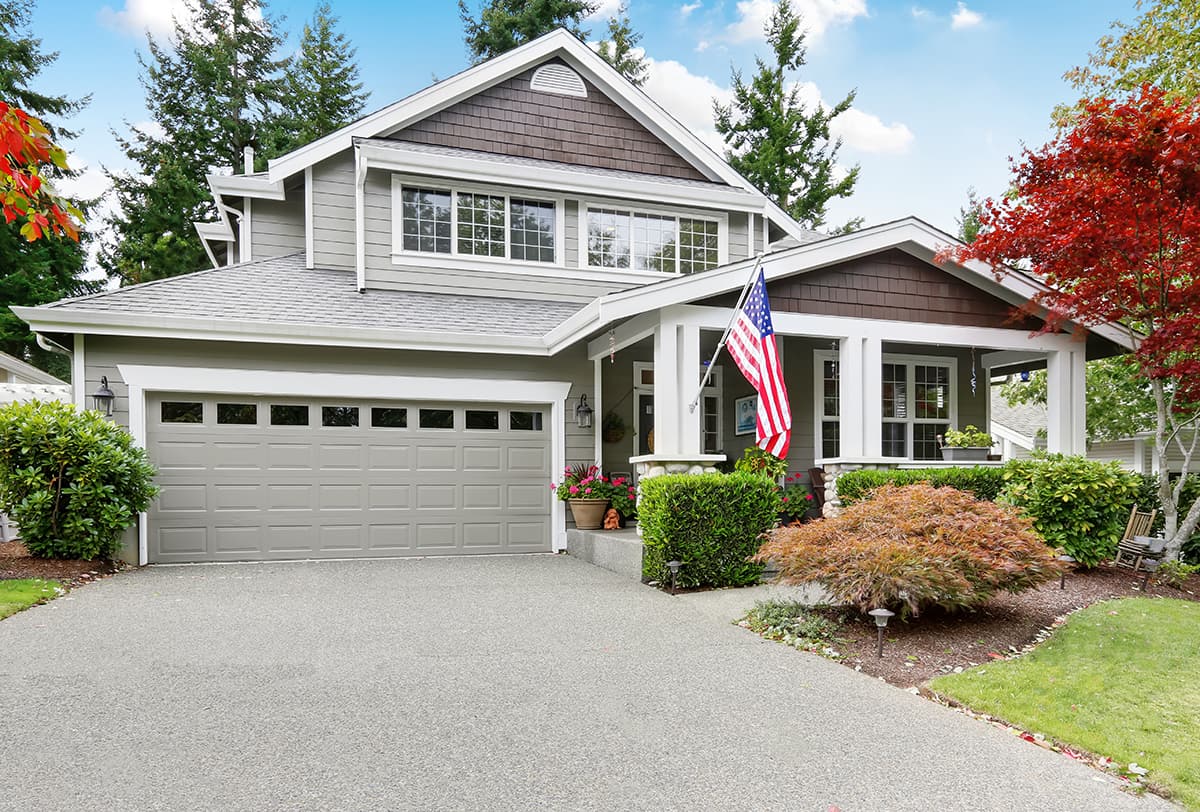 Even if you don't want to add another color to your grey house with white trim, a great idea is to introduce a two-tone grey siding. Dark grey with light grey siding work well together as this combination highlights your home's architectural features and breaks the monotony of having a single grey shade throughout the facade.
As you can see in this example, light grey is predominantly used for the garage door and the siding, with a darker shade for the other half of the house. This two-tone hue has enhanced the curb appeal of this house.
Pair Grey with Natural Stone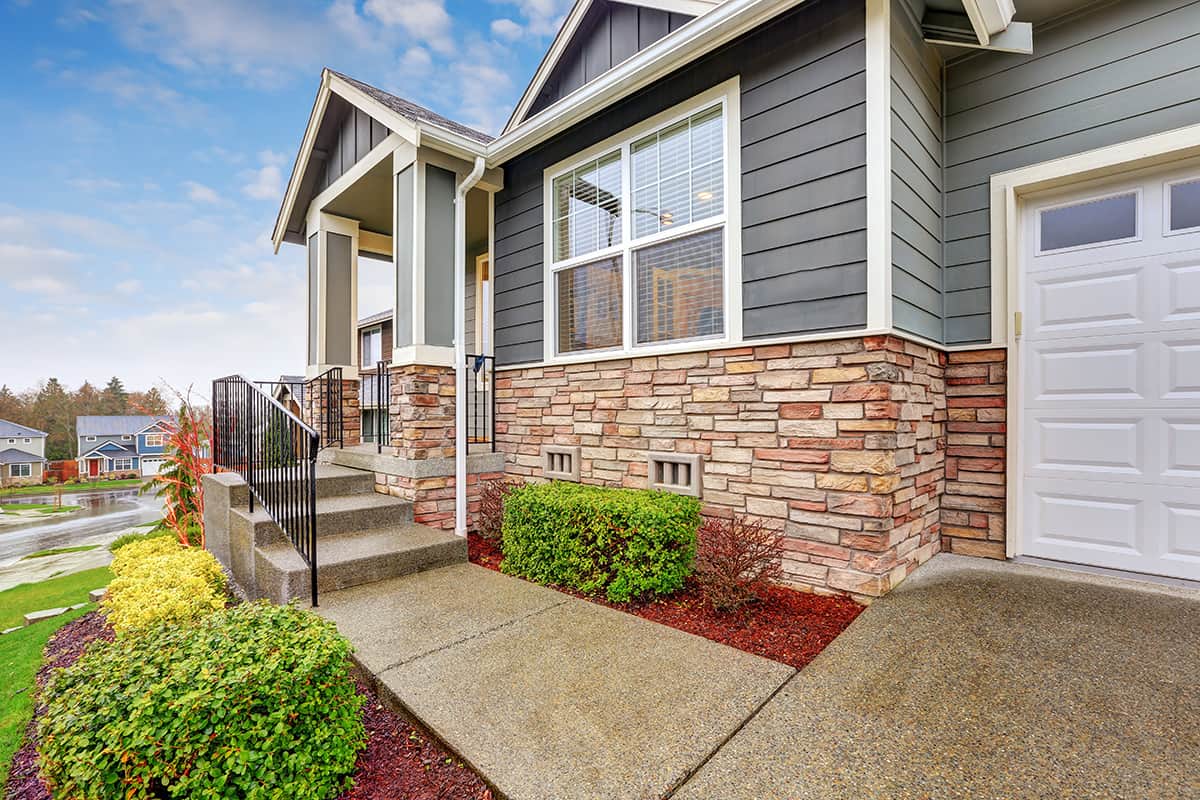 Natural stone paired with grey siding and white trim is an ideal way to boost warmth and character of your exterior. This is due to the greyish tone of stone that goes hand in hand with other neutral hues. Adding natural stone to your facade clearly defines the natural charm of the home without compromising the neutral color scheme.
In this example, the natural stone exterior has added texture to the otherwise plain grey and white design. You can incorporate natural stone into the columns, porch flooring or even the lower parts of your exterior walls.
Use Classic Dark Grey with Crisp White Trim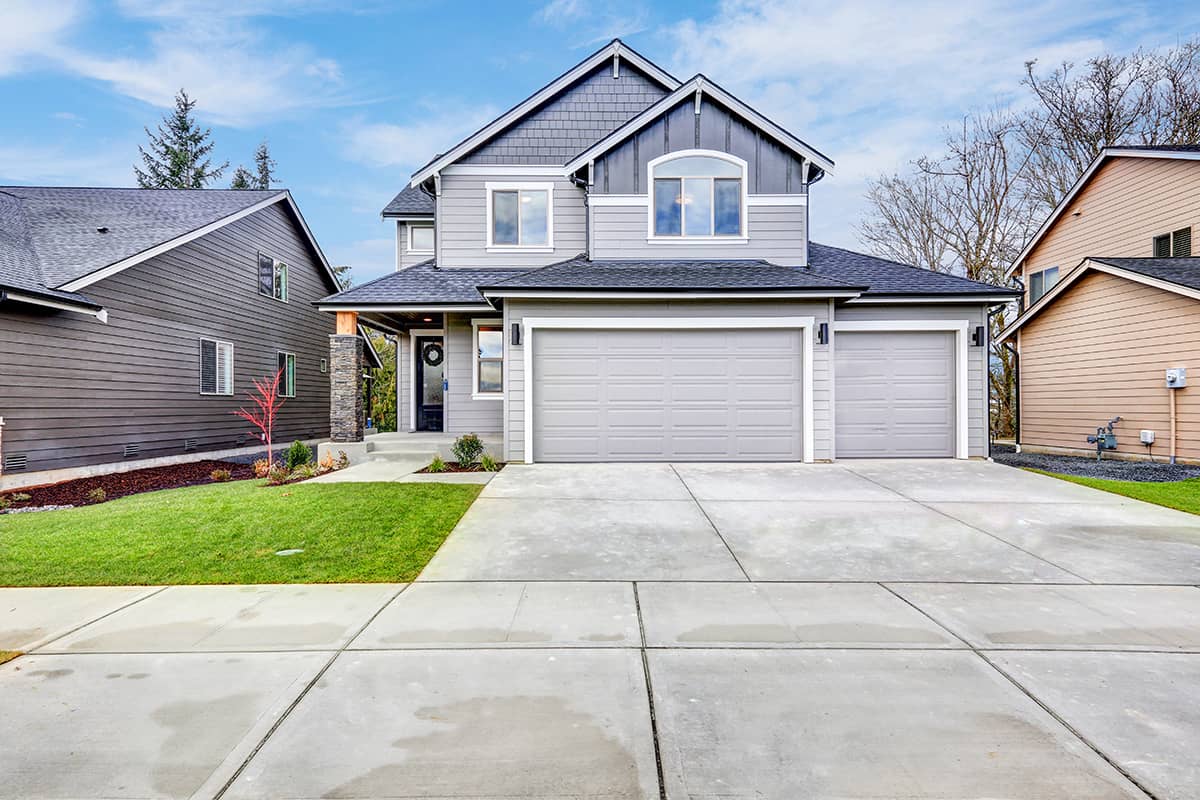 Any shade of grey deserves attention in exterior home design. However, when you go for dark grey, it creates a particularly timeless look that works with a variety of architectural features. Whether your home is Craftsman, Cape Cod, or Victorian style, using dark grey with white trim can bring a distinct look.
Even the simplest designed homes that look small from the outside can get a fresh uplift with this color combination. A smooth shade of dark grey siding paired with plenty of crisp white trims has the ability to widen the appearance of the house and make it appear larger than it really is. This classic color combination will go great with a number of exterior accents, such as porch bannisters, shutters and fascia.
If you're not sure which shades of dark grey are best for your home, consider charcoal as this hue goes very well with crisp white.
Create Balance with Grey Roof Shingles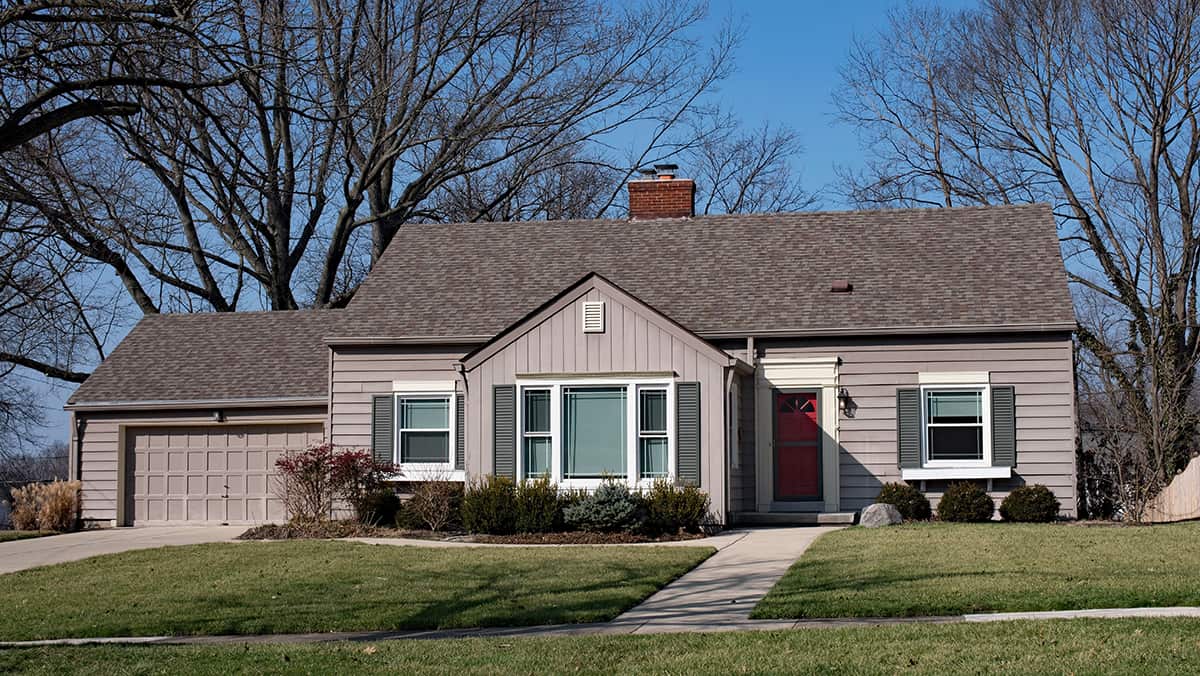 Combining your grey siding and white trim with grey roof shingles ensures a monochromatic design that balances out the exterior colors. There is no need to use any other visual features to this design as it may appear too much.
For example, dark grey roof shingles will look great with a lighter shade of grey siding and white trim. As we mentioned earlier, dark grey has a steady, soothing effect and makes an ideal pairing with a lighter shade of grey.
But rather than using the same shades for the siding, opt for a dark shade of grey for the roof and a lighter shade for the facade to balance out the look.
For Pop of Color Choose a Red Front Door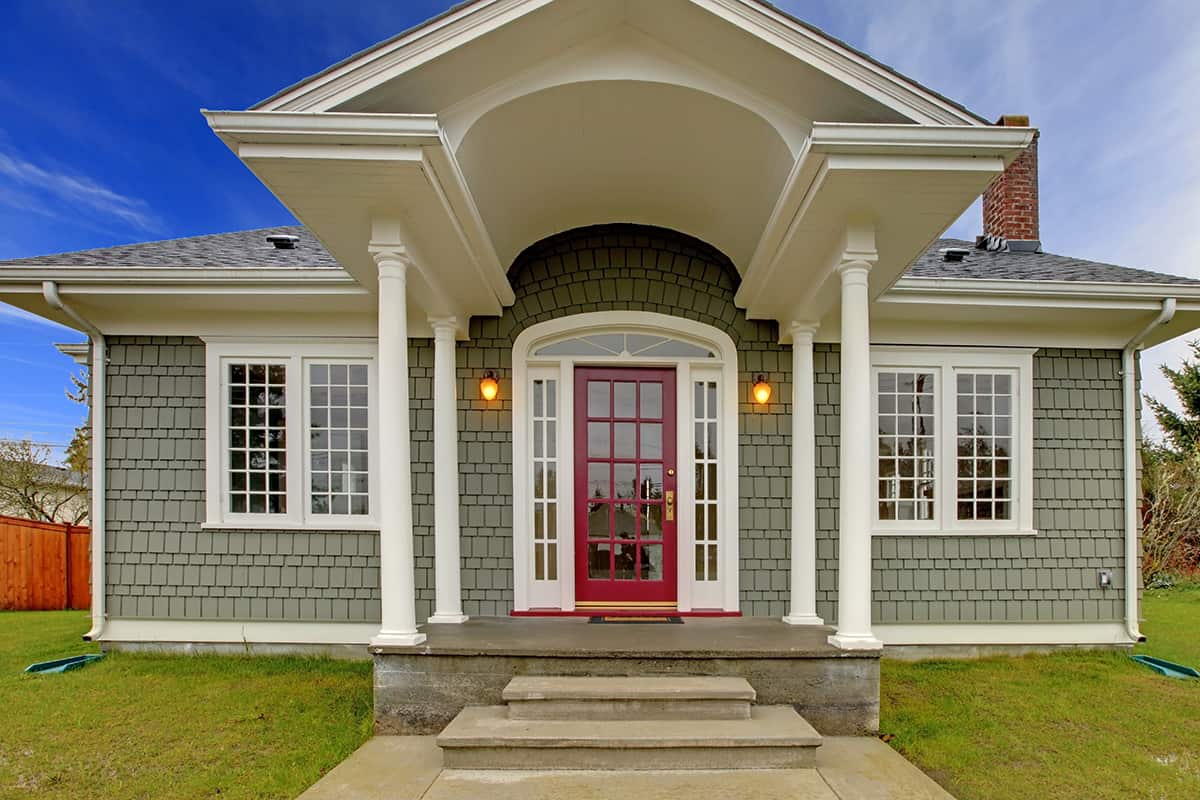 What we love about a grey house with white trim pairing is that it looks good with almost any other color. If you want to add a pop of brightness to your exterior, then why not choose a red front door!
The grey and white color combo emits a clean and neutral feel, which is why most homeowners prefer introducing a striking pop of color for their front door. This idea draws the eye towards the home's focal feature: the entryway. Since red is a primary color, it can look a little too strong next to grey and white. However, if your siding is light grey, the wall can act as the perfect backdrop to the red front door.
The red shade chosen for the front door of this design isn't too bright and it doesn't take the attention away from the grey and white color combo. This entryway sure looks warm and welcoming!
Blue Front Door for Grey House with White Trim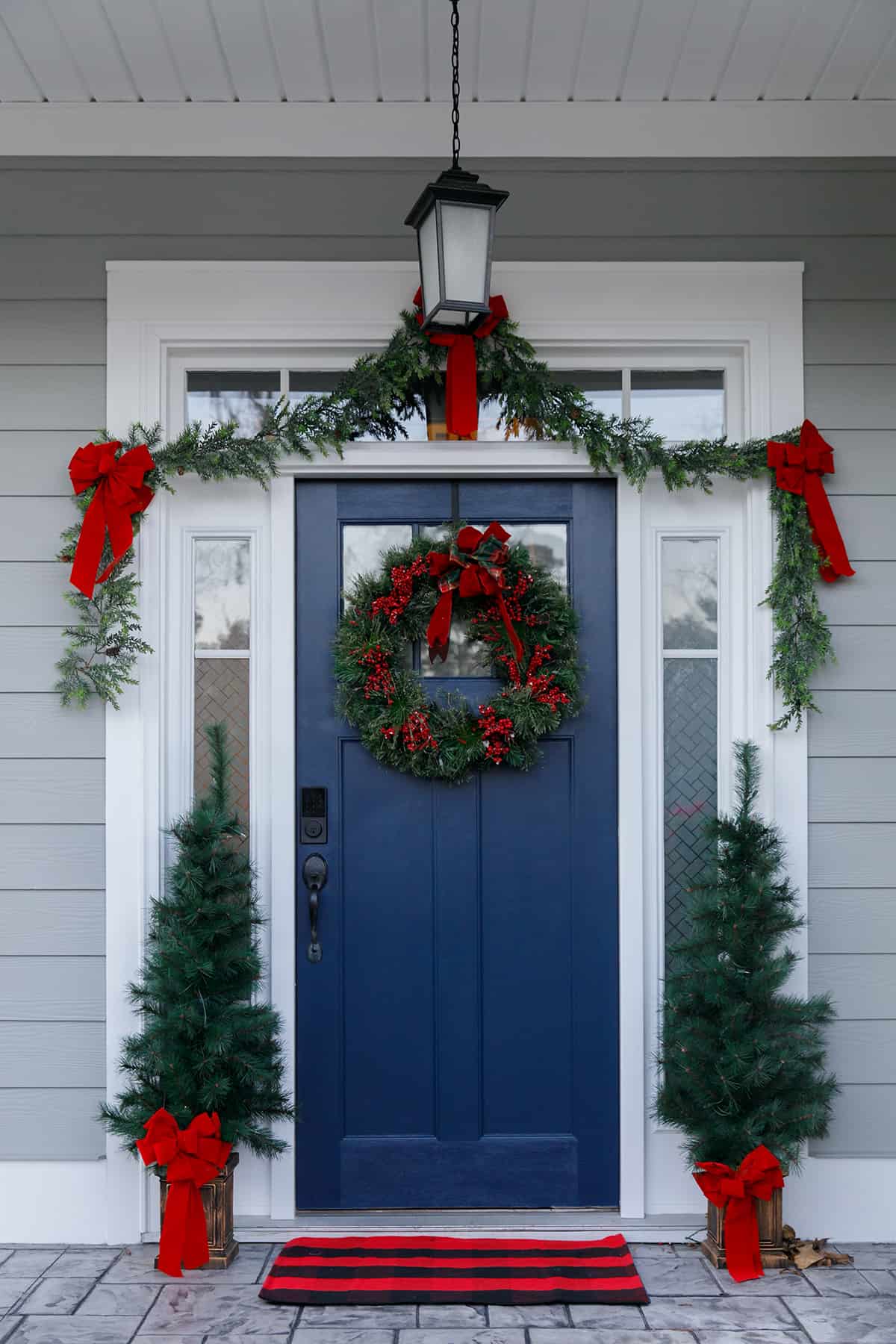 Aside from red, you can use a cool color for the front door in order to add the same warm and welcoming feeling as red. A dark shade of blue for the front door is a great addition to a grey siding with white trim. This color adds emphasis on the neutral backdrop and gives your entryway an inviting feel.
Yellow Front Door for Grey House with White Trim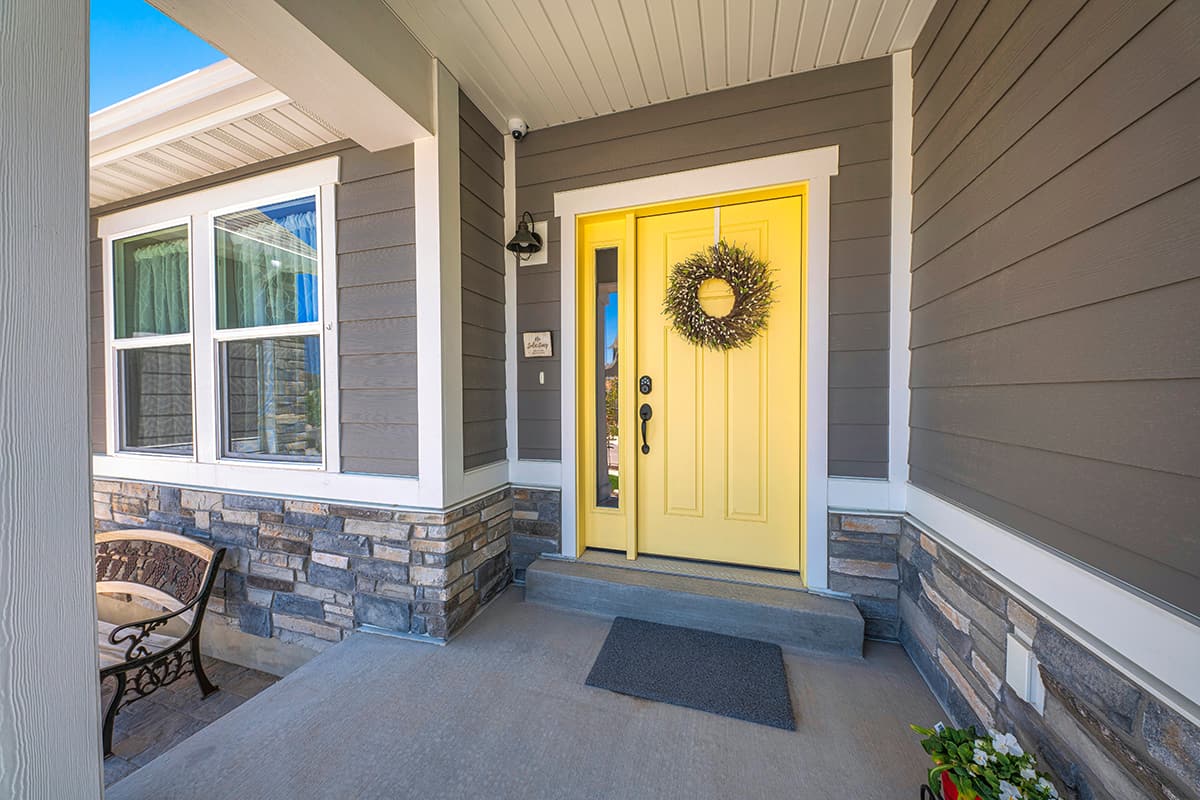 For an even bolder look, consider combining your grey siding and white trim with a yellow front door design. This idea can be even more impressive when you use a sunny yellow shade next to dark grey siding, as shown in our example.
The yellow front door highlights not only the dark grey siding and white trim but also draws the eye to the stone corners of the facade. This is because a bright and bold shade like yellow creates more visible lines in a traditional style exterior.
Since both grey and white are neutral colors, they are suitable for any warm or cool hue. As a result, the brightness of the yellow front door pops as the main entrance of the house. This idea works for homeowners who want to attract the attention of passersby as the use of these three colors plays prominence in a noticeable way.
Include Wooden Details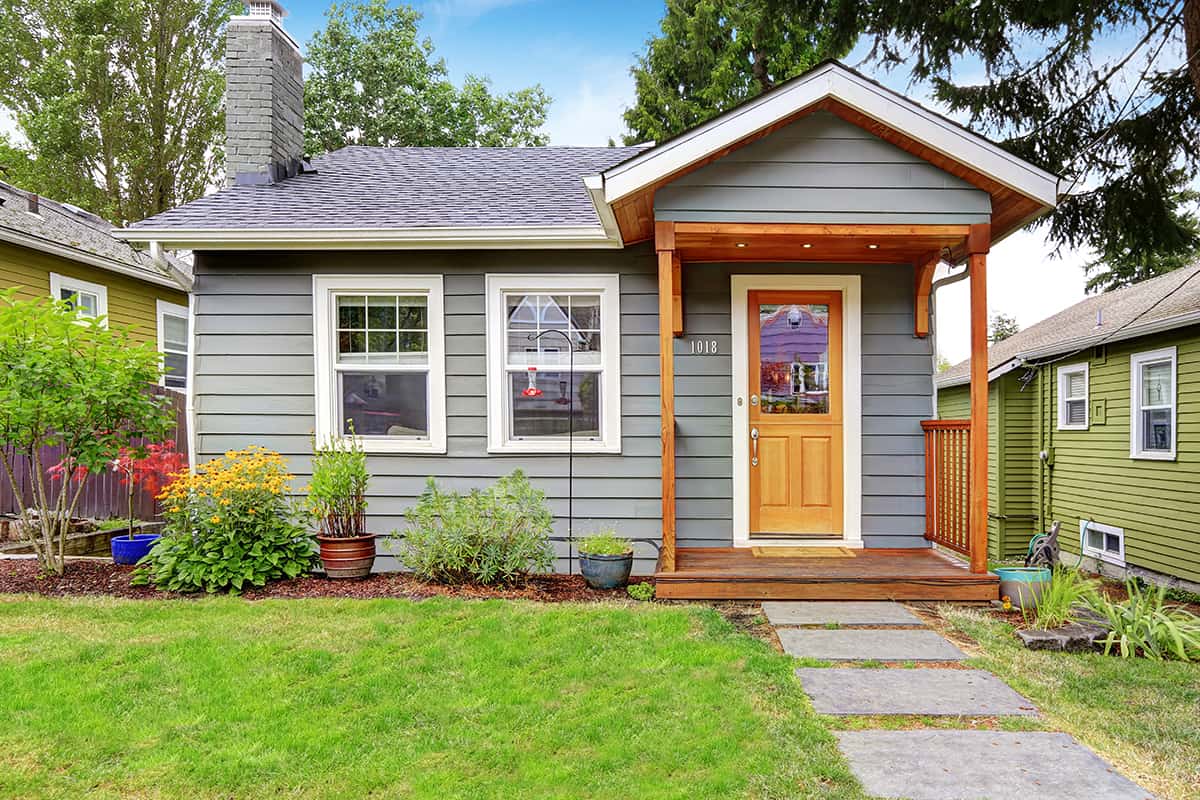 The next idea is to add wooden accents to your grey house with a white trim design. This will create a cozy and warm look on a traditional-style exterior. Farmhouse-style homes tend to look more cozy and welcoming when they feature wooden details on their facade.
On a small house, wooden textures can bring a layered appearance, especially when these earthy features are paired with a green landscape, white window and door trims, and columns. There are so many ways you can incorporate wooden elements into your grey house with white trim in order to create a traditional feel.
Paint Your Brick Exterior Grey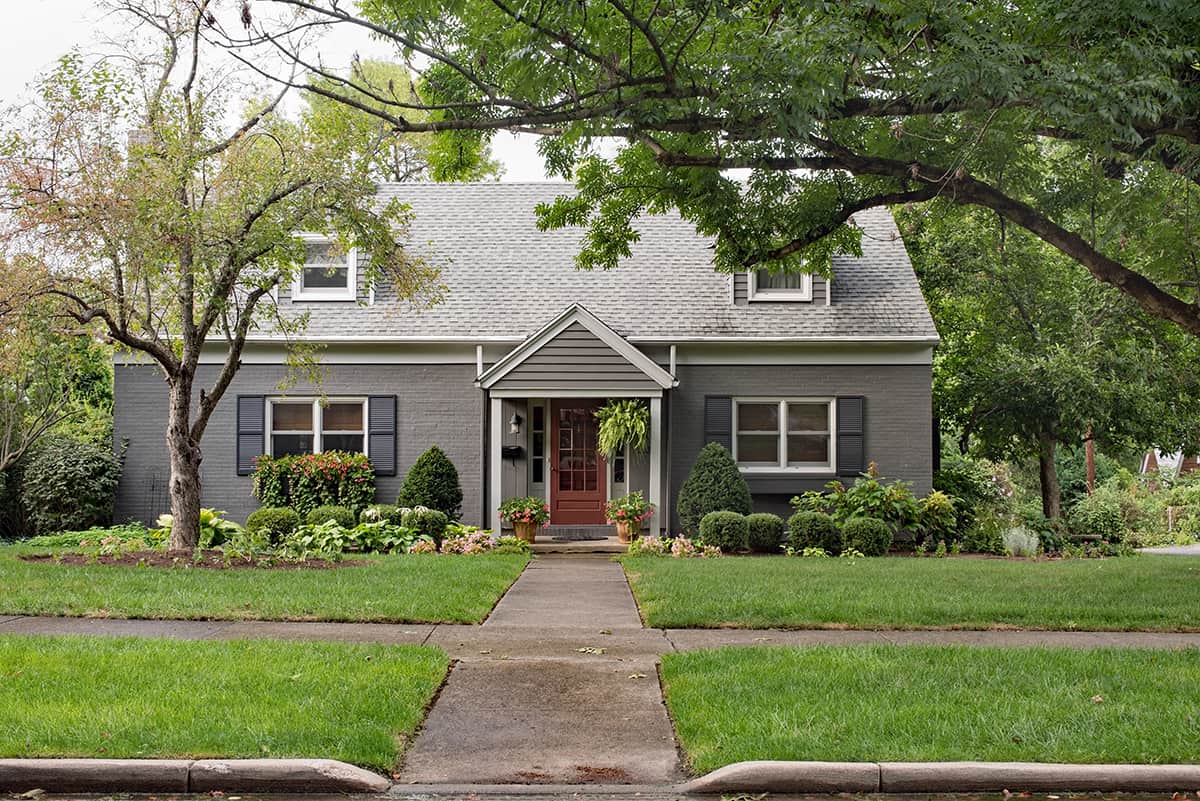 While you can paint your brick exterior any color you like to achieve a trendy look, we recommend grey as the ultimate modern paint color. This neutral hue adds depth and makes your facade stand out. For older homes, the mix of grey brick with white trim looks amazing, especially if you add black accents for a more dramatic look.
Here, the Cape Cod style house features grey painted brick with a matching grey roof, white trim, and shutters. These color combinations are ideal for older style houses. And as for a pop of color, notice the red front door, which stands out amongst the grey backdrop.
In Closing
The next time you're contemplating what color you should paint your exterior, consider grey with white trim for a trendy look. When you add wooden details or other natural elements like stone or brick to your grey siding, together with a bright front door color of course, your exterior will stand apart from the rest of the neighbors.
All our above ideas prove just how charming this color combination can be on both a modern or traditional style house. Hopefully you've found your inspiration through our grey house with white trim ideas and will implement them for your own home.