Choosing a single exterior paint color for your home is difficult enough, but when it comes to pairing the color with one or two more hues that complement one another is a whole new ball game. Whether you want to showcase your home's architectural features or find a contemporary siding shade to match with your trim, this decision doesn't have to be a challenging one.
One excellent color pairing for a traditional or modern house is gray with black trim. There is a good reason why we're seeing more and more homes with gray and black exteriors. Both gray and black are neutral hues that don't fade over time. In addition, these colors highlight the home's accents and boost the overall curb appeal.
If you are wondering how to combine your gray house with black trim to highlight its beauty, then take a look at our following ideas right here:
Gray Exterior with Black Trim Combinations
Light Gray with Black Trim and Red Accents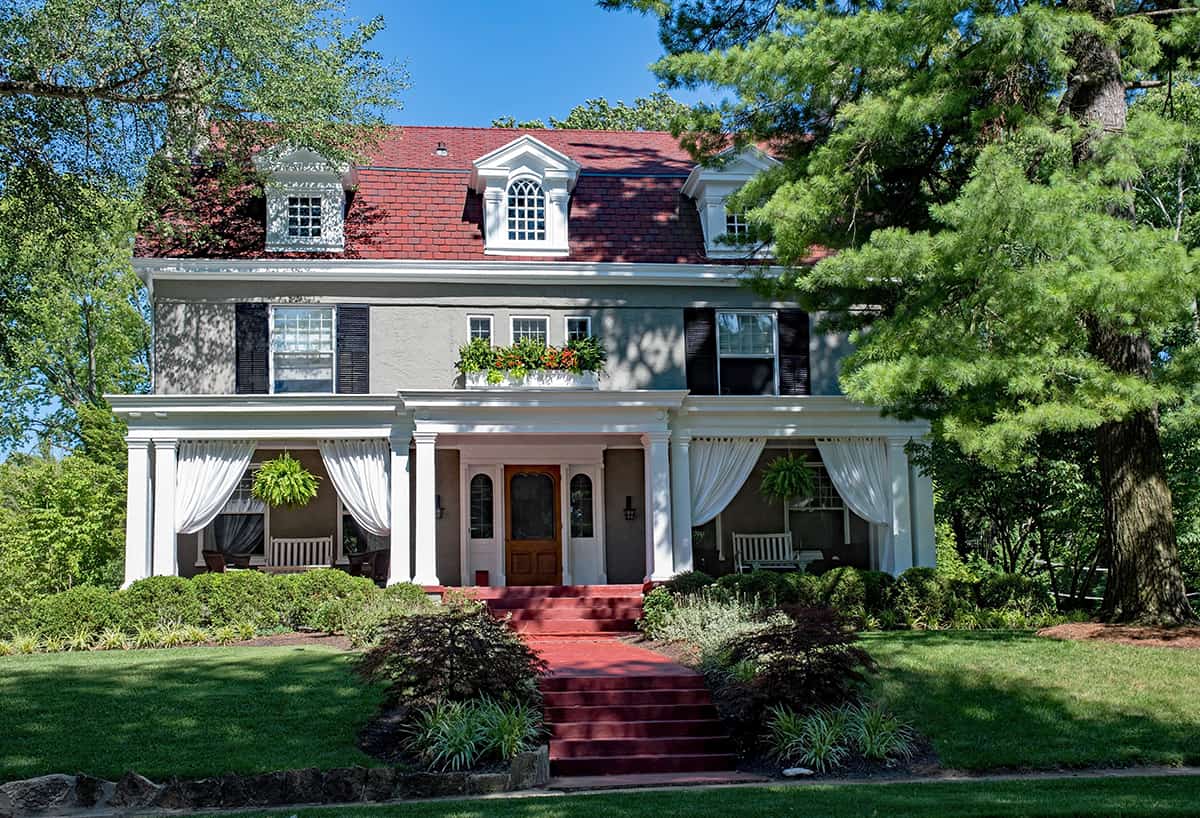 Gray is without a doubt one of the hottest colors in exterior home design. Unsurprisingly, this neutral color doesn't seem to show any signs of slowing down since many homeowners/buyers prefer this color for their exteriors. And what's so great about gray is that you can pair it with any other shade, such as red.
This stately home, for example, features a striking black trim that stands out next to the light gray walls. We love the red roof and porch steps, which inject some color into this gray and black design. It goes to show that you can pair a bright color with your gray and black exterior to make your home visually interesting.
Red is a contrasting color to gray and black, so whether you pick this paint color for your front door, roof, or other accents, your home's curb appeal will certainly be enhanced.
Muted Gray with Stone Veneer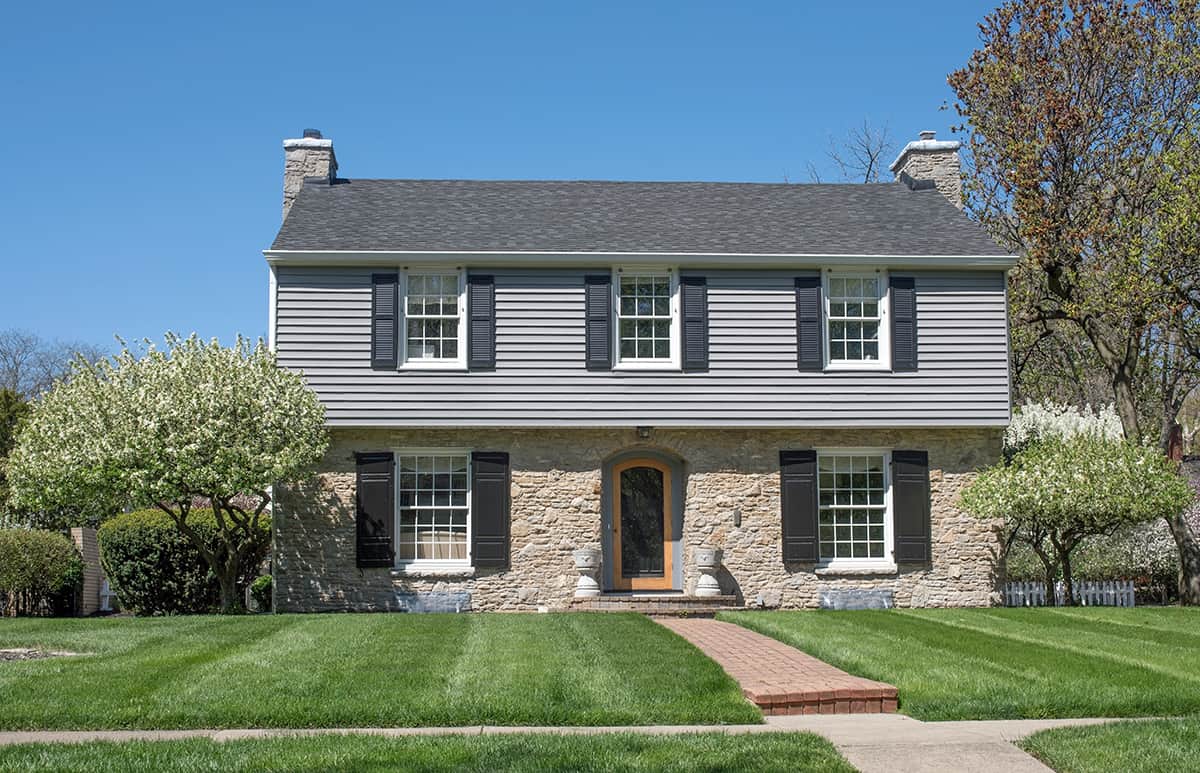 Adding stone veneer to a gray house with black trim can elevate the front view of your home. When the siding is in muted gray, it can look updated with the help of black trim and stone columns. When you add off-white or gray stone to play off the gray and black, you can create texture. Using this natural element works especially well on homes surrounded by nature.
By combining natural textures and materials with your gray and black facade, the design can add detail and draw attention. Just as you can see in this image, the front of this house boasts part stone, part vinyl siding in gray tones accompanied by black shutters, and a matching front door. This has resulted in a well-synced design that's also interesting to look at.
Bright Yellow Front Door on Gray Siding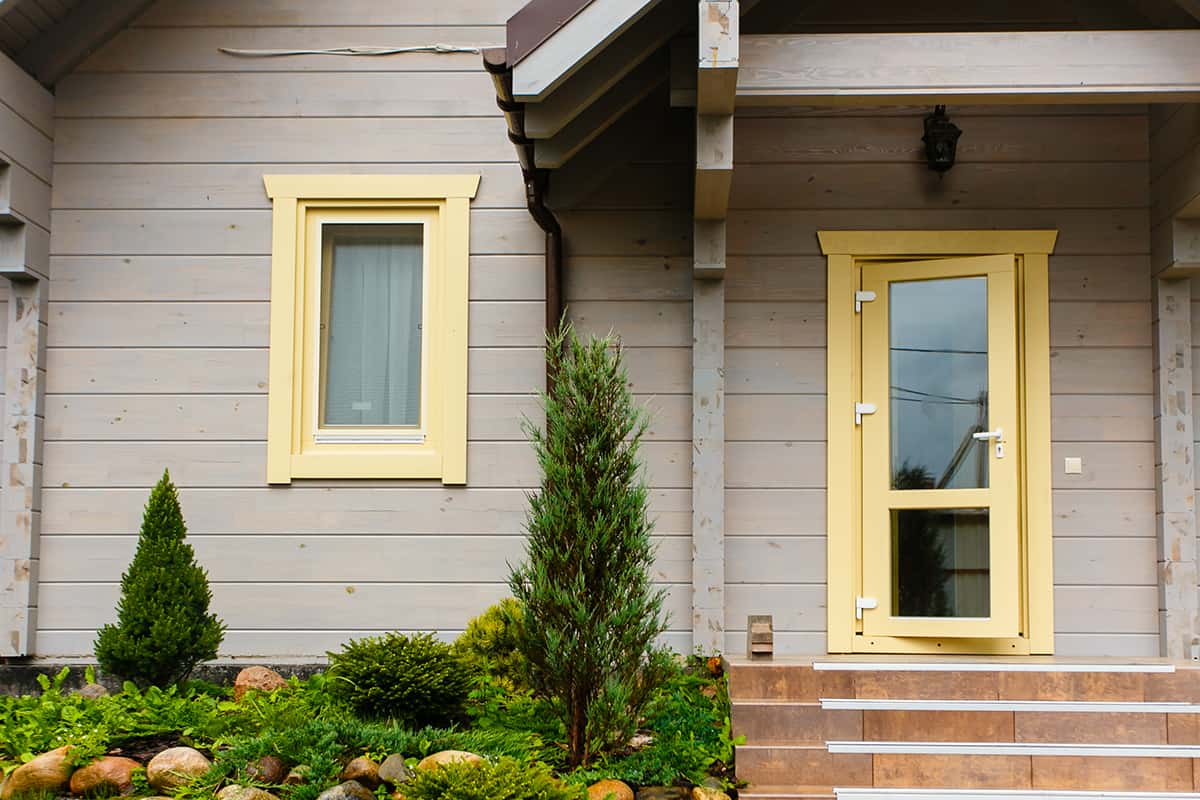 A gray house with black trim can sometimes look a little bland or unlively. But there is something you can do to brighten up the exterior of your home. Yellow is a great color to inject some life into a gray and black exterior. From sunny shades of lemon, banana, or marigold yellow to dandelion and butter yellow, incorporating this hue into your exterior is a must.
One suggestion is to paint your front door in a bright sunny shade of yellow to make your exterior unique. You may continue this shade to the window frames or shutters if you wish. A contrasting color can add depth and texture to a gray and black exterior without making it look too busy.
Two-Toned Gray with Black Trim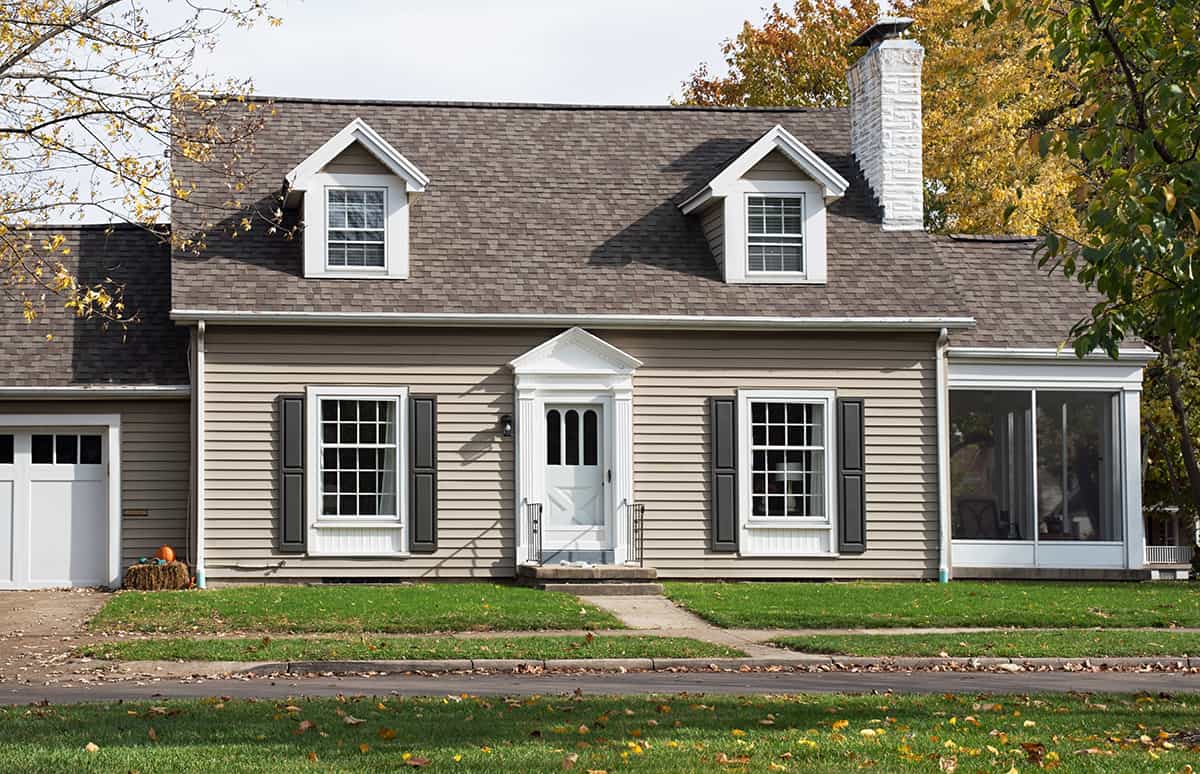 For those who aren't daring enough to use bright pops of color, then how about a two-toned gray design with black trim. For example, you may opt for a darker gray roof paired with light gray vinyl siding and black shutters as shown here.
This design works well with the landscaping as the two-toned hues complement the light and gray colors. The eye is immediately drawn to the different textures of this traditional Cape Cod house even though it doesn't feature any bold colors.
Gray with Blue Shutters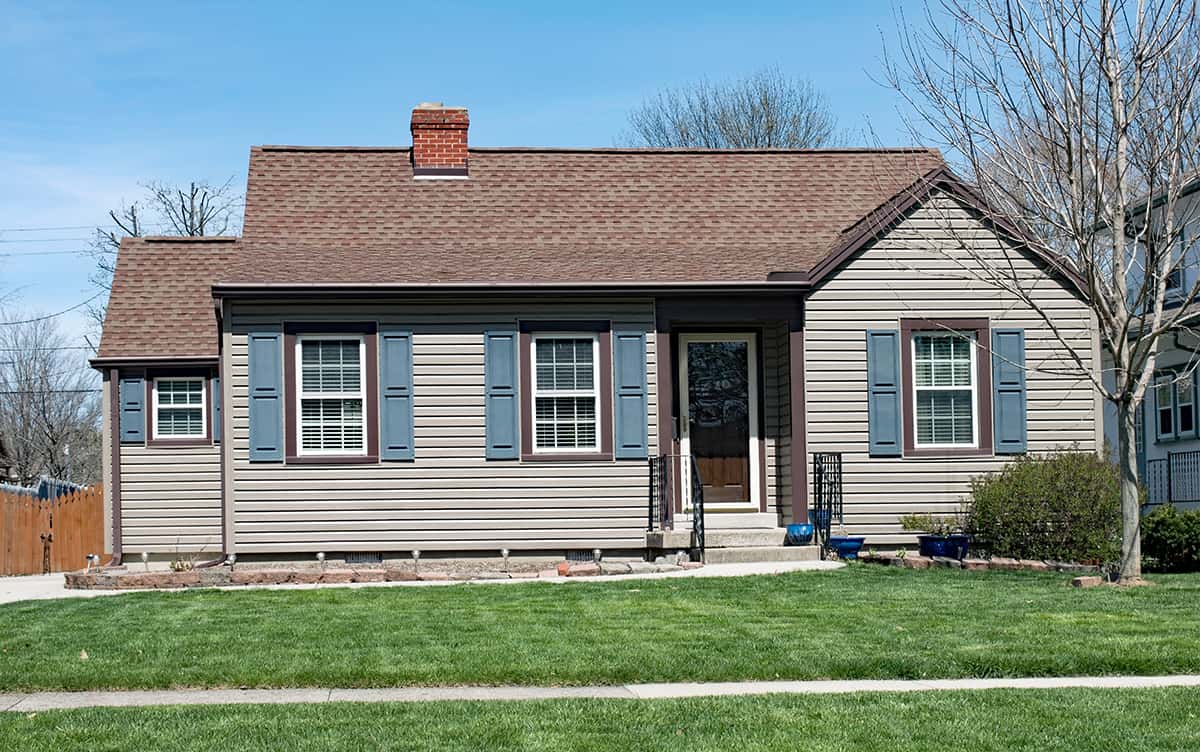 To enhance your neutral home's entrance, consider adding blue shutters. Blue is closely associated with gray, thus they pair well. By adding blue shutters to your gray house with black trim, you'll provide an appealing twist to this color scheme.
This home boasts a combination of gray, blue, and brown to tie everything together. You may either add black for the front door or the roof shingles.
Should My Front Door Color Match the Siding or Trim?
While you don't need to match your front door color to either your siding or trim, it may appear a little too monotonous if you go for the same color. With a dash of color, your front door can draw the eye to the entryway rather than the neutral background or trim. So if you want to create a tasteful design, pick an exciting front door color to make your home exterior stand out.
For a gray exterior with black trim, you may use a bold front door color as it can make a huge difference in the overall curb appeal of your home. Be sure to pick a contrasting color to the black trim or gray exterior in order for the front door to stand out.
In Closing
A gray house with black trim is a popular trend in both traditional and modern homes. Use any shade of gray for your home's siding to revamp it into a stunning exterior. From the lightest gray shades to the darkest ones like charcoal, you can easily pair this neutral hue with black trim and other accent colors in order to create your dream home.
Our above examples of gray exteriors with black trim prove that any shade of gray works next to black. By introducing other pops of color like blue, red, and yellow, you're sure to attract the attention of your neighbors!