When you think of a Victorian house, you probably imagine an elaborate home with high ceilings, grand architecture, and contrasting colors. But a Victorian style house is much more than just an elegant architecture. It has its own distinct and timeless characteristics that are meant to impress the occupants…and the neighbors.
The following article provides an insight into what a Victorian style house is, its main features, and the different types of Victorian style houses you should know about.
What is a Victorian Style House?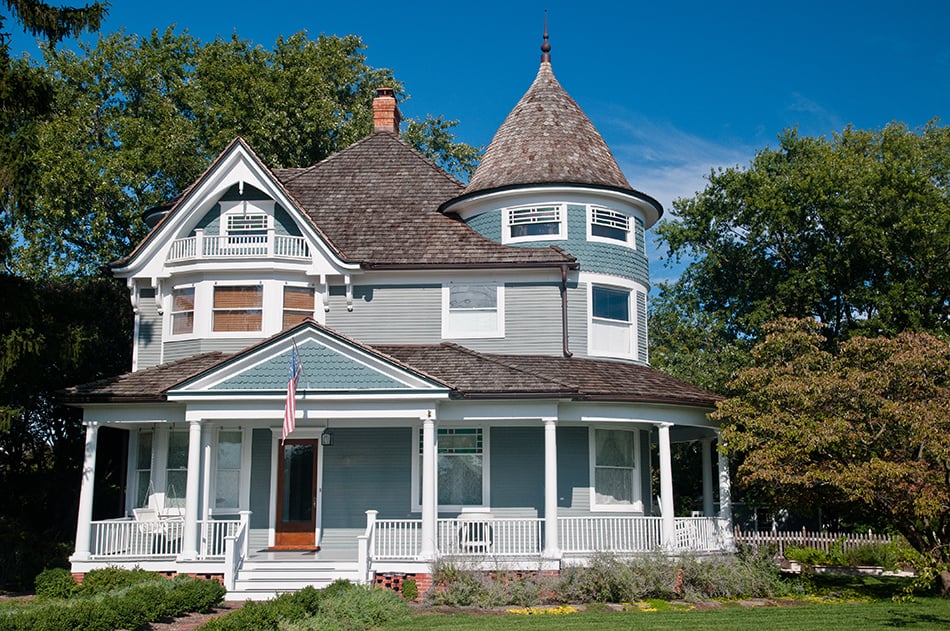 The Victorian era goes back to the time when Queen Victoria reigned Britain from 1837 to 1901. This was the time when industrialization introduced many new architectural innovations. In the US, Victorian houses didn't take root until the 19th century, but are still highly popular to this day.
Victorian houses are typically made from stone, wood, and brick. Their architecture consists of many different styles that emerged during Queen Victoria's reign, each with its own distinctive features.
Characteristics of a Victorian Style House
Sash Windows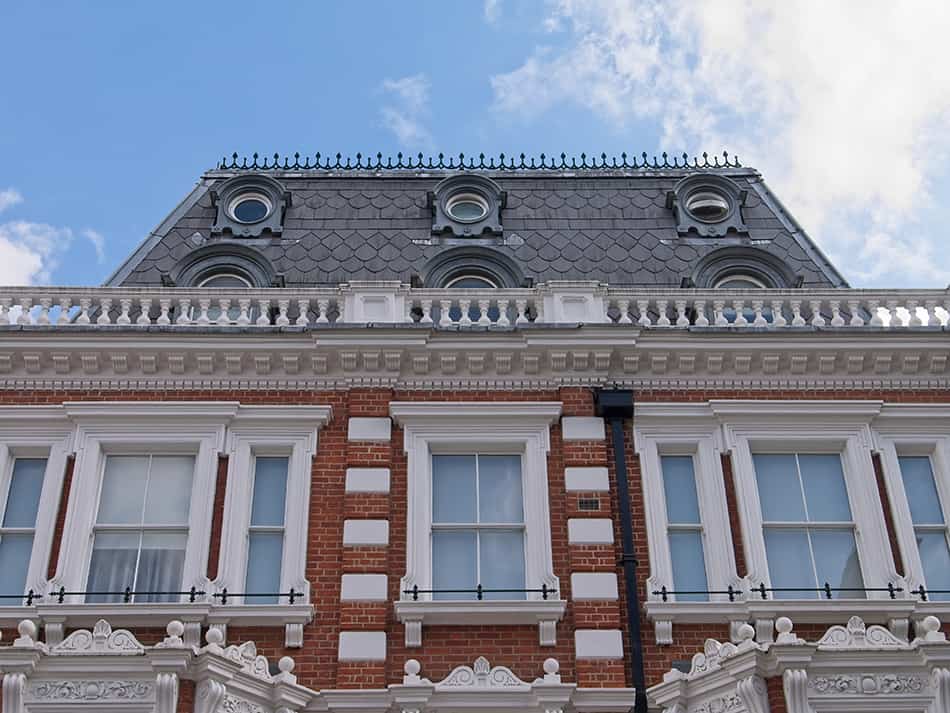 Victorian homes boast of distinctively designed windows that come in various shapes and sizes. They are often sash or bay windows in the first and second stories with arches and decorative panels. It's not uncommon to see eyebrow windows with curved shapes in Victorian houses. Some also have stained glass as a design feature.
Architecture
Most Victorian style houses are built close to other properties and on small plots of land. Although these houses are somewhat narrow in width, they are often three stories high and imposing with textured wall surfaces that make them stand out.
Layout
If a Victorian property has three stories, the third floor would be a small attic or dormer-style loft. Cozy and compact rooms were common in floor plans of Victorian houses. The interior layout consists of multiple bedrooms, balconies on the second floor, and double doors.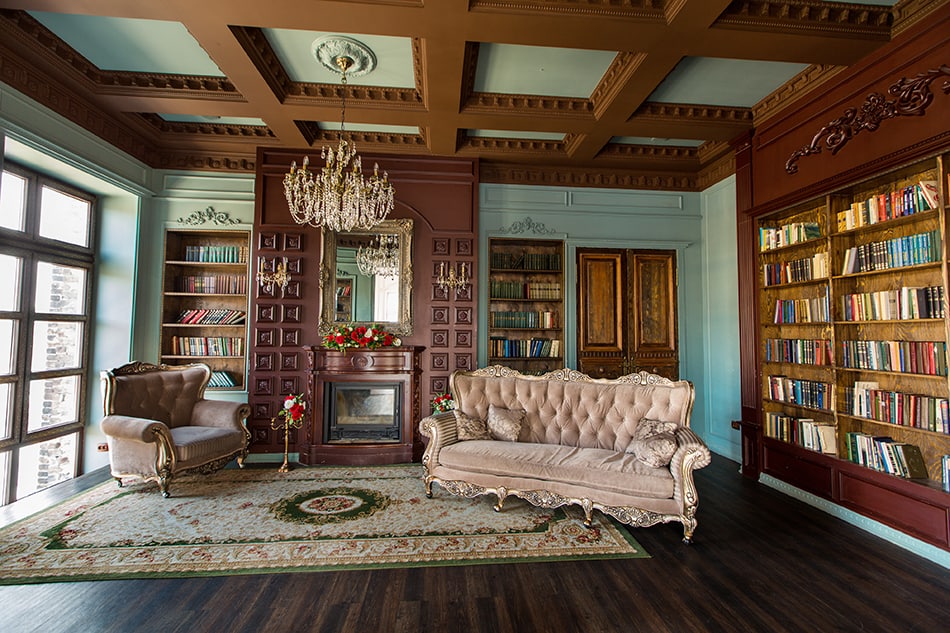 All Victorian houses have high ceilings, carved woodwork, archways, and of course, chandeliers. The dining room is always decorated in a formal theme, the library is stacked with books, and the large fireplace is in the middle of the living room. And let's not forget the huge tasseled draperies that hang from ceiling to floor.
Stairs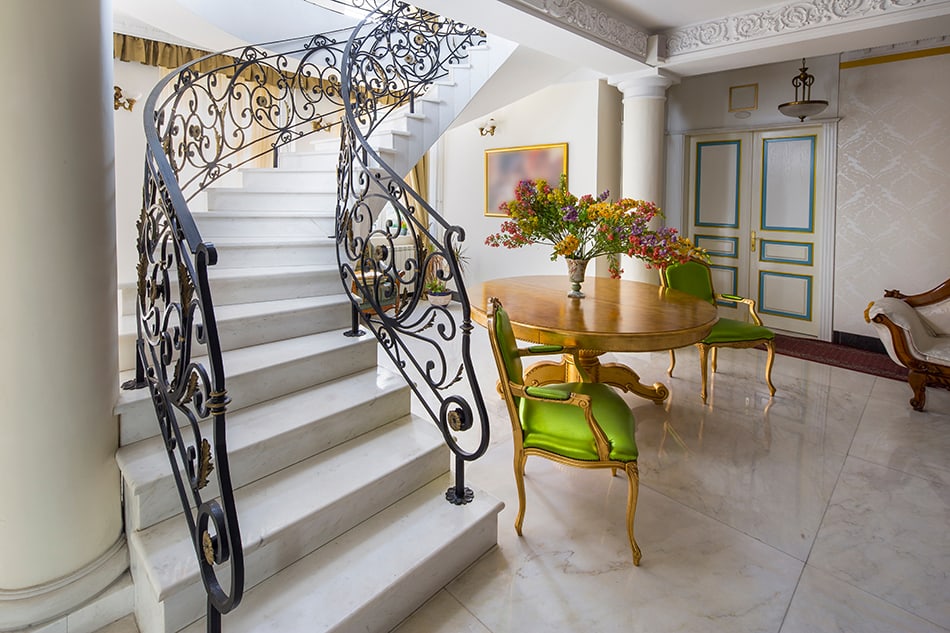 Since Victorian houses are built to impress, their hallways usually lead to grand staircases with wrought iron railings.
Towers
The towers or turrets are normally turned into study rooms, libraries, or bedrooms. These impressive towers give the house a castle-like or Gothic feel, which is typical of early Victorian designs.
10 Types of Victorian Style Houses
1. Gothic Revival Style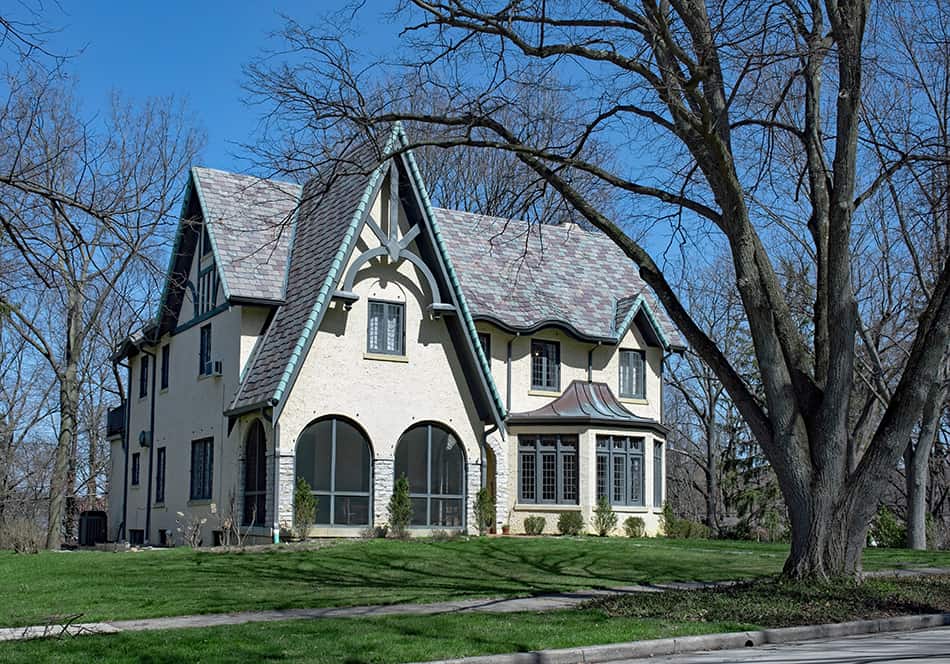 The Gothic Revival style homes were first introduced in the 1880s. They are the classic representations of romantic and picturesque architectural elements that manifested in America. The main structure of these properties was inspired by the medieval design of churches. Thus, the Victorian Gothic Revival style homes set itself different with medieval architecture like high pointed arches, biblical & heraldic emblem, etc.
Other characteristics include:
Steep, pitched roofs with overhanging eaves
Unique wooden trims
Pointed arches above windows with high dormers
Castle-like turrets
Slender columns and decorative posts
2. Folk Victorian Style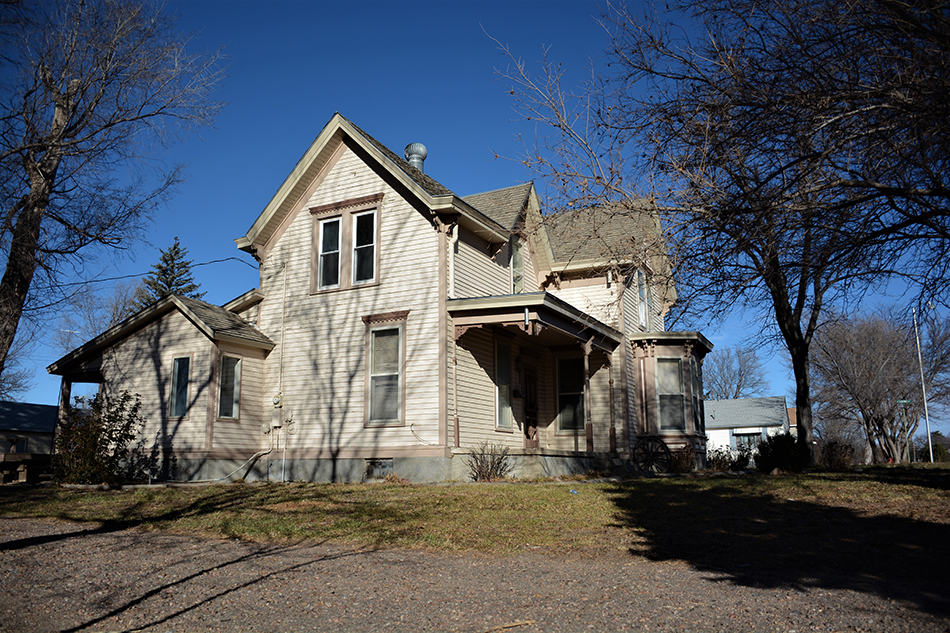 The Folk Victorian style house is the most common type of home found in the US. This style gained popularity in the 19th century and was considered as a more affordable alternative to Queen Anne style of design.
The architects of Folk Victorian style houses simply created a pimped-up version of a Victorian house using cheaper materials in a relatively plain design and decorative trims for low-budget families – but with the same prominent front-facing gable and steep under eaves.
Other characteristics include:
Decorative detailing on the porch
Trimmed windows
Ornamental gables
Symmetrical
3. Shingle Style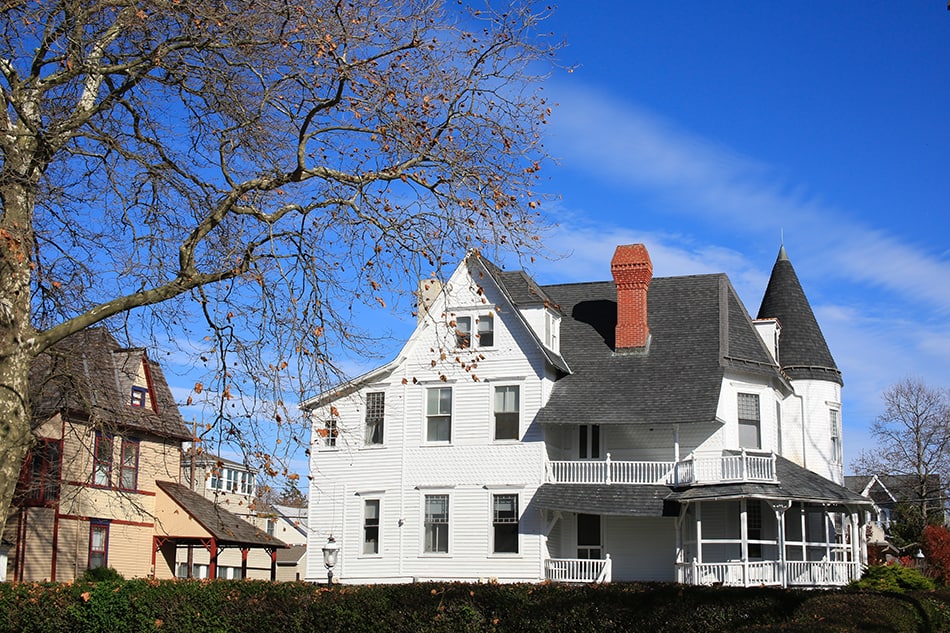 Shingle style homes are known for their simplicity and make the most popular choice for summer or weekend houses of the rich and famous. Despite their misleading name, Shingle style houses are actually made from clapboard or brick.
Shingle style homes are characterised by their rustic appearance that were rarely favored by the working class. Used as holiday cottages by the wealthy, these houses became popular in New England from 1831.
Other characteristics include:
Symmetrical exterior
Shingled roof and walls
Pitched roofs
Wide porches
Sash windows
Round towers
4. Queen Anne Style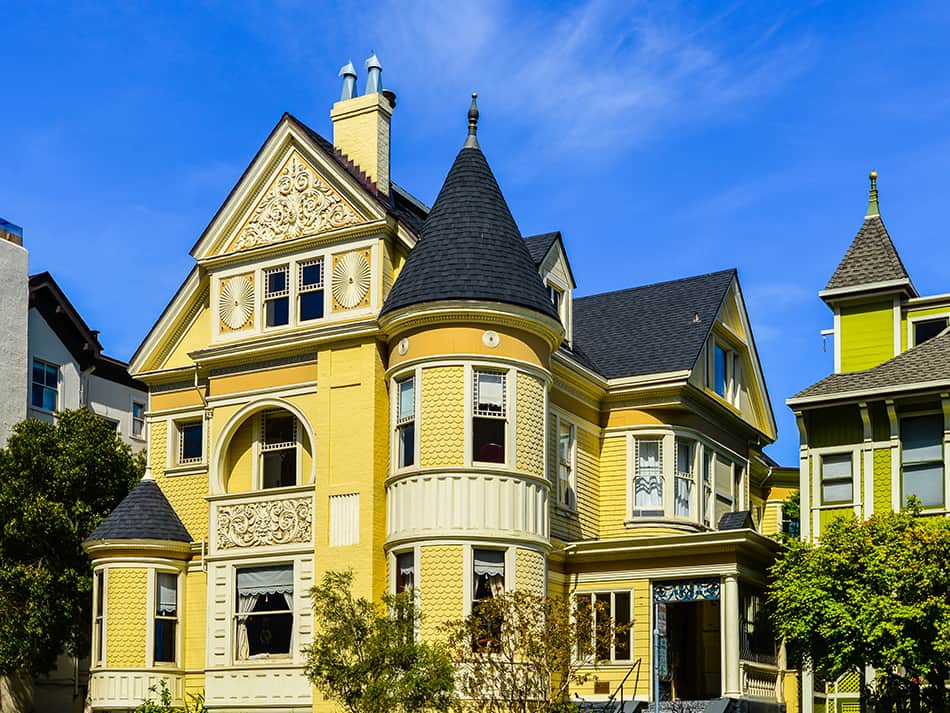 Queen Anne is possibly the most extravagant Victorian architectural style and is often recognized for its elaborate and bright color schemes. This style of Victorian home was introduced to America in 1880 by the English architect, Richard Norman Shaw and soon became the Americans' favorite home design because of its distinctive exterior ornaments and complex color combinations.
Other characteristics include:
Two or three stories
Towers and balconies
Pitched roof with patterned shingles
Stained glass windows
Spacious verandas
Decorative spindlework
Bold exterior colors
Bay windows
Gable ends
Built from brick, stone, and wood siding
5. Octagon Style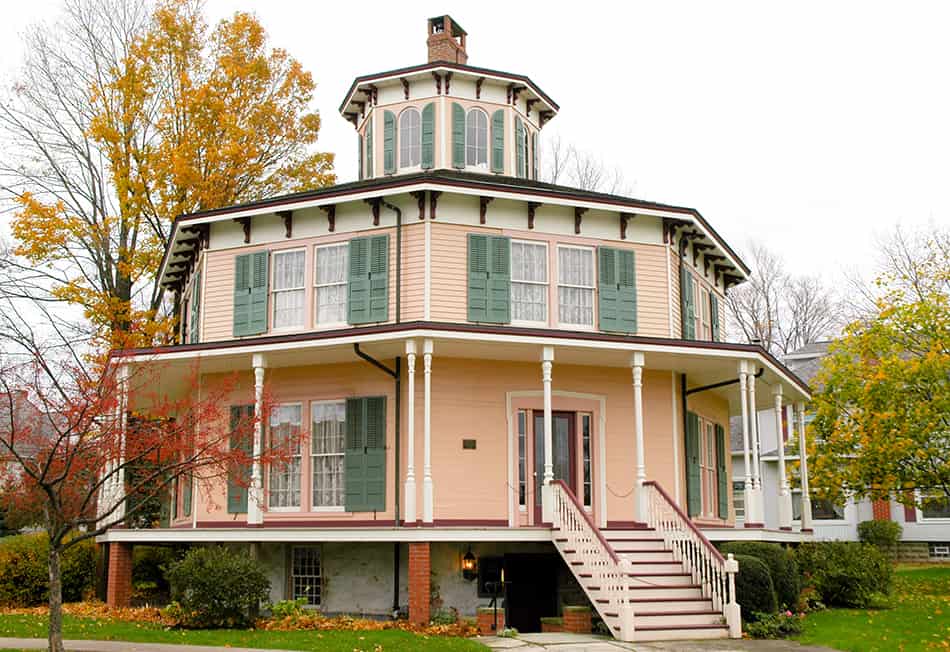 The Octagon style was hugely popular between 1850 and 1870 after it was mentioned in Orson Squire Fowler's book called "the Octagon House: A House for All".
This style of Victorian house took its inspiration from the Gothic and Greek Revival times to create a unique approach to residential architecture that's characterized by bright and airy spaces in affordable dwellings.
The Octagon style house is the world's only 8-sided Victorian house design with the benefits of being a practical and energy efficient property. This unique style of house has evolved over the past decades thanks to the new construction innovations.
Other characteristics include:
Octagonal shaped
Wide eaves
Low-pitched roofs
Domed shape
Partially encircling or full porches
6. Second Empire Style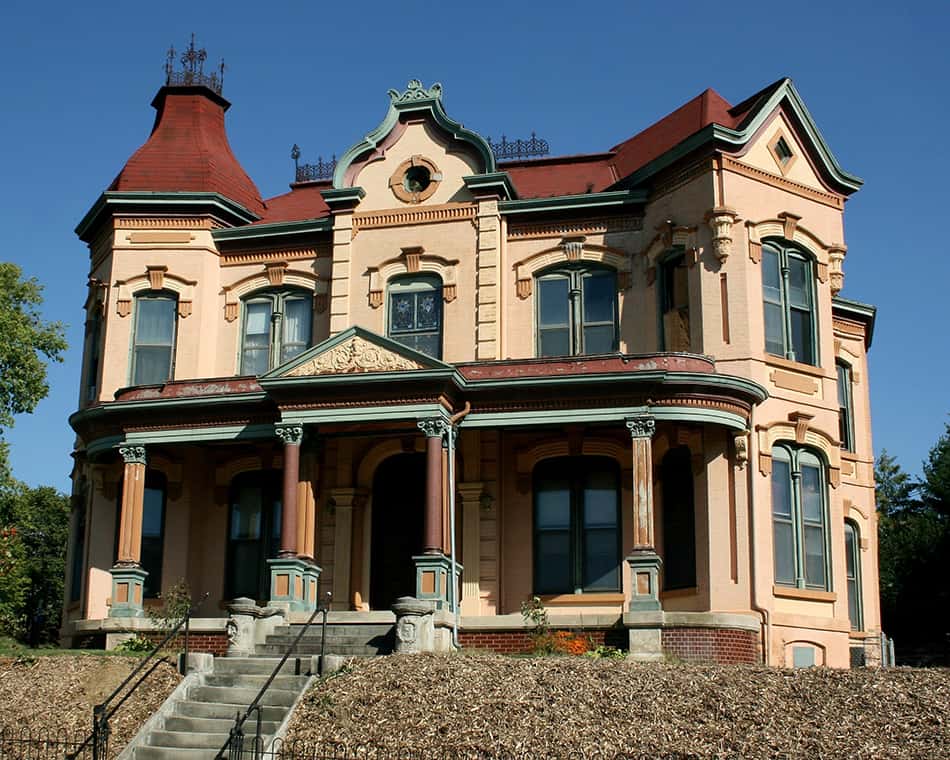 The Second Empire style gained popularity between 1865 and 1880 in the late Victorian era. This type of Victorian house originated in France, with some of the most famous hotels featuring the same architectural elements as the Second Empire homes.
The upper story or the attic is usually a light and airy room with a high ceiling. But perhaps the most striking feature of a Second Empire house is its mansard roof, which is named after the 17th century French architect, Francois Mansart. This type of roof is a 4-sided gambrel roof with two slopes on either sides, and further accentuated by dormer-style windows on a steep angle.
Other characteristics include:
Imposing tower
Balcony with wrought iron railings
Bay windows
Side veranda
Quoins chimneys
Single story porch
Diamond shaped dormers
Balustrades
7. Stick Style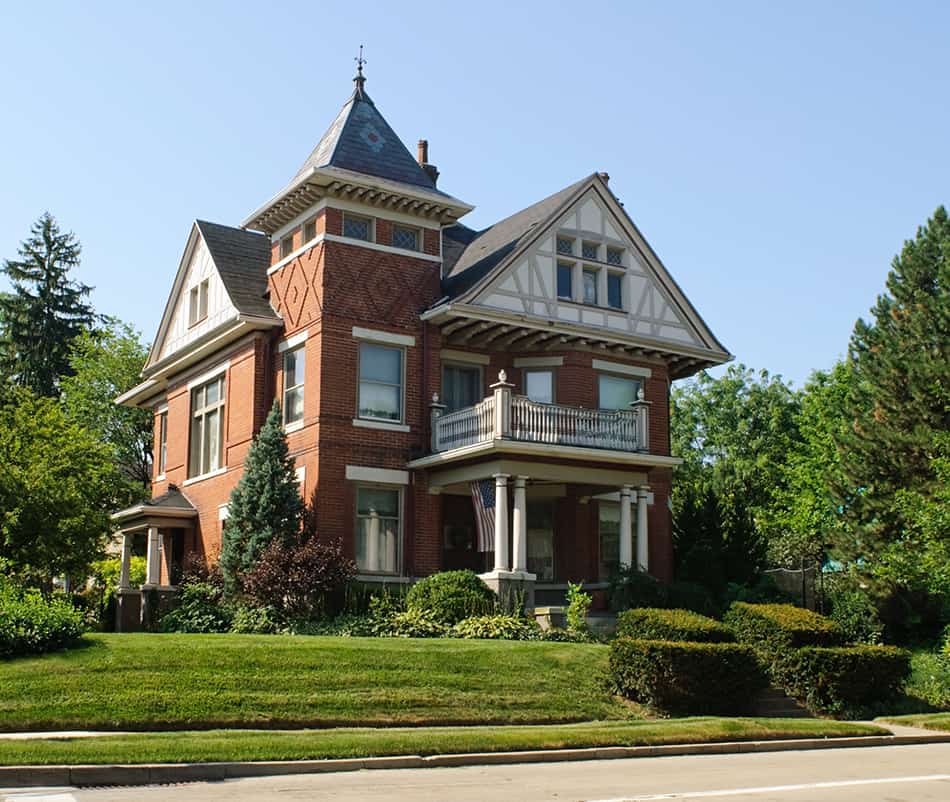 The Stick style house dates back to 1860 and is characterized by its vertical, diagonal, or horizontal planks that resemble Tudor style buildings. This Victorian style home has more of a decorative appearance but with a simple design. Unlike the elaborate architectural design of Second Empire and Queen Anne styles, the Stick style home lacks the bay windows and decorative ornaments that are so characteristic of the Victorian era.
A classic example of a Stick style house can be found at Chatham Train Station in Massachusetts.
Other characteristics include:
Pitched gable roof
Decorative trusses
Wooden exterior walls
Decorative wooden trims
Diagonal or curved braces
Towers
Cross gables
8. Richardsonian Romanesque Style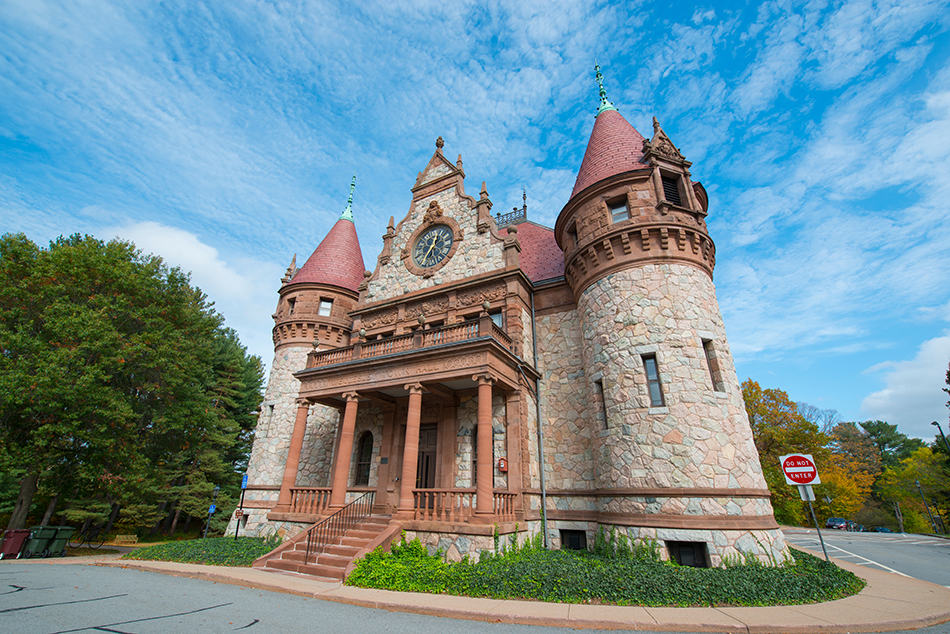 The Richardsonian Romanesque style has to be one of the most dramatic of all architectural styles in the Victorian era (1838). This Victorian house style was named after the architect, Henry Richardson. It wasn't long before it became popular thanks to the medieval Spanish and Italian Romanesque elements that were blended with modern materials and features.
A typical feature of Richardsonian Romanesque house includes circular arches above the porch supports or windows. These rounded arches were often set on huge pillars that were built directly into the wall.
Other characteristics include:
Round masonry arches
Heavy stone materials
Square shaped or cylindrical towers
Recessed entrances
9. Eastlake Style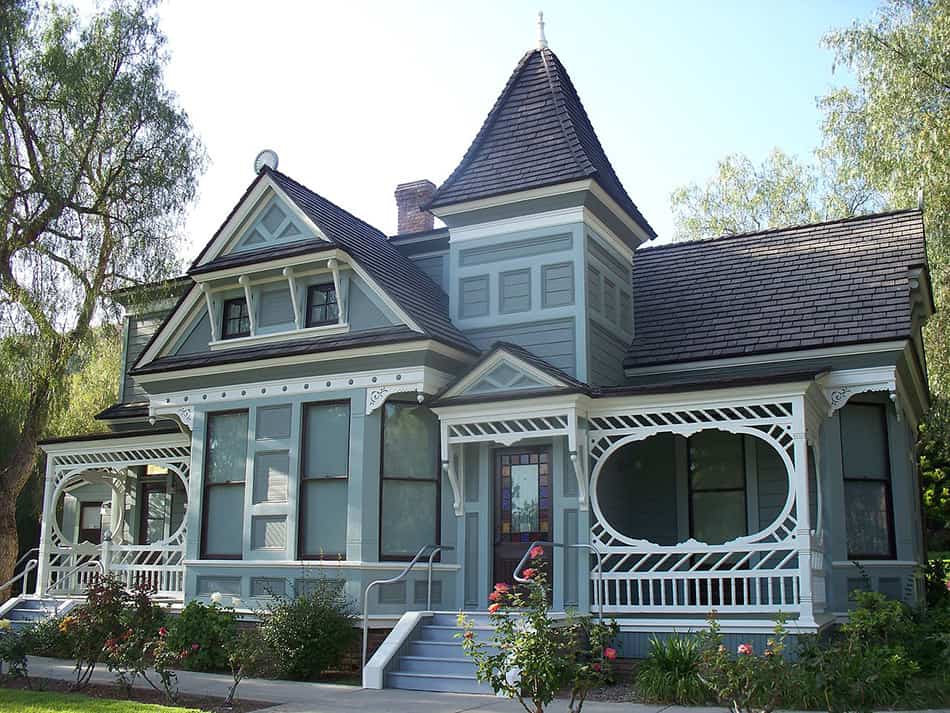 By the end of the 19th century, a new movement in America transformed the interior and exterior designs of properties. This movement was inspired by the British architect, Charles Eastlake, who convinced homeowners to replace their heavy furnishings with attractive pieces that were made by hand. This was the start of a reform, which was subsequently followed by a simple layout.
The Eastlake style is recognized by its Gothic design with decorative shingles and trusses on the gable ends. It also boasts paneled brick chimneys that are inspired by the Queen Anne period. These types of Victorian houses often feature overhanging, second-story porches as their prominent design characteristic.
Other characteristics include:
Carved panels
Perforated pediments
Lattice work on the porch eaves
Interlaced wood strips
Mansard porches with iron cresting
10. Italianate Style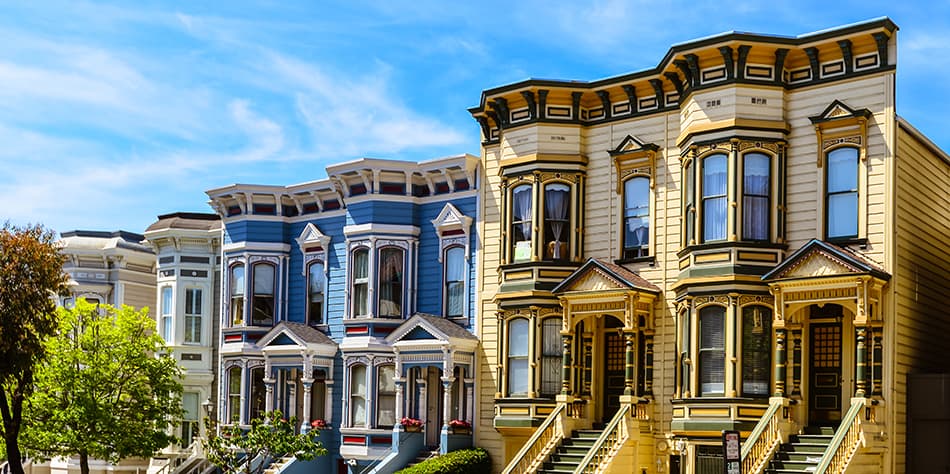 The Italianate style became popular between 1820 and 1850. Just like the Gothic Revival, this style of Victorian house featured romantic architectural elements that can also be seen in Italian farmhouses and villas. In fact, the Italianate style fits perfectly into the rustic settings of Italian villages.
When the Italianate style homes were introduced to America, they were almost immediately stamped with American character, which resulted in more practical and less fanciful homes.
These homes typically had hip or flat roofs, wooden panels, and bay windows.
Other characteristics include:
Two or three stories
Tall and narrow windows
Double doors with glass panels
Quoins chimneys
Single story porches
Wide eaves