For those who care about their home's appearance, its exterior colors play a big part in how well it complements the surroundings. Siding can be found in many classic and contemporary shades. The most commonly found shade is brown in the form of wood or brick.
When paired with an attractive front door color, your home can draw lots of attention to its front entrance. By determining the best front door color ideas for a brown house, you can create a unique curb appeal and lure potential buyers inside.
But aside from your exterior door color, there are other architectural elements or features that must coordinate with your brown home. The trims and the roof are such examples as you'll want to incorporate the look of brown stain into your exterior color schemes to help you achieve your goals.
Here we will show you the most suitable colors for a brown home's front door together with some tips on how to match your brown home with the trims and roof tiles.
Best Front Door Colors that Go with a Brown Exterior
Black Door on Modern Brown Wooden House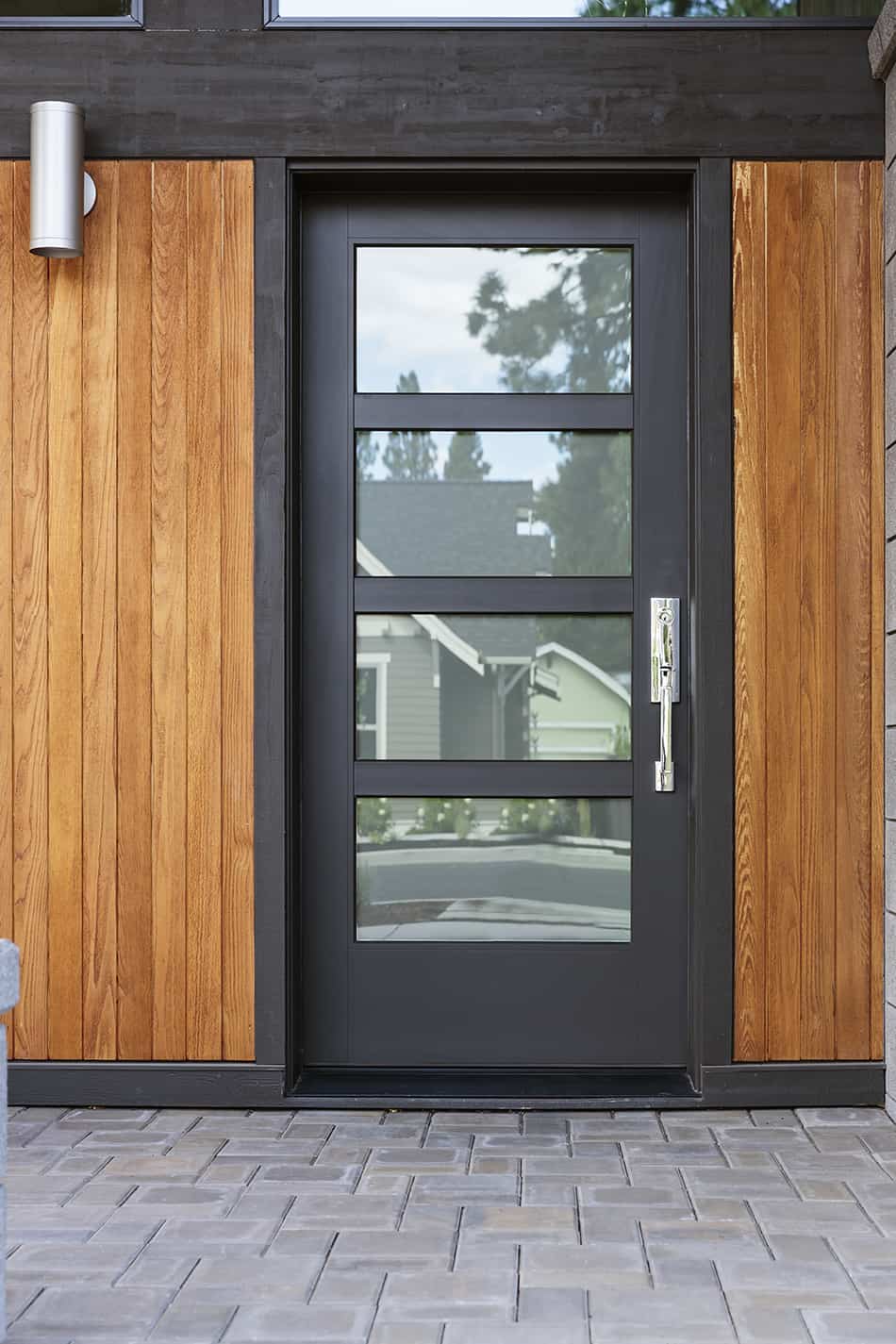 Black and brown are complementing colors, which are somewhat bold. These color pairings are visually stimulating in a warm and cozy way. A black & glass front door can transform an entry into a striking one. Similarly, a glossy black door with gold hardware can look stylish next to light brown siding.
See how this frosted glass-paneled black front door looks so contemporary next to light brown siding. The eye-catching appeal of these two colors has provided ground to the aesthetic appeal of the home. Black is such a versatile hue that looks smart next to any modern home.
When paired with metal trims and lighting, it will provide a striking statement as shown here.
Black Door on Traditional Brown Brick House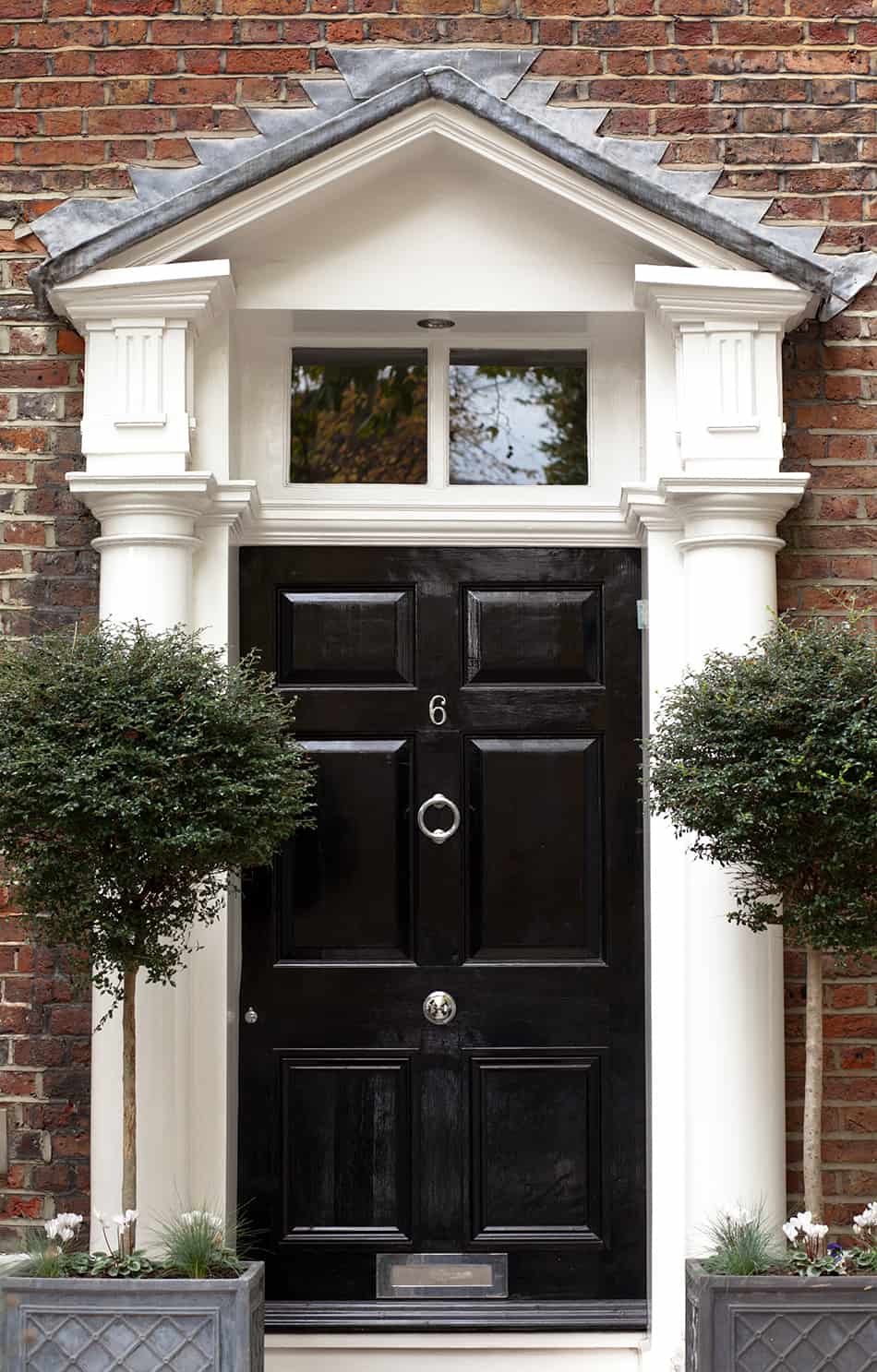 A black front door color isn't just a sophisticated choice for a modern home. It can look beautiful even on traditional brown brick houses. Since versatility is this hue's best feature, it makes a high impact next to the brown brick siding.
When set against brown, a black front door commands attention. Traditional colors like black, white, and brown work best with period houses.
These classic colors are more sympathetic to the style of the house. Stately houses should always incorporate classic colors into their exteriors in order to represent their majestic nature.
This Victorian-style house demands attention with its majestic entry. We love the white columns and pediment that frame this uniquely designed black front door.
Brown Wooden Door on Brown Wooden Exterior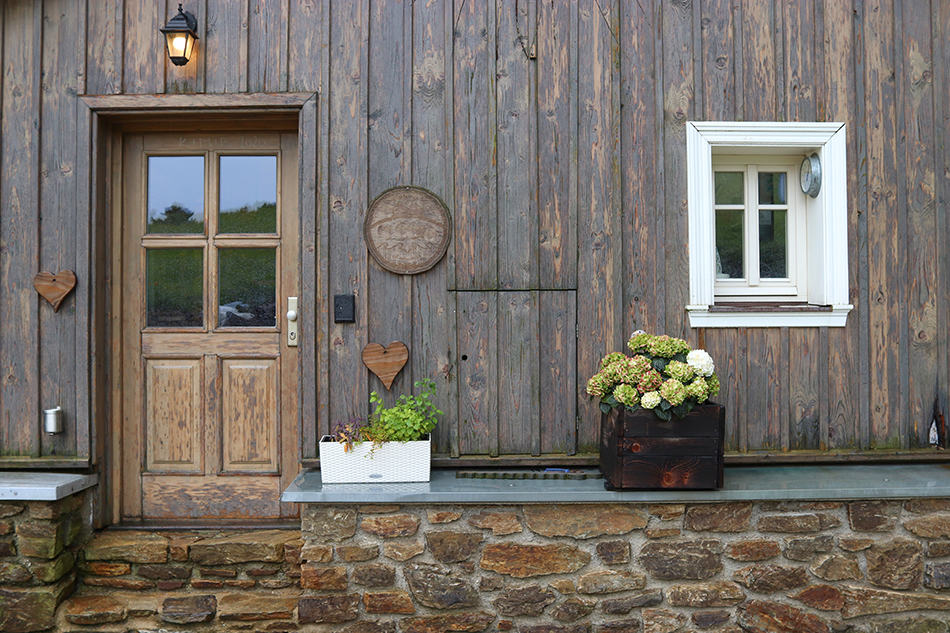 Brown wooden doors are the perfect choice for wooden brown siding. Whether you stain the front door light or dark brown, it can accent your entry and allow the door's natural beauty to shine. This color is one of the best choices for a brown exterior, but you may prefer to stain the door instead of painting it.
Here, the rustic wooden exterior of this house blends perfectly with the brown front door. Both materials are made of wood, with a stunning stone wall that enhances the curb appeal of this house.
The use of natural materials and the different shades of browns work hand in hand to create a warm and inviting entry.
Bluish Gray Door on Brown Brick Exterior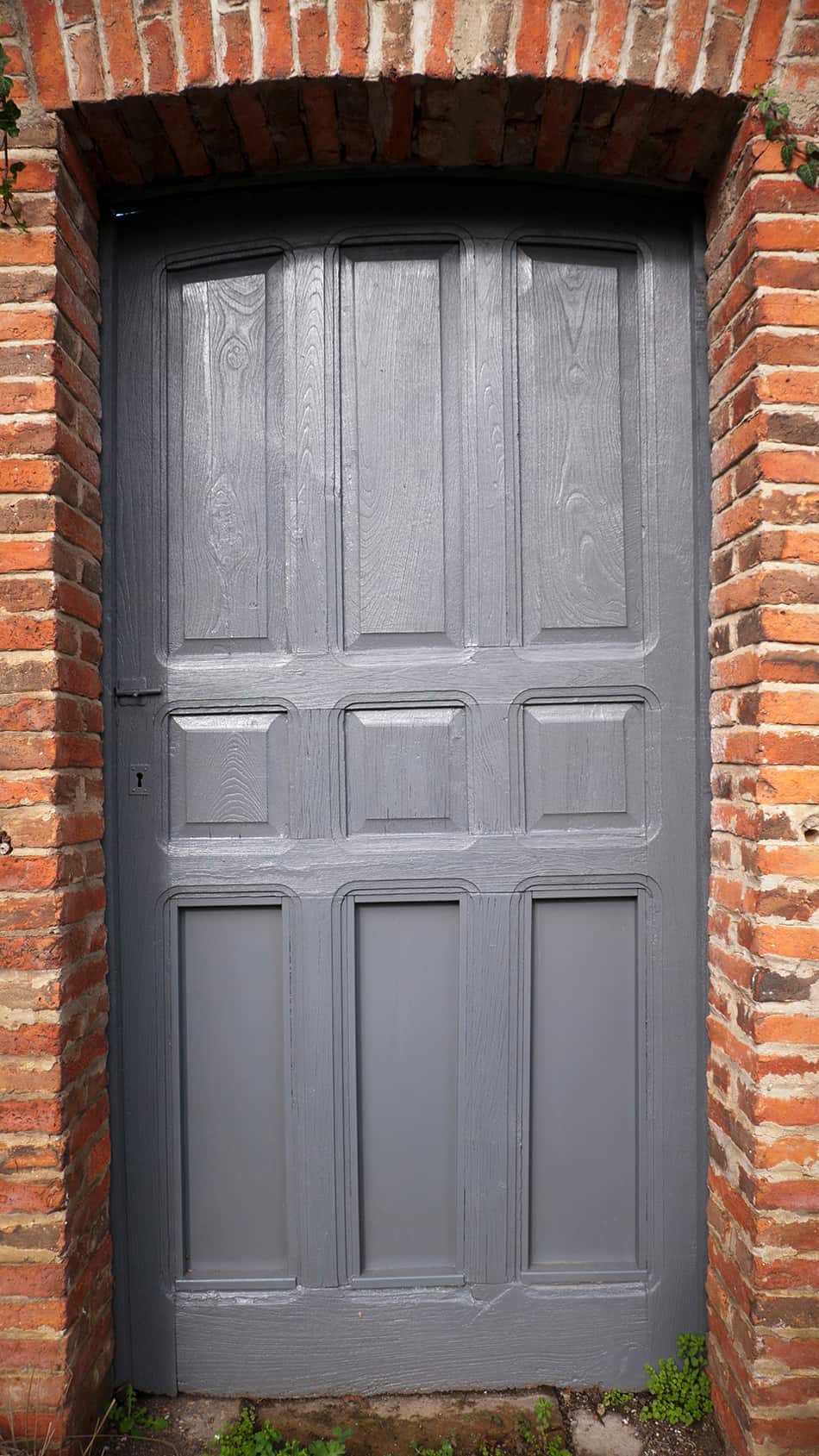 Timeless and elegant, gray is an excellent front door color for traditional brown or red brick exteriors. From charcoal and stone gray to pewter and lava, the possibilities are endless. You can even enhance the curb appeal by adding brass accents or gold hardware to the door.
To keep the focus on the front door, opt for a lighter shade of gray like the one here. It will no doubt be a conversation starter!
Blue Door on Rustic Brown Wooden Siding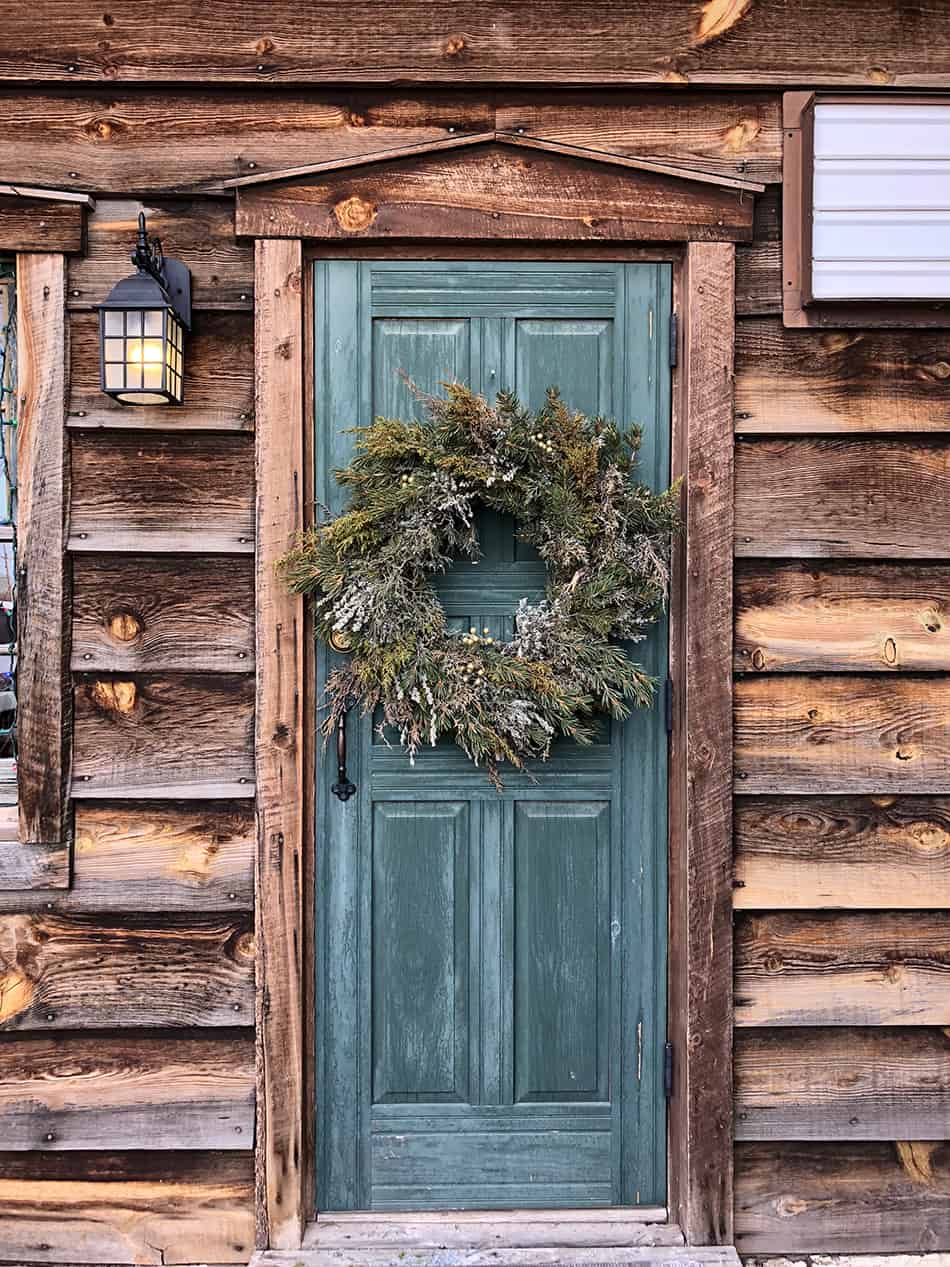 If you are looking for a pop of color for your rustic brown home, you can't go wrong with a blue front door. This color symbolizes abundance and wealth so the darker you go the more elegant it will be next to dark brown. This peaceful hue is visually stimulating and certainly an eye-catcher.
Why not dress up your blue front door with a large wreath for serenity as shown here? We love the inviting feel of this rustic home with its brown shingle siding and greenish-blue front door.
White Door on Brown Brick Exterior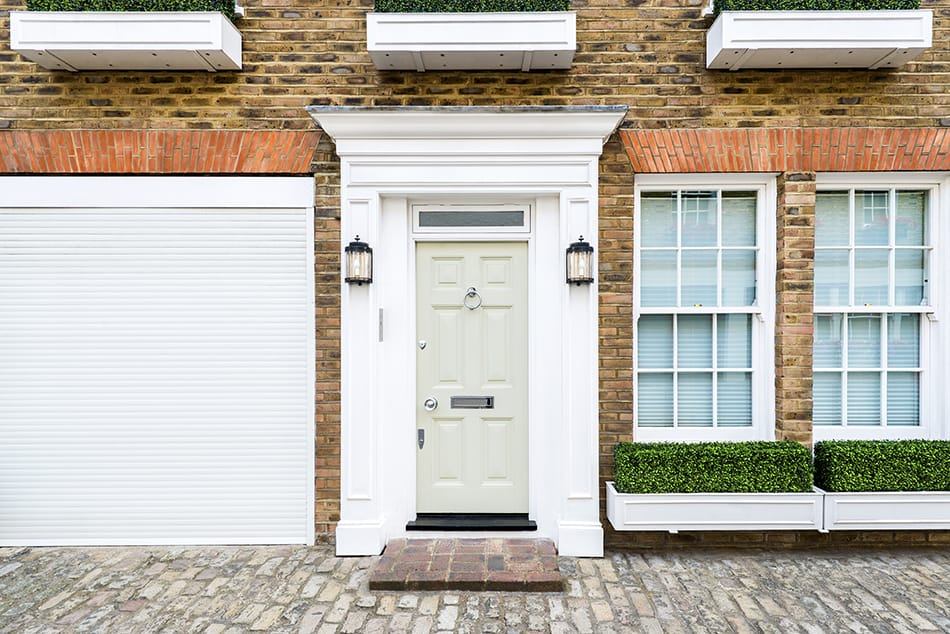 White is a bright and airy color that does a great job of visually opening up a space. It goes with everything so it is a popular front door color.
Whether your home's siding is of brown brick or wood, a white front door is the perfect complementing color pairing.
You can use the same color as the front door for the garage door. Or if you intend to use a different color for the garage door, be sure to use a complementary color not a contrasting color to the front door.
Add white trims, sidelights, and window frames to complete the look as shown here.
Yellow Front Door on Brown Wooden House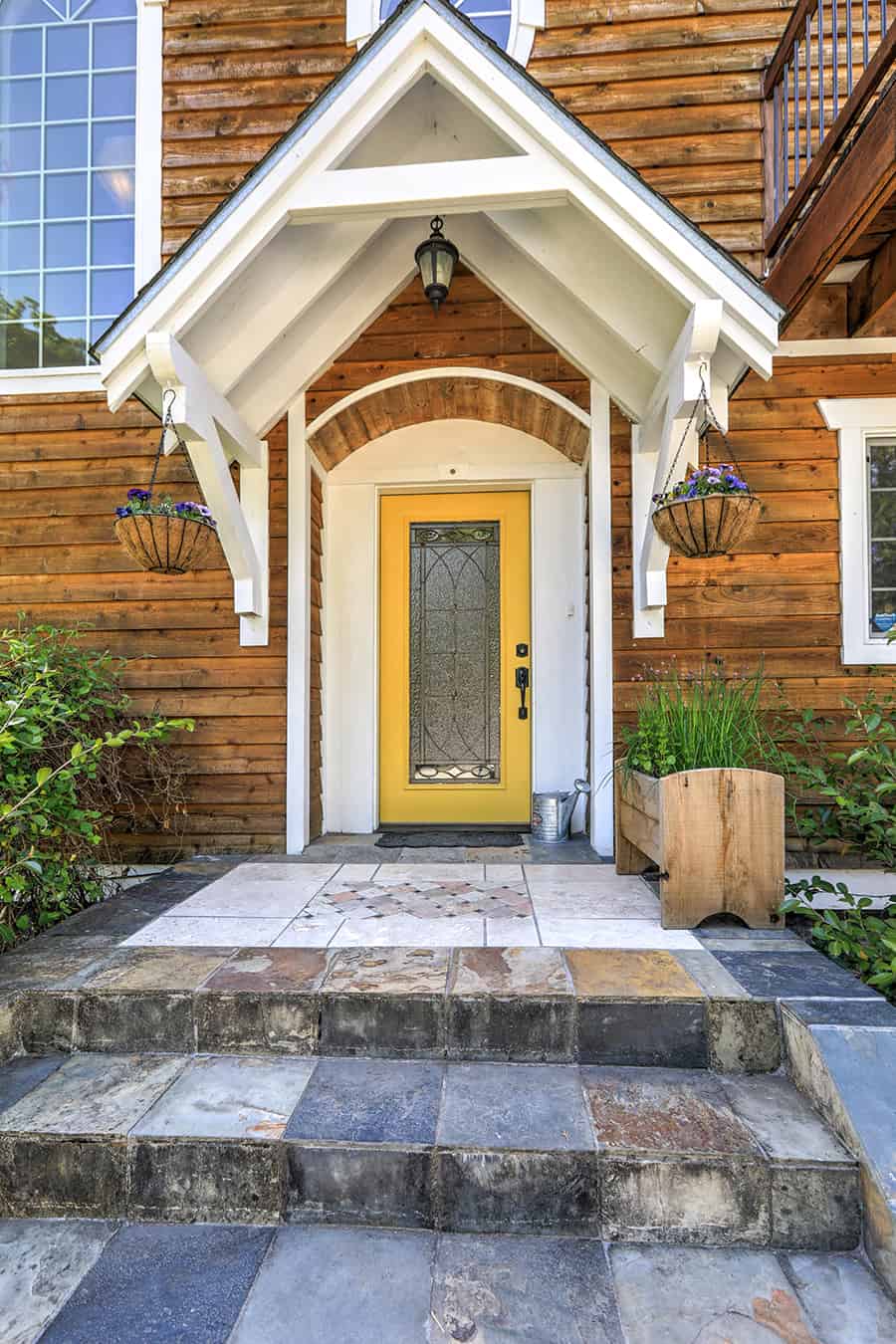 Naturally as bold colors, yellow and brown pair well with each other. To make the exterior stick out but not too much, you can use light shades of both brown and yellow.
In this example, the house uses a glass front door with yellow trims. This matches with the white sidelights and overhangs. Together with the warm but light brown wooden siding, the house looks bright and stylish from the front.
Monochromatic Red Door on Brown Brick Exterior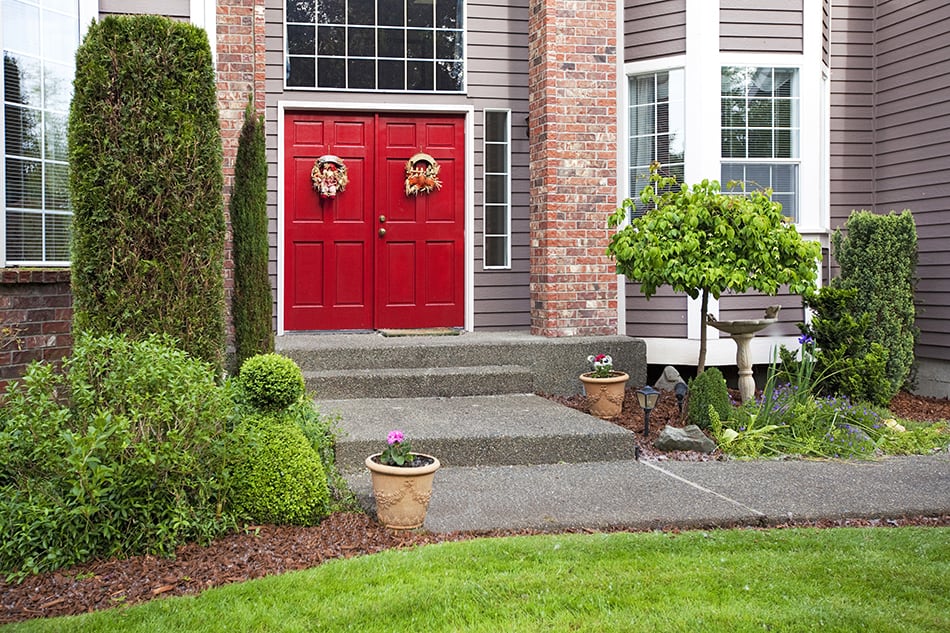 Our final suggestion is to go monochromatic by choosing a red color for your brown home's front door. This hue blends seamlessly with any house facade. On a brown brick exterior, red looks the most similar so feel free to go for a slightly lighter or darker shade.
As brick coloring can vary widely, a bold shade of red will complete the look. Go for a deep crimson hue or cherry red for high impact. A monochromatic color scheme provides a neutral backdrop to shine, especially if it's enhanced by other architectural and decorative details like planters and columns.
To visually expand your brown brick home, think about the other elements, such as the window frames and glass panels around the door.
This example shows how the red front door stands out thanks to the wreaths and glass panels on the top and side of the double door. All the unique features of this house are highlighted by the bold red color of the door.
How to Coordinate Brown Siding with Trims and Roof Colors
– For brown siding, consider a medium-toned to the chocolate brown front door with white trim to make the most impact. This is a rich exterior design that won't make your brown facade appear too dark. For the roof, bluish-gray shingles will add beautiful contrast, and help the exterior seem larger.
– To add elegance to your brown exterior, but you're worried it may make the entire facade too dark, use light or neutral trims. Brown siding with light green or gray elements adds depth to the overall design.
– If you prefer white trims on your brown house, consider introducing some bold colors like red shutters to make your exterior pop against the muted brown siding. Match the color of your siding with the roof tiles to blend them into one another and help your bold front door color stand out even more.
– The color of your roof tiles should never be overlooked. A rich brown or gray roof adds dimension to a brown house, but bear in mind you need to go for a lighter or darker shade roofing tile to prevent the exterior of your home from looking bland.
– Aside from the roof and front door colors, your window frames should also complement your brown exterior. Most brown houses feature hardwood window frames in white or brown. If the windows are black or gray, they will work with light brown siding like brown bricks.
The idea is to coordinate your window frames so they contrast or complement the brown siding. Even white frames will look good on dark brown exteriors as long as your front door is a muted shade.
– Natural hues such as black, gray, brown, or beige withstand the test of time. Your front door can even have a deep red or blue paint color, with the addition of other neutral colors for the trims.
If you decide to alter your home's exterior colors at a later stage, neutral shades will adapt with you, so it is advisable to stain your front door rather than paint it. This will allow you to change the color later if you wish to do so.
Conclusion
There are many front door colors for a brown house. Whether you want to add a hint of color to the exterior design of your home or carry the color throughout the rest of the house, choosing a statement hue never fails to impress. Brown, for example, is a classic color to consider for a front door.
But as you've seen from our examples above, blue, red, and other tones complement brown siding just as well as neutral colors.
Using natural shades has the added bonus of blending your entry with the landscape. We hope you've found some inspiration from this article the next time you want to choose a paint or stain color for your front door.