Your bedroom is your private haven where you can relax and disconnect from the outside world. Since this room is where you meditate, reflect on life, read a book, watch TV, and of course, sleep, it needs to be designed exactly to your desires using the right colors, bedding, patterns, fabrics and other interior decoration ideas.
One popular aesthetic that appeals to many men and women is the future theme. Some people tend to be drawn to sci-fi-style bedrooms, while others want to create an underwater sleeping arrangement.
If the future theme interests you, then you've come to the right place. While I won't be suggesting that you should sleep underwater or blow your budget on a spaceship, there are some creative futuristic bedroom ideas that you can easily adapt to your liking. The good news is, most of the examples I'll be showing you won't require spending a lot of money on accessories or gadgets.
So let's get started with the following 14 bedroom examples with pictures:
1. Sleeping in a Capsule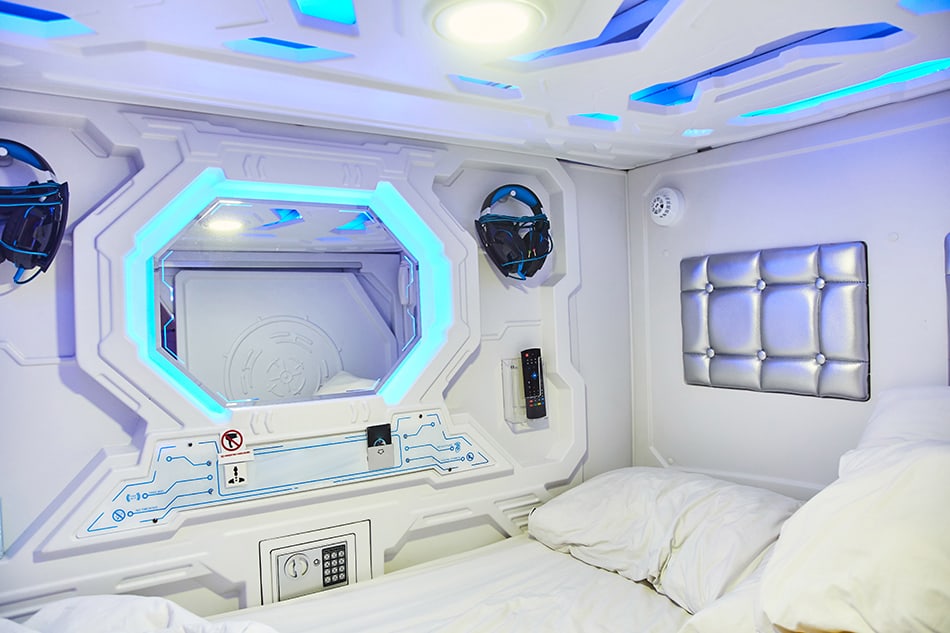 Since bedroom spaces in apartments are becoming smaller and smaller, especially in large cities, it is not surprising to find enclosed sleeping spaces in pods and capsules. These modern bed spaces aren't just found in luxury hotels.
The bubble-shaped designs are a popular feature in futuristic bedroom designs – and they are here to stay for the foreseeable future. As you can see in this example, you don't need a large bedroom space to create the same look. With a little modification, you can sleep in your own private capsule tonight!
2. Black and White Color Scheme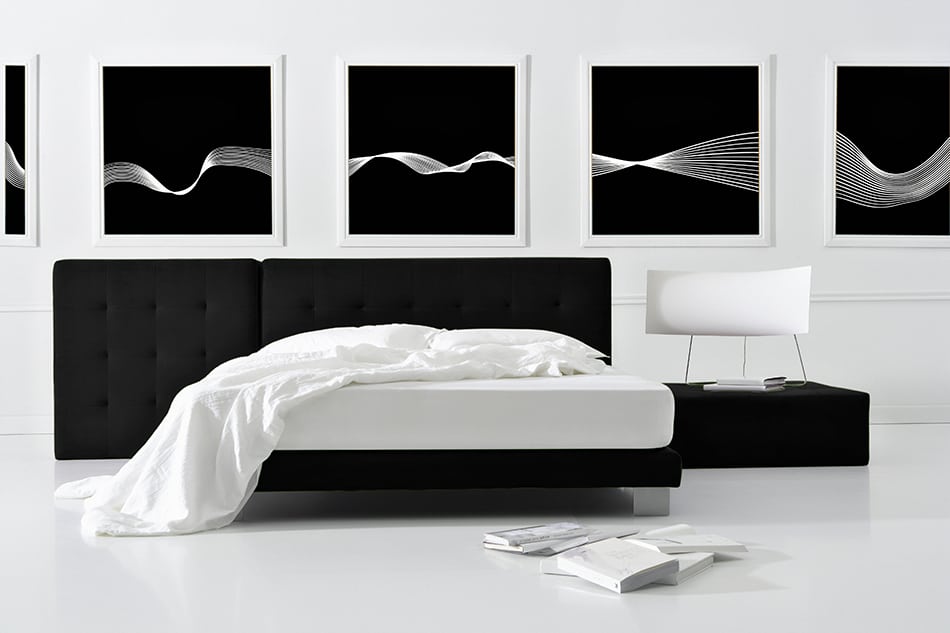 Although black and white designed bedrooms are by no means a futuristic concept, they are nevertheless a classic color combination that works very well in futuristic design elements. Whether you incorporate black and white color schemes into the curtains, walls, windows, or wall art, this color scheme is, without a doubt, a true stunner.
Some people may prefer to introduce a little grey with black and white, but the general idea is to create a sci-fi-inspired bedroom that turns heads. And this bedroom design example has done just that with its attention-grabbing decor.
3. A Modern Dark Theme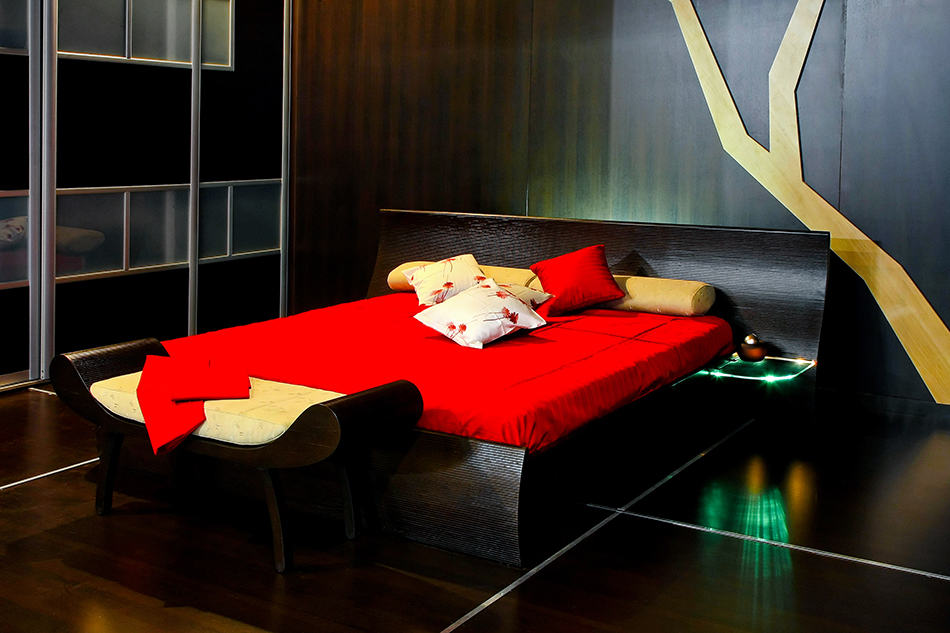 Most modern bedrooms are styled in dark themes. The combination of a dark floor, walls, wardrobes, and bed frame contrasts the red and yellow bedding as seen here.
The soothing and simple vibes of this modern bedroom are thanks to the all-wood furnishing and flooring, which are accentuated by the tree decal on the wall.
4. Stars and Planets on the Wall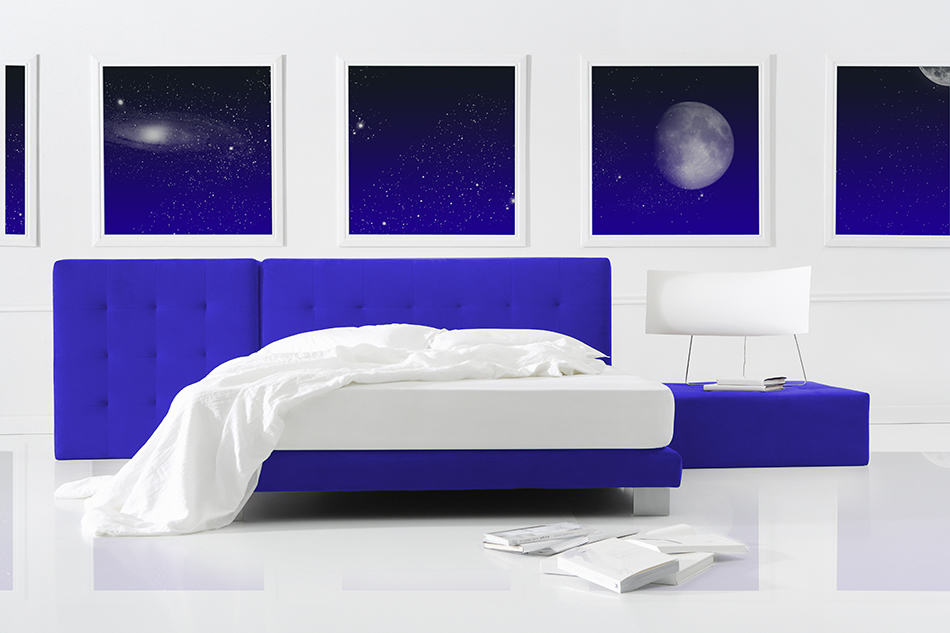 Obviously, spaceships are the most inspired futuristic bedroom designs. But I'm not suggesting that you should build a spaceship in your bedroom. For a less expensive approach to this theme, you can hang pictures of the orbit with the stars and planets to emit the same look.
The visual style of stars and planets is a taste of the experience without having to live in a top-floor apartment with a big skylight above the bed. See how beautiful the rich blue color of the wall pictures in this bedroom matches the bed frame. The color blue represents the sky, while white refers to stars.
5. A Futuristic Bed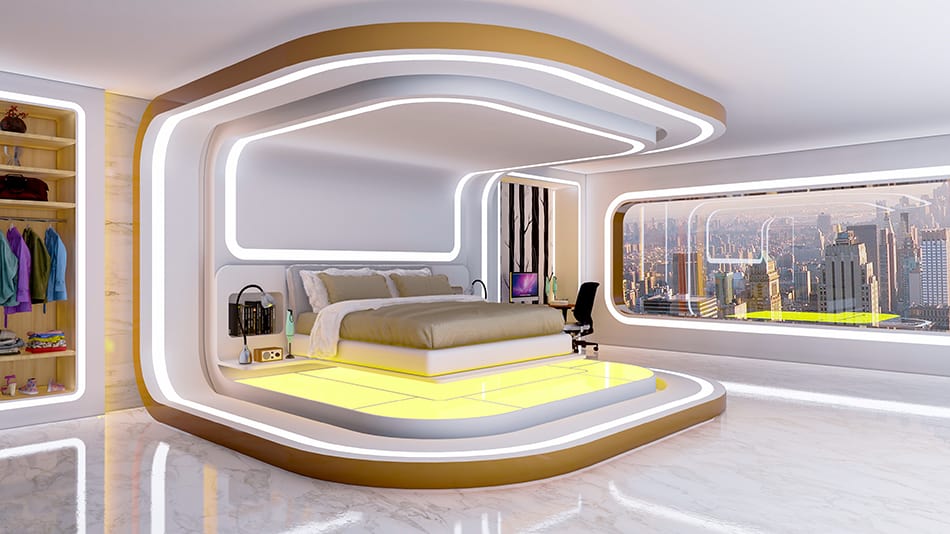 From spectacular wall arts and colors, no futuristic bedroom design is complete without an ultramodern bed. The bed is your bedroom's focal point so it makes sense to design its surroundings as spectacularly as you can. In this future-themed bedroom, framed LED lighting plays a major role in framing the bed.
Other bed design ideas can be a round bed with an oversize round pouf that serves as a mattress. Canopy beds are the other ideal option for your futuristic bedroom. When matched with a neutral color palette, the idea can be quite endearing.
But if you aren't keen on a cubicle canopy bed or a round mattress, why not opt for a floating bed that will look sleek against glass or marble walls in a white bedroom. All these suggestions for a futuristic bed will work in both small and large bedrooms.
6. Focus on Eye-Catching Headboard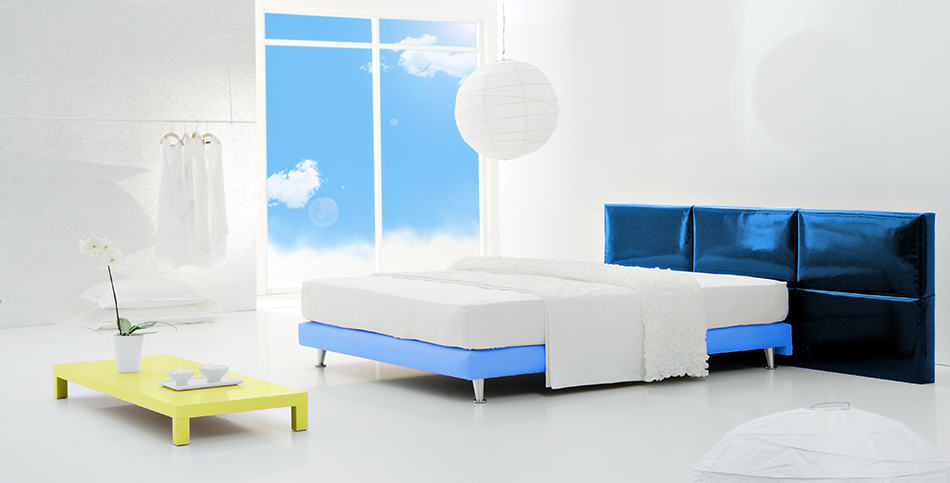 Most futuristic bedrooms are designed around the bed's headboard. For example, build your bed into alcoves, and cubbies or place a shiny, large-size headboard on the floor behind the bed as per this image.
This surreal bedroom doesn't require an expensive modification to create a futuristic appeal on a blank canvas. The concept is perfect for bedrooms that will be undergoing a makeover. A large headboard that covers most of the wall behind the bed evokes a futuristic vibe and draws the eye to it, especially in a minimalist bedroom.
7. Choose Innovative Lighting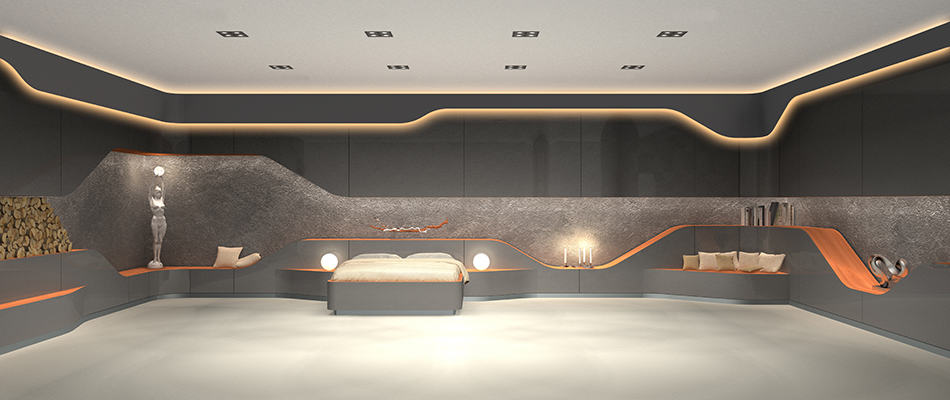 Both artificial and natural lights can increase the future feel of a modern bedroom. Lamps, for example, particularly neon and lava lamps that are made from metal are artistically colorful and can be placed in the bedroom's corners.
If your bedroom lacks natural lighting, you can always add your artistic touch and place small globes of light next to the bed. To complement the future theme, choose dark grey tones for the walls and match the bed frame with the wall color. This example shows how small lights work perfectly in a luxury future-themed bedroom.
8. Use Smart Technology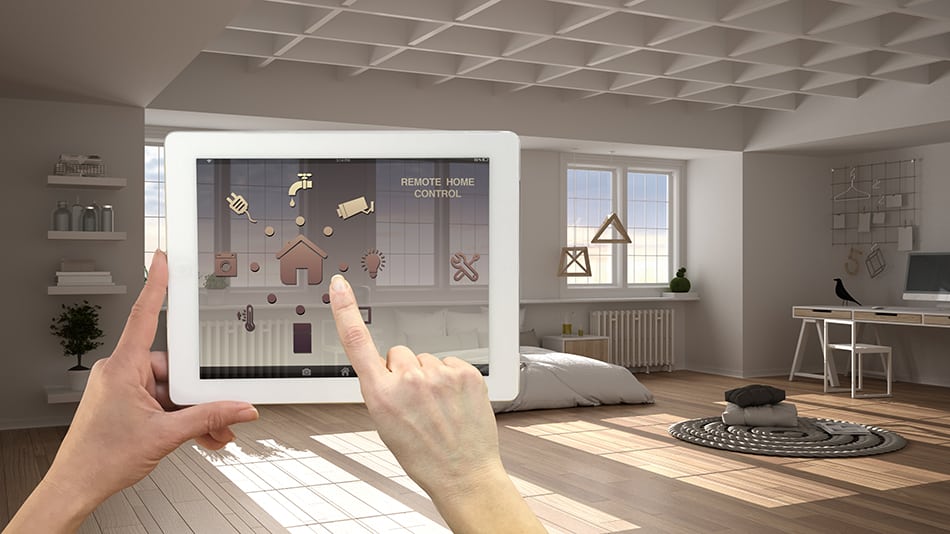 A future-themed bedroom needs smart technology as part of its overall design. This innovative idea certainly adds to the futuristic ambiance of the room.
To be able to charge your smartphone or laptop by placing it on a wireless charging bedside table, closing or opening the curtains without getting out of your bed, an alarm clock mat that won't stop until you step on it, and smart bulbs that switch on and off automatically are all part of a smart bedroom that is full of clever gadgets.
Admittedly, you will have to spend some money on this transformation, but I'm sure you'll be able to find some great deals on cool bedroom gadgets online!
9. Think White and Bright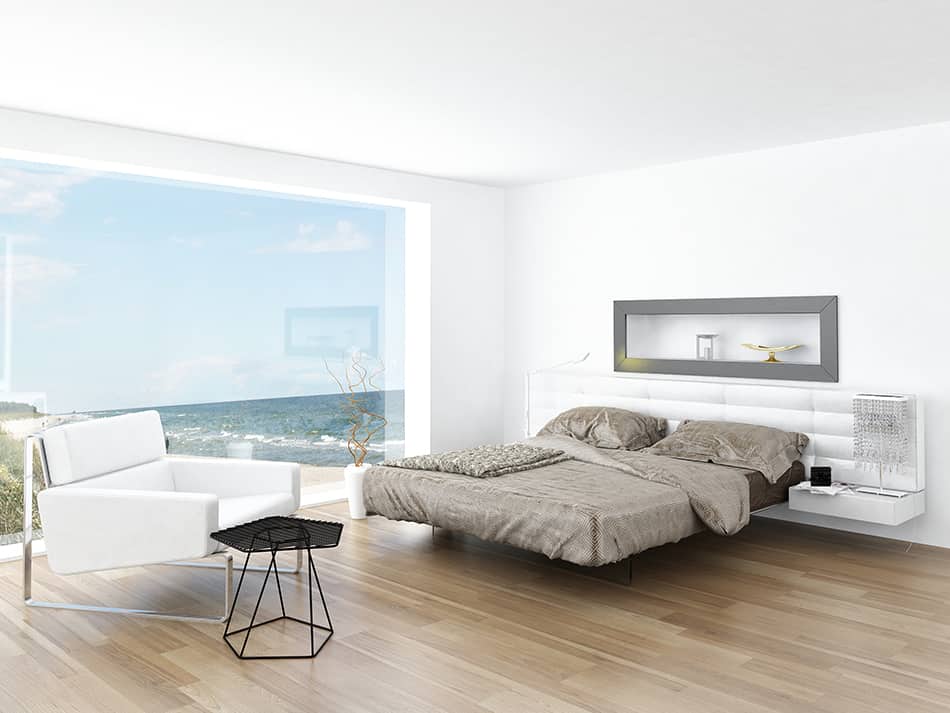 Don't have the budget to spend on gadgets and smart accessories? The easiest way to create a futuristic bedroom with a low budget is to think simplicity. Glossy white furniture or walls will give a sleek look and emit artificial intelligence.
Simple white designs remind people of the space age as they convey a clean and practical vibe. If you live by the sea, this concept will work just as perfectly as it promotes a relaxing feel as shown here.
10. Play with Shapes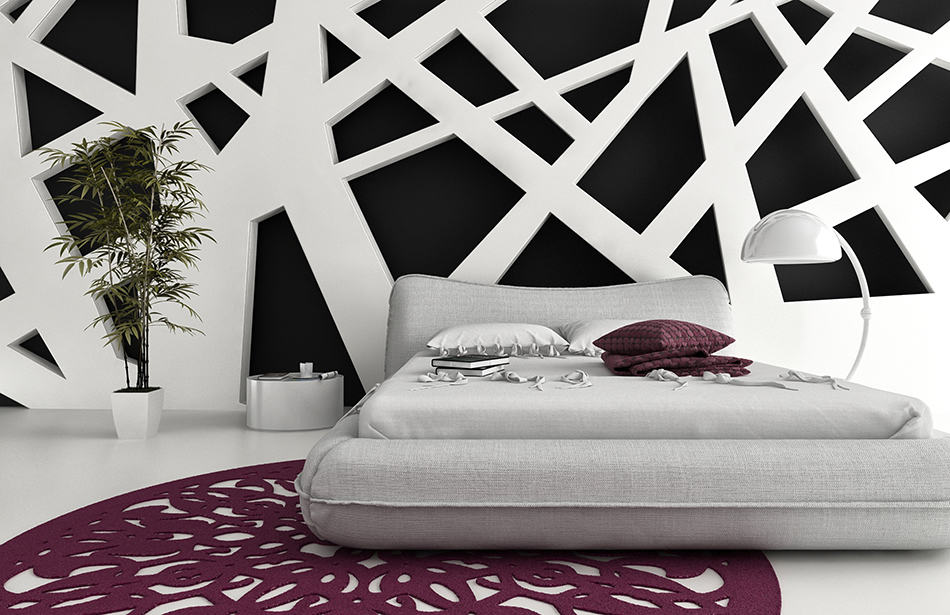 Abstract shapes evoke different emotions in interior design. Curves and lines on the wall create a welcoming and cozy feeling as they can set the entire tone for a bedroom.
Futuristic bedrooms embrace the concept of shapes perfectly by incorporating curves and straight lines to provide a stark contrast. This stylish bedroom has beautiful shapes on the floor covering and the architectural wall behind the bed. Simply stunning!
11. Add Decorative Accents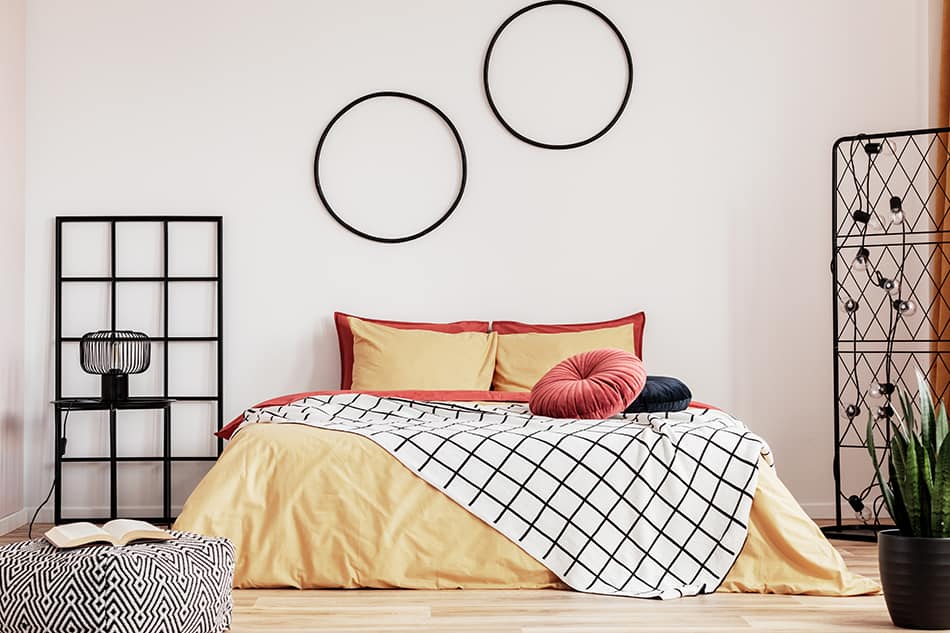 Another low-cost way to introduce a future-themed design element to your bedroom is by opting for decorative accents. You can hang dark-color accents on the walls that are made of metal or porcelain. These materials are durable with a shiny finish.
Mirrors are the other decorative accents you can add to your bedroom to maximize the amount of light and evoke the feeling of space.
12. Go Symmetrical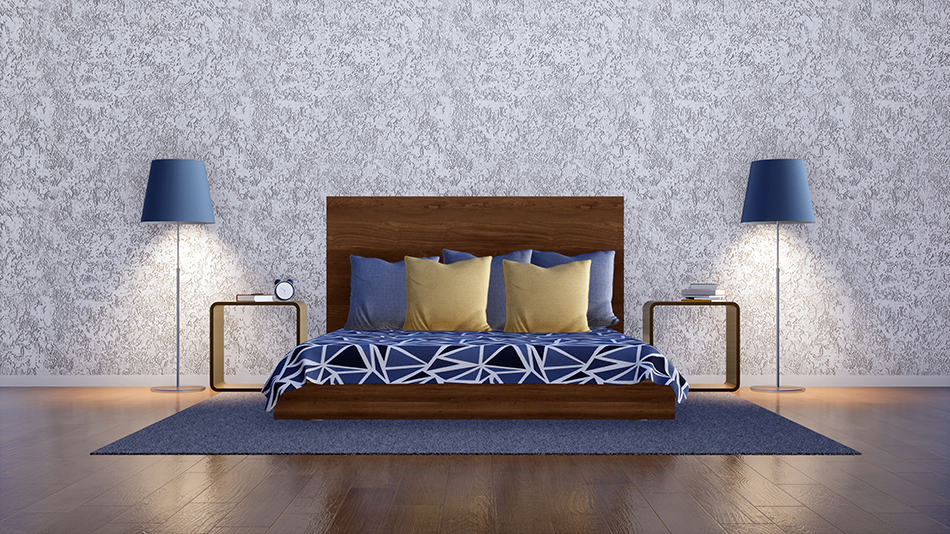 Perfection is what comes to mind when designing a futuristic bedroom. An unblemished decor in perfect symmetry works very well in a room with minimal texture or color. In this example, see how darker colors are used in a symmetrical order to create a balanced look. This idea is especially ideal for modern guest bedrooms.
13. Marble as the Stone of the Future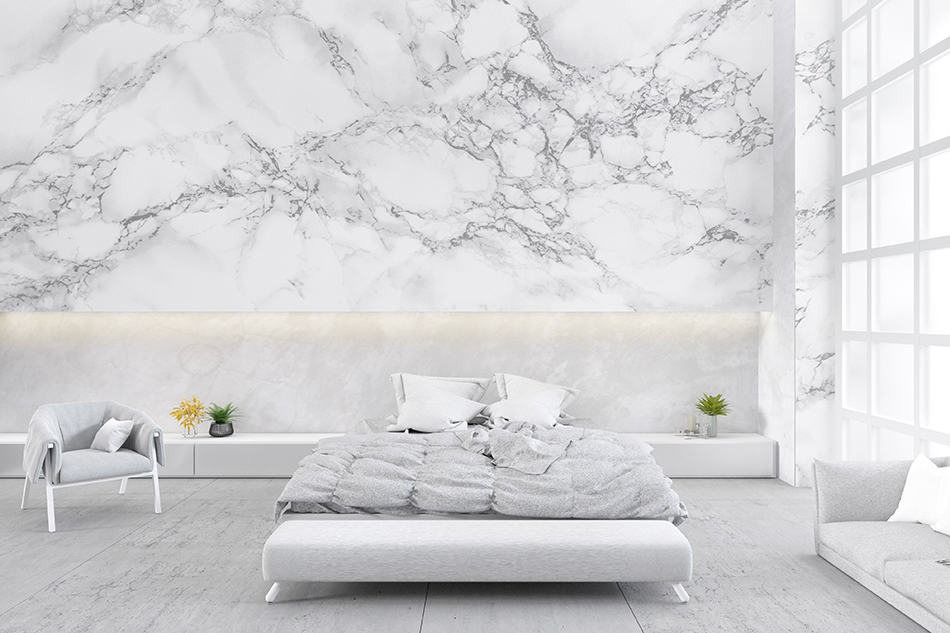 The white, shiny, and highly durable marble is a tone-setting stone and one of a must-have in a futuristic bedroom. A large marble wall will suit both the bedroom and the adjoining bathroom as a futuristic motif. Why not match the marble wall with a marble floor. This idea works especially well in bedrooms with tall walls.
14. Embrace Minimalism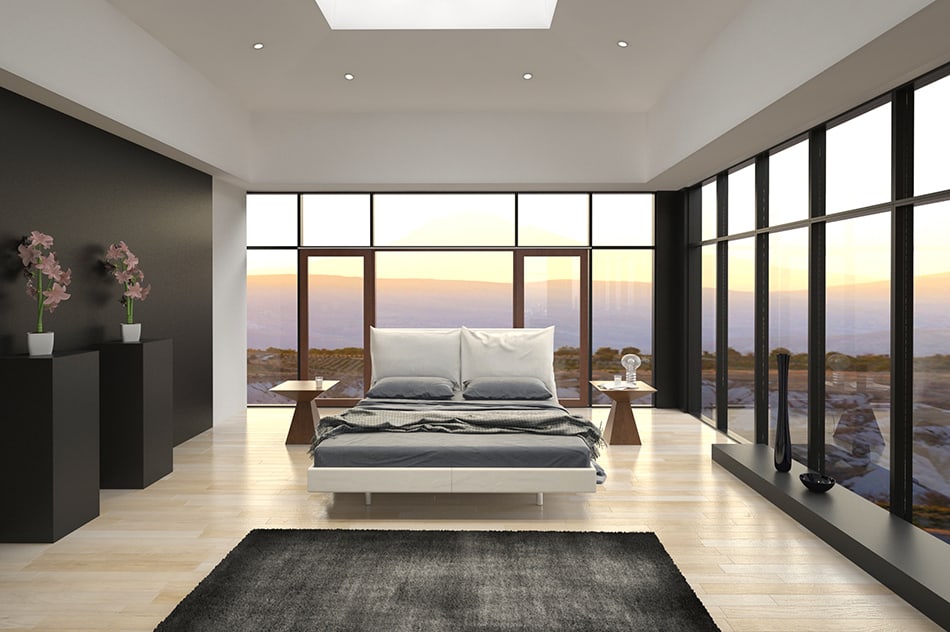 Knowing how to use your space wisely is key in creating futuristic decor. Clutter will only diminish the ambiance and distract the eye from the main theme. Minimalism is a better option for achieving a futuristic aesthetic. In this case, doing less will give more to achieve the future-themed look.
Which of my futuristic bedroom design ideas did you like most? Feel free to share your thoughts in the comments below!