When it comes to choosing a specific type of wood for your bedroom furniture, pine makes an ideal choice thanks to its natural, classic look. In both modern and rustic bedrooms, pine furniture emits an inviting vibe, which is mainly because of its distinctive grain and light undertones.
However, when finding the right colors that go with pine furniture, you must pay attention to the tones in the pine to create the mood you're seeking for your bedroom.
But the question is, what color is pine? This type of wood has warm yellow or amber undertones, thus a perfect match with cool-toned colors.
For example, contrasting colors like blue will work beautifully with yellow pine as it creates balance in the bedroom. But that doesn't mean you can't use warm-toned colors with your pine furniture. To avoid overwhelming the warm tones, you can use darker shades of green or brown to pair with your light yellow pine furniture.
Whether you want to paint your bedroom walls or change the curtain color, it is important to ensure they work with pine furniture. By choosing the right accent colors that complement pine, the aesthetic of your bedroom can be greatly affected. Here are some bedroom color ideas with pine furniture to take your inspiration from:
Colors that Work with Pine Bedroom Furniture
Keep it Natural-Looking with Dark Brown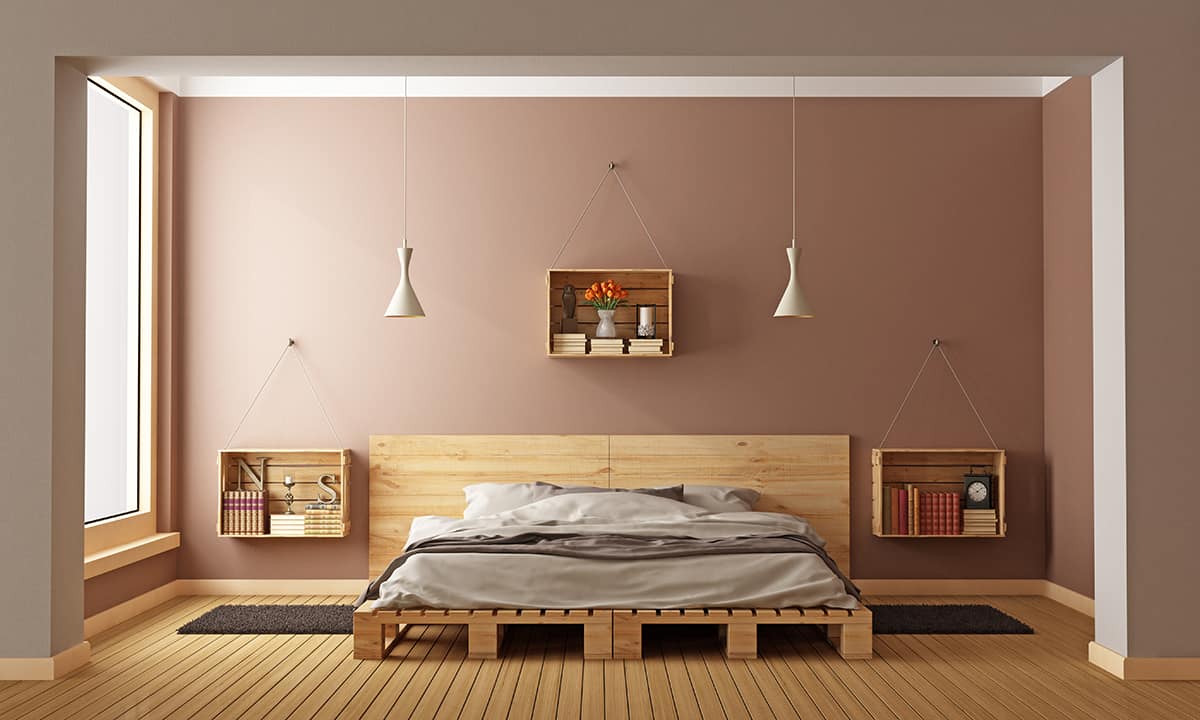 With dark wood furniture, light brown paint creates a monochromatic effect in the bedroom. However, in bedrooms with light pine furniture, we recommend dark brown as this combination looks well balanced and flawless. If you like this color for your bedroom, make sure you add other light color accessories to avoid the bedroom space appearing monotonous.
Just like you can see in this example, the pine bed and wall shelves look cohesive with the dark brown wall behind the bed. This combination gives an earthy, warm feel to the room.
Serene Green for Tranquility
Warm-toned colors are often preferred in the bedroom to create a relaxing, calm ambiance. When you have pine wood furniture, using green for the walls and accessories makes sense. A light shade of green that leans towards neutral is ideal with pine. That said, a medium-toned green shade also works well as it highlights the honey-colored pine furniture.
Another attractive shade of green that goes with pine is lime green. This shade works particularly well with amber or golden pine. When you include bolder greens for the bedding and window treatments, you can enhance the warm feel of your bedroom.
Add Dark Blue for a Soothing Feel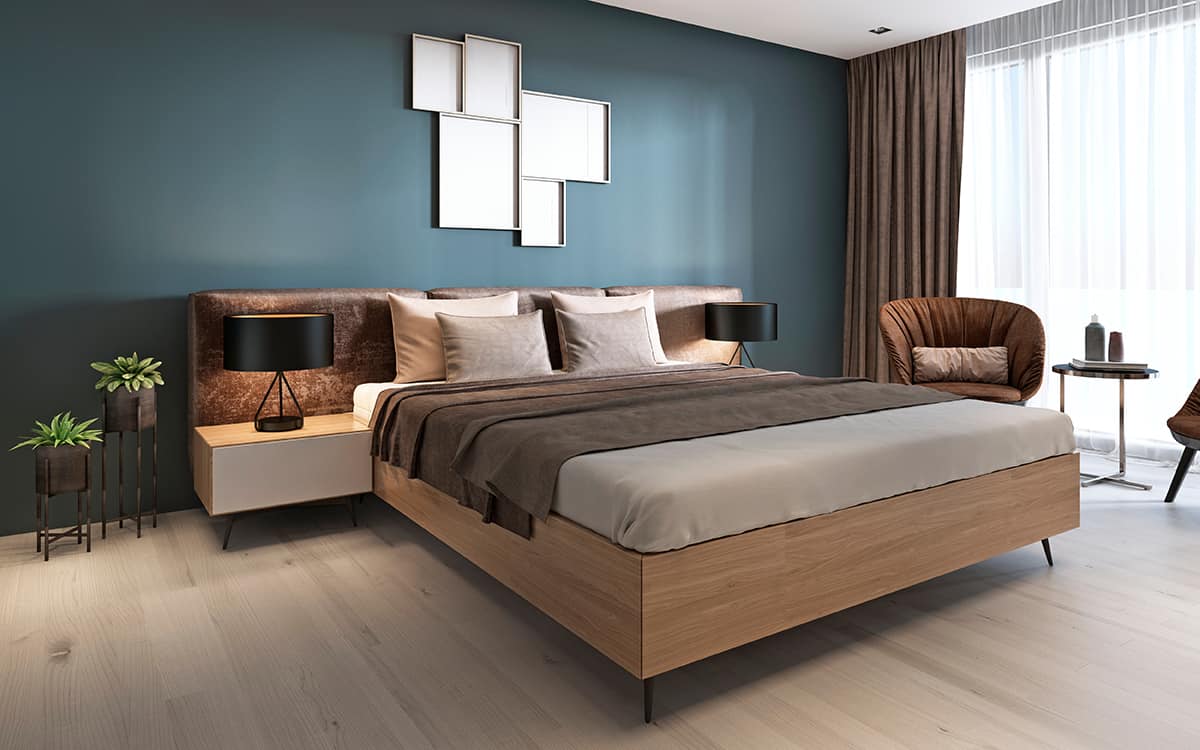 Just like green, blue is another excellent choice for a contemporary bedroom with pine furniture. When you paint the walls a cool-toned dark blue shade, it can bring a soothing vibe to your pine bedroom furniture.
A strong blue adds a dramatic contrast with the pine's natural tones, so the shades we recommend are teal, admiral, and navy for a modern flair. Keep in mind that dark blue walls and pine furniture are best paired with light wood flooring as the combination helps keep the bedroom bright and open, just like in this image.
Match the Pine with Similar Tones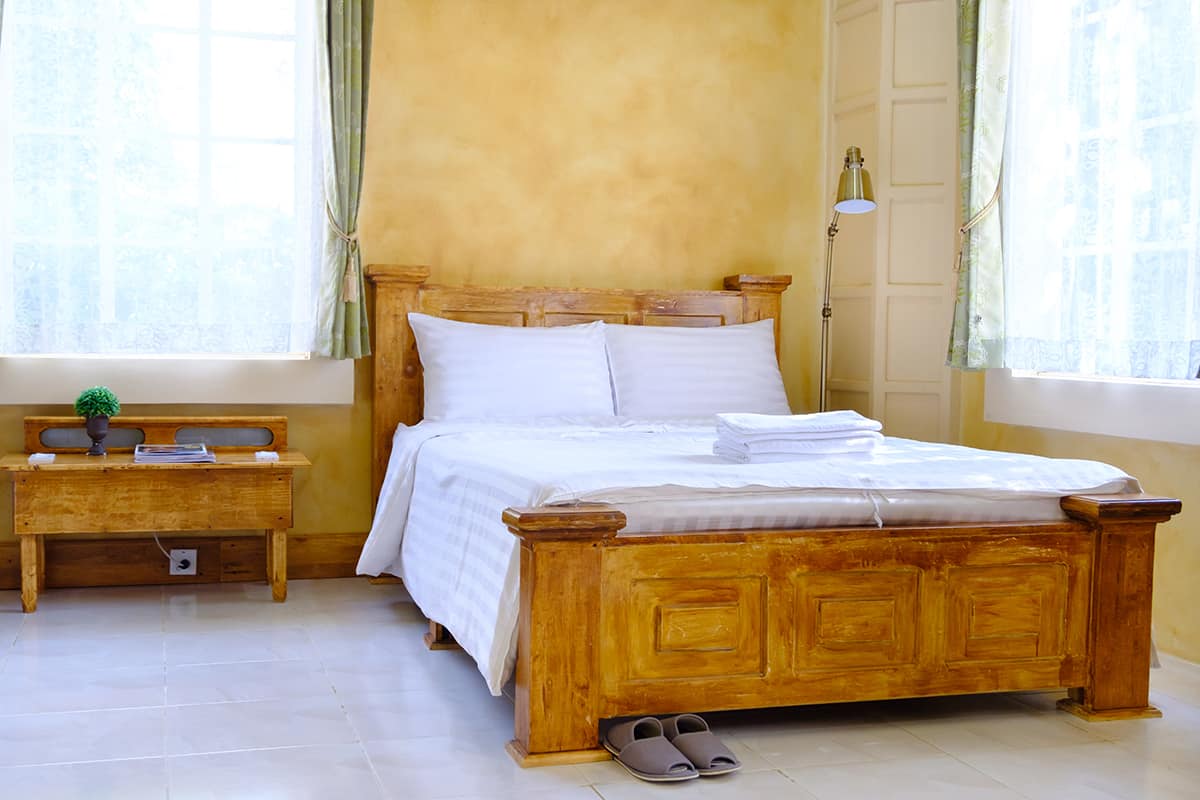 Most pine species consist of warm yellow tones. If you want a complementary color to pair with your warm-toned pine furniture, consider a light shade of yellow for the walls. This color won't clash with other accessory or bedding colors, especially when you pick a very light shade. Pale yellow walls and pine furniture bring a welcoming feel to a rustic bedroom.
This Tuscan-style bedroom boasts pale yellow walls and stained pine furniture. With this combination, avoid adding dark-color curtains as your bedroom can appear dark. Instead, add sheer white or light brown window treatments to keep the space bright and airy.
Use Light, Neutral Colors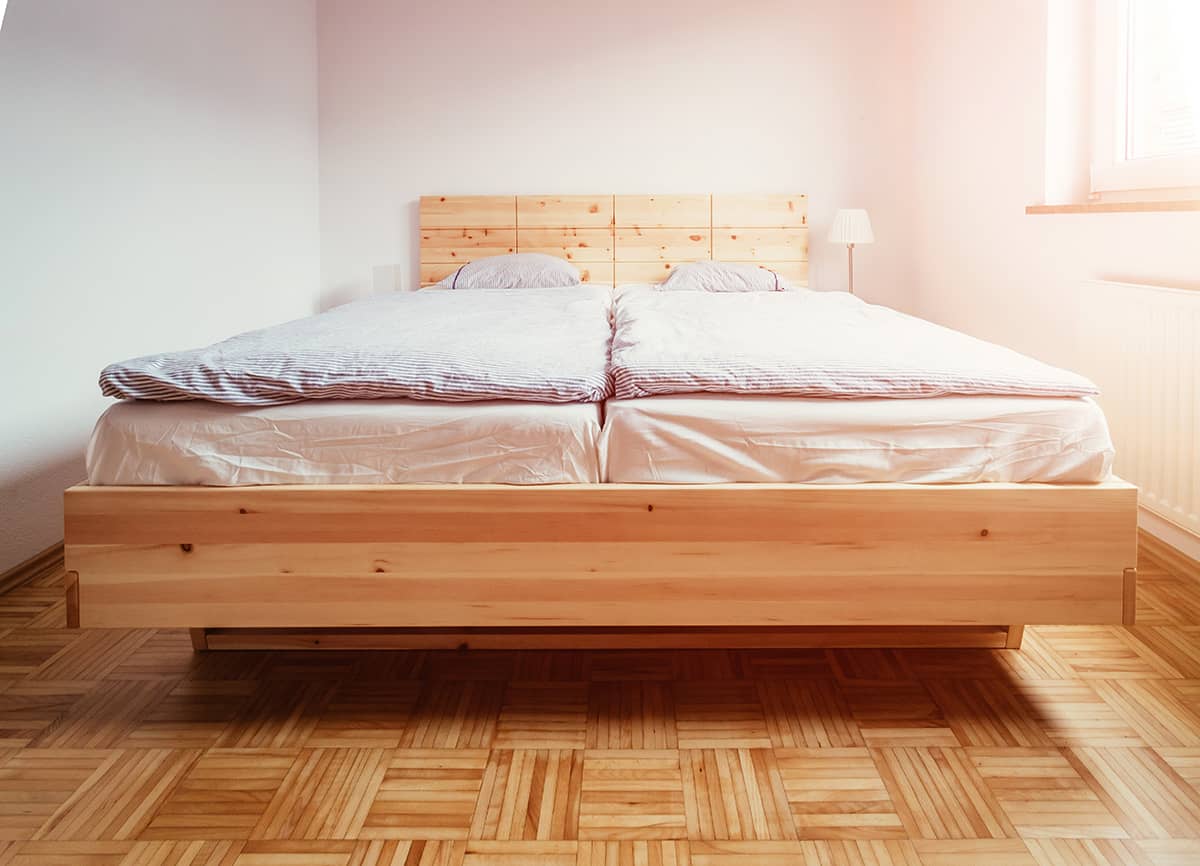 Since pine wood has distinctive grains, it is best to pair it with neutral tones that don't compete with the color and texture of this softwood. This way, your pine bedroom furniture will remain as the visual focal point of the room whilst the neutral colors serve as a backdrop.
Both dark and light neutral colors coordinate well with pine furniture, including beige, tan, and cream. These shades are ideal for the bedroom as they contribute to a peaceful atmosphere and help promote better sleep.
In a bedroom with light pine furniture, white bedding and matching walls can be a particularly attractive and bright combination. White or cream is subtle enough to complement pine, plus you can add a beige or tan floor covering for a neutral and harmonizing color scheme. Generally, any neutral color will go with pine furniture, but it won't stand out as much as the pine itself.
Introduce a Contrasting Color to Grab Attention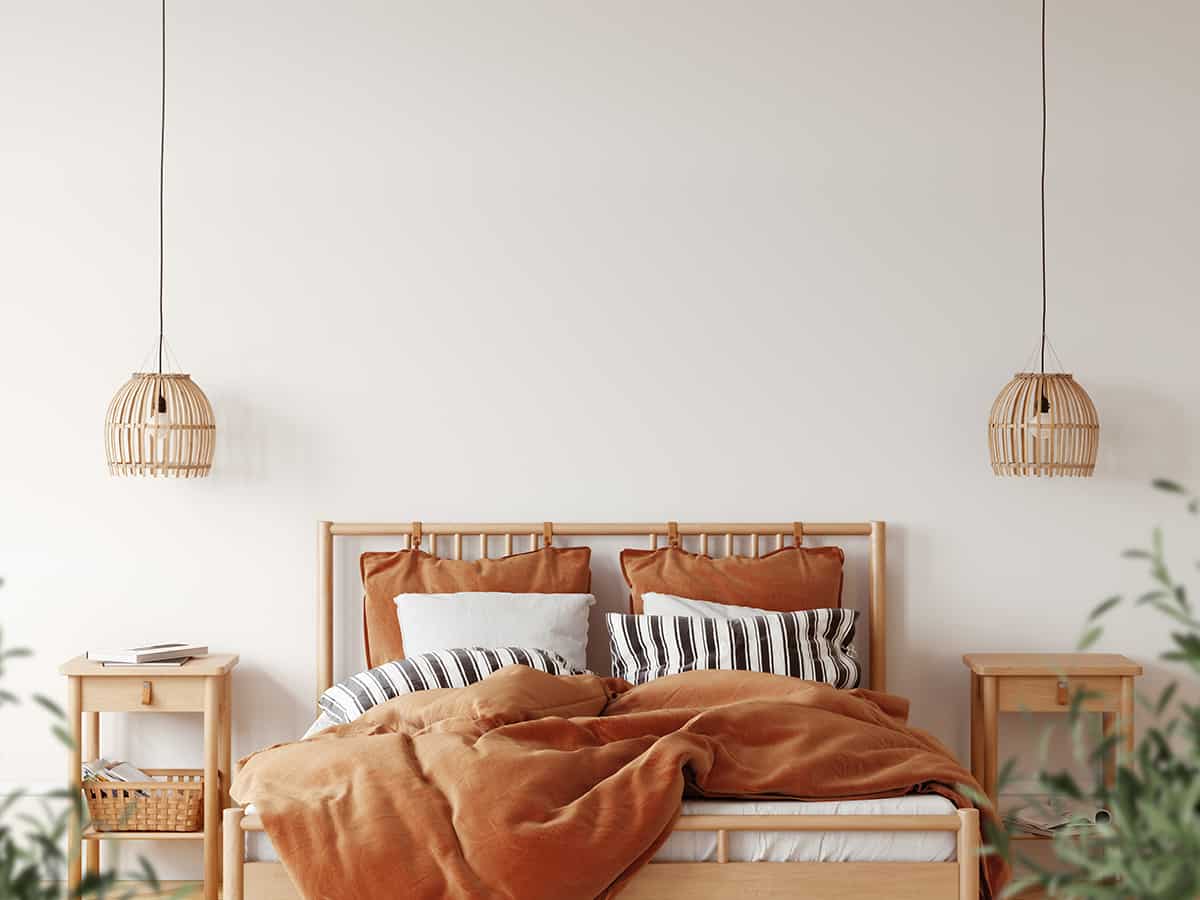 By now, you may have realized the versatility of pine when it comes to pairing it with contrasting and matching color schemes. If you want to set the stage for an attention-grabbing color scheme, why not include a mix and match of your favorite contrasting colors to go with your pine bedroom furniture?
This can be in the form of rugs, wall art, bedding, window treatments, or wall colors. Orange is one such color that strongly contrasts with pine. This combination maximizes the dramatic effect you're trying to achieve in your themed bedroom.
For example, if you have a boho-style bedroom with pine furniture, you can either add a burnt orange comforter with cushions or a pumpkin-color rug. Include some rattan or bamboo accessories to complete the look, just like in this example. The black and white striped pillows go with the white wall and bed sheets as a blend of neutral and bold colors, all under one roof.
Since orange is the opposite color of yellow, it provides a high contrast look with this softwood. However, keep in mind that a bright shade of orange can be too intense for a bedroom, so you might want to choose a muted shade instead.
Why Consider Pine Furniture Instead of Oak?
Pine bedroom furniture is an attractive addition that comes with many advantages. Not only is this type of wood aesthetically appealing, but it can also be paired with most other colors in a new or remodeled room. Pine brings warmth to the bedroom thanks to its light yellow undertone. But when it comes to comparing this type of wood with oak, there are some factors to consider.
Both oak and pine furniture are a natural and beautiful addition to a bedroom. But in the case of pine, it is a lighter and faster growing type of wood. What's more, pine is much easier to stain or paint compared to oak. This is because pine is softwood, whereas oak is hardwood, thus slower growing. Perhaps the only downside to pine is its susceptibility to dent, which is why it's best used as furniture rather than flooring.
Pine furniture is much more affordable than exotic oak as it's readily available. Since this softwood is lightweight, making furniture with it means you can easily move it around. Unlike hardwood, softwood species are naturally rot resistant, which means they can withstand insect attacks. There is no need to apply any chemical treatments to your pine furniture to protect it from fungus or insects. But with oak, you'll need to treat the wood often to keep it in good condition.
Pine bedroom furniture is ideal for those who love natural wood but don't want to spend all their budget on expensive wood furniture like oak. Pine can still make your bedroom look luxurious and stylish but without breaking the bank.
To keep your pine bedroom furniture in tip-top shape and ensure it lasts for many years, you should polish it every few months or so. This protects the furniture from scratches and dents. Since pine is a softwood species, it isn't as durable as oak, so regular polishing is necessary in order to keep it in good shape.
Does Gray go with Pine Bedroom Furniture?
Yes, gray is a neutral color that goes with most wood colors. In the case of pine furniture, it's best to opt for light grays in either cool or warm tones. Light gray is an especially attractive pairing with dark pine furniture.
The reason we don't recommend dark gray with pine furniture is the risk of creating a dreary, bland-looking space. Dark gray should be used in absolute moderation in a bedroom with pine furniture in the form of trim so as not to overwhelm.