When it comes to deciding on a trendy bedroom color, you'll no doubt find it extremely confusing to choose. But there is one particular shade that has stood the test of time: coral. This attractive color evokes joyful vibes, thus no wonder it's made a comeback. A relaxing coral bedroom is perfect for creating a soothing interior as this color is associated with tranquility and comfort.
Designing a coral bedroom is all about making a statement. Thankfully, you have many design options when it comes to incorporating this color into your room decor. In this post, we will familiarize you more with this attractive color and show you some excellent coral bedroom ideas to inspire you.
What Color is Coral?
Coral is a classic color that was made popular in the 70s and 80s. But the first-ever known use of coral as a color was in 1513. Originally started as a shade of orange or red, this hue can now be found in almost any color imaginable including light or golden brown.
The color is named after the sea creatures known as the corals. These sea animals are mainly golden brown, but they may also be green, red or bright blue. There are many natural coral colors with low or high intensity known as precious corals. These are:
Coral Pink
Coral pink is a pale yellowish pink, but lighter and redder than dusty pink and darker than peach. This coral hue is a soft red color that's not as intense as a deep pink. In fact, coral pink closely resembles salmon pink or peach and is a preferred color for girls' bedrooms.
Coral Blue
This versatile blueish-green color consists of either more or less green or blue that resembles teal. Coral blue takes its name from the living corals in the sea, which have blue and grey skeleton polyps. Coral blue can be combined with warm hues like yellow, which makes it ideal for bedrooms.
Coral Black
This is a very rare coral color that has a blend of brown, yellow, red and green. It is mostly preferred as bedding rather than wall color for bedrooms.
Coral White
Another unique coral color, white coral is achieved when you add more white to the pinkish-red hue. This soft color is usually preferred for the walls and bedroom furniture as a paler alternative to pink coral.
Coral Red or Orange
This is a reddish-pink coral that's more intense than coral pink. As a medium shade of red, this coral color is 100% red, 25% blue and 25% green. In bedroom designs, red or orange coral is usually seen on curtains and bedding.
Now that you've become a little more informed about the different shades of coral, let's take a look at our coral bedroom ideas:
How to Create a Coral Bedroom
Make a Statement by Painting the Walls Coral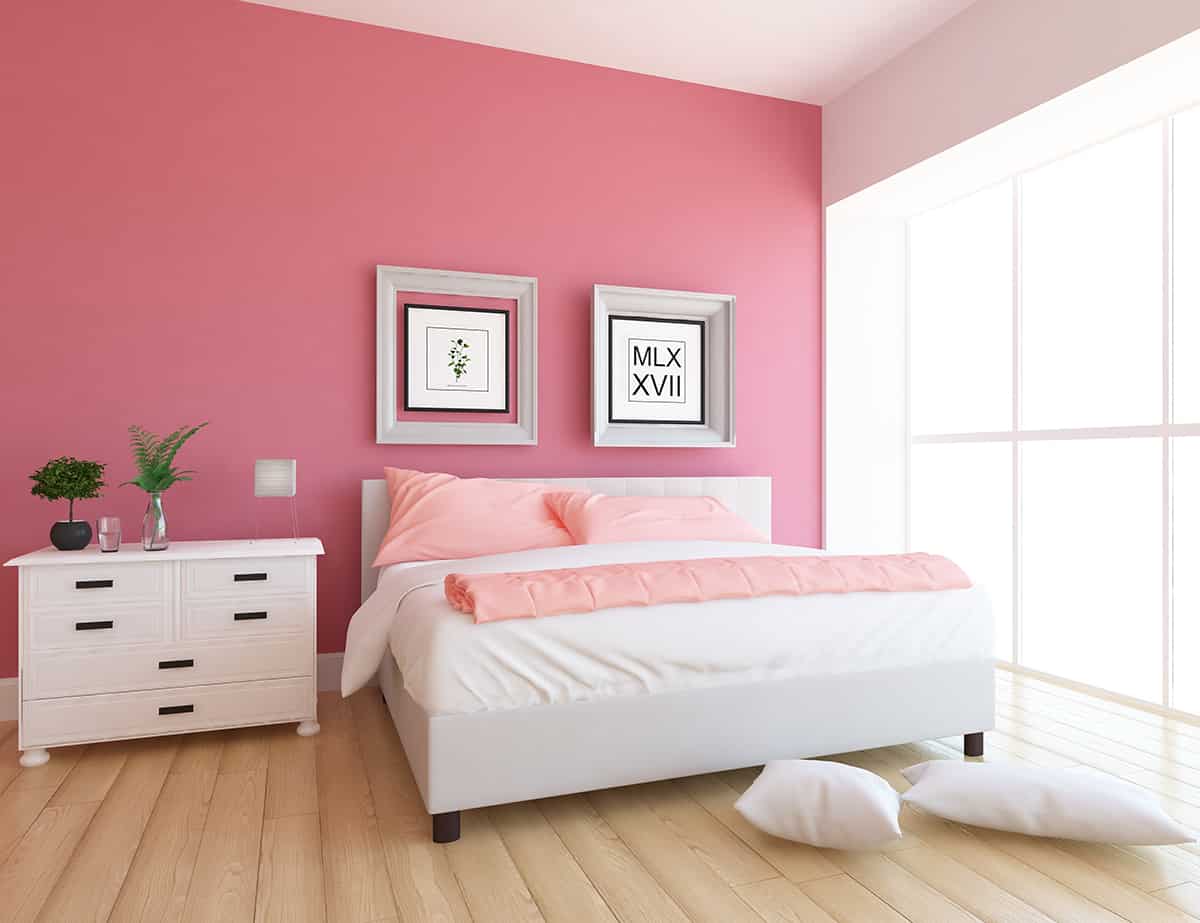 If you love coral pink, then what's stopping you from going big and bold by painting an entire wall in this color? Even the entire bedroom walls can look super inviting when they are painted in different shades of coral. The great thing about this bold color for the bedroom is that you can add neutral accents in white and have the coral wall as the colorful backdrop just like the example shown here. This bedroom is bright and airy, which helps bring out the boldness of the coral wall.
Admittedly, painting an entire wall coral takes some guts, but you can be sure of a spectacular end result. In a minimalist bedroom design, coral walls work better with neutral decors as white or grey allows this bold color to really shine. Otherwise, it would feel too overwhelming and disrupt the bedroom's relaxing vibe.
Choose Coral Furniture
Now if you aren't keen on a coral wall for the bedroom, why not choose your furniture in this beautiful color. From the armchair to the bed frame and headboard, you can create a truly cohesive design using white and coral color combos.
Coral bedroom furniture complements neutral walls and flooring, thus making the white stand out more than the bold pink. But if you want to make your coral furniture as the centerpiece of your bedroom, then use more coral pink than white as shown in this Scandinavian style bedroom.
Coral Patterned Pillows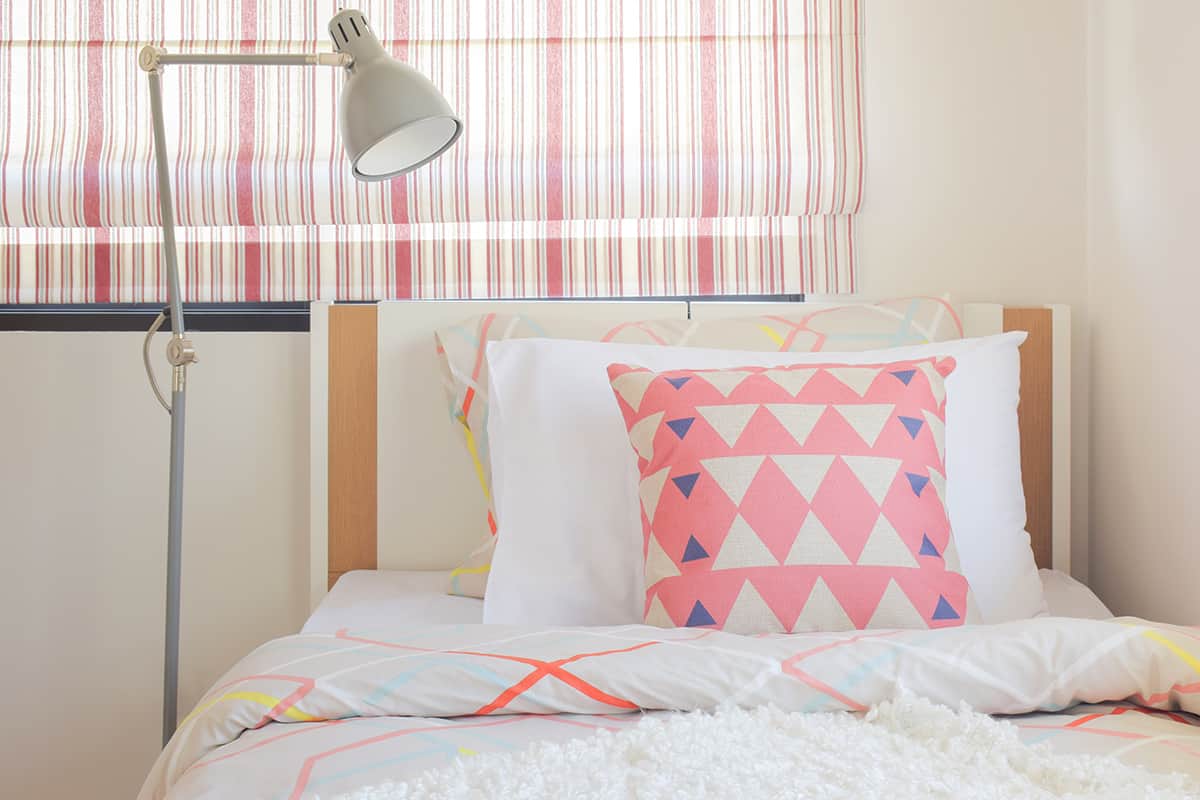 Even if you prefer not to have all your furniture in coral, you can always opt for coral throw pillows for your bed. To make it visually interesting, go with a patterned pillow as the focal feature of your bed. Throw pillows are beautiful to look at and comfortable.
This is the most inexpensive and subtle way of implementing the coral design in your bedroom.
Design a Girlie Bedroom With Hints of Coral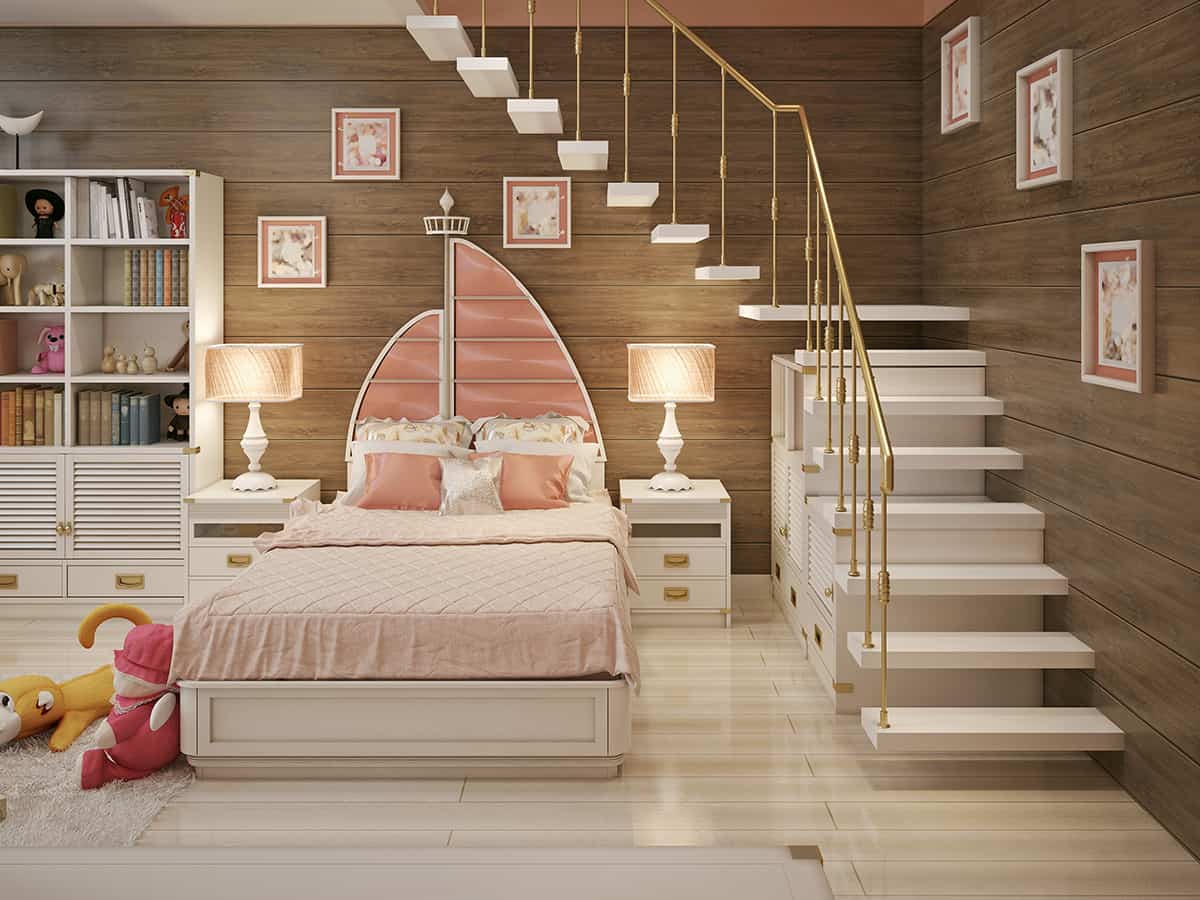 You can design a beautiful girl's bedroom with hints of coral. After all, coral is such a unique color that you don't need to use sparingly to make an impact. Think coral curtain, bedding, or just a headboard in this color. You can really make your little girl's bedroom stand out by adding hints of coral as per the picture here.
Other colors you can incorporate with soft coral pink include brown, yellow, and of course white. For example, keep the bedding and headboard coral together with coral wall art. The rest of the bedroom can be in the colors we mentioned in order to make the bed stand out even more.
Add Coral Curtains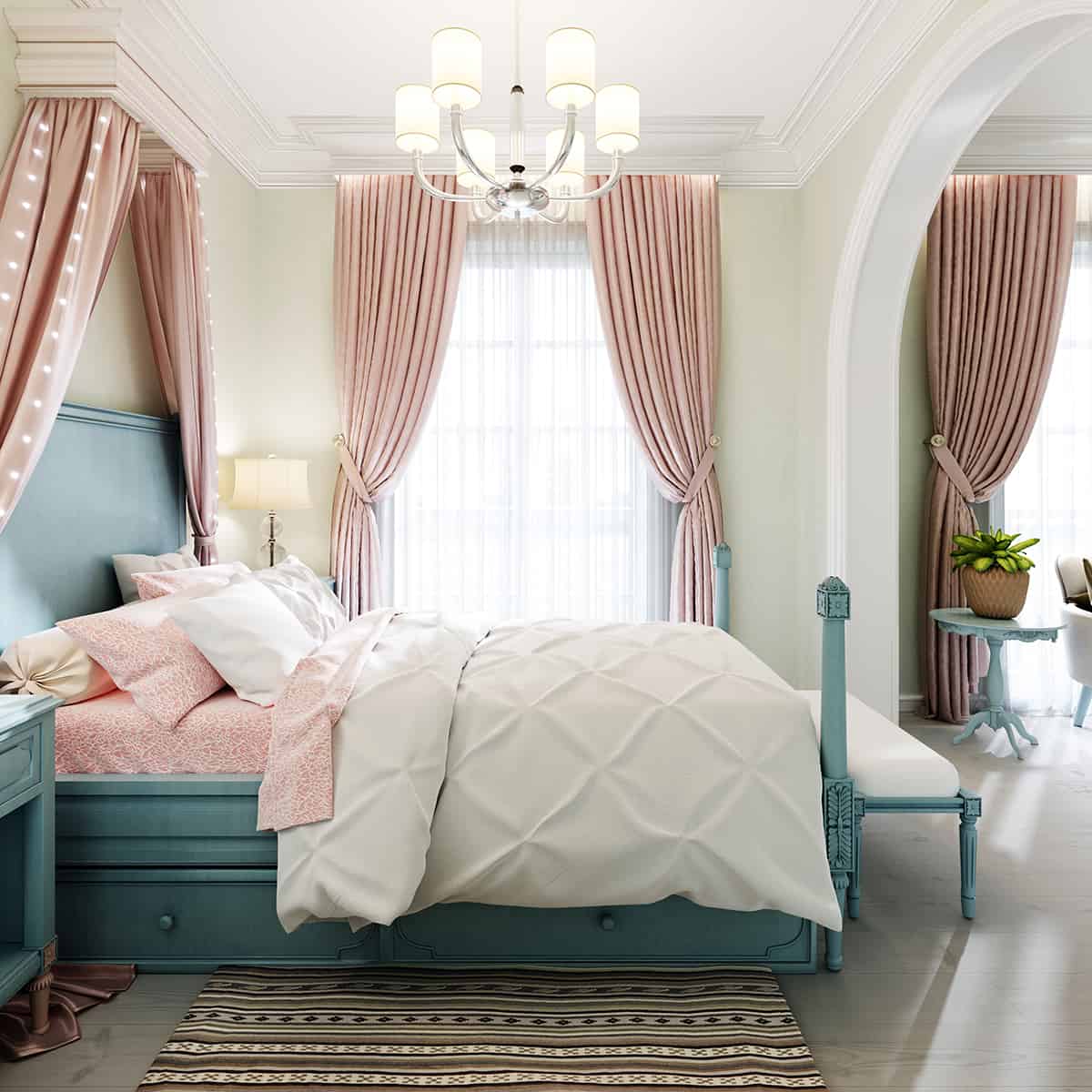 Another beautiful example of how you can incorporate coral into your girl's bedroom design is by using coral curtains. This is an ideal way of highlighting the beauty of the color to complement other color schemes, including blue.
Because the color coral is associated with marine life (coral reefs) you can create an ocean-themed bedroom using coral pink for the curtains and a blue bed, which relates to the ocean. Regardless of how much coral you wish to use in your girl's bedroom, it is sure to make a statement next to turquoise or sea blue hue.
The proof is in the example shown here, which features a large blue bed with pink and white bedding, and of course floor to ceiling coral curtains. Simply stunning!
Blend Coral with Grey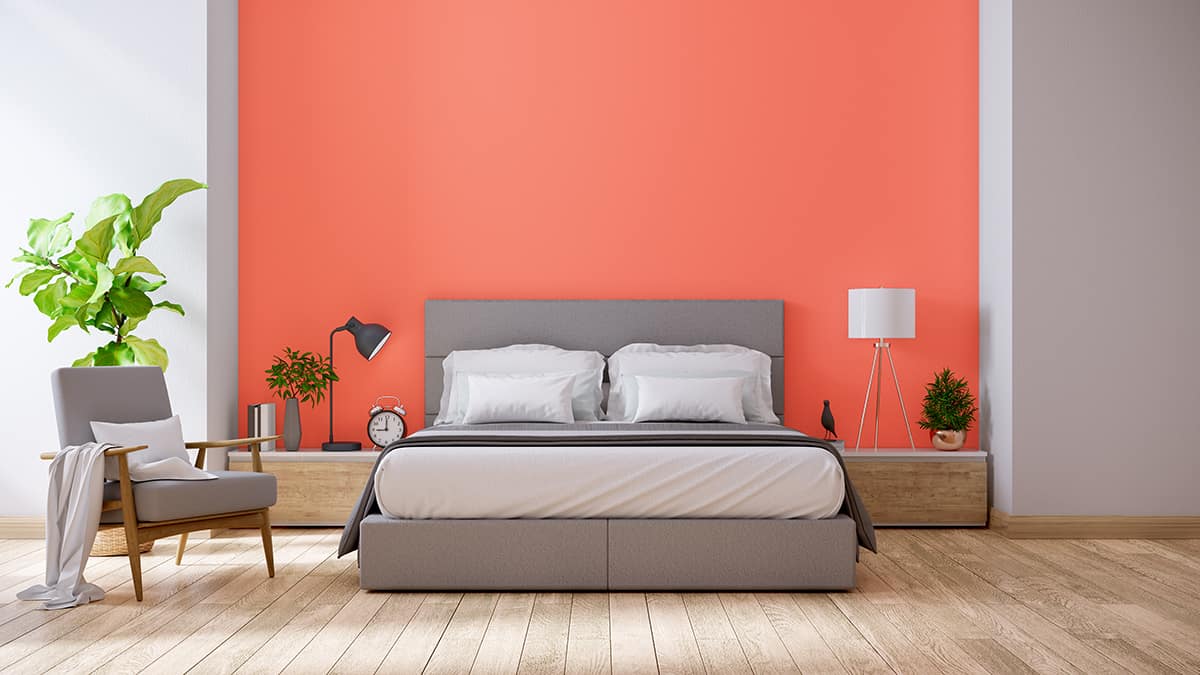 There is something truly special about the combination of grey and coral, with hints of brown and white trims involved in the blend. This is worth considering if you want to tone down the coral wall by adding a grey bedding and bed frame to the mix.
In fact, the entire furniture and bedding can be grey, brown and white, with a bold coral wall as the backdrop. You can see how much impact this color combo has made in the example here. The visual interests are the grey and coral walls that bring a rich feel to this modern space.
Pair Coral with Blue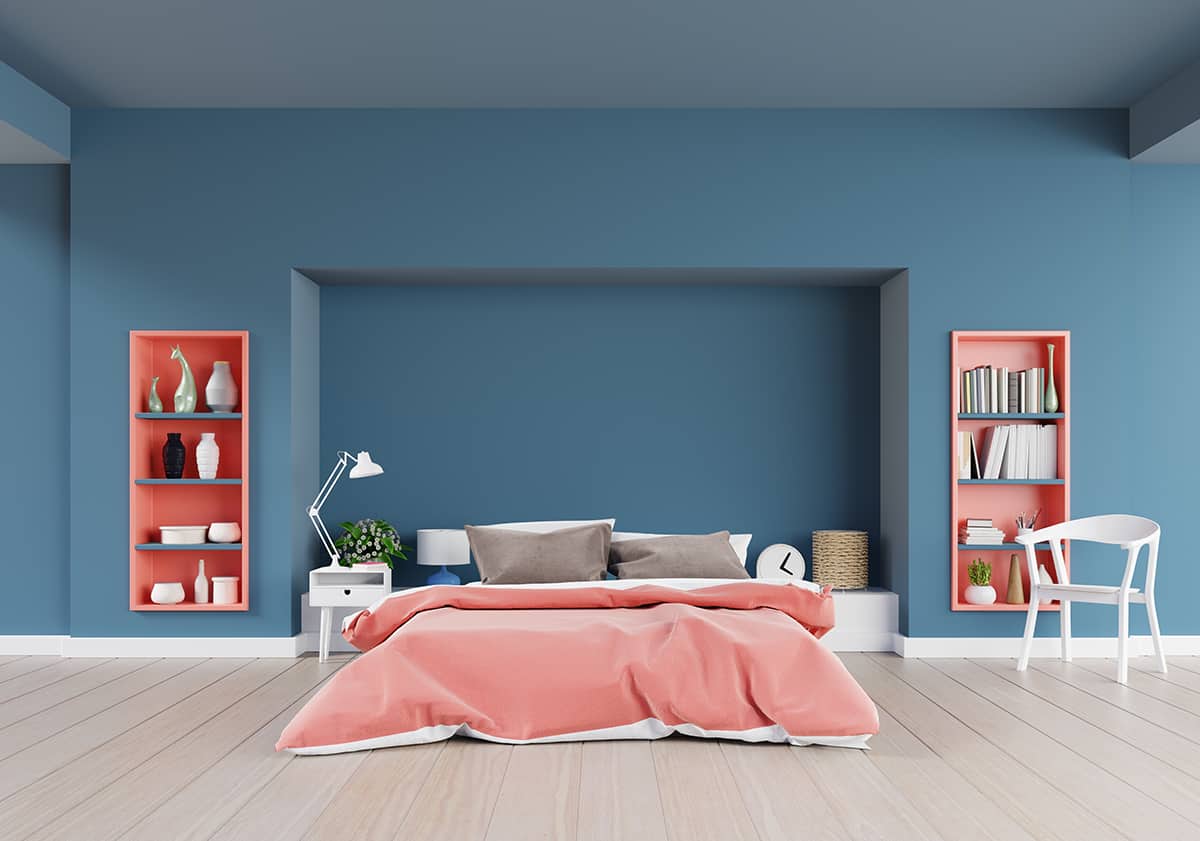 Looking for an even more intense color combo than grey with coral? Then how about coral and dark blue? Blue reminds us of the sea so what better color to pair it with than coral orange? This is the ideal shade that makes a dramatic statement next to dark blue.
As shown in our example, the dark blue wall stands out beautifully here. The coral shelves and bedding have toned down the dark blue color. There are even grey pillows that have added to the visual appeal of this bedroom design. But perhaps the most intriguing part of this coral bedroom is the all-blue walls. They stand out much more than the coral pink bedding, don't you think?
When you use a strong undertone of pinkish-orange coral, it provides a striking contrast with dark blue. The key to successfully implementing these hues in a modern bedroom is to pay close attention to how saturated the color combos are. The vibrant coral orange can be used with an intense blue shade, while muted coral will work better with soft blue.
If your coral has pink or red undertones, opt for teal in order to complement this color. Throw in some coral accessories, such as accent pillows or wall decor to complete the look and make the blue background stand out just like in this example.
Combine Coral with Gold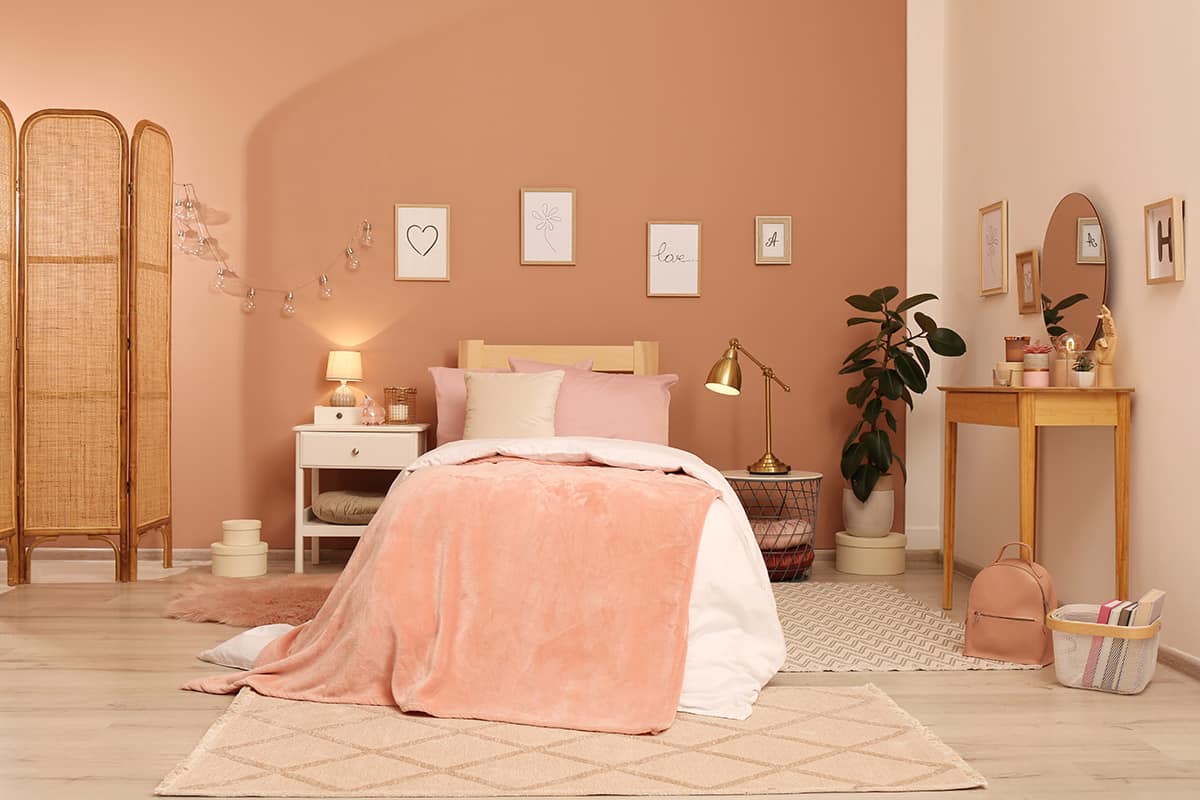 Another timeless combination is coral and gold. These are both warm colors that look sophisticated when paired together. You may use a muted shade of coral for the walls and bedding while adding gold accents to the bedroom design.
The warmth of coral with the richness of gold is sure to evoke glamor in a feminine bedroom just like in this example of a teenage girl's coral and gold bedroom.
If you like these bedroom color ideas, you might want to check out these.