Becoming a teenager is never an easy transition for a little girl. During this phase, a teenage girl's needs, likes, and even personality will change – and so will their style. As a parent, you must think of a new bedroom design for your teenage girl based on her personal style and interests. Sounds like a challenge? Fear not as help is on hand!
Here I have a list of creative teenage girls bedroom design ideas (with pictures) to give you some inspiration.
1. Pretty in Pink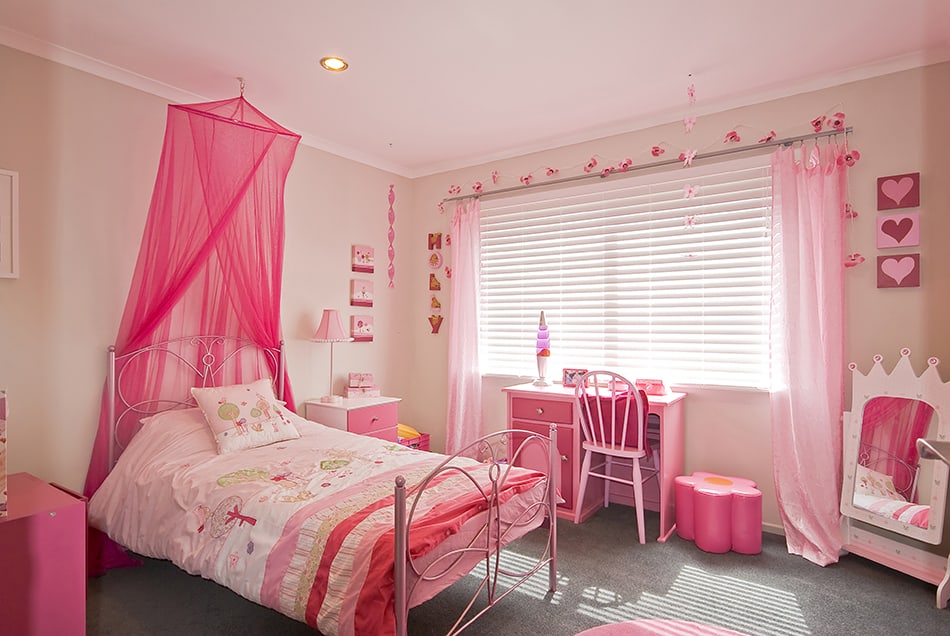 Most teenage girls love shades of pink. This color reflects their style and energy so it makes sense to choose bright shades of pink for the bedroom. Just take a look at how pink has made a statement here on the bedding, study desk, the curtains, side tables, and just about everywhere else in this bedroom. Doesn't the color look striking!
2. Use Pink as One Single Feature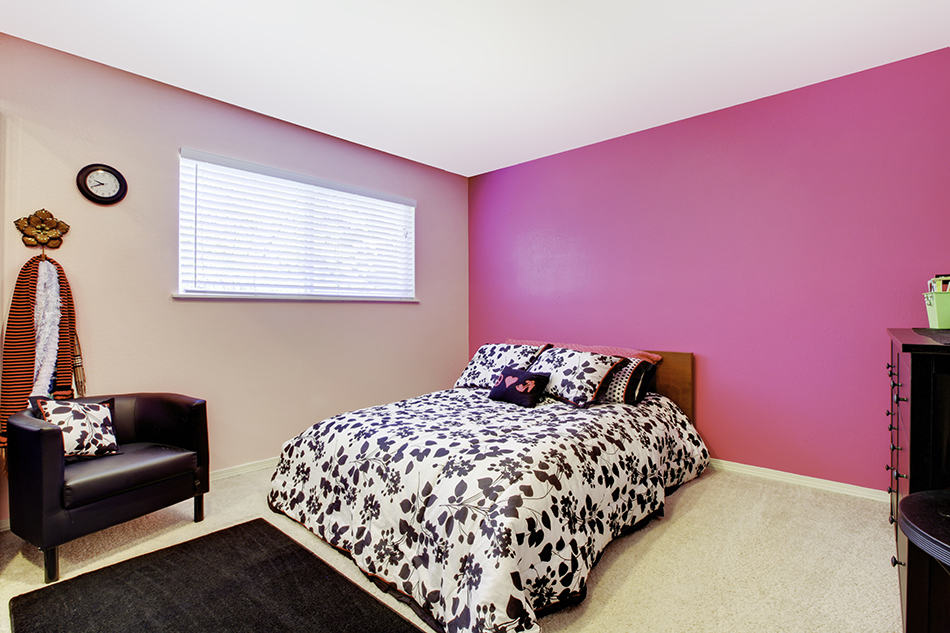 If your teenage girl doesn't want her whole room full of pink, how about making this color just one single feature for her bedroom? The bright pink accent wall in this image works beautifully with the black and white bedding and furnishing, without looking loud or out of place.
3. Add A Modern Twist with Grey and Pink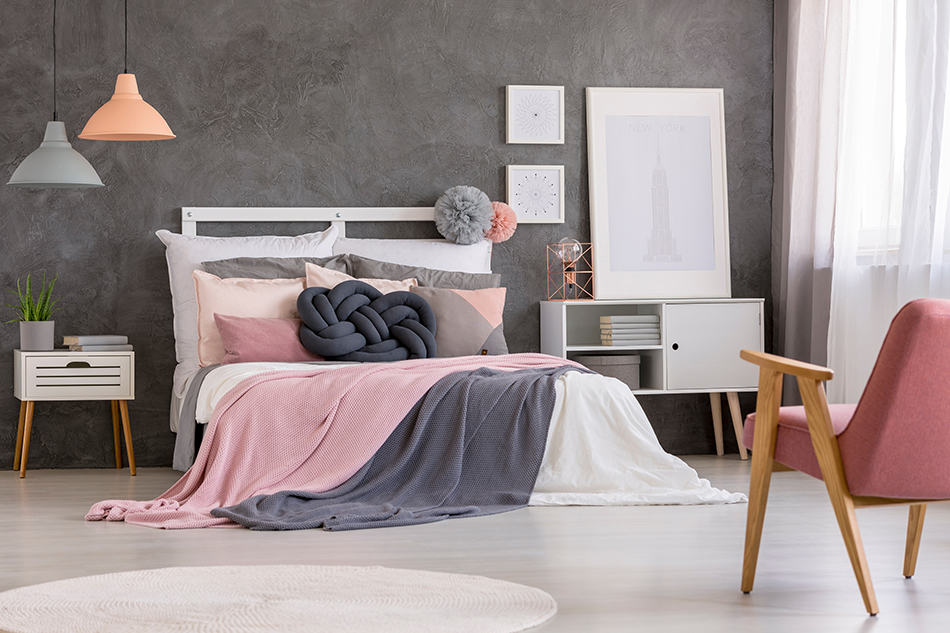 Aside from black and white, another great color to blend with pink is grey. But grey doesn't have to be a dim and dull color. When added with a bright pink shade, it can become lively. This teenage girl's bedroom has a combination of grey and subtle shades of pink throughout the space, with pink being the highlight of the room.
4. A Touch of Wood for Warmth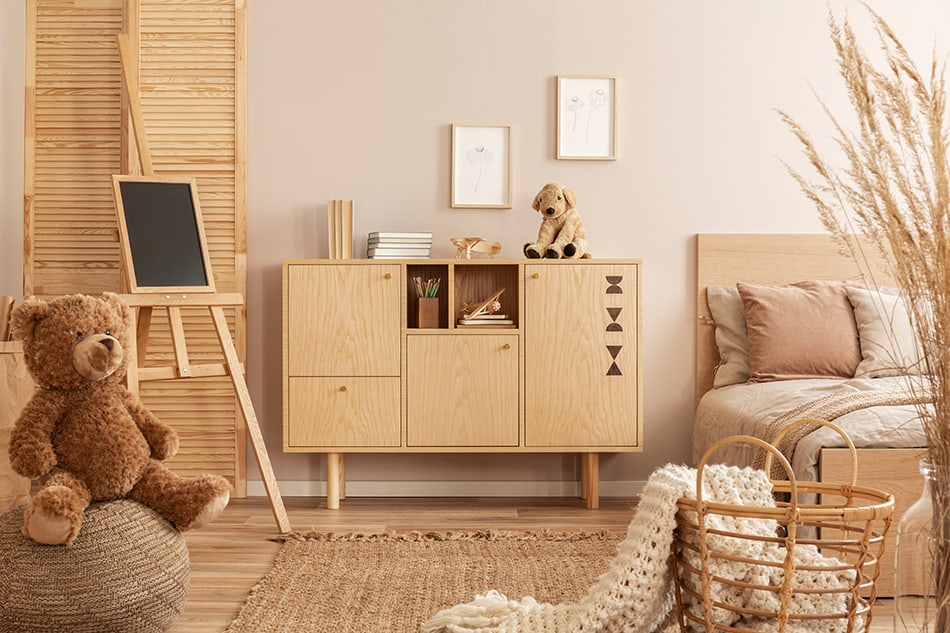 Wood touches create warmth to any room, especially in a teenage girl's bedroom. Here is a cozy beige bedding (it's the same color as pine) with a matching wooden cabinet, floor covering, teddy bear, and basket. It's style meets warmth, which I'm sure every teenager will love.
5. Display Your Girl's Interests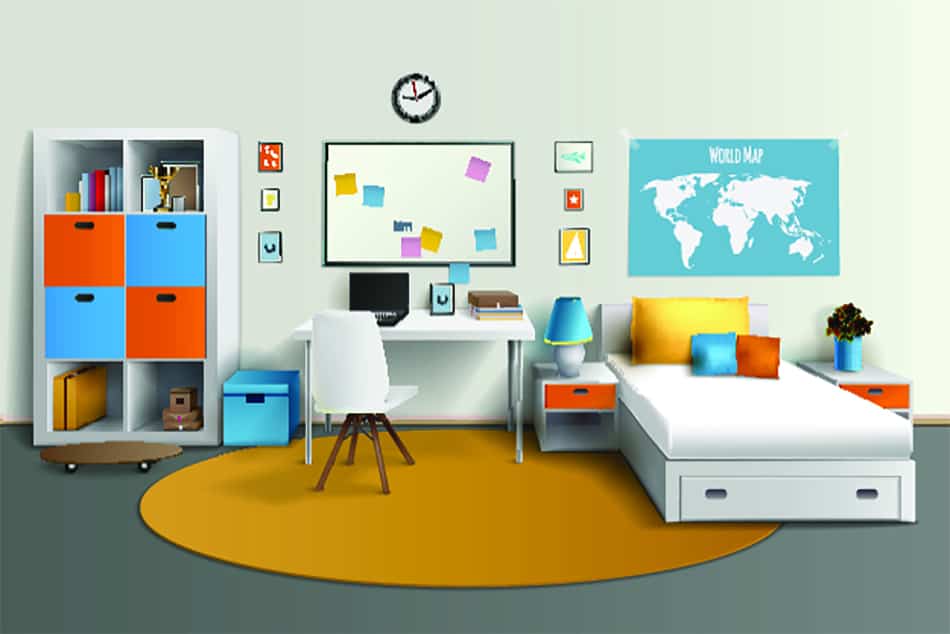 Does your teenage daughter's life revolve around her interests or hobbies? Why not display her interests by creating a themed bedroom? For example, if your teenager is besotted with traveling the world, then a travel-themed bedroom will make a perfect setting for her to dream. Hang a map of the world on the wall above her bed so she can refer to it when she's daydreaming her future trips. Next to the world map, display a pinboard for your daughter to use. And don't forget to encourage her to collect and display her travel memorabilia or souvenirs on the wall shelves.
6. Go All Out with Orange and Pink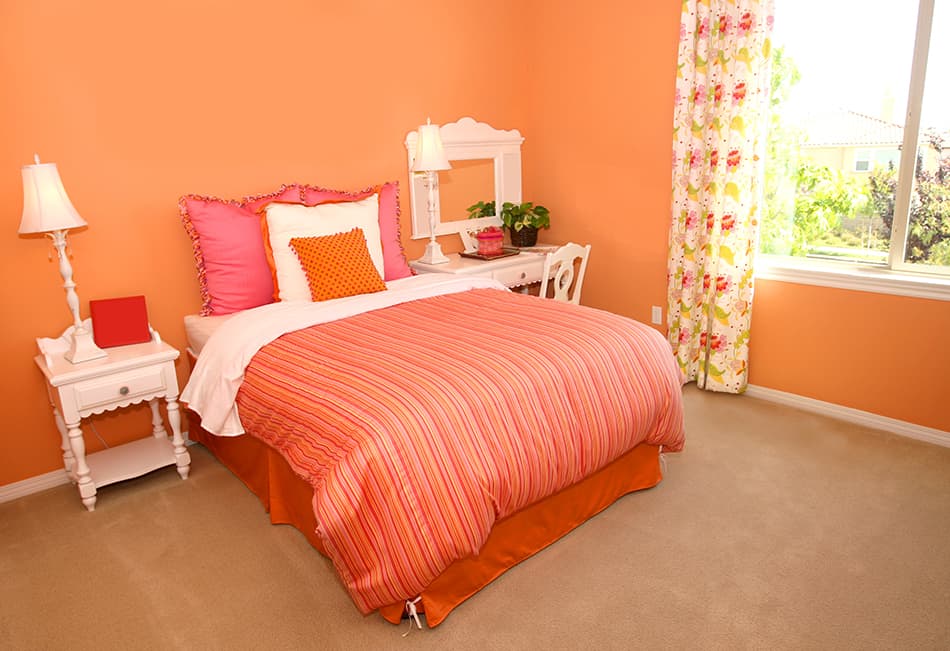 For a typical girly bedroom design that makes your daughter feel extra special, go all out with bright orange and pink. These colors will enhance the dreamy look of your teenager's bedroom. Just remember not to overdo it with too many layers or furnishings. See how this teenage girl bedroom's example has a feeling of warmth with timeless fixtures and brightly colored bedding. The orange wall blends perfectly with the rest of the decor thanks to the white side tables and subtle hints of pink.
7. Create a Striking Balance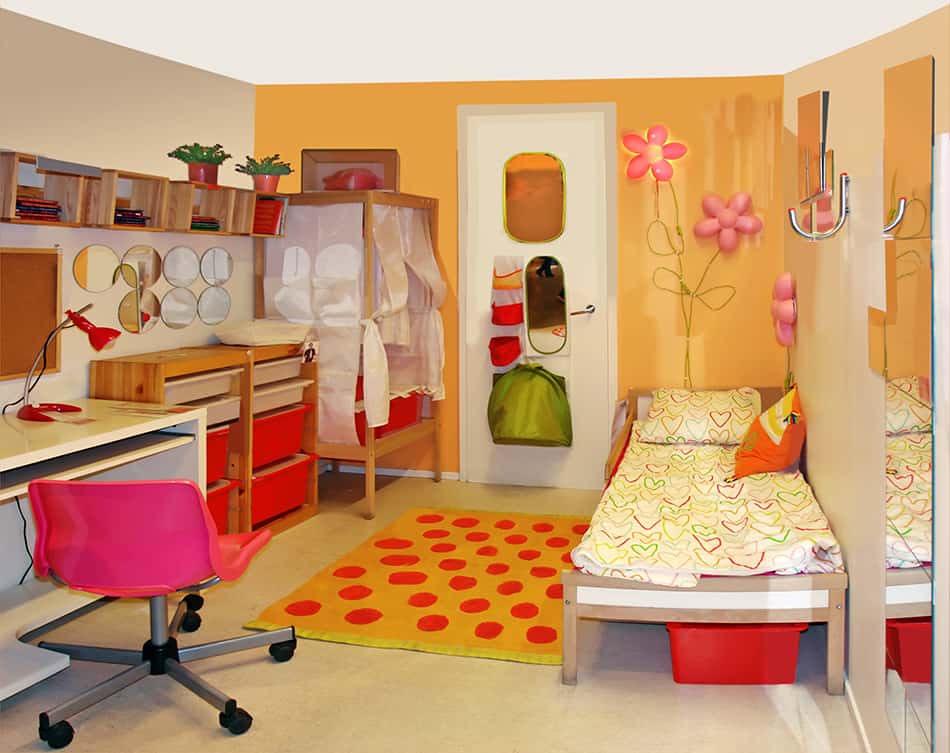 If you want to see proof that you can be bold and bright whilst maintaining the aesthetic appeal of your daughter's bedroom, then here it is. This example shows how the yellow, red, and pink colors make the whole bedroom pop. I also love the idea of putting the bed in the corner of the room for added privacy.
8. Alternatively, Keep it Plain and Soft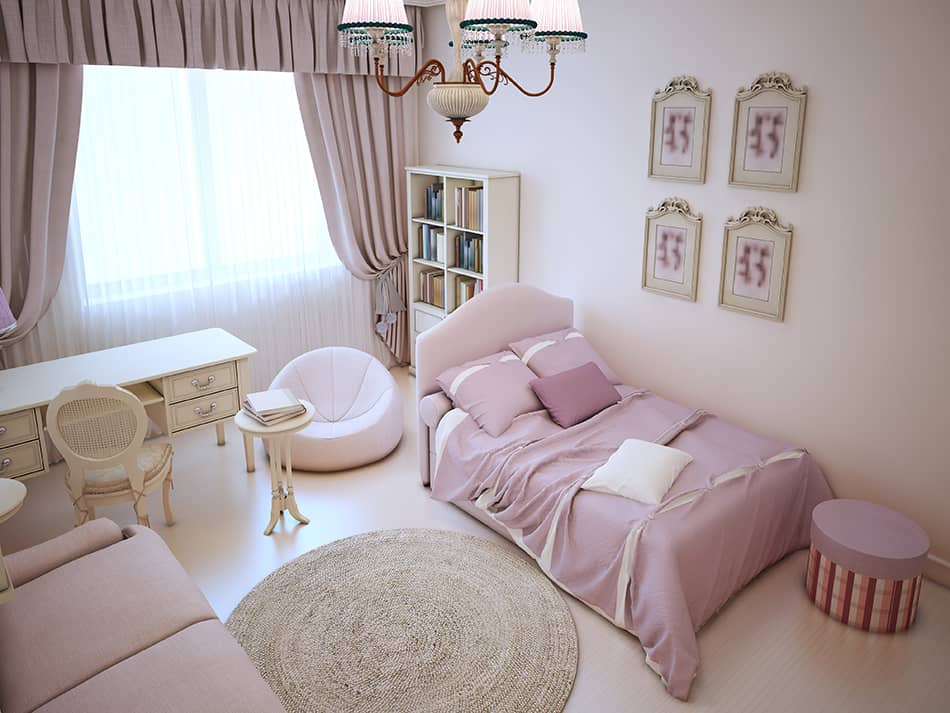 Not all teenage girls like bright colors. If your daughter prefers a toned-down design, consider soft pink with white furnishing. Bring in some interesting features like drapes, a frameless armchair, an ottoman, and wall art for a touch of sophistication. If she wants to add more colors at a later stage, then this bedroom design will give her a base to work on.
9. Red Black White Bedding for Teenage Sisters
For shared bedrooms that are somewhat small, bunk beds make the ideal addition. See how the seamless red black white bedding in this picture looks beautiful on the white bunk bed. For added privacy, pair up the bunks with two matching floral curtains just like the ones shown here. I'm sure your teenage daughters will thank you for this idea.
10. Opt for a Light and Airy Design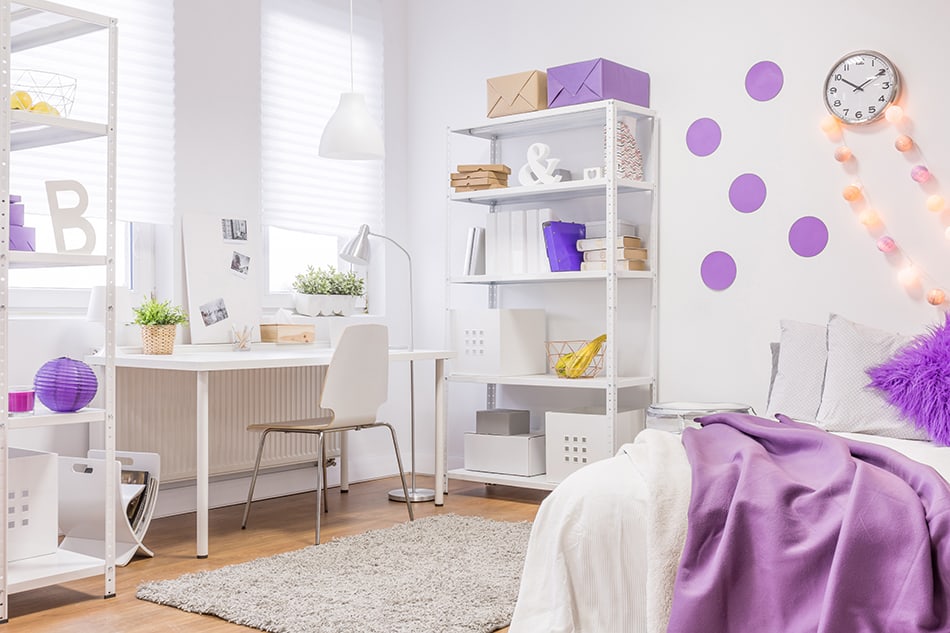 A teenage girl's bedroom doesn't just need a bed and wardrobe to satisfy your daughter's needs. A study desk, shelves, and seating are also necessary to make the space as functional as possible. But all this can invite clutter and make the overall bedroom design overwhelming. Keep the space light and airy by choosing white and soft tones like violet. This color combination will help keep the room look clean and the blinds on windows allow plenty of natural light in just like you can see in this image.
11. Add Magic with Fairy Lights and Lanterns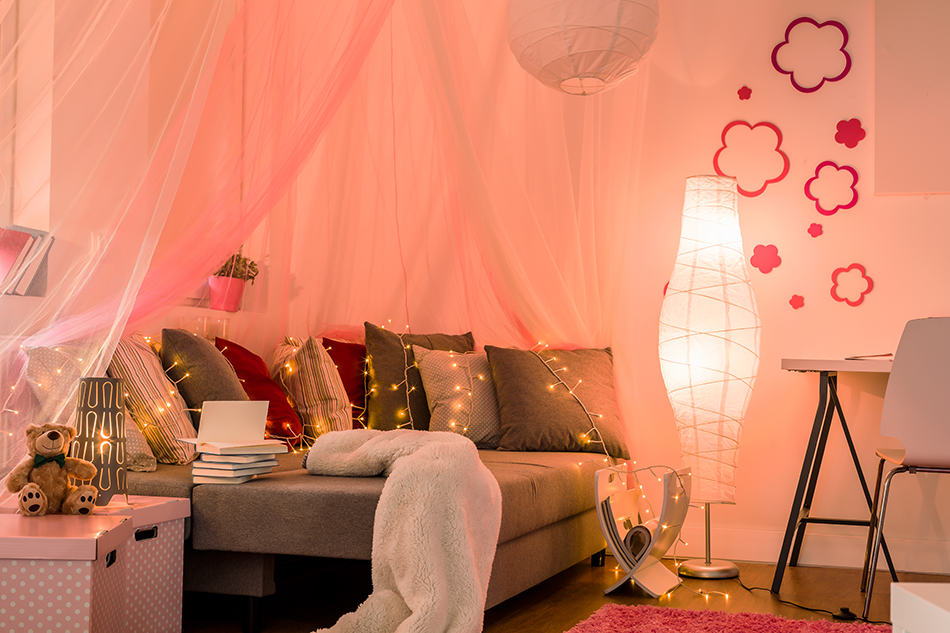 Everyone needs a touch of magic in their everyday life. To make your teenage girl's bedroom stand out and feel extra special, look no further than fairy lights all over the corner seat. Paired with an oversize lantern, the small twinkling lights will give a cozy and private vibe. Reading in this bedroom is certainly a pleasure with the captivating visuals in the form of floor light, the hanging paper lantern and of course, the shimmering fairy lights.
12. Make Her Feel Like a Grown Up
Yes, that's right! I said the word grown up because every teenage girl wants to be treated like an adult. So why not create a vintage bedroom design that adds a distint style and makes a 15-year-old feel more mature. In this example, the bedroom doesn't look like a typical teenage girl's room because of the traditional white decor and the mirrored dresser. There are no bright or bold colors used here to suggest it's a bedroom for a teenager, but it works!
13. Stylish Box Shelves for a Clutter-free Display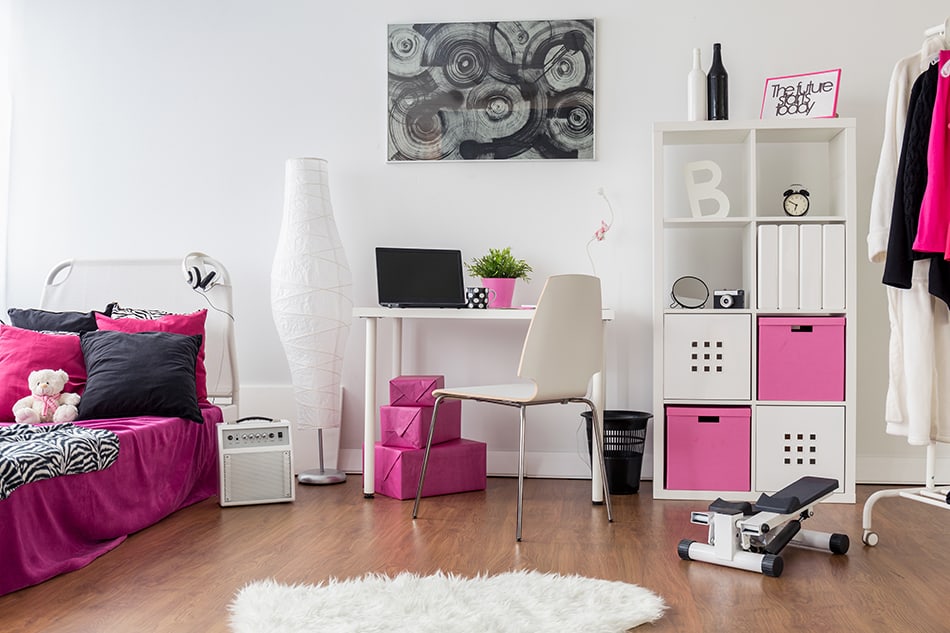 Sprucing up your teenage girl's bedroom with simple yet functional storage is a must. Box shelves eliminate the feeling of chaos and blend well with the bedroom's layout. The trick is to choose the same colors for the box shelves as the rest of the bedroom just like the example here. See how stylish this teenage girl's bedroom looks with the pink and white box shelves that match the bedding, stacked boxes on the floor and the potted plant.
14. Custom Built-Ins to Save Space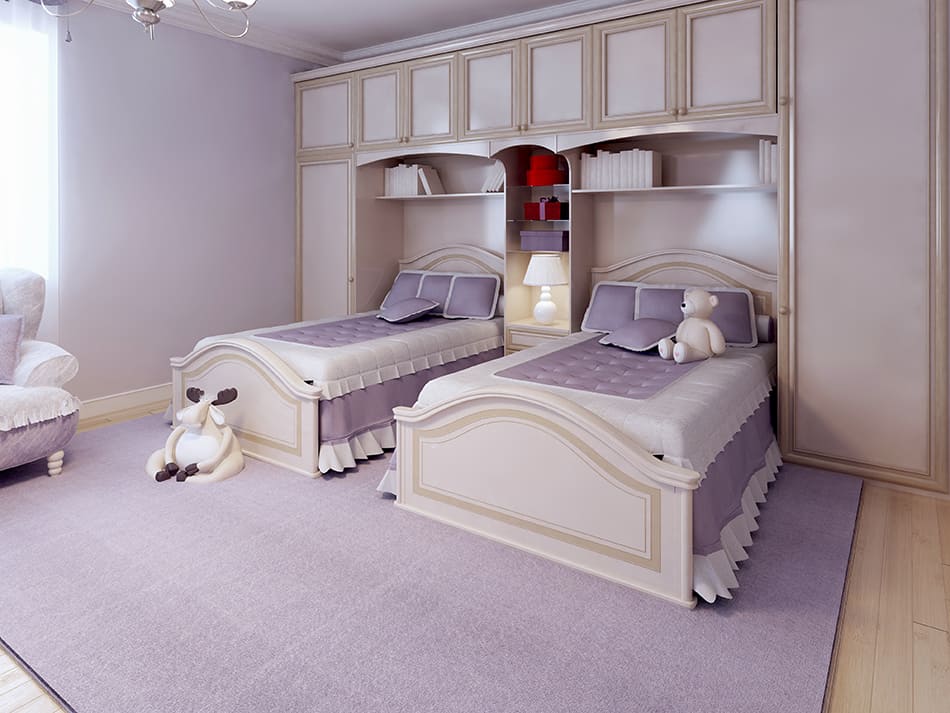 Another excellent space-saving solution – this time for teenage sisters – is to create custom-fit built-ins above the beds. The idea is to use the wall space rather than the floor's for storage while at the same time adding a cohesive style to the teenagers' bedroom. The integrated above-bed units of this quaint purple and cream bedroom are a fine example of the vibrant feel of the room as well as creating an open space.
15. A Combination of White Yellow and Metal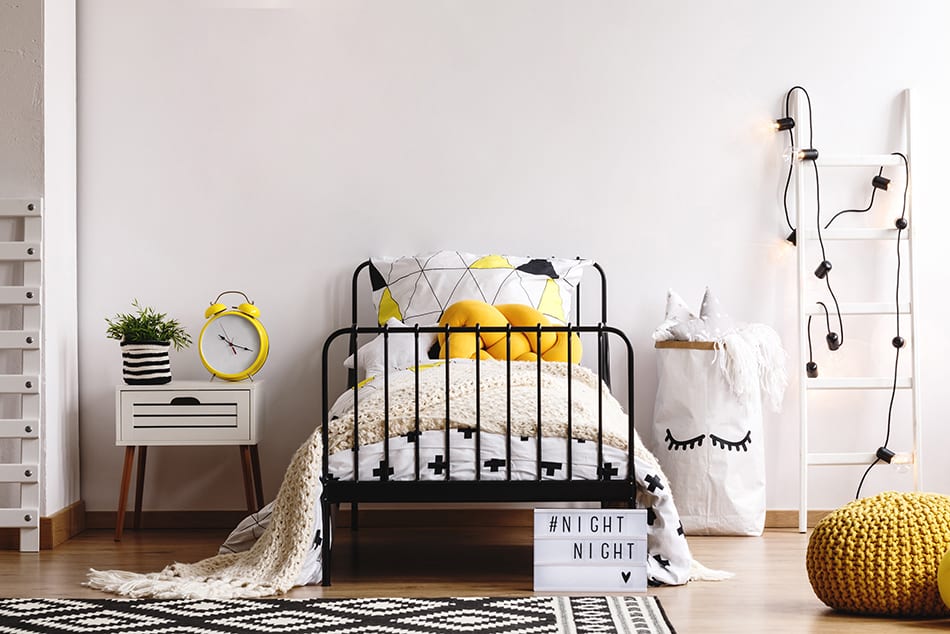 Timelessly elegant teenage girl bedrooms that exude luxury have a mix of white, yellow decor with metal for a striking touch. Here is a cozy teenage girl's bedroom example that has sophistication written all over it. It's a minimalist bedroom design in a neutral setting.
16. Plan a Reading Corner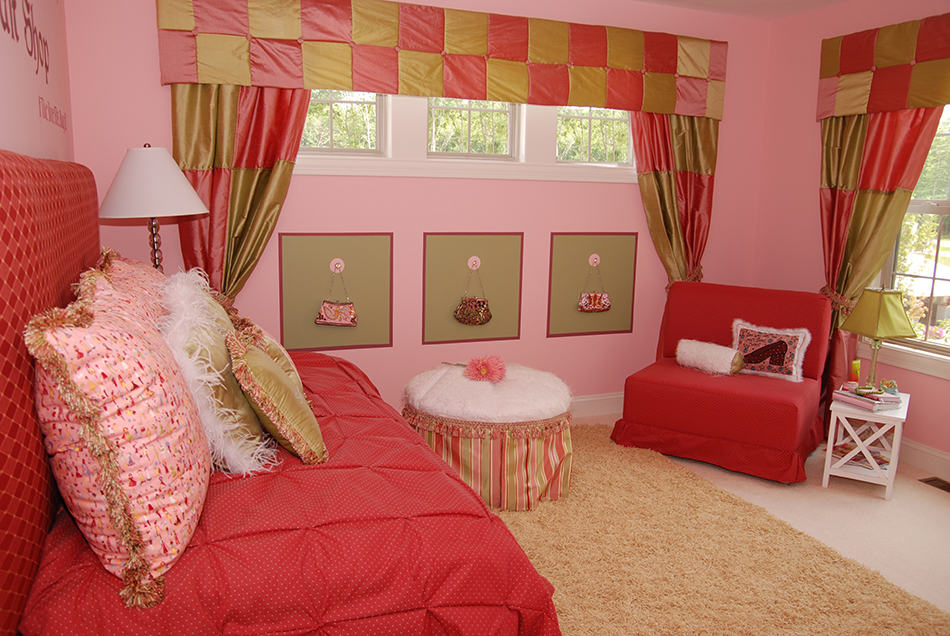 Planning a reading corner in a teenage girl bedroom isn't an unusal or new concept, however, this idea is hard to overlook as every teenage girl wants to have a seating/reading corner close to the window. The trick is to ensure the seating corner matches the rest of the room's decor, especially the bed. For a welcoming radiance, use a combination of bright colors like red, pink, and green to complement the sofa. The teenage girl bedroom example here has a combination of bold colors that blend in with the sleeping and seating space for an extremely welcoming touch.
17. Create an Accent Wall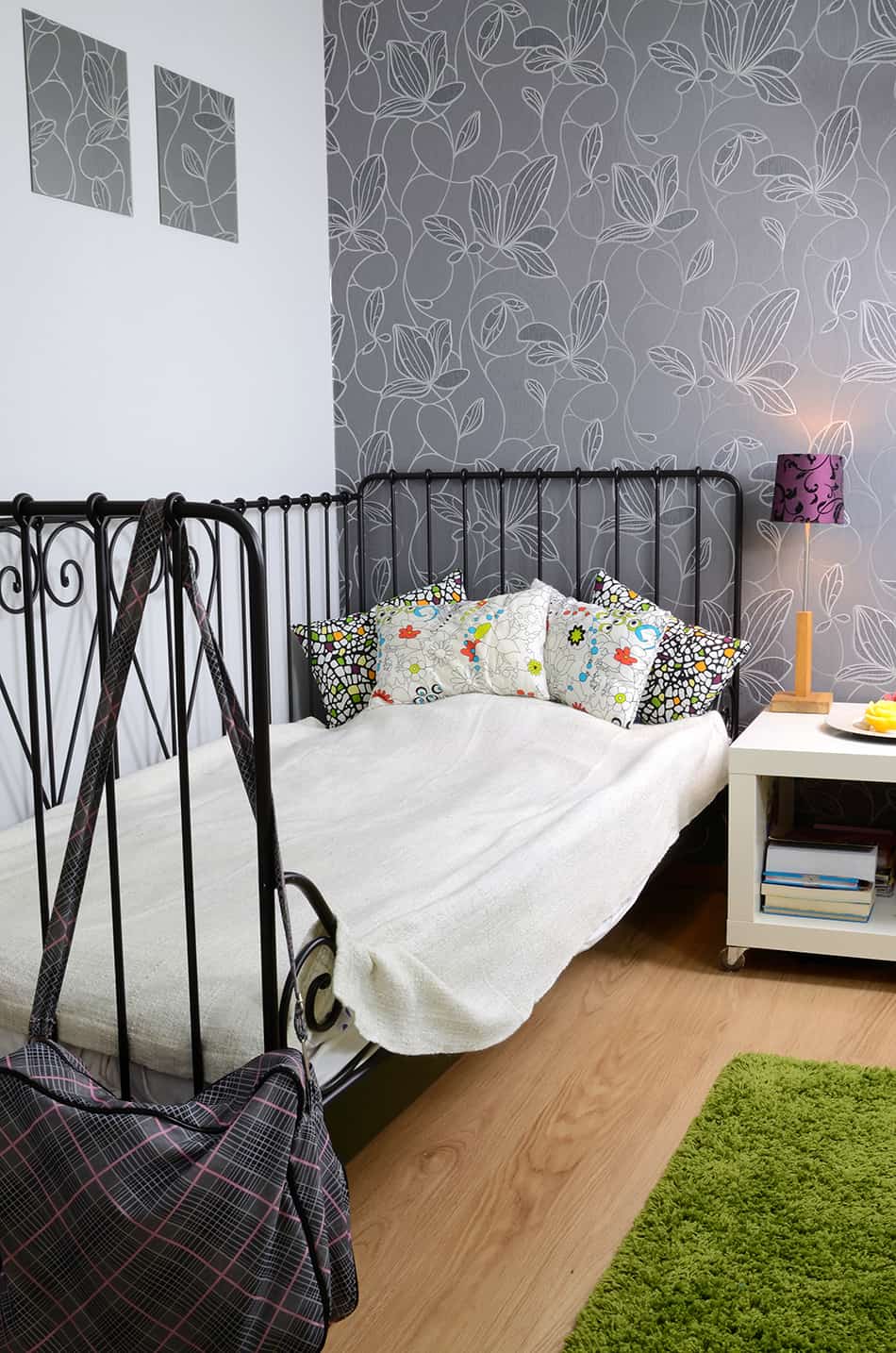 A little eccentricity is sure to win over your daughter with a themed or accent wallpaper. This is a unique addition to a teenage girl bedroom so you need to choose the accent wall design carefully. Keep in mind that bold shades of wallpaper can overpower a bedroom. To give you a good example of an accent wall, see the grey-patterend wallpaper that stands out in this bedroom. Simply stunning!