Your bedroom is a place where you want to relax your mind and body, so it is only natural that you'll want to decorate it in your own style or taste. But if you are undecided about the color, we have a surprising suggestion for you.
Silver is a powerful color visually characterized by a metallic shine that's close to the color grey. This sleek hue is often associated with prestige and wealth.
When used in interior design, silver typically portrays elegance in a much cooler fashion than gold or bronze. In fact, even the smallest bedrooms can be transformed into glamorous havens with a combination of grey, silver, and other attractive hues.
If you are tempted to try this inviting color in your own bedroom design, then take a look at our trendy silver bedroom ideas with pictures that are sure to inspire you:
Silver Bedroom Examples
Sophisticated Silver and Grey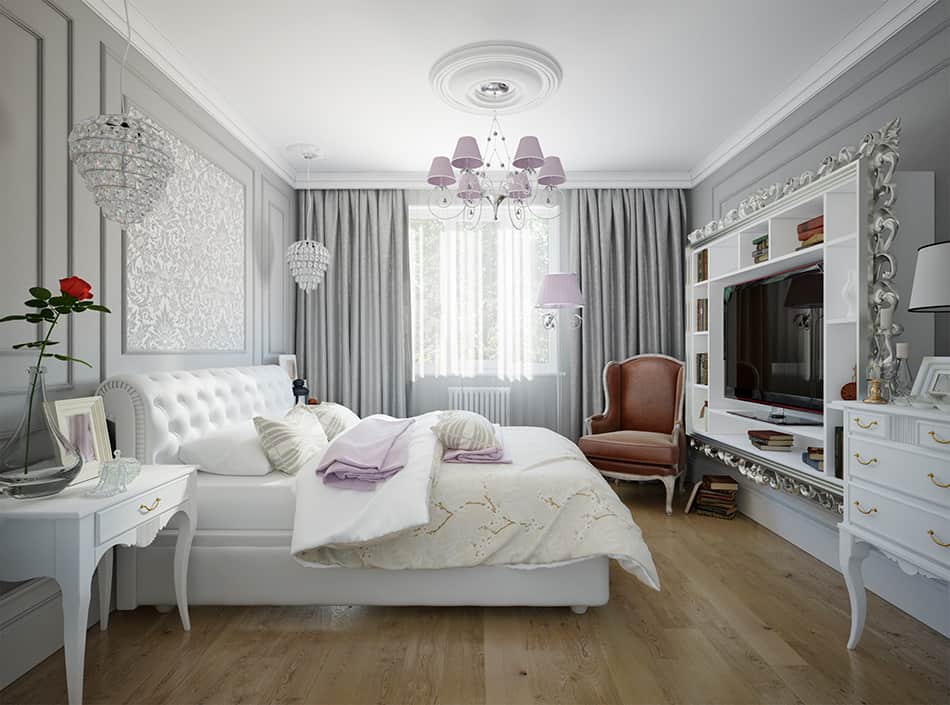 Since grey and silver go hand in hand, why not consider this color pairing for your bedroom design. This idea gives a nice flow throughout the room so you can mix and match them according to your taste. A combination of grey and silver will provide a unique interior that lets you put your creative side on display.
Large bedrooms will especially benefit from a silver and dark grey combo, while light grey and silver can be reserved for smaller spaces. This traditional bedroom is a perfect example of how silver and light grey can be used to give depth to a dominantly white interior.
The padded, white headboard and bedding complement the grey curtains and wall, which prevent the space from looking bland or dull. We love the silver framed shelving that goes with the hanging lights above the bed. The wall decorations and the furniture draw the eye upwards, thus giving the illusion of height thanks to the silver and grey pairing.
Shiny and Polished Silver Decor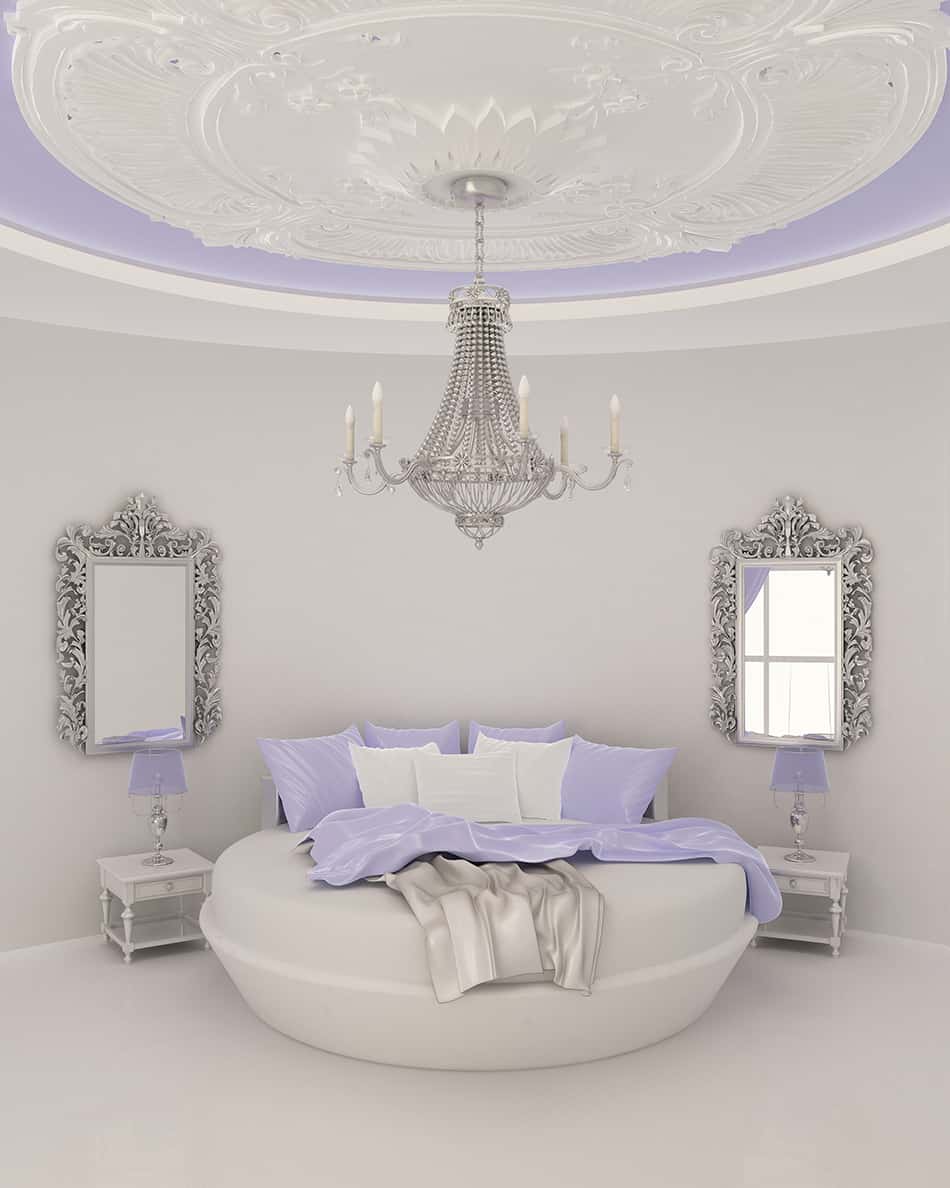 The metallic decor will reflect light in your bedroom. Mirrors, chandeliers, and other similar pieces tend to add sparkle to a silver bedroom. You can mix other colors to go with your bedroom like the one shown here. The purple, silver, and white work in harmony to create a modern vibe.
This example is every interior designer's dream as it's a modern twist to a light and airy interior. Notice how dramatic the silver chandelier and mirrors are in contrast to white and purple. The elaborately designed ceiling certainly stands out next to the shining silver metal.
This silver bedroom example is the perfect solution for large spaces with a lack of natural light as the shiny silver reflects light around the room. The flashes of light purple and white also gather the light to achieve a shiny and bright look.
See some inspirational purple and white combinations in a bedroom in our article ' 8 Elegant Purple and White Bedroom Ideas '
Bright and Breezy Blue and Silver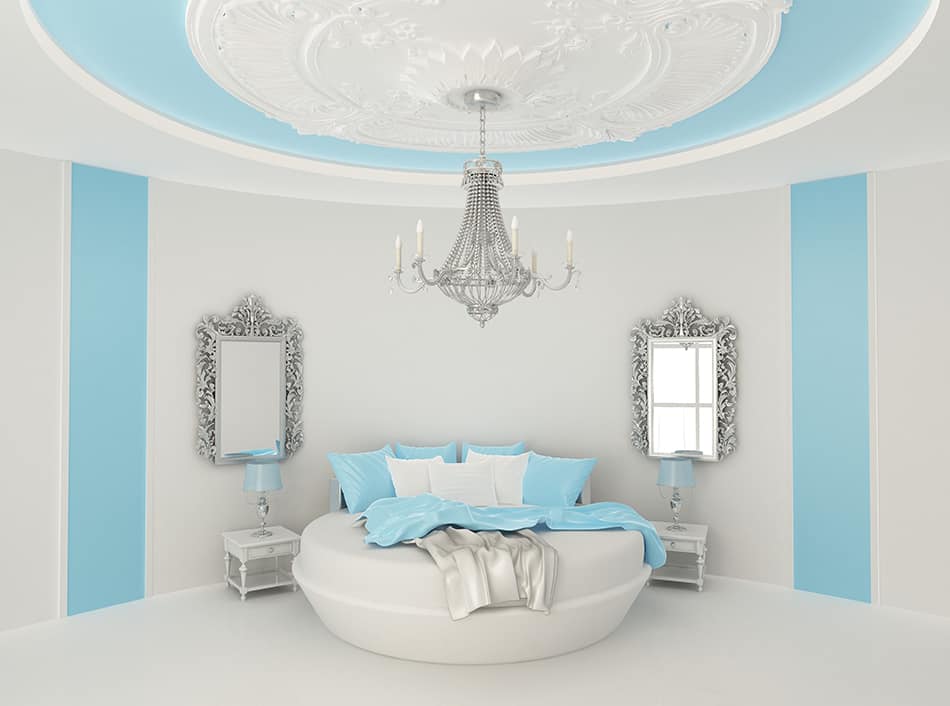 Now, how about extending the idea of pairing silver mirrors and chandeliers to the color blue. While any color can pair well with silver to create a bright and airy feel in your modern bedroom, it is worth considering these two color combos.
An attractive shade of light blue with textures and other light palettes will provide a stunning mix. This modern baroque style bedroom example boasts depth thanks to the silver decorations in the form of a chandelier and mirrors. It conjures up a beachy feel that gives this room a refreshing vibe, don't you think?
Seamlessly Silver with Black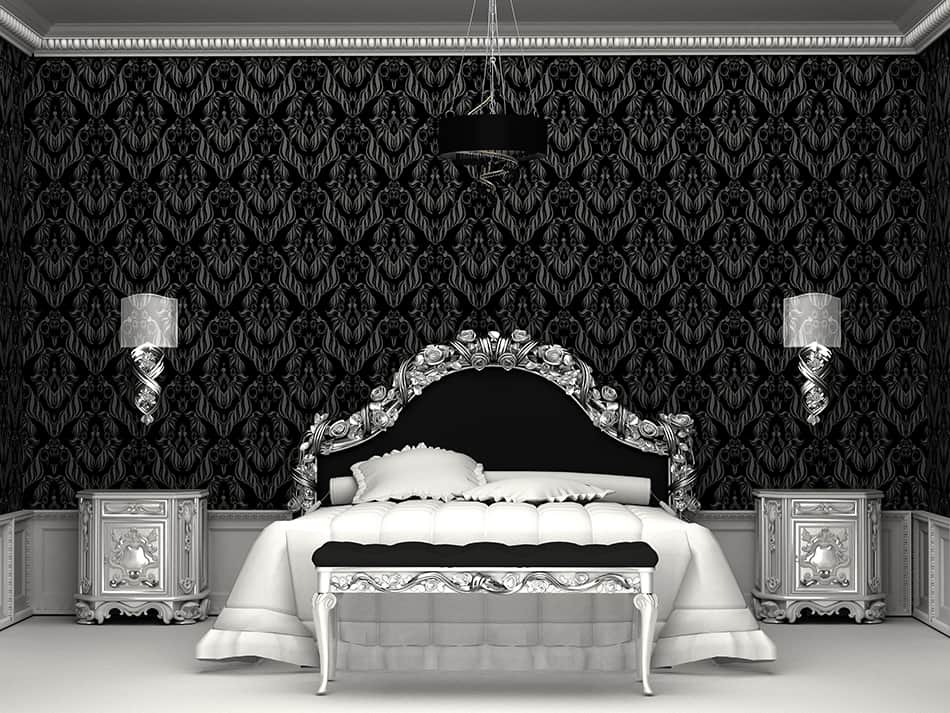 Decorating your bedroom in shiny colors is undeniably a unique way of achieving a classic feel. Think elaborate headboard, side lighting, and tables all in silver, together with black, patterned wallpaper and a bed fit for royalty.
This is another beautiful baroque-style bedroom, this time in metallic silver and black. The classic combination of these color pairings has given the room a sophisticated appeal. The use of the padded headboard as a centerpiece stands out and complements the dark black wall behind the bed.
The shiny silver fixtures with the white bed and black wallpaper work in contrast to create a welcoming feel. But if your bedroom lacks space, you can add a mirror on the wall behind the bed to draw the eye up. A large, silver framed mirror will give the illusion of extra space and height in a small bedroom.
Stately Silver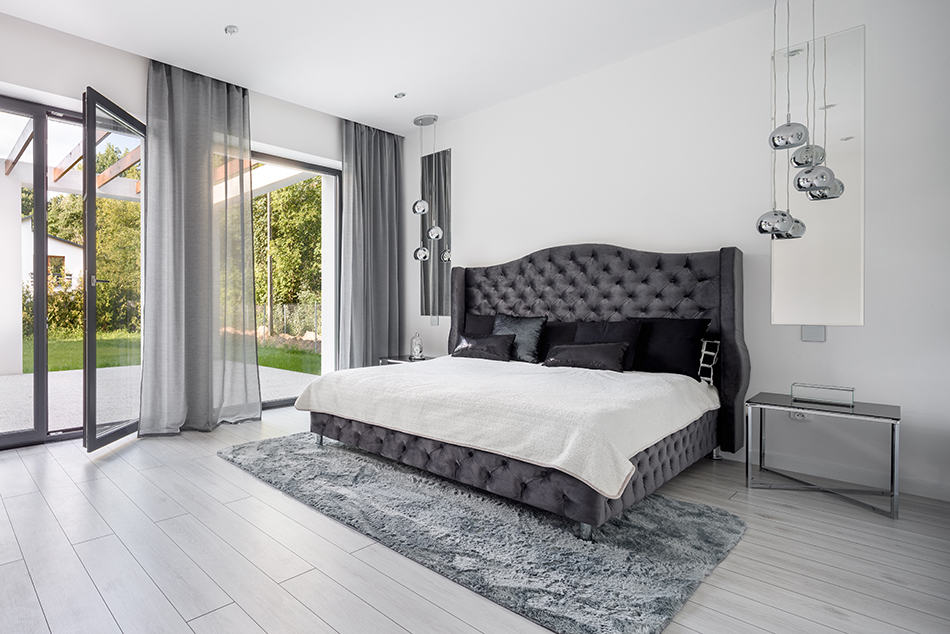 Large bedrooms with high ceilings are ideal for bold colors like silver and dark grey. Although the current trend for such rooms is to go with bright and airy color palettes, neutral tones, such as silver and grey tend to reflect decorations more effectively.
This idea enhances the size and height of the bedroom, thus giving a sense of glamor. But what if you have a smaller bedroom but still want to use darker colors? As we mentioned in the previous example, you can still combine grey and silver in a small bedroom by adding clever lighting and mirrors.
Here, the large, quilted headboard and bed connect the rest of the room as a perfect focal point. The grey rug, the silver side table, and grey curtains all tie into the stylish bedroom, bringing the design elements of this glamorous bedroom together.
As a result, this silver and grey bedroom feels cohesive and gives the impression of being grey when it's actually a combination of silver and grey. It boasts a refined look that anyone can incorporate into their own bedroom style.
Light and Airy Silver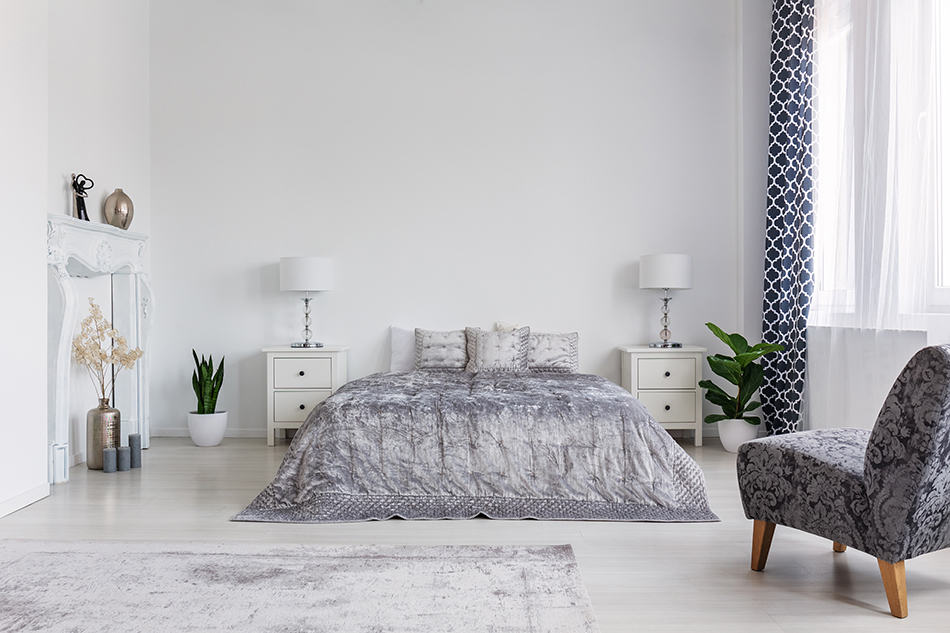 If you're not keen on darker colors for your silver bedroom, then how about a trendy white and blue combination with silver accessories or decorative pieces? This idea will prevent your bedroom from looking slightly washed out. A soft white hue for the side tables works beautifully next to blue and pale grey.
If your bedroom benefits from large windows, work with them by incorporating a dark shade of curtain to bring the whole room together and make it feel light and airy. Floor-to-ceiling windows go especially well with a white and silver bedroom as shown in this example.
The elegant furniture doesn't take the eye away from the tall blue patterned curtain, which has given the room height and depth.
A Silver Headboard as a Focal Point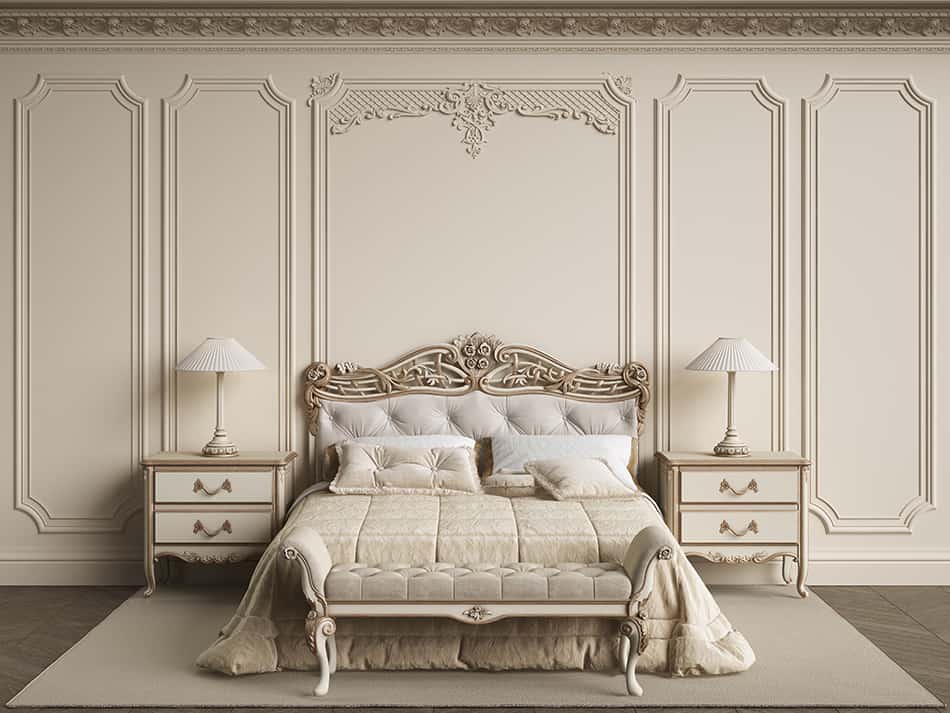 Rather than looking at a wall as the main feature behind your bed, why not make your headboard a focal feature instead? No need to hang a large silver wall decor or mirror to draw the eye. If you are looking for an easy way to keep the focus on your bed, an elaborately designed silver headboard will do the trick.
This classic bedroom is a great example of how silver can be the focal point of your room. We love the ornate wall cornices that match the side tables and bed color. But perhaps the biggest focal point of this bedroom is the stately silver headboard that makes a dramatic statement.
Keep it Sweet and Simple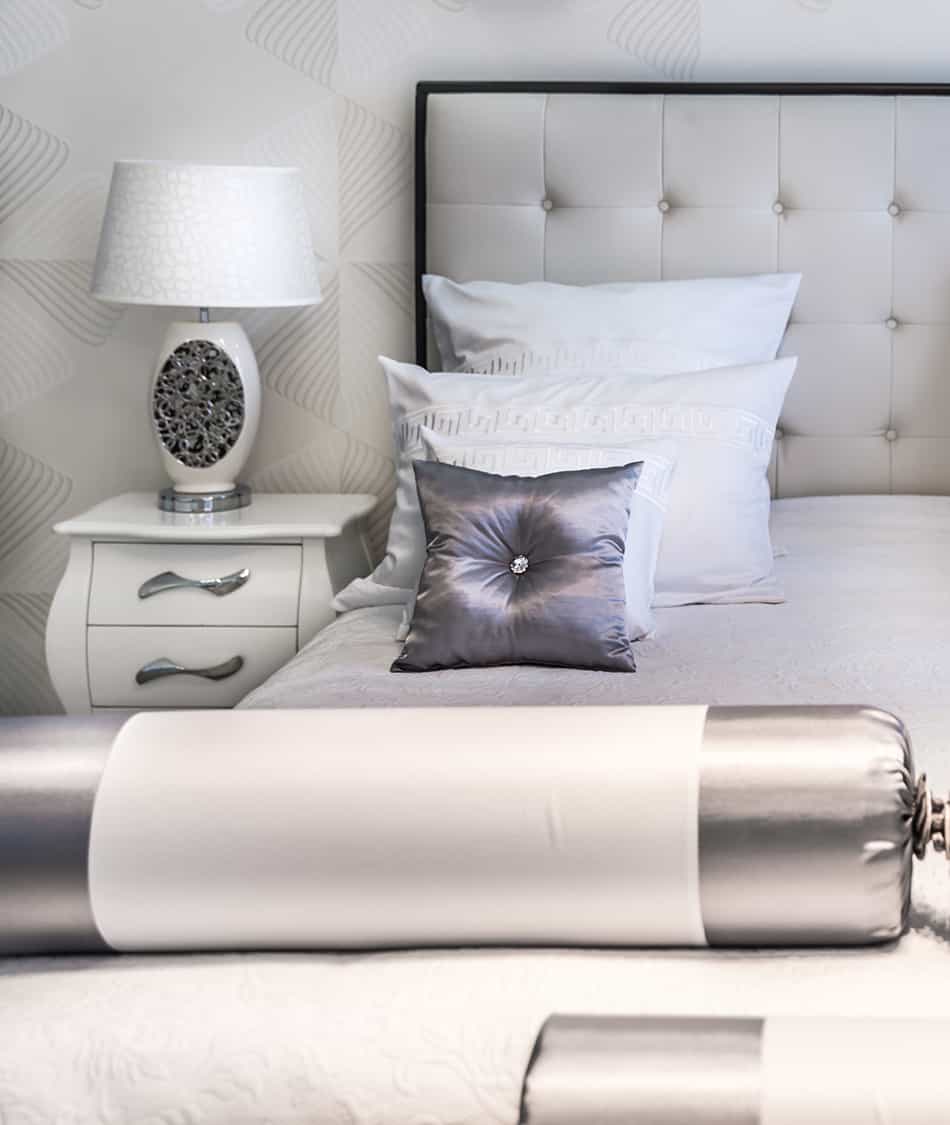 When you have the smallest bedroom space to work with, it is best to keep it nice and simple. No need to over furnish the room by adding everything in grey and silver.
If your budget is tight and you're unable to buy an elaborate silver headboard or a large silver mirror, simply paint your headboard in silver color or find some silver bedding items from second-hand furniture stores.
You will be amazed by how many items you can paint in silver to achieve the same look for half the price. Even a couple of bedding items in a shiny silver cover will work, as shown in this example.
What Colors Go With a Silver Bedroom?
Silver is a balance between black, white, and grey, so coordinating other palettes with this color isn't as difficult as you may think. After all, silver reflects the other color schemes that it's paired with, which is exactly what separates it from grey, as it's more a vibrant color by comparison.
Most pastel hues go with silver, as soft colors bring out the metallic shine of silver. The following are the best colors that pair well with silver:
Light blue
Lavender
Soft Grey
Light pink
Lime green
Muted yellow
Now that we know which colors go with silver, you might be wondering which colors contrast it. Most dark or jewel tones, including navy, gold, deep teal, and dark purple, contrast with silver, thus perfectly working with this hue.
Hopefully, our silver bedroom examples above should inspire you to incorporate some of the ideas into your own bedroom's interior for a more relaxing and elegant ambiance. Whether your bedroom is on the large or small side, it can look just as glamorous and sophisticated as the ideas we've shown you.