The classic farmhouse style isn't just about exposed wooden beams and whitewashed walls. This interior decor can feature modern colors like gray, with a variety of textures. Whether you prefer your bedroom in warm neutral colors or bold and vibrant ones, you can blend rustic elements with contemporary gray to add a wow factor to your room.
While farmhouse interior design is a highly-sought decor style, it is not always easy to adapt it for a modern bedroom. This country-inspired theme is often associated with log cabins and romantic hideaways, but that doesn't mean you can't take inspiration from this interior style for a contemporary bedroom.
Gray is a versatile color that makes it easy to blend with rustic features. To prove how you can effortlessly combine modern and traditional elements for a relaxed feel, take a look at the following gray farmhouse bedroom ideas:
Add Shiplap Walls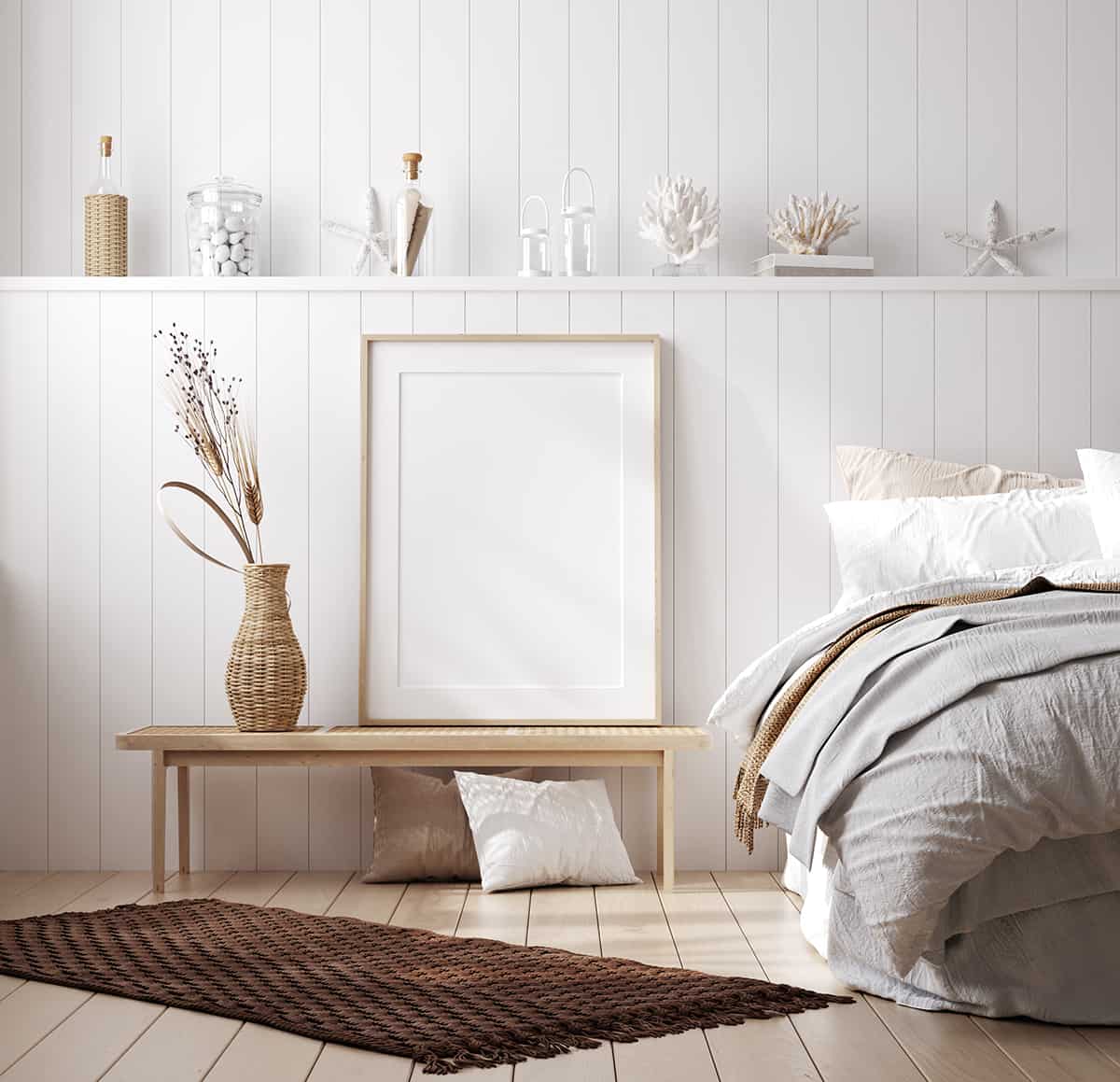 The farmhouse style is associated with shiplap walls, which are often painted in white or other softer hues. By adding wood-clad walls to your gray bedroom, you can create a warm, country-inspired vibe to your space.
Rustic shiplap walls can even be extended to wainscotting and batten doors for a relaxing, elegant bedroom.
Another distinctive personality of a farmhouse is the fine details and textures that are typically found on its wall. Farmhouse bedroom ideas and designs often expect wainscoting, slabs, and batten doors.
In this example, gray is used for the bedding, while the shiplap walls are painted in bright white to keep the room light and airy.
Indulge in Earthy, Neutral Tones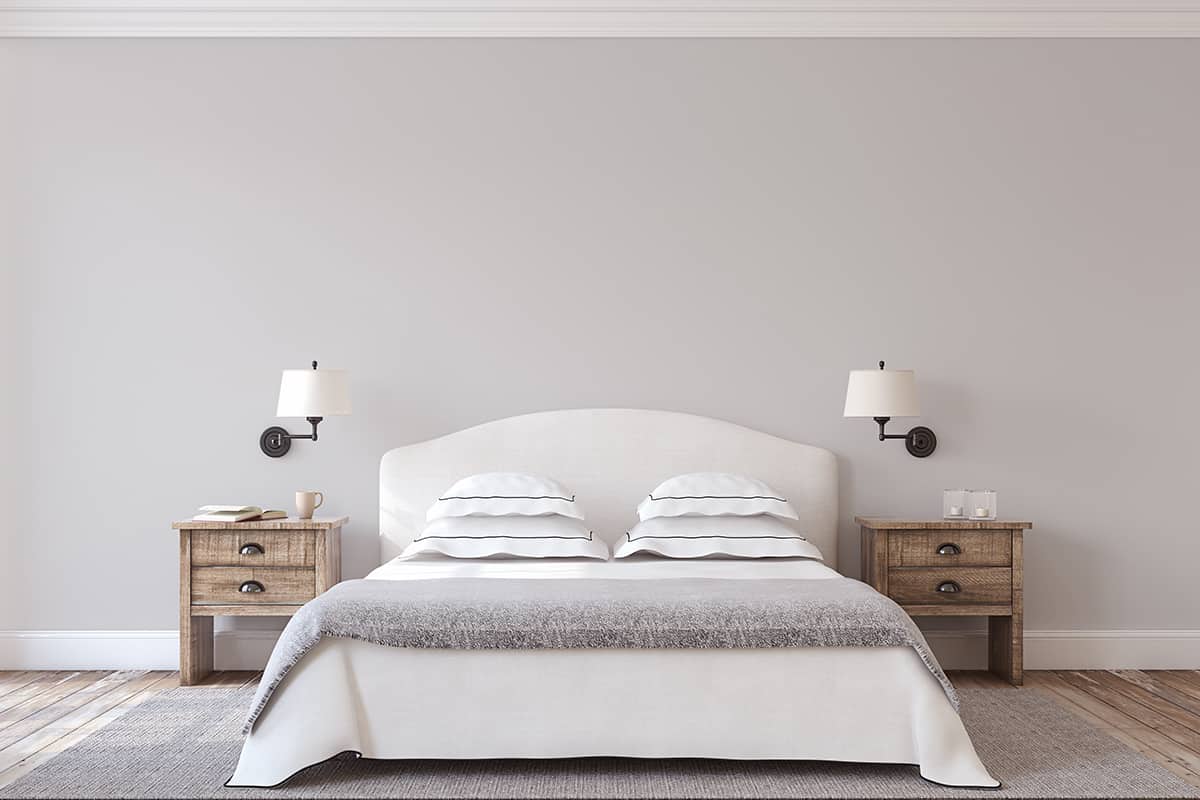 Aside from shiplap walls as distinctive features of a farmhouse interior, you also need to think about the paint colors you use.
There is no need to go with whitewashed walls, as pale gray can also work well. Add some earthy, wooden bedside tables and gray bedding to enhance the elegance of your farmhouse bedroom, as shown here.
Furnish the Bedroom with Rattan Furniture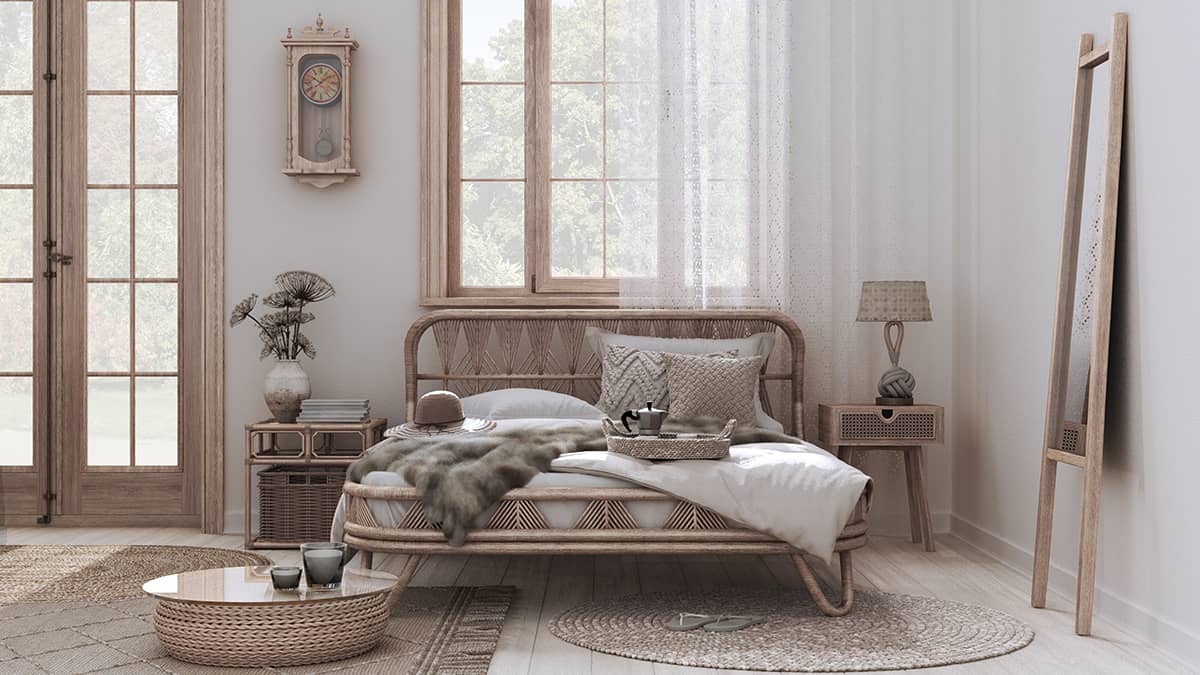 It's not just boho-inspired bedrooms that can be adorned with rattan furniture; to create a farmhouse vibe, it simply means you can add natural materials like wicker or rattan furniture for a heartwarming feel.
This material can be in the form of a bed frame, bedside tables, a corner table, or chairs, as shown in this example of a boho chic farmhouse bedroom with gray pillows and walls. We particularly like the unique rattan bed as a reflection of the rustic theme. This captivating rustic bedroom design has a natural texture that's not overwhelming.
Mix and Match Different Materials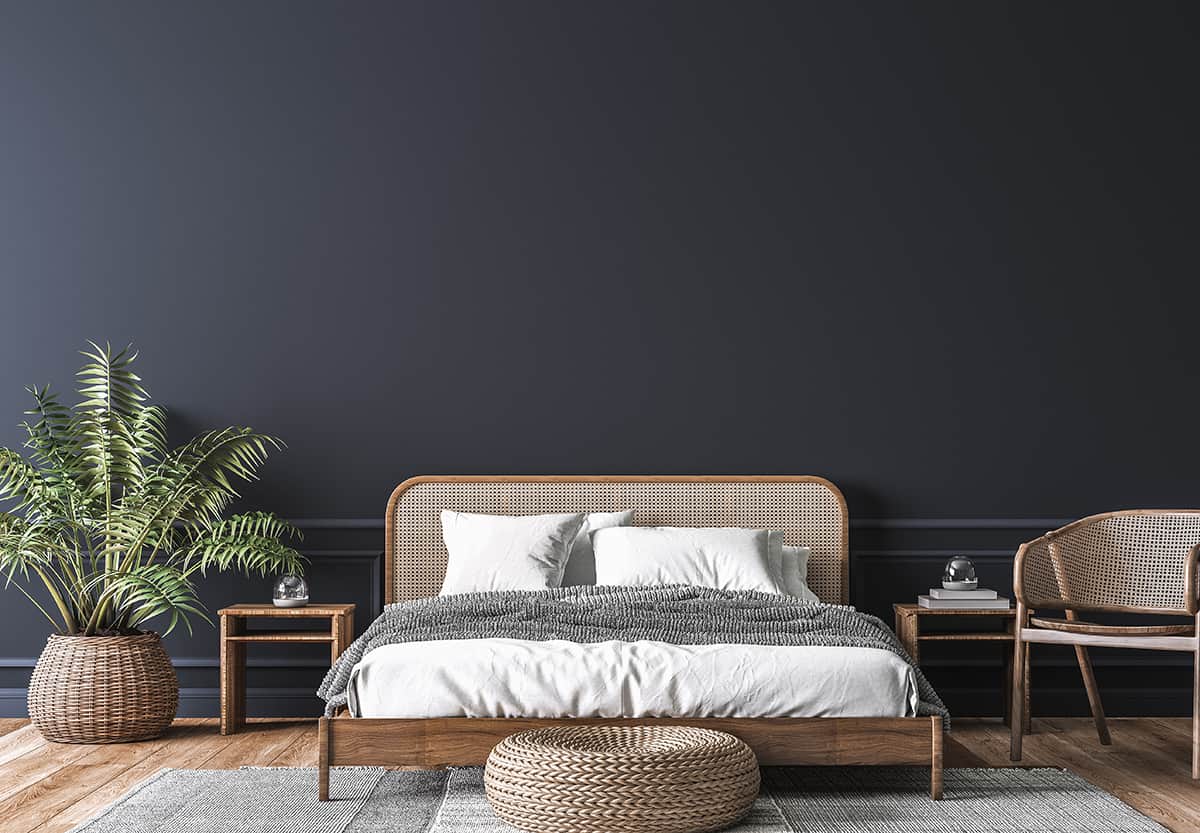 Instead of using only rattan furnishings, you can mix and match different materials in your gray bedroom. A wooden headboard can be the highlight of a country-inspired bedroom. Complement this feature with other natural materials for a homely vibe.
You may also mix and match your gray farmhouse bedroom with a large indoor plant and personalized seating area next to your bed. This cozy design not only adds an aesthetic appeal but also brings functional decor to your bedroom.
Go for Farmhouse Lighting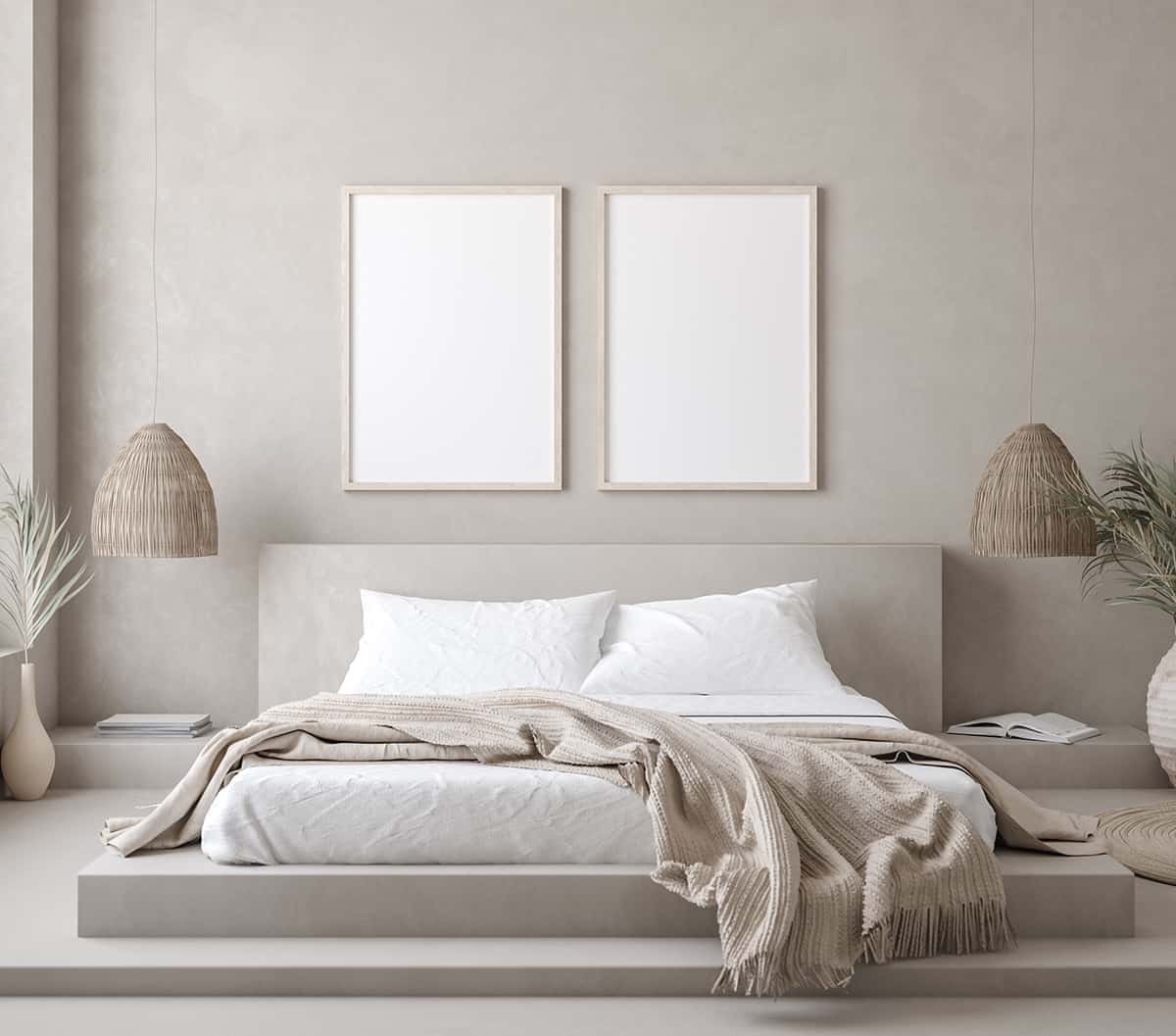 Investing in vintage lighting is one of the best ideas for a gray rustic bedroom. Antique floor lamps, for example, can make a decorative statement and have a strong impact on the overall vibe of a room. There are also rattan or bamboo hanging lights that often characterize farmhouse lighting.
You can take this idea to the next level by creating a quirky design like the example shown here. Alternatively, if you have the budget, you may want to make a stunning statement with a large vintage chandelier. Wrought iron chandeliers with candle-like lights are perfect for a country-style bedroom.
Just a small upgrade to your bedroom's lighting can make a lot of difference when conveying a farmhouse vibe. Luckily, when it comes to choosing the right farmhouse lighting fixture, you have an array of options, from wood-base floor lamps to wall sconces.
Add Texture for a Rustic Ambiance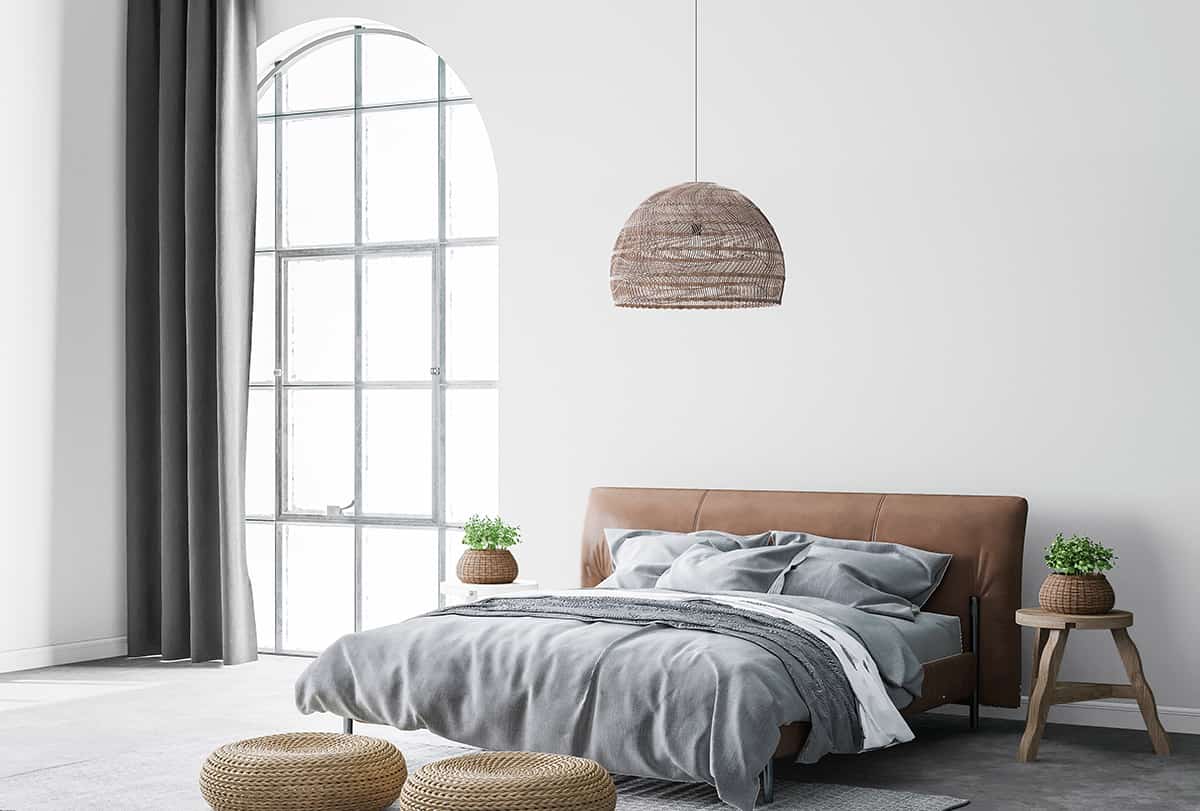 Gray bedrooms often portray a modern and sleek space. But that doesn't mean they can't be combined with rustic elements.
To bring texture to your gray bedroom, adopt the minimalist farmhouse design by adding simple wooden bedside stools and a leather bed for a mix of modern and rustic charm, as seen in this image.
Get Creative with Wall Embroidery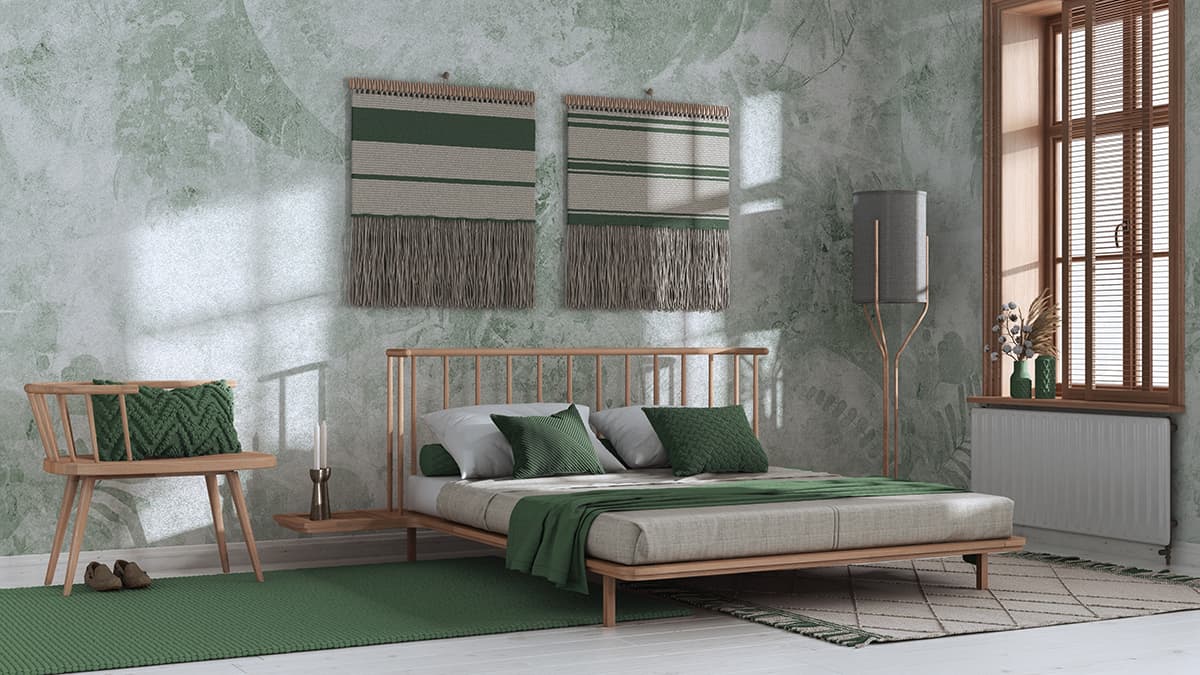 Those who love art and decor can showcase their artistic talent by adding macrame embroidery to their gray bedroom wall. But don't worry if you can't create your own piece.
Most vintage stores and craft markets sell these handmade wall arts, so you can hang them above your bed for an inviting and rustic vibe.
Embrace Nature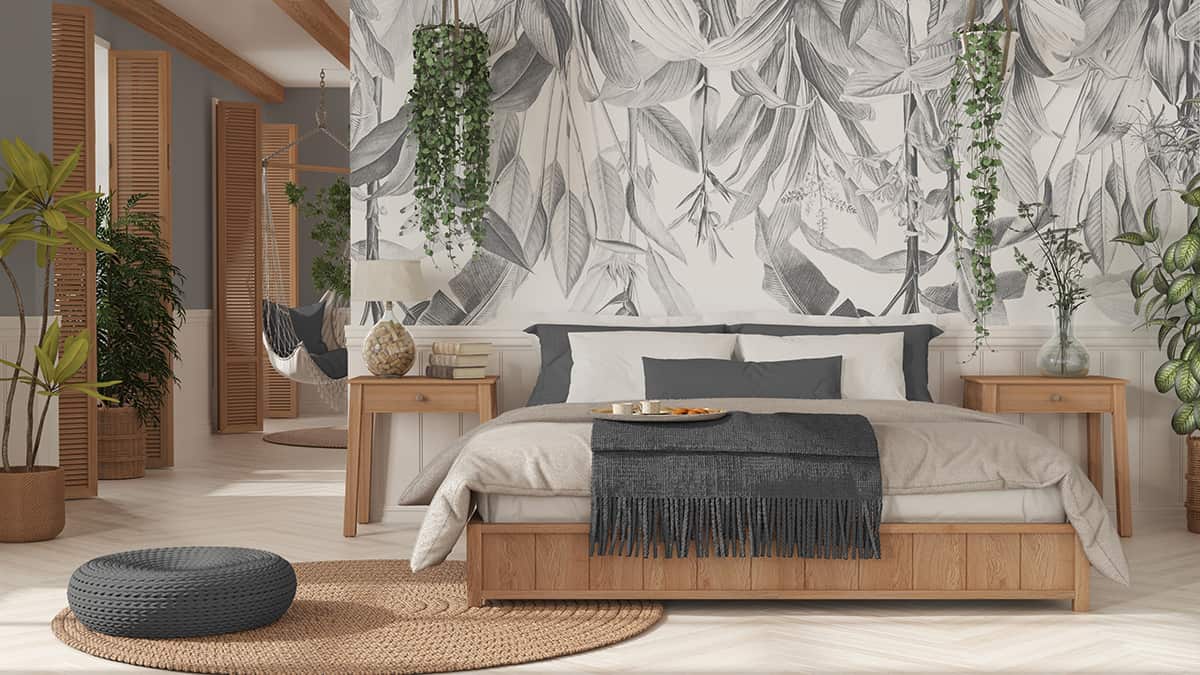 If there is one natural element that conveys a rustic feel, it has to be wood. The more wood you use in your gray bedroom, the bigger the rustic statement. Wooden elements are a must for spacious farmhouse interiors that need an injection of character. Add some indoor plants to this mix for a nature-inspired theme.
This boho-inspired gray bedroom exudes a classic elegance that oozes a traditional farmhouse feel. The bed is made of wood and dressed with white and gray tones. The potted and hanging plants surrounding the wooden bed emphasize the natural aesthetic of this space.
Use Traditional Wall Decor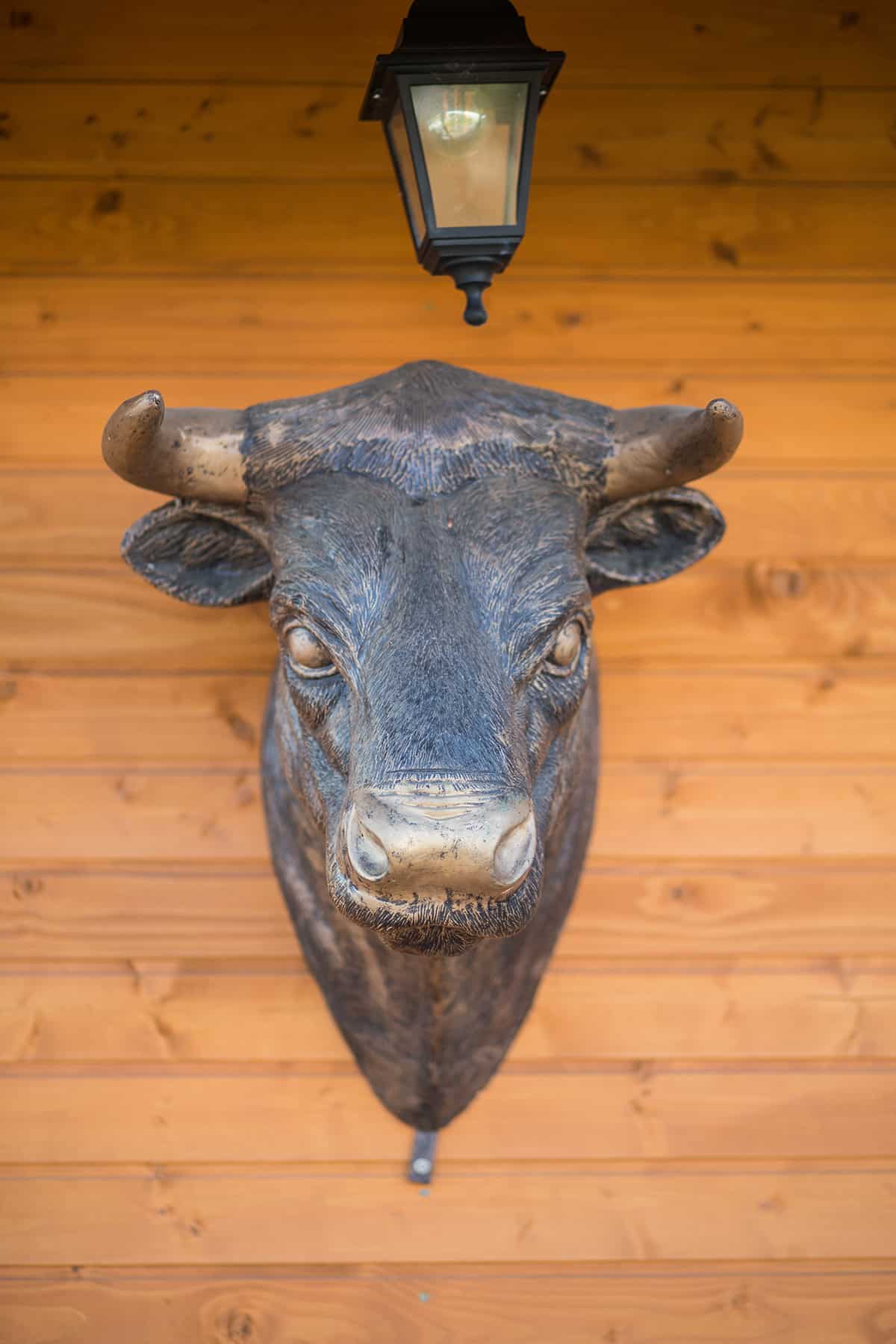 No gray rustic bedroom is complete without a quirky wall decor. To bring a traditional feel to your space, add a bull or reindeer head to the wall behind the bed. This eye-catching wall decor brings a countryside character to any space and is commonly seen in log cabins.
Soften the Gray with a Jute Rug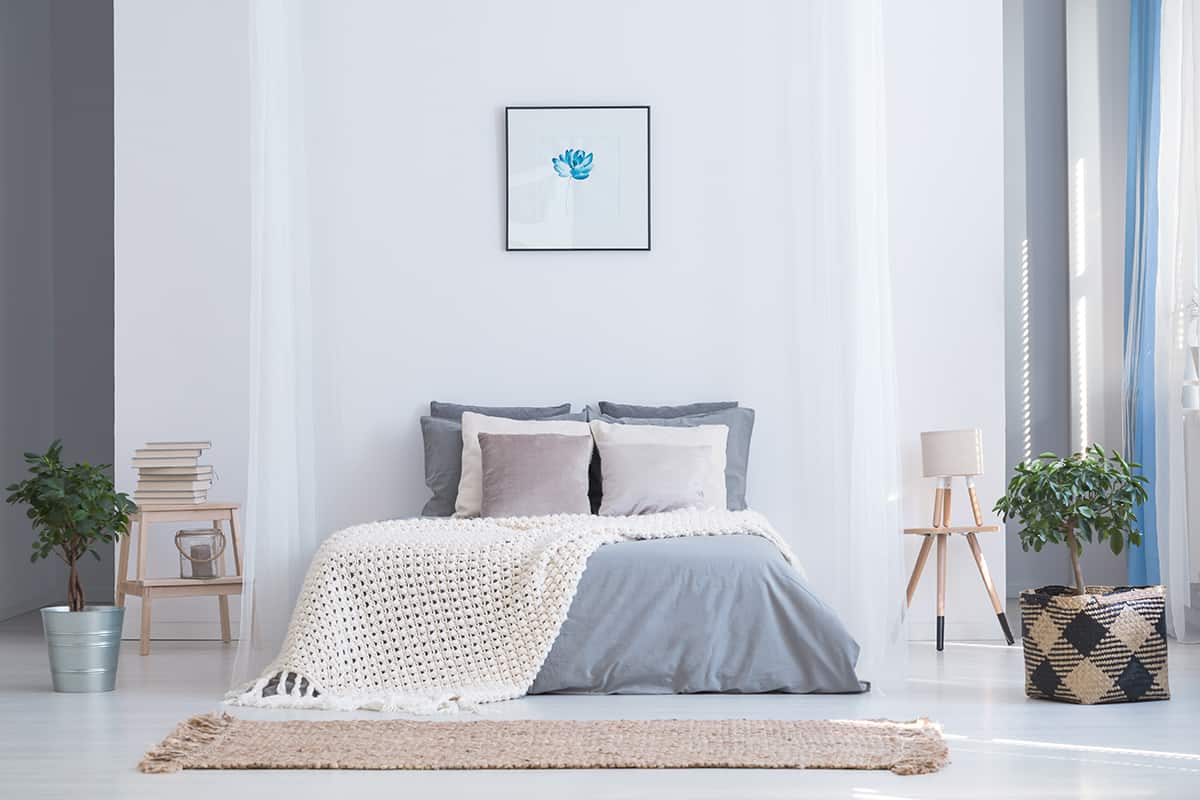 The floor covering in your gray farmhouse bedroom needs to be in sync with the rest of the room's decor. Instead of leaving the floor bare, opt for a woven rug. These simple, natural fiber rugs are trending again and are usually made of jute.
Such floor covers are ideal for minimalist rustic bedrooms as they offer a natural look with a softer texture. Since jute rugs are the same color as rattan and natural wood, they go hand in hand with these rustic elements. Not only do they add so much texture to a gray bedroom, but their simple color palette also brings a lot of visual interest and depth.
Take this blue and gray bedroom, for example. The jute rug stands out beautifully as a natural accessory in this cozy space. The earthy, woven floor mat gives a grounded vibe by keeping everything low-key for a cheerful, rustic feel. This idea is the most inexpensive way of creating a country-inspired design in a gray bedroom.
Tips for Decorating Your Gray Bedroom in Farmhouse Style
Paint the walls a neutral color: when you have a gray bedroom and are unsure of how to achieve a farmhouse look, the safest option is to paint the walls a light, neutral color like warm beige, cream, or white.
Mix the old with the new: in modern gray bedrooms, you can bring the classic farmhouse design to your space by simply adding an antique dresser or distressed wooden headboard.
Use rattan baskets: woven baskets are the staple of farmhouse bedrooms, and they look great on the floor, shelves, or even on the top of the dresser.
Incorporate lots of wood for texture: every country-inspired gray bedroom needs to have wood texture in the form of shiplap walls, rustic hardwood flooring and oak furniture.
Add vintage floor lamps: to achieve a farmhouse-style bedroom, you must have the right lighting fixture. Vintage floor lamps made of brass or wood stands make an excellent choice for a gray rustic bedroom.
In Closing
Rattan and wood furniture are prominent design schemes to reflect the rustic style of a gray bedroom. Distressed or traditional pieces are the best gray farmhouse bedroom ideas that can be incorporated into this space.
By using natural textures, your room will appear more relaxing but still rustic. Include vintage lighting and wall tapestry in this mix for more drama. This helps create a simple yet sentimental interior.
Other suggestions for a country-inspired gray bedroom include a velvet headboard with burlap throw pillows and a curtain as an interesting mix of country and glamor. You may also add an old tree trunk as the bedside table for a character. Just remember to sand it down and stain the surface before use!