Choosing the right front door color for a green house is essential if you want to make a great first impression. The shade of green used on the exterior of your home will affect which colors you can pair with it for the front door, but there are a number of colors that work well with any shade of green.
Green is a classic exterior color that will never go out of style, and it can look stunning if you use the right accent colors with it. This is especially true if your house siding is bold or dark green. Here we explore a number of front door color ideas to work with your green exterior house color, that you can use for inspiration when decorating your home.
Front Door Colors that Work With Green Siding
Green: When your exterior is green, it doesn't mean you can't have a lighter or darker shade of green for the front door. Green on green helps balance out the combination and create a monotone effect, but just make sure you choose one shade lighter or darker than your siding to avoid the look appearing flat.
Black: Black front doors work with any siding color, including green. When green and black are combined with white trims, they will transform your home into an elegant and stately building. While the black front door is more formal and bold, the white trims and green siding tone it down.
Brown: Brown is a neutral, earthy color that can be used as a door paint color with green exterior walls. When brown and green are paired together, a natural-inspired look is achieved that feels both warm and refreshing.
Gray: Gray is a neutral color that will look stunning next to green exterior house colors. Go for darker shades of gray for curb appeal when the exterior house color is pale green, or choose lighter shades of gray for the door paint color alongside darker green homes.
Blue: Green and blue are analogous colors that give a really cool, modern feel. Whether you use dark or light blue for the front door, you can make a bold statement and turn heads with this quirky color pairing.
Red: All shades of red are a great choice for green siding because they will create a bold contrast. Even if you don't want to commit to the intensity of red, opt for maroon as a slightly more muted shade of red. A red front door will look striking next to green siding, and you can also paint your garage door to match as a way of coordinating the color scheme.
Now let's take a look at our top favorite front door colors for a green house:
Dark Brown with Light Green Siding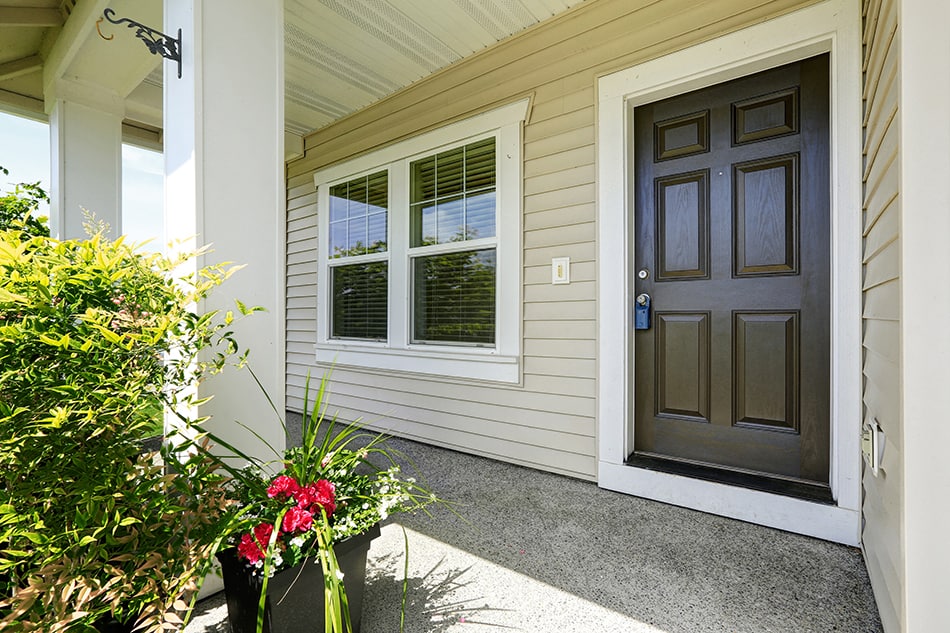 The dark brown wooden door in this image contrasts beautifully with the soft green exterior house color. Despite these colors not being directly complementary colors, they create a contrast because the brown is very dark and the green is very light. The white trim around the doors and windows helps to create a neutral vibe and serves to balance out the color scheme.
Natural wood brown is a beautiful color for a front door with a green-sided exterior. It is hard to match the quality of a stained brown wooden door.
Natural colors like brown and green are dramatic and full of life, and when executed properly, these color combos really stand out in the neighborhood. The wooden brown color adds plenty of warmth, even next to a cool green hue.
If you're going to use real wood for your green siding's front door, it is important to create as much contrast as balance. Try to vary the elements by adding accent pieces like metal or stone.
Textures in the form of white trims, like the picture here, stand out beautifully, especially when the siding color is light green. You can make use of interesting elements or architectural features to bring a zest of life into your entrance.
The reason why brown and green work very well together is that both colors are associated with nature. To make it work for your light green exterior, always go for a natural wooden door stained dark brown.
Dark Green with Light Green Siding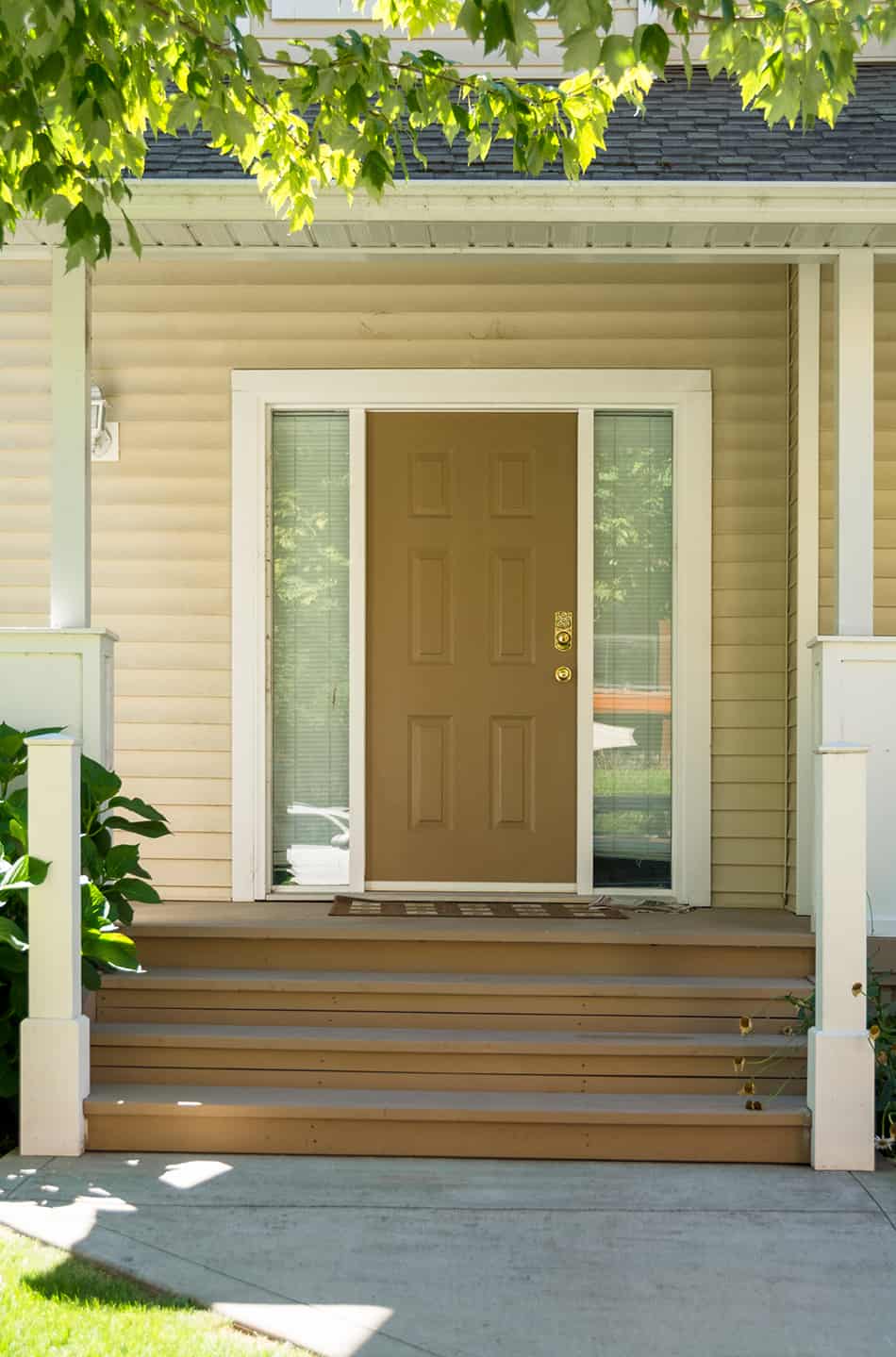 A green exterior can still stand out with a green front door. If your siding is light green, opt for a darker shade for the front door and vice versa. This light green home features a welcoming green front door one shade darker than the siding to create a harmonious color scheme.
This makes the entrance stand out in an inviting way. To enhance the color pairing for impact, include some accents and metal hardware since you're working with a single color. The garage door could be painted in the same green front door paint color, or add further drama by choosing an even darker shade of green.
Avoid using shades of green that are too similar, since this can cause the whole exterior of the home to feel flat and one-dimensional.
Royal Blue with Cool Green Siding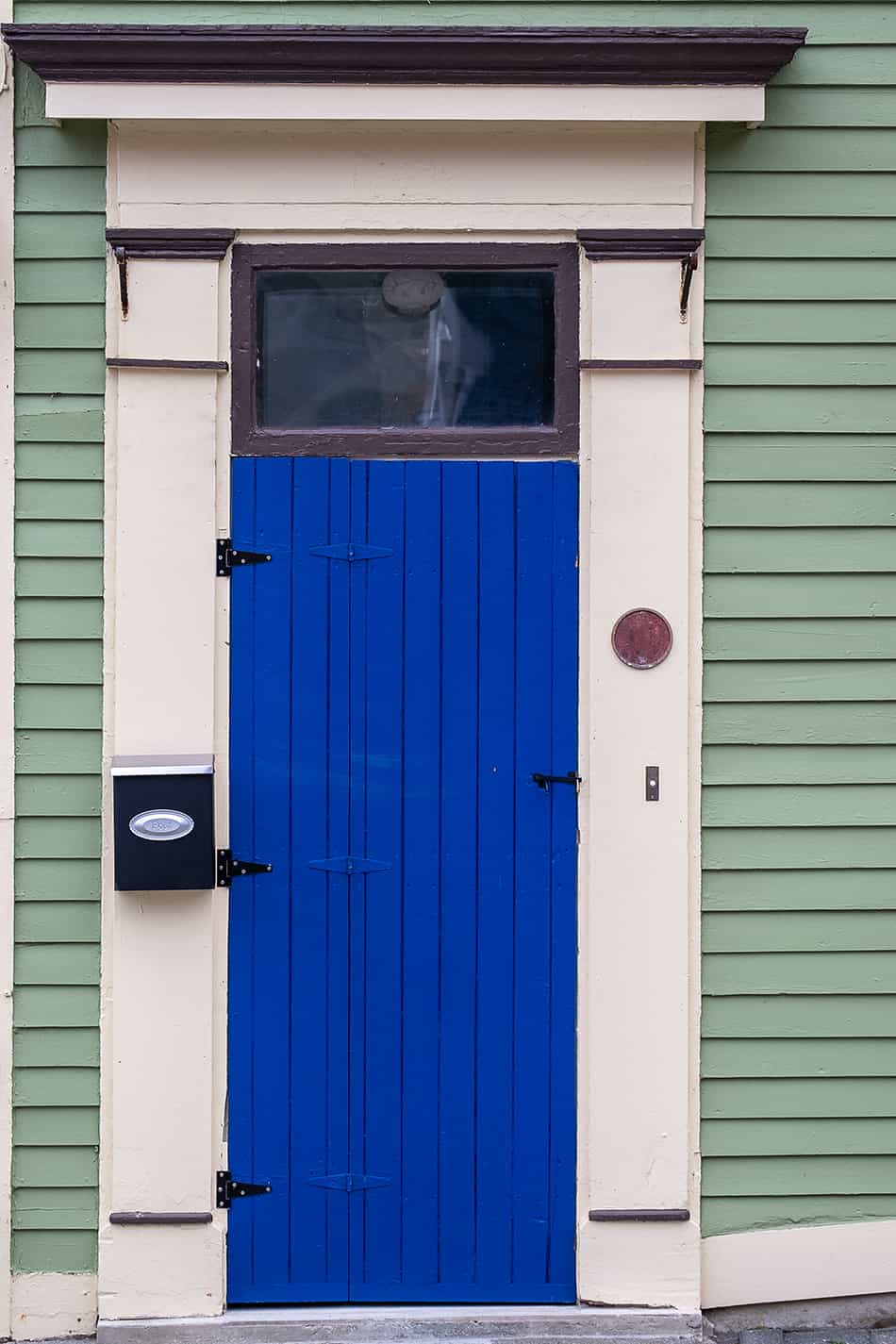 This royal blue door really stands out against the green siding because it is a heavily saturated, intense shade, while the green exterior house color is soft and muted. If you want to really draw attention to your front door and make a dramatic statement, this is an appealing way to do it.
When accompanied by white trims and black metal hardware, royal blue next to cool green siding will brighten up the house and make it pop. Aside from royal blue, any other dark shade of blue will work just as well.
When using a dark shade of blue, be sure to vary the accents to add value to the color of your front door. There are many different varieties of green and blue hues, so it won't be difficult to pair them for your home. Remember, contrast is very important so as to avoid making this color combo look too flat or bland.
Blue is the color of the sea and sky. In color therapy, it evokes pureness and clarity. As a front door color, it brings a welcoming and calming effect. Blue also works well with green landscaping and siding, as both are associated with nature.
The white trim here is the secret weapon to this blue and green color combination. No matter where you use the white trim (around the windows or door), the added brightness definitely goes a long way.
Dark Purple with Cool Green Siding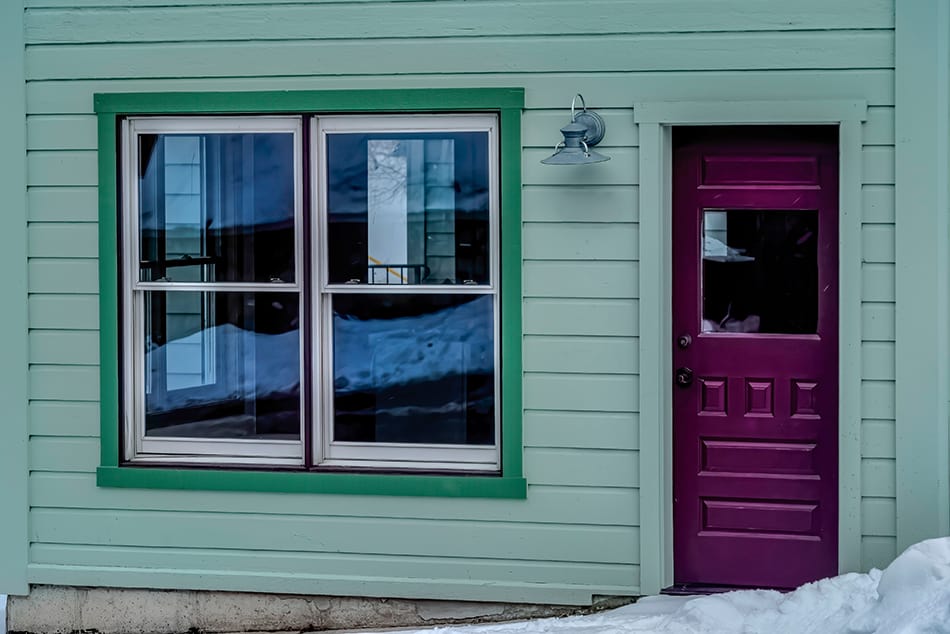 The exterior color scheme of this home uses two different shades of green and a deep, dark shade of purple. Purple and green are both cool colors, giving this property a modern and funky curb appeal.
As purple is half made of red, which is the contrasting color to green, a purple door against green siding is really going to pop. There is also a contrast in terms of shade in this home because the door and window frames have been painted dark, while the siding is pale.
Purple is such a versatile color that it also works with darker shades of green – as long as you use a softer purple hue with this color combo. If you find purple next to green a little too dark, include some lighter elements like white trims and other design ideas.
In this example, the purple front door hasn't darkened the exterior of this cool green house thanks to the addition of glass on the door and the darker green window frames.
Jet Black with Dark Green Siding
We know how challenging it is to choose the right front door color for your green house. Colors set the tone for the entire exterior of your house so it makes sense to go for a striking hue that instantly draws attention to your entrance.
If you're struggling to choose a front door paint color and are stumped when it comes to front door color ideas, then black is a safe option that will look great with any exterior house color, including green.
Matte black rather than glossy black won't look over-polished, and when paired with decorative accents like the ones shown here, the dark green house will look ultra-chic and sophisticated.
Burnt Orange with Warm Green Siding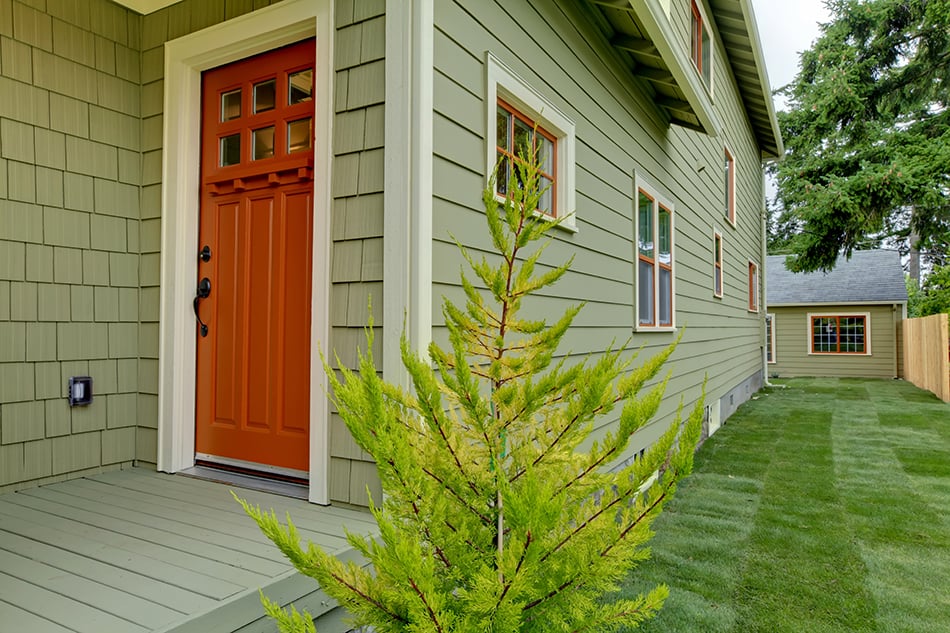 Burnt orange is very close to red on the color wheel, and since red and green are contrasting colors, this means burnt orange and green can also be considered contrasting colors.
Orange is a striking hue that instantly attracts attention, and it has a positive and uplifting energy that can make people feel inspired when they visit your home. The burnt orange door on this home has been coordinated with burnt orange trim on the windows, and you could also paint the garage door in the same color to complete the continuity.
If you want your green home to stand out from the rest of your neighbors', then opt for a warm orange front door. The boldness of orange with the versatile green will look super chic as shown here.
What Front Door Color Looks Good on A Sage Green Siding?
Sage green exteriors should be color-matched to the right trim and front door color. Since sage green is a light hue, use reddish-brown for your front door to complement the natural wood hue.
Oak brown is another shade that goes well with sage green. To go even darker, chocolate brown next to sage green will look captivating. Whichever brown shade you choose for your front door, the two pairings will make a balanced aesthetic look.
Conclusion
Choosing a pleasant front door paint color for a green home is essential if you want to maximize curb appeal and make a positive first impression on your guests.
Use our above suggestions to guide you and make sure you pick the relevant color according to the dark or light tone of your home's green siding.