Choosing the right front door color for a green house is essential if you want to make a great first impression. Although green isn't an easy color to design your exterior with, there are some accompanying colors that will achieve great results.
Green is a classic exterior color that will never go out of style. But the problem is determining which other colors go with it. This is especially true if your house siding is of bold or dark green. If you're stuck choosing the best front door colors for your green house, then you've come to the right place. Here we have listed the most suitable front door colors with some examples to guide you in the right direction.
Front Door Colors that Work With Green Siding
Green: When your exterior is green, it doesn't mean you can't have a lighter or darker shade of green for the front door. Green on green helps balance out the combo, but just make sure you choose one shade lighter or darker than your siding.
Black: This color works with any other siding color. When green and black are combined with white trims, they will transform your home into an elegant and stately building. While the black front door is more formal and bold, the white trims and green siding tone it down. These color combos are the safest choice that never go out of style.
Brown: This is a neutral, earthy color that matches every other color scheme. When paired next to light or dark green, the brown front door will no doubt stand out visually.
Gray: Another neutral color that will look stunning next to a green exterior. Go for darker shades of gray for curb appeal.
Blue: Green and blue are a quality pair that somehow look great together. Whether you use dark or light blue for the front door, you can make a bold statement and turn heads.
Red: All shades of reds are a great choice for green siding. Even if you don't want to commit to the intensity of red, opt for maroon as a slightly more modern shade of red. A red front door next to a green exterior draws tons of attention from the street.
Now let's take a look at our top favorite front door colors for a green house:
Dark Brown with Light Green Siding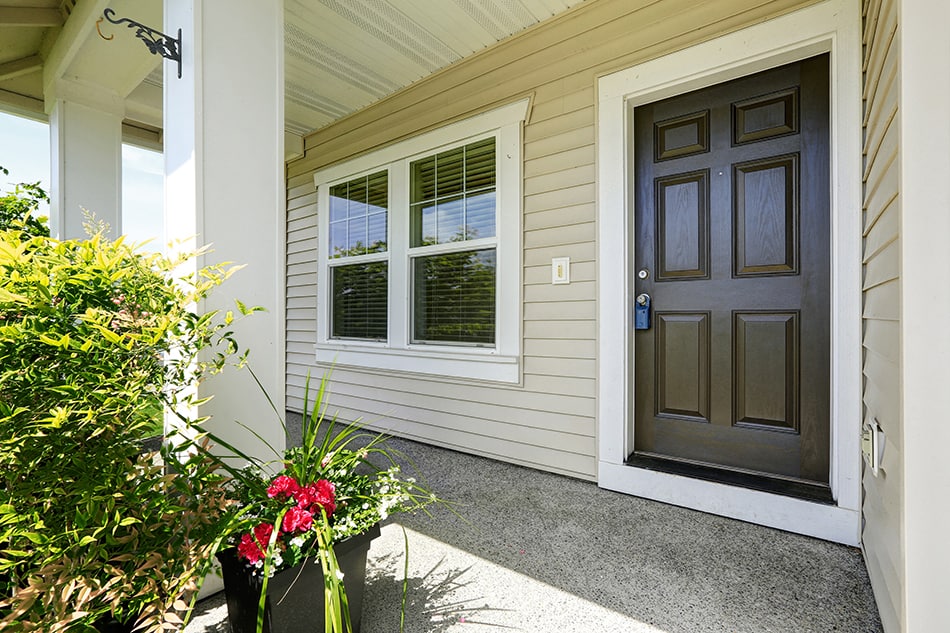 Natural wood brown is a beautiful color for a front door with a green-sided exterior. It is hard to match the quality of a stained brown wooden door.
Natural colors like brown and green are dramatic and full of life, and when executed properly, these color combos really stand out in the neighborhood. The wooden brown color adds plenty of warmth, even next to a cool green hue.
If you're going to use real wood for your green siding's front door, it is important to create as much contrast as balance. Try to vary the elements by adding accent pieces like metal or stone.
Textures in the form of white trims, like the picture here, stand out beautifully, especially when the siding color is light green. You can make use of interesting elements or architectural features to bring a zest of life into your entrance.
The reason why we think brown and green work very well together is that both colors are associated with nature. To make it work for your light green exterior, always go for a natural wooden door stained dark brown.
Dark Green with Light Green Siding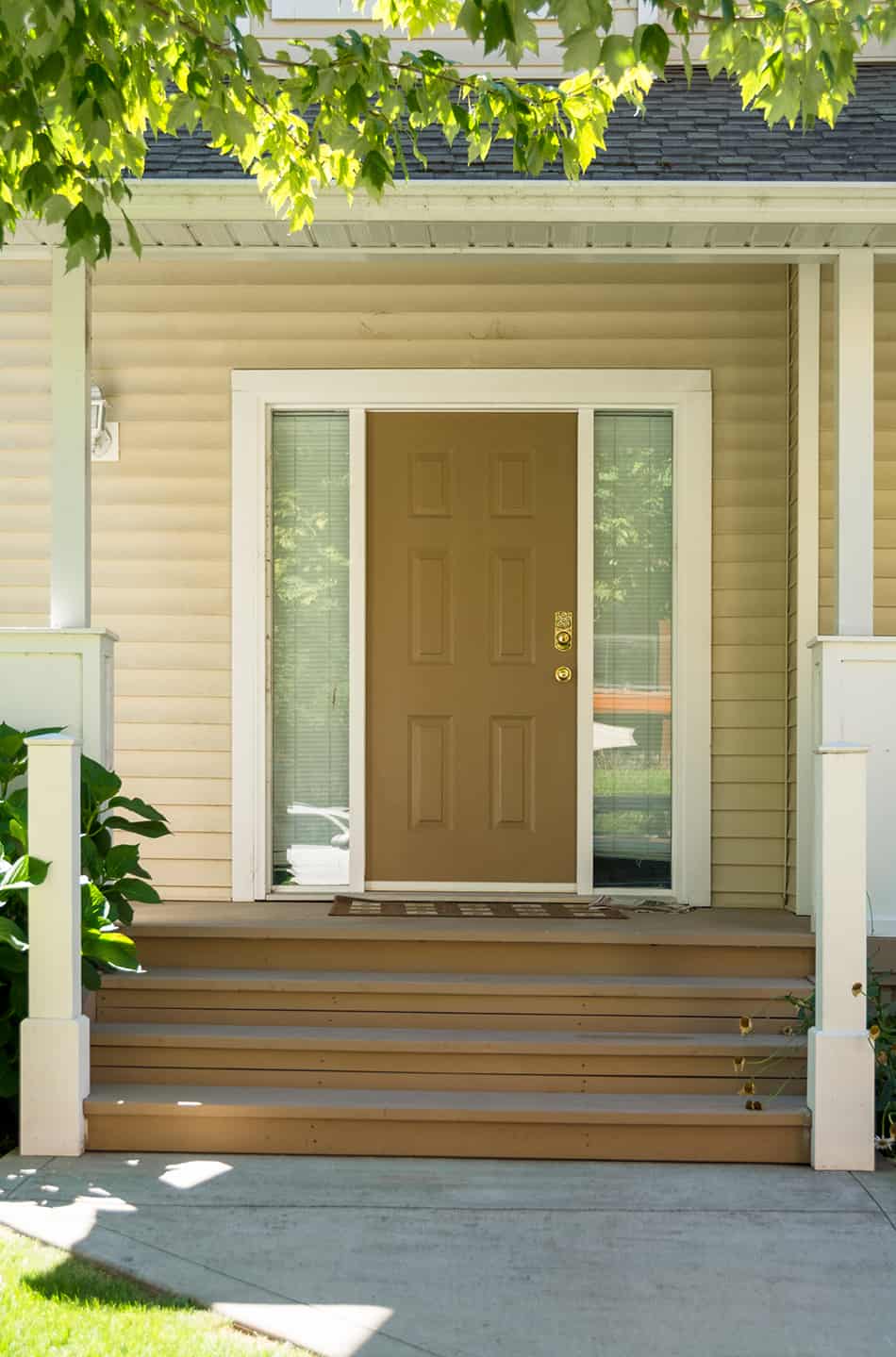 A green exterior can still stand out with a green front door. If your siding is light green, opt for a darker shade for the front door and vice versa. This light green home features a welcoming green front door one shade darker than the siding to create a harmonious color scheme.
This makes the entrance stand out in an inviting way. And to enhance the color pairing for impact, include some accents and metal hardware since you're working with a single color.
Royal Blue with Cool Green Siding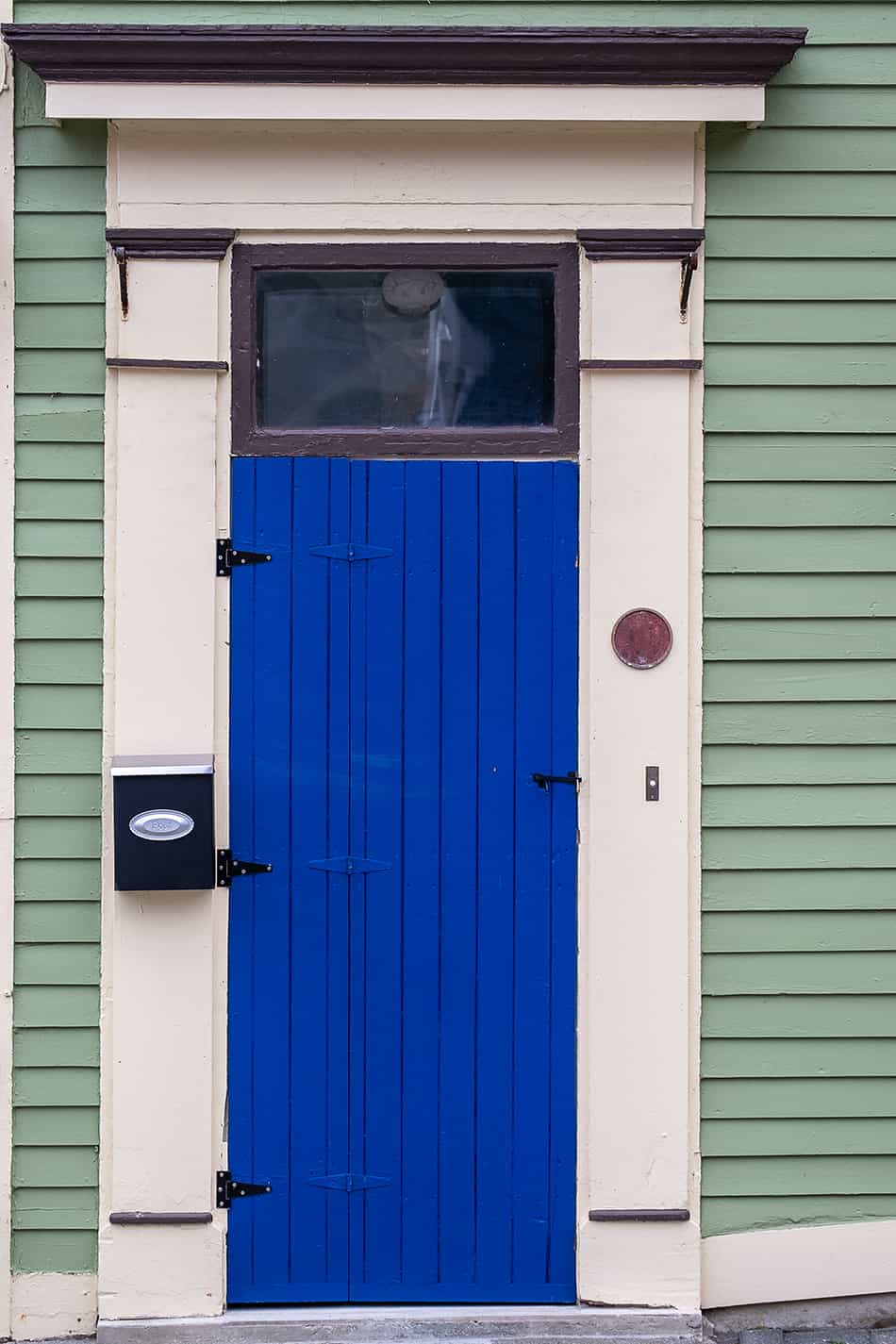 Blue and green work wonders on any house. When accompanied by white trims and black metal hardware, royal blue next to cool green siding will brighten up the house and make it pop. Aside from royal blue, any other dark shade of blue will work just as well.
When using a dark shade of blue, be sure to vary the accents to add value to the color of your front door. There are many different varieties of green and blue hues, so it won't be difficult to pair them for your home. Remember, contrast is very important so as to avoid making this color combo look too flat or bland.
Blue is the color of the sea and sky. In color therapy, it evokes pureness and clarity. As a front door color, it brings a welcoming and calming effect. Blue also works well with green landscaping and siding, as both are associated with nature. This is why we believe blue and green perfectly complement each other and work so well as an exterior design pairing.
The white trim here is the secret weapon to this blue and green color combination. No matter where you use the white trim (around the windows or door), the added brightness definitely goes a long way.
Dark Purple with Cool Green Siding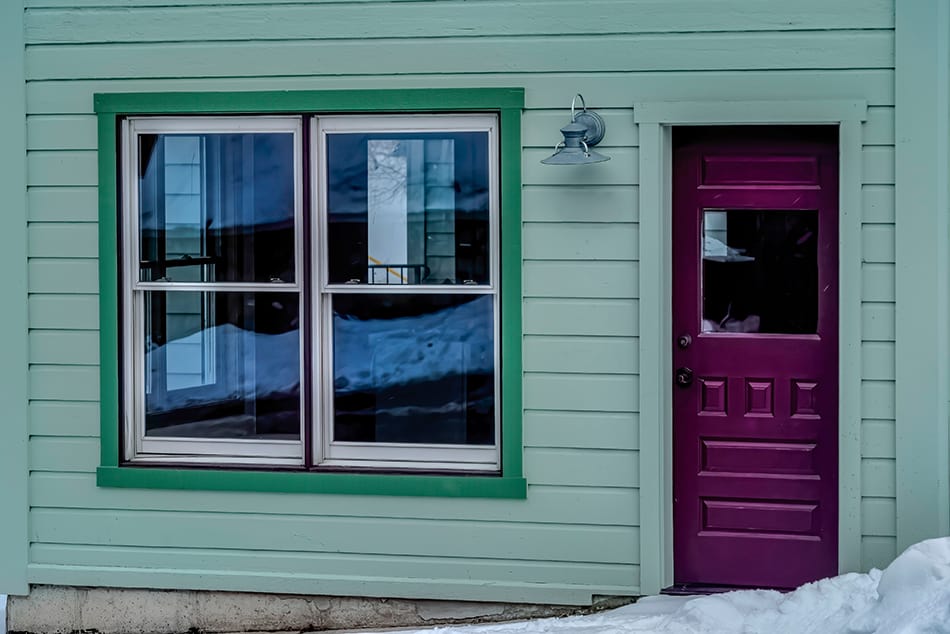 Purple is a luxurious and powerful color that's associated with wealth and royalty. It is no wonder many designers prefer this color. This is one of those colors that some prospective buyers love when describing the house of their dreams.
Purple shades have a positive effect on the body and mind, which immediately draws attention to themselves. Best of all, since purple is such a versatile color, it means you can tailor it to your needs to match any shade of green siding.
For cool green exteriors, we recommend using a dark shade of purple for the front door. This is to create contrast and make the exterior pop.
Purple is such a versatile color that it also works with darker shades of green – as long as you use a softer purple hue with this color combo. If you find purple next to green a little too dark, include some lighter elements like white trims and other design ideas.
In this example, the purple front door hasn't darkened the exterior of this cool green house thanks to the addition of glass on the door and the darker green window frames.
Jet Black with Dark Green Siding
We know how challenging it is to choose the right front door color for your green house. Colors set the tone for the entire exterior of your house so it makes sense to go for a striking hue that instantly draws attention to your entrance.
With that said, not all colors work on different house designs. When you have a green exterior to contend with, it can be challenging to find the perfect front door color.
For a minimalist front door color, why not use jet black? After all, this hue goes with every other color on the spectrum.
Matte black rather than glossy black won't look over-polished, and when paired with decorative accents like the ones shown here, the dark green house will look ultra-chic and sophisticated. This exterior design feels classy and refined, don't you think?
Burnt Orange with Warm Green Siding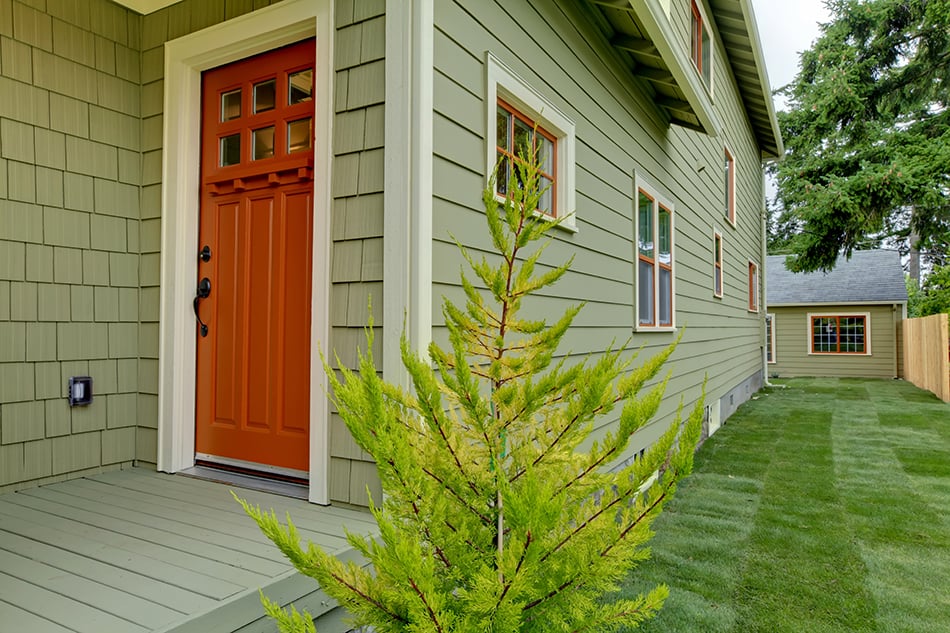 Orange is a striking hue that can help you achieve your exterior design goals. When matched with a green siding, this color can truly shine thanks to its energizing yet calming effects. Orange is the perfect mood-setter that draws attention instantly.
If you want your green home to stand out from the rest of your neighbors', then opt for a warm orange front door. The boldness of orange with the versatile green will look super chic as shown here. Whether you want to go all-natural or bold, orange is the color worth considering.
What Front Door Color Looks Good on A Sage Green Siding?
Sage green exteriors should be color-matched to the right trim and front door color. Since sage green is a light hue, use reddish-brown for your front door to complement the natural wood hue.
Oak brown is another shade that goes well with sage green. To go even darker, chocolate brown next to sage green will look captivating. Whichever brown shade you choose for your front door, the two pairings will make a balanced aesthetic look.
Conclusion
Choosing a front door color for a green home is essential if you want to maximize curb appeal and make a positive first impression to your guests. While green isn't exactly an easy color to design with, it can achieve excellent results as long as you select your front door color carefully.
Use our above suggestions to guide you and make sure you pick the relevant color according to the dark or light tone of your home's green siding.