Choosing the right front door colors for a blue house is an important part of a home's exterior design. After all, the front door is the main entrance of the building and, therefore, it is the place where people get their first impression. Any realtor will tell you the importance of front door color for maximizing curb appeal.
On a blue siding, the front door color is the make or break of the overall design of the house. Entry doors are focal points that draw visitors into the home, so you must think carefully about the color you opt for in order to make an inviting statement.
In this article, we will give you some tips on how to choose colors for your blue exterior's front door, as well as some great examples of our favorite front door colors.
Tips on Choosing a Front Door Color for a Blue Exterior
– To get the most out of your blue exterior, use contrasting colors for the trims and the front door. Pink, yellow, and red are contrasting colors to blue. This will prevent your entrance from fading into the background or looking flat.
– A bold front door color acts as a focal point of your entrance. To balance the level of bold colors, opt for light to medium hues in order to blend with the dark blue siding. This will create an even blend throughout the exterior and it's easy to achieve using analogous colors.
– If you want to move away from bold colors, any neutral hue will work with your blue siding. Classic neutral shades like gray, beige, and white next to blue will achieve great results. To add a little tint to the neutral color, mix the gray paint with blue before painting your front door. This blend will be muted enough to be considered neutral, but it is best not to add too much blue to the gray, otherwise, you won't get any impact from the color.
– Complementary color schemes are often used next to warm tones of blue. Reds, oranges, and yellows are considered warm tones, while purples are cool. Depending on whether you want your front door color to complement or contrast your blue siding, you must take into account the color wheel to see which works best.
To give you a better idea of the best front door colors for a blue house, take a look at our examples below:
8 Front Door Colors that Work with Blue Siding
Classic White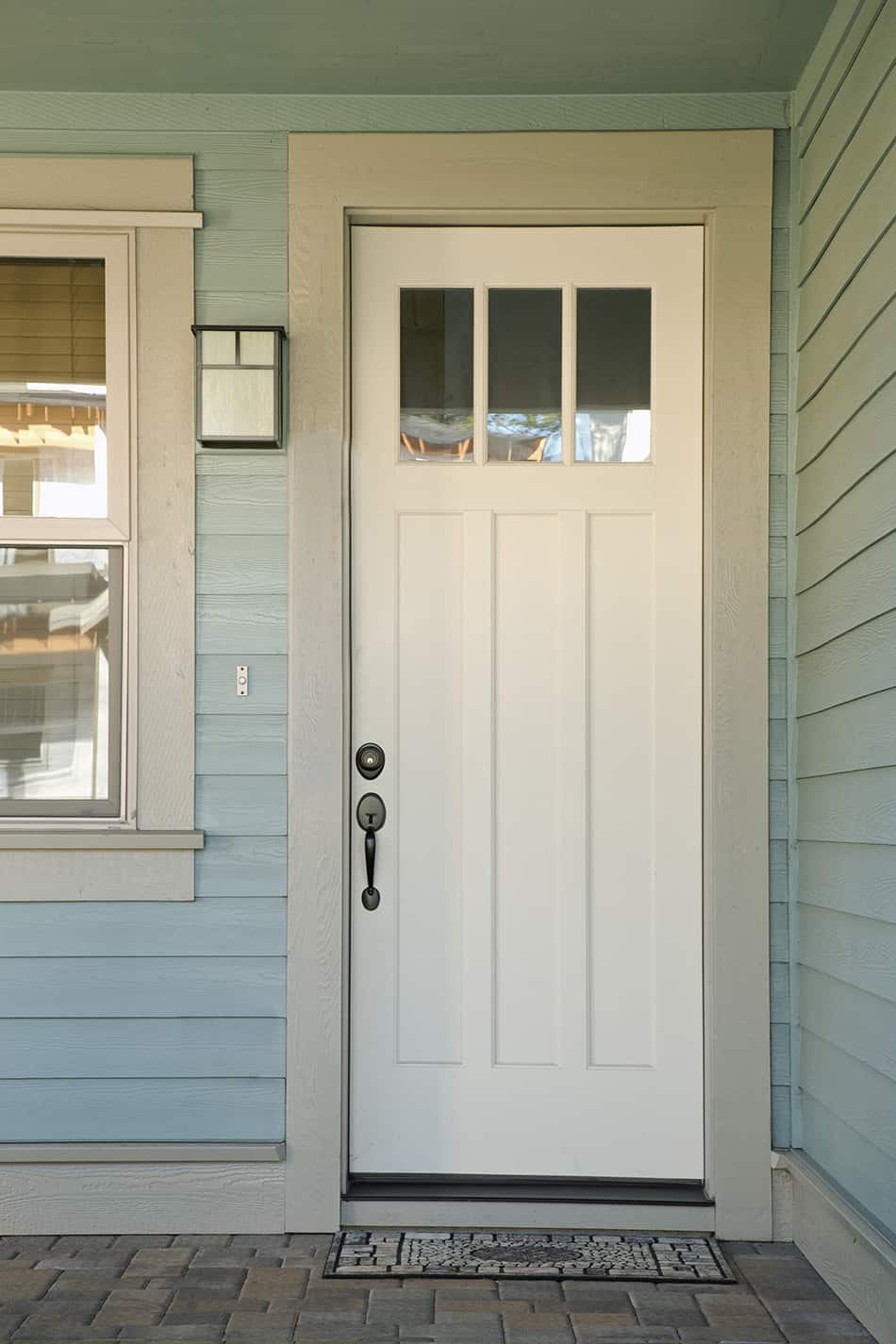 A pure white entry door next to a blue house is a classic color combo that works on any style of home. White columns or trims are a perfect addition to blue, and not forgetting the landscaping or porch plants for added appeal.
White is such a clean color that looks good with any other hue. The beauty of this color is its simplicity. A white front door is sure to stand out amongst your neighbors. Just add some black hardware for maximum impact.
In this example, the white front door is beautified with glass and light gray framing. The siding is light blue, which has given this house a rather coastal look.
Black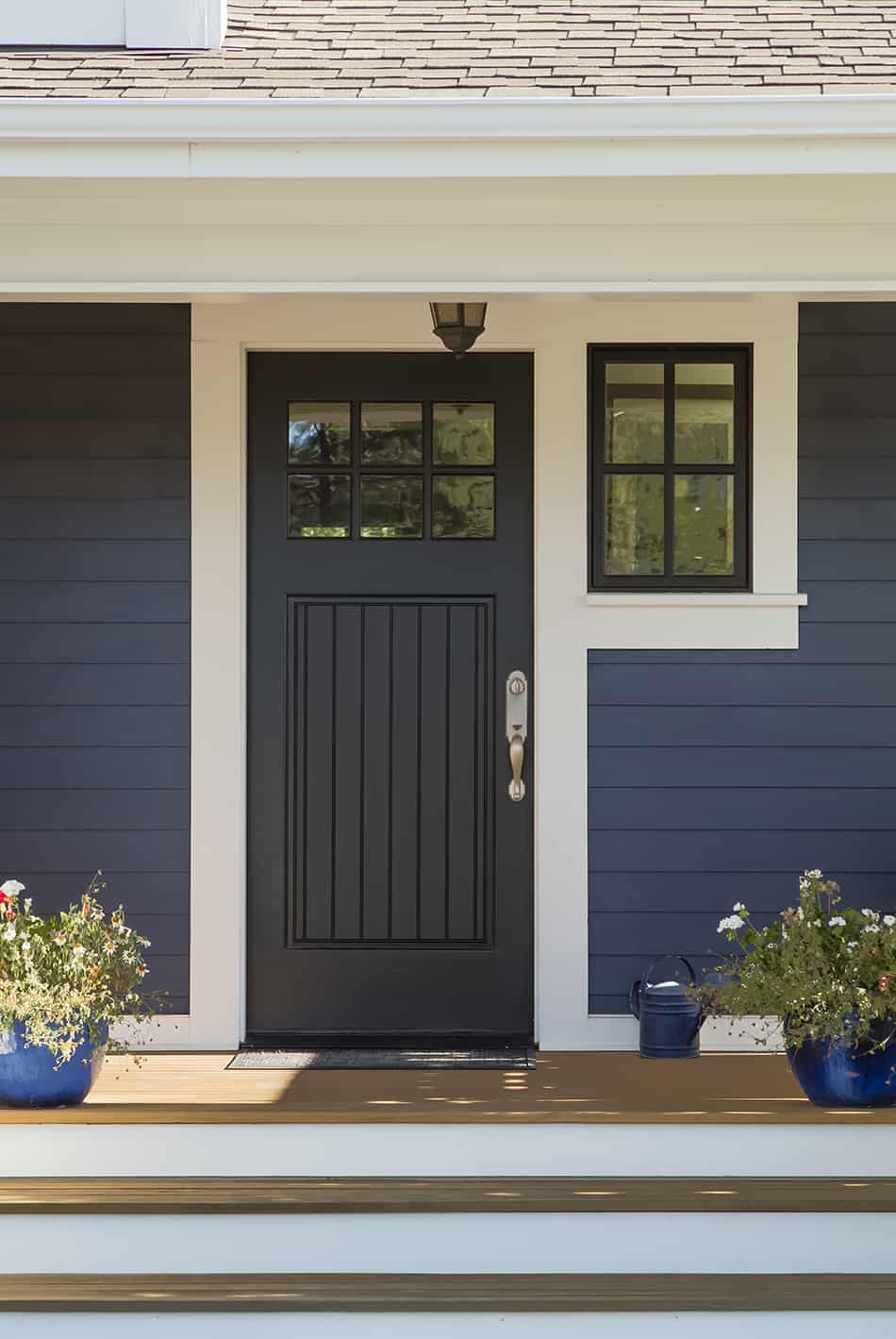 A front door with black color is a sign of solid energy. Black brings elegance and acts as a powerful, protective shield. A glossy black door paired with a blue house will look stunning as you can see in this example.
We love the exquisite black door accompanied by white trims and chic glass. The dark blue exterior of the house doesn't overshadow the black front door, but rather it enhances the beauty of the two color combos. This is thanks to the stark white trims that make the other two colors stand out beautifully.
Dark Gray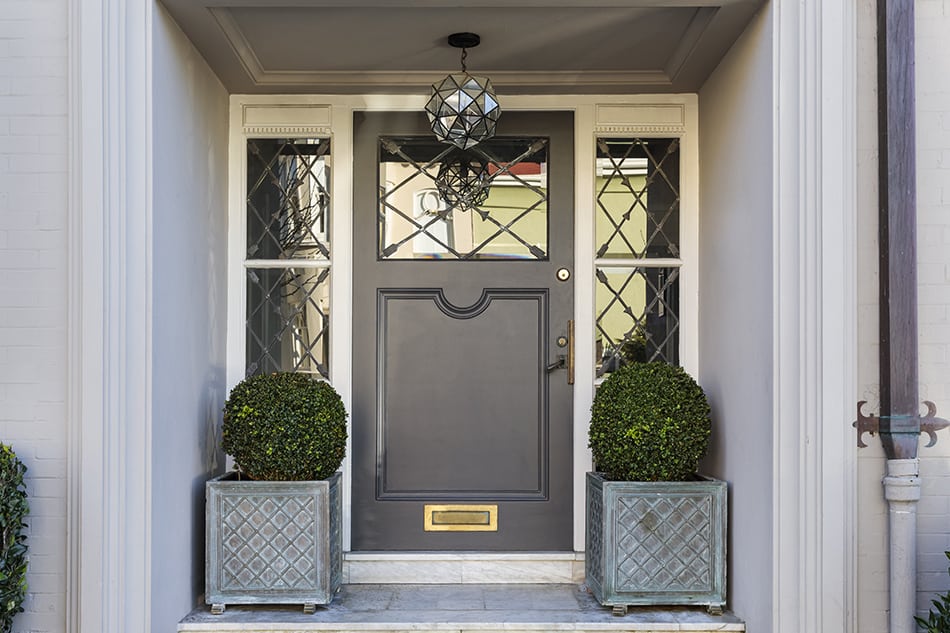 Gray is a no-fail neutral color that makes an ideal choice for a front door of a blue house. This classic color sets the tone and is versatile enough to make your entrance feel more elegant. Dark gray shades are the hot trend at the moment, and they just happen to make a perfect pairing with blue siding.
Perhaps the biggest worry for homeowners using gray for the front door is the risk of making their home feel gloomy. However, a dark shade of gray can add drama to any exterior, plus you can enhance the paint color by adding purple or blue undertones for added warmth. Dark gray surrounded by light blue siding and bright white trim will look stunning for the entrance.
You can maximize your dark gray front door by including patterned glass, as shown here. This house looks anything but gloomy, don't you think? The front door is a darker shade of gray in order to create a contrast next to light blue. You can achieve the same look for your front door by going one or two shades darker than your siding.
Bright Yellow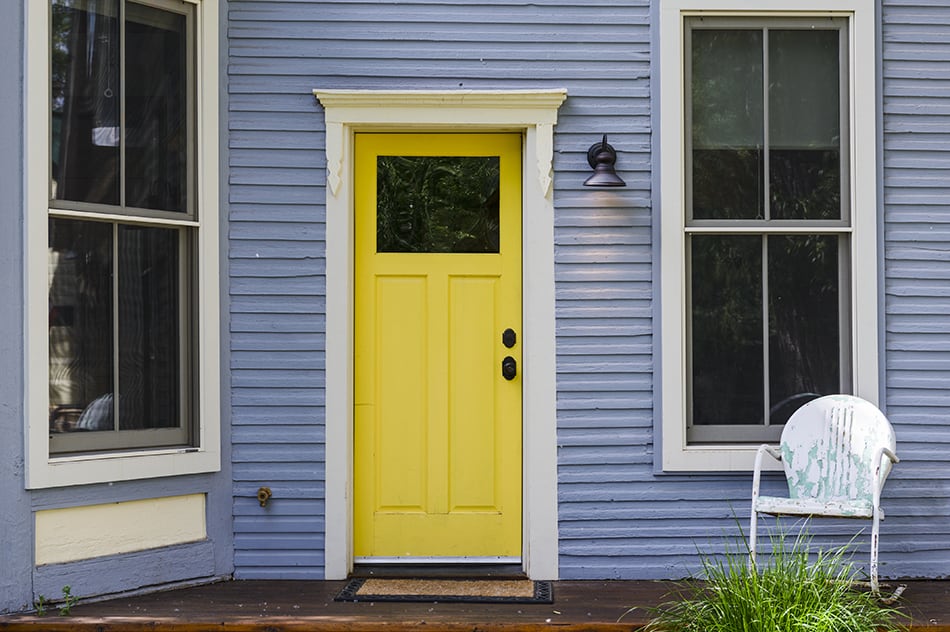 A blue house with a bright yellow front door is a unique combination as blue and yellow are contrasting colors. If you want your home to stand out, then yellow is the color to go for. Try using a soft shade for light blue siding and bold yellow for a darker shade of blue.
This vintage-style blue house is emphasized by its bright yellow front door. But the bold yellow doesn't overwhelm the design thanks to the white trims that have softened the look.
Brown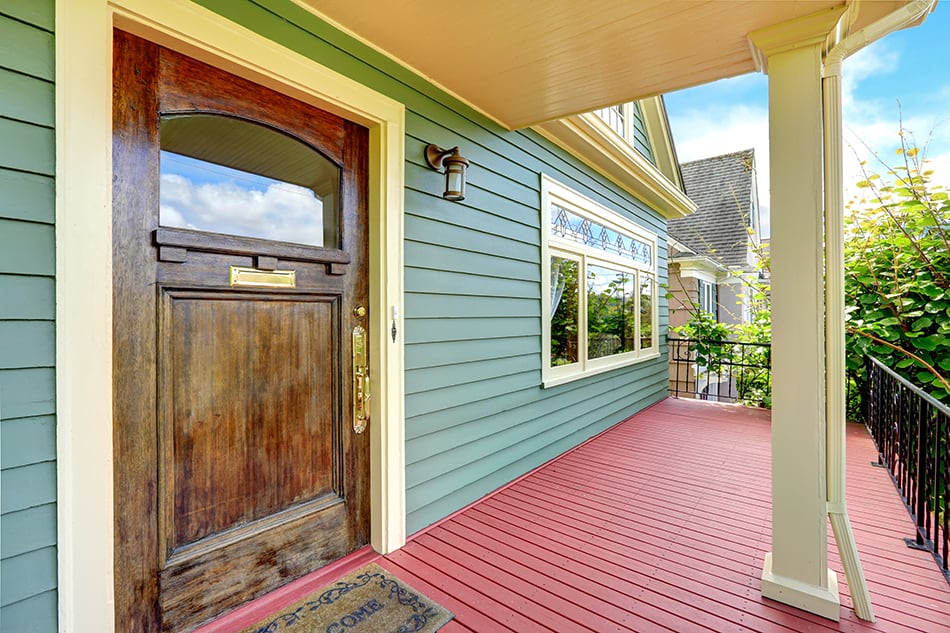 Brown is a safe color that never goes out of style. When combined with blue, the earthy tone brings a warm and cozy vibe to the entrance.
Whether stained or painted, a brown front door next to dark or light blue siding is the perfect choice for those who want to make their home look traditional. For the perfect door design, add some glass to the top part in order to allow natural light to brighten your home.
Natural Wood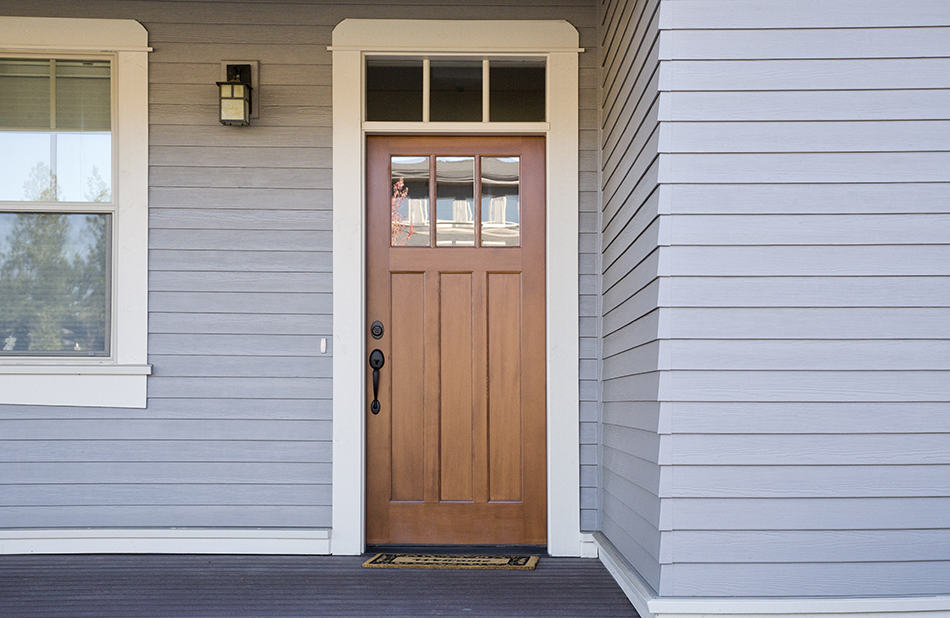 Natural wood boasts a rich quality, no matter whether it is stained or unstained. When executed properly, a natural wooden door adds drama to the entrance. Most homeowners prefer natural wood for their front doors, so if you have cool blue siding, it makes sense to add this natural material for warmth.
When using real wood for the front door of a blue siding home, it is important to create a sense of balance as well as contrast. Therefore, a mix of natural materials is essential.
This can include stone, wood, and even marble. Vary your trim elements and use white textures, especially if your siding is pale blue. Make use of interesting architectural features to make your entrance stand out.
In this example, the natural wooden door is enhanced by the medium blue siding and white trim. The addition of glass brightens up the house and goes perfectly with the rest of the exterior design.
Red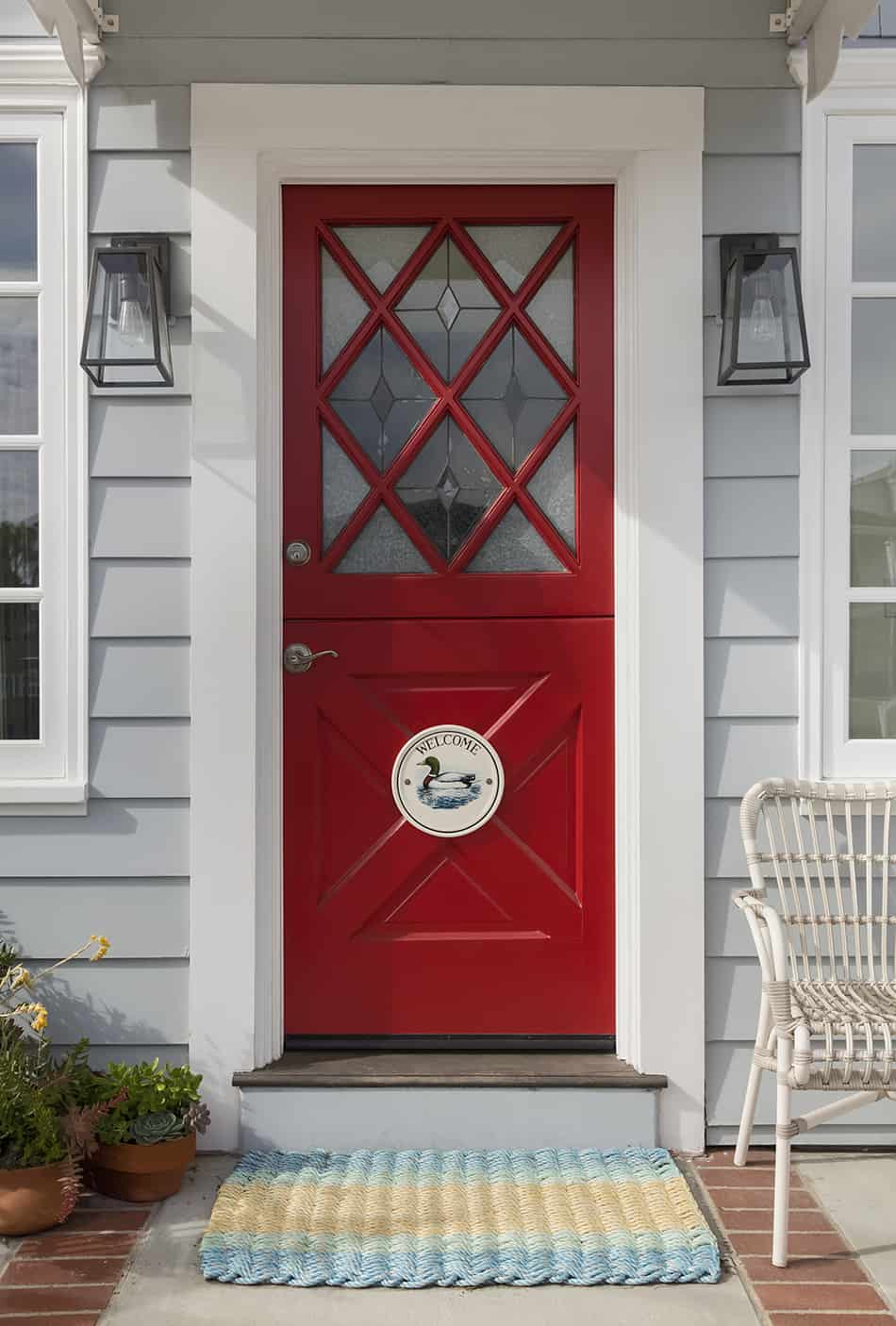 Red is rarely used for a blue siding's front door. Admittedly this is a bold choice, but when compared to other colors, it can really make your entrance pop.
Why not show your adventurous side by combining a red front door with pale blue siding? Make sure both colors have a monochromatic tone to make the entrance pop out. The use of glass will tone down the bold red, especially if your front door contains stained glass.
When pairing red with light blue, throw in some white elements or trim to make your entrance look even smarter. The white, blue and red color scheme will no doubt go out of style. These colors will look great on wall paneling, stone, or cladding. Red is, after all, a color associated with energy and power, so it makes sense to pair it with pale blue, as shown here.
Blue
Who said you can't choose the same color as the siding for the front door? To highlight your exterior, however, it is best not to match the same shades of blue. To emphasize your front door, go one shade darker to change the tone.
Deep blue has lots of pigment so if you want a colorful blend, pair it with a pale blue siding. Whether your home's exterior is of natural stone, vinyl, wood paneling, or any other material, a blue front door next to pale blue siding will work beautifully.
In this example, the Mediterranean-style home is highlighted by its darker shade of blue for the shutters and front door. The porch looks inviting and warm thanks to the addition of plants and blue furniture. Each element here has added value to the exterior design of this house, which has further defined the rich blue coloring of the front door.