Decks are an important part of a home's exterior design as they allow us to enjoy the outdoors with loved ones. When you have a beige house, choosing a compatible deck stain color may sound a little tricky, but with the right combination that goes with your exterior trim and details, you can boost your home's curb appeal.
Since beige has a neutral and light appearance, you should think of picking vibrant deck colors to complement your home.
Browse through the following deck colors that go with a beige house right here:
Best Deck Colors for a Beige House
Colorless Stain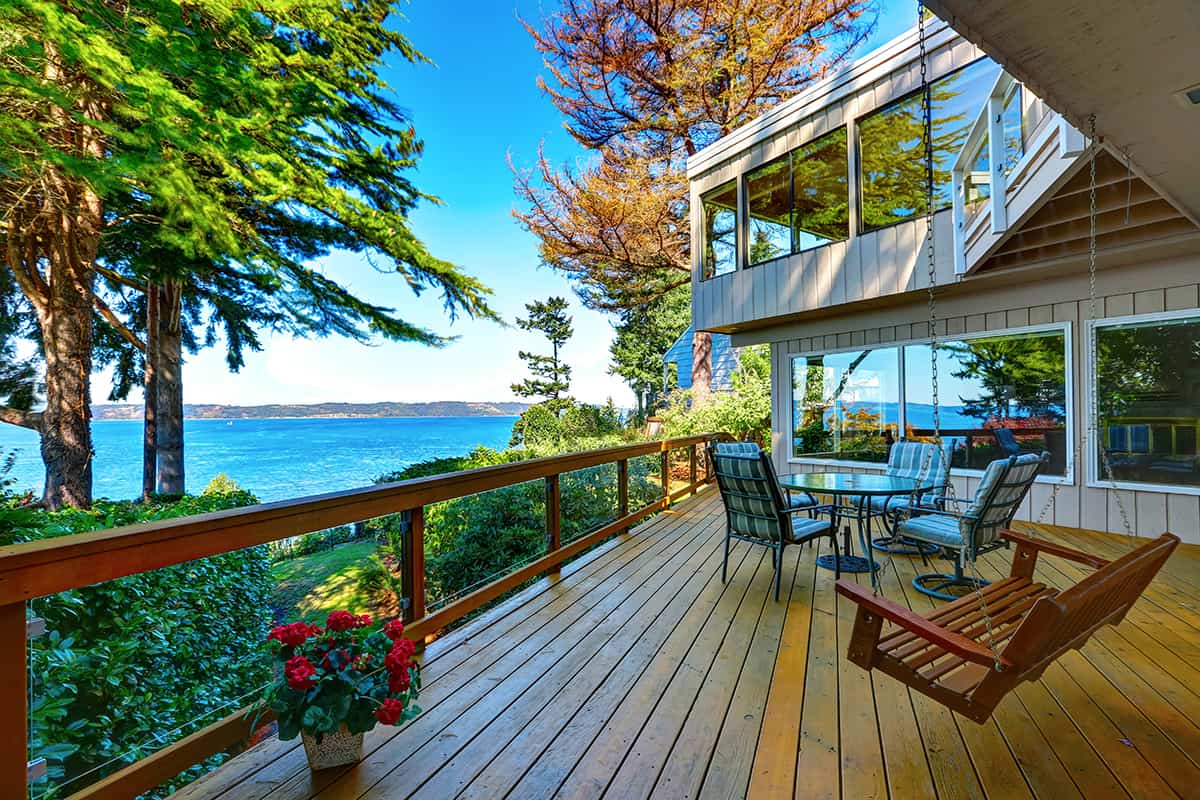 Sometimes you don't actually need to paint your wooden deck to make it stand out next to your beige house. A transparent stain is all that's needed to showcase the wood grains in your deck. Whether your deck is made of redwood, mahogany or cedar, a colorless, glossy stain will enhance the natural beauty of the wooden deck.
But it's not just the aesthetics of the wooden deck that you can enhance with a transparent stain. Colorless stain helps protect the wood's inner surface by sealing it against harmful elements like the UV rays of the sun, snow, rain, and heavy foot traffic.
This idea is perfect for homeowners who can't decide on the right deck color for their gray houses, beige houses, or any other colors, as there is no need to change the color in order to match it with the siding.
Other advantages of choosing a transparent stain for your wooden deck include saving you money in the long term, especially if you have invested in high-quality, expensive wood and wish to highlight its natural beauty. You only need to apply the transparent stain on the wooden deck every two years or so.
Gray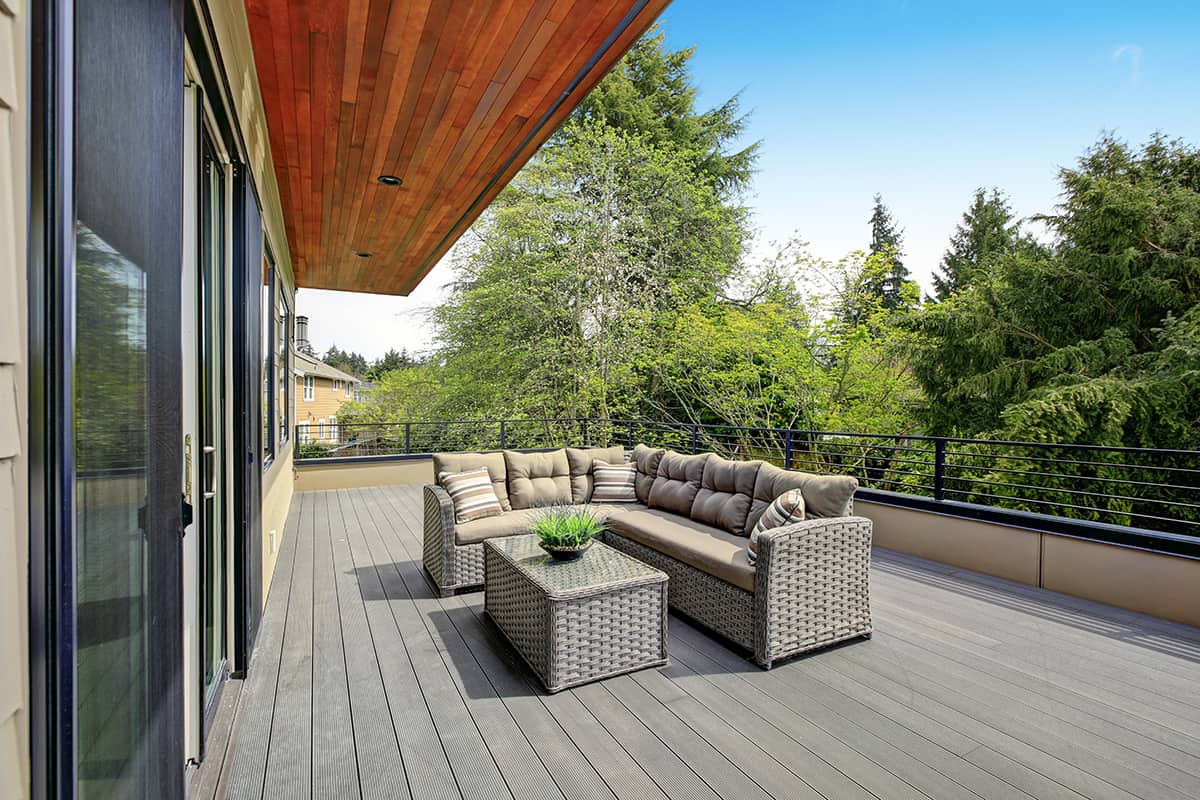 For a little color, how about a modern gray stain? This is an excellent option for beige homes as gray decks are ideal for contemporary-style homes. Whether you choose a soft or dark gray stain for your beige home, this color can bring a modern edge to any exterior.
A light gray deck stain with matching outdoor furniture, for example, is a well-coordinated design for a beige house as you can see in this photo.
Smoke Blue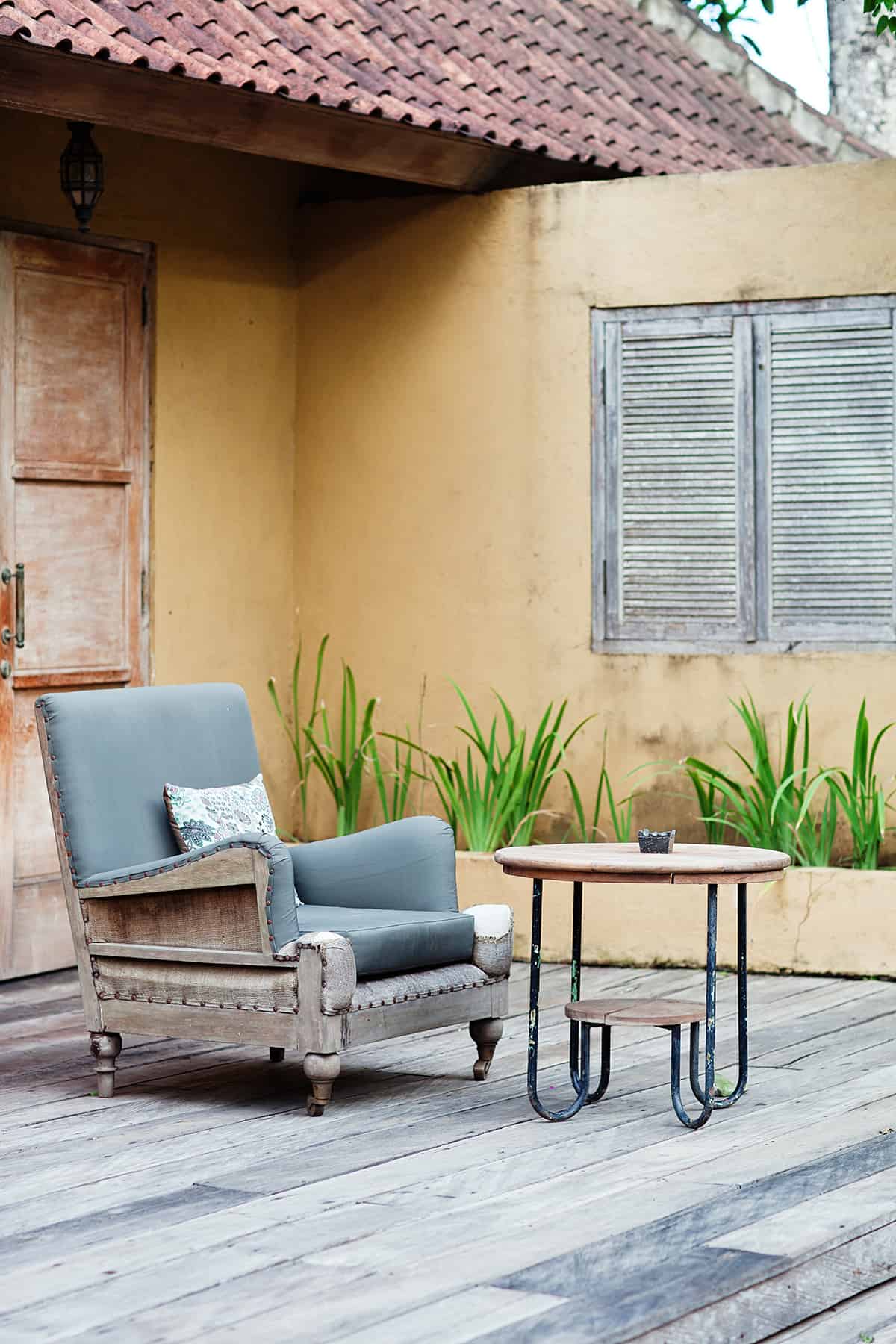 For those who want to keep the focus on the fine wood grains of their deck rather than their beige house, we recommend a semi-transparent smoke blue stain. This attractive color doesn't detract from the beige home's beauty, but still highlights the deck.
The smoke blue's subdued tone is especially desirable on distressed or aged wood. This stain color will invigorate the wood's appearance without compromising its rich textures.
In general, all blue stain colors for decks inject life into the weathered wood. Blue is a beautiful color that reminds us of coastal homes. If you want your wooden deck to shine without overwhelming your beige house, a pale shade of blue like the one we mentioned is the ideal color palette.
Just a small dose of smoke blue stain on distressed wooden decking helps refresh the aged wood. Smoke blue is easy on the eye and you can really see its rich detail on the deck's boards. As per our example here, this deck stain feels so welcoming that you'll want to lounge on the deck all day and enjoy the sun!
Taupe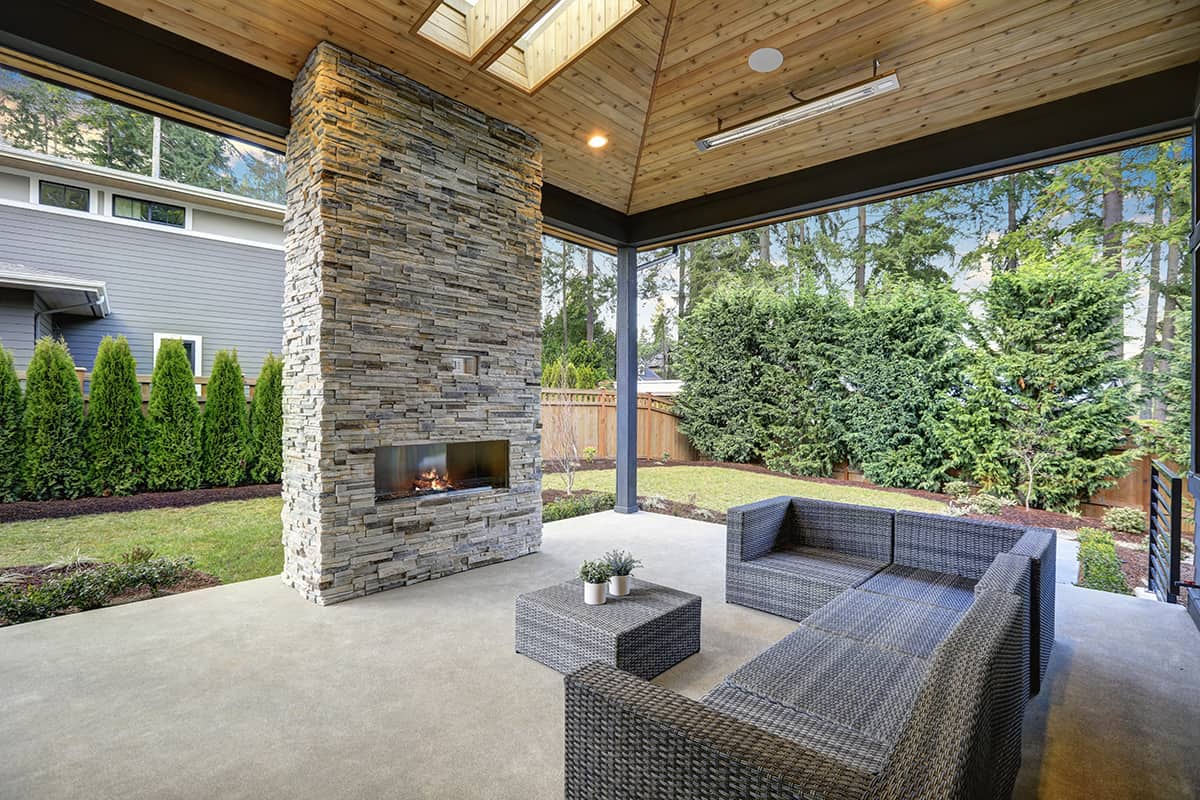 Beige is definitely a color that goes with taupe, which is a close contender with beige. But rather than choosing a matching deck color, taupe makes a better option. This color has hints of brown and gray, which are perfect for wooden decks. Since taupe is an incredibly versatile color, it blends very well with a beige exterior.
We love the calm, cool feel of this deck stain color as it can be complemented with any exterior decor. What's more, taupe can easily blend into the background instead of taking the spotlight from your beige home.
Vibrant Red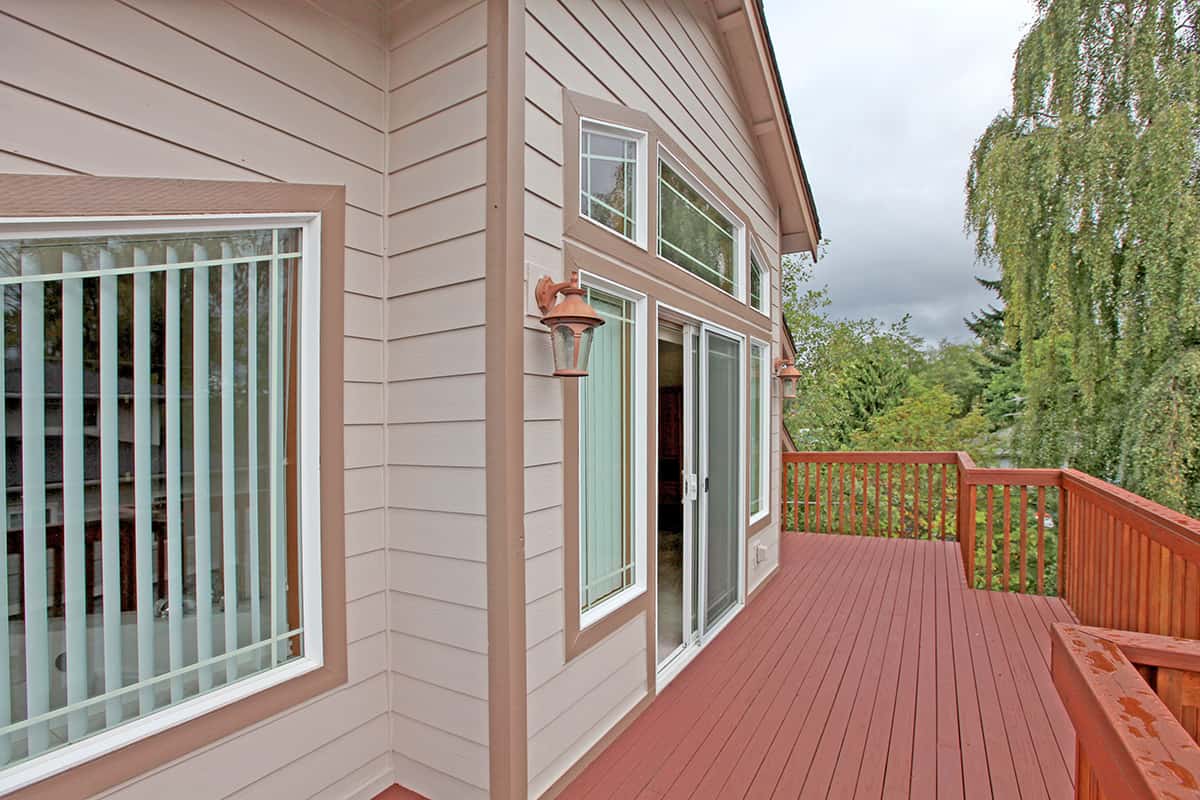 Vibrant red decks are the more dramatic option for a beige house. A fiery, warm shade of red with orange or brown hues is ideal for mahogany or cherry wood decking as it makes your outdoor seating area feel inviting.
Red is an excellent option for anyone seeking a bold deck stain color. This vibrant color pairs well with light beige, sand and brown, without overpowering the outdoor space.
This exciting color choice for your beige home's deck provides a striking contrast to the neutral backdrop. Another reason why we love red stains for wooden decks is its cheery party vibe that's likely to attract visitors to your home in summer.
The vintage aura of red invokes a rustic cottage setting, so if you have a traditional style beige house, pair it with crimson, cherry or burgundy red wooden deck. This color palette design showcases the wooden deck, while helping the beige exterior shine in the background.
Black
For a sleek, contemporary exterior design, why not paint your wooden deck black. A stark black wooden deck is sure to shine next to your beige house, especially if it's surrounded by natural greenery. Pair the black wooden deck with sand toned furniture and white railing to brighten up your outdoor seating area.
Dark Brown
A deep shade of brown is another bold choice for a beige home's wooden deck. If you're not too keen on stark black for your outdoor space, but you still prefer a dark shade for the decking, then dark brown might be the right choice for you.
Chocolate brown or cocoa is a warm and inviting shade to upgrade your beige home's deck. Brown mimics the effect of natural wood so it makes sense to use this color for your beige exterior. Dark brown deck gives any outdoor space a modern feel, especially when accentuated with black metal furniture and white railing.
Is it Better to Spray Paint My Deck or Use a Roller?
Spray painting your deck is by far the easiest and most convenient way to ensure all the hard to reach areas are covered. Spray painting hides the cracks or crevices on the surface of the deck, whereas a roller wouldn't completely cover the corner spots.
So if you are going to use a spray paint device, make sure you keep it on low pressure and as close to the wooden deck as possible.
Can I Stain or Paint My Deck the Same Color as My House?
When coordinated well, deck stain colors can help boost your home's outdoor space and increase visual interest. Choose the wrong color and your home could end up looking odd or mismatched.
If you wish to stain or paint your wooden deck the same color as your home's exterior, the outdoor space around your home can appear more spacious this way. Keep in mind that deck colors should either contrast or complement your home, but the idea is to draw the eye to the deck.
We recommend against choosing the same color deck as the house as you'll want your wooden deck to stand out. Consider choosing a darker deck color than the home's exterior.
There is also the material of your deck to think about. Composite or concrete, for example, can't be repainted so you won't be able to easily change the color. Wood, on the other hand, can be stained any color you like, thus providing the best option for those who are tired of their deck color and want to refresh it with a new coat of paint.
Conclusion
A fresh coat of stain or paint on your wooden deck can bring it back to life and add shine to the exterior of your beige house. A deck is a useful outdoor feature of a backyard as it's primarily used for partying, barbecuing or simply relaxing under the sun.
When you're deciding on the best deck colors for a beige house, consider whether you want to draw attention to the deck or the house. Bold stain colors will make the deck stand out while neutral shades keep it in the background and provide a cohesive design. Also, take into account the deck's surrounding landscape as this can also influence your color choice.
For example, a colorful landscape goes well with red or blue deck stains, while a mostly green landscape can be paired with a neutral deck palette, such as gray or brown.
Additionally, if your wooden deck is directly connected to your home, you may choose the same color as your indoor flooring. Use our above ideas and tips to create the perfect deck color palette for your beige house.