Patios come in all shapes and sizes to meet the needs of the occupants of a property and to suit the size of both the home and the backyard.
Here we will look at some common patio sizes and what you need to consider when deciding on the size and shape of your new patio area.
A patio can range from a small (6′ x 6′, 8′ x 8′), medium (10′ x 10′ and 14′ x 14′) to large size (>16′ x 16′) depending on how many seaters, and how many furniture sets you want to accommodate.
Common Patio Sizes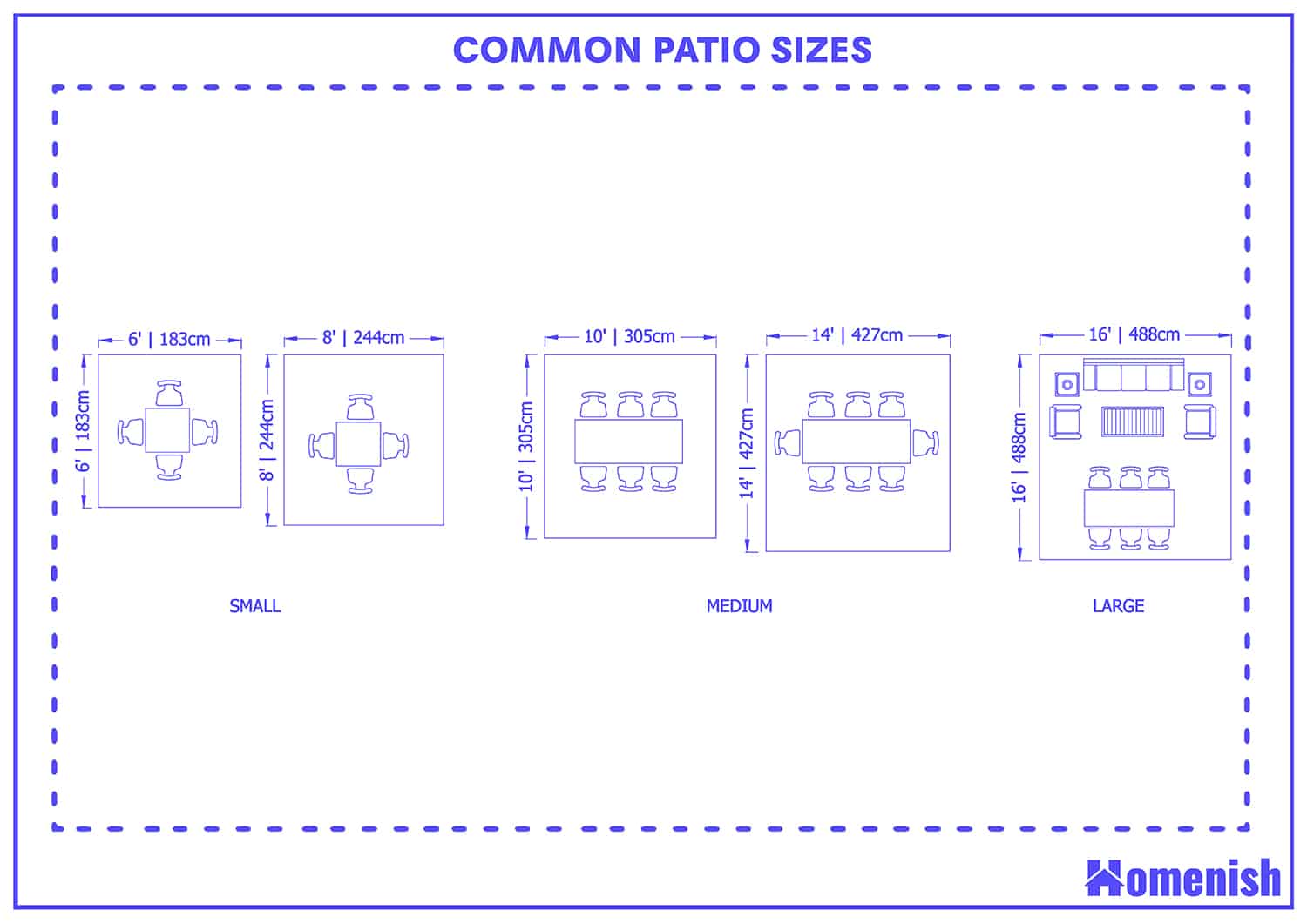 Small
A small patio will be between 6 x 6 feet and 8 x 8 feet. This size of patio can usually accommodate a bistro set or a four-seater dining table.
Medium
A medium-size patio will be between around 10 x 10 ft and 14 x 14 feet. You can accommodate a large dining set on this type of patio, which will seat six to eight people, or an outdoor living room set.
Large
A large patio is any size over 16 x 16 feet. This can accommodate a chunk lounge set with chairs, a sofa, and a coffee table and could also have a bistro set positioned to one side to make a separate dining area.
Considerations for a New Patio
When you are building a new patio, you should think carefully about how big or small you want it to be because the size of it is going to be the biggest factor in determining how you use the space.
If you are demolishing a current patio or upgrading old rotten deck boards for new deck boards, there's nothing to say that your replacement patio has to be the same size as the original patio. This is your opportunity to build a patio that works better for you and your family.
Furniture
If you already own outdoor furniture that you want to have on your patio, then you should measure how much room this furniture occupies and ensure that your new patio is at least a little bigger than this. If the furniture is a dining set, then bear in mind you will want enough space around the edge of the furniture to allow you to pull chairs out to sit on without the chair legs falling off the side of the patio.
If the patio is raised above the level of the backyard, then this could cause a hazard if anyone slips over the edge of it, so you'll want to make sure there is adequate clearance around the furniture to allow people to move around it. The placement of your furniture is also going to help determine the size of your patio. For example, if you have a corner outdoor sofa, then you will want to make sure there is a suitable corner on the patio that you can tuck the furniture into.
Use
What you want to use your patio for can affect the size. If it is going to be a space to grow potted plants, then it may not need to be very big, but if you want a patio area for outdoor grills and entertaining guests, then it will need to be a significant size.
Think about what you are most likely to use your patio for and work around this idea. If you want a sun deck, then you will need to have enough space for a few sun loungers, or if you intend to host parties, then you might want your patio big enough for people to gather on.
Family Size
The size of your family, and therefore the number of people who will be using the patio on a regular basis, will help you determine how big your patio needs to be. If you live alone, then you may want a small and peaceful patio with a bistro seat to enjoy your morning coffee or read a book. If you have a large family, you might want to be able to seat everyone outside on a 6 seater dining table, which will take up much more space.
Guests
If you are a frequent entertainer, then having a patio that can accommodate your friends might be important to you. Calculate how many people you would expect to have on your patio at any one time, and think about how much space this would take up if everyone had a seat.
Size of Home
The size of your home should be proportional to the size of your deck in order for it to look appealing. For a large property, a tiny deck would look a little strange, so opt for a medium or large deck. For smaller homes, proportion is not such an issue, and you can go for any sized deck as even an oversized deck will look good on a small property.
Size of Yard
The bigger your patio is, the smaller your lawn will be. Plan out what you want to use your yard for, and then portion it up accordingly. If you aren't a big fan of gardening and prefer a low maintenance yard, then a patio that takes up most of your backyard will be suitable; however, if you have young children who like to run around and play in the backyard, then you might want to keep your patio smaller so that they still have adequate space leftover.
Patio Types
The furniture you choose will determine what type of patio you have.
Dining Patio
A dining patio will have a full-sized dining table with four or more chairs, ideal for dining outside.
Living Area Patio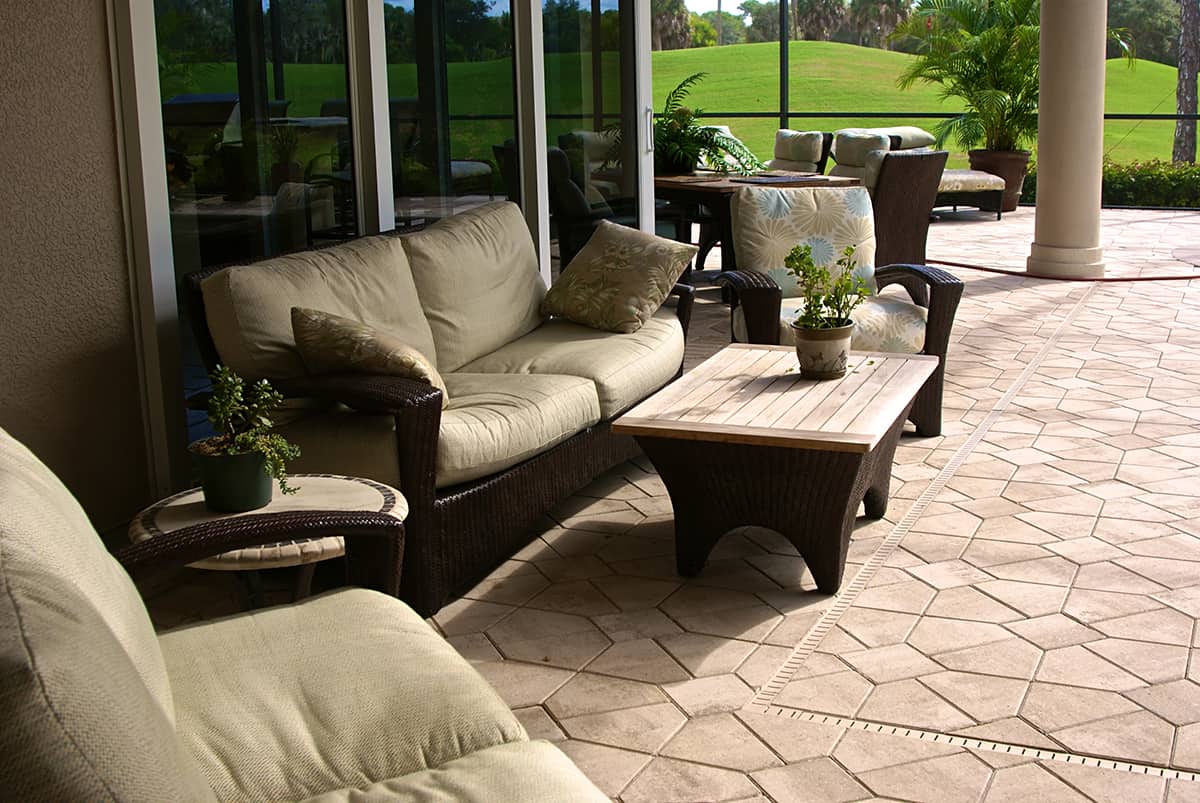 If you prefer to spend your days lounging outside, then a living area patio with a sofa and chairs would be ideal.
Sundeck Patio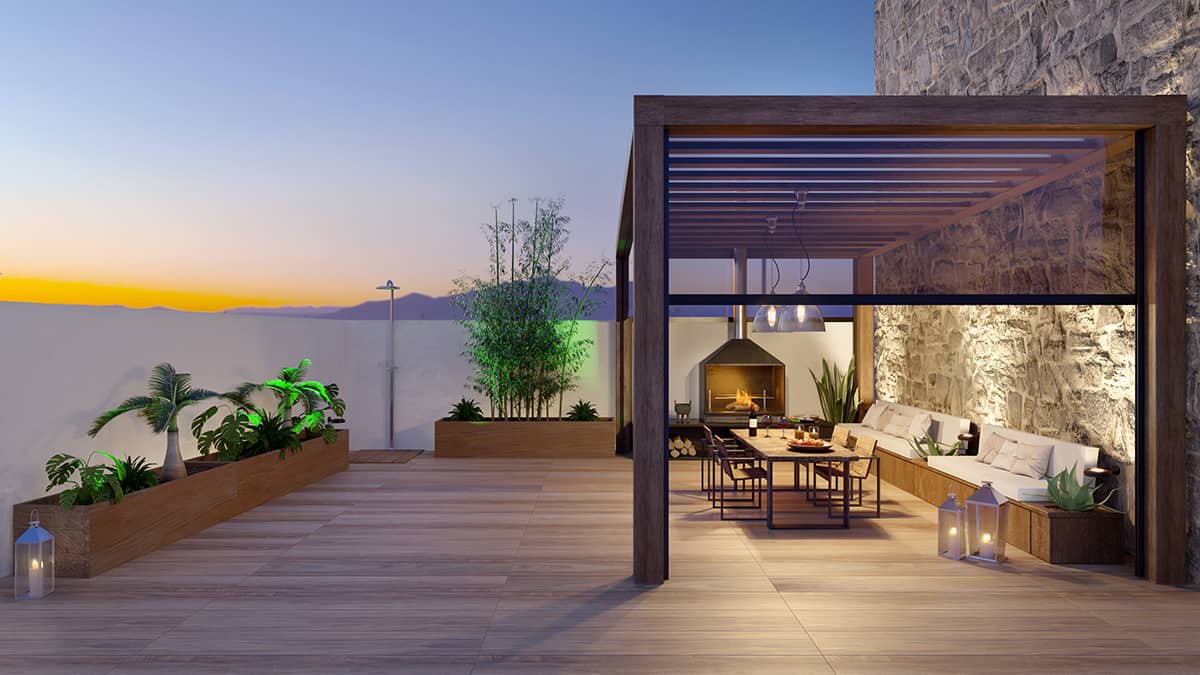 A sundeck patio is great for anyone who likes working on their tan and enjoying some vitamin D. You will need a few sun loungers lined up on your patio for this.
Bistro Patio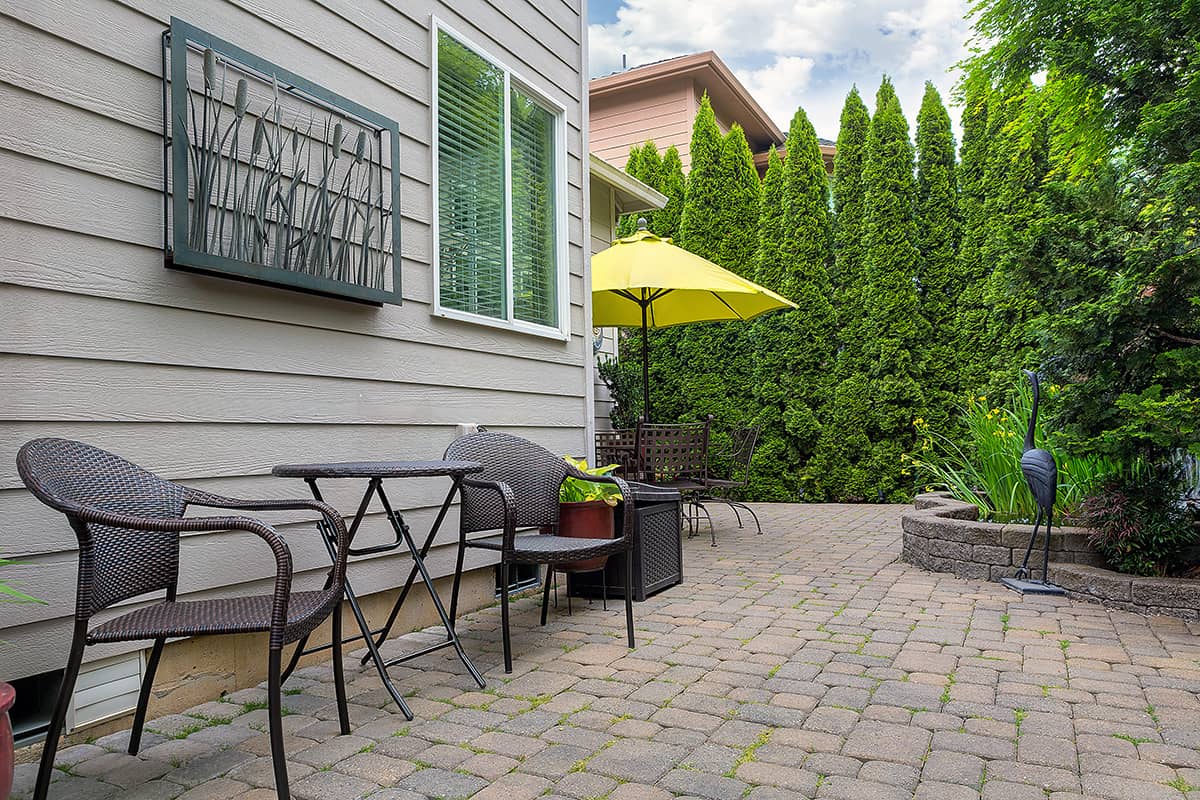 A bistro patio is usually a smaller type of patio which has a bistro table and two chairs, ideal for smaller families to enjoy lunch or sit outside with a book.