Painting your walls cream may come across as a simple decorating option, but it doesn't mean you can't make them stand out. Cream walls can serve as a stylish backdrop to window treatments thanks to the cream's soft color. This means you can easily pair the neutral color with other tones to make it pop.
If you are trying to decide on the best curtain colors for cream walls, you've come to the right place. Let's take a look at our favorite picks of the right color curtains you can try with your cream walls.
Curtain Colors that Work with Cream Walls
Brown
Since brown is a similar color to cream, it makes a fabulous pairing. Whether you choose chocolate, coffee, or light tan as a brown shade, your curtain will certainly look beautiful next to cream walls.
In fact, any shade of brown will draw the eye instantly to the room's size. In large living rooms, both dark and light browns are appropriate for cream walls. In small bedrooms or living rooms, on the other hand, it is best to stick to lighter shades of brown like caramel or cappuccino in order to keep it more neutral.
A mid-tone shade of brown like a golden brown curtain is another great color choice that matches cream walls. Brown and cream help create a seamless appearance and add visual interest. To take it one step further, go for floor-to-ceiling length curtains in luxury velvet or satin.
White
For an airy and clean look, how about crisp white curtains for your cream wall pairing? Just like brown, white curtains soften windows and create depth, but they also allow adequate natural light to enter the room. White curtains open up the living space and easily fit into any interior decor.
Sheer white curtains are transparent and emit light and airy aesthetic, even though they don't provide much privacy, thus making them suitable for living or dining spaces only rather than bedrooms. Nevertheless, sheer white curtains bring a layered softness to any living space, especially if you hang longer-length curtains in order to add extra height to your room.
White is among the safest curtain colors that go with white walls, cream walls, and any other walls. You may consider this color pairing if you want to make your living space appear larger and brighter.
Soft Blue
Cream is such a versatile wall color that it is highly compatible with solid colors as well as neutral hues. If you love subtle cream tones, why not enhance the walls by adding a soft shade of blue curtain to the decor.
Azure is one such shade that maintains the hazy look while displaying a visual contrast to cream. When picking your pale blue curtains, you can go with turquoise, sea blue, aqua, and just about any other soft blue shade to go with your cream walls. The choice is unlimited!
Grey
Grey is a versatile, subtle color that can be used in any room. Grey curtains add sophistication in a neutral setting so it makes sense to combine them with your cream walls. This timeless color can be a tone darker or lighter than your cream walls so as to draw the eye to the windows.
Green
As a solid curtain color, most green shades like emerald, mint, or sage work in perfect harmony with cream walls. This surprisingly elegant composition is especially popular in minimalist and traditional interior styles.
Yellow
Neutral shades go very well with bold colors. Yellow is one such color that will brighten up your neutral interior. A cheery dose of this color for the curtains will instantly brighten up the entire space and make a smart color pairing with cream walls. If you want to tone it down, go for mustard yellow as it's not too bright like lemon. This subtle shade will help settle down the cream-colored walls while brightening up your dining or living space at the same time.
Pink
Pink curtains might sound like an odd choice, but did you know pink goes beautifully with the lightest shade of cream walls? Rose pink is a good choice as it's a sophisticated looking shade that's been in trend for many years. Other attractive pink shades include fuchsia, coral, begonia and purple pink, which look harmonious next to light beige. On the other hand, if you have cool cream walls, interior designers recommend avoiding warm pink hues as this combination would be a big clash. That said, a neutral wall shade and bold color curtain combo will create a soft contrast between the cream and pink.
Gold
Metallic shades like gold or silver are precisely selected for warm, cream walls. In a vintage setting, this color combo will enhance the room's elegance. The saturated golden tone of the curtain can absorb the faded cream hue, and to achieve balance, give preference to the lightest gold shade for your curtain. Another tip when choosing gold curtains for your cream walls is to hang full-length drapes as these enhance the sophistication of the interior further.
Cream
Cream walls with cream curtains have never looked better. The only thing you must bear in mind is to go for a shade darker or lighter than your walls. Satin or cotton cream curtains are a perfect choice so feel free to experiment with different materials to get the right feel.
Red
Red is another bold choice and an excellent partner for warm cream walls. A warm shade of red like burgundy or cherry red makes a great pairing with cool cream walls.
Purple
Another attractive curtain color is a rich purple shade. Whether you like mauve, lavender or royal purple, your cream walls will certainly serve as a backdrop to this beautiful shade. Don't be afraid to play with patterns and prints for a discreet touch of luxury. Floral curtains in shades of purple make a particularly great choice!
How to Coordinate Curtain Colors with Your Cream Walls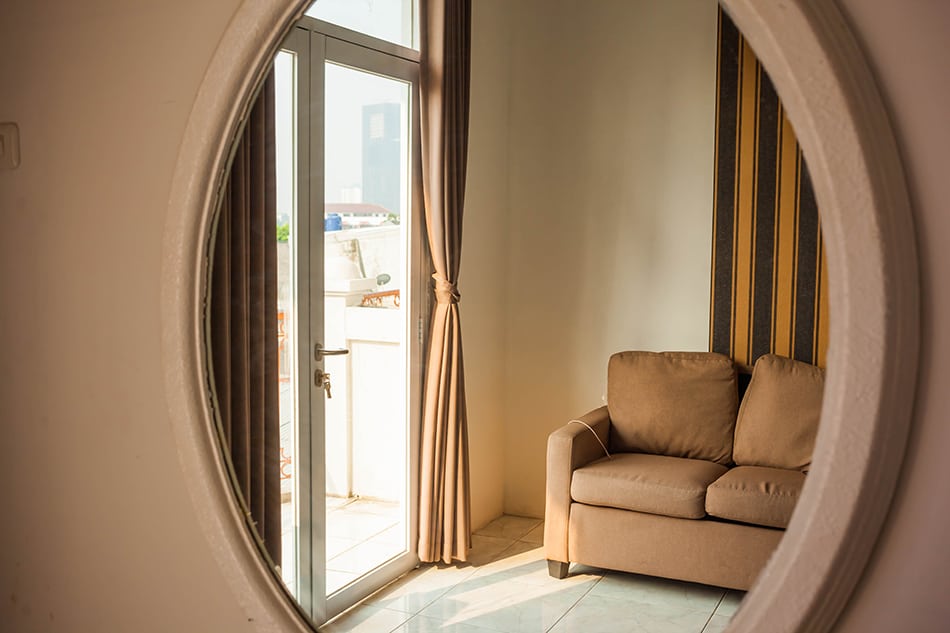 Since curtains and walls sit side by side, it is important to harmonize their colors to achieve a cohesive and beautiful look. While there is no right or wrong when it comes to choosing colors, it all comes down to your own decorating taste. That said, use the following tips to guide you along:
– Repeat the same wall color scheme: to create a cohesive look, either opt for the same shade as the walls or blend the curtains and walls together to make your living space appear bigger. This way, you'll have a variety of choices for adding accent colors in your room. What we mean by saying go for the same shade is to choose a lighter or darker cream shade for the curtains.
– Go monochrome with bold colors: when you think of monochrome, black and white may pop to mind, but it can also refer to just one color. Although classic colors like cream and white stand the test of time, solid curtain colors like green, red or blue will make your cream walls more noticeable.
– Use complementary colors: these are directly opposite of each other on the color spectrum. When you have cream walls, it is best to choose a complementary pattern or color for the curtains. For example, white or beige curtains work very well with cream walls. Similarly, purple and yellow are other complementary curtain colors that go with cream walls. Although these solid colors can come across as a little too intense next to cream, the secret of successful coordination lies in the fabric of the curtain you choose. For example, linen curtains in attractive green and red patterns will be the ideal option next to cream walls. Alternatively, you may opt for cream, patterned wallpaper with a solid curtain color from the complementary color wheel.
– Play with contrasting colors: cream walls provide the perfect opportunity to experiment with two-tone curtain colors. You can go with two tones lighter or darker than your walls by using contrasting hues. This will certainly make your interior stand out, with your curtains as the focal accents.
– Introduce texture: Make your cream wall more interesting by adding textures on window treatments and other accents. By using shades that match the color of the wall to the textures, your decorating mission will succeed. Additional features like bamboo or wooden furniture in cream-toned textures will also add depth to such rooms. To highlight your cream wall color, go for a pale shade as it will frame the light curtain colors. For a more vibrant feel, either use textured white curtains or floral ones to create a stylish and fresh feel.
Conclusion
Cream walls evoke harmony and peace in any interior-style home. There are unlimited possibilities when it comes to pairing your cream walls with curtain colors. Since the cream is a neutral tone, it provides the perfect backdrop to lush and elegant curtains. Use our curtain color ideas to help you choose the right one for your cream walls.