From charcoal to ash, and anchor to steel, there are more than 50 shades of grey you can choose for your wall color. Choosing the right curtain type and curtain colors is just as important to transform your living space. Grey is a trending wall color that adds an edgy and timeless look to your living room, bedroom, and just about any other room of the house. Many home interiors incorporate this neutral shade into their furnishings. But when it comes to picking the most suitable curtain colors for grey walls, you have plenty of options depending on the vibe you're going for. Here are 13 curtain color ideas for grey walls to help you get started.
1. White Curtains on Grey Wall
For dark grey walls, there is nothing more beautiful and luxurious than white, crisp curtains. White may feel a little cold but when it's used on a warm grey base, it can add texture and make the room feel inviting. The trick is to hang the curtains from a higher point of the window to give the illusion of space.
These semi-sheer white curtains work perfectly in bedrooms, kitchens, living rooms, and kids' rooms. Since white is a neutral color, it goes with any background color. See how the eye is drawn to the white curtains against the medium tone grey wall. A room with these curtains will look much brighter and elegant.
2. Charcoal Grey Curtains on Medium Grey Wall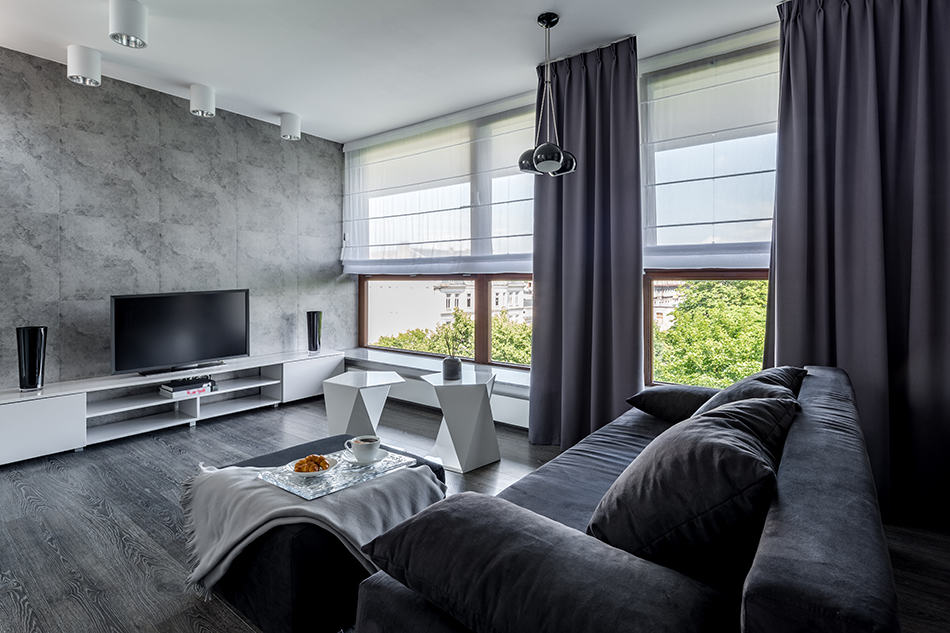 Textured grey walls work as a great complement to matching curtain colors. In this example, the charcoal grey curtains look luxurious next to the dominantly grey walls and furniture. The vibe in this living room is modern and classy.
3. Grey Curtains on Light Grey Wall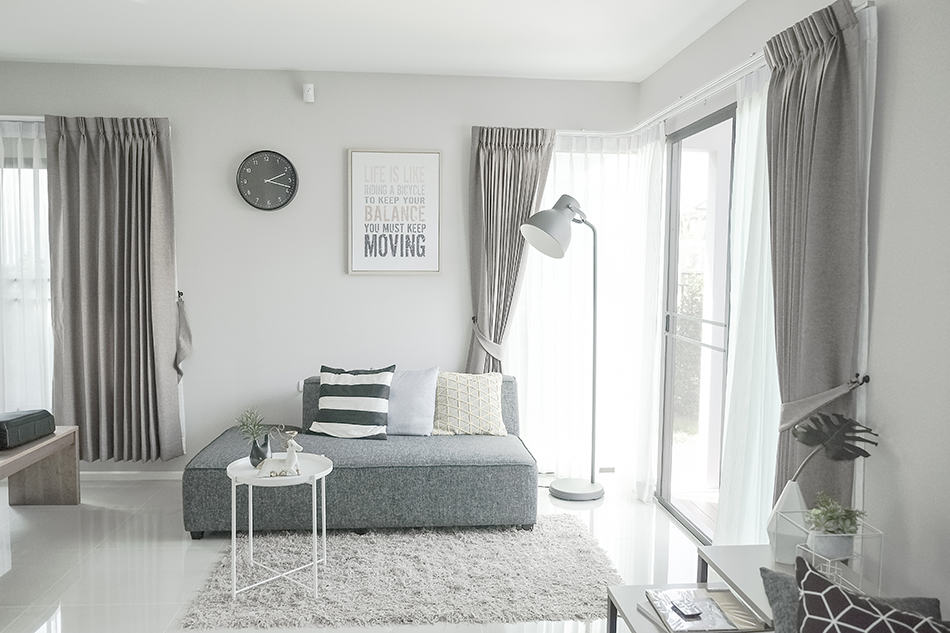 Light grey walls can also benefit from light grey curtains. Grey is an excellent neutral tone that gives the windows a simple and timeless look. Here the grey curtains are one shade darker than the walls, hence the reason the room looks so beautifully textured. For a monochromatic interior design scheme, remember to keep it neutral by combining two shades of grey with white and grey furniture as shown in this example. I'm sure you agree how harmonious this living room feels with the blend of greys and whites.
4. Beige Curtains on Grey Wall
To go even warmer, opt for greyish beige curtains. These are becoming extremely popular now and we're not surprised to see why. Beige or tan curtains play nicely with grey walls and blend in perfectly with exposed bricks, concrete, or just plain grey walls.
The greyish beige curtains here are made of linen for ultra durability. In addition, they are thermally insulated curtains that help you save energy. What more could you ask for!
5. Black Curtains on Grey Wall
Black curtains are the perfect choice for living rooms. Not only do they add sophistication to your home, but they are a sure way of blocking out light on movie nights. Black and grey are kind of the same color. The only difference is that black is a darker tone of grey. Pairing these two colors is an excellent way to incorporate a monochromatic color scheme into your living room. Black curtains with grey walls inject formality into a space unlike any other color combination.
These soft and silky black curtains from Deconovo prevent heat escape and block sunlight from entering the room. They are the perfect addition to your grey walls.
6. Bright Red Curtain on Dark Grey Wall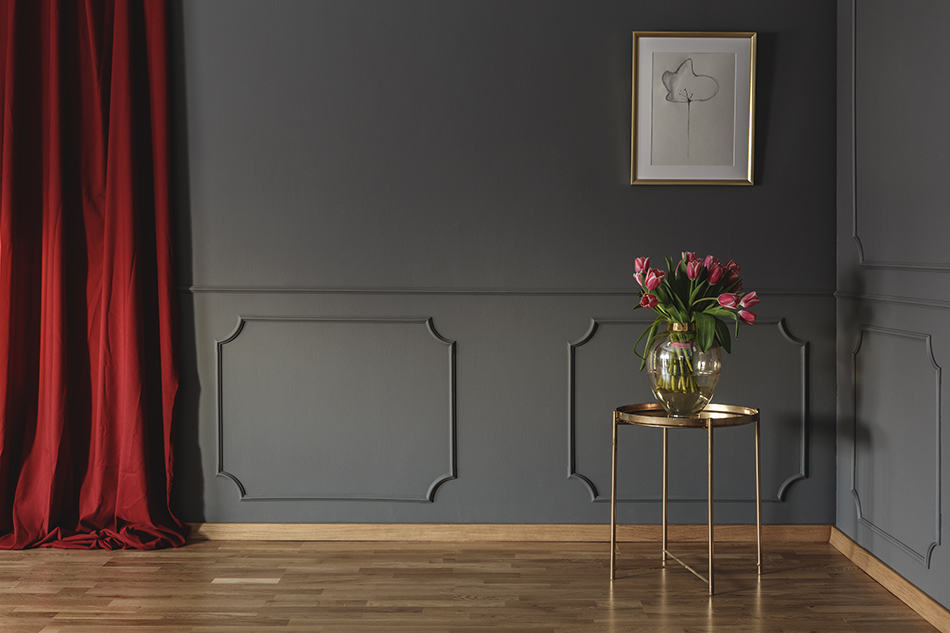 Creating a soothing aesthetic using neutral colors may sound boring to some people, so why not go bold and introduce a bright red color scheme for your curtains. If bright and rich colors are your thing, pair red curtains with a dark grey wall as a unique design element. See how romantic and passionate this room looks with its timeless grey and red combination. This bold color combination is excellent for injecting life into formal living rooms.
7. Coral Curtains on Dark Grey Wall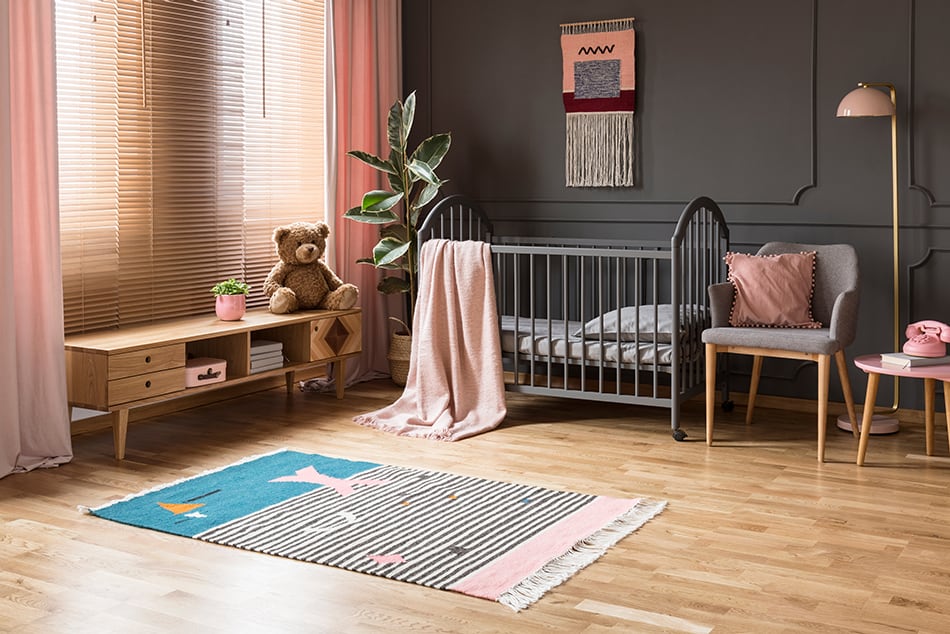 If red isn't your favorite color, or you are looking for a softer tone to match your child's grey bedroom walls, opt for coral. This is a good alternative to bold colors like red and it creates a well-balanced color scheme with dark grey. In this example, coral pink isn't just used for the curtains, you can see it throughout the bedroom. The aim is to soften the dark grey wall and make it appear warmer. But coral isn't just suitable for a children's bedroom. Feel free to use it as an undertone in the living room or even in your own bedroom!
8. Soft Pink Curtain on Light Grey Walls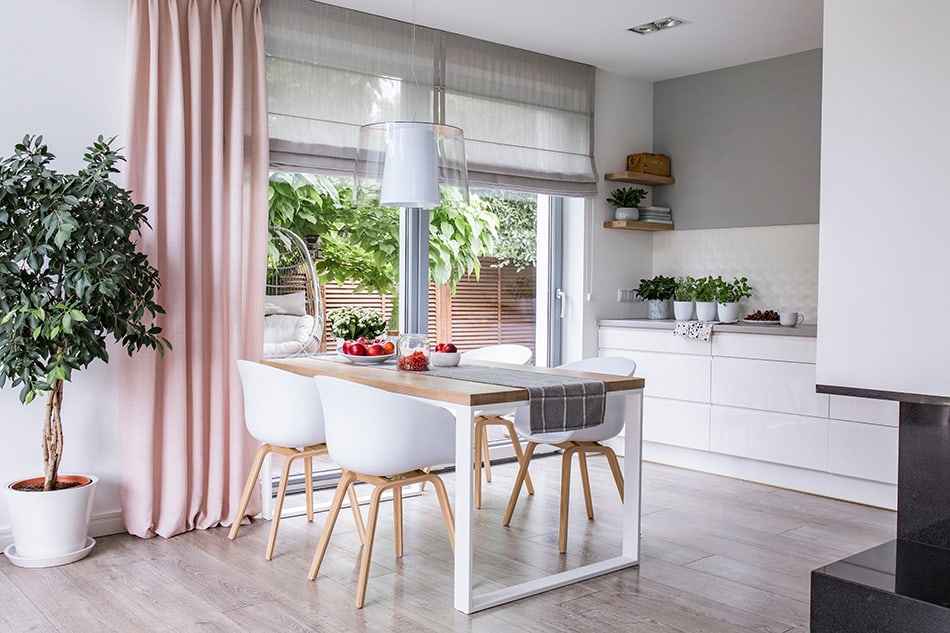 Since pink and grey go beautifully together, they can bring a feminine touch to a grey room. See how sophisticated this kitchen looks with a soft pink curtain against the light grey background. The two color combinations have neutralized the extreme effects of one another. Even if you use just a hint of pink in your dining room, kitchen, living room, or any other room, you can play off this feminine color by using heavy full-size drapes.
9. Mustard Yellow Curtain on Grey Wall
If you don't like your room looking too grey, there is another bright color just like pink that will add a dramatic statement to your living space. Mustard yellow will bring a touch of sunshine against your grey walls – all day long.
I love the bright yellow color on these classic full-size curtains from Yakamok. This color is perfect for bringing light to your contemporary, vintage, or traditional interior.
10. Ocean Blue Curtain on Grey Wall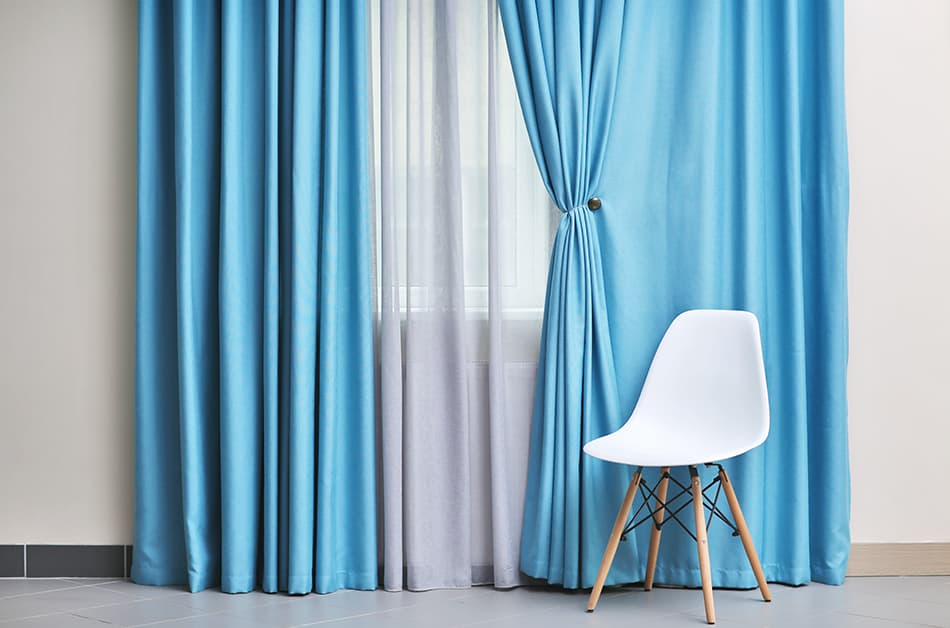 Blue and grey work beautifully when paired in any room of the house. The soothing ocean blue curtains here stand out against the light grey walls by adding a pop of color to break up the grey. If you want to enjoy the calming feeling of blue, you can incorporate this color in the bedroom.
11. Olive Green Curtains on Warm Grey Wall
Warm grey walls complement green as an undertone. Olive green curtains create a natural contrast with the grey walls. In fact, the darker the shade of green you choose for the curtain, the warmer your room will feel. This will let you add a touch of freshness to your living space, especially when paired with other green furnishings.
These attractively designed olive green curtains from NICETOWN are the perfect window covering for those seeking to block daylight or take a nap. The curtains can be styled in three ways to bring elegance to your home: with clip rings, pleated, or shirred.
12. A Mix of Cool and Warm Colors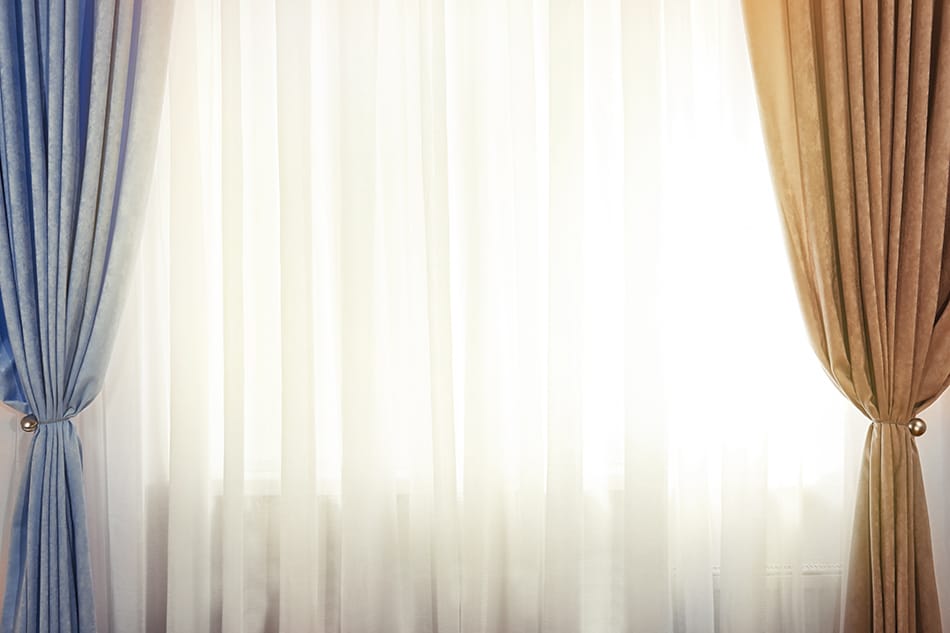 Mixing three cool and warm colors for your curtains is becoming trendy these days. A blend of blue, white, and tan will work fabulous together against the grey wall. These are solid colors that enhance the luxury feel of a room and will appeal to a wide variety of tastes. Consider adding bronze and metallic accents to bring the whole look together.
13. Bold Patterns on Grey Wall
To enhance your traditional or modern space, pair your grey walls with bold patterned curtains. Enjoy the colors of rainbow and brighten up your interiors by opting for geometric or serene patterns.
These unique turquoise and orange striped curtains from Lush Decor Lush Décor will create a bohemian vibe to any room – Even the bathroom!
Good to Know
When choosing your favorite drapes to match your grey walls, make sure the rest of the furnishings also match the walls and curtains. You can go for complementing or contrasting colors to grey. For example, the color of the sofa and/or floor covering should match the grey wall. You can also add white and cream furniture to further enhance the grey walls.
Final Thoughts
Trying to decide which curtain colors go with grey walls can be confusing, especially when there is a myriad of options available. I hope I was able to help you make the best decision when choosing curtains for your grey walls.