There is something charming about interior walls that are painted white. This color offers a soothing backdrop for the guests and homeowners to enjoy. White walls work like a blank canvas, so oftentimes, you can add pops of color to create a striking balance.
When it comes to choosing the right curtain colors for white walls, simplicity is out of question. What you want is to find the best window treatment colors that complement your white walls without losing the visual appeal of the room. Here we will give you all the pointers and recommendations you need to get started.
How to Choose the Right Curtains for White Walls
– When choosing the right curtain for your white walls, keep it simple and clean. Opt for lightweight fabrics like polyester, linen or cotton for a natural look as these fabrics give the curtain a softer texture.
– The combination of white and dark interiors is a growing trend so always opt for darker curtain colors to create an eye-catching look in your living room or bedroom. If you're daring enough to experiment with timeless colors, use black or dark blue shades for the curtain, as these two colors go particularly well with white walls.
During the warmer months, go for transparent, lightweight window shades. If, however, you want privacy and light control, blackout curtains in dark colors are the best. On the other hand, if you live in a warm climate, such curtains will make your room even warmer.
– Colored curtains are an interesting way of adding spice to an all-white room. Colors such as teal, lemon yellow, red, orange, and other refreshing shades will complement your interior decor and other accessories. But before choosing a specific color for your window treatments, always consider the practicalities, including whether you want to block out light or have more privacy. Light colors are ideal for warmer seasons, while darker colors provide insulating properties.
– Patterned curtains work better than monochrome ones. They add a beautiful texture to the white backdrops of any room. For large windows, textured curtains are ideal, but for small windows, such curtains will make the space feel smaller. Once you've decided on the color of your curtains, consider using blackout window shades. In actual fact, you can pick any color scheme for your white walls and decor since white is a blank canvas.
– There is no need to stick to one single curtain style. For example, you can add a blackout curtain as well as a transparent one on the same window. Neutral tones complement the white walls while maintaining a calm and neutral look in the living room. White walls help make the space feel brighter and larger, so feel free to use white curtains to stabilize the area. If you plan on using more than one curtain on the window, consider layering the fabrics and using different colors for visual contrast.
Some More Tips
Before selecting a color for your curtains, always keep in mind the different practical aspects of your window. Remember to opt for darker colors if you want to filter light and get privacy. For smaller rooms, however, light or sheer curtains work best.
The curtain's length is another important factor. Of course, this depends on the functional preferences of the homeowner. Take into account the size of your windows as well as how large the surrounding walls are.
If you like solid colors, go for some texture to add more visual interest to your white walls. Experiment with different fabrics to see what suits your interior style best before making a purchase.
Choose the length of the curtains depending on your aesthetic and functional preferences. Consider the window size, the width of the wall, and the furniture style.
By following the above tips, you can transform your room with white walls. Now you're ready to take a look at our recommendations on the curtain colors that work perfectly with white walls:
10 Curtain Colors That Go Well With White Walls
Blue
To create a striking balance and a beautiful contrast in your white living room, how about blue curtains? This color is not only calming, but it also adds a sense of zen to your home. Blue goes hand in hand with white, as this vibrant curtain color has a majestic appearance.
Choose from a range of vibrant shades for your white interior and create the setting of your dreams. Tip: velvet blue curtains look incredible with white walls. Matte velvet is a luxurious material that adds shine to a white living room or dining room.
Violet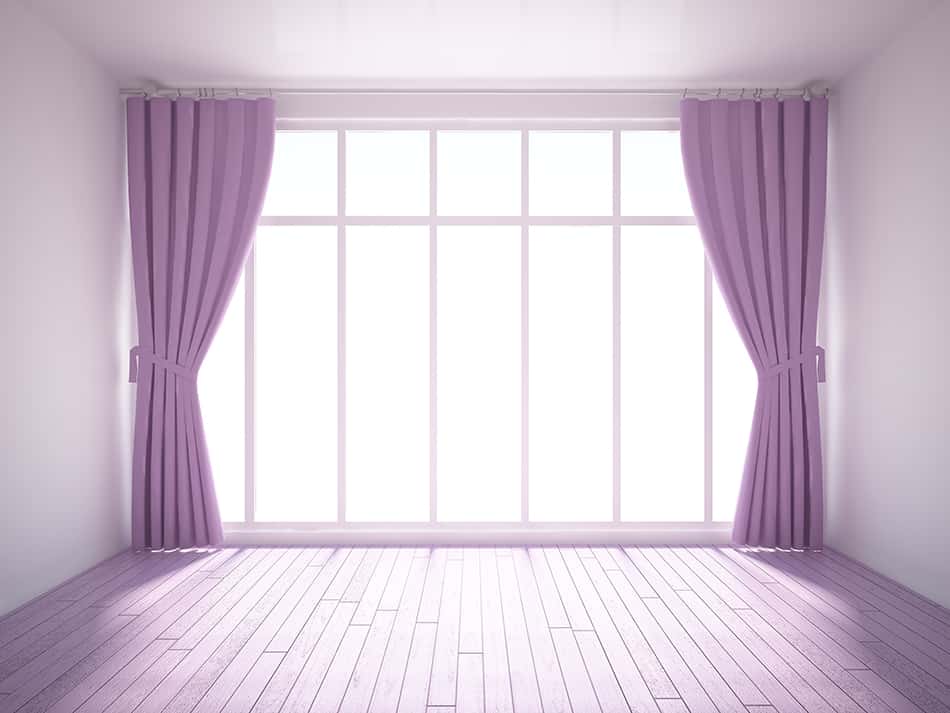 For even more elegance, silk violet curtains will work anywhere where you want to highlight the luxurious look of your white walls. Violet and white create a sophisticated look together, and if you choose silk, it will reflect the light perfectly.
This semi-sheer fabric allows some light to filter through without completely darkening the room. So if you want to create an opulent feel, go for violet curtains.
Yellow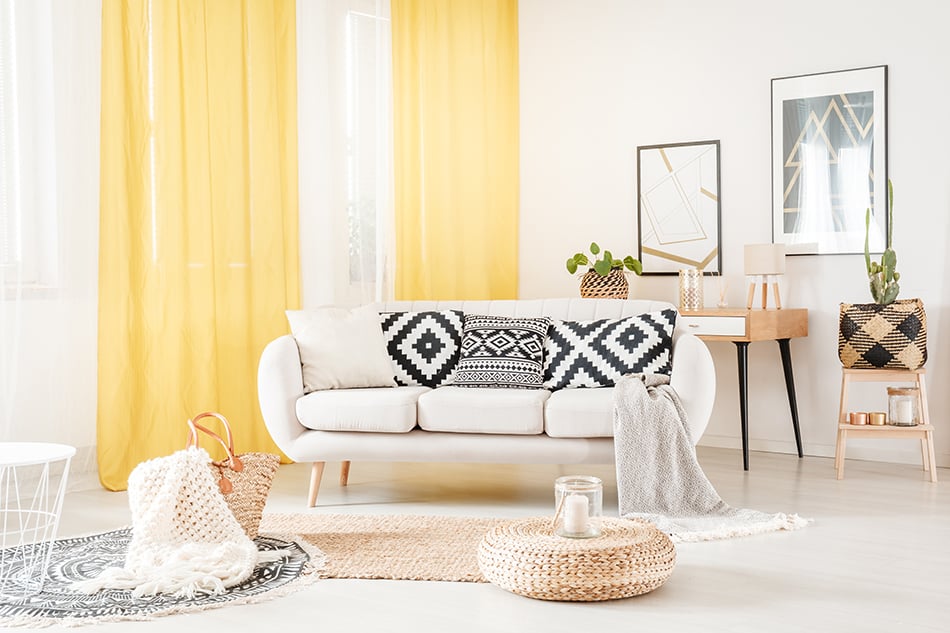 The combination of white walls and lemon-yellow curtains is simply surreal. This bold and cheery shade is perfect for anyone who wants to make a dramatic statement.
No matter which shade of yellow you choose for your windows, it's bound to stand out against white walls. Yellow is, after all, a warm and exciting color that works in any room!
Black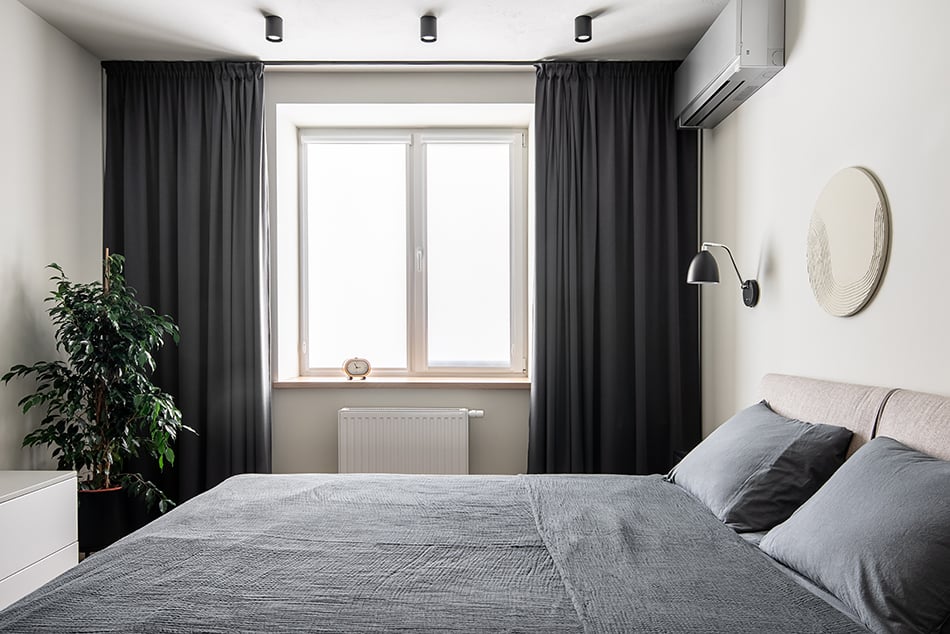 To create a contrasting look, go for black curtains. This color will frame the window and stand out against clean, white walls. In larger rooms, black curtains will tie the design together, especially if they are paired with other accents for a cohesive look.
Green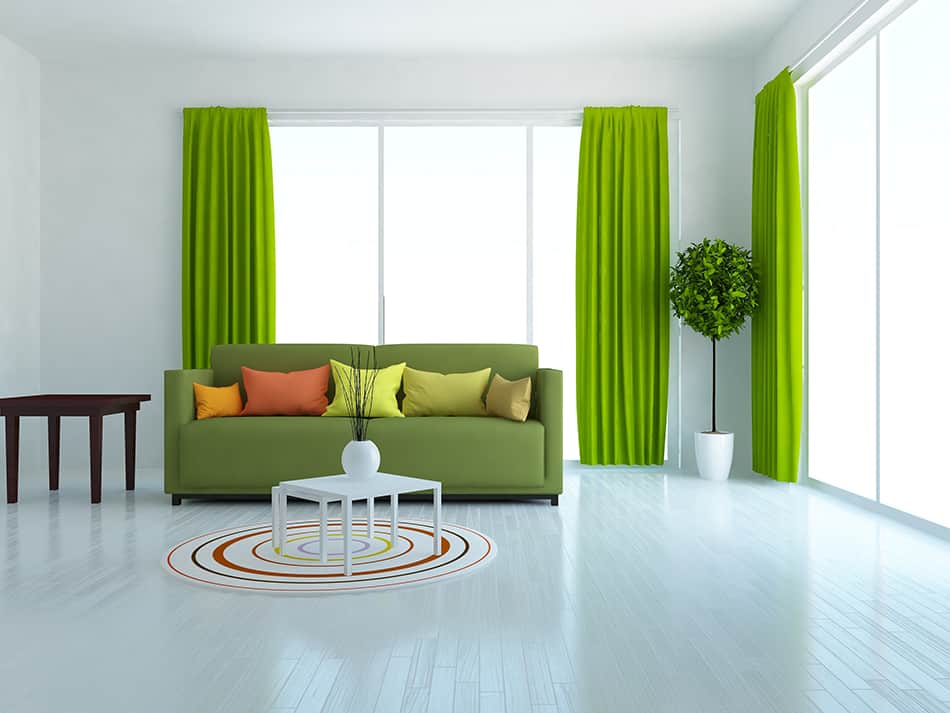 In color psychology, all shades of green represent health, relaxation, and tranquility. Whether you pick sheer green curtains or blackout fabrics, it is sure to create a stylish design. Green is such a versatile color that we can't help but feel energized with this color.
You may pick a variety of green shades for your home's curtains. Dark or light greens look stunning next to white walls and rejuvenate the modern or rustic interior.
Teal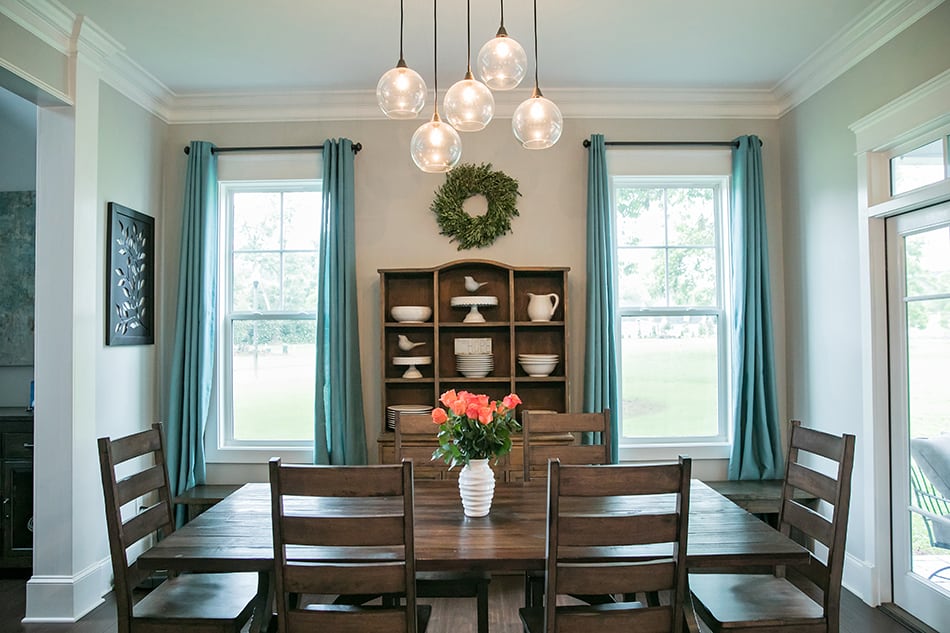 Another bold color for curtains is teal. This shade of bluish-green goes well with most other wall colors and furniture. To create a sophisticated look, make a feature out of your teal curtains by going for pinch pleat tops in velvet material.
Long-length velvet curtains in teal hang beautifully and give the white room a touch of vibrance.
White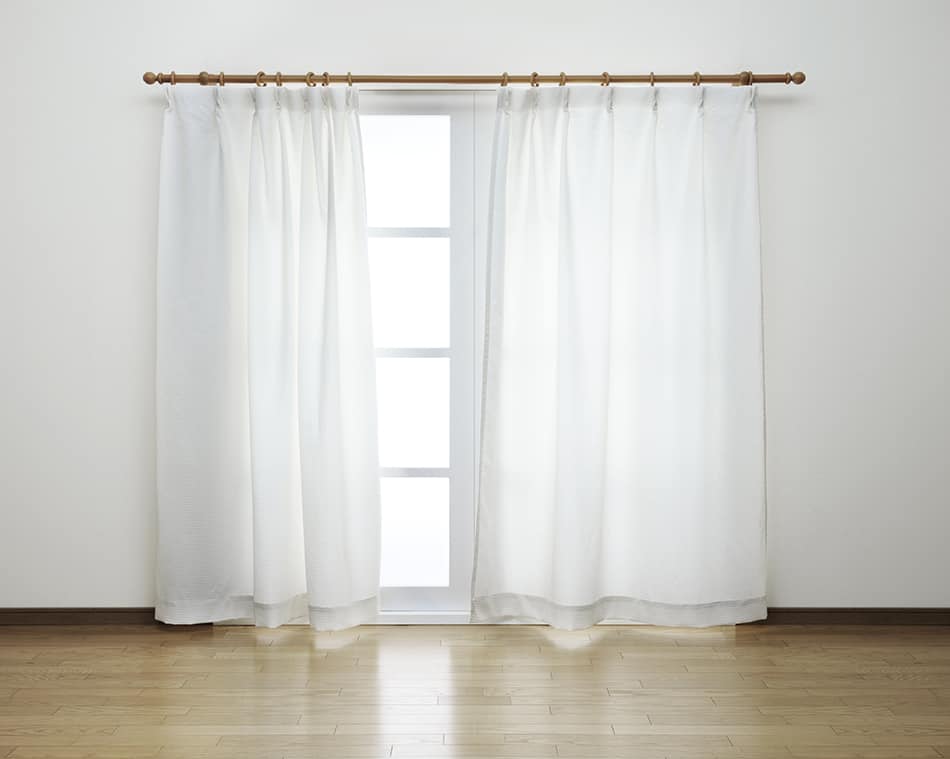 A popular choice is white curtains with white walls. This will create a bright and airy feel in your living room or bedroom. Go for sheer or solid white curtains for your large windows and see how elegant they will make your room look.
Sheer white curtains allow sunlight to enter the room even when they are closed. This type of curtain brings a soft glow to the room, while maintaining privacy when they are drawn. For bedrooms, however, use blackout white curtains rather than sheer ones to give complete darkness at night.
Pink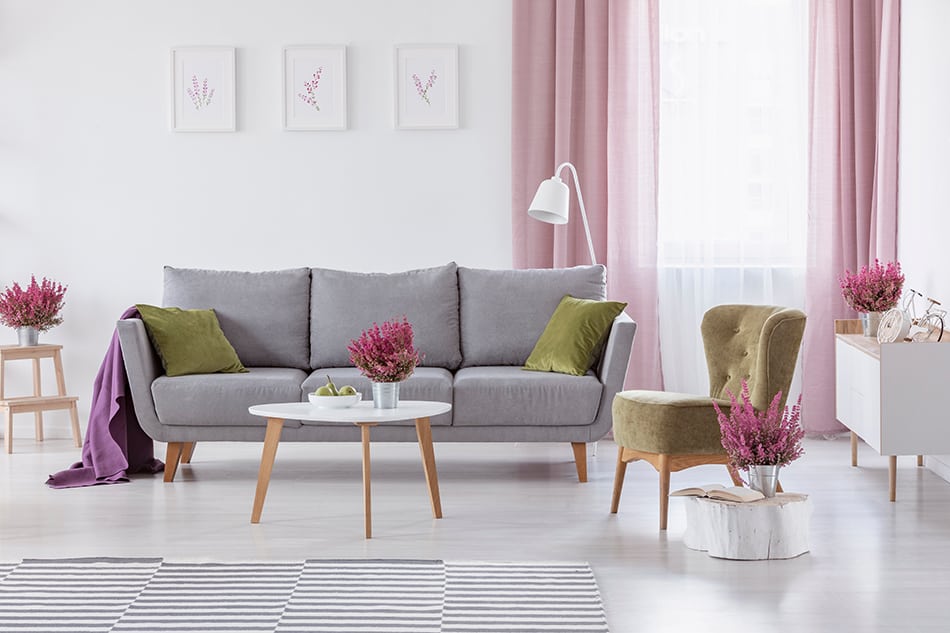 Pink shouldn't be just considered for feminine interiors. For the perfect mix of elegance and class, try dusty pink curtains with your white walls. Pink curtains add layer to a casual or formal living room, while white softens the look and feminine feel of the space.
If you prefer to bring some texture to your room, pastel curtains will work well with white walls. Soft pink hues unfold into an artistic paradise that let you put your own signature. And for even more detail, introduce some texture by using various textiles.
Floral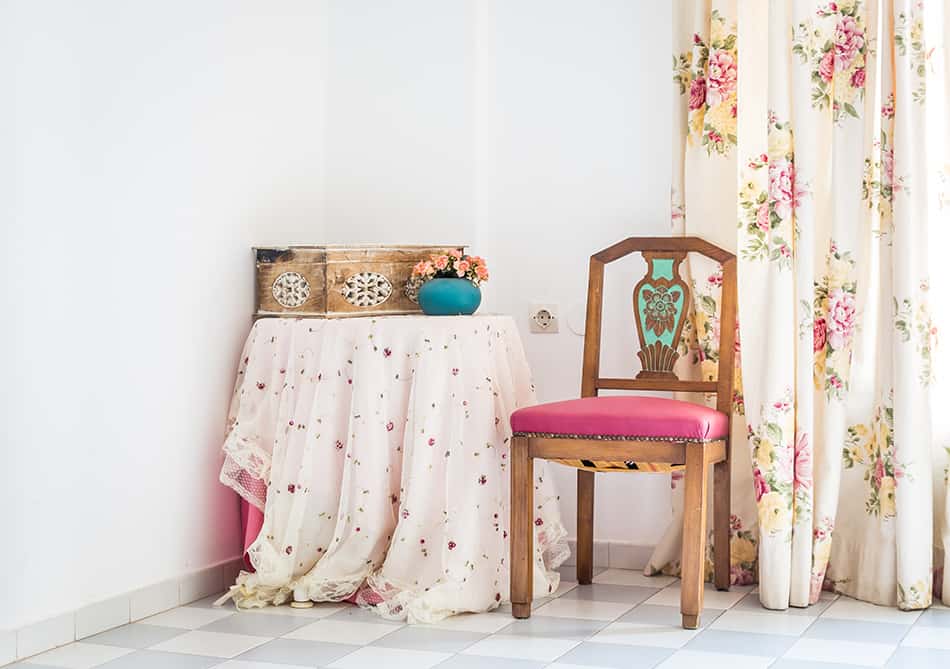 Have you always wanted to add subtle pops of color in a varied way? Then consider floral patterned curtains. These window treatments look beautiful against white walls without overwhelming the space. Multi-colored floral curtains are ideal in both modern and traditional interiors as they help liven up the blank, white living room and transform it into a less-than-ordinary space.
Floral curtains come in all kinds of colors, so you are not limited in your options. Luckily, white goes with any color so whether you pick bold floral patterns or colors, you will certainly bring harmony to your space.
Gray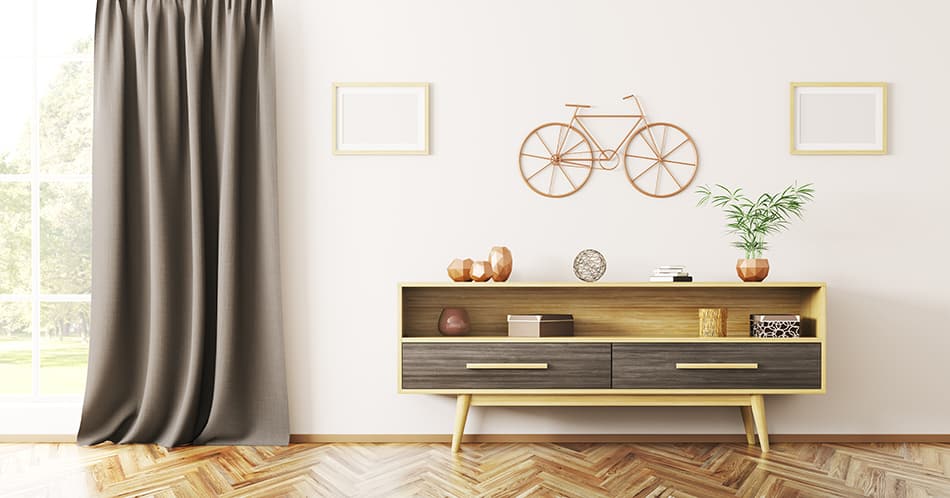 Our last recommended curtain color for white walls is gray. For a touch of coastal charm, try this shade for your windows. The subtle, neutral color draws attention to the window without overpowering the space.
When gray is used with white, it gives the room a more laid-back feel. This color combo suits most decor styles, especially in a formal living room. Tip: go for a semi-sheer to allow light to filter through your room and provide you with privacy.