Despite its name, seafoam green is actually a cross between green and blue, and it also contains a little gray. It is very similar to mint green, and the two names are often used interchangeably, but seafoam green has distinctly more aqua tones in it compared with mint green.
Seafoam green is named after the froth that forms on ocean water, but it does not actually share the same color because actual seafoam is white. However, due to the associations of seafoam green with nature, tranquility, and freshness, it makes sense that it would be linked to the ocean.
As a color that promotes renewal and invigoration, seafoam green is a popular choice for bathroom decor, and it also works well in health settings such as spas and exercise rooms. If you want to incorporate seafoam green into your interior decor, follow these tips.
How to use Seafoam Green at Home
Contemporary Coastal
Seafoam green can be used in place of the obvious blue shades found in coastal style interiors for a contemporary update on this theme. Coastal style decor is always popular because it has such a refreshing, casual, and breezy feel that makes us feel tranquil and energized in equal parts. Seafoam green should be used with white, off-white, or beige in a coastal style decor.
Plain Peaceful
If you want to keep your decor simple and clean, then seafoam green and other pale neutral colors such as gray or beige are the perfect choice. These shades are subtle and calming without being dull or boring. Avoid patterns to ensure the space doesn't feel fussy, and instead stick with solid block fabrics for cushions and other soft furnishings.
Country Cute
Seafoam green is a nice color to use in a country-style decor because it can feel simultaneously cute and uplifting. Choose floral or checked fabrics with seafoam green elements alongside pastel shades such as baby pink and lavender, and pair these with white painted wooden furniture. This will make for a pretty look combining traditional country styling with a modern touch.
Bohemian
A quirky, bohemian look can be achieved using seafoam green and contrasting colors such as magenta and teal set against a white background. A variety of patterns and prints will help this kind of style to look authentic and interesting.
Vintage Vibes
Seafoam green was a popular color in 1950's decor, so it's a fun color to choose if you want to create a vintage or retro interior style. In a kitchen, choose seafoam green accessories such as a kettle and toaster set against a gray or white backsplash. Seafoam green can also make for a vintage vibe in a bathroom, using tiles in this color or accessories like towels and candles in seafoam green.
Best Colors to Go with Seafoam Green
Tangerine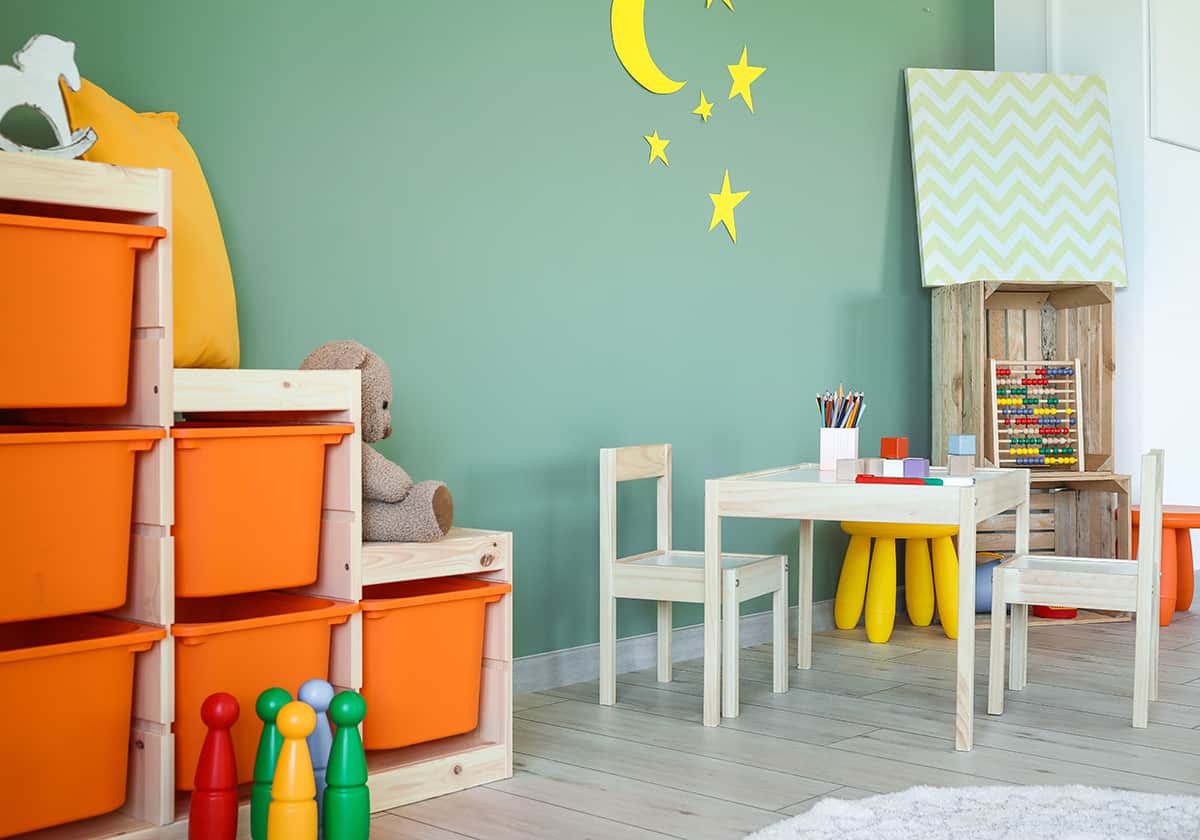 Tangerine is a strong and vivid shade of orange named after the fruit of the same name. This makes such a striking contrast against seafoam green because it sits almost directly opposite it on the color wheel.
If you want to really make seafoam green pop, then position it next to a tangerine accent, for example, a tangerine cushion on a seafoam green chair. Be sure to use a neutral third color with these shades to prevent them from becoming too intense.
White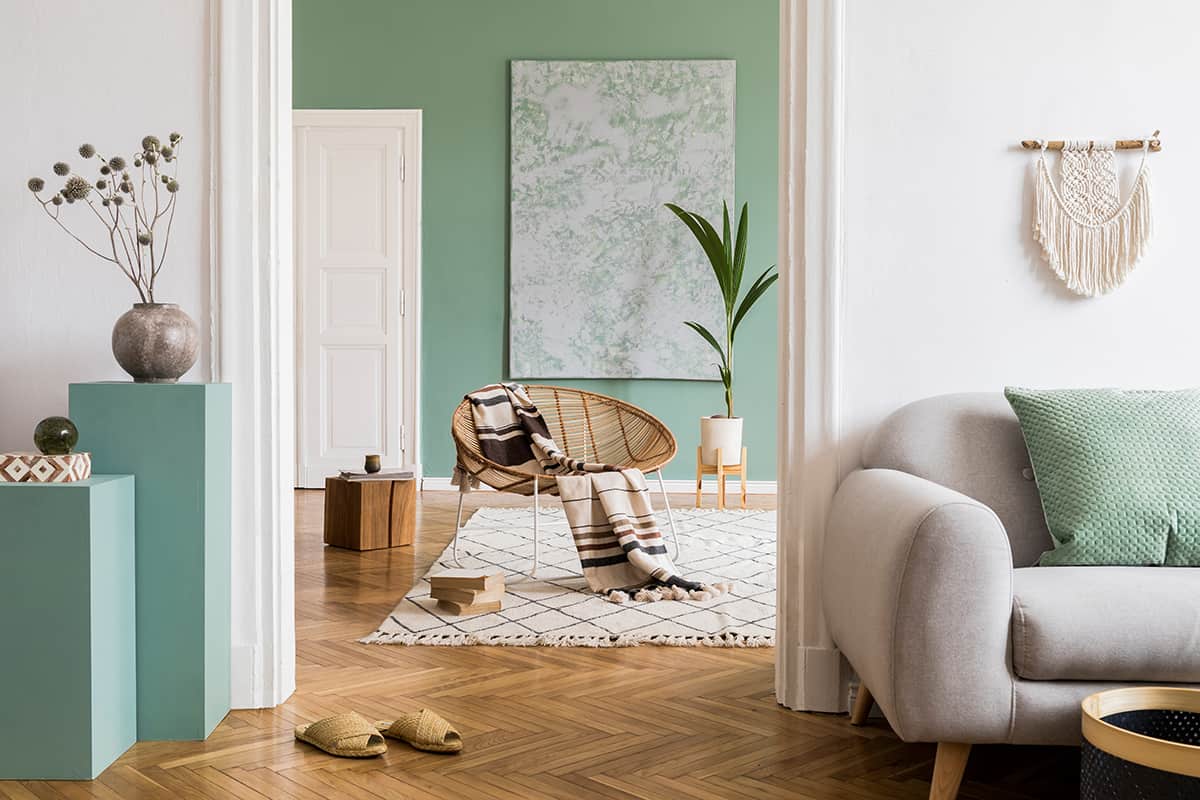 Seafoam is a clean and fresh color, and these qualities are allowed to shine the most when seafoam green is paired with a simple white shade. If you want to achieve a refreshing and soothing decor, then these two colors are the ideal choice.
For a breezy look, paint a room in white and use seafoam green soft furnishings, such as sheer curtains and throw cushions. In smaller spaces like a bathroom, seafoam green looks great as a wall color. Set this against white wall and floor tiles for a simple and clean style.
Navy Blue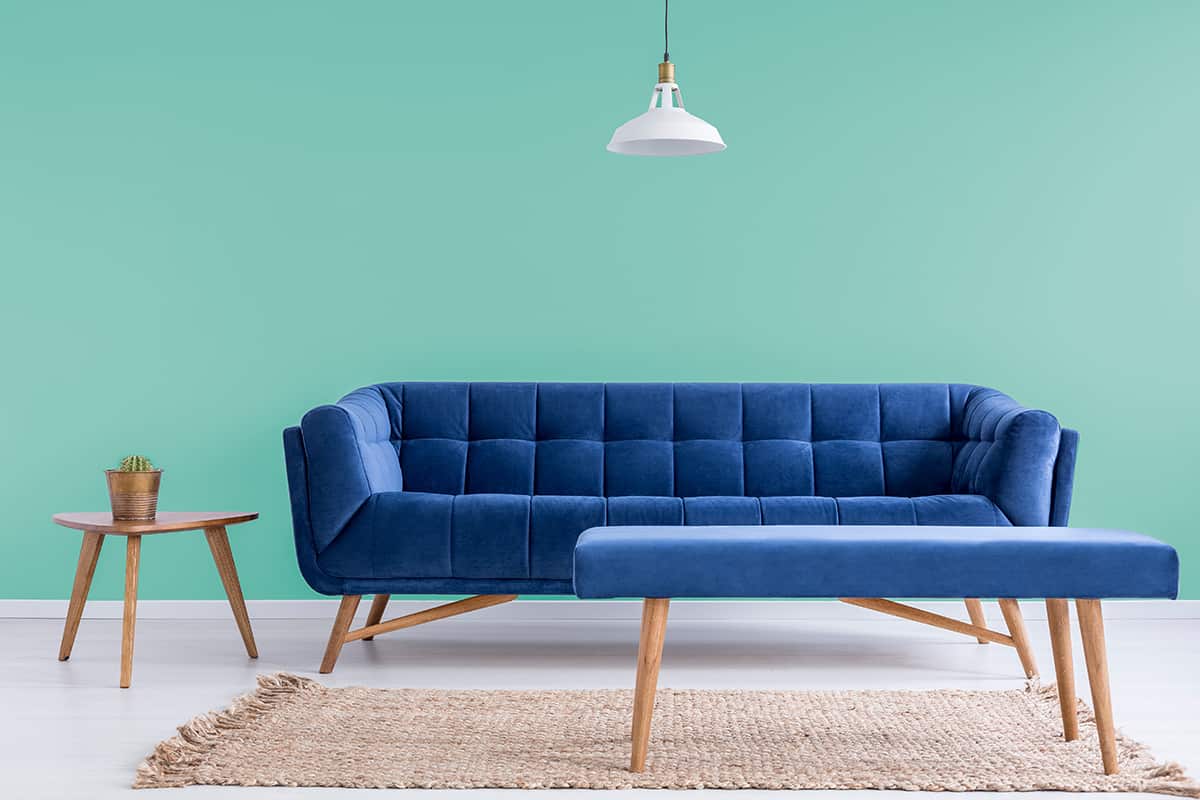 Navy blue works well in a color palette with seafoam green because seafoam green contains a lot of blue elements. Despite having some similar tones, these two shades can contrast against each other because navy blue is deep and dark, while seafoam green is a light color.
Use navy blue with seafoam green in bedrooms and living rooms to help add definition to the space and a touch of drama.
Salmon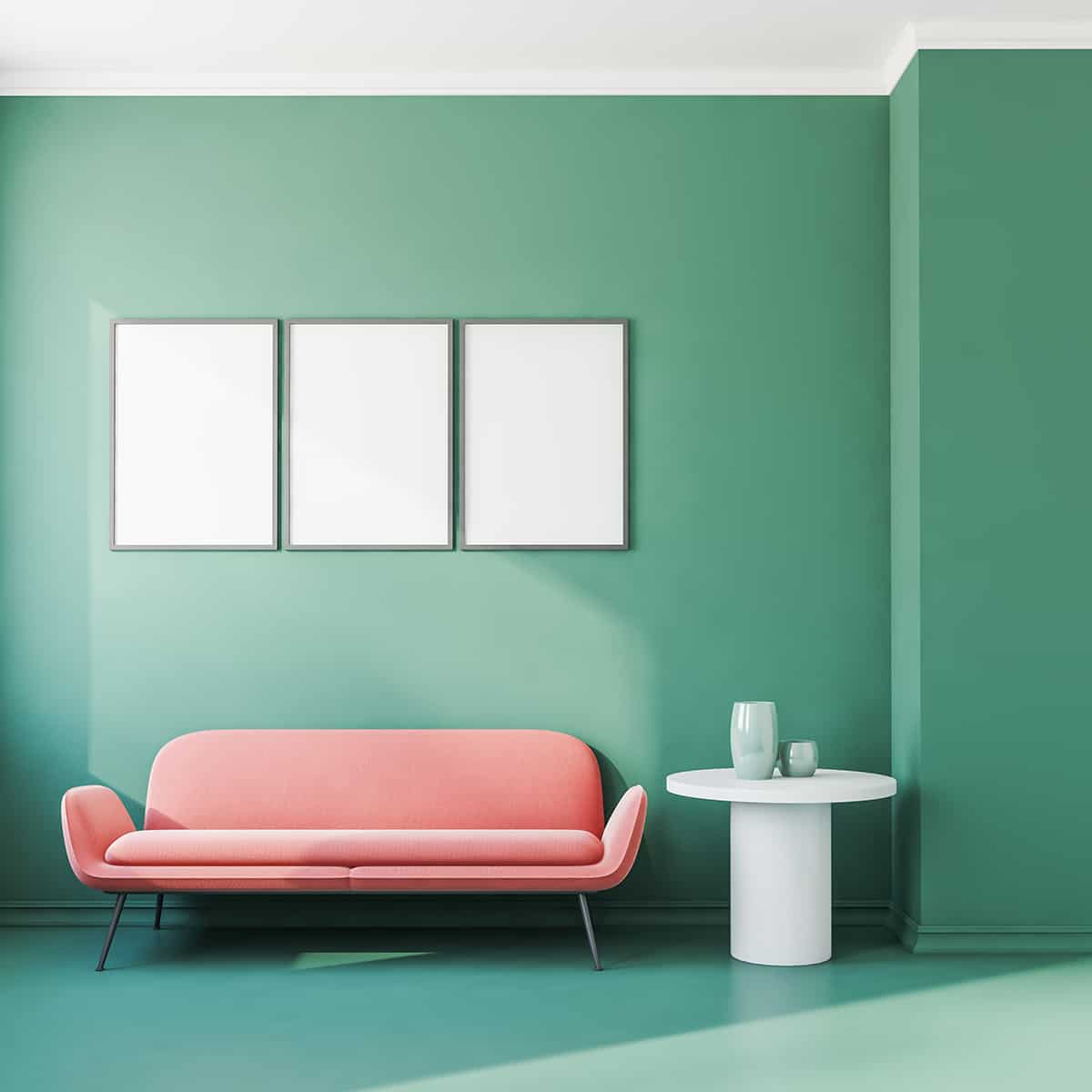 Salmon is a color that is made up of pink and orange, which provides a pretty and playful contrast to seafoam green. Use pale salmon with seafoam green in a bathroom or a child's bedroom for a youthful style.
Fun accessories such as cushions with pom-pom trims will help cement these colors as quirky and cheerful.
Looking for more ideas on using salmon colors? Check out our post on colors that go with salmon.
Dove Gray

As seafoam green has gray undertones, these two colors work well together. Gray brings a modern element to seafoam green, so use it to create a contemporary style with this color.
Dove gray, which is a pale shade of gray, also helps to tone down the vibrancy of seafoam green to achieve a more subtle and subdued atmosphere.
Stone
Stone is a medium shade of beige with brown undertones, which is warm yet contemporary. Seafoam green is a clean and cool shade, so if you want to balance out the cool tones, stone is a nice shade to add to your color scheme.
A white, seafoam green, and stone room would look both fresh and welcoming. Choose natural style accessories in stone to bring a modern warmth to the space, such as a jute rug, rattan baskets, or canvas lamp shades.
Lilac

Lilac is a paler shade of purple that is similar to lavender but with fewer blue tones. It makes for a pretty contrast next to seafoam green that can work well in bedrooms, living rooms, dining rooms, and even kitchens.
These shades lend themselves perfectly to a contemporary country look using floral prints or pinstripes and work best when set against a white or off-white background. You could also use lilac and seafoam green for a child's bedroom color scheme.