Pastel pink can range anywhere from a sweet and soft pale bubblegum pink to a more subdued dusky gray-toned pink.
Pink has a reputation for being pretty and girlish, and while it is a great choice for spaces where you want to achieve a feminine style, it can also be used in more playful or modern styles that you wouldn't necessarily expect.
Here we will look at the different ways colors that go with pastel pink can be used to transform the look of a room.
Using Pastel Pink in Home Decor
Soft Furnishings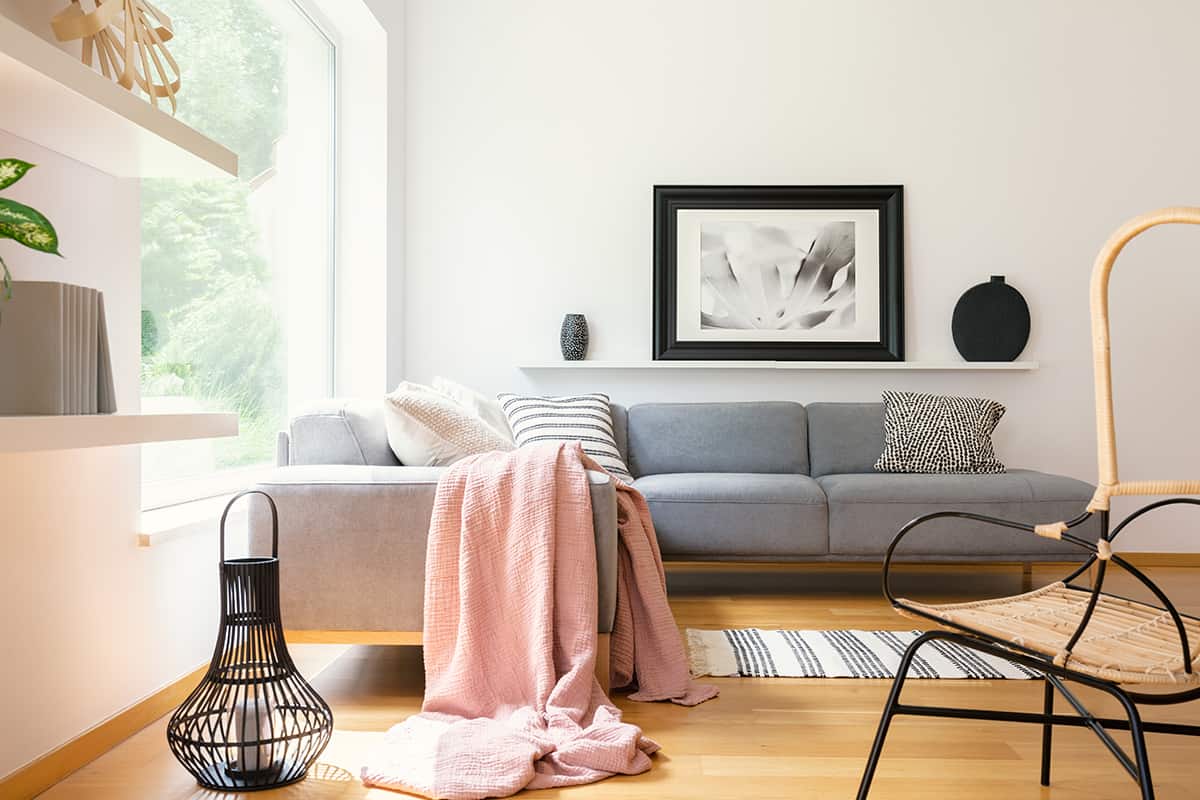 If you don't want to commit to a fully pastel pink room, then choose soft furnishings to decorate a space instead of painting the walls pink. This can be just as effective as painting a room pink but offers a much less permanent option because you can swap out curtains or bedsheets for soft furnishings in a different color if you change your mind.
Cushion covers are always a good choice because they are fairly inexpensive, but they can make a bold statement on a sofa and really add to a color scheme.
Decor Accessories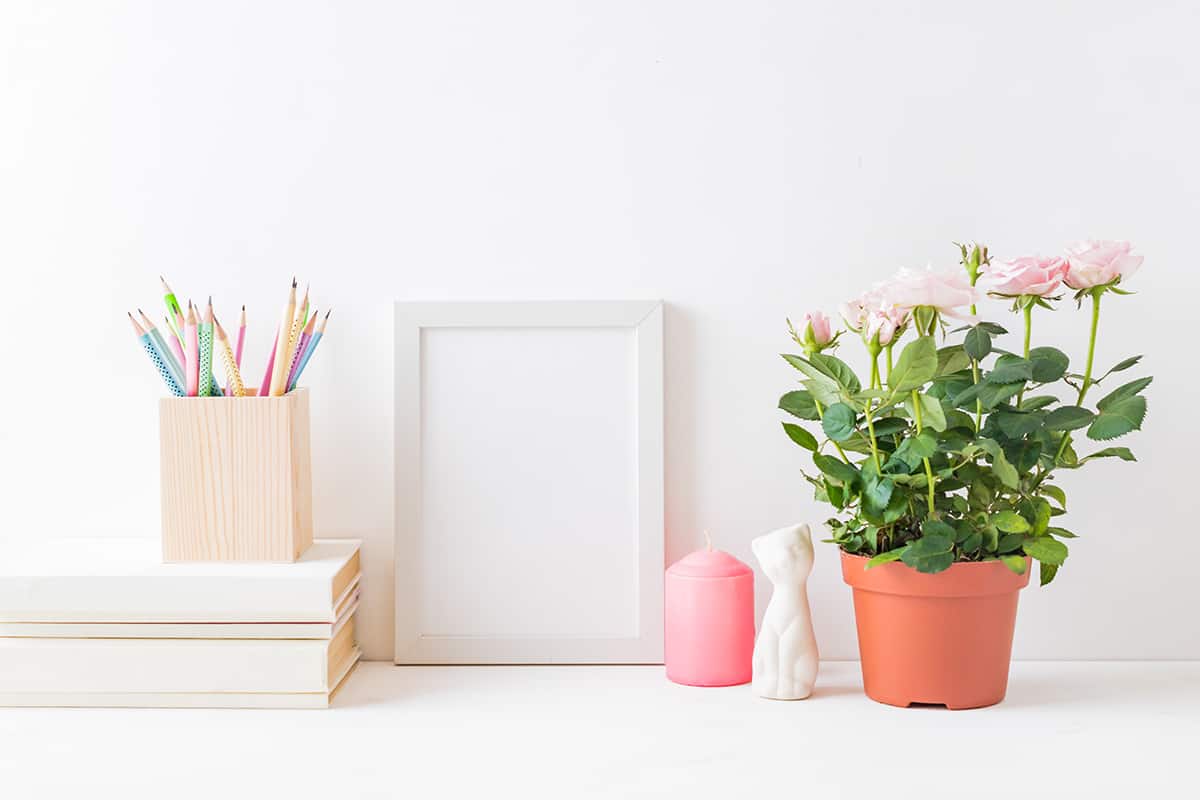 Using decor accessories offers the same benefits as using soft furnishings in the sense that it is easier and less permanent than painting the walls pink.
Choose pink candles or pink plant pots to add splashes of this color to a room without fully committing to going all pink. You could even upcycle old decor accessories with pastel pink spray paint, for example, photo frames and candle holders.
Paint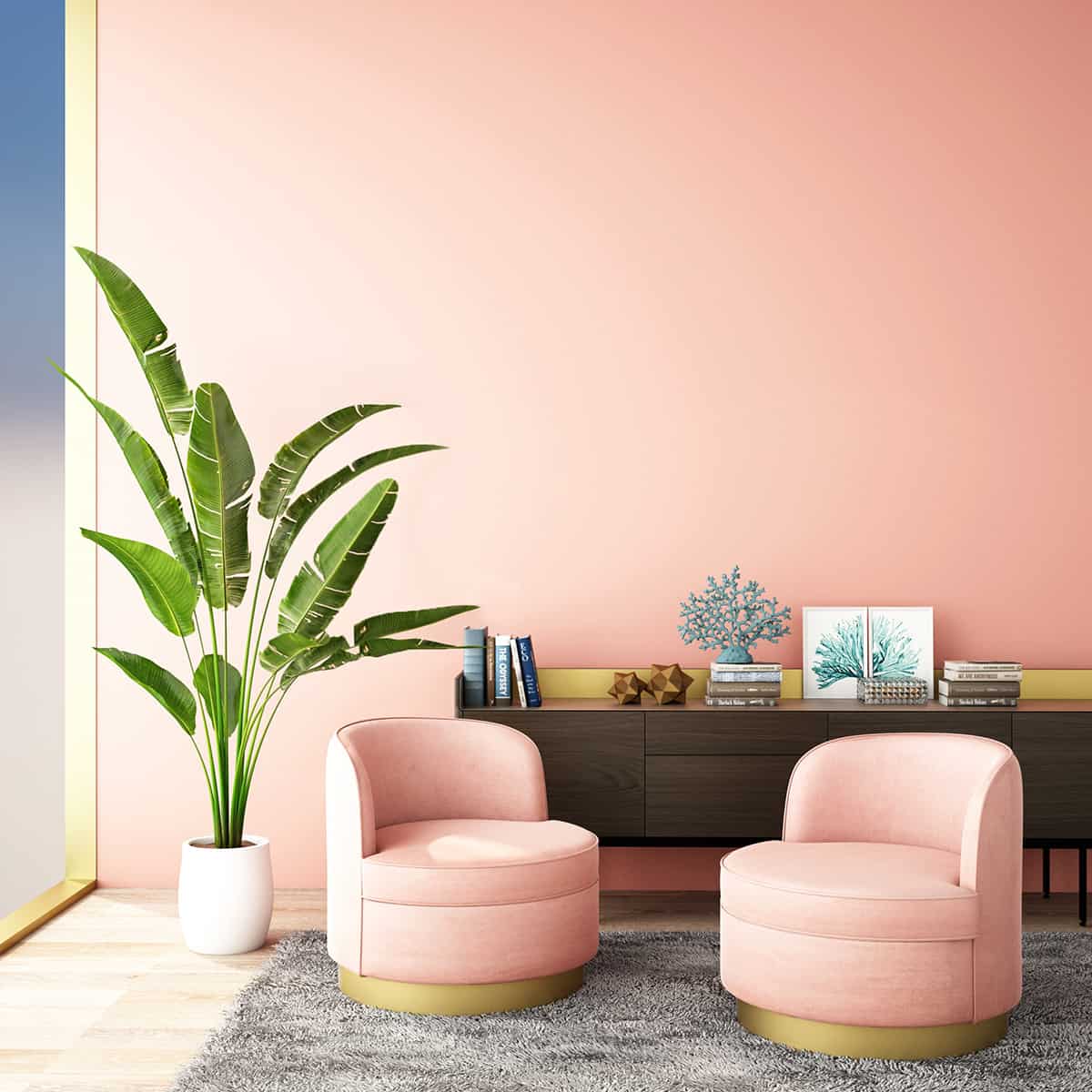 If you love pastel pink, then a fully pink-painted room can feel like a soft haven for relaxing, especially when teamed with soft neutrals such as cream and beige. For a sumptuous pastel pink bedroom, paint all of the walls in eggshell pink and select tactile fabrics such as silk bed sheets in dusky pink, topped with cream faux fur blankets and cushions.
If all pink walls feel too intense, try using pink paint for an accent wall behind the head of a bed or as the main wall in a dining room. You could also consider using pastel pink furniture paint to transform old wooden furniture into bedroom furniture for a child's room, such as a chest of drawers, a nightstand, or a freestanding wardrobe.
Styles and Colors with Pastel Pink
Fresh and Playful
Colors to pair with for style and mood: bold orange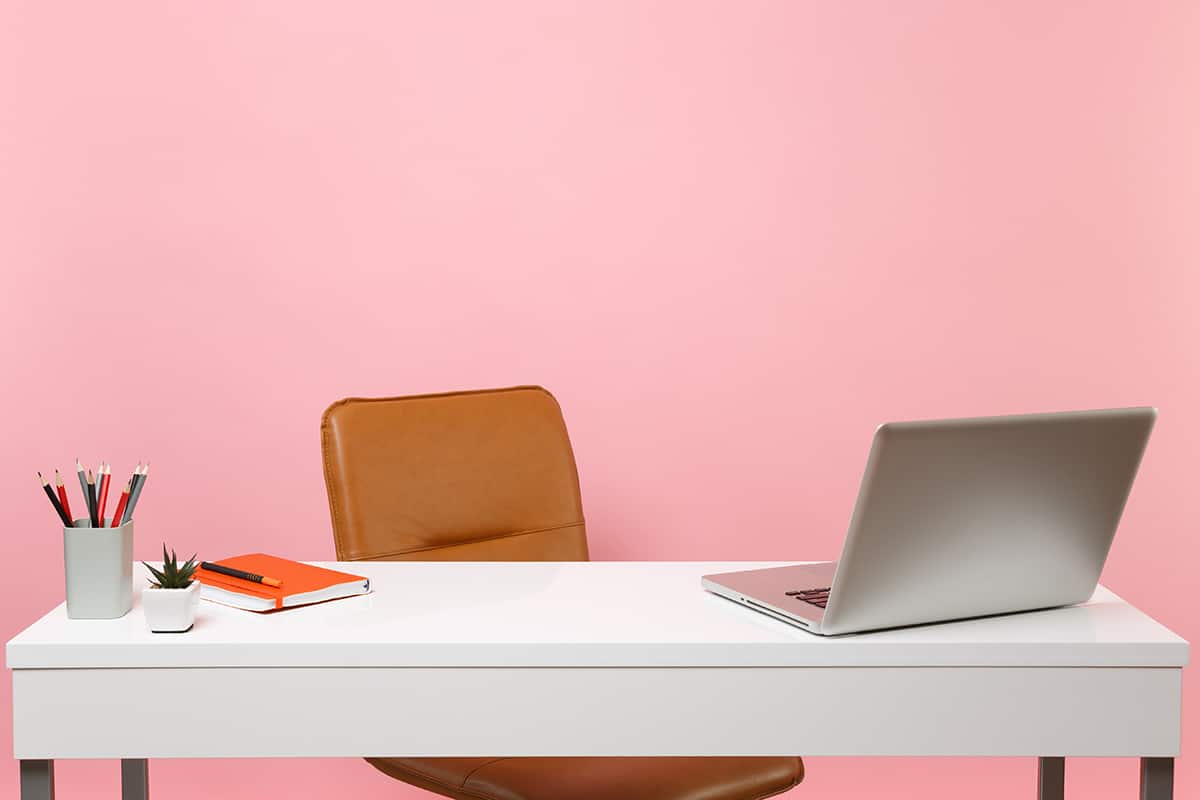 Bold orange and pastel pink create such a fun and lively atmosphere in a space that you can't help but smile when you enter it. This is a great color scheme for a teenager who wants a bedroom that strikes a good balance between being playful without being childish.
If you have a child's bedroom with pastel pink walls, which they have grown out of, you could completely transform the look just by swapping out old bed linen and changing up the accessories.
This could be a great option if you want to save money or don't want the disruption that comes along with re-painting a room. It can also work well if you're in rented accommodation and aren't allowed to paint the walls.
To modernize a pastel pink room, add bold orange soft furnishings such as orange curtains and orange bed sheets. You could also look for a fabric print that contains both colors to tie the color scheme together, such as cushion covers in a pastel pink and orange floral pattern.
To maintain the fun quality of a room with these colors, buy a lava lamp that is orange and pink or some neon pink light fittings. Orange and pastel pink together will make a room feel energizing as well as fresh and quirky.
Cool and Calm
Colors to pair with for style and mood: a pale shade of gray like dove gray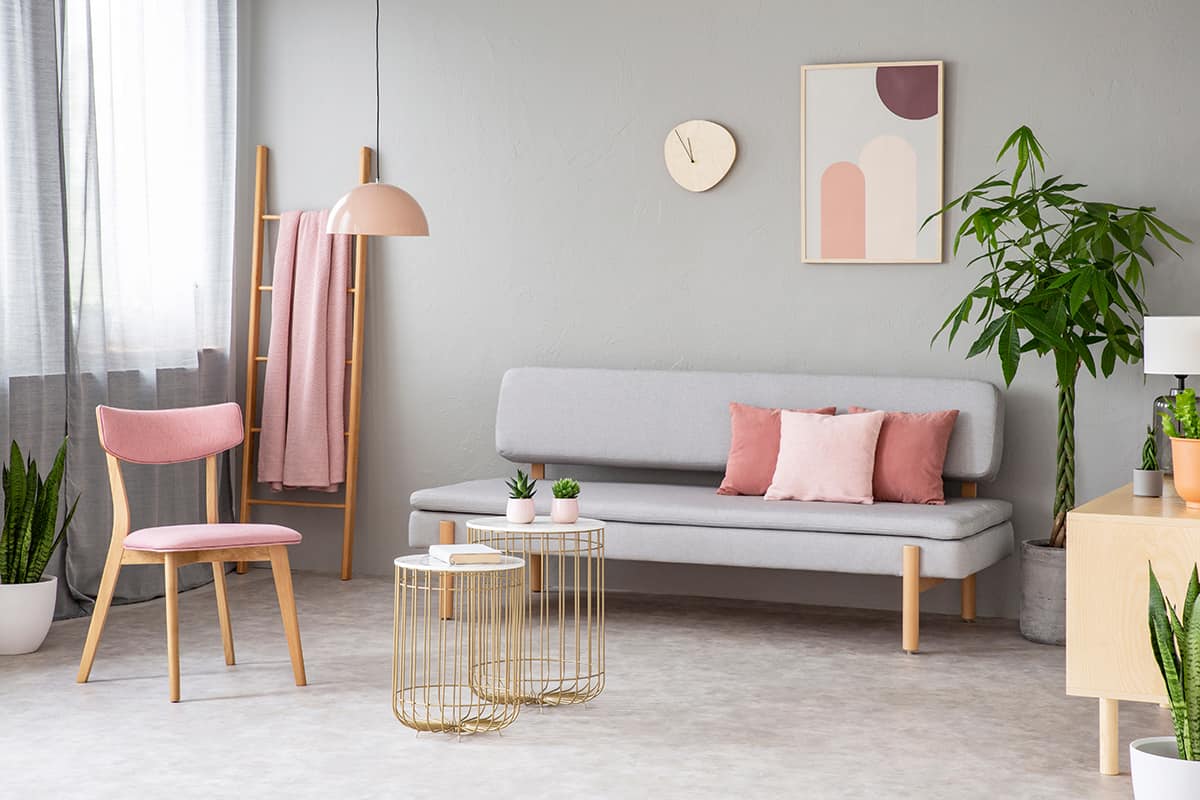 For a cool and calming space, think about using a pale shade of gray, such as dove gray, with pastel pink. The pastel pink and dove gray color combos were popularly used together in the 1970s and 1980s, for example, in bathrooms with a pastel pink bath and gray walls.
However, these two colors have been given a modern update by using them in sumptuous textures and with metallic accents to give pink and gray a luxurious and glamorous feel.
In a bedroom, paint the walls in pale gray and introduce pink upholstery such as a pastel pink velvet occasional chair or pastel pink voile sheer drapes.
If you want to ensure this color scheme doesn't feel dated, use a blush shade of pastel pink, which has a distinctly modern hue. You can also incorporate metal accents to contrast against the pastel pink and gray decor with copper, gold, or rose gold details for fixtures and fittings.
This is a color scheme that works well in any room in the home but can be especially effective in bedrooms and living rooms. You could also use this color scheme in a kitchen by choosing pale gray kitchen cabinets and a pastel pink backsplash.
Pretty Pastels
Colors to pair with for style and mood: lilac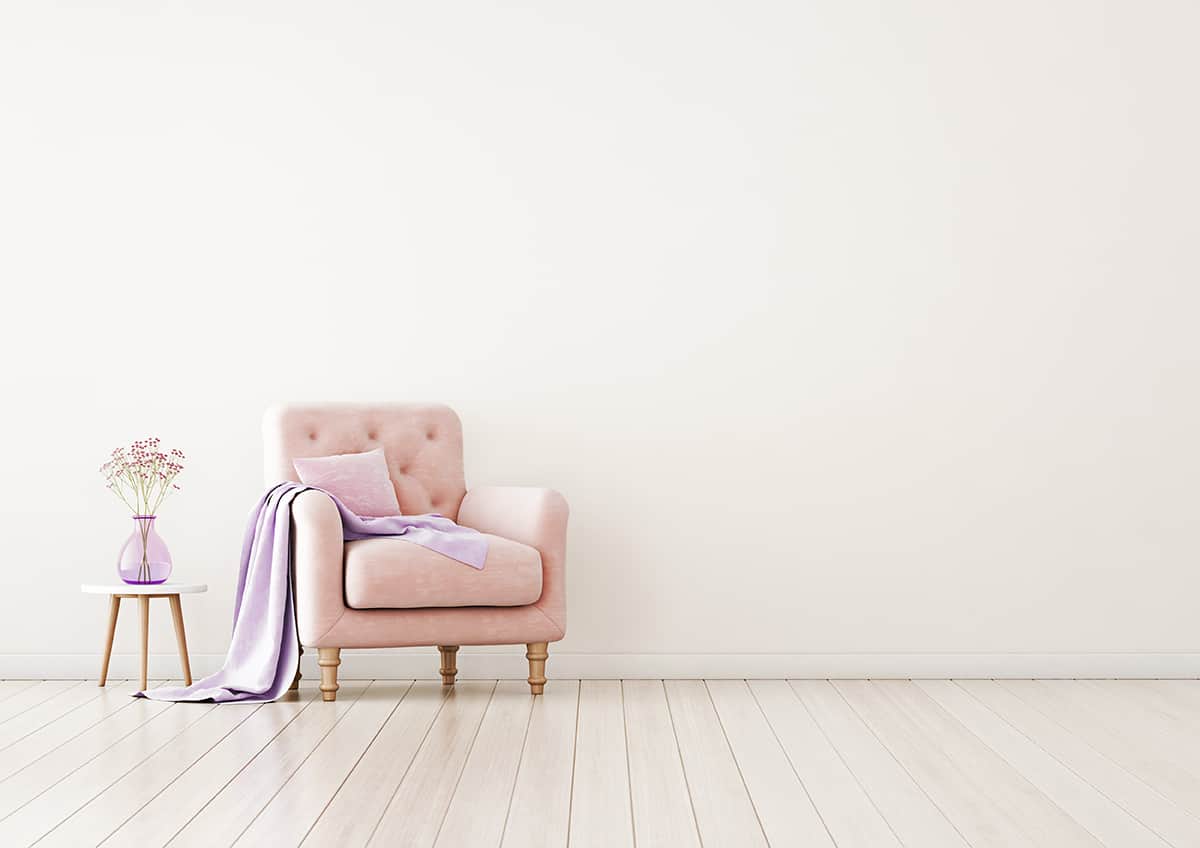 Lilac and pastel pink are a pretty combination that is commonly chosen in a nursery for a newborn baby or a spare bedroom in a country cottage style. These shades create a very feminine style which is ideal for floral printed fabrics or wallpaper. Choose floral bed linen featuring pastel pink and lavender, and then layer this with a pastel pink throw and some solid lavender cushions.
You can also use these colors in more unexpected areas of the home, such as the living room or dining room, to create a spring-like atmosphere that is both pretty and fresh.
Paint walls in a soft shade of white and choose painted white wooden furniture, then set lavender and pastel pink soft furnishings against this, such as with pastel pink linen curtains and a lavender rug.
Sophisticated Glam
Colors to pair with for style and mood: dark green shades such as emerald green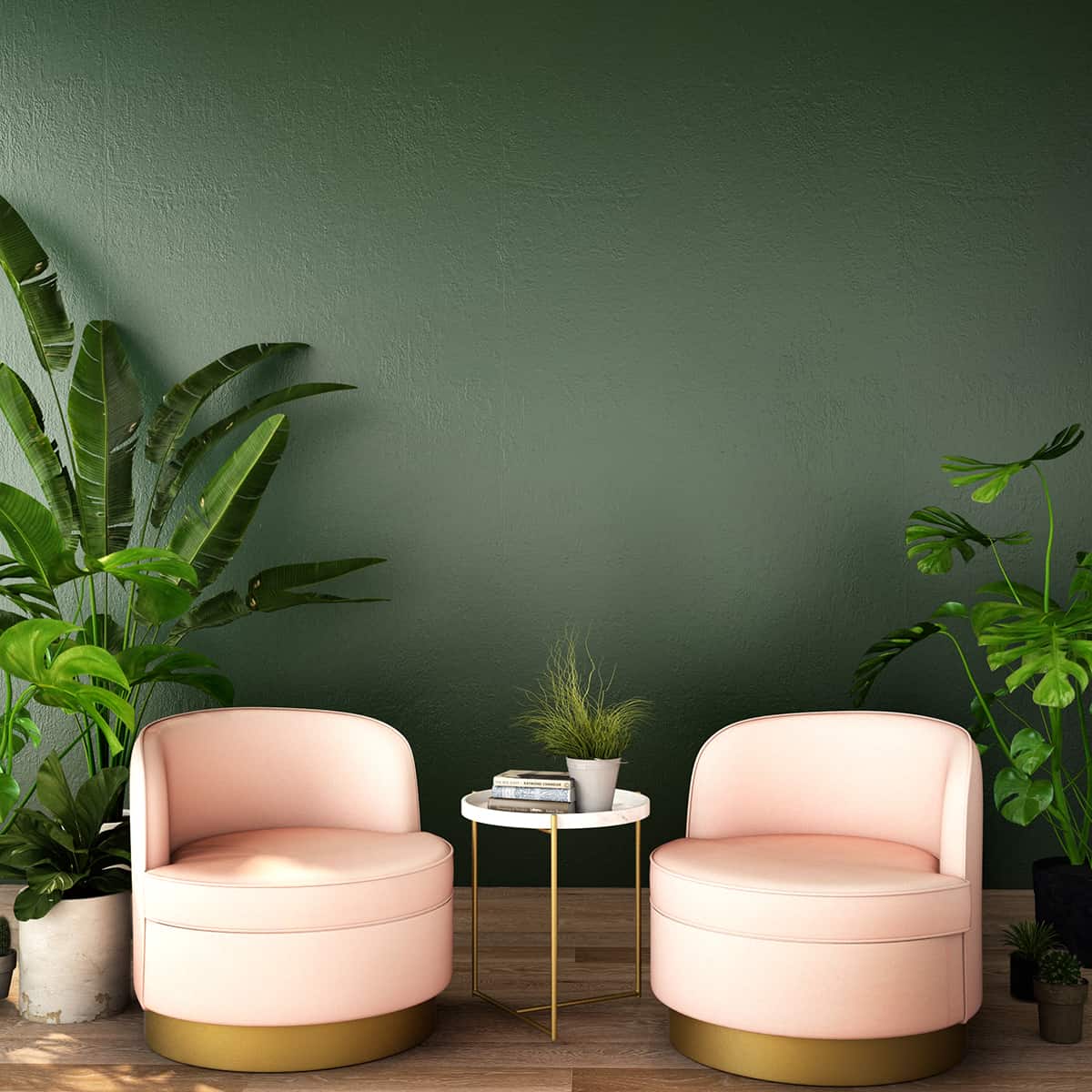 Pink and green are opposite colors which means they contrast and complement each other especially well. A really stunning example of this which is very popular in interior design right now is pastel pink with emerald green.
These two colors create a look that is both elegant and glamorous and can be used anywhere in the home. Paint the walls in emerald green to create depth and drama, and then soften this look with pastel pink accents.
Crushed velvet curtains in pastel pink will make a bold statement against emerald green walls, and this can be tied together using a comforter on the bed, which is made from a floral fabric featuring green foliage and pink flowers.
You can also move away from a feminine style and strike a more sophisticated cord by avoiding floral prints and instead opting for geometrics. This color scheme looks exceptional with gold or copper metal accents, such as copper light fitting or gold chair legs, which work to elevate the style.
Sweet and Fun
Colors to pair with for style and mood: mint green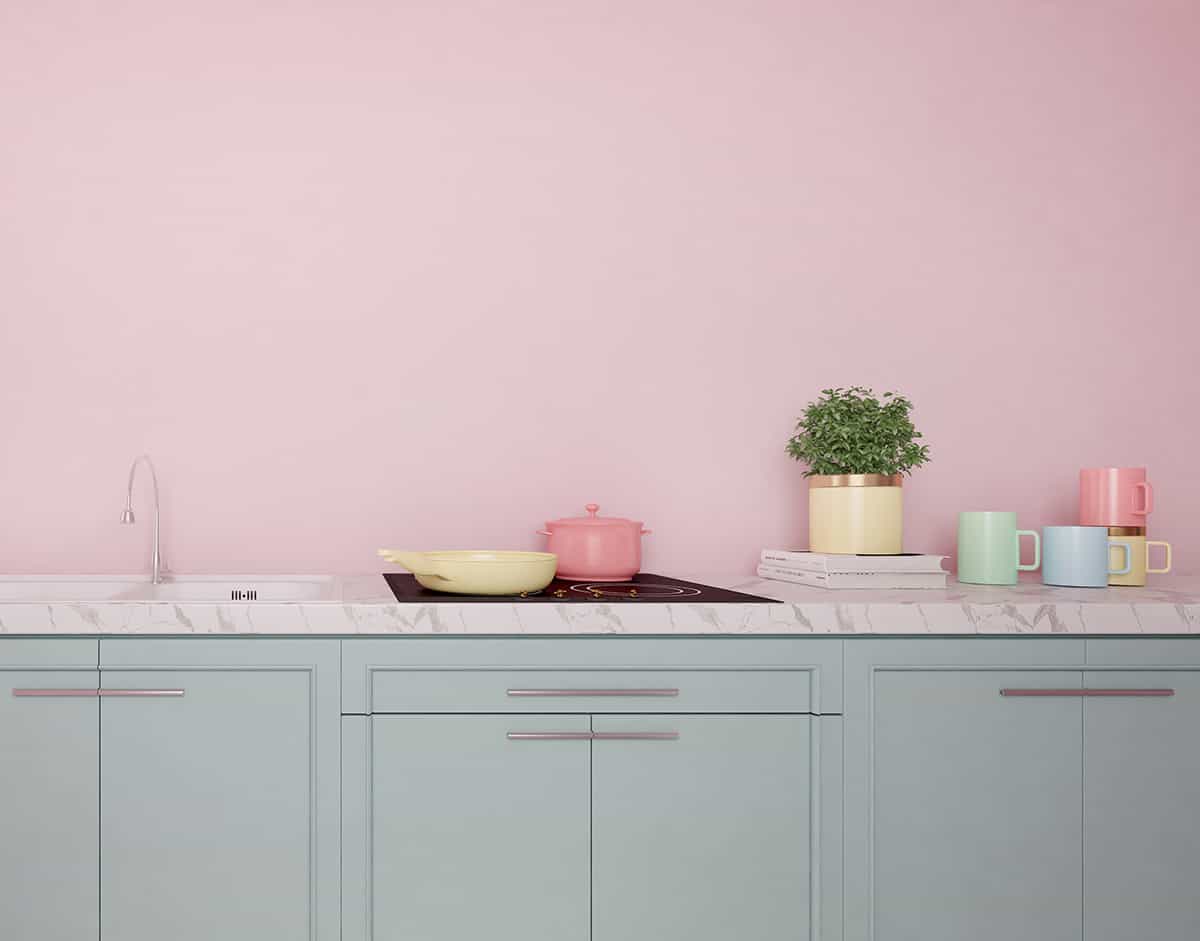 Mint is a fresh and fun shade of green that makes pastel pink feel cute and delightful. The pastel pink and mint green color combos create a sweet look in a child's bedroom or a vintage style in a bathroom. These colors also work really well in an art deco or retro theme, but to maintain a modern edge, they should also be used with a third neutral color.
Paint a bathroom in mint green and use white tiles for the backsplash over a white vanity unit. Then add splashes of pastel pink to create a sweet contrast, such as pink hand towels and pink soaps. Using pastel ice cream shades such as this will make for a room that feels fresh and fun while also being cute and quaint.
Modern Elegance
Colors to pair with for style and mood: navy blue
Navy blue provides a more formal and contemporary feel to a space that is pastel pink, so use these two shades together when you want to create a room that is elegant with a touch of playfulness.
To achieve a predominantly mature space with a hint of fun, paint walls in navy blue and add occasional hits of pastel pink, for example, with pink cushions or a pink vase.
This will satisfy the need for a dark and deep space that has become very trendy lately, while the small pink touches will prevent the room from feeling dull or depressing.
Use highlights of gold or silver metallics to add glamor to a navy and pink space, or opt for black metal finishes to keep the look more subdued.
Bold Feminine
Colors to pair with for style and mood: black
Pastel pink, and black is two polar opposites in terms of the atmospheres they create and the feelings they inspire. While pastel pink is soft, delicate, feminine, romantic, and cheerful, black is strong, harsh, and intense, and it can also be associated with feelings of sadness and death.
By using these two colors together, you can strike an interesting atmosphere of strong femininity. This can work well to create a girlish punk vibe in a teenager's room or a classy, feminine feel in an adult dressing room or bedroom. Opt for pastel pink walls and choose classic prints from Vogue magazine hanging in black frames for a bold and feminine.