Sage green is a popular color in home decor, and it is a color often chosen for furniture paint because it pairs so well with a variety of other shades. If you have upcycled some old furniture with sage green furniture paint, then it will be able to work in various color schemes already in existence in your home since green is nature's neutral.
If you want to decorate around your sage green furniture, or you are thinking about ways you can make sage green furniture feel intentional in your home, then you'll need to consider the colors that go with sage green furniture.
Here we look at some stylish color palettes that incorporate sage green and colors that would accessorize well with sage green furniture.
Color Schemes with Sage Green Furniture
Lemon yellow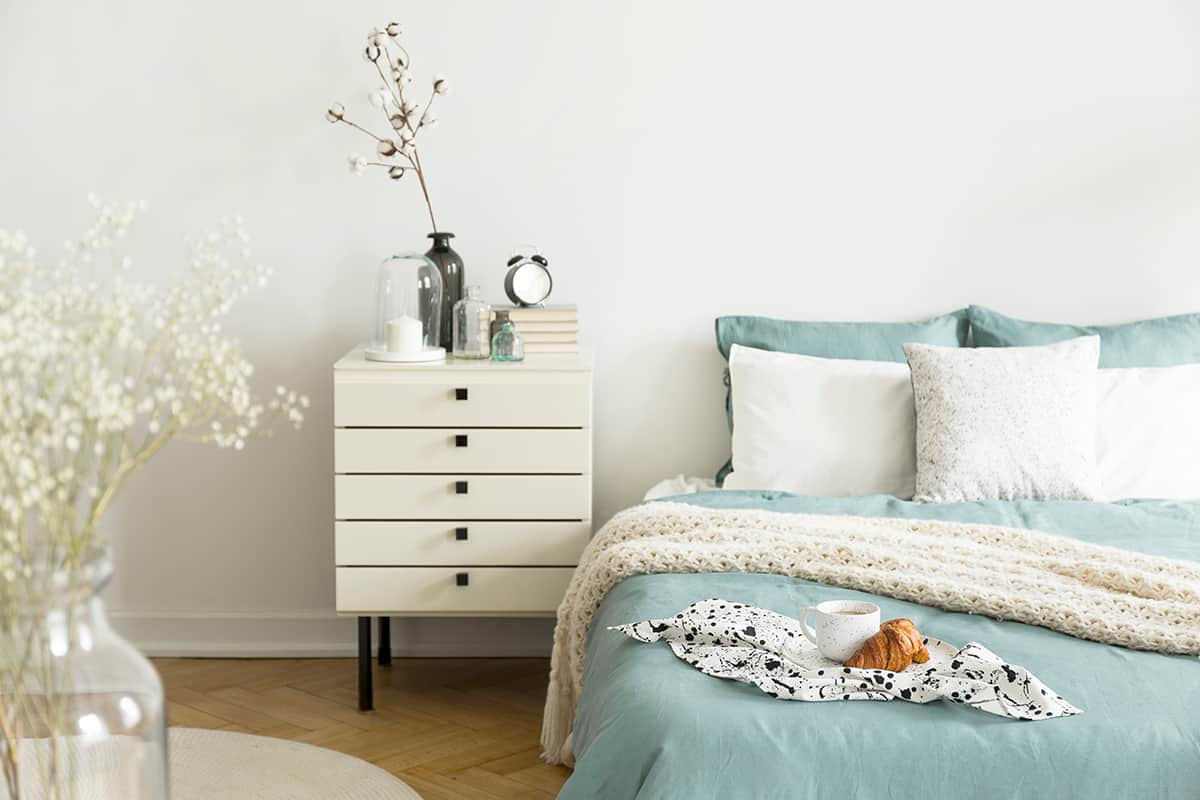 If you have a sage green sofa, then it is going to look irresistibly joyful, and spring-inspired in front of a lemon yellow painted wall. Since sage is a muted shade of green and lemon is a pale shade of yellow, these two colors create a sense of harmony that is clean and fresh while being easy to be around.
Green and yellow are next to each other on the color wheel, which means they are analogous colors, and this tells us that they look natural when used in close proximity to one another.
Despite being next-door neighbors on the color wheel, lemon yellow is a warm and cheerful color, while sage green is cool and earthy due to its gray undertones. This means that although these two colors create a sense of harmony, you will also get a subtle contrast in temperature between them.
With sage green furniture and lemon yellow walls, the theme that immediately comes to mind is country cottage decor based around a botanical motif such as flowers or foliage. Accessorize this look with a cream knitted throw draped over the sage green sofa, lemon yellow cushions, and a cream vase displaying a dried floral arrangement.
Dusky pink
Sage green and dusky pink create a low-key moody feel with their matching gray undertones and effortlessly cool vibes. Despite having a similar feel, sage green and dusky pink actually provide a muted contrast since green and red are directly contrasting colors on the color wheel, and pink is a diluted shade of red.
With sage green furniture such as painted dining chairs, paint the walls in dusky pink and enjoy a pretty and tender atmosphere. Stick to pastel shades or pale neutrals for soft furnishings and accessories. For example, off-white curtains and off-white picture frames, and tie the color scheme together with sage green candles on a shelf and dusky pink placemats on the dining table.
Lavender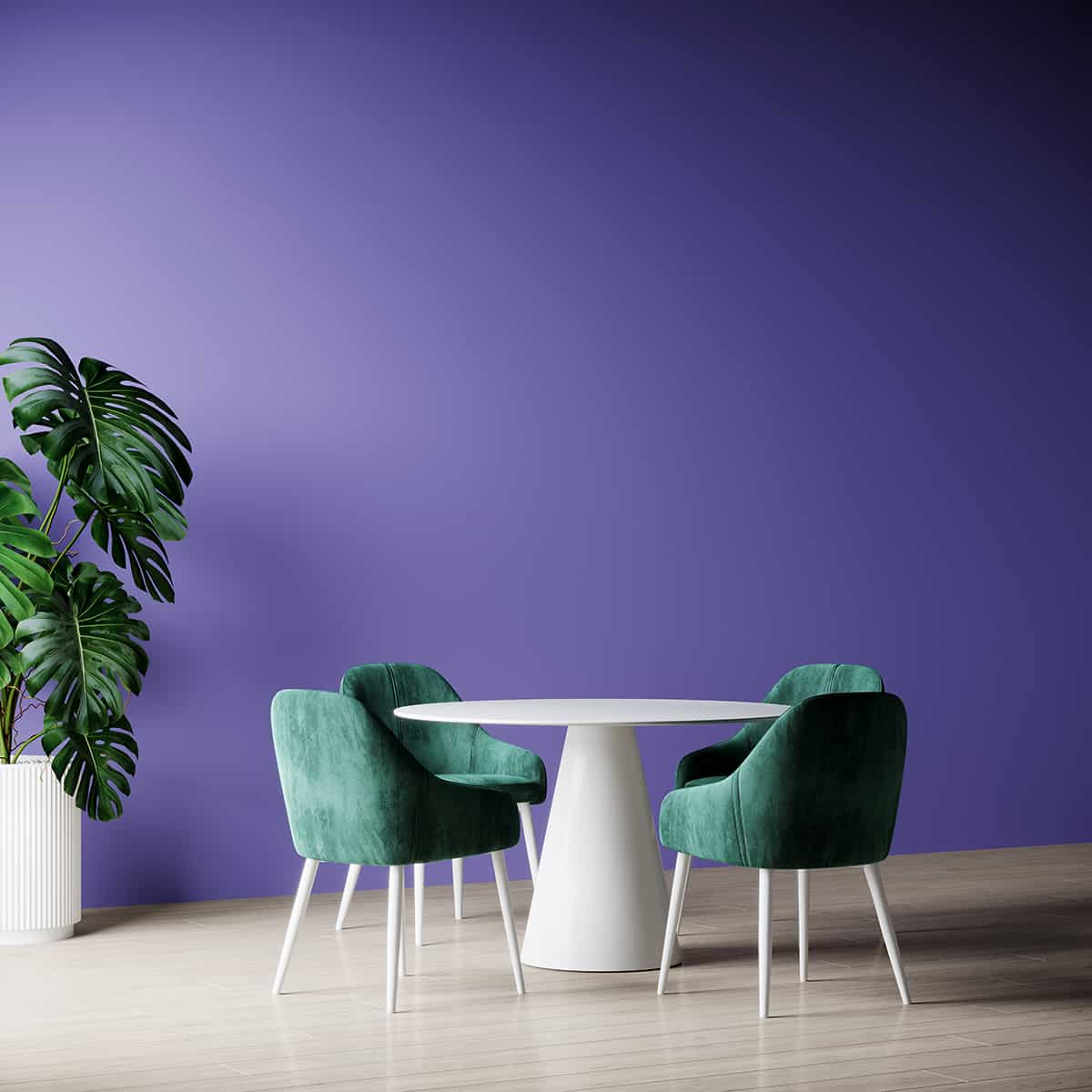 If you want your sage green furniture to stand out, then set it against a lavender background. Sage green is definitely a color that goes with lavender. These two colors are a match made in heaven, with an off-center contrast that feels fresh and innocent.
Paint the walls behind a sage green sofa in lavender, or opt for a floral wallpaper with a heavy splash of lavender features. This can make for a lovely botanical theme that comes off as fresh yet soothing. It will work perfectly in a guest bedroom, a kitchen, a dining room, or a living room.
You could highlight a lavender and sage green color scheme with some touches of dark purple such as eggplant. For example, set velvet eggplant cushions on a sage green sofa with a lavender-painted wall behind.
Cornflower blue
Blue and green are positioned side by side on the color wheel, so they create a sense of harmony when used together in interior design. Sage green and cornflower blue are colors both associated with relaxation and rejuvenation, so use them in a space where you want to achieve this kind of atmosphere, such as a bathroom or bedroom.
A vanity unit painted in sage green will fit in well in a bathroom with white walls and a cornflower blue mosaic tile backsplash behind the sink. Coordinate the colors with other items around the room for a sense of consistency, such as sage green towels and a cornflower blue bath mat.
Poppy red
Green and red are contrasting colors because they face directly opposite each other on the color wheel. When used together, green and red make for a very bold and vibrant contrast, which isn't something you necessarily want to see in your home every day.
However, a slightly more muted version of this contrast can be appealing. Since sage green is a muted shade of green, it will already make for a more subtle contrast with red compared to if you used a bright shade of green.
You can make the contrast even more pleasing by opting for a shade of red with heavy orange undertones, such as poppy red. Although poppy red and sage green are essentially a directly contrasting color pairing, the fact that the shades used are not pure and bright means that the contrast is not overwhelming and instead comes across as interesting and deep.
With a sage green piece of furniture such as an upholstered accent chair, paint the wall behind in poppy green, and the focus will instantly become the green chair. Using a directly contrasting color helps to make the opposite shade stand out, so setting a sage green chair against a poppy red wall will make it the center of attention, popping out against its contrasting background.
Terracotta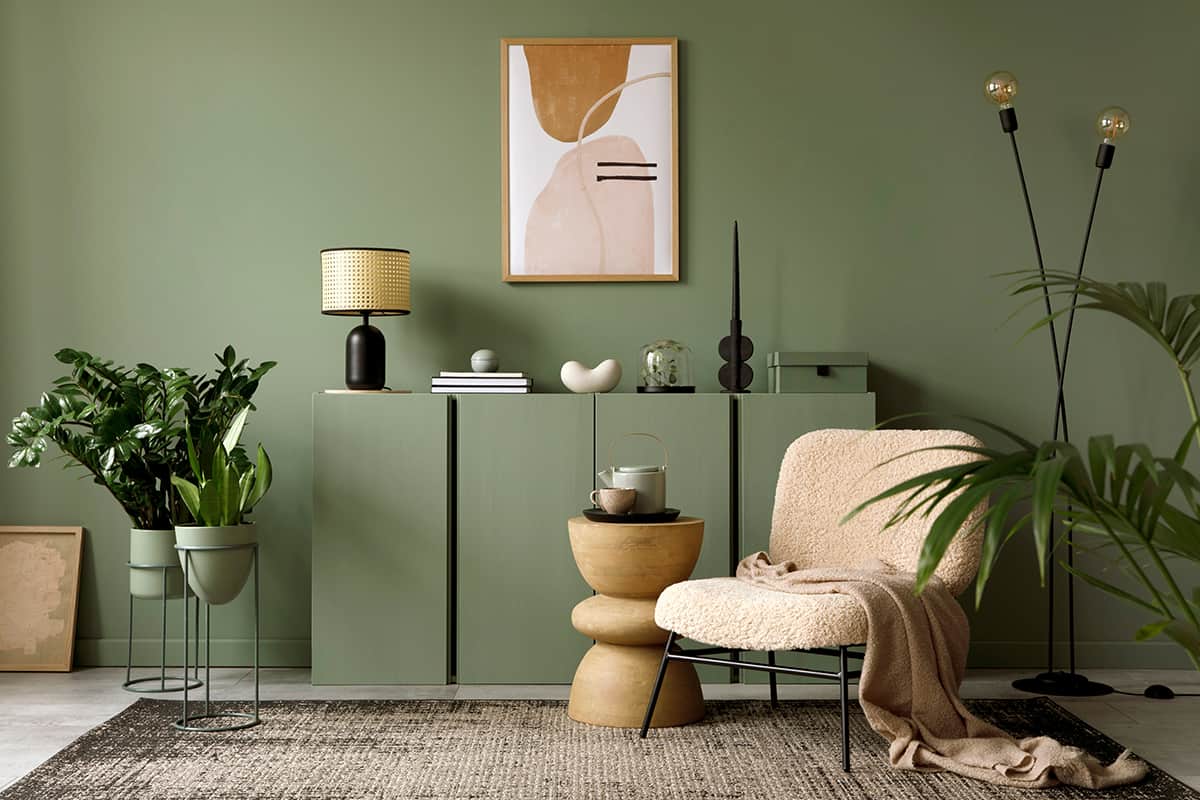 Sage green has an earthy feel, so it works nicely alongside terracotta, which also has an earthy feel, albeit with a warm temperature compared to the cool temperature of sage. Terracotta is a rusty shade of orange, with undertones of red and brown, and because of these red undertones, it creates a nice contrast against sage green that is quite strong without being overwhelming.
Terracotta is a dark and subdued version of orange, so it is easy to be around while still providing the warm and creative energy you get from brighter shades of orange. In a bedroom, set terracotta silk cushions on a sage green chaise longue for an indulgent yet natural look.
Off white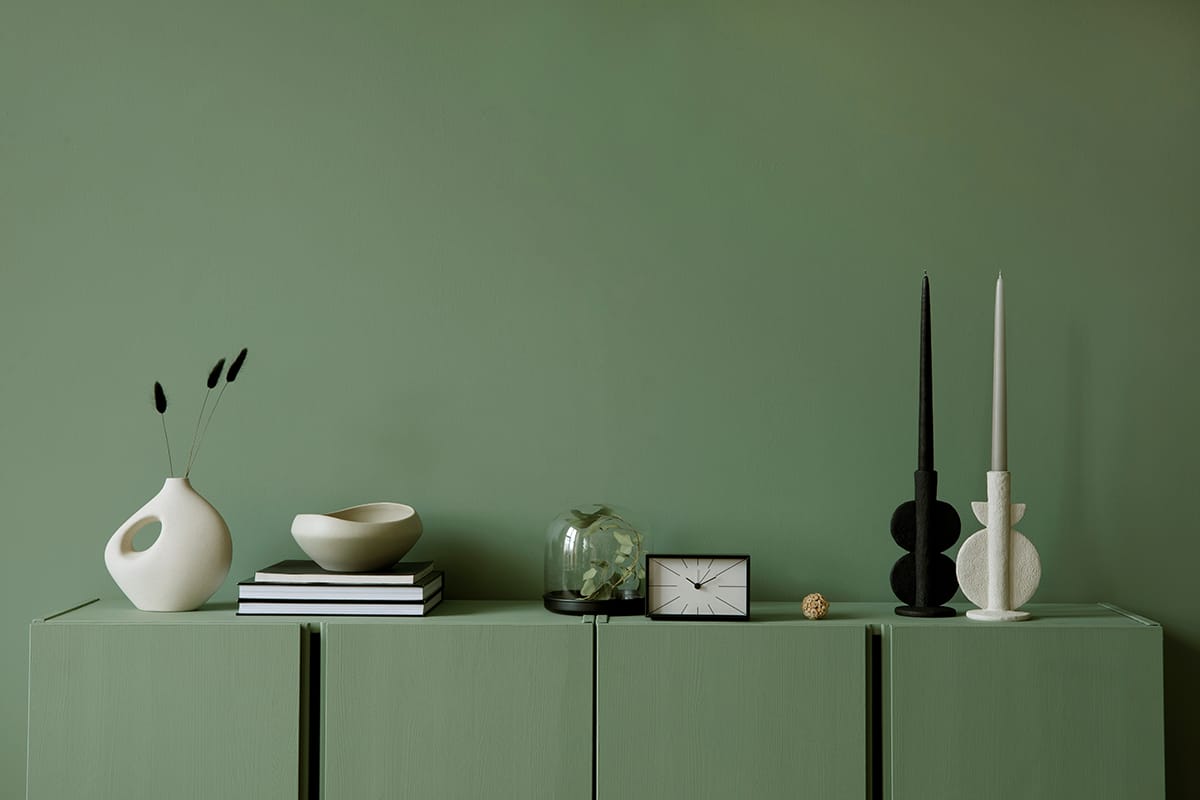 If you want your sage green furniture to be the focal point in a room, then choose a shade of off-white for the walls in your room. Off-white paints don't offer a strong personality, so they create the ideal base when you want your furniture to be the prominent features in a space.
Shades of off-white will not fight for attention and instead will make for a neutral, easy-going background to soothing sage green furniture.
In a bedroom with sage green wardrobes, paint the walls off-white and benefit from the bright and airy feel alongside the muted, natural shade of green.
Gray
Sage green has gray undertones, and you can help to shine a light on these by decorating with gray around your sage green furniture.
Add a gray blanket draped over the back of a sage green sofa, or paint the bedroom walls gray behind a painted sage green wooden bed frame. Sage green has a cool vibe, and if you want to accentuate this for a cold feel throughout the room, then gray is an ideal color choice.
Opt for a soft gray such as pale dove gray for a look that will feel seamless, or choose dark charcoal gray for a dramatic style with sage green furniture.
Accessory Colors with Sage Green Furniture
Fuchsia pink
If you want to create a vibrant contrast in a room with sage green furniture, then do so with short and sharp bursts of bright color. Sage green is a very muted, earthy color, which can read as a neutral in many spaces. This means that you can use it to create an overall soothing atmosphere while still enjoying some bold contrasts.
In a room with sage green sofas and pale gray walls, add a few fuchsia pink velvet cushions. The result will be dramatic and stylish without altering the ultimate feel of the room.
Teal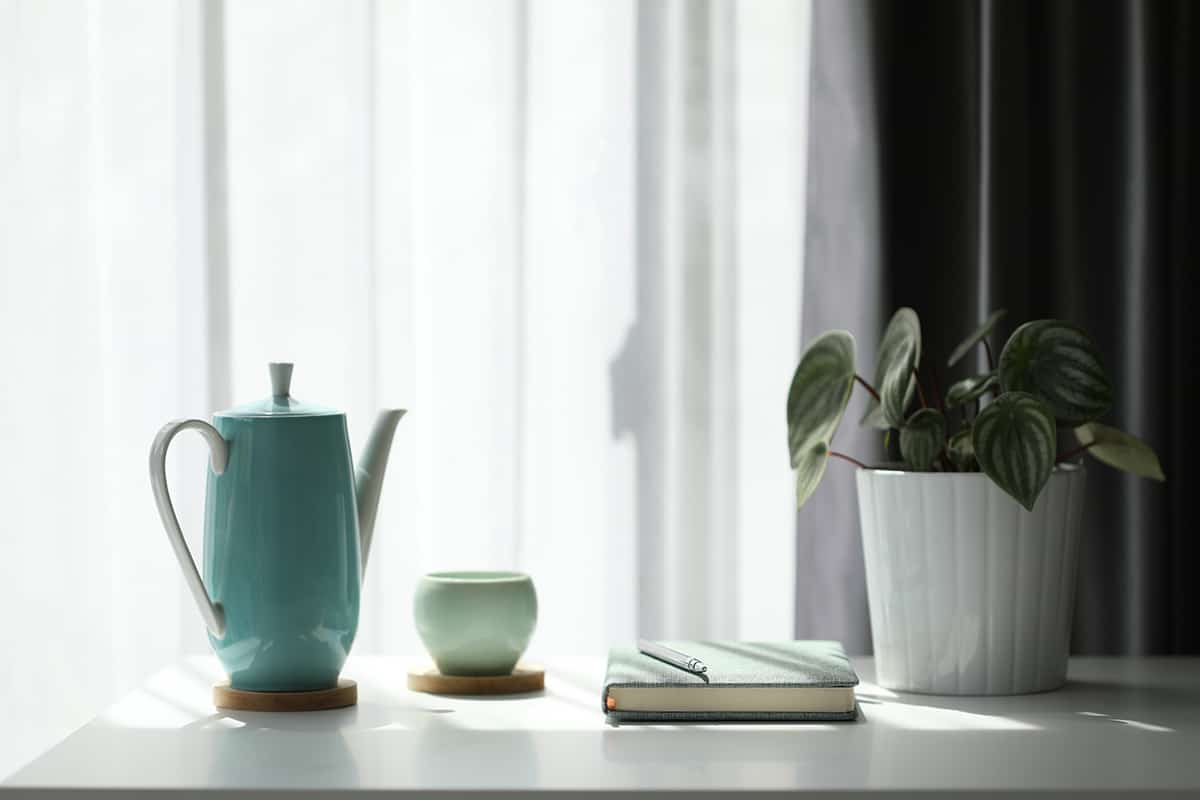 Teal is an intense shade of blue-green that will accent really nicely against sage green furniture for a look that is vibrant yet classy. Use teal lampshades in a room with sage green painted bookshelves and a teal area rug.
Black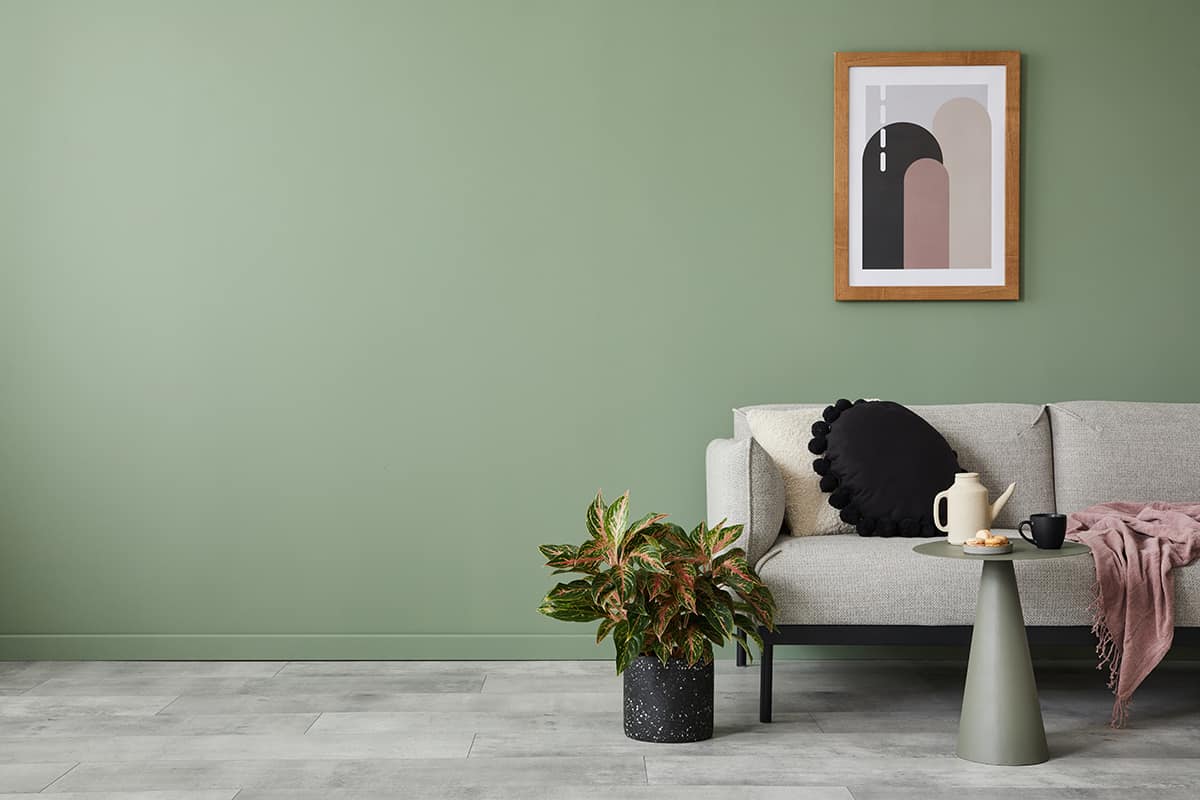 Sage green feels very relaxed and laid back, but you can make it feel instantly more sophisticated with black accessories.
Add a black faux fur throw over the back of a sage green accent chair, or use a glossy black marble countertop on a sage green vanity unit.
Gold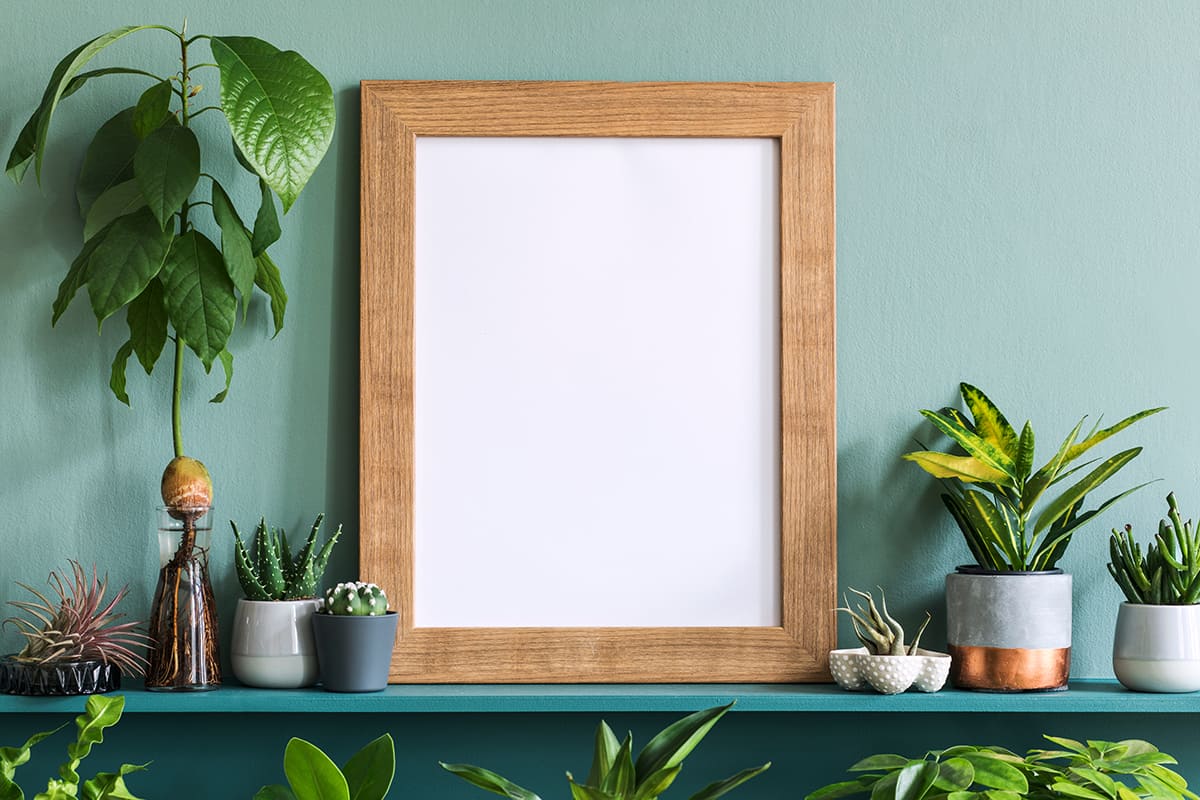 Sage green furniture is very versatile because it can come off as casual, traditional, contemporary, or glamorous, depending on how you style it.
To achieve a more elegant look with sage green furniture, opt for gold accessories and details. For example, gold metal legs on dining chairs upholstered with sage green fabric or gold lamps on painted sage green nightstands.