The color pewter is labeled after the type of metal with the same name. The color takes its cue from the medium gray shade of pewter and should have cool to neutral undertones. The material of pewter has a color that can vary depending upon its composition.
Traditionally, pewter would be made from tin and lead, and this type of pewter would have a darker silver-gray color. Modern-day pewter, which is intended to come into contact with humans, does not contain lead due to the health risks associated with it and instead is made from a high proportion of tin with a small amount of antimony and copper.
Items made of this sort of pewter are costume jewelry, cups, and tableware. The result of this pewter mix is a malleable metal that has a medium to light silver-gray color.
The color of pewter is based on this type of metal, and pewter has become a popular color of paint since the trend for gray interiors exploded. Pewter paint will have a medium to light gray color with a slight blue or green undertone. Some of the excellent colors that go pair with pewter include.
Navy blue
Ecru
Ochre
Sage green
Tan
Blush pink
Using Pewter in Home Decor
Pewter is a neutral shade, and as such, it is really easy to incorporate this color into interior decor at home.
Wall surfaces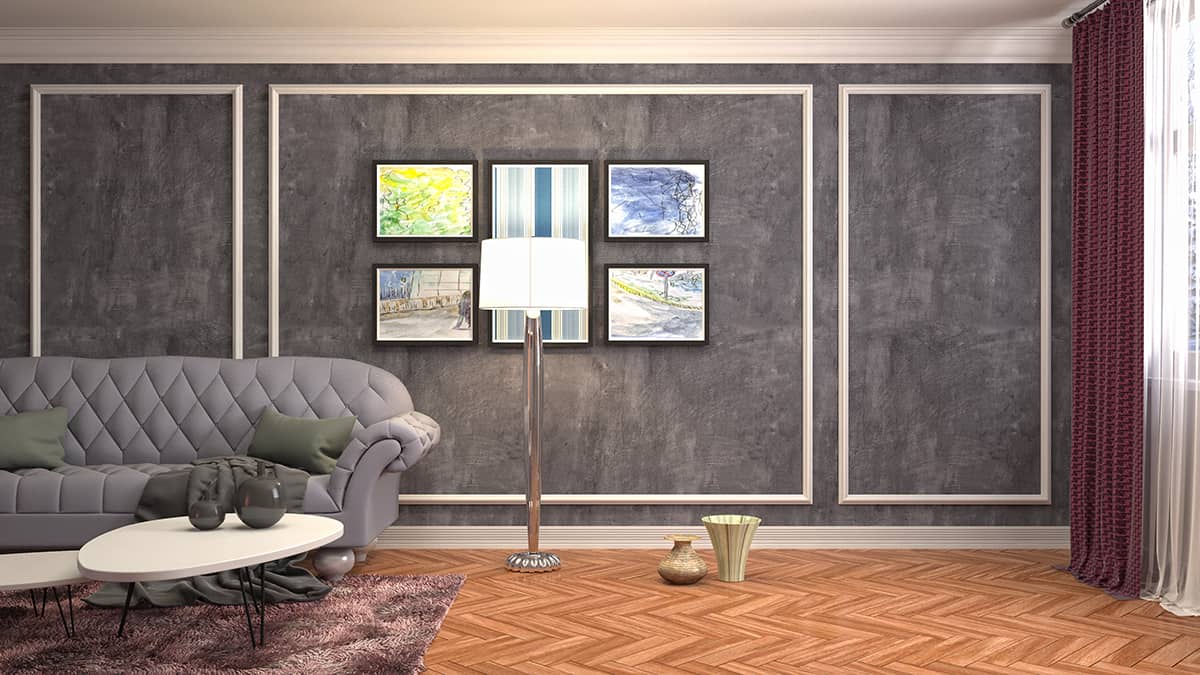 Pewter has a relaxing and modern vibe which makes it an excellent choice for wall paint in any room of the home. It will create a contemporary background in a living room which you could then accent with bright pops of color for a fun and quirky style, or add dark jewel tones for a more dramatic and luxurious effect.
In any space in the home where you have old-fashioned furniture, paint the walls in pewter to instantly update the space and make it feel modern. Pewter walls can also make for a cool and calming base in a bedroom. Add blush pink or peach accents with gold metal accessories to give the room a tender atmosphere that works well in bedrooms.
Soft furnishings
Pewter soft furnishings can be used to add a casual aesthetic to a room or to help balance out brighter and bolder shades. In a room with blue or green walls, hang pewter curtains at the windows and opt for a pewter-colored sofa to soften the color scheme.
In a white room, pewter soft furnishings such as a rug and cushions can punctuate the space with a cool and neutral color that isn't as heavy or contrasting as black. Pewter soft furnishings can also look glamorous. For example, velvet pewter upholstered dining chairs with gold metal legs.
Since pewter does not have a strong personality, you can use it to create subtle effects in a room, which will be defined by the textures and styles you choose.
Cabinets
Pewter cabinets are enormously popular in kitchens, bathrooms, and bedrooms, and it's not hard to see why. This neutral color has a perfectly medium tone, which means it can work well in both light and dark color schemes. Pair pewter cabinets with charcoal-painted walls for a dramatic and intimate feel, or opt for pale gray walls to create a more cool and breezy effect in a kitchen.
Pewter is a color that is not so strong that it dominates a space, but it is not so weak that it will be overwhelmed by other colors. This makes it an ideal choice for cabinets since you'll be able to use various colors for wall paint over the years without feeling confined to a certain color palette because of the pewter cabinets.
Pewter kitchen cabinets will stand up well to bright colors such as magenta or bright yellow, and they also won't be drowned out by deep colors such as emerald green or navy blue. This makes pewter cabinets not only a stylish choice but also a smart choice in terms of longevity and practicality.
Artisan-style
Pewter is a material that has historically been used to make tableware, and this is something that is coming back into style. To follow the trend of a rustic style dining space, use real pewter cutlery and hammered pewter bowls and dishes to serve food on.
This artisan look will be accentuated with raw wooden surfaces such as an unfinished oak dining table and stoneware such as a terracotta planter as the centerpiece. The key here is to create an aesthetic that feels natural and quite basic, alluding to a fresh and more wholesome way of eating and entertaining.
Simple white napkins and woven baskets will also look great with this rustic style.
Colors to Use with Pewter
Navy blue
Pewter tends to have some blue undertones, so using this color in a blue color scheme can create a sense of harmony. Navy blue pairs well with pewter because it provides a shade contrast between the medium to light shade of pewter and the dark and deep shade of navy blue.
Blue colors have soothing energy, so using these two colors together will result in a space that feels cool and calming. In a room with pewter-colored walls, opt for heavy suede navy blue drapes at the windows and a large navy area rug to ground the room.
Add white accents for a fresh and pure splash, or consider gold metal accessories to lift the feel of the space to a more glamorous atmosphere. For a dining room, paint the walls in navy blue and use pewter accents for furniture and accessories. This will result in a more intimate or formal style.
Ecru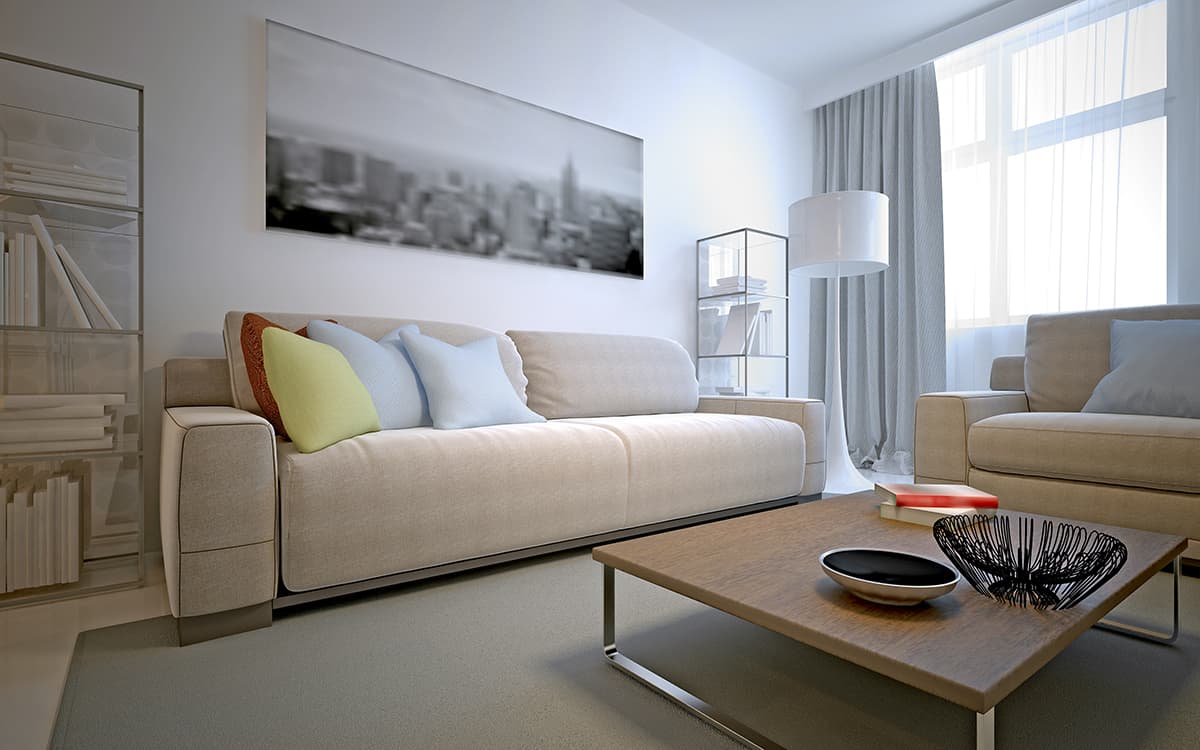 Pewter metal has a natural patina that develops with age, and this can be used as inspiration for an artisan-style space with other natural colors and textures. As the color of unbleached linen, ecru color has a pale and earthy color that can be combined with pewter accessories to create an authentic rustic style.
In a living room, position a hammered pewter plant pot in front of an ecru painted wall and choose a jute area rug to sit beneath a pewter-colored linen sofa. Ecru crochet blankets draped over the sofa, along with woven baskets for storage, will all add to a natural and rustic feel.
Ochre
Ochre is a rich and dark shade of yellow with hints of brown. It has a very warming effect that can be used to make a room feel more homely and inviting. Gray and yellow are a color combination that always works well together, and this is true of pewter and ochre as both of these shades have a muted and earthy tone.
In a room with pewter-painted walls, choose an ochre sofa for a striking contemporary look or a charcoal sofa for a more neutral style, and top it with ochre cushions. An ochre accent wall will look stylish in a room where the rest of the walls are painted in pewter.
Use black accents with this color scheme to maintain an artistic and modern style, such as black metal furniture and black-framed posters hanging on the walls.
Sage green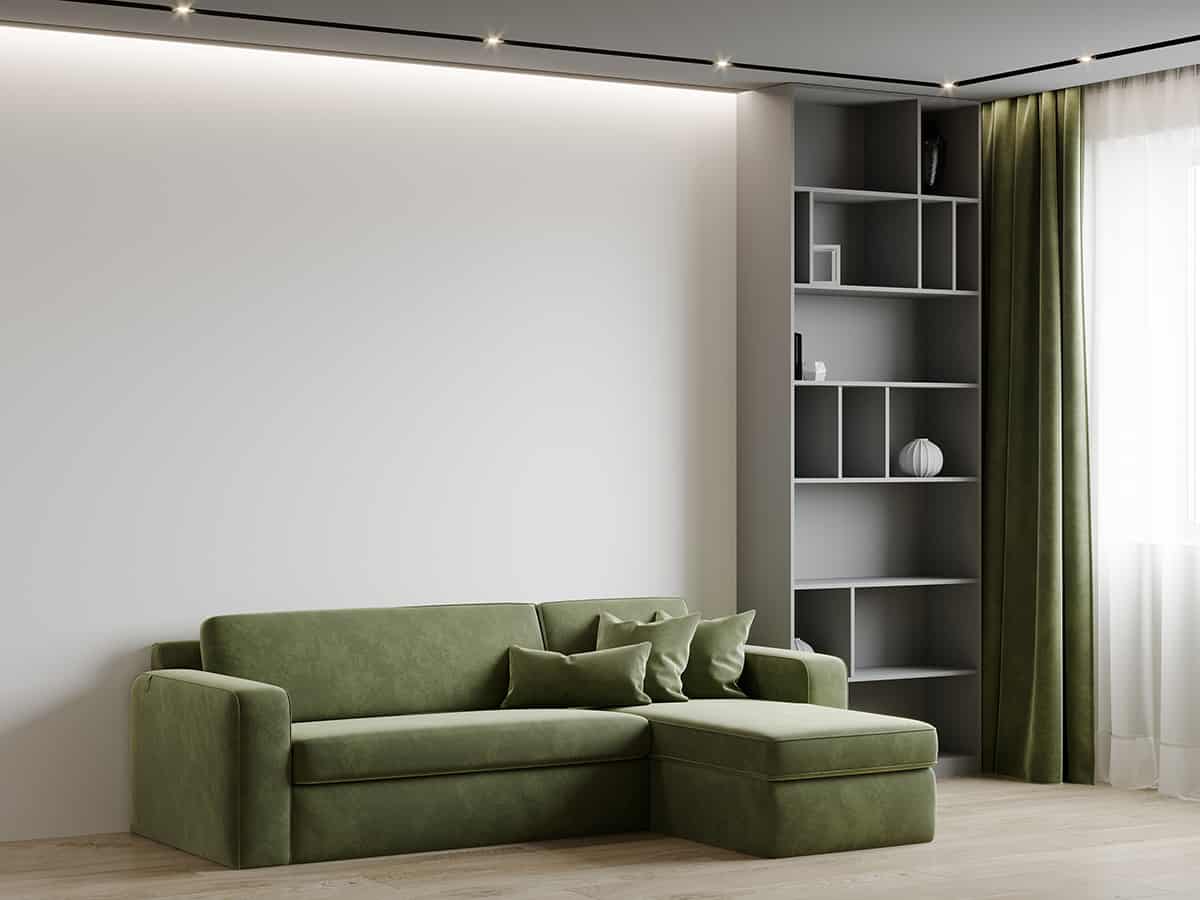 Pewter and sage green are a great color combination to use to achieve a natural or farmhouse-style look. In a kitchen with sage green cabinets, paint the walls in pewter gray and opt for oak hardwood floors and oak countertops for a contemporary take on rustic farmhouse living. These colors also translate well in an outdoor-inspired space.
Paint walls in sage green and use pewter-colored soft furnishings such as a sofa and curtains, then add houseplants in woven baskets to create more depth and variation of green shades, as well as an earthy, textured look.
Tan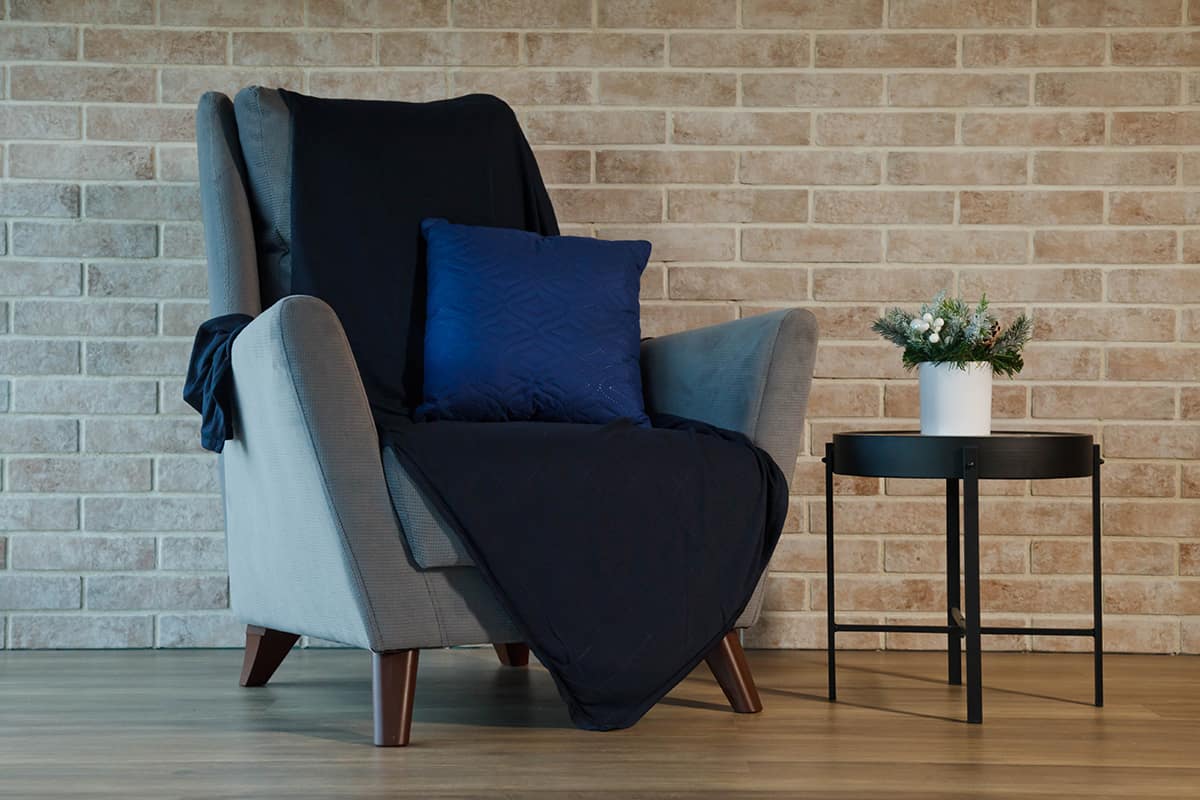 Pewter is a shade of gray that works really nicely with both cool and warm color schemes. To create a style that feels comforting and modern, pair pewter with tan.
Tan is a warm shade that hovers between dark beige and light brown, and it has warming energy that isn't overwhelming. Add this to the cool and effortless style of pewter, and you will have a stylish, understated contemporary room that feels cozy yet cool.
Paint walls in pewter and choose tan leather sofas draped with off-white soft blankets. A fireplace could be clad with tan-colored subway tiles for continuity, along with a hammered pewter log or coal bucket for a rustic accent.
Blush pink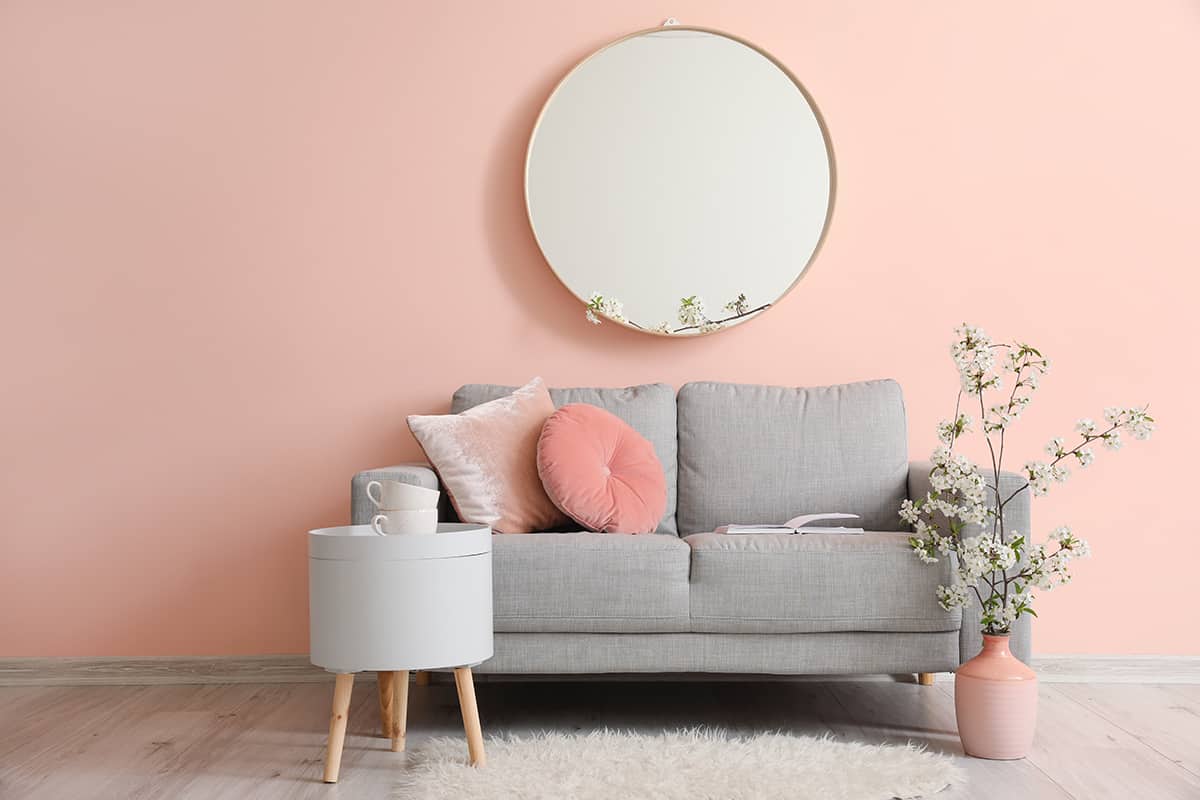 Pewter is one of the many colors that pair well with blush pink. Use touches of blush pink in a predominantly pewter room to soften the look and make it feel more accessible. Blush pink is great for this effect because it adds a slight edge of femininity without making the space feel frilly or pretty.
Pewter is a good color choice to use in a predominantly pink space to ensure the room feels modern and mature. To easily transition a child's blush pink bedroom to a teenager's or adult's room, paint a feature wall in pewter gray and add in pewter soft furnishings such as pewter bed sheets, and pewter curtains, or a pewter rug.