Maroon is a very dark shade of red, which can, at times, mimic brown due to its depth and intensity. It has a rich, warm feel to it, and as a result, it can also be mistaken for burgundy.
Maroon can be used in interior design to create a cozy atmosphere, but the darkness of this color can also make it come across as quite dramatic. Here we look at ways to use maroon in home decor and which colors to use alongside it.
What is the Meaning of Maroon?
Maroon, at times, is mistaken for the color burgundy despite them being a product of two very different blends of colors. Though they share red in both their make-ups, they are differentiated by their different follow-up colors; maroon is a mix of red and brown, and burgundy is a mix of red and purple.
Maroon is often associated with passion and conviction. As a dark shade of red, it is perceived as intense and dramatic. This color is often found in restaurant interiors, menus and logos as it is said to stimulate appetite. Within the home, this makes maroon a good color choice for use in the dining room or kitchen. It can also be seen as a seductive color, making it suitable for adult bedrooms.
What Colors Go with Maroon?
Maroon and Blue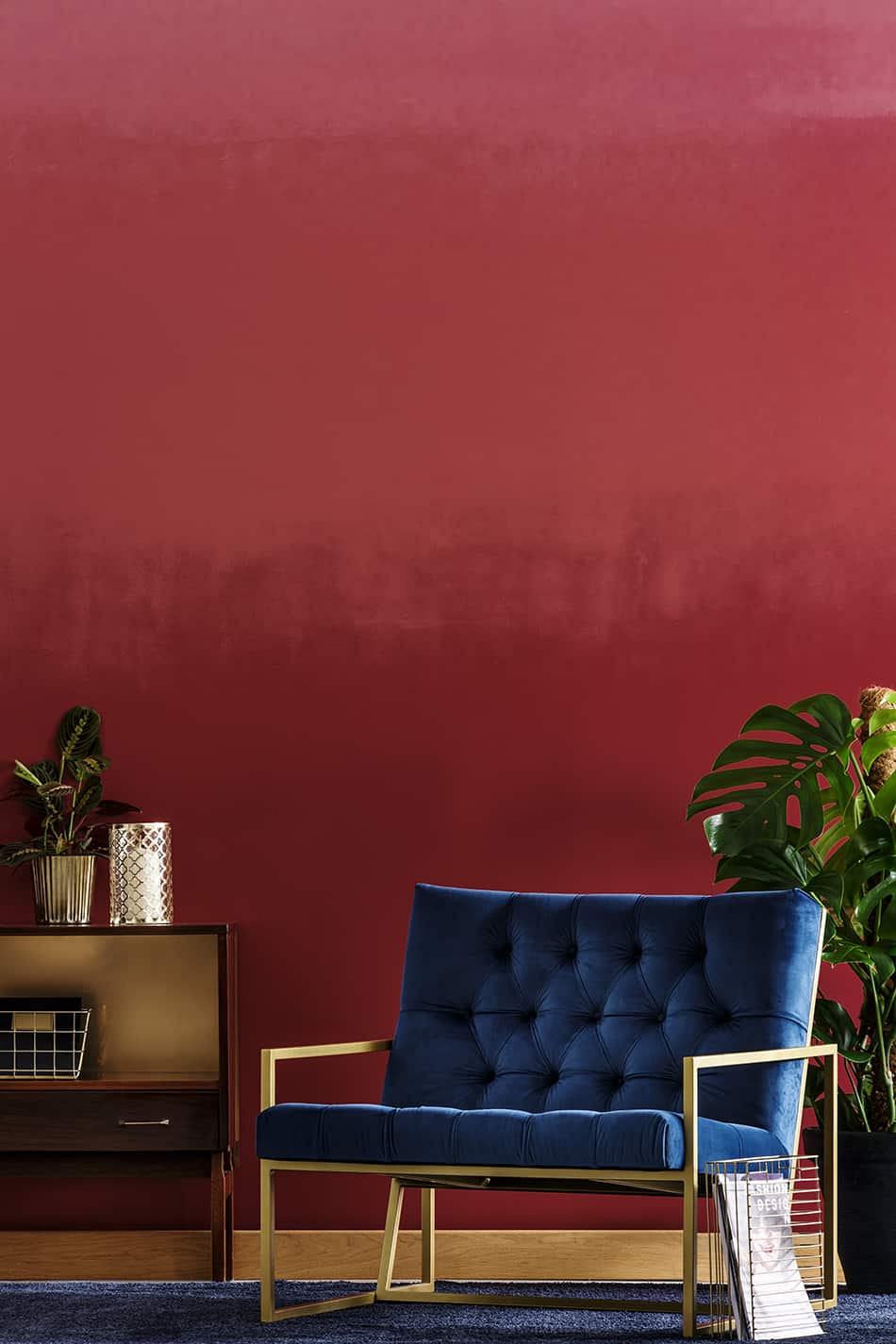 These colors combine with ease and can be used on the outside of a building or in the interiors. Maroon is a rich dark color and therefore blends well with the cooler or light shades of blue, with a bluish-gray for the wall color of the room and a touch of maroon on beddings, pillows, and such.
Also, teal can create a nice balance with the lighter tones of blue and maroon to create a perfect ambiance for the room.
Maroon and White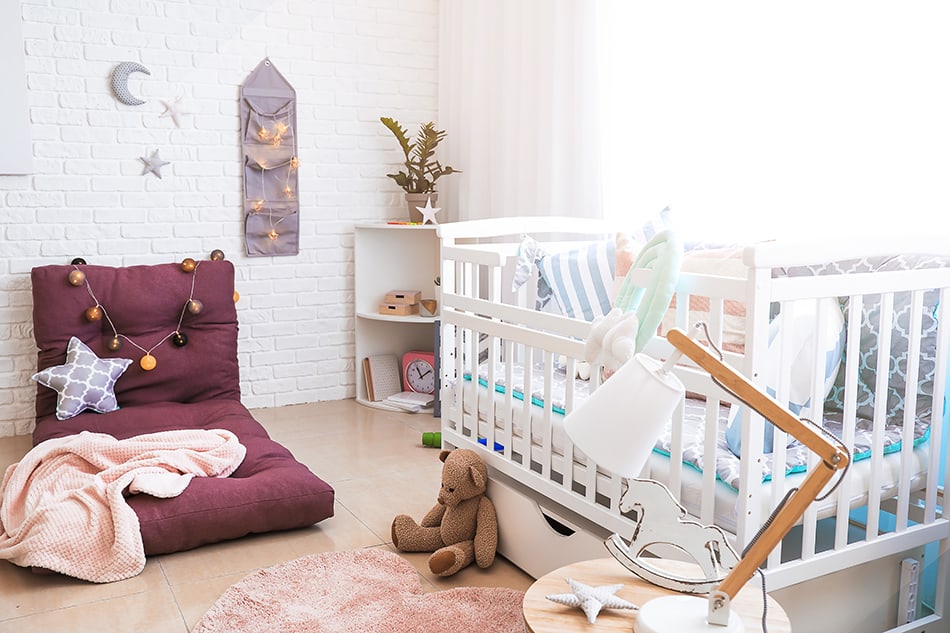 As maroon is quite a bold color, pairing it with white will allow it to take center stage, and ensure it doesn't need to compete for attention with another distinctive color.
In a maroon room, use white accessories and white trim to add a classic appeal, or in a predominantly white room, you could add maroon to make the space feel more homely.
Maroon and Beige
Beige is a warm neutral color that blends well with maroon because they are both comforting colors. Since beige is regarded as a fairly bland color, maroon can be used in a beige space to add interest and style.
You can work maroon into a beige space with maroon curtains or draping a maroon throw over the end of a bed. In a room that is predominantly maroon, add beige details to help make the space feel lighter and more casual.
Maroon and Purple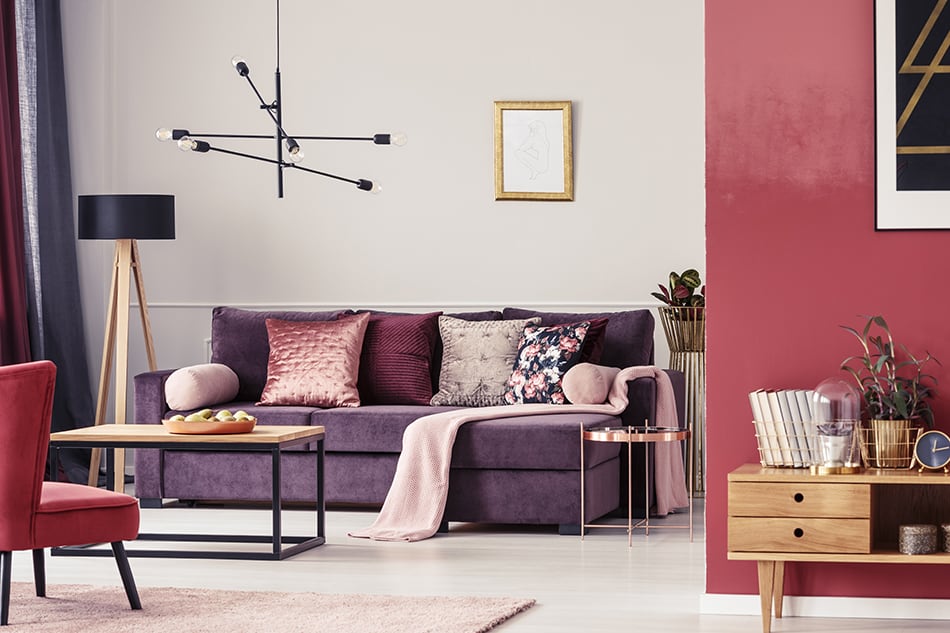 These two colors are a daring combination since both of them are dark bright colors. That said, maroon is a color that complements purple well as maroon appears to have a light touch of purple. To prevent the brightness of maroon and purple from overtaking a room, the 60-30-10 rule should be adopted when mixing the colors.
Further, for a desirable outcome, a neutral color, off white for instance, should be used for the foundation of the room in terms of 60 percent, and maroon should be added at 30 percent with a finishing of a touch of purple on appliances such as a piece of furniture at 10 percent to complete the equation hence bringing a perfect outlook to a room.
Maroon and Green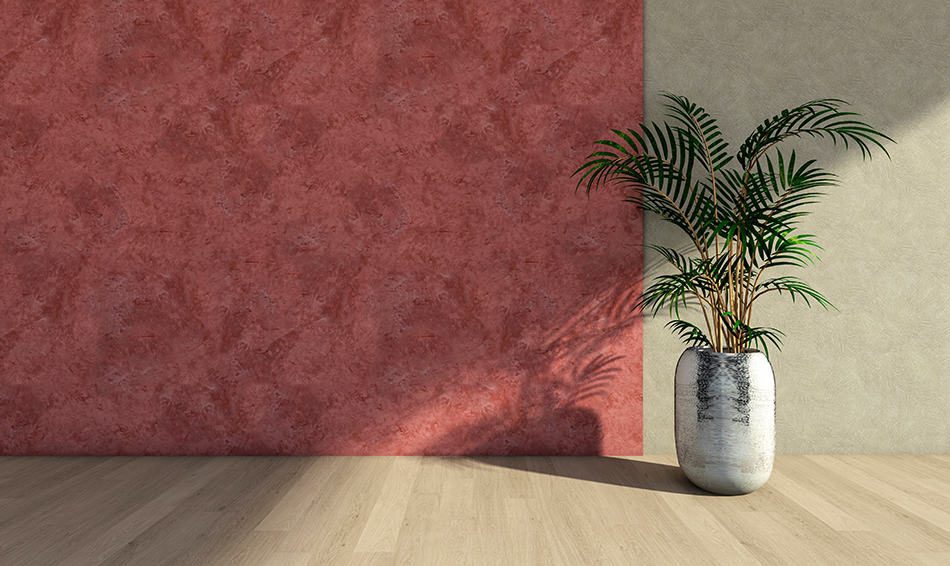 Maroon and green can work well in a variety of combinations since these colors are contrasting and complimentary. In a formal setting, maroon and emerald green pair well together for a distinctive and well-balanced look. Consider adding maroon cushions to a velvet emerald green sofa for a style that reads as modern but hints at a more traditional and vintage color scheme.
Paler shades of green can also work well with maroon if you want to lighten the tone of a space. Consider olive green or sage green with maroon for an earthy feel in a room or mint green for a contemporary look. Fabrics that feature both of these colors together are another great way to create an appealing style in a space.
The opposite shade to green on the color wheel is red, and since maroon is a variation of red, this is why the colors work so well together. They are able to bring out the best in each other, making the opposite color feel more vibrant and intense.
Looking for more green shade combinations, check out our article on colors that match well with green.
Maroon and Gold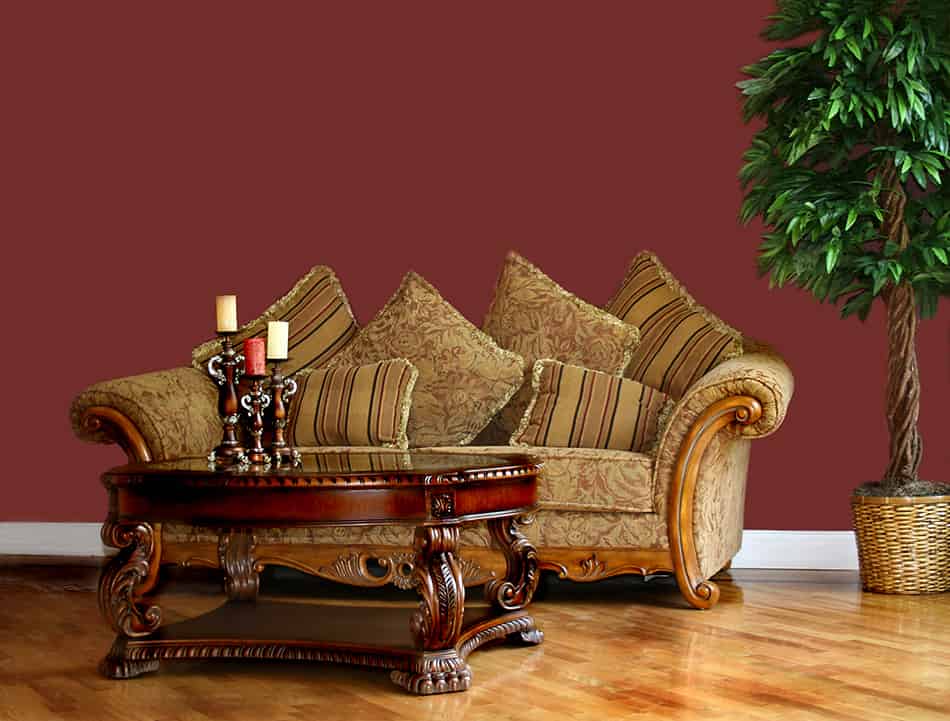 Maroon and gold color schemes can be classic, glamorous, and elegant. This pairing of colors never fails to add formality to a space, or a sense of luxury.
Use it in a setting where you want a sleek and stylish appeal, such as a bathroom with maroon-painted walls, gold taps, and a gold-framed mirror. This is also a color scheme that works well in a formal yet modern living room; for example, choose a maroon velvet upholstered accent chair with gold metal legs.
Maroon and Black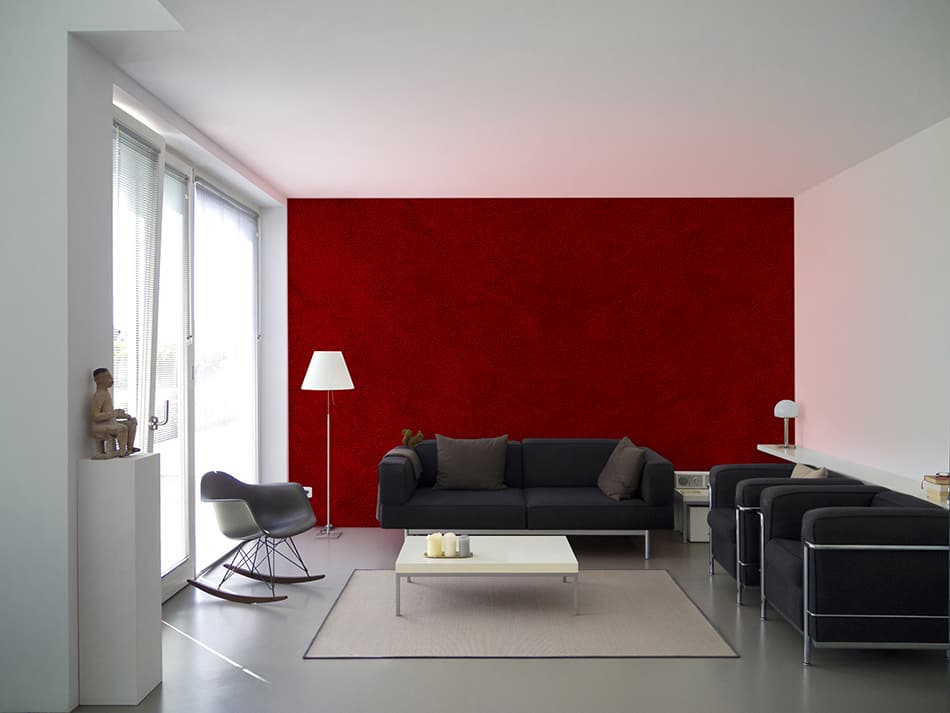 Both of these colors are dark and intense, so they can be used together as long as another lighter color is added to the mix. If you use black and maroon together without a third shade, they can take over the room and make it feel too heavy.
Instead, select a further color, such as beige or dusky pink, to help create balance. The easiest way to balance out three colors for a harmonic feel in a room is to apply the 60-30-10 rule. For example, use beige across 60% of the space, black across 30% of the space, and maroon across 10% of the space.
Maroon and Gray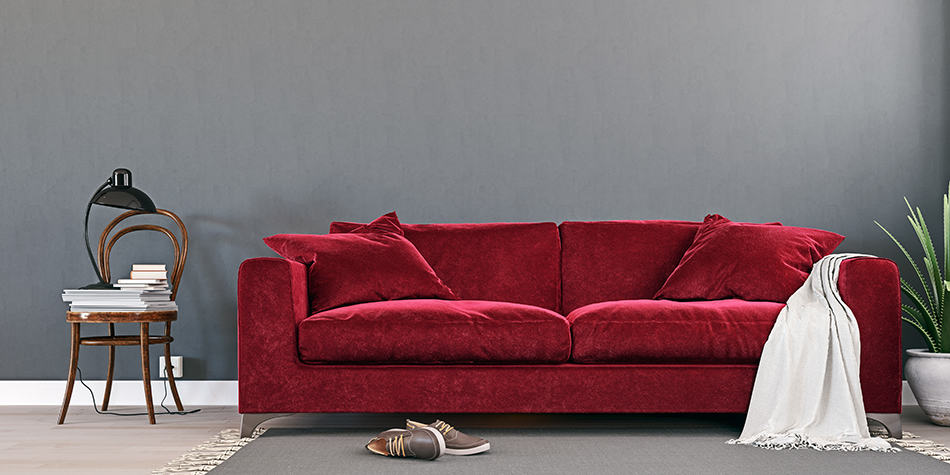 Compliment gray rooms with a bit of brightness and warmth by mixing it with maroon. Gray is generally a cool color with undertones of green or gray, so you can use maroon to ensure a gray space doesn't read as too uninviting, and the maroon will also create a subtle contrast of warm against cool.
In a pale gray living room, you could add a deep maroon rug and maroon cushion covers to give the space a more cozy and welcoming feel. Conversely, if you have a maroon space that reads as too intensely warm, you could balance this out with gray details. Gray accents in a maroon space will also ensure the room doesn't come across as old-fashioned or traditional.
Maroon and Red
Being in the same category of colors, go for brighter shades of red to compliment the darkness of maroon. These two colors are often used together in such designs of traditional oriental rugs.
These rugs offer a substantial base in terms of either conventional or more modern spaces. Choose a rug with a robust touch of red and maroon to add a lease of life to additional impartial spaces.
Maroon and Burnt Orange
Maroon and orange have a lot of similarities. They both are based on red and are distinctive, bold, and warm. These two colors might not be an obvious choice to use together in a color scheme, but they can work really well for particular styles.
In a boho or retro style space, burnt orange and maroon can create a hippy-inspired theme that feels authentic. Consider bold prints containing both colors, such as a rug with circles of maroon and burnt orange.
Maroon and Salmon Pink
This is a really high-fashion, eclectic color choice for interior design. The two colors are both warm and on the same side of the color wheel, so when they are used together, the result is welcoming yet modern.
In a maroon room, add in a salmon-pink accent rug or some throw pillows, or choose maroon accessories in a salmon-pink bedroom to make it feel like a more mature space.
Maroon and Charcoal Grey
Maroon, being a bright color, goes with gray, which is a neutral cooler, as the brighter tones in maroons are well complemented with the darker shades and undertones of the grey hence creating another brilliant combination.
Maroon and Brown
Being a slightly warm color, brown generally blends well with all colors; hence this would be a safe choice when used together. However, if you add in a third color to help add definition, they can work well.
For example, paint the walls maroon, use brown wooden furniture, and white trim with white accessories. This is a color scheme that is timeless and could be used for both contemporary and traditional style spaces. It will ensure a cozy and comforting atmosphere and also is inoffensive, so it would be ideal for decorating a room when selling a house.
Maroon and Cream
Maroon and cream can be a hard color scheme to pull off because they have a tendency to look quite dated; however, if you use them in the right way, the result will be chic and classic.
In a mid-century modern living room, opt for a cream-colored linen sofa against maroon walls, and add splashes of olive green around the room for a muted contrast.
How to Use Maroon in Home Decor
Wall paint
Maroon is an ideal color for walls as it creates an atmosphere of warmth and relaxation in any space. If you have a room that lacks natural light and therefore has a cold or sterile feel, you can use maroon paint on the walls to make it feel cozier and inviting.
Dining spaces
Maroon is a popular color choice in dining spaces such as kitchens and dining rooms because it is believed to have the ability to increase appetite or stimulate appetite. You could incorporate this color into your dining space using wall paint, wallpaper, or soft furnishings such as maroon tablecloth or maroon curtains.
Accessories
Since maroon can be quite a dramatic and intense color, some people will feel too wary of using it in large amounts, such as on walls. If you want to introduce this color to space more gradually to see if you like the feel of it, consider choosing maroon cushions to place on a sofa or some maroon candles on a coffee table.
Best Shades of Maroon Paint
If you want to decorate with maroon, then first, you will probably want to identify the best shade of maroon paint for your space. Here we look at some of the best maroon paints currently available.
Classic Burgundy by Benjamin Moore
This painting from Benjamin Moore is the color that comes to mind when most people think of maroon. Despite the name, Classic Burgundy is actually closer to maroon in terms of its shade, because it leans more towards red, while burgundy usually has purple undertones.
Formal Maroon by Behr
This is a luxurious shade of maroon, which will be stunning in a small room, such as a bathroom. It could also work well to create an intimate setting in a bedroom or dining room. Pair Formal Maroon with white for a classic look or navy blue for a more modern approach.
Deep Maroon by Sherwin Williams
This color of paint will appear different depending on the light. It can read as more purple in some rooms, whereas it will be redder in others. The purple undertones give this Deep Maroon paint a modern feel.