Jade green is a medium shade of green with blue undertones. It definitely leans more towards green than blue, though some people do describe this color as blue-green. It is named after the precious gemstone of the same color, which has been treasured for centuries across Asia.
The jade gemstone is said to be a symbol of good fortune, and it has associations with wealth, prosperity, and good luck. Green, in general, is a hugely popular color in interior design right now, but jade green is not one of the more common shades among those that are trending.
If you love green interiors but don't want to jump on the emerald or olive bandwagon, then jade makes for a refreshing choice that is stylish and elegant while also being a little obscure.
Interior Styles Using Jade Green
Botanical
Botanical style interior decor themes are all the rage right now but don't be fooled into thinking this is a passing trend because botanical interiors have a timeless quality that means they are here to stay and won't look dated or out fashion in a few years time.
Jade green is an easy color to use as your main shade in a botanical theme because this look centers around flowers and foliage, which of course, both have green features.
Choose a leaf pattern for fabric on cushions and curtains, or a wallpaper in a repeating leaf print with jade as the primary color, or opt for a floral pattern if you want to create a slightly more feminine feel. Luxurious floral prints such as roses and camellias will help to achieve a romantic or glamorous botanical theme, while wildflowers will achieve a more free-spirited and natural botanical style.
Use jade green as your main color for wall paint, and then pick out touches of jade green on accessories, such as cushions with a jade green fringe or planters with jade green prints on them.
Nature Inspired
A nature-inspired theme might sound similar to a botanical theme, but in practice, these two looks give off very different atmospheres. While a botanical style will feel pretty and delicate, a nature-inspired theme leans towards a more earthy and muted vibe. To achieve this look, focus on natural textures and shades that you would find outdoors, such as beiges, browns, and greens.
You could consider a hardwood brown floor with a jade green sofa and tan cushions or jade green walls with beige sofas and brown woven baskets.
Fresh Spring
Jade green has a very fresh appeal when paired with the right colors. This type of style works really well in a kitchen, a casual dining room, or kitchen where you want the space to feel clean and crisp. In a kitchen, choose white cabinets, and jade green painted walls, and white planters lined up with leafy house plants displayed in them.
If you want to add another color, choose jade green and white with navy blue for a slightly darker spring-like vibe. This color scheme is great for achieving an atmosphere in a room that feels refreshing and invigorating while also being soothing.
Vintage Antique
In a room with an antique vintage look, jade green upholstery works really well. Choose jade green velvet sofas against deep red walls with elaborate gold gilt-framed mirrors and oversized vases displayed on dark wood side tables. Jade green can look very authentic in vintage style decor themes because it is a color that dates back to ancient times and has been used throughout history to convey wealth and royalty.
Tropical
Jade green is often said to be the same color as deep tropical bodies of water, and as such, it is a color that appears throughout tropical-themed interior design. This is a fun and quirky look that can be used in any room of the home, but it works especially well in dining spaces and living rooms.
Opt for pastel pink walls, jade green sofas, and aqua blue accessories, or choose bright contrasting shades such as flamingo pink and sunny yellow. The tropical decor style is about having fun and making bold statements, so let your imagination run wild and don't be scared to use contrasting fabrics and textures.
Modern Industrial
Jade green can bring a sense of peace and neutrality to an industrial-style space that works really well. In a dark gray room with black metal tables, choose jade green lampshades and cushions to create a balance between harsh edges and softer textures. Jade green upholstered dining chairs can work well in an industrial-style dining room with a gray concrete table and metal light fittings.
Colors to Use with Jade Green
Salmon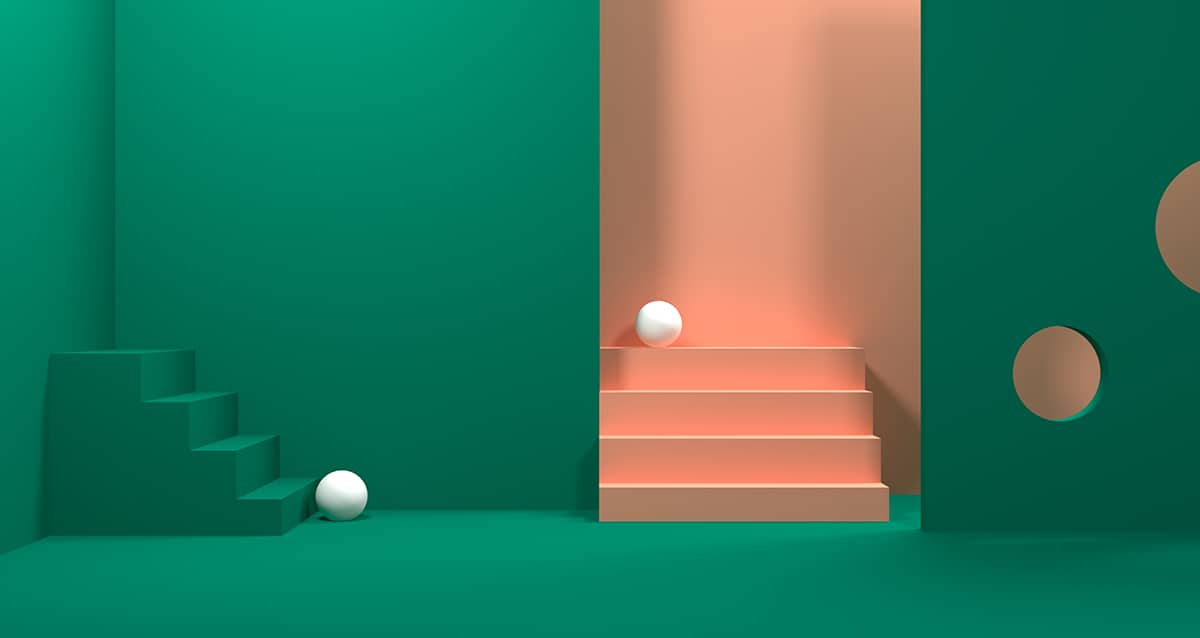 | | | | | |
| --- | --- | --- | --- | --- |
| Shade | Hex Code | CMYK Color Code (%) | RGB Color Code | Color |
| Jade Green | #00a368 | cmyk(100%, 0%, 36%, 36%) | rgb(0, 163, 104) | |
| Salmon | #fe9679 | cmyk(0%, 41%, 52%, 0%) | rgb(254, 150, 121) | |
Salmon is a pink-orange color that is named after the flesh of the salmon fish. It contrasts really well against jade green while also complimenting it to make both colors appear more vivid. In a jade green luxury style room, use salmon accents to add a feminine touch, such as salmon-colored blinds or a silk salmon robe hanging from a gold hook in a jade green bedroom.
You can also invert this style and opt for jade green accessories to make a salmon-colored space feel more elegant and mature. In a room with salmon-painted walls, choose a jade green sofa and jade green vases.
Dusky pink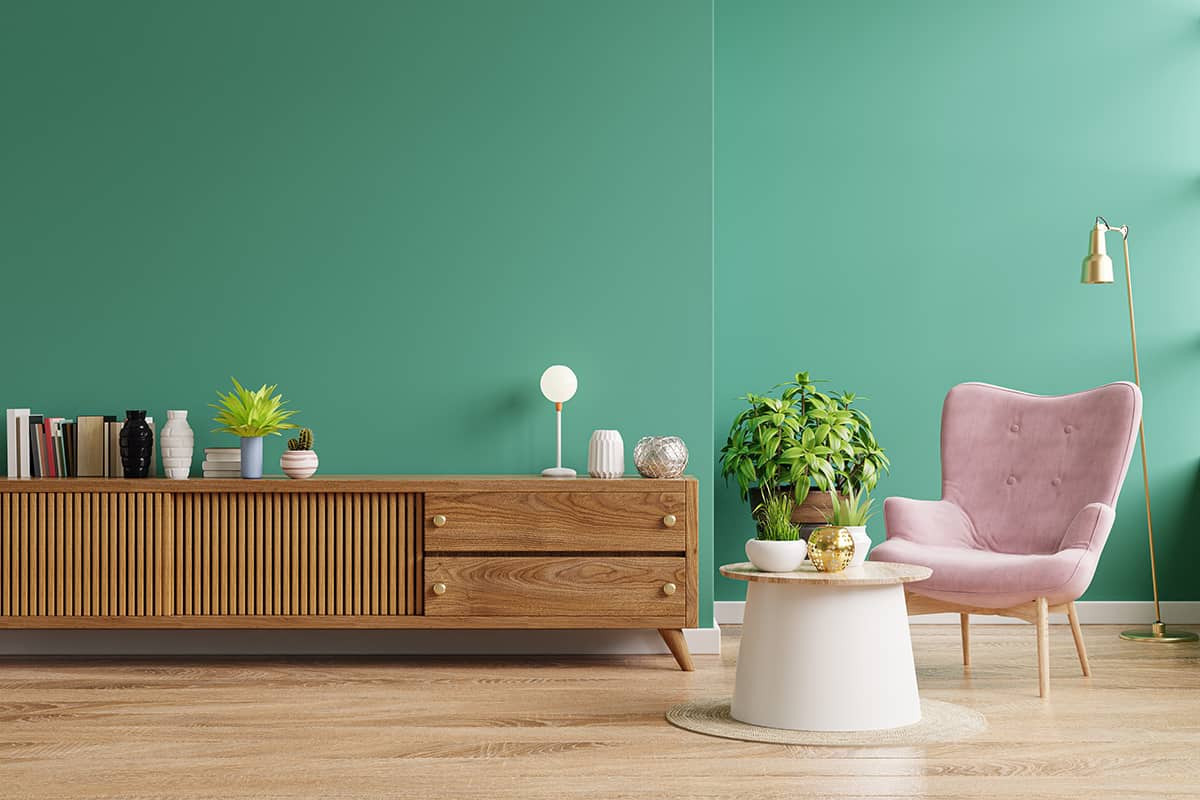 | | | | | |
| --- | --- | --- | --- | --- |
| Shade | Hex Code | CMYK Color Code (%) | RGB Color Code | Color |
| Jade Green | #00a368 | cmyk(100%, 0%, 36%, 36%) | rgb(0, 163, 104) | |
| Dusty Pink | #cb8d93 | cmyk(0%, 31%, 28%, 20%) | rgb(203, 141, 147) | |
Dusky pink is an understated pink that is also known as blush pink or millennial pink. It has become a hugely popular shade of pink over the last few years, working really well in a wide range of interior styles. In some instances, it can even be used as a neutral because it has such a soft and subtle tone.
Dusky pink looks very trendy next to jade green, creating a muted contrast that is slightly feminine and can look glamorous if the textures are luxurious. In a bathroom, choose jade green subway tiles set against dusky pink walls and add in hanging jade green planters with trailing houseplants draping down the sides.
In a dining room, you could achieve a more formal look with these colors, opting for jade green walls and gold metal-framed chairs upholstered in dusky pink velvet. A bedroom is also an ideal space to utilize these colors, where you can achieve a modern romantic look.
Opt for a floral wallpaper on a feature wall with a jade green background and dusky pink roses, with the remaining walls painted in jade green paint and silky dusky pink bed sheets.
Navy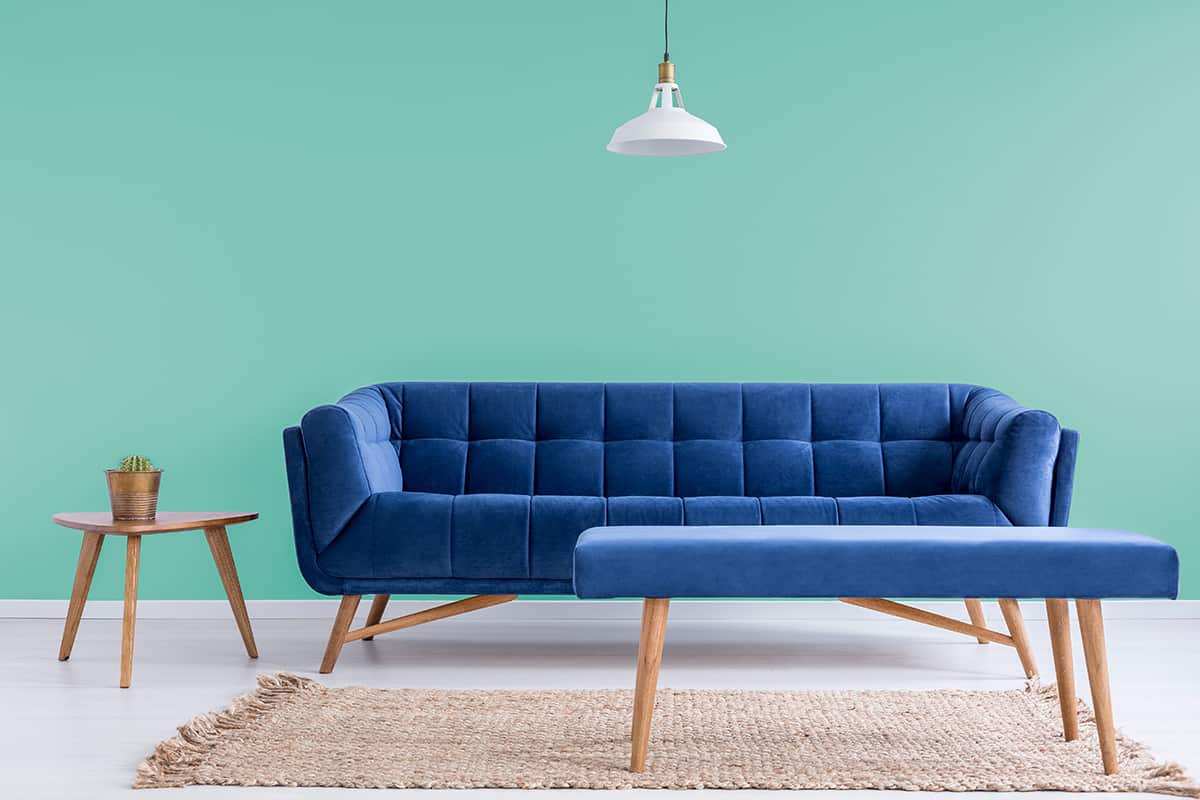 | | | | | |
| --- | --- | --- | --- | --- |
| Shade | Hex Code | CMYK Color Code (%) | RGB Color Code | Color |
| Jade Green | #00a368 | cmyk(100%, 0%, 36%, 36%) | rgb(0, 163, 104) | |
| Navy | #0b3468 | cmyk(89%, 50%, 0%, 59%) | rgb(11, 52, 104) | |
Navy blue goes with almost any shade of green, including jade green. These colors can be used in more formal spaces, and navy green provides some structure and elegance to jade green. In a dining room, consider dark navy walls for a deep and dramatic feel, paired with jade green heavy suede curtains on a gold curtain rod.
You could tie in the jade green accent with jade green placemats set on the dining table and gold cutlery. In a predominantly jade green room, choose navy accents to help ground the space and add a dark contrast, such as a navy rug or a navy sofa.
Brown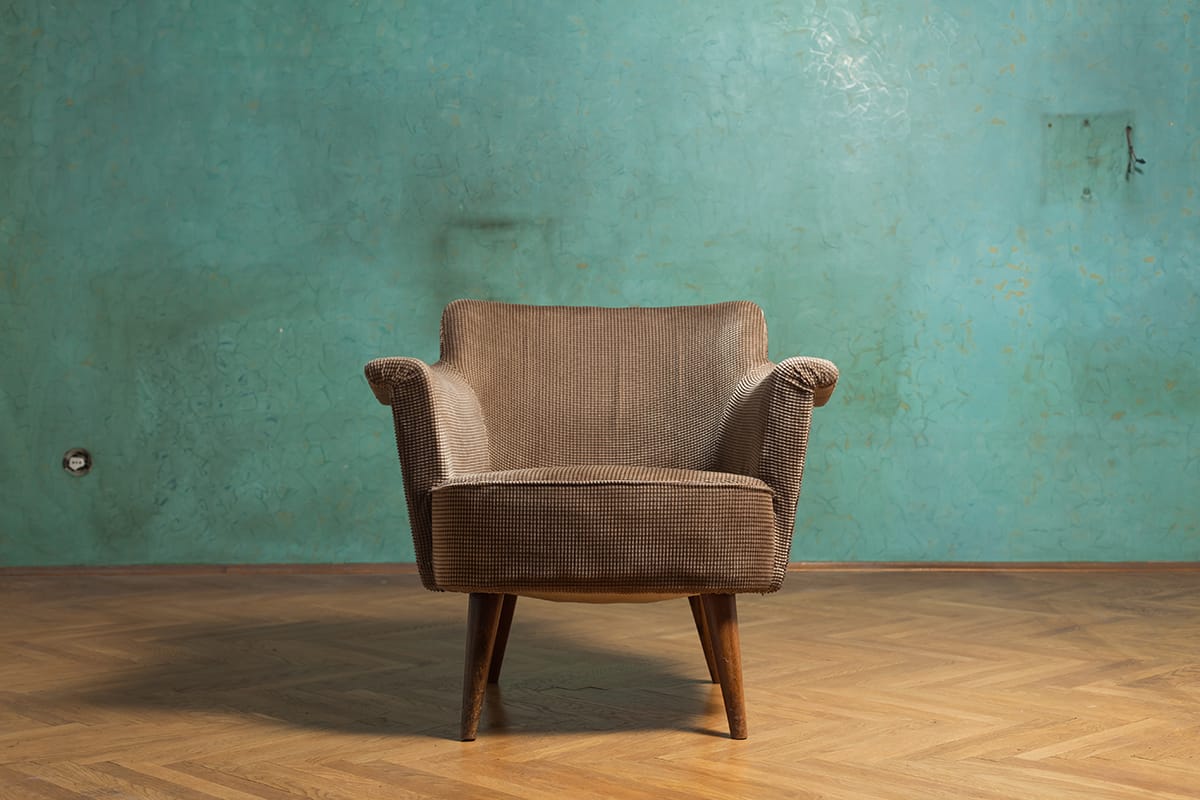 | | | | | |
| --- | --- | --- | --- | --- |
| Shade | Hex Code | CMYK Color Code (%) | RGB Color Code | Color |
| Jade Green | #00a368 | cmyk(100%, 0%, 36%, 36%) | rgb(0, 163, 104) | |
| Brown | #39291d | cmyk(0%, 28%, 49%, 78%) | rgb(57, 41, 29) | |
Brown works really well with jade green because these are two colors that are often seen side by side in nature, for example, the brown trunk on a tree next to the green foliage or brown rocky mountains with green moss growing amongst them.
If you want to achieve a natural look with your interior style, then use a jade green color palette alongside brown. Natural textures work really well for this, such as brown hardwood floors or brown wooden tables and chairs. Brown leather is also a nice addition to a jade green room, as well as brown woven baskets or a brown jute rug.
Brown upholstery is also a nice neutral choice that you can guarantee will also work with other colors if you choose to change the jade green walls in the future. Brown sofas will always be in style, as will brown upholstered bed frames and brown ottomans.
Biscuit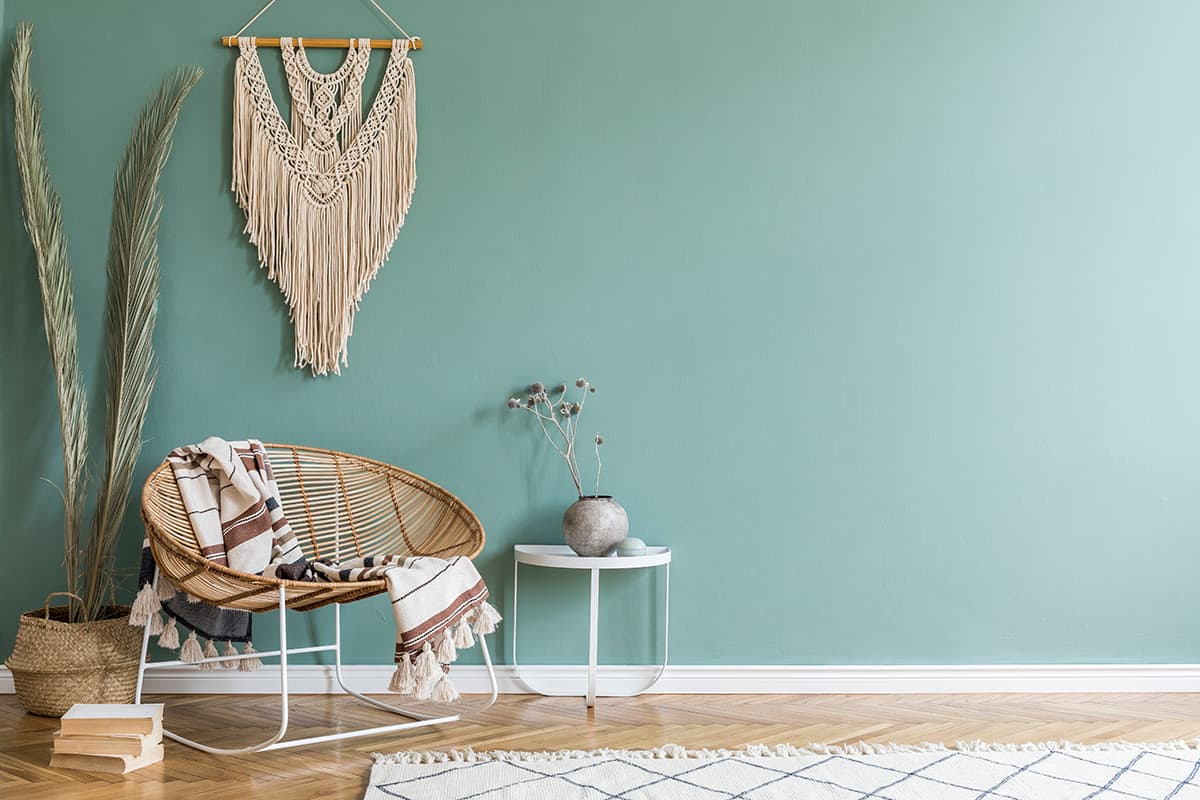 | | | | | |
| --- | --- | --- | --- | --- |
| Shade | Hex Code | CMYK Color Code (%) | RGB Color Code | Color |
| Jade Green | #00a368 | cmyk(100%, 0%, 36%, 36%) | rgb(0, 163, 104) | |
| Biscuit | #cfb9a4 | cmyk(0%, 11%, 21%, 19%) | rgb(207, 185, 164) | |
Biscuit is a dark shade of beige that is a warm neutral. Like brown, it works particularly well with jade green in a natural decor theme because it is a naturally occurring color.
Beige can represent sandy beaches, mountains, or desert landscapes, and it looks calm and inviting next to jade green.
Fuchsia

| | | | | |
| --- | --- | --- | --- | --- |
| Shade | Hex Code | CMYK Color Code (%) | RGB Color Code | Color |
| Jade Green | #00a368 | cmyk(100%, 0%, 36%, 36%) | rgb(0, 163, 104) | |
| Fuchsia | #c72b8e | cmyk(0%, 78%, 29%, 22%) | rgb(199, 43, 142) | |
If you want to create a bohemian or quirky style, then fuchsia pink will be fun and vibrant next to jade green. Use this color in small splashes against a jade green background, such as a fuchsia pink cushion on a jade bedspread or a fuchsia pink lamp shade set in front of a jade green wall. This will make for a lovely contrast that feels modern and exciting.
You could also incorporate other smaller contrasts, such as the occasional fuchsia candle or a wallpaper print with small fuchsia details. Just be careful not to overdo it and end up with an overstimulating space.