Dark blue shades can vary enormously, with dark sapphire blue having a vibrant intensity and navy blue offering a cooler and more casual feel. Dark gray-blue has a depth that feels cozy and intimate. We can already see that the specific shade of dark blue is going to affect the resulting feel of a room when dark blue is used in an interior space.
Blue is known to have a calming and soothing effect on the mind, as it is associated with the ocean and its tranquil vibes.
This makes it a very popular color in homes where we want to feel relaxed and at ease. Historically, dark blue has not been very trendy in interior design because, for a long time, people have leaned towards paler and more neutral colors.
However, this is all changing with the rise in popularity of dark decor and the new understanding that dark rooms don't always result in a small feeling space. Here we look at easy ways to include dark blue in home decor and the best colors to use with it.
Using Dark Blue in Home Decor
Texture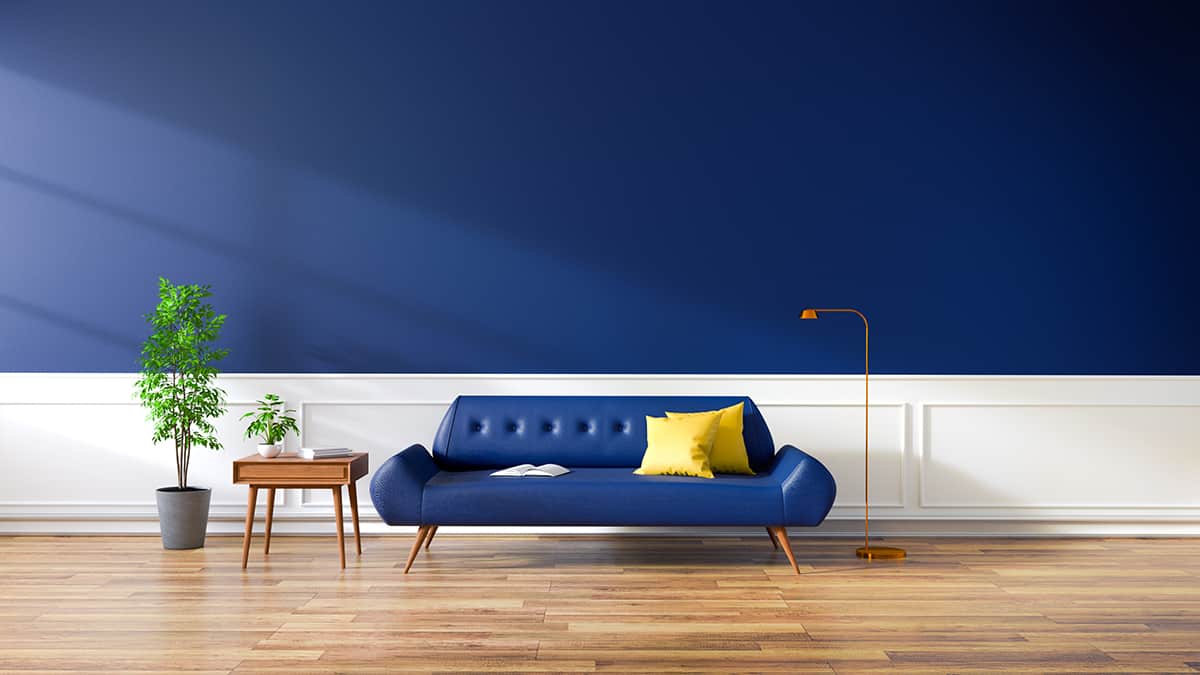 The texture you choose for your dark blue decor is going to define the style of the room. A matte wall paint in dark gray-blue will be great for an industrial feel, while glossy blue-painted wooden dining chairs will have a fun and quirky Scandinavian appeal.
The same goes for any fabrics you use in dark blue. Rougher textures, such as dark blue linen, are going to create a casual and summery feel in a room, while more luxurious fabrics such as velvet in dark blue will make for an elegant or sophisticated style.
Accent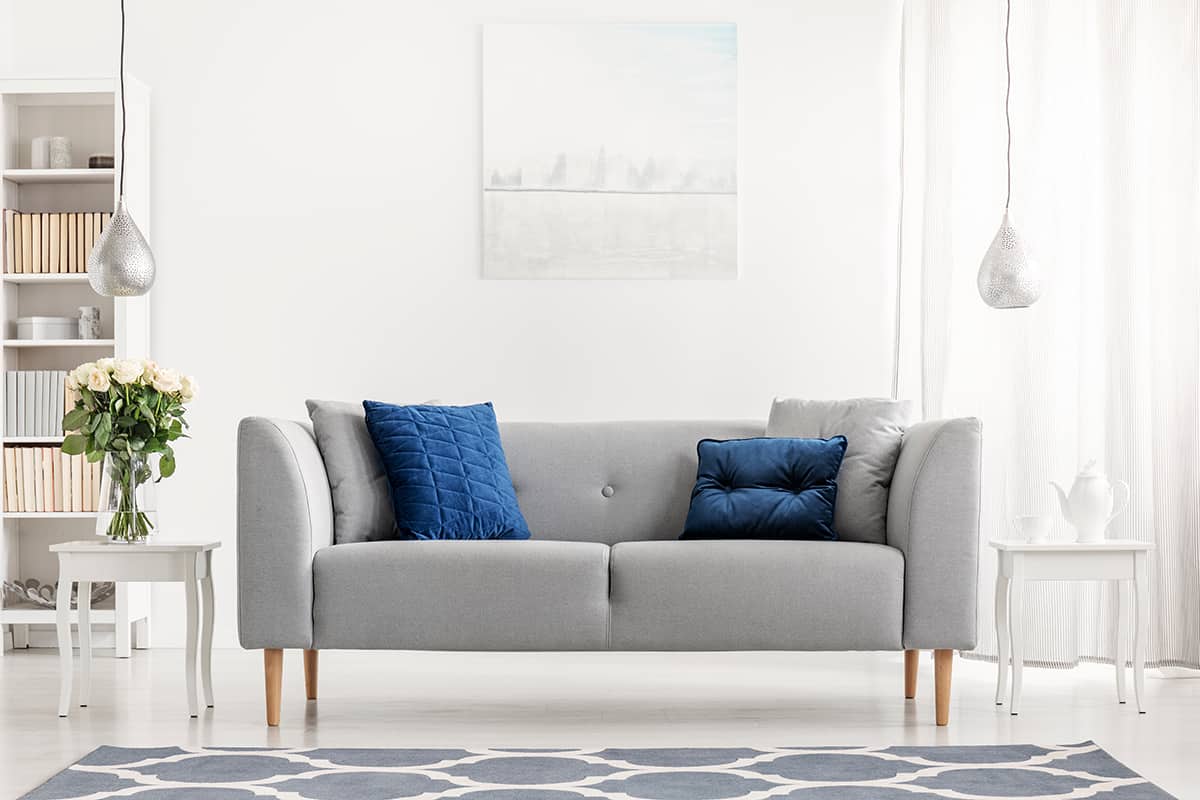 If you have a room that lacks personality, add dark blue accents to liven it up. Dark blue is a good choice in this sort of situation because it is a color that goes well with most other colors, so you can easily add it to most existing color schemes without causing a clash.
Despite being dark, it can also be quite a subtle shade, so it won't be overpowering. Consider swapping out old cushions for new dark blue cushions in a living room or adding dark blue candles and towels to a boring bathroom.
Paint
The best way to completely transform the look of a room is, of course, to paint it. Dark blue has a depth that makes it suitable for small and large rooms alike. Use it in a small bathroom to create the sense of the walls receding and more space, or use it in a large bedroom to make it feel more cozy and comfortable.
If an entire dark blue room feels too daring for you, consider using dark blue paint for a feature wall and contrast it against the remaining walls by painting them in a pale gray or soft white.
Dark Base
If you are an art lover, then dark blue makes a great base for displaying your prints or canvases, particularly if they have a white border frame or are predominantly pale in color themselves.
The contrast between a dark blue wall and white art prints will ensure the art really stands out and becomes the star of the room. The same also goes for white furniture or pale accessories. For example, a white sofa will look striking set against a dark blue wall.
Furniture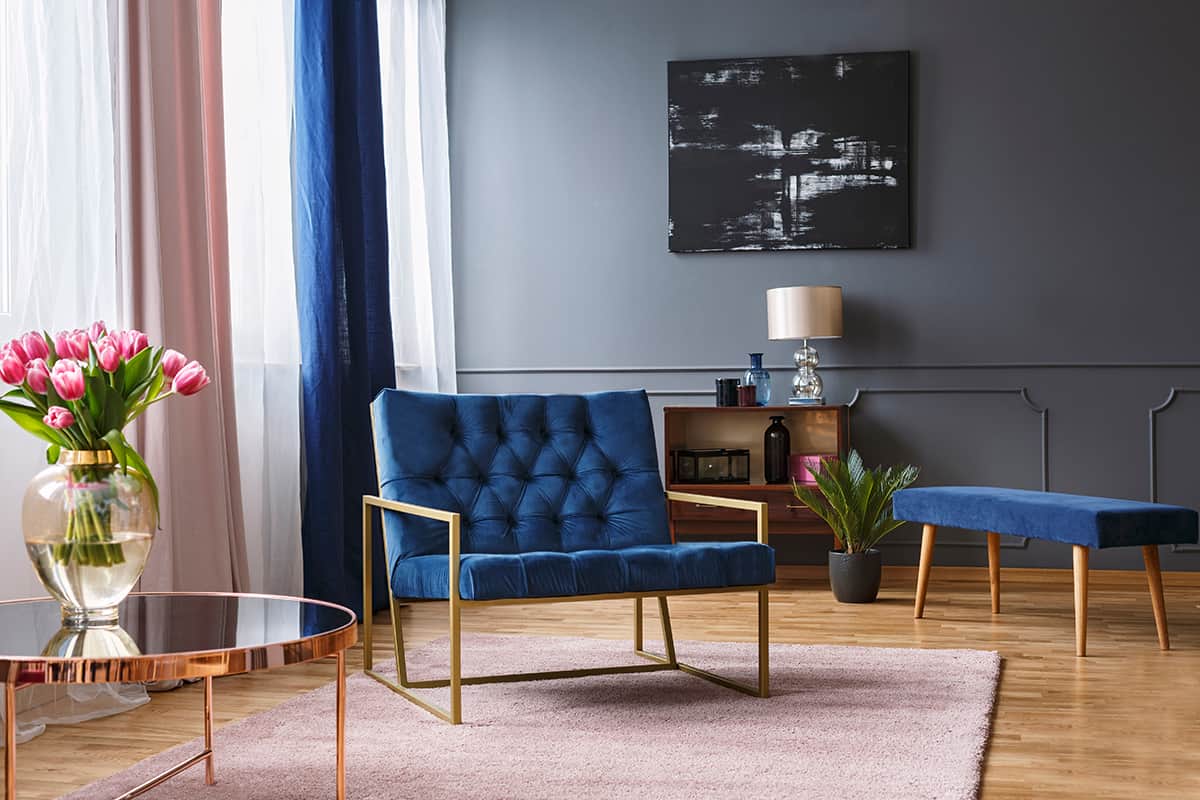 Dark blue is also a color for furniture that many people don't consider. If you have a neutral room, then add in dark blue furniture to give the space some interest without entirely changing the look of it.
Traditionally furniture in bedrooms and living rooms will have a wooden surface or a wood-effect look, but as the upcycling trend continues to explode, we are seeing a rise in the popularity of painted furniture in all sorts of colors. If you have some furniture you want to transform, consider dark blue furniture paint.
6 Colors That Go with Dark Blue
Beige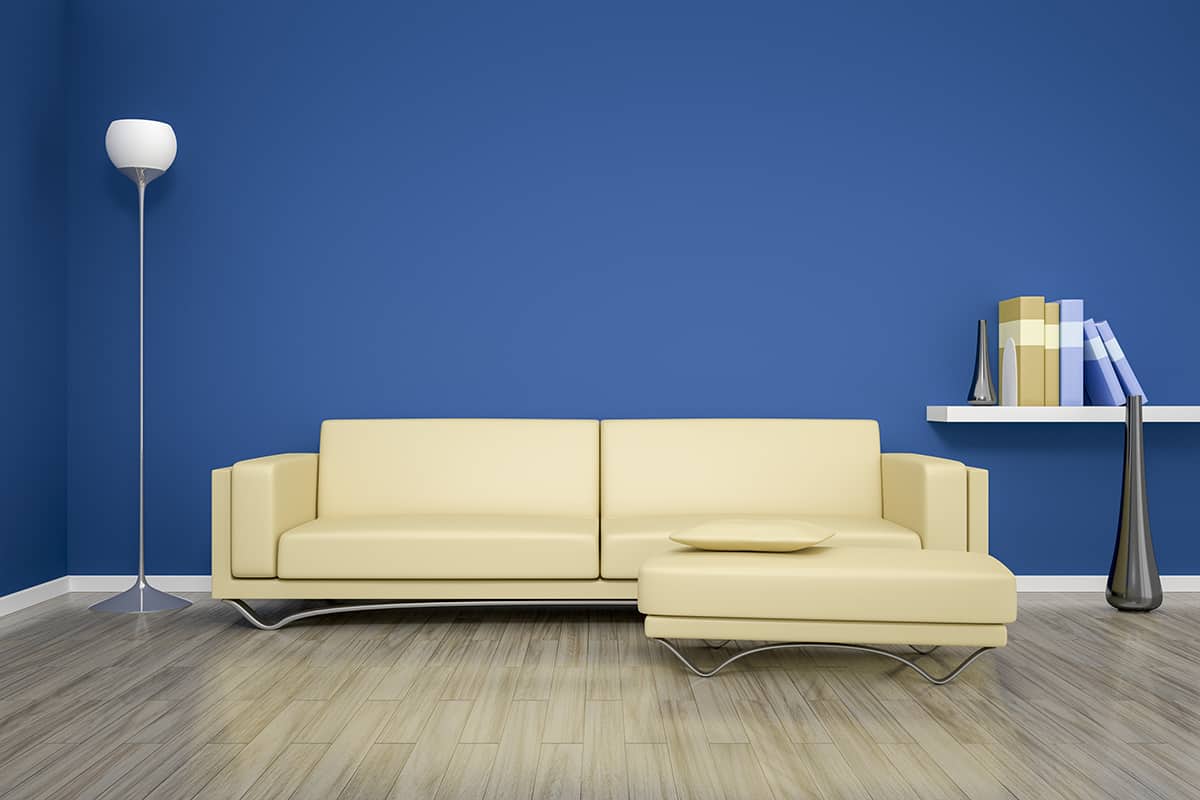 | | | | | |
| --- | --- | --- | --- | --- |
| Shade | Hex Code | CMYK Color Code (%) | RGB Color Code | Color |
| Dark Blue | #022a4e | cmyk(97%, 46%, 0%, 69%) | rgb(2, 42, 78) | |
| Beige | #eee4c1 | cmyk(0%, 4%, 19%, 7%) | rgb(238, 228, 193) | |
Dark blue is a cool color that is great for achieving a sense of refreshing calm; however, if you want a space to feel more inviting, then you'll need to balance out the cool tones in dark blue with a warmer shade.
Beige is a great color for this job because it is warm yet neutral, so it won't detract from dark blue, but it will bring a more cozy and welcoming aspect to a space.
You could create a luxurious feel with dark blue and beige by adding fur faux beige throws over the side of a velvet dark blue sofa. Equally, beige and blue work well in a more casual style decor, with beige woven baskets and a beige jute rug alongside navy blue walls.
Rose Gold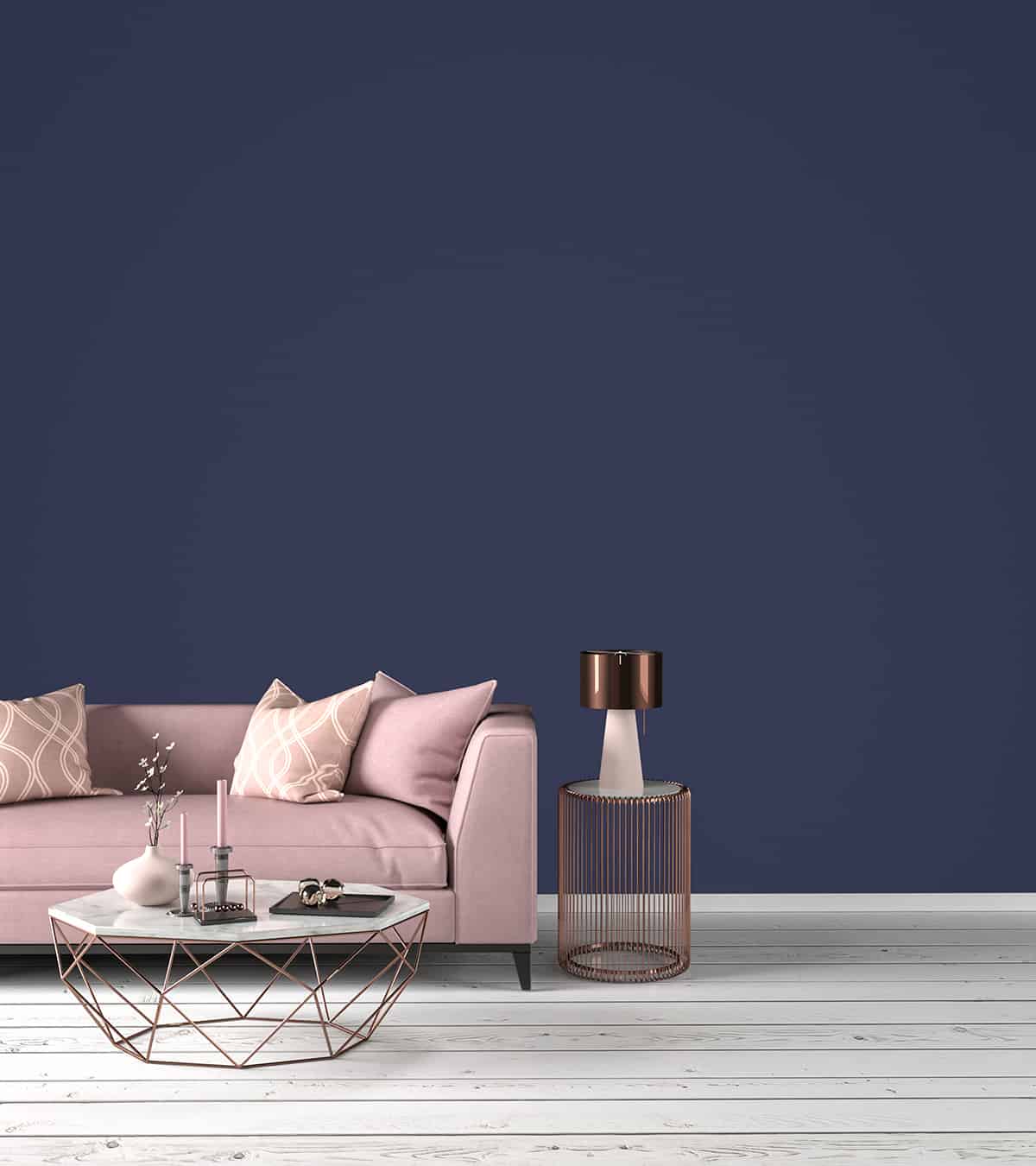 | | | | | |
| --- | --- | --- | --- | --- |
| Shade | Hex Code | CMYK Color Code (%) | RGB Color Code | Color |
| Dark Blue | #022a4e | cmyk(97%, 46%, 0%, 69%) | rgb(2, 42, 78) | |
| Rose Gold | #eac1af | cmyk(0%, 18%, 25%, 8%) | rgb(234, 193, 175) | |
Rose gold is a pink shade of gold that is similar to copper, but unlike copper, it contains more pink than orange. Dark blue is a trendy color combination with rose gold, with rose gold being used to add a feminine glamor to dark blue rooms.
These colors contrast each other really beautifully and have a masculine/feminine contrast that makes them really interesting when they are side by side. Opt for a dark blue lampshade on a rose gold lampstand or a rose gold vase against a blue backsplash.
White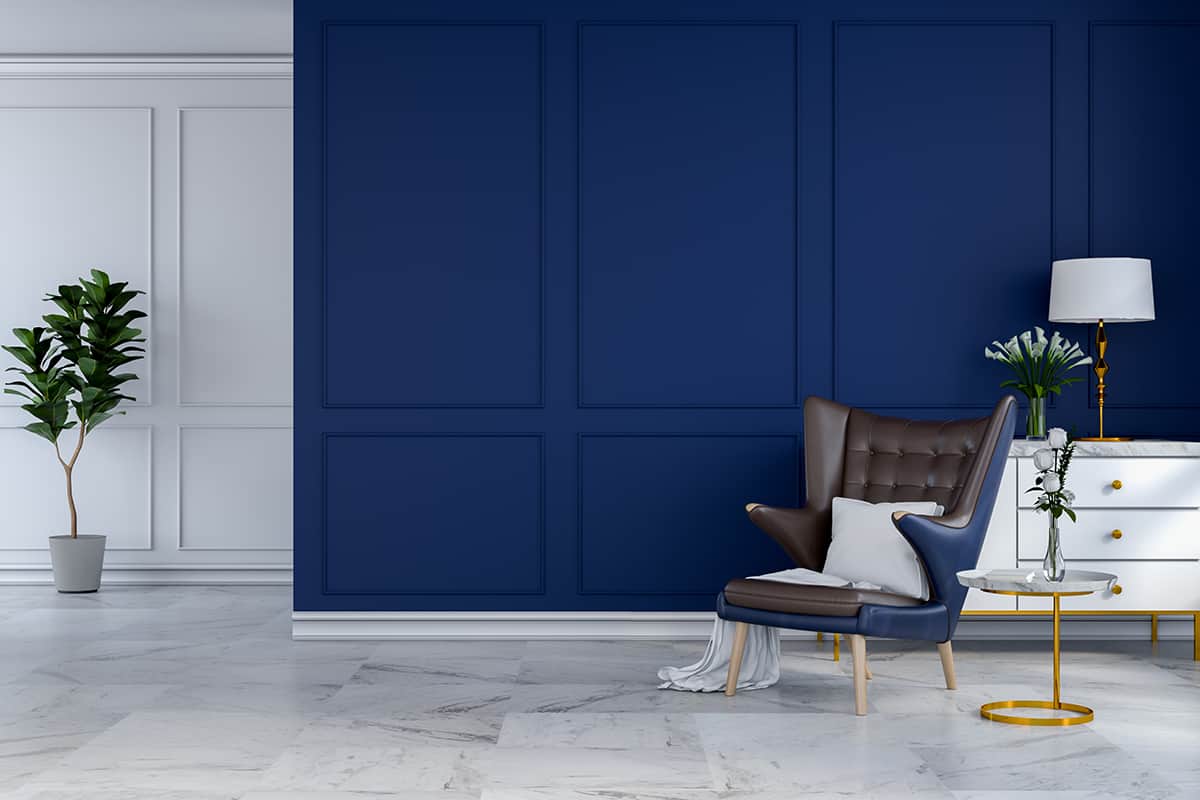 | | | | | |
| --- | --- | --- | --- | --- |
| Shade | Hex Code | CMYK Color Code (%) | RGB Color Code | Color |
| Dark Blue | #022a4e | cmyk(97%, 46%, 0%, 69%) | rgb(2, 42, 78) | |
| White | #ffffff | cmyk(0%, 0%, 0%, 0%) | rgb(255, 255, 255) | |
White is a classic color to use with dark blue, which never fails to look stylish. You can use it in an elegant setting. For example, choose white marble tiles in a bathroom and contrast this with a dark blue vanity unit or dark blue towels.
This color combination can also work well for a more casual style. For example, paint walls pure white color and place dark blue cushions on a tan leather sofa.
Dark blue and white are a common color duo used for a nautical or coastal style decor theme. For a light and airy coastal vibe, paint walls white and opt for dark blue linen sofas.
For a more formal nautical look, paint walls in dark blue and then contrast this with white accents, like white frames on the walls displaying prints of ships or white lampshades.
Orange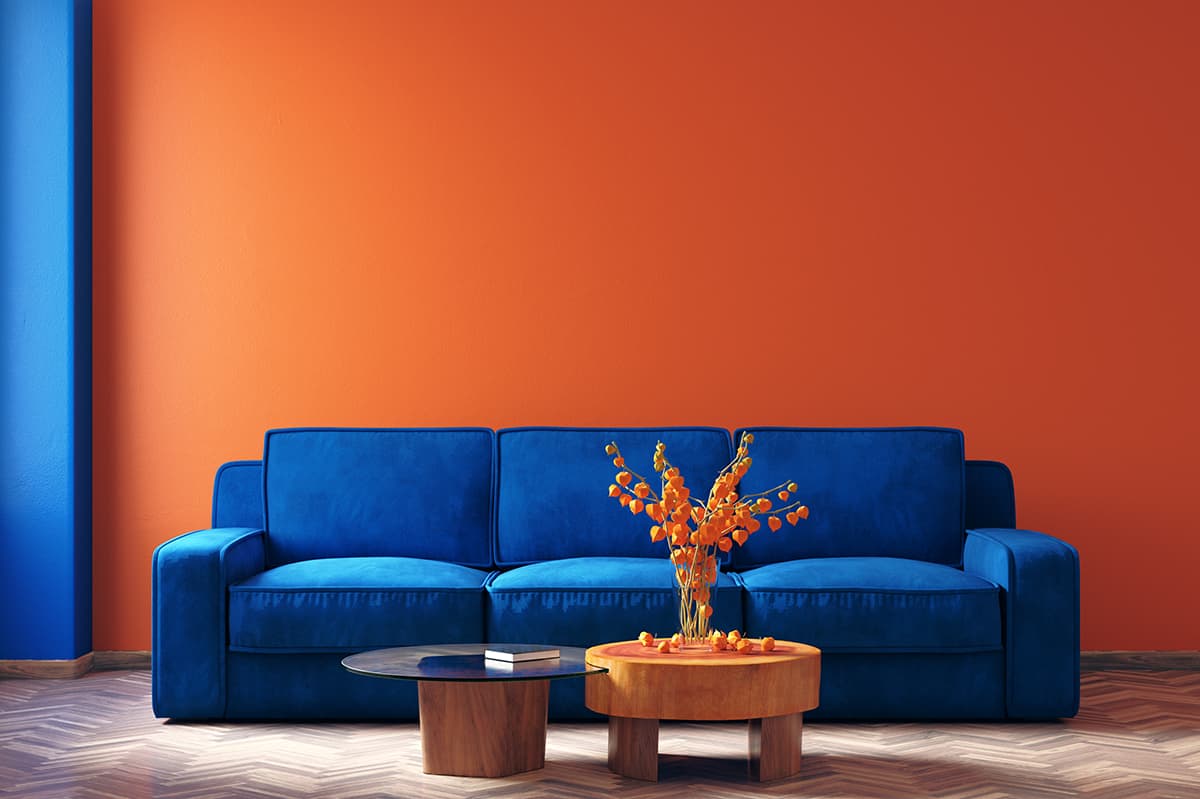 | | | | | |
| --- | --- | --- | --- | --- |
| Shade | Hex Code | CMYK Color Code (%) | RGB Color Code | Color |
| Dark Blue | #022a4e | cmyk(97%, 46%, 0%, 69%) | rgb(2, 42, 78) | |
| Orange | #c1482b | cmyk(0%, 63%, 78%, 24%) | rgb(193, 72, 43) | |
Dark blue is a good color to pair with orange though orange is a vibrant and cheerful shade that makes for a bold contrast against dark blue. Use bright orange accents in a dark blue room to give it more character, for example, in a teenager's room or a lively office.
For a more subtle contrast that will create a cozy and warming sensation, choose burnt orange accents in a navy blue space. This would work well in a living room or bedroom where you want to snuggle up in a soft burnt orange blanket.
You can also reverse this color scheme and use dark blue accessories to give a deep orange room a more cool and modern feel.
Lilac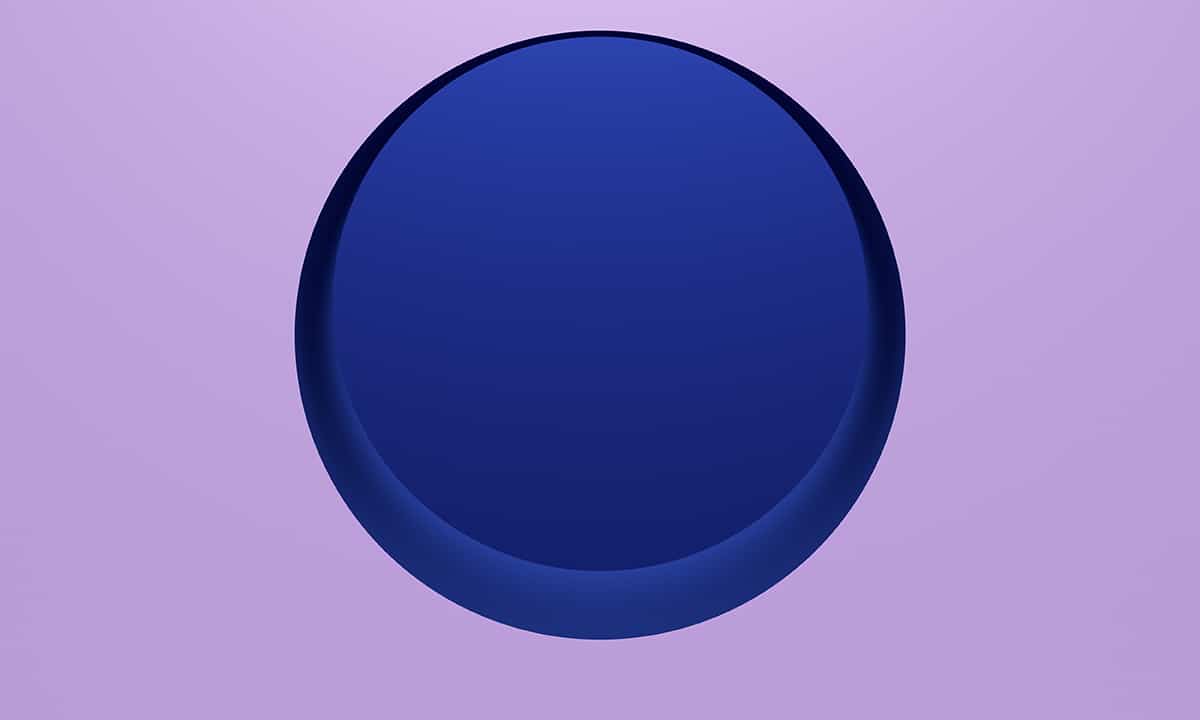 | | | | | |
| --- | --- | --- | --- | --- |
| Shade | Hex Code | CMYK Color Code (%) | RGB Color Code | Color |
| Dark Blue | #022a4e | cmyk(97%, 46%, 0%, 69%) | rgb(2, 42, 78) | |
| Lilac | #c5aae1 | cmyk(12%, 24%, 0%, 12%) | rgb(197, 170, 225) | |
Lilac adds a pretty touch to dark blue, which can transform it from feeling dark or drab to refreshing and quaint. Choose a wallpaper that features a lilac and dark blue floral print, or set a lilac velvet upholstered chaise longue against a dark blue wall for a more playful feel.
Lilac and dark blue are both cool colors, so they have a refreshing feel. This can work well in a kitchen for a spring-like look.
To achieve this, add lilac accents to a kitchen with dark blue cabinets, such as lilac upholstered bar stools, lilac coffee, and tea canisters, or a lilac Venetian blind over the kitchen window. A small vase of fresh lilac blooms on the countertop will help to cement this color scheme as invigorating and energizing.
Lime Green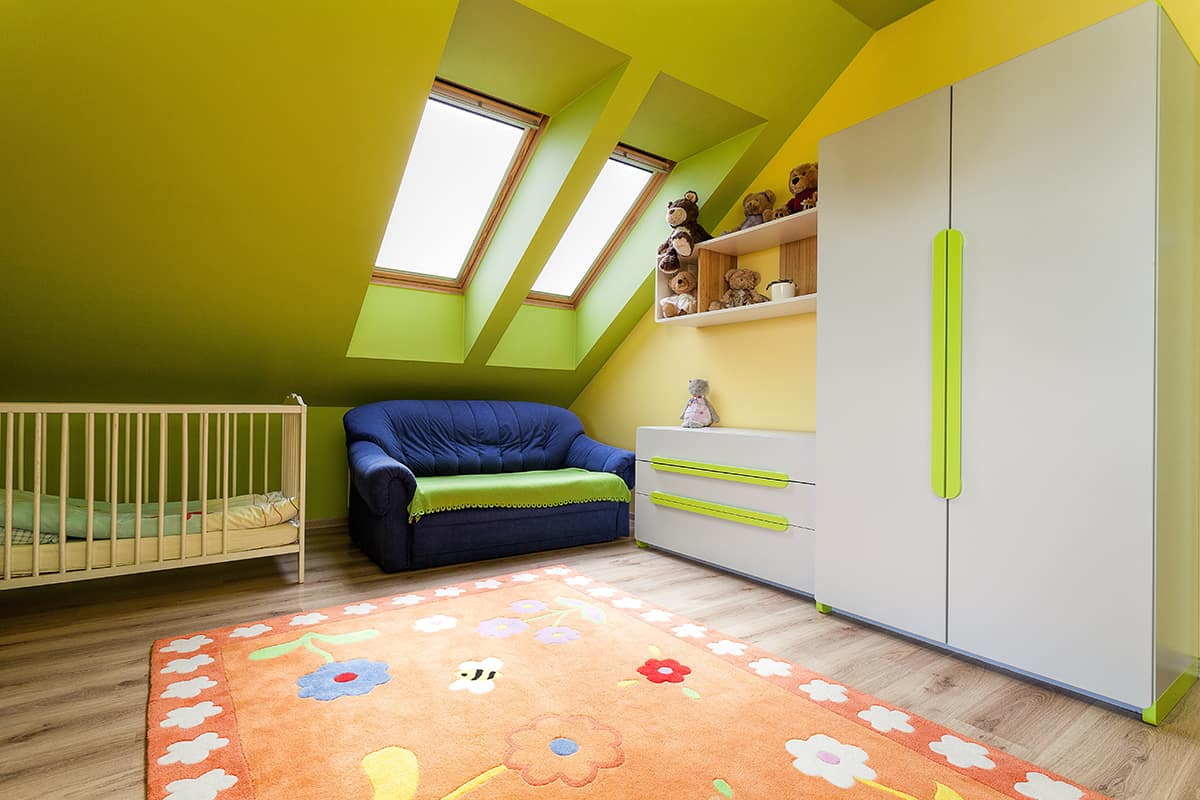 | | | | | |
| --- | --- | --- | --- | --- |
| Shade | Hex Code | CMYK Color Code (%) | RGB Color Code | Color |
| Dark Blue | #022a4e | cmyk(97%, 46%, 0%, 69%) | rgb(2, 42, 78) | |
| Lime Green | #b3ce32 | cmyk(13%, 0%, 76%, 19%) | rgb(179, 206, 50) | |
Lime green is an enormously underused color in home decor, probably because it got a bad reputation as a shade for teenagers' rooms in the 1990s.
However, if you can banish those images from your mind and instead use lime green with a modern and subdued color like dark blue, you can make it look really stylish. And in fact, there are many ways and colors to complement lime.
Lime green and dark blue are great for creating a tropical feel in a space without going over the top. Opt for a leaf print wallpaper with lime green foliage against a dark blue background on one wall in a room, and paint the remaining walls in dark blue.
You can then pick out the lime green from the wallpaper with subtle accents around the room, such as a lime green plant pot set on a coffee table and white cushions with a lime green pom pom trim set on the sofa.
Lime green has such a restorative feel that it can make any room feel like a breath of fresh air when it is used correctly.
If you have a lime green room that you want to tone down a little, then use dark blue accents to give it some balance. In a room with lime green walls, choose a dark blue sofa and curtains or dark blue bed sheets.